Never miss a story
Sign up for our free daily morning email...
...and afternoon text update
Get connected with our daily update
Welcome to Austonia, a new, locally owned news company reporting on news, business, and politics in Austin. Like what you see? Sign up for our daily newsletter to get our latest stories in your inbox.
Austin marketing adviser and cyclist Kimberly Jarboe never leaves the house without a bottle of hand sanitizer clipped to her belt loop.
Still, weeks of sheltering in place have worn her down.
---
And so, like many others aching for some sliver of their pre-pandemic lives, Jarboe has found little ways to let the world back in—while still wearing a mask, sanitizing her hands, playing it safe.
"I do have a very close circle of friends that I've been spending time with and acting fairly normal around," said Jarboe, who used to ride bikes with groups of hundreds of cyclists.
As the pandemic drags on and state leaders relax shutdown orders, even some of the most ardent social distancers in Austin are finding themselves adjusting their own boundaries.
Social media abounds with locals getting together but staying distant: Hair appointments, kayaks on Lady Bird Lake, multi-family picnics under separate trees, sparse backyard gatherings, and cautious date nights at restaurants with masked servers.
"We always ate out a lot and have missed going into restaurants for the full dining experience," said Jeannette Larson, who has restaurant reservations Wednesday for the first time since the shutdown. "I've been impressed by their safety measures, so we are going for it."
"Semi-socially distant" is how local attorney Lenore Shefman describes her occasional visits "with folks I trust."
"We still practice safety like washing hands, and nobody is coughing or sneezing, and we stay outside," Shefman said.
Austin politicians and health officials worry that some locals will take it too far.
"There's more disease in the community now than there has ever been," said Dr. Mark Escott, Austin-Travis County interim health authority. "That should be a warning sign to folks that the time for caution is not over."
The safety message still resonates with those who are finding what they say are reasonably safe loopholes.
Tara Hall, a content strategist who has been isolating alone, agreed to a getaway this weekend with a longtime travel companion taking the same precautions.

The two chose a secluded, vacant AirBnB to make contact tracing easier if either of them winds up exposed.
"I'm nervous but willing to take this mental break with one person I trust," she said. "It feels like I've had a two-and-a-half-month-week, in a way, and this will be my weekend. I can't wait to feel clear-headed after this trip, even if it's short-lived."
Jarboe and the others say they are simply coping with the reality that their old lives may not return for a long time.
"Previous to this, my world was pretty much all friends and bike rides," she said. "Having small 'safe' gatherings and bike rides with a handful of my closest friends helps me stay sane and gives me a small taste of what normal life used to be."
With a taste of MLS play under their belts, Austin FC is entering the second half of a scoreless inaugural match.
The club has been given some generous breaks from No. 2 LAFC, who had one or both of their star DPs out for the half. While forward Diego Rossi is out for the entire match due to a hamstring injury, Carlos Vela was accidentally pulled too soon on what turned out to be a miscommunication.
"He gave us the sign that he needed to come off," LAFC Head Coach Bob Bradley said on broadcast. "I can't say more than maybe it's my fault."
The two breaks aside, Austin FC has been holding their own against the match favorites. In the signature style of Head Coach Josh Wolff, the team has been quick and intense, nearly connecting on several fast breaks. ATXFC has also kept about equal possession with LAFC, although their shot attempts haven't been quite as nervewracking as the home team.
LAFC has given goalkeeper Brad Stuver some scares with 11 shot attempts, four of them on goal. By contrast, Austin FC has had five shots on goal.
LA has pulled some dramatics and slowly gained more possession throughout the half, but ATXFC's defense isn't as shaky as it seemed in preseason. Jhohan Romana has pulled his weight in getting the ball out of goal, and defensive midfielder Alex Ring has shown the qualities that make him captain as he leads his teammates through their first ever match.
Will Austin FC win against the odds? It's tough to tell, but Austonia will keep you updated!
It's matchday! Austin FC—Austin's first major league sport team—kicks off its debut season in Los Angeles today after years in the making. We know how much this means to our beloved city and are taking you along with us as we journey to LA!
Austin FC writer Claire Partain and I are excited to bring you game-day coverage straight from the City of Angels. Check back here for updates, and visit our socials: @austonianews for the latest.
5 p.m: Kickoff!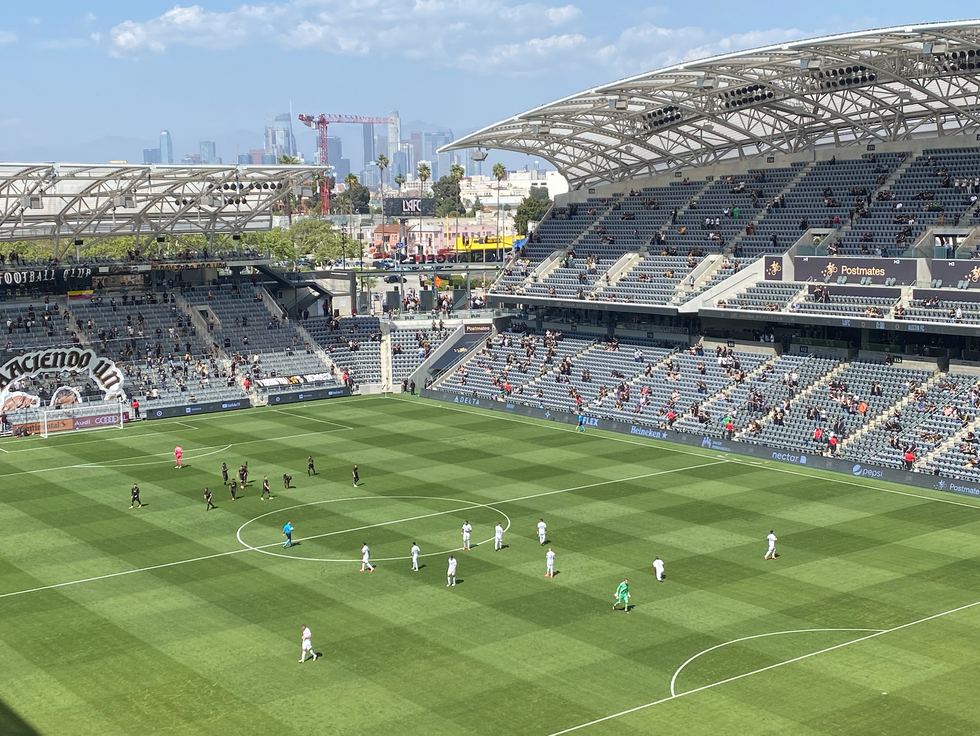 It's finally here! Claire will be updating Austonia's Twitter account live. And we'll post her game recap after the game. Best of luck Verdes!
4:40 p.m: Excitement radiates back home
Watch parties are in plenty supply back home. Austonia's Laura Figi visited Circle Brewing Co. and found a crowd of excited supporters.
4:20 p.m: Austin FC supporters are in the stadium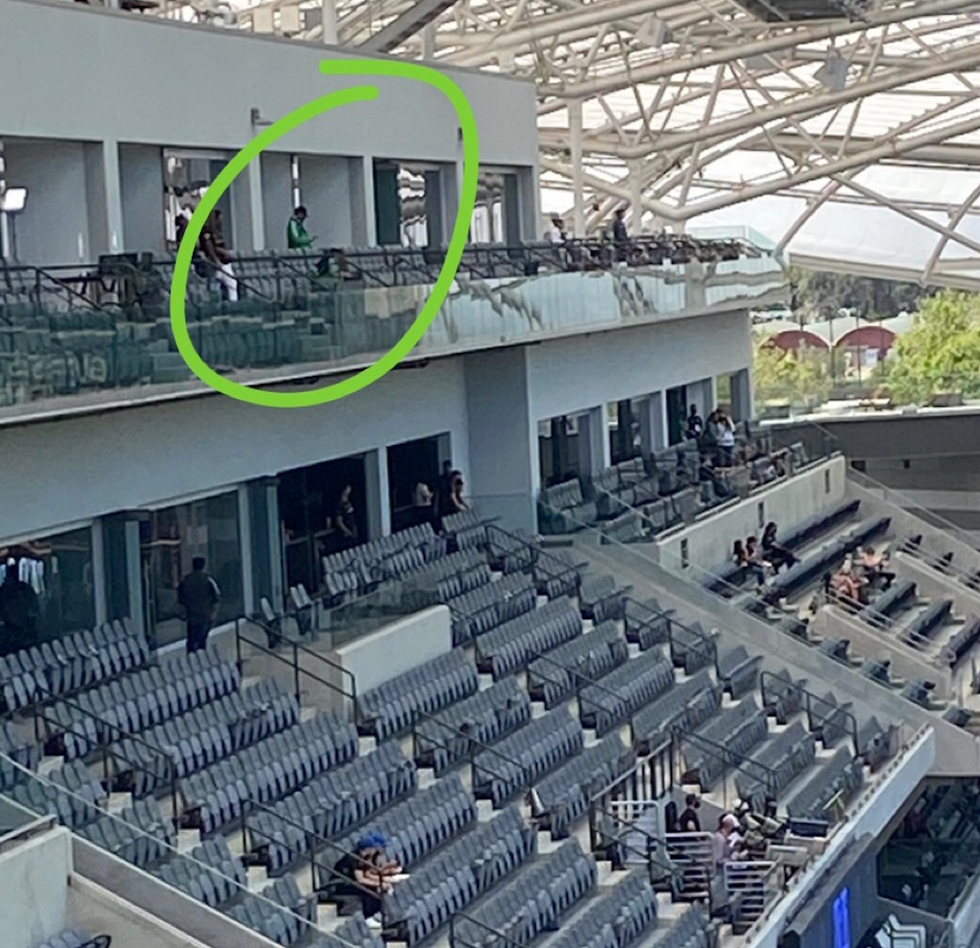 Although the Banc of California Stadium is hosting the match at limited capacity, we see some green in the stands ahead of kickoff. Just moments away from the Austin FC's debut!
~3:20 p.m: Austin FC's team bus enters the stadium grounds
With a warm welcome from Los Verdes, Austin FC players were welcomed into the Banc of California Stadium.
~1 p.m: Los Verdes in LA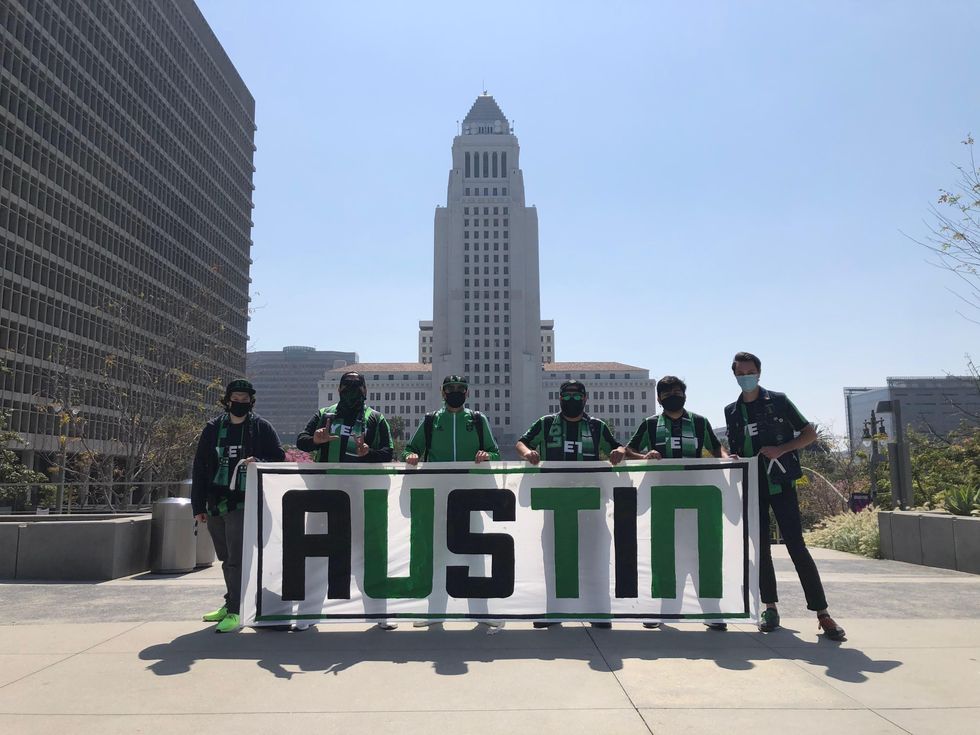 (Rigo Rodriguez/Los Verdes)
Austin FC supporters are making their presence known in LA, including the Los Verdes group.
Los Verdes members started having match-day fun around the area this morning with brunch. We'll be joining them about an hour before the game outside the stadium to share some of their excitement. We'll post immediately to Austonia's Instagram.
11:45 a.m: We landed!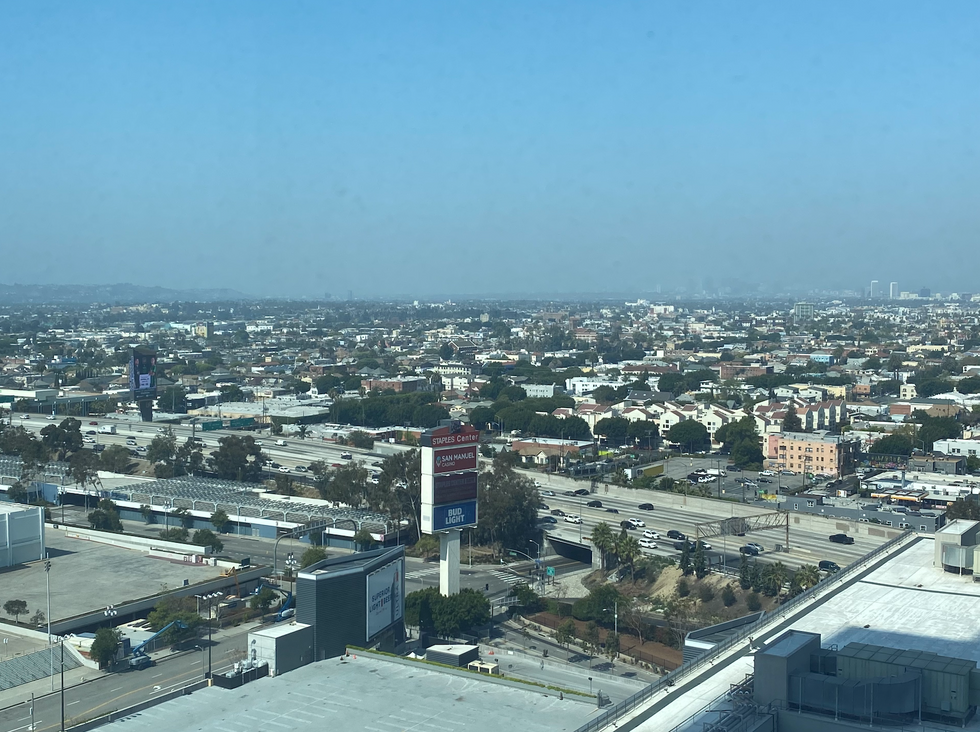 View from hotel room where we're staying; the stadium digital sign can be seen in the right corner. (Sonia Garcia/Austonia)
Switching over to pacific time, we're here and it's almost like no time went by. It's 9:45 a.m. here.
We've been in contact with Los Verdes, an Austin FC supporter group, who is also here in LA counting down to kickoff.
8:20 a.m: LA bound
Like many of you, we've been looking forward to this moment for, let's just say, a very long time. Today, we woke up bright and early, headed to Austin-Bergstrom International Airport and hopped on a flight to LA.
A gloomy day in Austin with a very quiet airport, we're headed to sunny skies in California.
As we wait for the game to start at 4:30 p.m., check out Claire's preview of the game with a predicted lineup and timeline of the long journey to get here.