Get connected with our daily update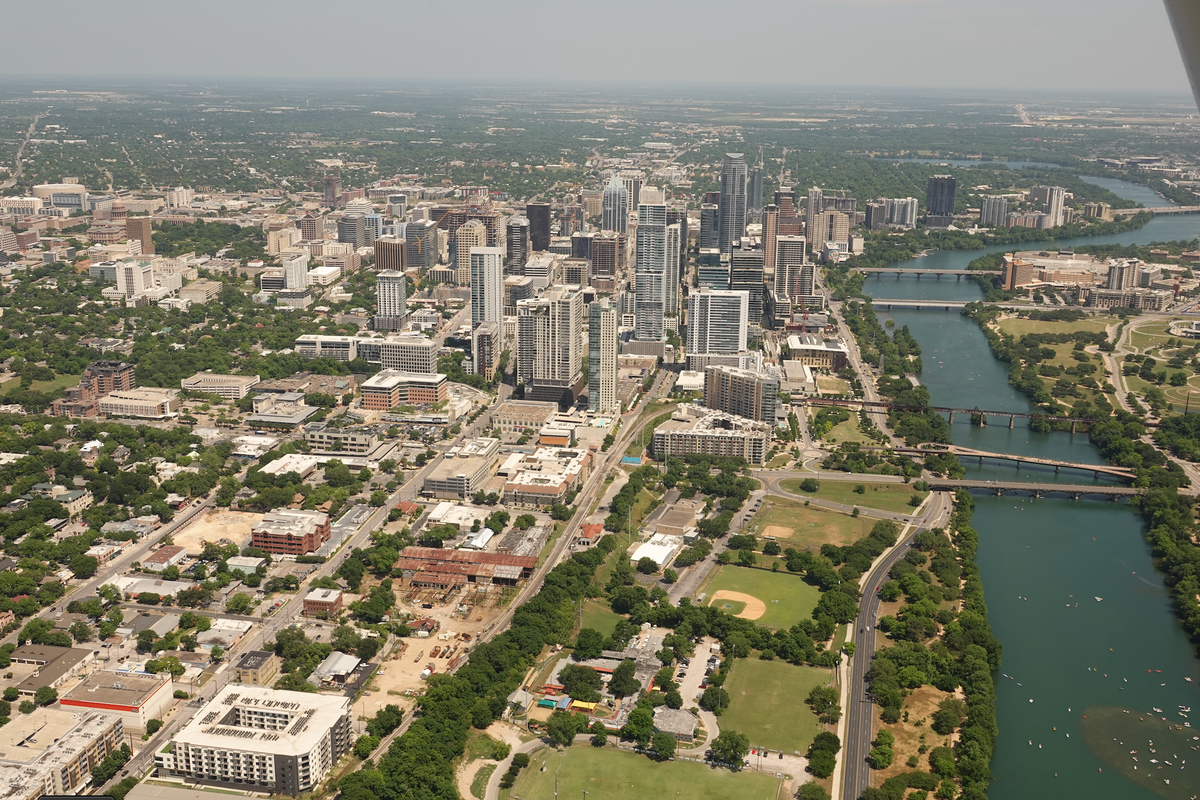 Editor's Note: Joah Spearman is the founder and CEO of Localeur, a local travel startup that shares local recommendations in more than 185 cities around the world. He recently published "An Open Letter to a New Austinite," a guide on what a newcomer needs to know about Austin. The following is his personal response to the negative op-ed published by Californian Brett Alder in Business Insider reviewing his stay in Austin. Views are his alone and do not reflect the views of Austonia.
Yes, I've read it. I rolled my eyes repeatedly as person after person brought a certain Business Insider article to my attention last week. Heavy sigh.
---
For context, I spent much of my day on Jan. 20 feeling myself shed pounds of anxiety, fear and uncertainty from the last four years under Donald Trump. Four years in which access to healthcare, Black lives, the environment, the media, progressive policies, science and truth appeared to be under attack at all times–so forgive me for enjoying the moment. A moment that soon passed as I began seeing a Business Insider article about a California man regretting his move to Austin on my Twitter feed.
I'd never heard of Brett Alder. I looked him up on Medium and LinkedIn to try to see if I'd come across him, but nope. Couldn't tell him from Adam. For all intents and purposes, I realized Business Insider likely re-published this random man's blog from 2016 now, on the same day as inauguration in 2021, because he fit the profile of who most people assume is making or considering the popular move from California to Austin: a white man in the tech industry who wants lower taxes and can afford to buy a house.
Considering Austin seems to be the biggest winner of the pandemic from a tech industry and growth standpoint, I can imagine the editor of Business Insider thinking of all the clicks they'd get by pissing off the residents of the fastest-growing city in America and giving San Franciscans a rare thing to cheer about amid some of the country's most strict COVID-19 restrictions and constant headlines about companies and residents fleeing their city.
So, there it was, an article in a major business outlet, skewering my beloved city. And just a week or so after my own "Open Letter to New Austinites" had run in Inc. Magazine albeit with a much different tone. I took a moment before considering if Alder's piece merited a response.
Alder had lamented the weather, the people, the lack of green spaces, and the public schools among other issues he found after moving from San Diego to Austin, despite doubling his house size for the same price and forgoing California's notorious income taxes. For the day or two after inauguration, it felt like every other message I received—a DM on Instagram or Twitter, a text or an email—was someone sending the article. A response was inevitable.
But, after this past weekend, I've realized I really don't need to offer up a rebuttal to the points Alder made about his experience in Austin. It may pain you to hear this, but you shouldn't either. What one random man from California who works in tech thinks about Austin should not get this much attention, and the fact that it did speaks more to our unfortunate assumptions about whose voices are worth listening to and worthy of elevation via a national media outlet (an entire presidential cycle later) than how we should feel about our chosen city.
We should be far more interested in the viewpoints of a longtime Austinite priced out of the East Side and now living in Pflugerville, the result of gentrification and neglectful zoning. We should consider the opinions of Austinites whom moved to San Antonio or Houston to experience a city with more Black or Hispanic inclusion; something Austin must improve. We should wholeheartedly learn from women in Austin's tech scene who've felt excluded, people of color who've launched startups only to be underfunded, young people at A.I.S.D. public schools who lack the resources of their peers at Eanes I.S.D. We should listen to working musicians and service industry professionals trying to make a living and stay close to Downtown in a city where rent prices continue to rise, housing supply remains low, and the income divide in our city grows by the day.
Simply put, Austin has real issues, and these issues require we listen to the right voices. Simultaneously, Austin has real benefits for a newcomer, especially one from California where more space, lower income taxes, a "buy local" mentality and relative affordability are just a few of the pros. I can imagine the editor of Business Insider spent little time speaking to many former Californians still living in Austin because that would have hurt the effectiveness of their (successful) clickbait initiative.
But listening (and, worse, responding point-by-point) to a random guy in tech from California who bought a 4,000-square foot home, got lost at Enchanted Rock, didn't seem to appreciate great food and live music, struggled to make friends, and generally failed to make the most of a city that has so much to offer? Miss me with that.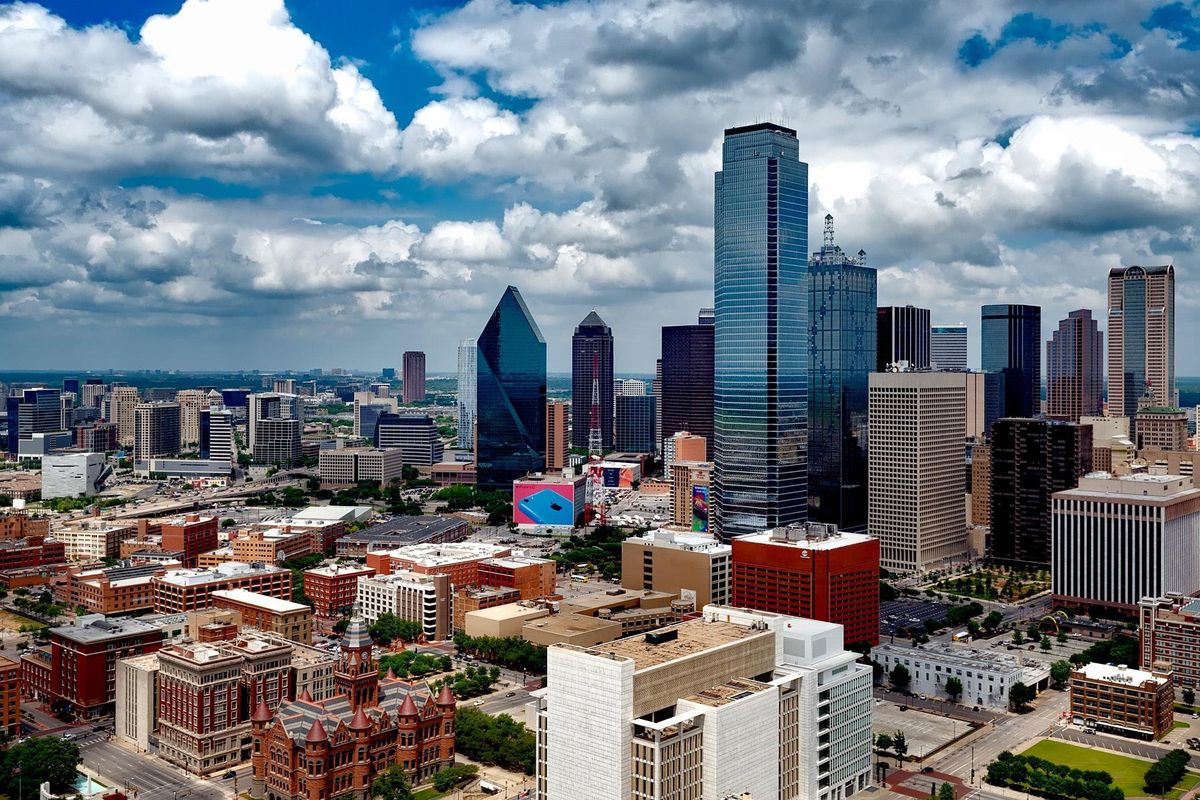 If you are a committed, grunge-wearing resident of the Pacific Northwest, it is easy–almost automatic–to look at Texas as an extraordinarily dry, hot and culturally oppressive place that is better to avoid, especially in the summer. Our two granddaughters live with their parents in Portland.
Recently we decided to take the older girl, who is 15, to Dallas. Setting aside the summer heat, a Portlander can adjust to the vibes of Austin without effort. So let's take Texas with all of its excesses straight up. Dallas, here we come.
Our 15-year-old granddaughter and her sister, 12, have spent summer weeks with us, usually separately so that we could better get to know each individually. In visits focused on Austin and Port Aransas, the girls seemed to be developing an affection for Texas.
Houston and Dallas are two great American cities, the 4th and 9th largest, each loaded with cultural treasures, each standing in glittering and starchy contrast to Austin's more louche, T-shirts and shorts ways.
Three hours up I-35, Dallas loomed before us as a set of gray skyscrapers in a filmy haze, accessed only through a concrete mixmaster of freeways, ramps and exits. I drove with false confidence. Be calm, I said to myself, it will all end in 10 minutes under the hotel entrance canopy. And it did.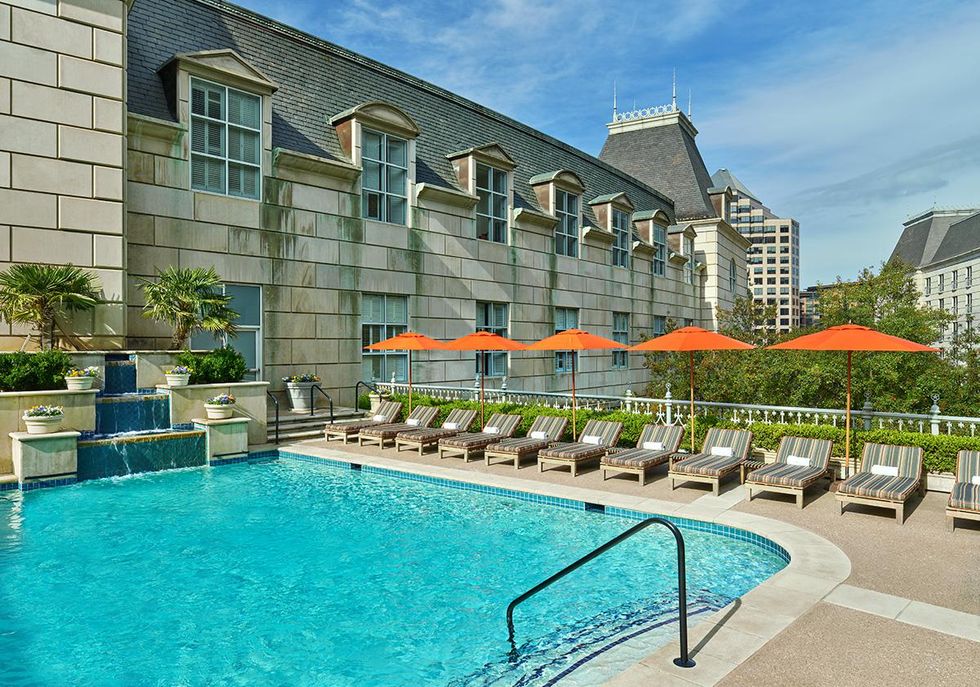 The pool at the Crescent Court Hotel in Dallas. (Crescent Court Hotel)
We stayed three nights at the Crescent Court Hotel ($622 a night for two queens), a high-end hotel in Uptown, patronized by women in white blazers, business people in suits, and tall, lean professional athletes, their shiny Escalades and Corvettes darting in and out, and other celebrities like Bill Barr, the former attorney general who shoe-horned his ample self into a Toyota.
Each morning as I walked to Whole Foods for a cappuccino, a fellow identified by a bellman as Billy the Oilman arrived in his Rolls Royce Phantom. Where does he park? "Wherever he wants to. He likes the Starbucks here."
We garaged our more modest set of wheels for the visit. We were chauffeured for tips by Matt Cooney and Alfonza "The Rev" Scott in the hotel's black Audi sedan. They drove us to museums, restaurants and past the enclaves of the rich and famous. In Highland Park, The Rev pointed out the homes of the Dallas Cowboys' Jerry Jones and Troy Aikman along with the family compound of the Hunts, oil and gas tycoons.
The Dallas Museum of Art's "Cartier and Islam" exhibit (until Sept. 18) attracted an older crowd; the nearby Perot Museum of Nature and Science was a powerful whirlpool of kids' groups ricocheting from the Tyrannosaurus Rex to the oil fracking exhibit. Watch your shins.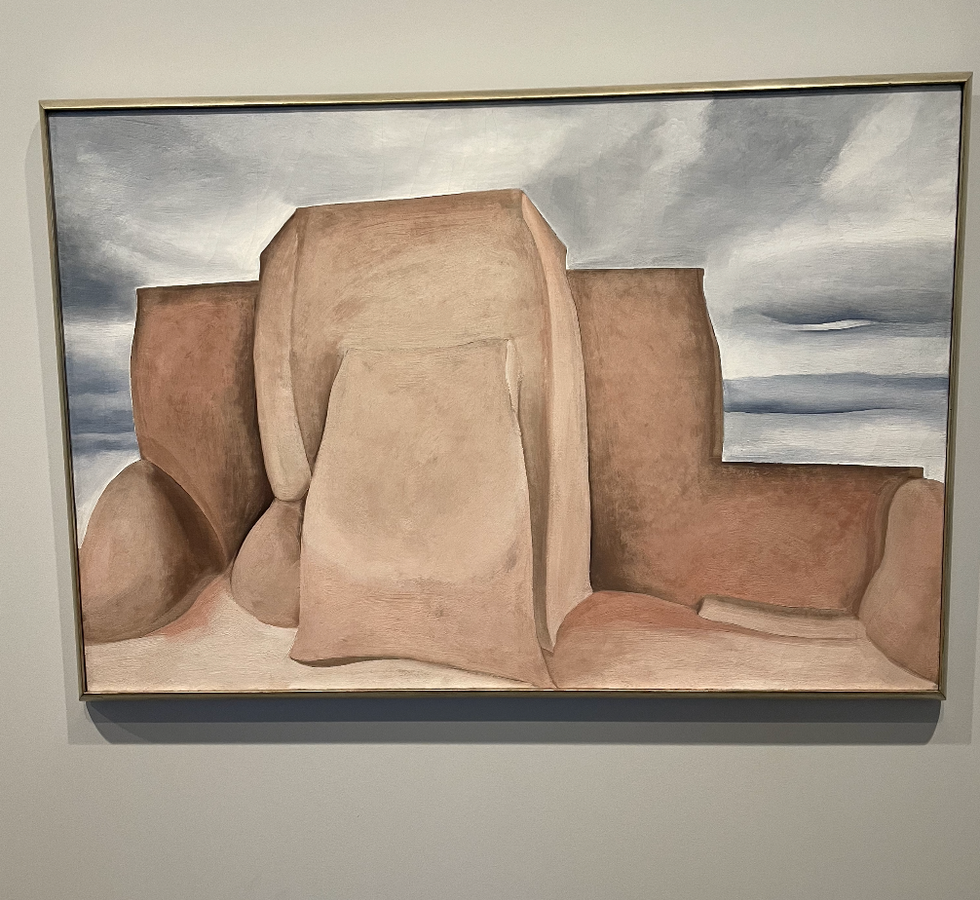 A Geogia O'Keeffe oil painting called "Ranchos Church, New Mexico" at the Amon Carter Museum of Modern Art. (Rich Oppel)
For us, the best museum was the Amon Carter Museum of Modern Art in Fort Worth, a 50-minute, madcap drive away via a 75 mph toll lane along I-30. Don't try it during rush hour. The Carter has an exquisite collection of Remington paintings and sculptures and an excellent array of 19th and 20th-century paintings as well. Pick one museum? The Amon Carter. Peaceful, beautiful, uncrowded, free admission and small enough to manage in two hours.
The Fort Worth Stockyards, a place of history (with a dab of schmaltz), fun and good shopping, filled one of our mornings. The 98 acres brand the city as Cowboy Town, with a rodeo and a twice-daily (11:30 a.m. and 4 p.m.) cattle drive. We shopped for boots, drank coffee and watched the "herd" of 18 longhorns. So languid was their progress that if this were a real market drive the beef would have been very tough and leathery before it hit the steakhouse dinner plate.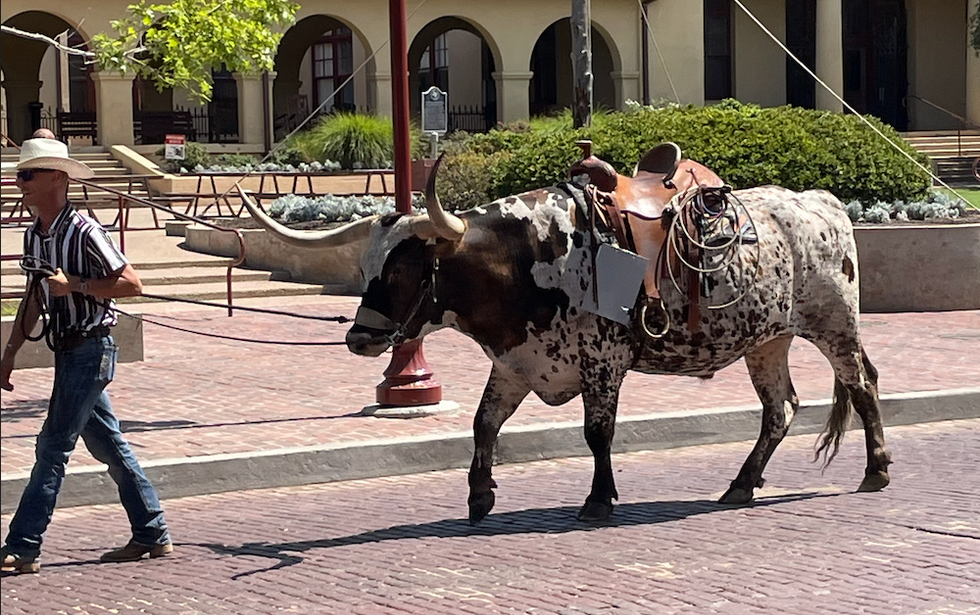 The cattle drive at the Fort Worth Stockyards. (Rich Oppel)
But we could identify: the temperature was 97. "I saw a dog chasing a cat today," said the emcee, deploying a very old joke. "It was so hot that both were walking."
With limited time, we chose three very different restaurants:
Nobu, in the Crescent Court Hotel; Jia, a modern Chinese restaurant in Highland Park; and Joe T. Garcia's in Fort Worth. Nobu's exotic Japanese menu set us back $480, with tip, for four (we had a guest), but it was worth it.
Jia was an ordinary suburban strip mall restaurant, but with good food and a reasonable tab of $110 for four.
Joe T.'s is an 85-year-old Fort Worth institution (think Matt's El Rancho but larger), a fine Mexican restaurant where a meal with two drinks was $115.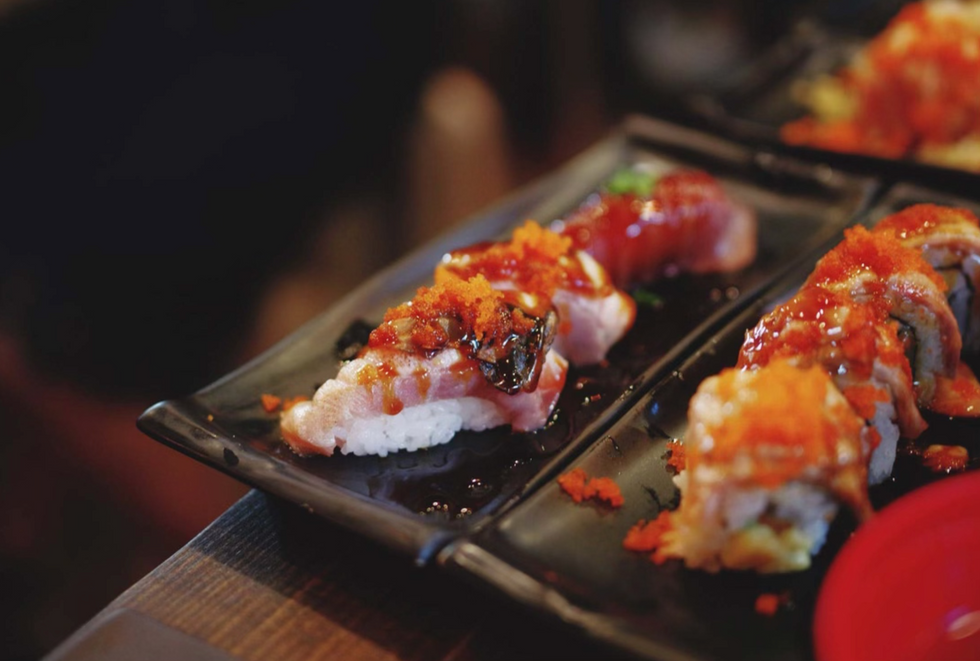 Sushi at high-end restaurant Nobu. (Crescent Hotel)
It was all a splurge for a grandchild's visit. Now we will get back to our ordinary road trips of Hampton Inns, where a room rate is closer to the Crescent Court's overnight parking rate of $52. And to corner cafes in small towns.
Did Dallas change our 15-year-old's view of Texas? "Yes. I think it's a lot cooler than I did. The fashion, the food." So, not only Austin is cool. Take Texas as a whole. It's a big, complex, diverse and wonderful state.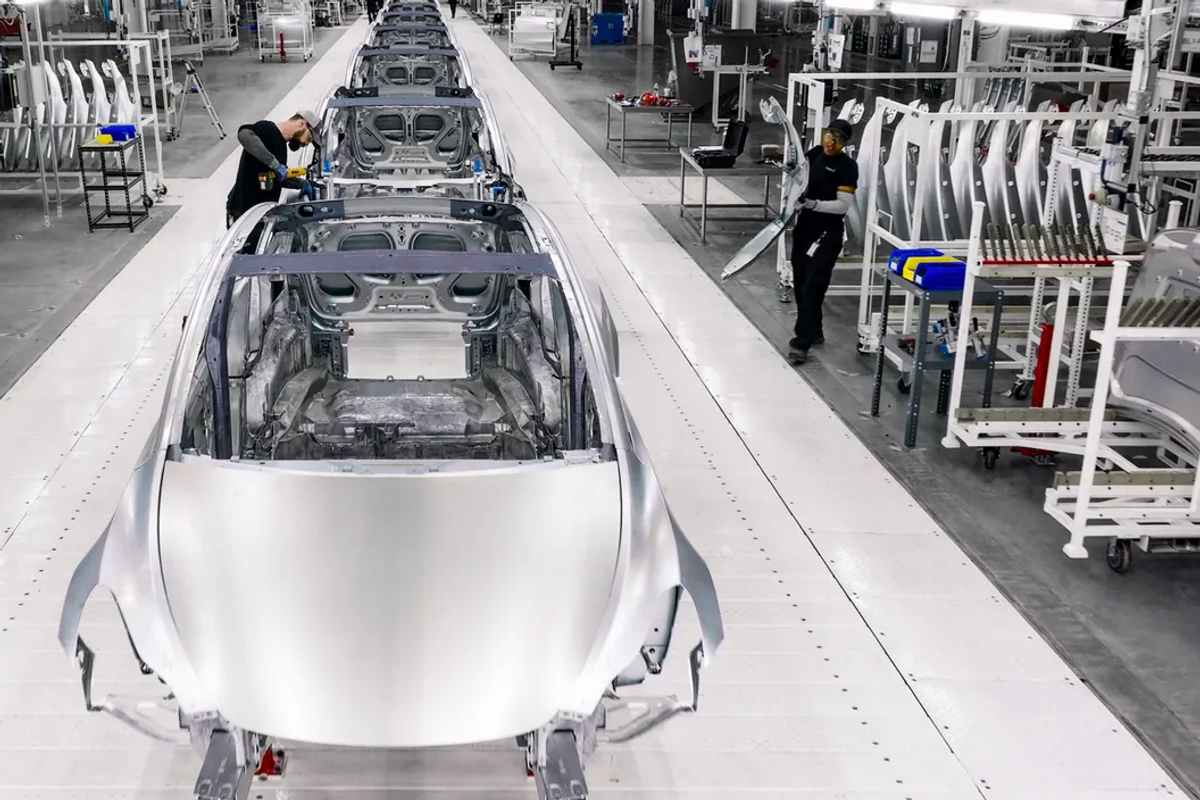 Giga Texas, the massive Tesla factory in southeast Travis County is getting even bigger.
The company filed with the city of Austin this week to expand its headquarters with a new 500,000-square-foot building. The permit application notes "GA 2 and 3 expansion," which indicates the company will make two general assembly lines in the building.
More details about the plans for the building are unclear. The gigafactory has been focused on Model Y production since it opened in April, but the company is also aiming for Cybertruck production to kick off in mid-2023.
While there is room for expansion on the 3.3 square miles of land Tesla has, this move comes after CEO Elon Musk's recent comments about the state of the economy and its impact on Tesla.
In a May interview with Tesla Owners Silicon Valley, Musk said the gigafactories in Berlin and Austin are "gigantic money furnaces" and said Giga Texas had manufactured only a small number of cars.
And in June, Musk sent a company wide email saying Tesla will be reducing salaried headcount by 10%, then later tweeted salaried headcount should be fairly flat.