Get connected with our daily update
Karen Brooks Harper
All retail stores, restaurants, malls, movie theaters, libraries and museums will be allowed to reopen with just 25% capacity this Friday, May 1, according an executive order issued on Monday by Texas Gov. Greg Abbott.
Gyms, bars, barbershops and nail salons are among businesses ordered to stay closed, but that could change as early as mid-May, Abbott said.
---
The Republican governor's previous stay-at-home order, which allowed only essential businesses to open and required restaurants to serve to-go in an effort to curb spread of COVID-19, will expire this week.
"Now it's time to set a new course," Abbott said in a news conference Monday. "A new course that responsibly opens up business in Texas."
Abbott's plan has a testing and contact-tracing element, which includes increasing testing capacity to 25,000 tests per day in Texas, engaging 3,000 members of the Texas National Guard in mobile testing sites throughout the state, and building a team of up to 4,000 contract tracers to "box in" the virus, Abbott said.
The new rules also seek to strengthen protection of elderly Texans with new protocols for group homes and requirements that businesses follow extra safety measures with elderly and otherwise vulnerable populations.
Sole proprietors of all types may once again go back to work, not just those in essential industries. Outdoor sports with fewer than four participants are allowed again, and some travel and hospital restrictions were relaxed.
The order negates local rules that ban these businesses from opening, and wipes out face mask requirements and other stay-at-home orders across the state because the executive order will supersede county and city ordinances, Abbott said.
His office strongly suggested that Texans continue to wear face masks, but said they are not mandatory. Similarly, businesses are allowed to open, but not required.
If the current allowances don't result in a spike in coronavirus-related hospitalizations and deaths by mid-May, the rules will be further relaxed and Phase 2 of the reopening will go into effect on May 18, he said.
That includes an increased capacity for the businesses allowed under Phase 1 and perhaps more businesses added to the list, he said.
Abbott said he ran the entire plan by Dr. Deborah Birx, the Trump administration's coronavirus coordinator, and her team.
"She said the Texas plan was great," Abbott said. The Trump Administration and advisors "have truly been available to us on a 24/7 basis."
House Speaker Dennis Bonnen reminded Texans that limited capacity and increased protocols at businesses may slow things down at first.
"We're going to have to show patience," he said.
Nearly 2 million Texans have filed unemployment claims, Abbott said. Some 1.6 billion claims have been processed and $2 billion in benefits paid, he said. The economy has been on hold long enough, he said—even as social distancing and stay-at-home orders proved effective.
Last week, state parks were reopened and restrictions were loosened on surgeries in anticipation of the new order.
"The lives saved are priceless," he said, "but the price has been steep."
See the governor's plan here.
The Texas French Bread Bakery, located on 2900 Rio Grande Street, has been completely destroyed after a fire erupted on Monday night.
The Austin Fire Department responded to the fire just before 11 p.m., where they arrived to see flames coming from the roof of the bakery. Firefighters fought the fire for about an hour before the roof collapsed.
While no one was injured in the fire, firefighters say the historic building was completely totaled.
AFD determined that the fire was accidental and caused by mechanical failure. AFD said the damages amounted to $1.6 million total: $1.1 million in structural damage and $500,000 in damage to the contents of the bakery.

This year, Texas French Bread will celebrate 40 years of business. Before the bakery occupied the building, it was the Rome Inn, a music venue that hosted 1970s artists like Stevie Ray Vaughan.
Austin's first major league team is ready to extend its reach with a new collaborative sports complex The Pitch, an Austin FC destination packed with local food, beverages and Verde fervor is set to open in Northeast Austin in February.
The Pitch, a collaboration between Austin FC and Karlin Real Estate, among other entities, will be located in the 50-acre Parmer Pond District, which already hosts the club's practice facility St. David's Performance Center.
Dubbed a "true destination" for both soccer fans and the community, The Pitch will consist of multilevel shipping containers designed by Mark Odom Studio that will carve out into a 1,200-seat stadium complete with a soccer pitch made of turf, food and beverage options and a five-acre "Parmer Pond" featuring jogging trails.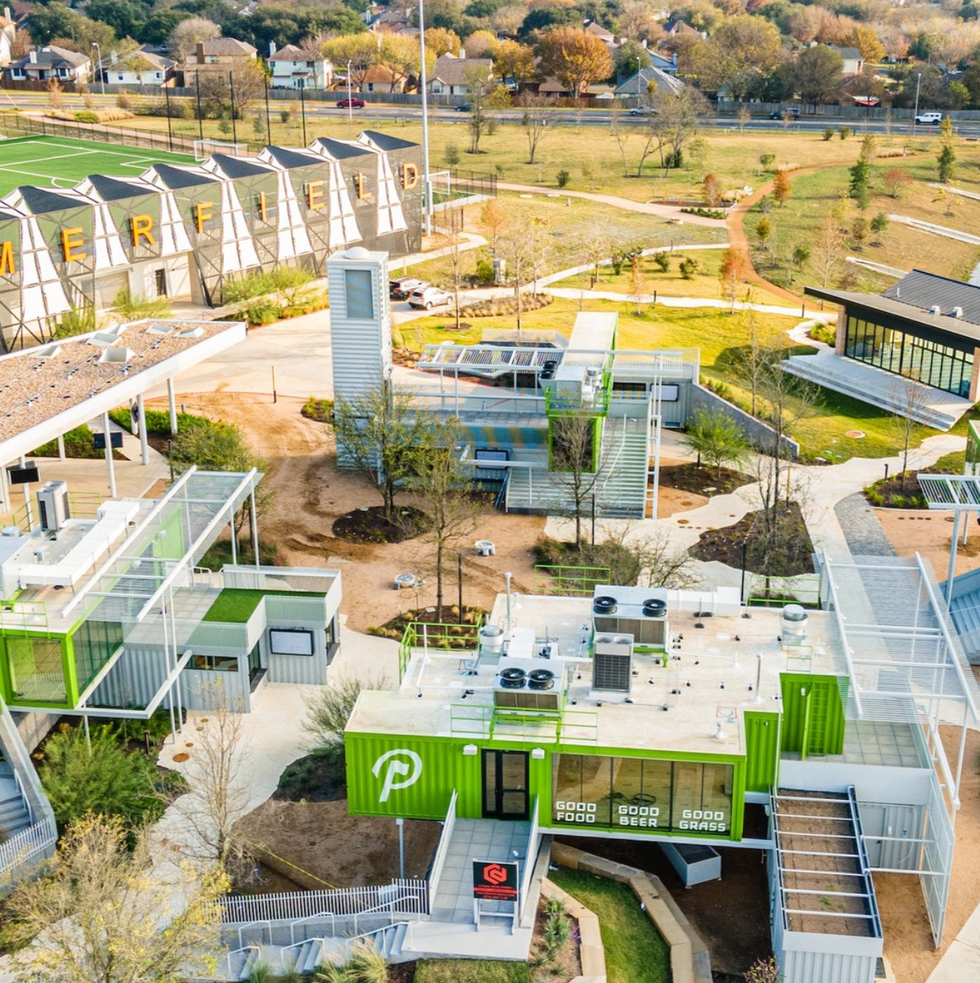 Made from multilevel shipping containers, The Pitch will include food and a 1,200-seat soccer pitch made from artificial turf. (The Pitch)
"The launch of Karlin's new food and entertainment experience will greatly enhance the Parmer development while perfectly complimenting St. David's Performance Center," Austin FC founder Anthony Precourt said. "The Pitch... will offer a strong variety of food options and gathering spaces for guests who will utilize St. David's Performance Center and Parmer Field for a variety of events."
The Pitch project lead Dave Greeley, who helped come up with the concept, is a former president of Austin FC parent company, Two Oak Ventures.
"The vision behind The Pitch at the Parmer Pond District is to be a first-of-its-kind sports, dining and entertainment destination," said Dave Greeley, The Pitch project lead and Team Orbis president. "This will be an unmatched experience for Parmer Austin tenants, Austin FC and club supporters, and the community."
With its proximity to the practice center, the venture hopes to contribute to the growing "soccer city" of Austin during Austin FC matches and youth games with the Austin FC Academy hosted at the St. David's Performance Center.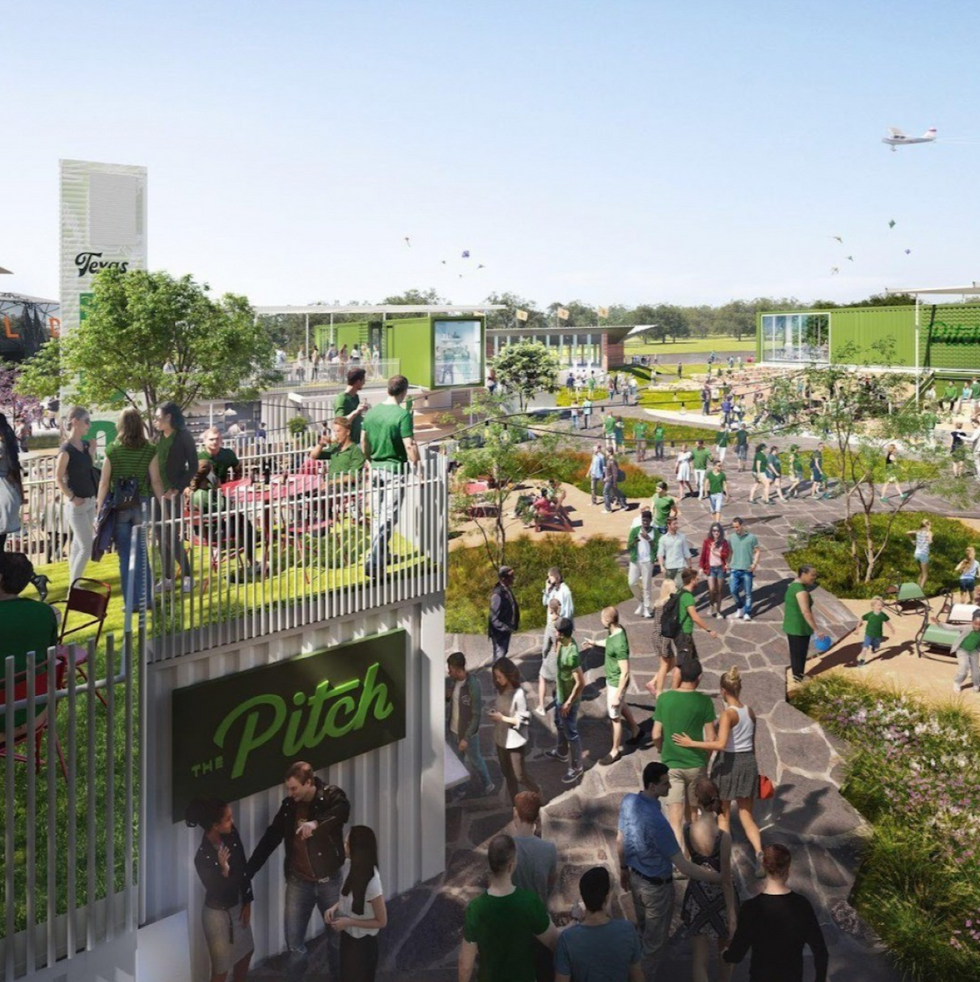 The Pitch hopes to converge both community and club interests with Austin FC. (The Pitch)
In addition to the soccer pitch, stadium and pond, The Pitch will provide a foody experience made by the creative team behind Austin staples like Fareground and Easy Tiger. The complex will offer local bites including:
Ranger Burger, which offers beers and burgers made from highly-coveted Wagyu beef direct from Ranger Cattle in East Austin
Ga Roti, which merges flavors from Northern Vietnam with the culinary techniques of France to create a unique rotisserie chicken joint
Taco Flats, a local taco chain serving Mexico City-style tacos, micheladas and more
Sand Bar, which fulfills its namesake with beauty cocktails, local beers and a sand volleyball court
Coffee Club, a coffee shop and bakery
Corner Kick Bar, the soccer-focused main bar of The Pitch complete with "tunes, TVs and (a) beer garden"
The Pitch will squeeze between St. David's Performance Center and Parmer Pond alongside the southern edge of Parmer Austin, a Karlin Real Estate venture that will eventually include multifamily housing, corporate office space and an aerospace and defense center.