Get connected with our daily update
"It's 5 o'clock somewhere," but not quite at Austin's Cidercade, where gamers, couples and friends have already gathered in the middle of a weekday to drink cider and play arcade games, new and old, for $10 a pop.
---
The cider company-turned-arcade is just one of many successful arcade businesses to have found their audience in Austin, where tech gurus and niche game hobbyists take a breather with their favorite old video games.
According to David Kaelin, owner of retro gaming store Game Over Videogames, Austin is a prime location for those in his industry.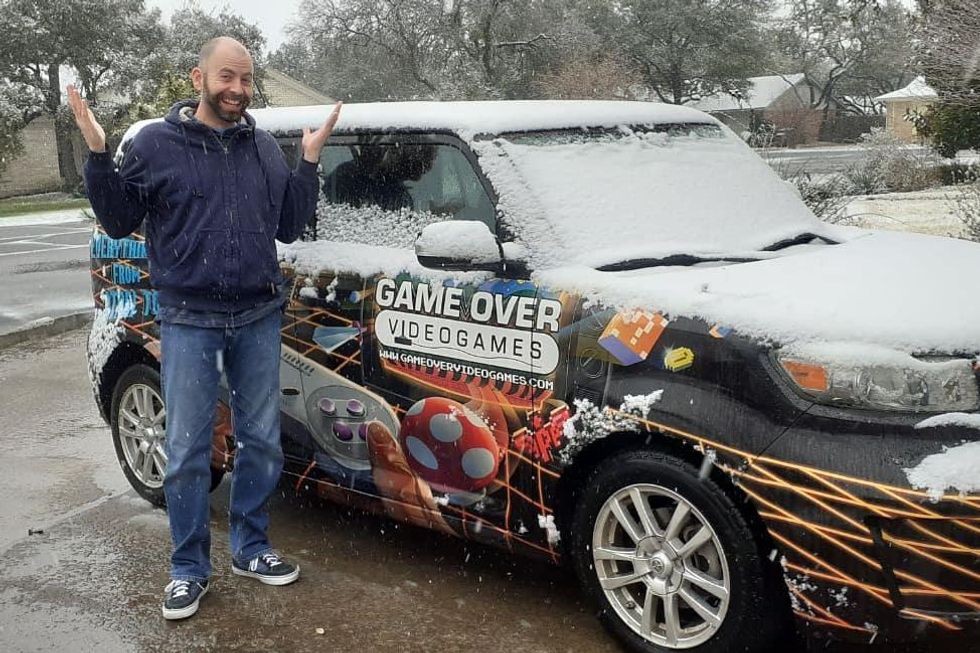 David Kaelin is a longtime owner of Austin-based retro gaming store Game Over Videogames, (David Kaelin/Facebook)
"It's definitely a very good market for gaming in general," Kaelin told Austonia. "There's a lot of young, high-tech-minded people here... and every year thousands of people are coming in and out of UT with high tech degrees, so it just adds more and more geek fuel to the fire."
But it wasn't long ago that just one or two arcades were in town, Kaelin said.
"I can think of five arcades that I could drive to just around the Austin area, and you couldn't say that five years ago," Kaelin said.
Kaelin has been a part of the industry since 2005 when he opened his video game resale shop in the Texas capital. His mission was to keep on the dying tradition of the "classic video game store"—think GameStop, but cooler. The store sells a little bit of everything, from the now-ancient Atari to XBOX gear in stock, and they're in higher demand than ever.
The company has expanded to 12 locations and won the "Best Video Game Store" category in Austin so many times the city expanded its criteria. According to Kaelin, its success is all about nostalgia.
Kaelin has found that there's a sweet spot for old games: once they reach 20 to 30 years old, they're ready to be dusted off the shelves and give new adults more feel-good memories.
For Leander native Danny Ugarte, that game is Dance Dance Revolution, an on-your-feet arcade game first made in 1999. Ugarte remembers playing the game as a kid—now, years later, he's using it as a way to keep occupied during the pandemic.
"It definitely helped, especially since gyms were closed and things like that," Ugarte said. "That helped me keep up with exercise."
Ugarte's been going to Cidercade for around six months now, usually with a friend or two in tow, as they hang with other "DDR" enthusiasts every few weeks. Occasionally he'll dabble with an old Mario Bros. game as well, and he's more into retro games than the cutting edge ones.
"I just think it's important to kind of keep these old games because they were what inspired the new games," Ugarte said. "With the new games it kind of loses its charm... this is what I grew up on, and coming back to this makes me really happy."
While some are motivated by childhood memories, Kaelin said his customers are a mixed bag. The user-friendly nature of older games gives it more widespread appeal than many modern games, and Kaelin has seen anyone from kids to older customers enjoy a good game of Galaga or Street Fighter.
"It's fun for me to see all the different ages and different reasons for getting into retro gaming in stores," Kaelin said. "It brings all those people together."
Unlike most businesses that struggled during the pandemic, Kaelin said that staying a home got people gaming more than ever. Now that some semblance of normalcy has returned, they're also more eager to go somewhere outside of the home, making for a perfect storm for gaming businesses nationwide.
"Unlike anything else, it's gotten a lot more popular in the past several years before COVID, and then especially during the past two years with the shutdown," Kaelin said. "We're definitely in a kind of Renaissance period where I think people are, you know, in much larger numbers going out to local stores to shop because they've been unable to do that in the past. It's a great time to be into retro gaming."
Five Austin companies joined Google's second Startups Black Founders Fund on Wednesday, earning $100,000 each as part of the $10 million initiative geared toward giving Black entrepreneurs access to funding for their startups.
The fund gave $100,000 to 50 founders nationwide, including Austin companies CustomerX.i, Journey Foods, Sandbox Commerce, The Mentor Method and Tadeblock.
The founders will receive the funding without giving up any ownership of their startups and will gain access to Google technical support including up to $120,000 in donated search Ads from Google.org and up to $100,000 in Google Cloud credits. The Austin companies will also join a select few—the fund is only two years old and last year rewarded 76 Black-led startups with up to $100,000 as well.
Google's Startup funds can be used to boost Black founders' companies into success—last year, founders raised up to $50 million in capital after recieving the funds, and 80% of the companies used their funds to create jobs.
Founders from last year's batch then paid it forward by nominating new companies and announcing the winners via Zoom.
Here's a look at those 5 founders in Austin:
Austinites will once again be able to take a nonstop flight to London as Austin-Bergstrom International Airport resumes transatlantic travel this fall.
Starting Oct. 13, British Airways will offer its direct flight from ABIA to London-Heathrow Airport three times a week on Wednesday, Friday and Sunday. The airline, which has been operating in Austin since 2013, had halted service at the start of the pandemic over a year ago.
"We can't wait to welcome our customers back on board our Austin flights and we are honored to be playing our part in reuniting families and friends with their loved ones after such a long time apart," said Marie Hilditch, British Airways' head of North America sales.
Safety protocols the airline is taking include:
social distancing measures
wearing of facemasks
providing hand sanitizer stations
cleaning all surfaces after every flight
fully recycling the air once every two to three minutes through HEPA filters, which remove microscopic bacteria and virus clusters with over 99.9% efficiency
The announcement comes as COVID-19 testing requirements to enter the UK are scheduled to stop on Oct. 4. for vaccinated Americans.
Additionally, a Monday White House announcement allows fully vaccinated international travelers to enter the U.S. starting in early November with proof of a negative COVID-19 test. The ban, which was implemented in 2020, restricted travelers from a number of European countries, Iran and China throughout the pandemic.
With a goal of making healthy goodies available to the masses, HumanCo LLC has caught the attention of famous Austinites.
The Austin-based investment firm and holding company that incubates, acquires and scales consumer packaged health foods just closed a $35 million bridge funding round that included some well-known backers from the capital city and beyond according to co-founder and CEO Jason Karp.
Even since the beginning of its launch in May 2020, HumanCo had gained a new board of advisers member and an undisclosed investment from professional tennis superstar Venus Williams.
This most recent round welcomed a vetted round of investors who share a love of healthy food: co-founder of Austin-based private equity firm Vista Equity Partners Brian Sheth, Austin-based venture capital firm 8VC general partner Joe Lonsdale, actress Scarlett Johansson, Whole Foods Market Inc. co-CEO Walter Robb, model Cindy Crawford, Thrive Market co-founder and CEO Nick Green, San Francisco venture capital firm Jazz Venture Partners, former PepsiCo CEO and chairwoman Indra Nooyi, U.S. Open winner and former Austinite Andy Roddick, model and actress Brooklyn Decker, and Vital Proteins founder and CEO Kurt Seidensticker.
Founded in 2019, the company secured a $15 million Series A funding round in January 2020. Come late 2022, the company is planning "a much bigger" round of funding. According to HumanCo officials, targeting well-known influencers and celebrities was a deliberate choice—they have the influence money can't buy.
Some of the brands under the company's umbrella include organic, grain-free and gluten-free Snow Days Pizza bites, which feature Johansson as the creative director; wholesale gluten-free baked goods manufacturer Against the Grain Gourmet Foods and organic and plant-based ice cream brand Coconut Bliss.
The company employs 22 people, nine of which work in Austin at 98 San Jacinto Center. The rest of the employees are spread across at least four cities, including Chicago and Los Angeles, for the time being.
HumanCo plans to hire around 10 more in the next year, according to Karp, and go public in "a few years." The company currently has
two jobs open in Austin
.