Get connected with our daily update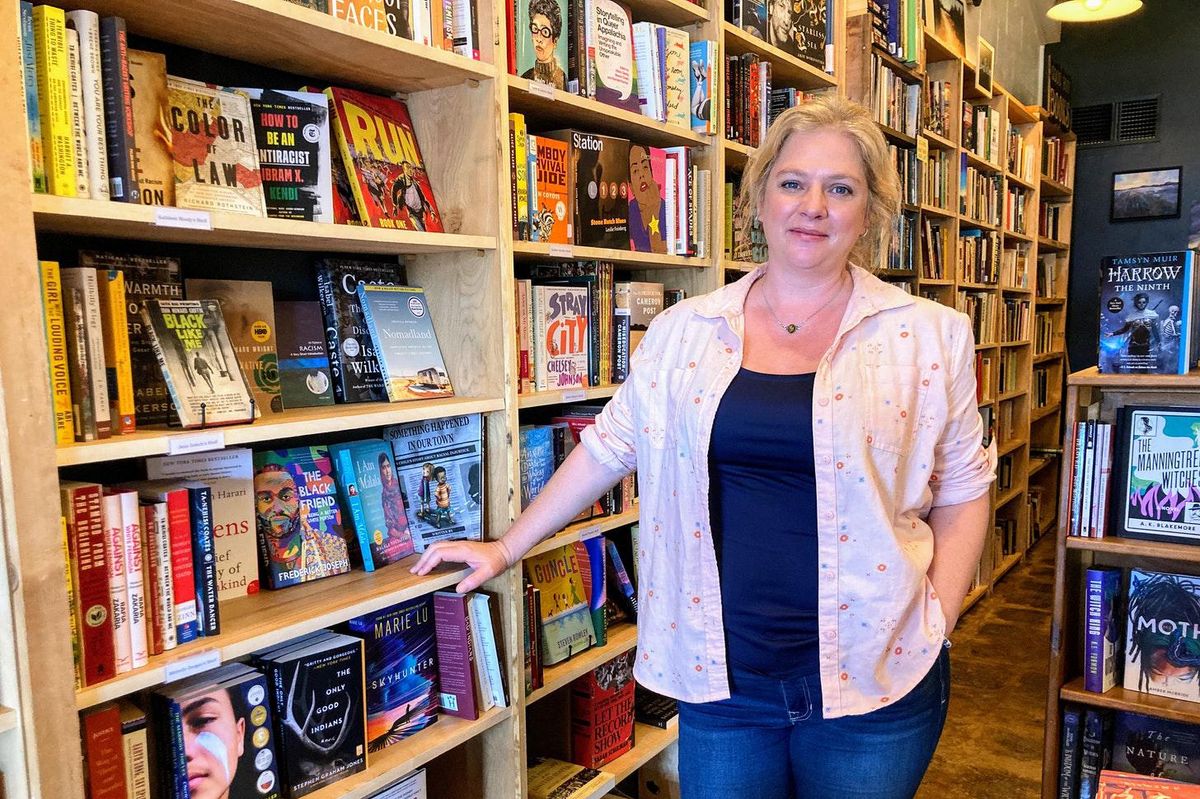 Reverie Books opened just in time.

Sure, the supply chain is out of whack and a global pandemic has been raging for 18 months, but bookstore owner Thaïs Perkins says a queer, feminist and social justice-centered store couldn't have happened without all the changes that the coronavirus pandemic brought and a chance run-in with a used bookstore owner who was ready to retire.
---
First, a little about Perkins. She's the former executive director of TreeFolks, an Austin nonprofit dedicated to planting trees in urban and rural areas. She left that job in 2019 without knowing that a year later, she would be running a pod school for the neighborhood kids. (Her children are 11 and 16.)
"It was Looney Tunes."
This wasn't her first stint as a teacher.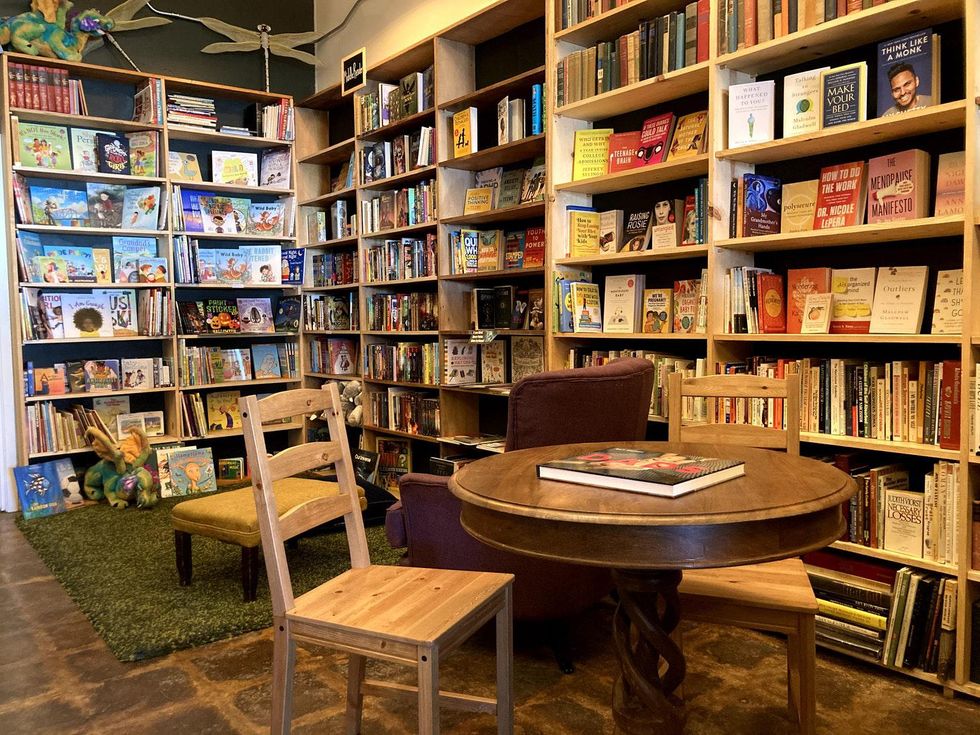 Reverie Books in South Austin has a reading area and a children's area. Owner Thais Perkins says she wants to host indoor events as soon as it's COVID safe. (Addie Broyles)
Perkins has a masters degree in forestry and grew up in the "middle of nowhere Louisiana." By 17, she'd graduated from high school and was living in Oregon, working as a singer-songwriter. "I lived on the road for years and got real broke and sick and tired," she says.
She eventually went back to school and became a university instructor and researcher, focusing first on swamplands and then on watersheds. After working in environmental regulation at a water treatment plant in Austin, Perkins became the executive director of TreeFolks in 2014.
During all these life and career changes, Perkins was making an annual pilgrimage to the Kerrville Folk Festival.
"It is a Mecca for American songwriters," she says. "It was legendary, you know you could just show up. It used to be where you'd show up with your CD, and they'd put you on staff."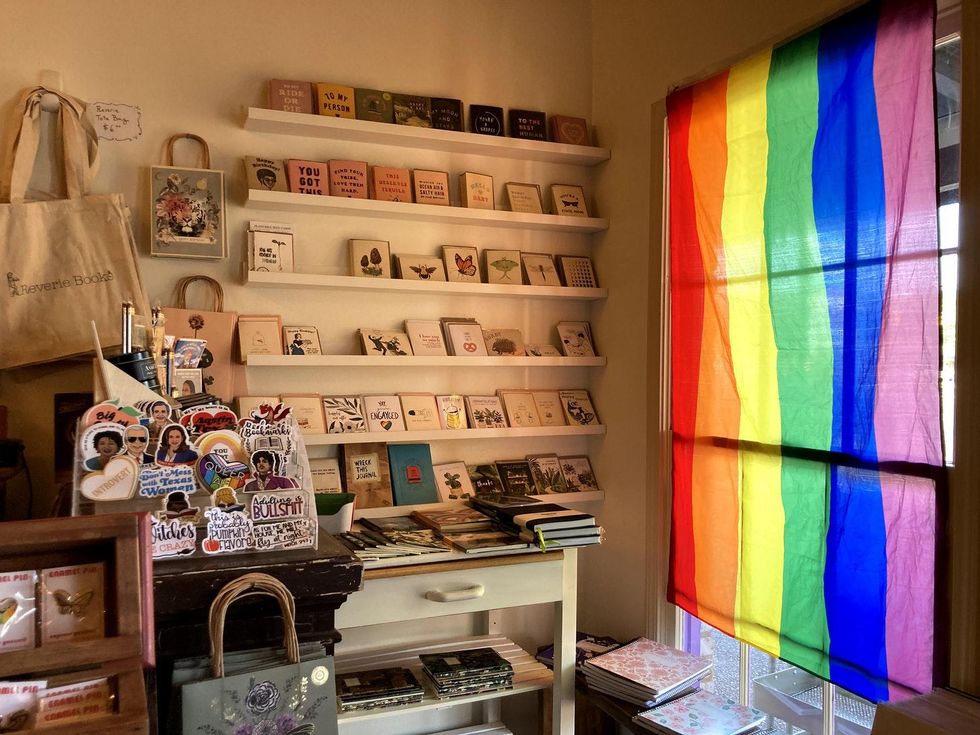 Reverie Books sells a variety of notebooks, notecards, stickers, magnets and other items that aren't books, but most of the store is dedicated to books. (Addie Broyles)
That's where she met David Schunck, a Vietnam war vet turned "peace-loving hippie" who ran Good Buy Books for decades. "He wanted to retire, but he didn't fully want to let go, and I was looking for my next gig," she says.
Why a bookstore?
"I have always loved bookstores as community places, places of healing. When I grew up as a troubled teen in Louisiana, bookstores are where I would go to feel solace and to explore what it meant to be me. I'd find the feminist bookstores with Ms. magazine on the shelf, it was a place where I could kind of hide out."
A 70-year-old Vietnam vet and a 40-something lesbian, it turns out they have quite a lot to say to each other. They are both songwriters who see books as a way of building community. Schunck still has some shelves of used books in the back of the store, and the rest of the shelves are filled with contemporary and classic books, zines and non-traditional titles, puzzles, a few well-curated toys, notecards, magnets and other gifts.
Reverie means "a state of being pleasantly lost in one's thoughts; a daydream."
"That was my dream for this: I wanted something for everybody, but I especially wanted kids who felt marginalized and not represented to be able to come in and feel like they have a place. And it's working."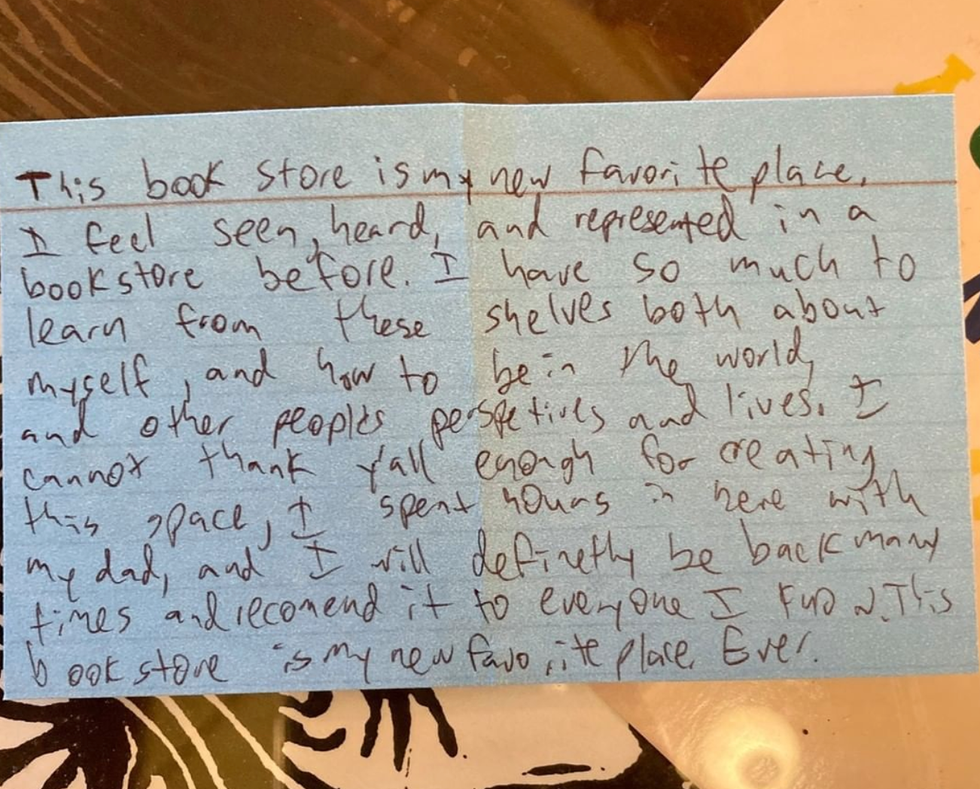 A customer left this note in Perkins' suggestion box. (Addie Broyles)
Perkins reaches over to the wall by her computer to peel off a handwritten note on a blue notecard. "This bookstore is my new favorite place. I feel seen, heard and represented," the patron wrote.
She keeps this reminder by her desk so she can remember why she opened the store in the first place.
"You know, this is risky. It's not nothing," she says. "I've had a lot of professional positions and made decent money for my family, but this isn't that and it may never be that. My wife is the breadwinner, and I'm not used to being someone who doesn't."
Perkins points out the connection between starting a bookstore and spending all those years on the road as a singer-songwriter. "There's always a balance between how much of what I want to achieve in the world and how much I want to sacrifice for a salary versus what I want to get out of this life."
She says the whole family has been on board with the project, especially now that the sense of community is building.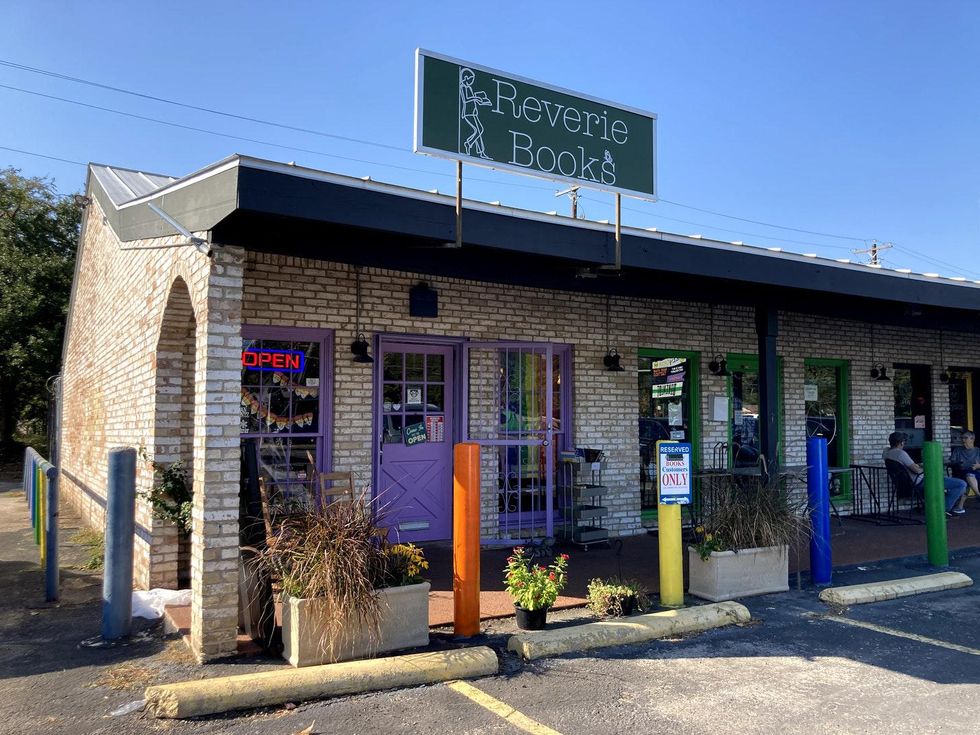 Reverie Books is at 5330 Menchaca Road in South Austin. (Addie Broyles)
Having just come from the non-profit world, Perkins is constantly thinking about giving back to the community. She makes donations to non-profits, including Planned Parenthood and the Gay Straight Alliance at the nearby Crockett High School. "It's hard to sustain but it's an important part of what we're doing."
In her little corner of the parking lot in front, she's hosting some outdoor events that will eventually move indoors once COVID-19 subsides, where the rolling bookshelves can make way for chairs. Her neighbors at Captain Quackenbush's Coffeehouse next door have brought her pie, and Austin author Lauren Hough is hosting a presentation there on Friday night.
Customers can also rent out the space for a private shopping session or a date night, including cheese, wine and charcuterie.
Perkins says that hers is one of many indie bookstores that have opened during the pandemic, which from a commercial perspective seems counter-intuitive.
But when thinking from the point of view of what's best for the community, it's exactly what we needed.
Addie Broyles is a longtime food writer, who wrote for the Austin American-Statesman for 13 years. This piece was published in her weekly newsletter, "The Feminist Kitchen," where she shares stories about parenthood, grief, ancestry, self-healing and creativity. Check it out here.
More from Addie Broyles: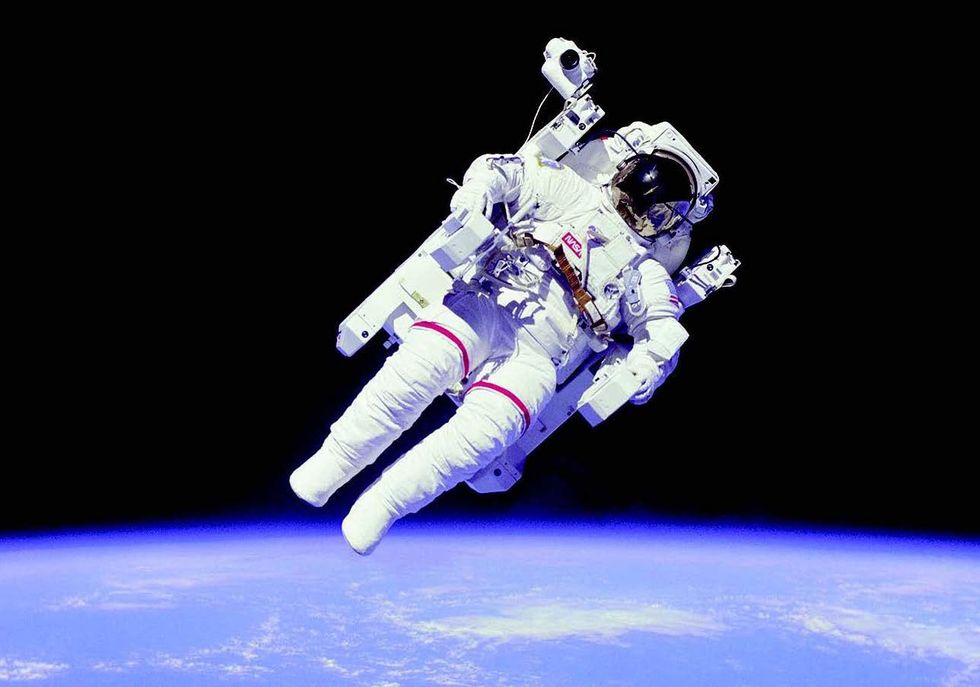 New book by the son of an astronaut in Austin chronicles the first untethered spacewalk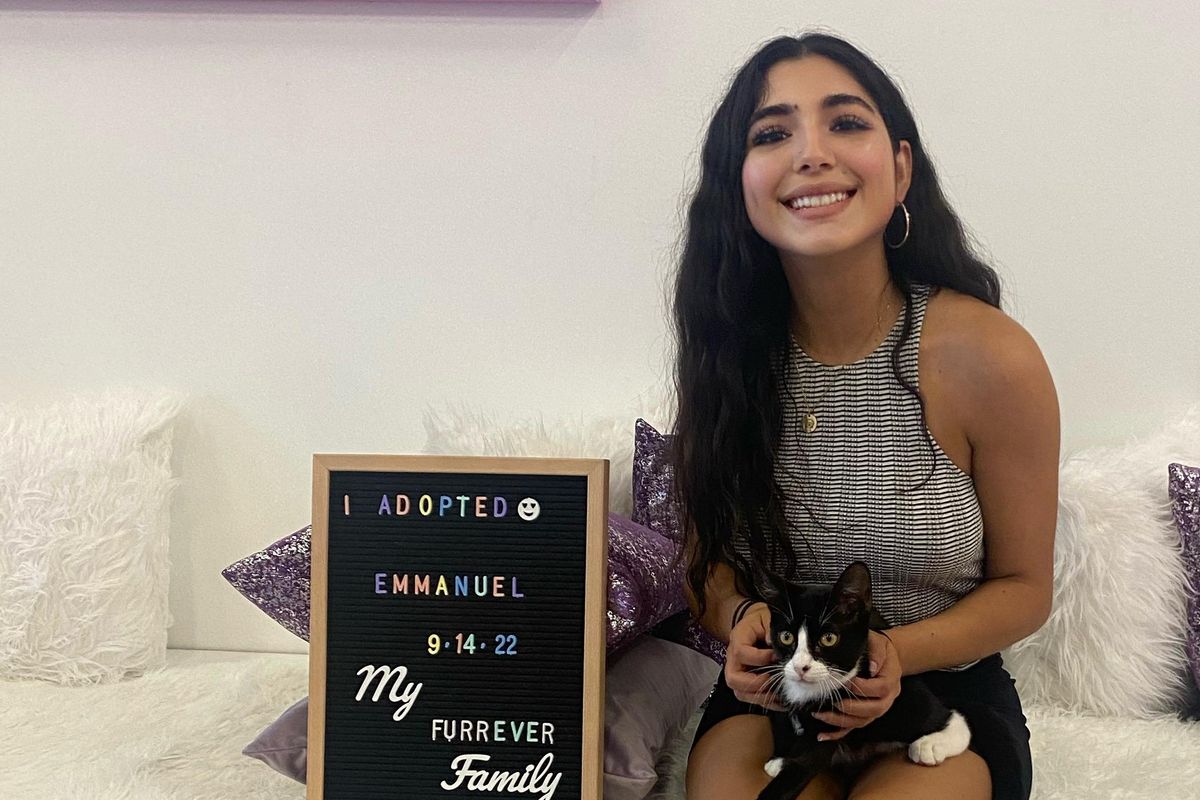 Purr-fecto Cat Lounge
Timmy and Tommy are ready to play.
As the 2-month-old white-and-tabby brothers swat feather wands, chase toys and generally hold court inside Purr-fecto Cat Lounge, a half-dozen potential adoptive parents look on lovingly, trying to get their attention.
"This is kind of like the speed dating of cats," said Lupita Foster, owner of Purr-fecto Cat Lounge. "I intentionally didn't put in any tables. That's why we call it a lounge instead of a cat café because we have these lounge areas where you can sit and relax and cuddle."
Foster, who has owned a cleaning company, Enviromaids, for 18 years, was inspired to open Purr-fecto Cat Lounge after adopting her own cat, Romeo, from a local shelter.
"When you want to adopt a cat, you have to spend a lot of time with them to get their personality," Foster said. "I wanted to do something to help the community and something that makes me feel good, that warms my heart. A business with a purpose. This was a perfect idea."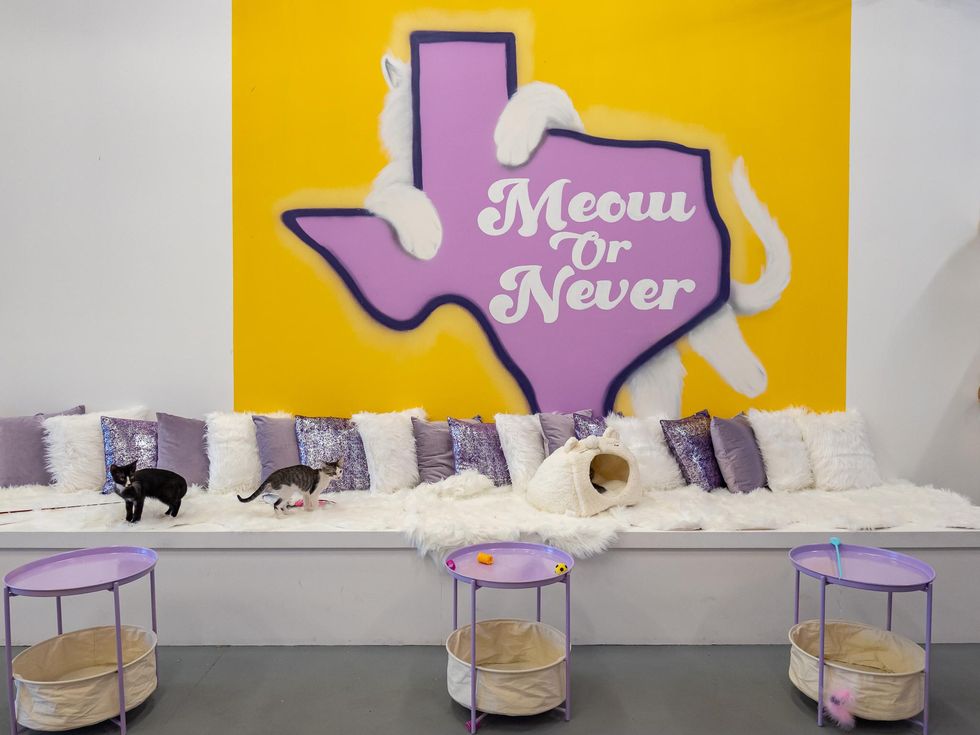 Actually, a purr-fect idea.
Inspired in part by a cat lounge she visited in Los Angeles, Foster began laying the groundwork for the business in late 2021 and officially opened the doors of Purr-fecto Cat Lounge, located at 2300 S. Lamar Blvd., in July 2022. Since then, she's worked with rescue organizations such as Fuzzy Texan Animal Rescue and Sunshine Fund Cat Rescue to facilitate nearly 100 cat adoptions.
At any given time, there are 10-15 cats living in the space, which features an ideal blend of calm, cool corners and adorably Instagrammable backdrops with phrases such as "I want to spend all my 9 lives with you."
Lina Martinez, 32, learned about Purr-fecto Cat Lounge from a friend's Instagram post and made an appointment to visit two days later.
"My first impression was, 'AWW!'" Martinez said. "The kittens were to die for. I felt happy and at peace – just what I needed."
Visitors to the cat lounge pay $15 for a 30-minute CATXperience session or $30 for a 70-minute session that is spent getting to know the personalities of each cat. Foster said the first thing she typically sees from visitors to the lounge is a smile.
"Everybody that enters the door is smiling," she said. "And we've seen people who have cried because they can't have kids and they decide to go and adopt a cat instead."
Foster said she loves bringing in cats who might not have a chance to be adopted at traditional shelters. She told the story of one cat named Izzy, who was partially blind, who was adopted by a family that had a deaf cat at home.
"Izzy was not going to get adopted anywhere else, but she's extremely beautiful," she said. "If she was in a cage in a rescue and you tell people she's blind, she was probably going to be overlooked. But visiting our space, she doesn't seem like she's blind. She knows her way around. She moves around perfectly."
Although Martinez, who had been casually looking for a pet to adopt since moving to Austin nearly four years ago, was interested in a cat named Ruby that she had seen on Purr-fecto's social media, at the lounge she instead found herself drawn to 5-month-old mixed breed Tuxedo cat.
"I thought he was a star," she said. "He worked the room and introduced himself to everyone. When I laid down to pet Ruby, he ran from the other side of the room and cuddled with me. It was game over. He got me."
And she, of course, got him, complete with a commemorative photo that read "My Furrever Family" the day she took him home. Although his original name was Emmanuel, she renamed him Sullivan after her favorite DJ.
"Purr-fecto is special because of the amount of effort and love they put into taking care of the cats," Martinez said, "and finding them good homes and making possible adopters feel at home."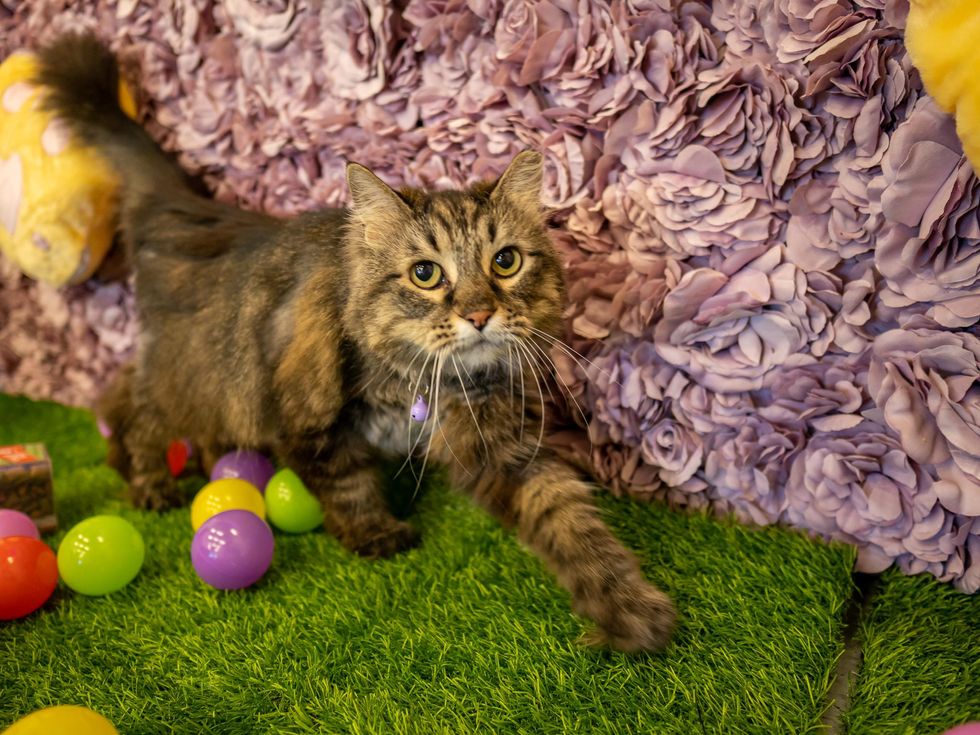 Foster, who spent a recent Thursday hosting a group of teenagers in foster care at the lounge, several of whom expressed interest in working there, said the best part about her new endeavor is that her heart is always full.
"I just feel complete," she said. "I always felt as an entrepreneur that I was missing something. I knew I accomplished a lot, but in my heart I was missing a little connection with the community. Now I'm creating connections between humans and pets and that's amazing. I'm creating family bonds. It's just about love, you know. And we need that."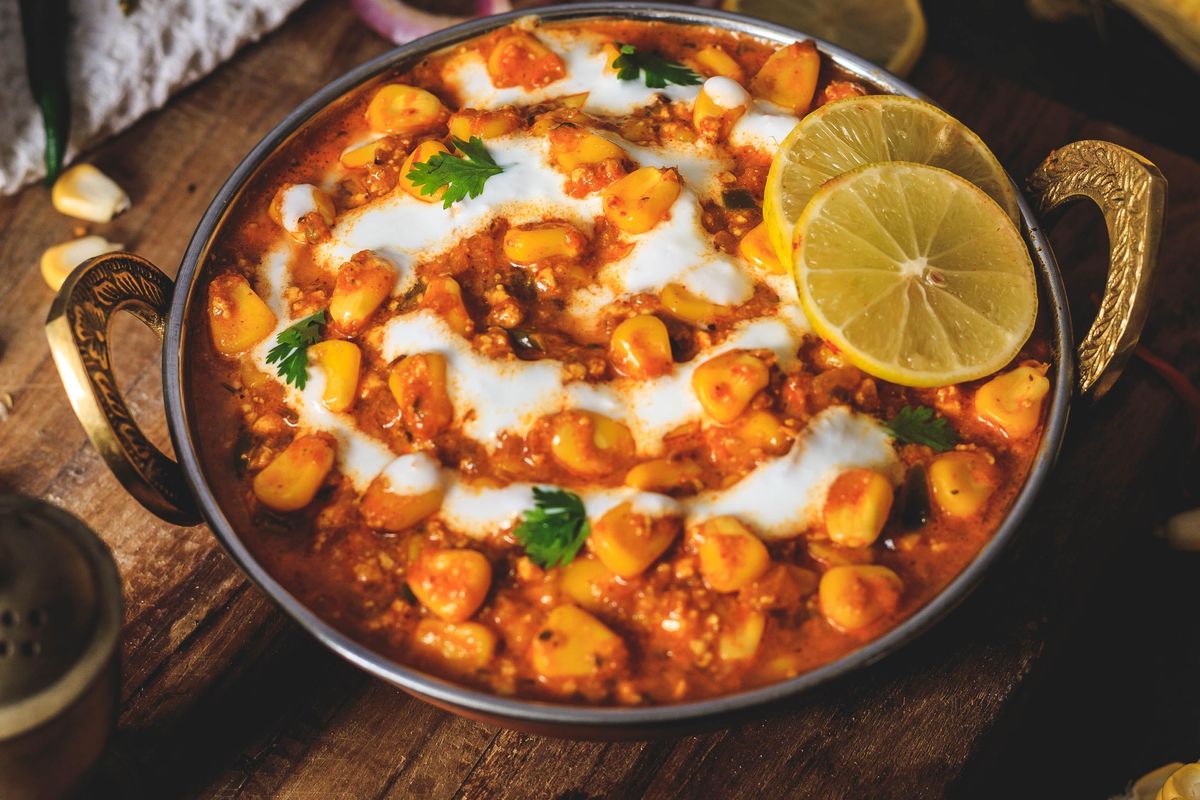 We all have those cravings for an amazing butter chicken or some authentic dosas with coconut chutney, but when I was thinking about where I wanted to go to satisfy my taste buds I realized that my list of great Indian food around Austin was surprisingly short. After doing some research and asking around, here is your list of the best Indian restaurants around town.
This restaurant claims to have the most authentic South Indian food, and from what I've heard, the claims might be true! Their menu features the traditional South Indian dishes of Idlis, Vadas, a variety of Dosas, and more.
If you're looking for an Indian and Tex-Mex fusion cozy restaurant, then look no further! Nasha on East 7th Street prides itself on its specialty margaritas, Tikka con Queso, Biryani, and more creative dishes!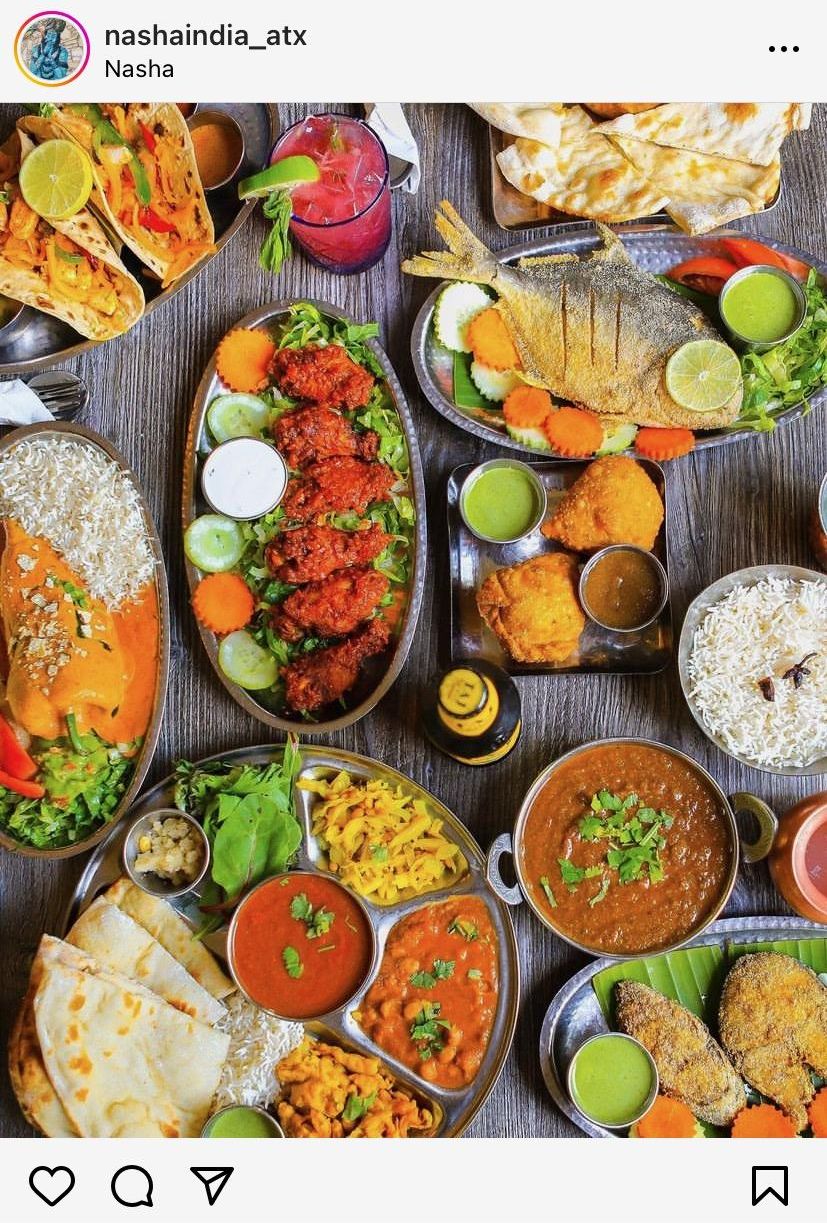 Austin Chai Wala is a personal favorite of mine, with the best masala chai I have ever had in Austin. The quaint truck in Rosedale Market features a unique blend of South Asian cuisine, including Masala Fries, Paratha Wraps, Samosas, and a delicious Mango Lassi.


This Round Rock Restaurant is known for its South Indian food, and its pakoras, a deep-fried North Indian street food filled with vegetables like potatoes or peas. Great stop for comfort food!
The best about this restaurant is its ambiance, and if you're a UT student then it is just a stone's throw away from campus. The Brick wall setting and extensive wine selection make it a great choice for a date night or a treat-yourself dinner.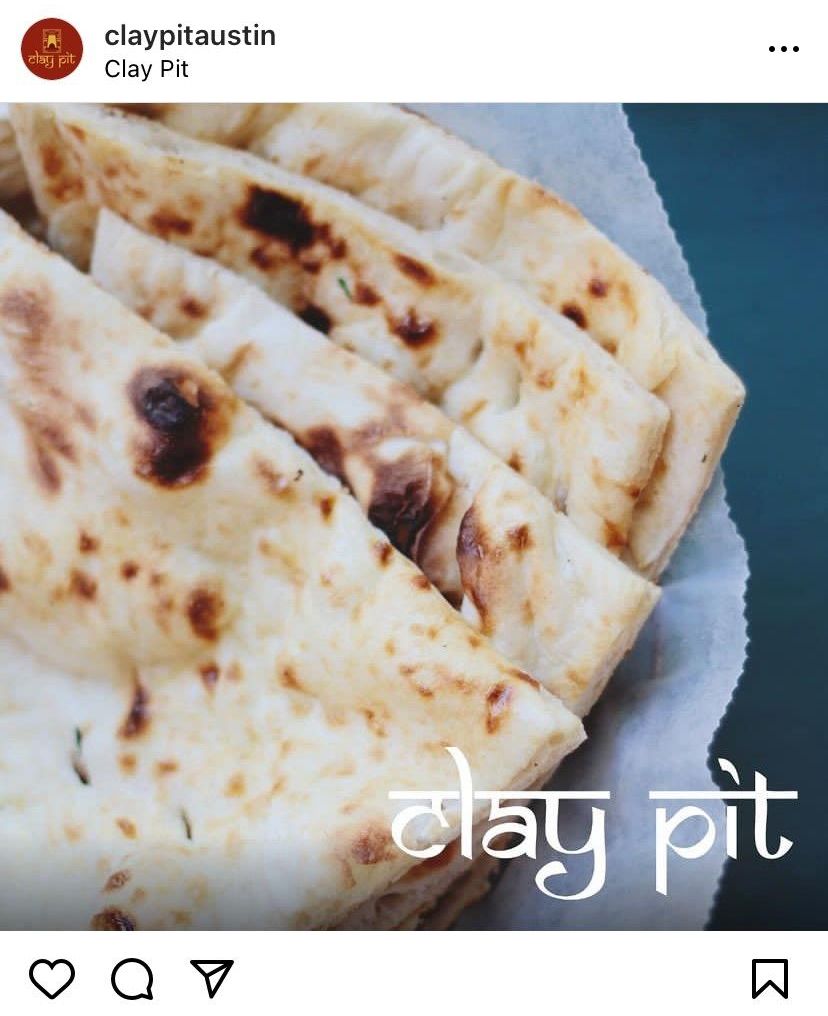 Named after one of the best spices used in Indian cooking, Saffron specializes in a fusion of Himalayan Nepali and Indian cooking. Stop by for some amazing Paneer Tikka, delicious Tandoori meat, or Nepalese fried rice dishes.
This little food truck on Burnet focuses on keeping the authentic South Indian Dosa recipe while embracing modern twists. Check out their menu offering signature dosas, street bites like Samosas, and their original "Doffles", dosa waffle sweet bites.