Get connected with our daily update
Make $145,000 or more in Austin?
Your bank statement may pale in comparison to fellow Austinites Elon Musk or billionaire Robert F. Smith, but anyone with that or more on their yearly salary checks can now classify themselves as wealthy alongside the elite, according to a recent study by finance media site Banking Rates.
---
The study classified those in the top 20% of income as rich across 50 cities in the U.S. Austin, which saw the highest rates of any Texas city, found that it takes at least a $145,000 yearly statement to fit into that category.
But an average person in that high brow category shoots even higher: the average income among those 20 percenters was $267,777. The study, which used data from the U.S. Census and American Community Survey, also found the average income of the top 5% to be over $485,000.
Austin's average incomes came in eighth highest on the list and higher than Texas cities including Fort Worth (22), Arlington (23), Houston (25), Dallas (28) and El Paso (45). Starting incomes in the top 20% ranged from $116,807 in Arlington to $94,422 in El Paso.
Labeled a "little California" by the aforementioned Musk and thousands of Californians moving to Austin to avoid their home state's higher cost of living, it's no surprise that Austin sat just below West Coast cities San Francisco (1), San Jose (2), Seattle (4), Oakland (5) and San Diego (7). San Francisco's top 20% starts at nearly $240,000, the highest on the list, while Washington, D.C. (3) and Boston (6) rounded out the list's top eight.
And while average income falls well below the $145,000 mark and significantly lower than West Coast hubs, Austin's median household income increased by 30% from 2014 to 2019, where it reached just over $71,500. But the high-demand local economy is starting to sag under the weight of new move-ins—including big-name tech companies and startups—and Austin's former low cost of living is predicted to be the highest in a country outside of California by the end of the year.
Despite high incomes when compared to other Texas counterparts, Austin is encountering an affordability crisis, with studies showing that the city is among the most unfriendly in the U.S. for minimum wage workers—even if the bar was raised to $15 an hour.
But the formerly flaming hot housing market is beginning to slow, and as a 2020 CNBC budgeting article shows, those making $145k aren't likely to have many budgeting issues anytime soon. And for homeowners, many former West Coasters, techies and anyone who made the "rich" list, the city is still among the best relocation markets in the world as it continues to solidify its "boomtown" status.
Capital Metro has been awarded $750,000 from the Federal Transit Administration to go toward Project Connect's Orange Line, documents show.
The FTA announced the funding round on Thursday, which dispersed $11 million across 12 states and 20 projects. The money is meant to connect communities to affordable transit and housing through the FTA Pilot Program for Transit-Oriented Development planning.
CapMetro said the funds will go toward projects at eight stations spanning 6.5 miles on the South end of the Orange Line, which has a total of 22 stations. The full project stretches across the 20 miles from Southpark Meadows to Tech Ridge.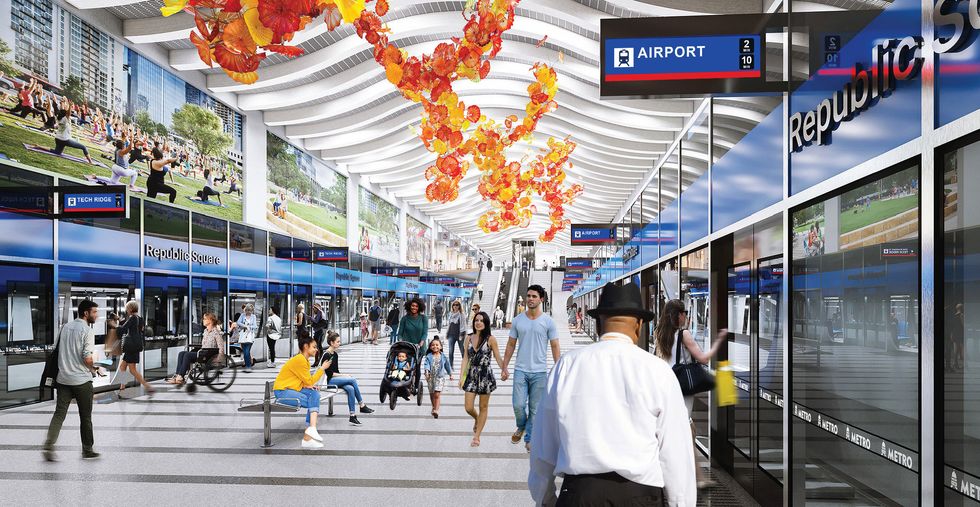 Republic Square station is along the Orange Line. (Project Connect rendering)
Once it's complete, which officials estimate will be in 2028, the Orange Line will reach the following stations:
Tech Ridge (Park & Ride)
North Lamar International District
Crestview
The Triangle
UT campus
Republic Square
Auditorium Shores
South Congress
Southpark Meadows (Park & Ride)
A $500 million mixed-use development spanning 1,400 acres is coming to Southeast Austin, near Tesla's headquarters at Giga Texas.
Plans for the development by Houston-based real estate firm Hines include 2,500 houses along with multi-family and townhomes, and commercial land. Hines is partnering with Trez Capital, Sumitomo Forestry and Texas-based Caravel Ventures.
The development, which is known as Mirador, will be located off the 130 Toll and Highway 71, which the developers say provides easy access to the Circuit of the Americas Formula 1 racetrack and other Austin attractions like restaurants, parks and live music venues.
Hines also boasts amenities like a 60-acre lake, over 600 acres of greenbelt, community parks, trails and a swimming pool.
"As Austin continues to grow into the tech epicenter of Texas, coupled with a supply-constrained market, the demand for new housing is at its highest," Dustin Davidson, managing director at Hines, said. "Mirador will be critical in providing more options for Austin's growing population and we are excited to work alongside our partners given they each provide a unique and valued perspective in single-family development."
The local housing market has been hot in recent years, with home sales accelerating earlier in the pandemic. In July 2021, the Austin metro area hit its pricing peak at $478,000. As Austonia previously reported, the area has been expected to see the Tesla effect, with the new workforce driving up demand for housing and other services.
The single-family houses are expected to be developed over the course of six years, in phases. Construction on the homes is expected to start this year and home sales will begin in 2023.