Austonia AM
100% Austin news, info, and entertainment, straight to your inbox at 6 a.m. every morning.
In five minutes, you're fully informed and ready to start another great day in our city.
Get connected with our daily update
(Shutterstock)
Following disclosure last week that Austin billionaire Robert F. Smith had reached a $140 million tax evasion settlement, more information has emerged from federal authorities and other sources.
---
Smith is Chairman and CEO of Vista Equity Partners, a $58 billion private equity firm with 400 direct employees and thousands more working in its portfolio companies. Perched on top of Austin's Frost Bank Tower, Vista's Austin office was founded in 2011 and is one of five offices throughout the U.S.
Smith, 57, lives in Austin's Westlake area, overlooking Lake Austin. The son of two Colorado school teachers, his net worth is estimated by Forbes to be more than $5 billion. He is regarded as the country's wealthiest Black person.
Smith is cooperating with federal investigators in exchange for non-prosecution
Smith is assisting federal authorities in their investigation of Houston resident Robert Brockman, 79. Charged with hiding $2 billion in income over 20 years in the nation's largest-ever personal tax fraud case, the feds say Brockman filed false tax returns and concealed overseas cash.
Brockman was the original investor who funded Smith's creation of Vista.
At a Thursday press conference, at which Smith's behavior was called "egregious," the U.S. Attorney for the Northern District of California David Anderson announced Brockman's indictment and Smith's cooperation agreement. Anderson said that Smith will be responsible for the following:
Providing complete and truthful information
Continuing work with federal prosecutors
Attending meetings and providing documents
Testifying before a grand jury
Money in offshore accounts was used for Smith's extravagant personal real estate
A copy of Smith's signed Oct. 7 settlement letter with the government reveals that Smith routed untaxed gains through offshore partnerships and bank accounts in Belize, Nevis, the British Virgin Islands, the Cayman Islands and Switzerland.
Smith admitted to concealing more than $200 million in income and evading subsequent taxes during a 15-year period, from 2000 to 2015.
While much of the money was routed to Smith's charitable trust, the settlement letter states that substantial funds were withdrawn for personal use in real estate acquisitions and remodeling projects, including:
A home in Sonoma County, California that he owned with his then-wife
A Colorado ranch property that he used personally and at which he hosted events for disadvantaged youth and wounded war veterans
Two ski chalets in the French Alps used by Smith and his family
A European industrial property
Smith's settlement is larger than originally stated
According to documents signed by Smith, he has agreed to:
Pay $139 million in taxes and penalties
Abandon a $182 million tax refund claim
Pay interest on taxes owed
Cloudy reports at Vista
Axios reports that Smith held a call with top Vista executives last week, in which he discussed his tax settlement and disclosed that his longtime billionaire associate, Vista co-founder and president Brian N. Sheth, would be leaving the company. Axios referred to a "breakdown in the two men's relationship."
Vista's situation is unclear as investors are alarmed and the SEC, according to Axios, is poised to investigate whether Smith will be allowed to continue to run the firm.
Authorities deny that Smith's connections were a factor

U.S. Attorney Anderson specifically denied, in response to a direct question, that Smith's charitable involvements and political connections were a factor in the decision not to prosecute him.
Smith famously repaid student loans last year for all graduates of Atlanta's Morehouse College. His list of philanthropic efforts is extensive, and in 2019 he was awarded the Carnegie Medal of Philanthropy.
During the investigation period, Smith had cultivated relationships with people close to President Donald Trump, including Treasury Secretary Steven Mnuchin and the president's daughter, Ivanka, according to various reports.
(Stubb's Austin/Instagram)
After a long, long year without live music, Austin has waited patiently for a return that has finally come. Festivals are planning returns and even venues that adhered strictly to safety protocols during the pandemic are feeling safe enough to gather again in person.
Starting in just a few short days, you can finally enjoy what makes Austin, well, Austin again. Here are a few of the live shows to look forward to.
Remember to jump on those tickets–Austinites have been missing their live music!
We asked you what you wanted and you told us. More newsletter!
Austonia launched its new and improved newsletter today. You can expect:
100% Austin news, info and entertainment
Sent straight to your inbox at 6 a.m. every morning
In 5 minutes or less, you're fully informed and ready for a great day
Sign up here:
For Marco Silvestrini, gelato takes him back to his childhood when he and neighborhood kids in a small Italian town would end their day at the local gelato shop. It was part of what made some of the best memories for him.
He's since been offering that same experience for the past seven years with his artisanal gelato shop, Dolce Neve, in Austin, alongside his sister and her husband.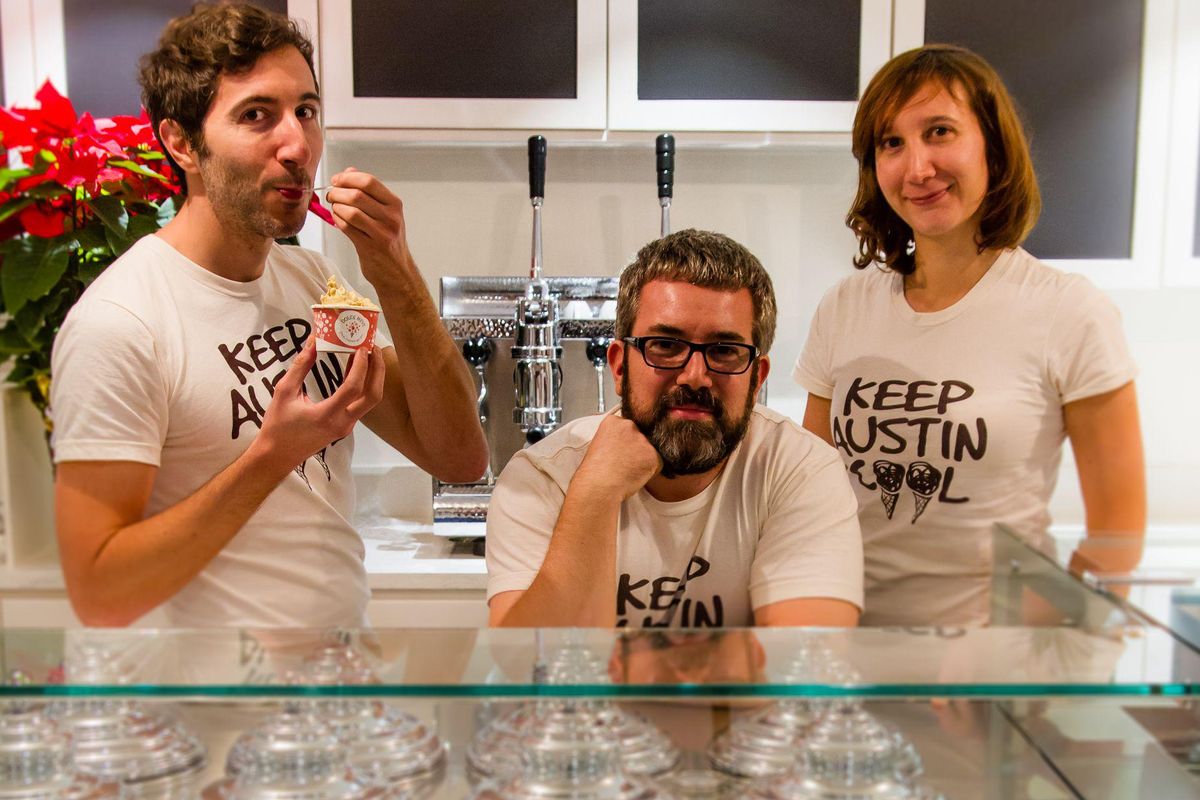 Leo Ferrarese, Marco and Franscesa Silvestrini run Dolce Neve. (Dolce Neve)
While gelato always played a big role in Silvestrini's life, it wasn't in his plans to take on a business with his favorite treat. After a few years in New York working as a management consultant, he felt he was missing out on something. "I decided to take a step back and started thinking, what could... I do to make society better and happier, even just for a moment," Silvestrini said.
He thought back to his childhood and the role gelato played in it and wanted to offer the same experience to Americans.
Once he had the product idea down, it came down to location. Growing up among farmers in a small community in Central Italy, Silvestrini knew he wanted a slower pace of living than New York, so he asked around. The answer he got: "Austin." The only thing he knew about what would become his future home was it had a Formula 1 track.
But after visiting once, he felt a great sense of community he didn't feel in The Empire State. "I felt it was not just a good place for a concept like mine, but also a good place to live because at the end of the day, you cannot just think about your business," he said.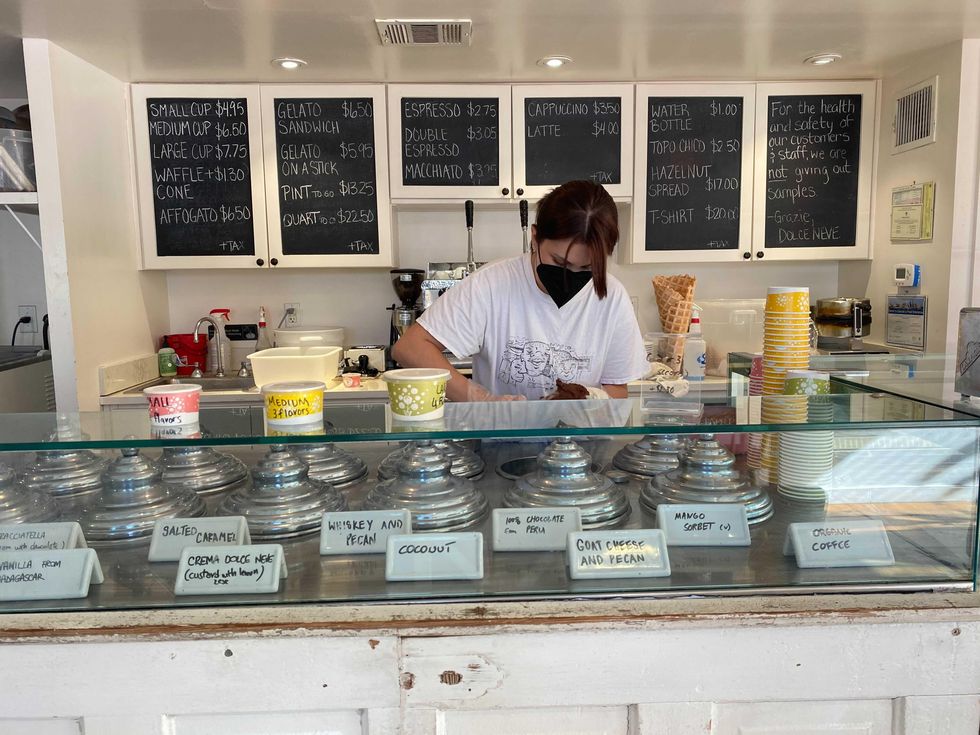 "Dolce Neve" translates to "sweet snow." The shops offers 12-18 flavors at a time. (Dolce Neve)
Similarly, his sister Francesca Silvestrini was experiencing the same feelings while studying for her Ph.D. in Ohio before teaming up with Silvestrini. She went back to Italy to be properly trained in making gelato while Silvestrini focused on the business plan. They brought Leo Ferrarese, her husband, onboard and opened their first shop on South First Street in January 2014. The rest is history.
On the menu, you'll find various traditional and innovative flavors that rotate out. Some of the staples include chocolate, 100% vanilla from Madagascar and salted caramel. Other rotating or seasonal flavors include whiskey and pecan, organic cantaloupe sorbet, goat cheese and pecan, almond custard and tiramisu. They've created over 300 flavors together in the span of the business.
So what's next for the shop? Lately, Silvestrini has been thinking a lot about that. With two locations in Austin, one in Houston—he's just not sure if expanding more is the right move. Maintaining a quality product and good service is of utmost importance that he's not willing to sacrifice.
"In order to be happy, it's not about making money, it's about being an integral part of the community," Silvestrini said. "There have been so many cases in which I think what I did today really made a difference in somebody's life."