Get connected with our daily update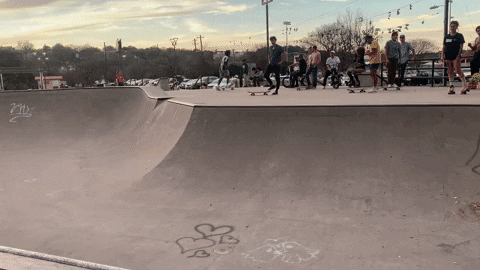 Long before the craze rolled into 2020, roller skating has held deep ties to Austin.

When the pandemic left a nation stuck at home and even "Tiger King" got old, thousands hopped on wheels to spice up quarantine life and stay active—and the sport has grown in popularity into 2021.
---
TikTok creators have garnered millions of views as the embodiment of retro cool on wheels, while trick skaters on Instagram have gained traction as street-savvy adrenaline junkies. Demand for skate shops grew exponentially: from March to August, roller derby legend Estro Jen's Southern California skate brand Moxi Skates grew by nearly 1000% from March to September she told the Huffington Post.
The sport is nowhere near new to Austin, however.

Deep ties to the city
In 2003, Austin made waves as the site for the first-ever professional flat track roller derby league in the world. Born from a mix of authentic Austin weirdness and the city's rep as the live music capital, the Texas Rollergirls pioneered a standardized flat-track formula and became known worldwide as the founders of the modern roller-derby movement. With outlandish names (Shutem Up Buttercup or Thugs Bunny), unapologetic aggressiveness and the fierce aura of girl power, the Rollergirls warranted enough attention to inspire a documentary and help create hundreds of professional leagues around the world.
Founding Rollergirl member Amy Sherman, who created the measurements for the official flat track still used today, said that the city's love for entertainment and live music made it a perfect place for roller derby to flourish.
"I think that Austin just being Austin lends itself really well to accepting this sport," Sherman said. "In the very beginning, it was kind of more about the music culture as we were learning how to skate and do tricks. We would have bands play at halftime, and so they kind of helped us with the draw, but we don't need bands anymore because now we're the attraction."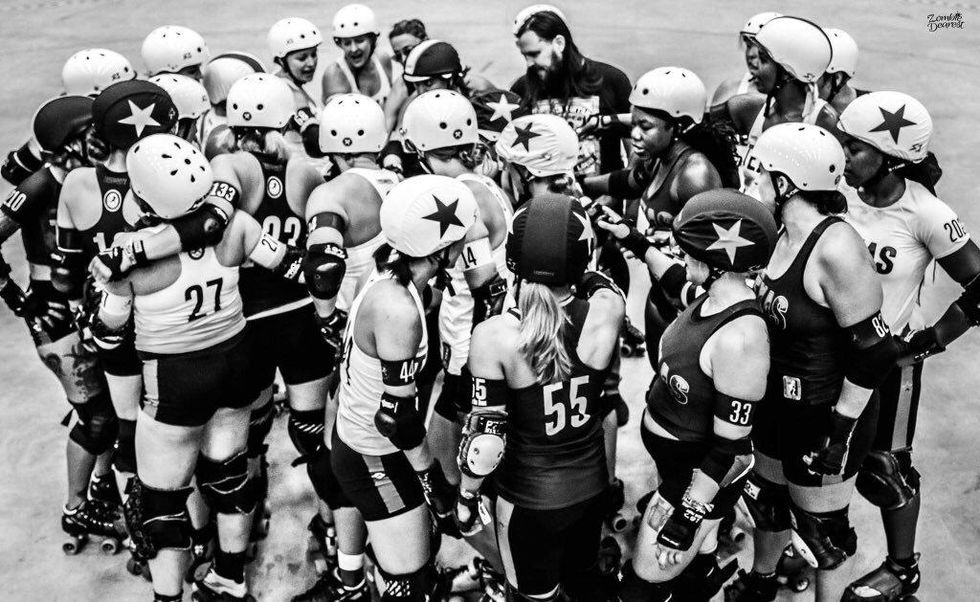 (Texas Rollergirls Travel Team/Twitter)
Since the beginning, Sherman and the six other founding members sought to make roller derby as accessible as possible. A flat track, as opposed to the former banked track, could be played anywhere with a large flat surface. The non-profit league also spent as much time traveling to help create leagues in other cities as they did playing the actual sport, an effort that has paid off with over 600 leagues in the world in 2021. To Sherman, it's the "for the skater, by the skater" mindset and grassroots aspect of the league that has kept this type of roller derby successful for nearly 20 years.
The pandemic has turned back the clock in more ways than one. Just as many are channeling the '70s in their funky bell-bottom roller skating videos, many traditional roller derby athletes are moving back to the streets to stay on wheels at a safe distance.
Sherman said that many veterans are now going back to their roots as outdoor skating becomes increasingly popular.
"It's kind of come full circle," Sherman said. "In the early days, there were a few of us that were involved in the skateboarding community as we were getting the Rollergirls rolling, and we would go and skate at skate parks. And then when roller derby got going, a lot of those park skaters came and focused on the roller derby aspect a little bit more. Now, a lot of derby skaters that can't skate because there's no contact sports right now have taken to the parks again."
The derby girls are joined by a growing movement of outdoor skaters who pull tricks alongside skateboarders at local skate parks.
A new era of skating
For former trapeze artist Amanda Alexander, street skating has been a therapeutic way for her to transition from the adrenaline rush of circus acrobatics. After a friend strapped on some skates on here, there was no going back, and Alexander has committed ever since.

"Skating really blew my mind as being equal to the adrenaline rush of circus but being way more simple because you can just strap on your skates and go," Alexander said.
Since she started two years ago, skating has also become "free therapy" and an escape from the daily stresses of life.
"You just kind of forget about all the stupid stuff that's really not all that important in life and when you walk out of here you just feel at peace," Alexander said. "I feel like it's definitely a free form of therapy at this point."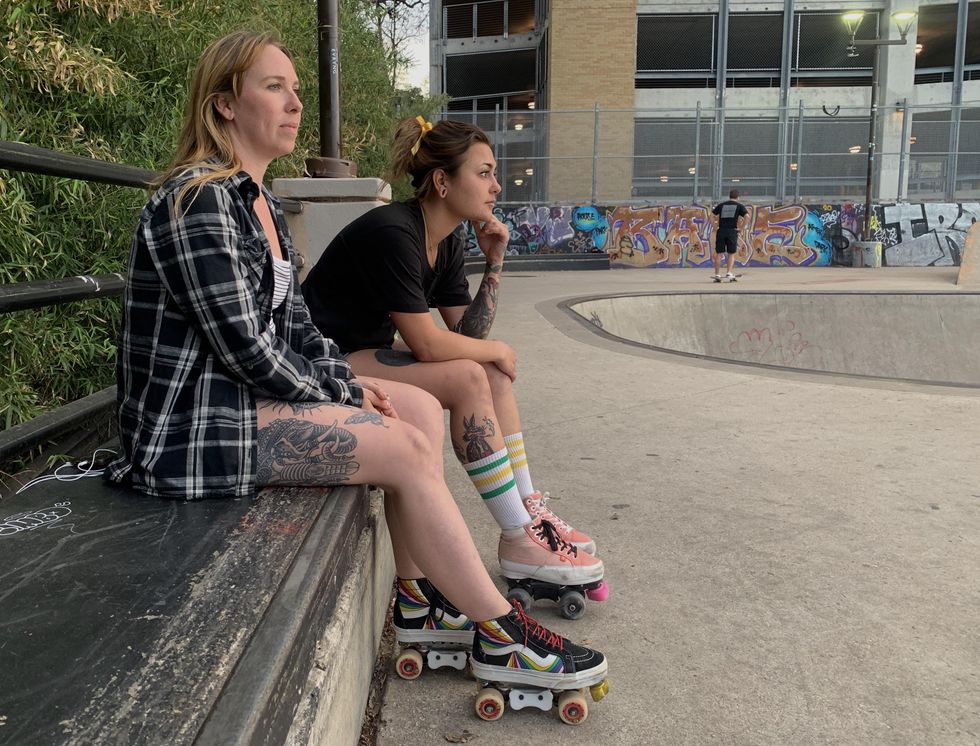 Street skaters Amanda Alexander (left) and Andrea Phillips take a break at House Park in Austin. (Claire Partain)
For fellow skater Andrea Phillips, outdoor skating is as much about the people as it is the sport. While Phillips had long been one of the only female skaters and few roller skaters on the ramps at her favorite skate park, new visitors come and go much more frequently now.

"With skating culture, we're all just so weird and all goofballs," Phillips said. "Nobody really cares here, so you can just get away with so much and it's always just fun and nobody is ever super competitive. When it boils down to it, we're just adults playing with toys so there's no judgment."
Both Phillips and Alexander are members of a team themselves. The group, known as Grindstone, consists of 10 "dirty southern roller skatin'" trick skaters. According to Alexander, the Grindstones were created by a fellow Austinite who looked to sponsor some local skaters with her toe-stopper company.
From a mystery skating ramp in the middle of the desert in Marfa, Texas to New Orleans, the skaters have since formed a tight bond as friends with a deep common interest. Despite strong personalities, Phillips said all of the players manage to get along.
"We all have different styles, but we're all super aggressive with whatever we do," Phillips said. "We all just get together, skate, wreak havoc, and travel, although that has slowed down because of COVID. I've never seen 10 alpha females work together in one unit, it's mind-blowing."
While neither Phillips or Alexander have an interest in roller derby, many derby athletes have crossed over to the Grindstones during the pandemic. Similarly, Sherman said that she is inspired by roller derby players who could bring more players onto the Rollergirls after COVID cases go down.
"I find it really inspiring that some of those roller derby skaters have now taken to the skate parks and more street skating, and I think it's helped inspire some of the more average skaters," Sherman said. "I definitely think that will bring more people into the league and people will want to expand their horizons and not be afraid anymore to get out there, because it can be intimidating."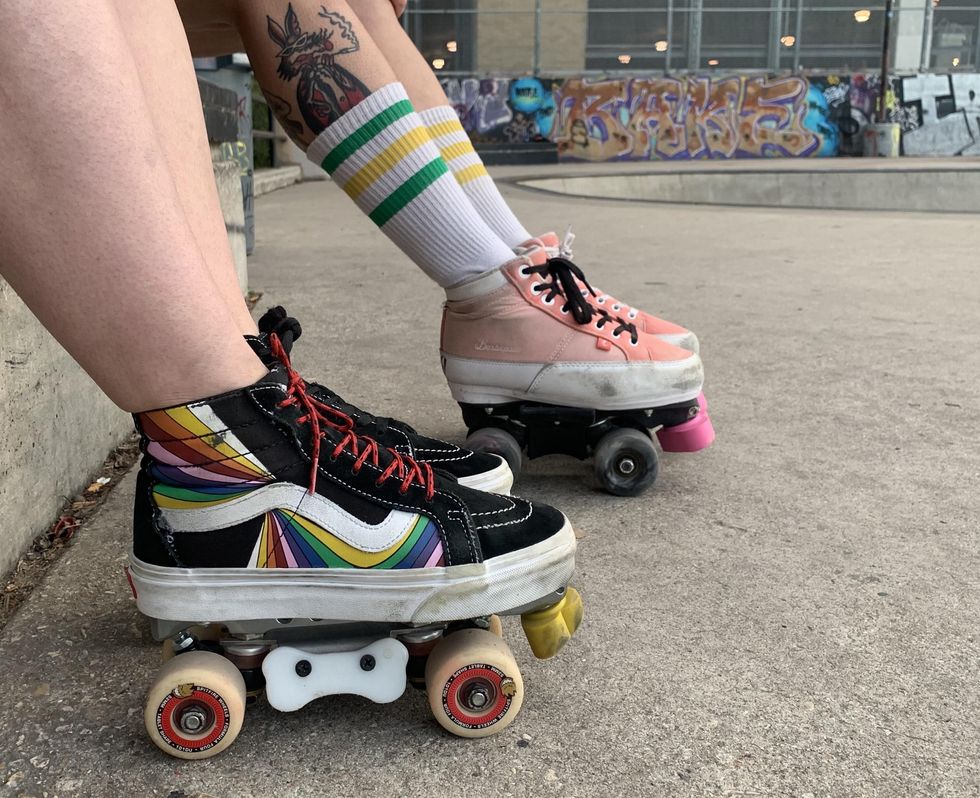 (Claire Partain)
For Phillips, the future of outdoor roller skating lies in making the sport available to all. Phillips said that she hopes the Grindstones eventually tour different cities, teach classes and inspire young athletes along the way.
"We're trying to teach people and teach legitimate classes so we can get everybody going," Phillips said. "There's people in po-dunk towns who have never seen roller skating. If someone had rolled into my town when I was 10 and shown me roller skating, I'd have been in a lot less trouble."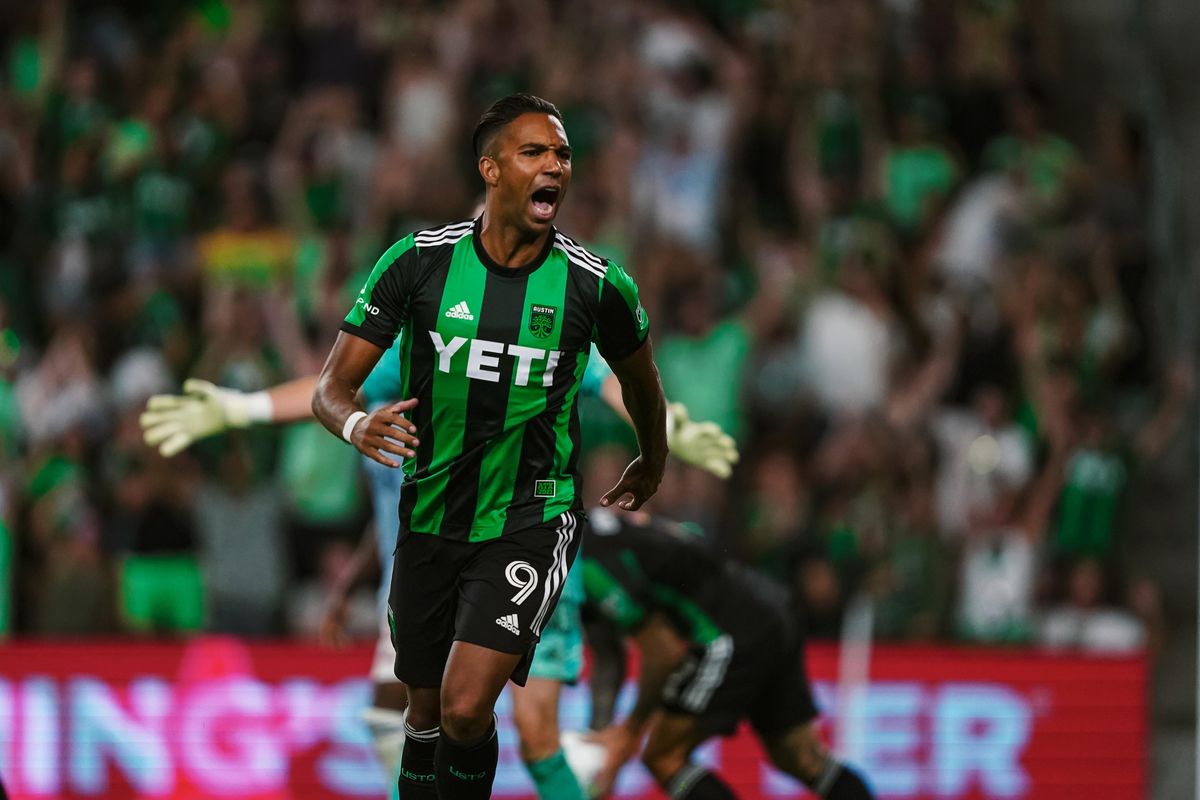 Despite a 2-0 deficit, there was a pot of gold for Austin FC after all as it celebrated its annual Pride Night with rainbows and a 2-2 comeback draw to FC Dallas Saturday night.
After three FC Dallas losses last season, the Dallas derby draw marks the first time Austin FC has tied against its Copa Texas rival. Austin continues to edge over FC Dallas as it sits at 3rd in the MLS West.
Here are the biggest takeaways from the match:
A somber start
¡Ya Basta! Enough! End Gun Violence. #uvaldestrong

📷 @arubiophotospic.twitter.com/3PiVdTPtik

— Los Verdes (@LosVerdesATX) June 26, 2022
Decked out in colorful hues for LBGTQ+ Pride, Verde fans started the match on a somber note as they held up banners to take a stand against gun violence before the match.
As the national anthem began, fans held up banners with the names of each child that was killed in the Uvalde school shooting and a plea to "end gun violence."
The supporters' section was also dotted with Pride flags and a "Bans off Our Bodies" banner in protest of the Supreme Court's decision to overturn Roe v. Wade.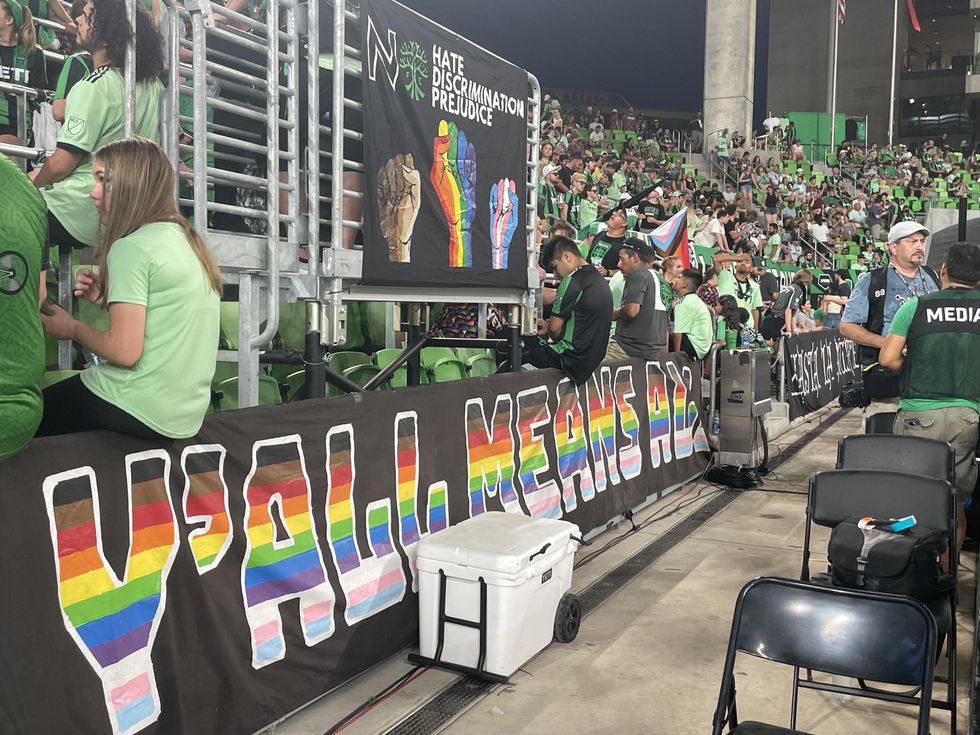 (Claire Partain/Austonia)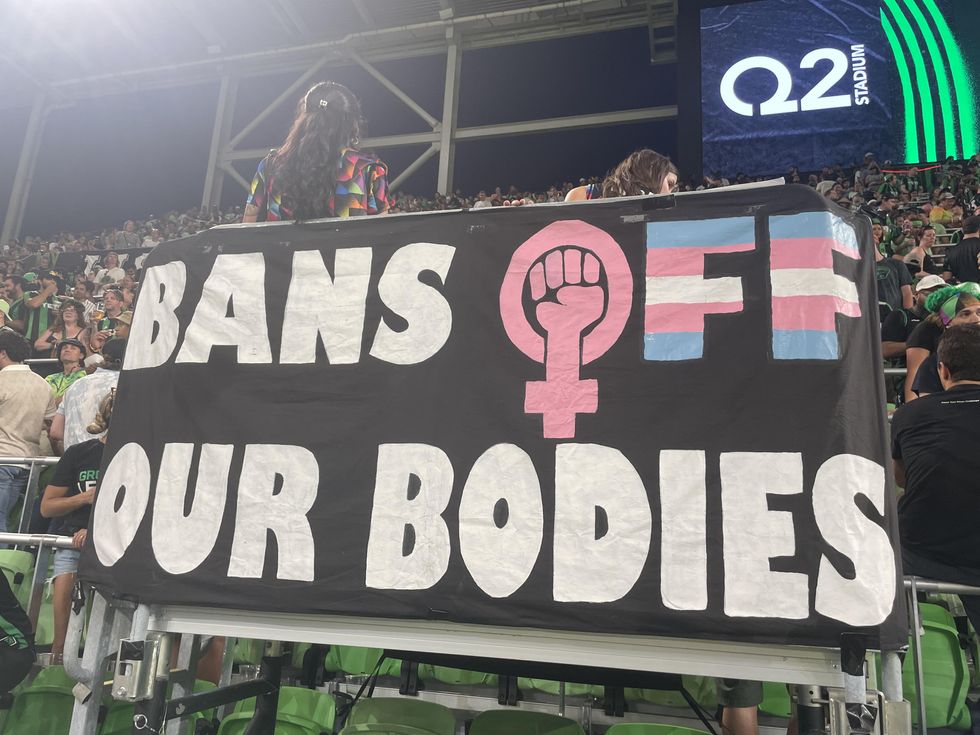 (Claire Partain/Austonia)
FC Dallas earns a 2-0 lead
Paul Arriola is there to put it away and put @FCDallas ahead! pic.twitter.com/Z4AMmM6lp3

— Major League Soccer (@MLS) June 26, 2022
That sober tone continued onto the pitch. With midfielder Daniel Pereira's absence due to a red card, the Verde and Black lost two goals to FC Dallas by the 70th minute of play.
FC Dallas played it sneaky for the first half of the match, giving Austin FC plenty of room to hold possession as it waited to strike on a Verde error. That mentality proved dangerous for Austin as Dallas' Paul Arriola took advantage of Brad Stuver's deflection to score the first goal of the night in the 57th minute of play.
Dallas struck once more as Brandon Servant pushed past the Verde line to score the second goal of the match.
Austin FC strikes back
Sebastián Driussi pulls one back!#AustinFC are still in this one. 👀 pic.twitter.com/Yoi0x768jb

— Major League Soccer (@MLS) June 26, 2022
But energy quickly returned to Austin's favor thanks to Designated Player Sebastian Driussi, who scooted past several FC Dallas defenders alongside Moussa Djitte to snag an unlikely first goal for Austin.
A full Verde comeback
Late drama in this Texas Derby!@AustinFC ties it up, Danny Hoesen with the diving header. 😱 pic.twitter.com/Jk2f4fIEXG

— Major League Soccer (@MLS) June 26, 2022
Austin's subs proved deadly as momentum returned to the home team toward the end of the match. A well-placed cross from Nick Lima—and a diving header from a fresh-legged Danny Hoesen—helped the team secure the draw with a second Verde goal in the 84th minute of play.
Hoesen, who was Austin's first starting striker last season, has now scored two goals with the team after a yearlong injury stuck him on the bench.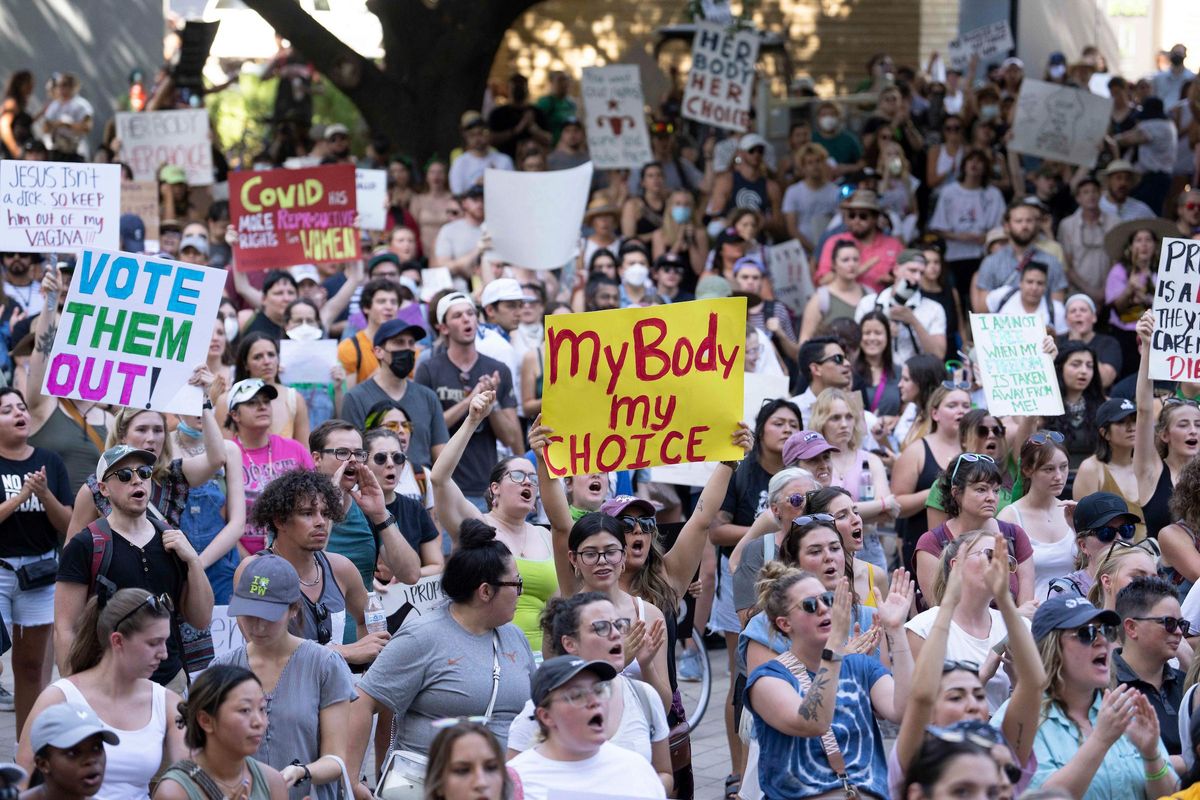 Hours following the U.S. Supreme Court's ruling to overturn Roe v. Wade, the landmark ruling that guaranteed a constitutional right to an abortion, on Friday, about 1,000 people gathered in Republic Square with signs calling for change.
The rally, organized by the group Rise Up 4 Abortion Rights Texas, started at the federal courthouse on Republic Square on Friday at 5 p.m. before the crowd marched to the Texas Capitol. More protests are expected to ensue over the weekend.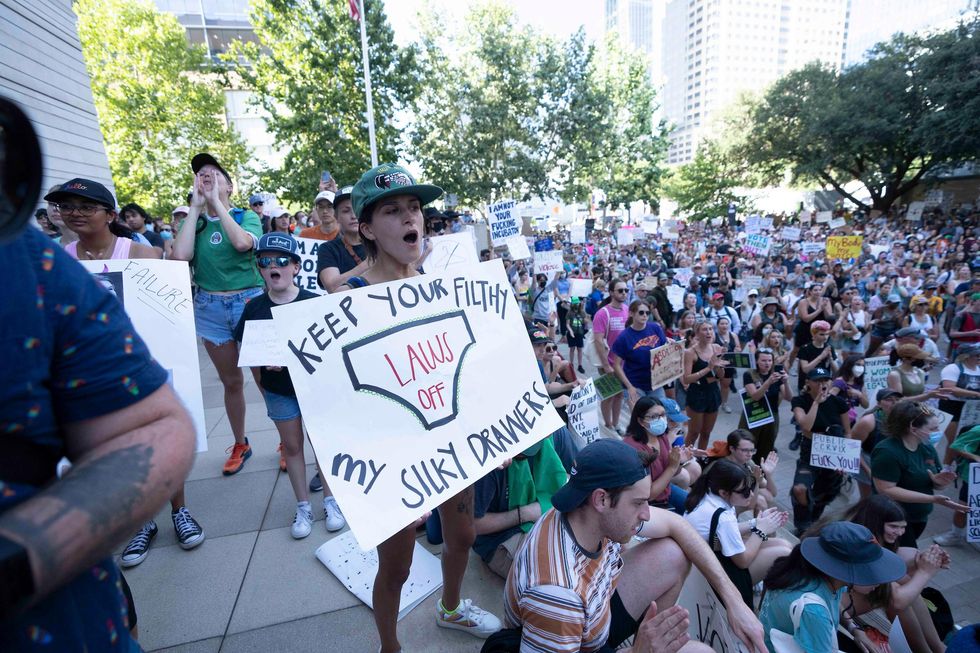 People showed up with all types of signs like Mindy Moffa holding up, "Keep your filthy laws off my silky drawers."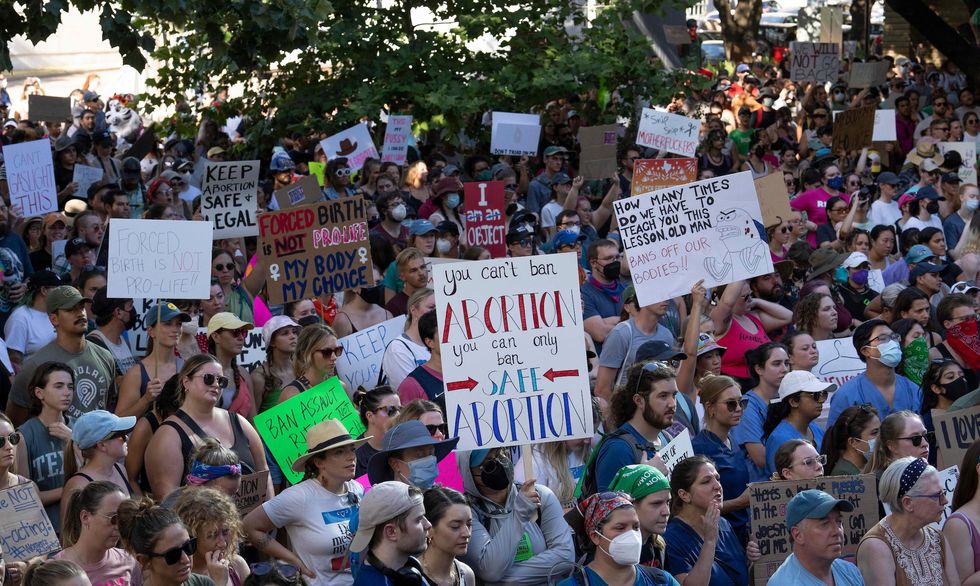 Austin joined cities across the country that saw protests for a women's right to an abortion after the ruling.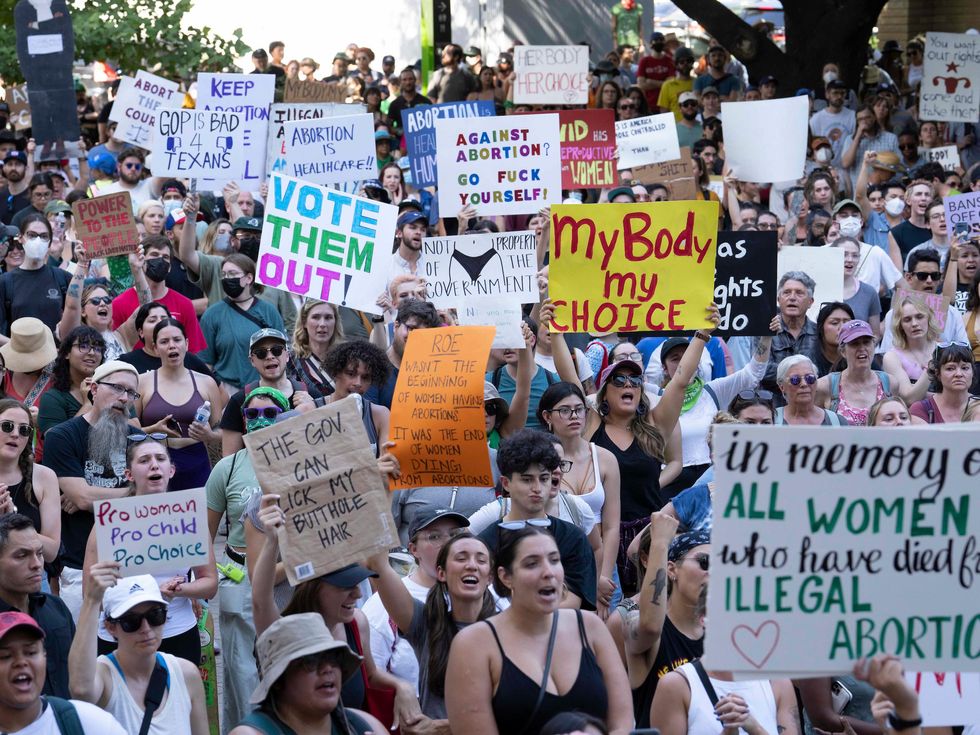 According to a recent UT poll, 78% of Texas voters support abortion access in most cases.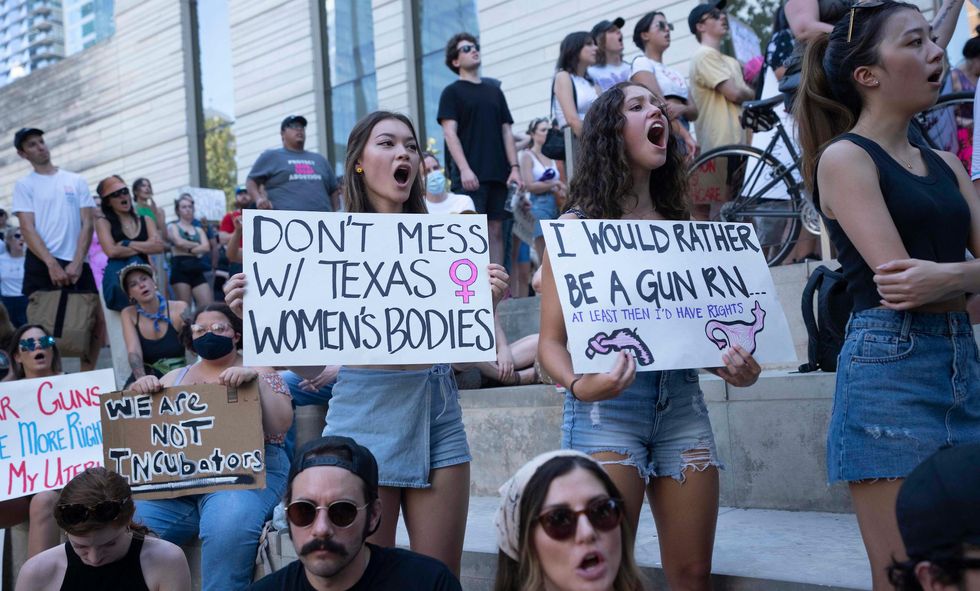 Sabrina Talghade and Sofia Pellegrini held up signs directed at Texas laws. A Texas trigger law will ban all abortions from the moment of fertilization, starting 30 days after the ruling. When state legislators passed the trigger law last summer, it also passed laws for more protection of firearms, including the right to open carry without a permit.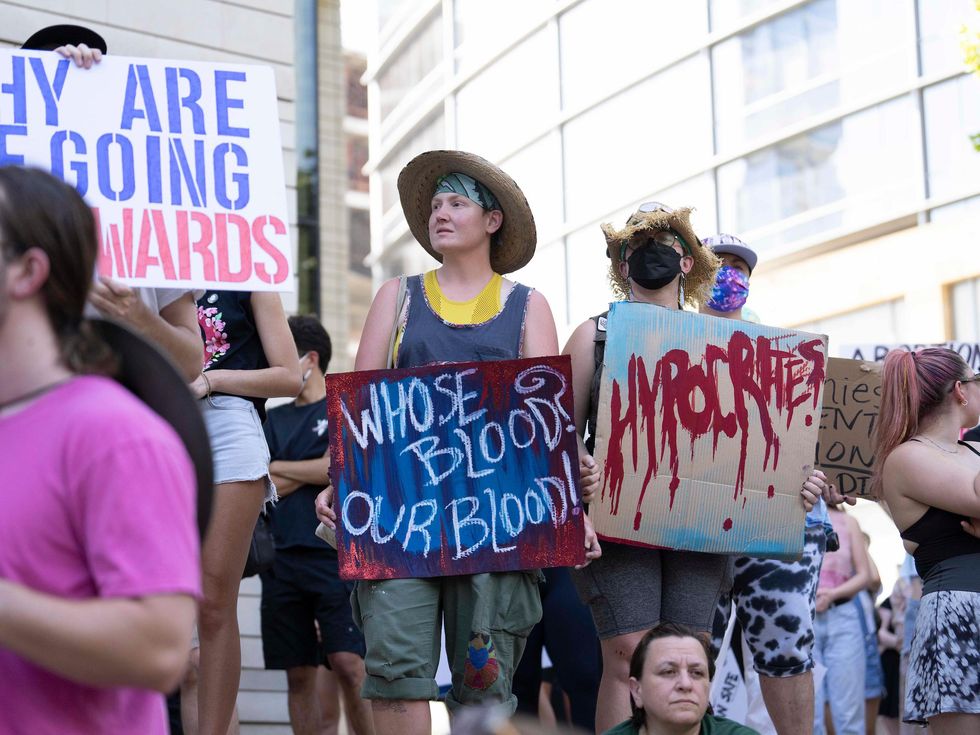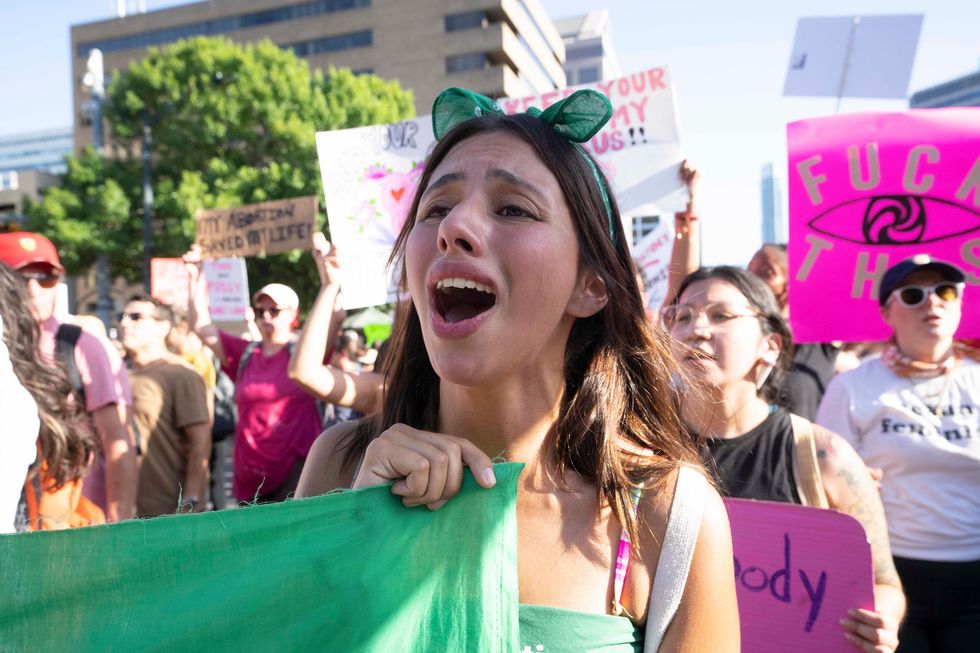 Lili Enthal of Austin yells as around 1,000 Texans marched to the Texas Capitol.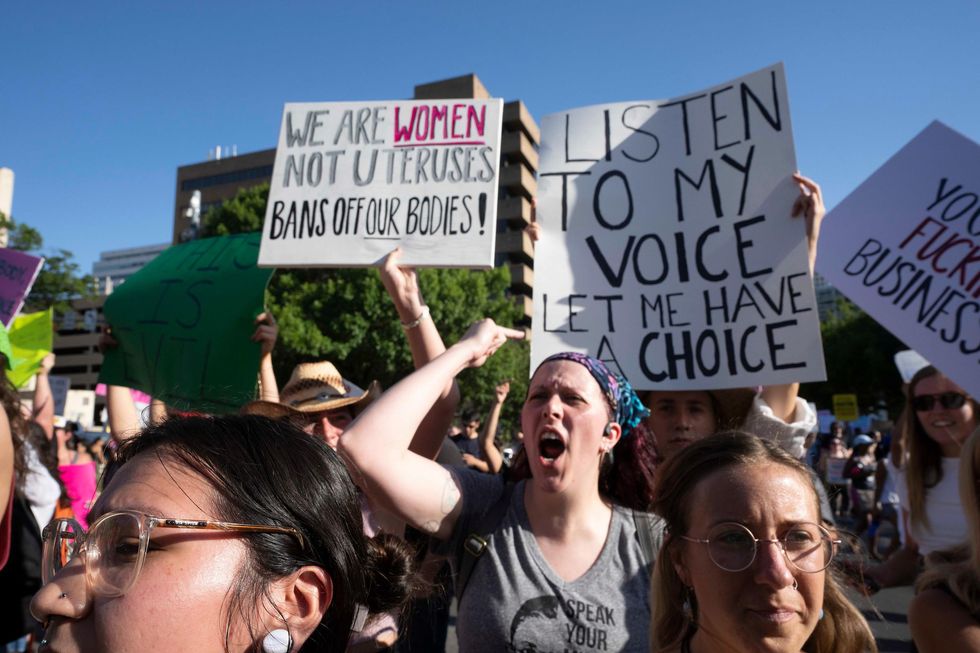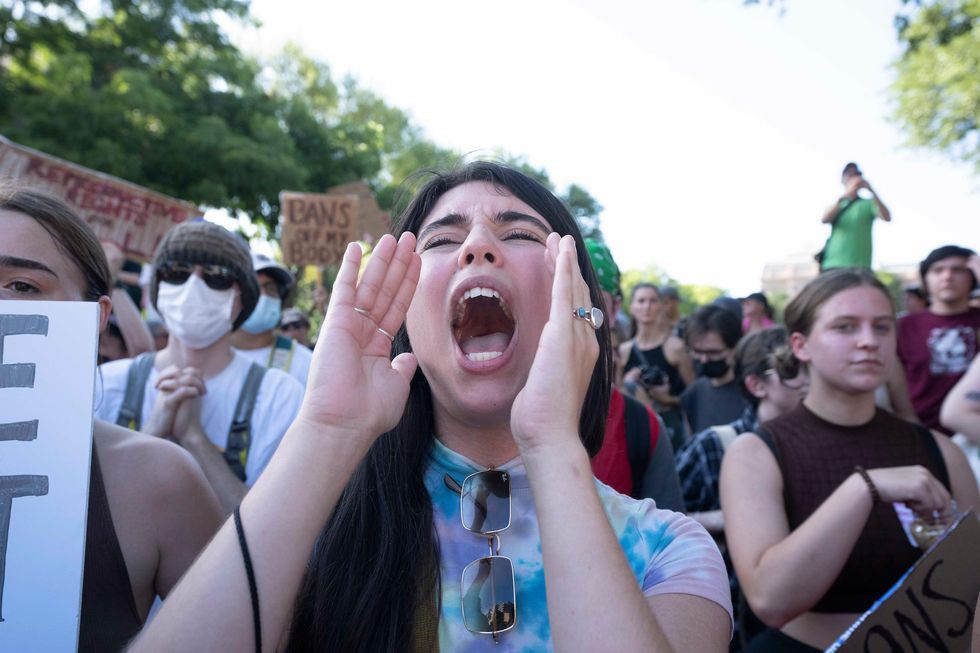 From the Texas Capitol, Zoe Webb lets her voice be heard against the Supreme Court ruling.