Never miss a story
Sign up for our free daily morning email...
...and afternoon text update
Get connected with our daily update
(Bob Daemmrich)
Early voting begins Thursday and runs through Friday, Dec. 11 for the Dec. 15 runoff election.
Here's everything you need to know before you vote, including which races are on the ballot and where to cast yours.
---
In Texas, candidates must win at least 50% of the vote to be elected. In races where the top candidate only receives a plurality of votes, a runoff is held.
During the Nov. 3 election, four local races prompted runoffs: those for Austin City Council's Districts 6 and 10 and Austin ISD's District 5 and At-large Place 8.
Early voters can cast their ballots from 7 a.m. to 7 p.m. on Monday through Saturday and from noon to 6 p.m. on Sunday. A list of early polling places can be found here.
The two most closely followed local races are on Austin City Council, where two incumbents face conservative challengers. City council seats are nonpartisan, although all current members are affiliated with the Democratic Party.
In District 6, Council Member Jimmy Flannigan is running against Mackenzie Kelly.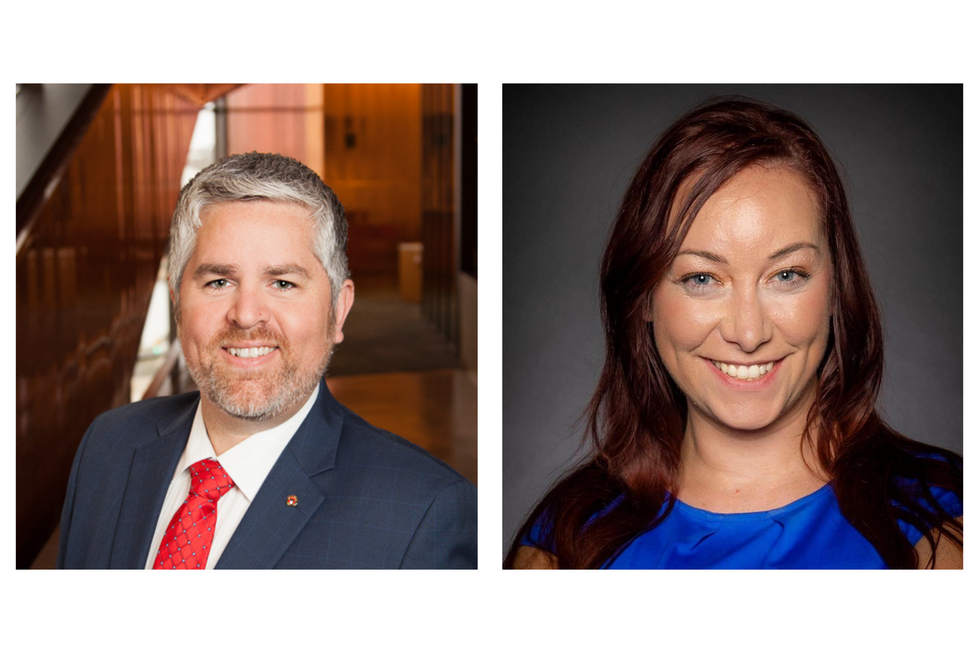 (City of Austin, Mackenzie Kelly for Austin City Counil/Facebook)
Flannigan won more than 40% of the votes during the Nov. 3 election, compared to Kelly's 33%.

Flannigan's platform includes plans to address the pandemic, Austin's affordability crisis, traffic congestion and public safety reform. As a council member, he voted in favor of cutting the Austin Police Department's budget and other police reforms; overturning the city's camping ban; and Project Connect, a $7.1 billion transit system overhaul.
Kelly is a client care manager who ran against Flannigan in 2014 and opposes recent cuts to the police department budget and council's decision to overturn the city's camping ban. Her endorsements include Travis County GOP Chairperson Matt Mackowiak and former Austin City Council Member Ellen Troxclair.
Last month, Flannigan was accosted by members of the Wind Therapy Freedom Riders motorcycle group, of which at least one member had a "white power" symbol on their bike, according to his campaign.
This is the harassment my opponents think is ok... this is the attacks and intimidation my opponents think is ok.… https://t.co/MIpB7FdQck

— Jimmy Flannigan (@Jimmy Flannigan)1605994585.0
Flannigan decried the harassment and his opponent's refusal to disavow the group. "This style of political intimidation will continue if it wins elections," he told Austonia, linking the incident to another one that occurred in early November, when Kelly was photographed with members of the Wind Therapy Freedom Riders, supporters of President Donald Trump, APD officers and protesters who displayed white supremacist hand signals.

The city of Austin and League of Women Voters Austin Area co-hosted a candidate forum on Nov. 30, which can be viewed here.
In District 10, Council Member Alison Alter is running against Jennifer Virden.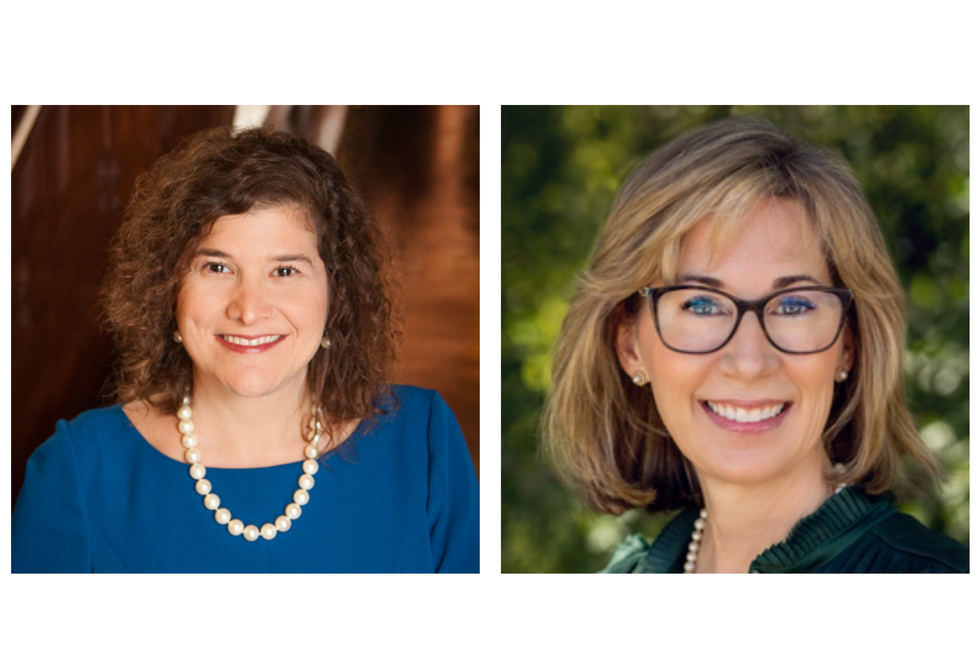 Alter faced six challengers during the Nov. 3 election and received the most votes, with 34% cast in her favor. She describes herself as a progressive Democrat and has spent her time on council advocating for preservationist land use policies and parks. She voted to cut APD's budget but opposed its decision to overturn the camping ban.

Virden, a real estate broker and general contractor, earned 25% of the vote last month. She opposes Project Connect, council's decision to overturn the camping ban and any effort to defund the police.
Alter's husband, University of Texas at Austin professor Jeremy Suri, appeared to call Virden unqualified and racist in a tweet on Tuesday, prompting the candidate to respond that he was "classless."
I guess, when backed into a corner, Alison Alter will have her husband claim I'm a racist instead of talking about… https://t.co/8Adc2zsrjj

— Jennifer Virden for Austin City Council D10 (@Jennifer Virden for Austin City Council D10)1606872542.0
The Nov. 30 candidate forum can be viewed here.
Elected council members will be tasked with rewriting the city's land use code, considering further cuts to APD's budget and implementing the Project Connect plan.

Election Day is Tuesday, Dec. 15. A list of polling places can be found here; they will be open from 7 a.m. to 7 p.m.
With a taste of MLS play under their belts, Austin FC is entering the second half of a scoreless inaugural match.
The club has been given some generous breaks from No. 2 LAFC, who had one or both of their star DPs out for the half. While forward Diego Rossi is out for the entire match due to a hamstring injury, Carlos Vela was accidentally pulled too soon on what turned out to be a miscommunication.
"He gave us the sign that he needed to come off," LAFC Head Coach Bob Bradley said on broadcast. "I can't say more than maybe it's my fault."
The two breaks aside, Austin FC has been holding their own against the match favorites. In the signature style of Head Coach Josh Wolff, the team has been quick and intense, nearly connecting on several fast breaks. ATXFC has also kept about equal possession with LAFC, although their shot attempts haven't been quite as nervewracking as the home team.
LAFC has given goalkeeper Brad Stuver some scares with 11 shot attempts, four of them on goal. By contrast, Austin FC has had five shots on goal.
LA has pulled some dramatics and slowly gained more possession throughout the half, but ATXFC's defense isn't as shaky as it seemed in preseason. Jhohan Romana has pulled his weight in getting the ball out of goal, and defensive midfielder Alex Ring has shown the qualities that make him captain as he leads his teammates through their first ever match.
Will Austin FC win against the odds? It's tough to tell, but Austonia will keep you updated!
It's matchday! Austin FC—Austin's first major league sport team—kicks off its debut season in Los Angeles today after years in the making. We know how much this means to our beloved city and are taking you along with us as we journey to LA!
Austin FC writer Claire Partain and I are excited to bring you game-day coverage straight from the City of Angels. Check back here for updates, and visit our socials: @austonianews for the latest.
5 p.m: Kickoff!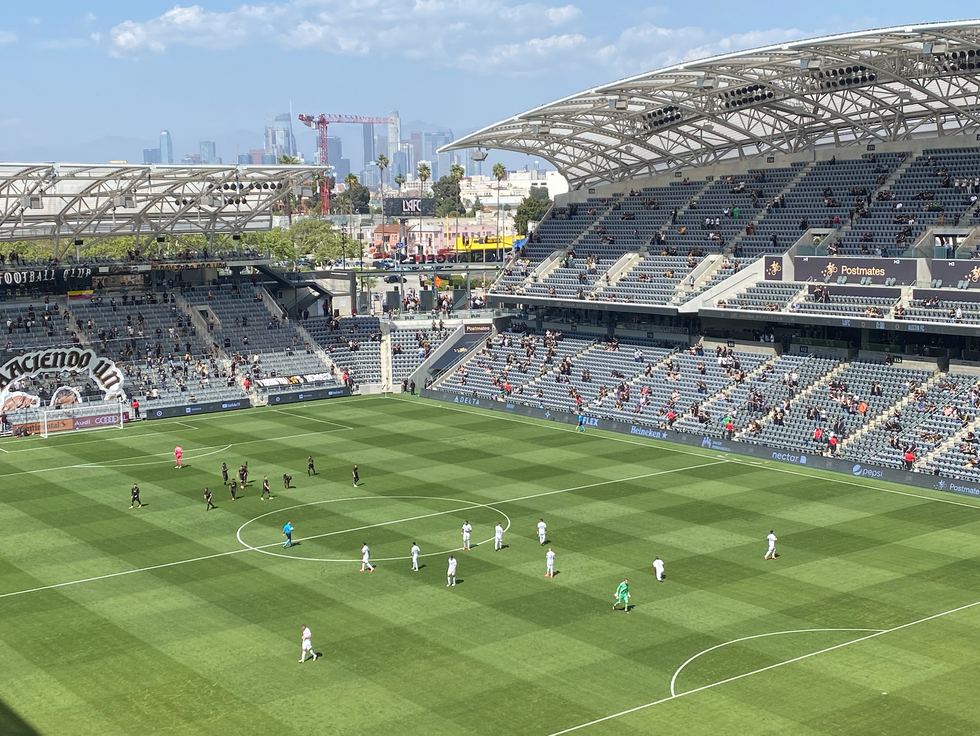 It's finally here! Claire will be updating Austonia's Twitter account live. And we'll post her game recap after the game. Best of luck Verdes!
4:40 p.m: Excitement radiates back home
Watch parties are in plenty supply back home. Austonia's Laura Figi visited Circle Brewing Co. and found a crowd of excited supporters.
4:20 p.m: Austin FC supporters are in the stadium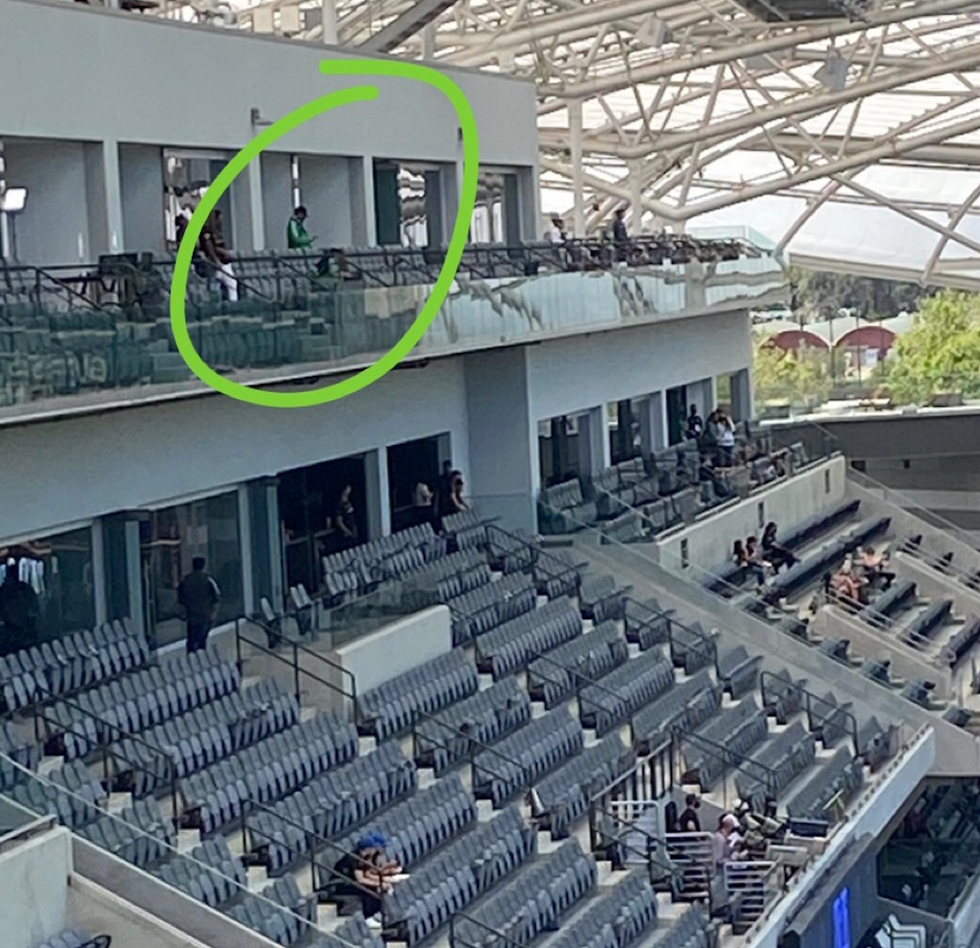 Although the Banc of California Stadium is hosting the match at limited capacity, we see some green in the stands ahead of kickoff. Just moments away from the Austin FC's debut!
~3:20 p.m: Austin FC's team bus enters the stadium grounds
With a warm welcome from Los Verdes, Austin FC players were welcomed into the Banc of California Stadium.
~1 p.m: Los Verdes in LA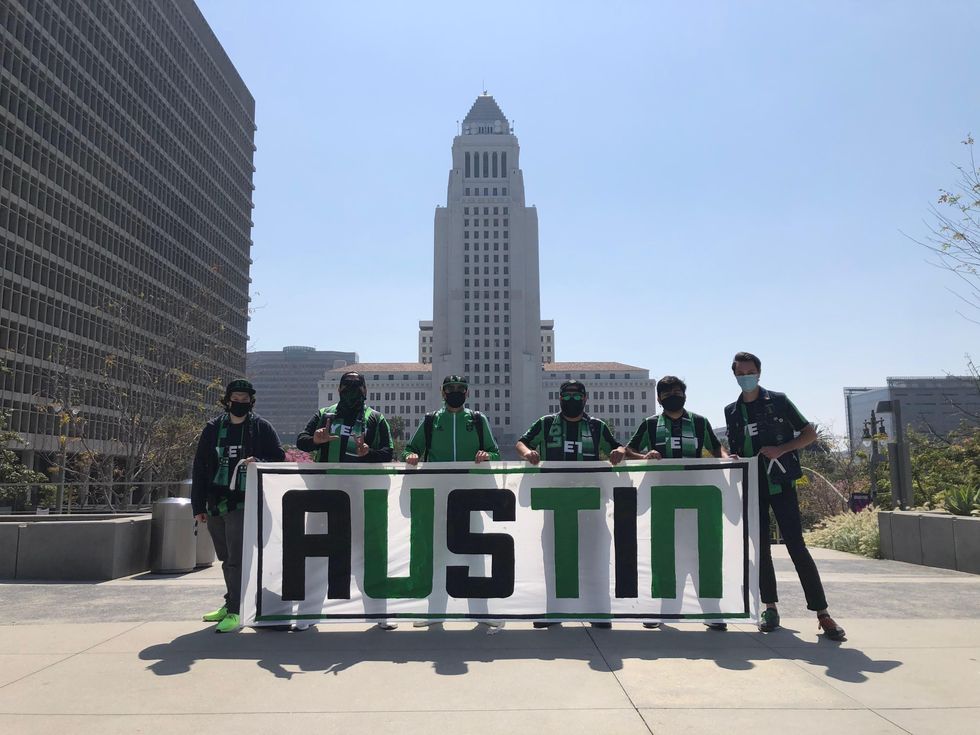 (Rigo Rodriguez/Los Verdes)
Austin FC supporters are making their presence known in LA, including the Los Verdes group.
Los Verdes members started having match-day fun around the area this morning with brunch. We'll be joining them about an hour before the game outside the stadium to share some of their excitement. We'll post immediately to Austonia's Instagram.
11:45 a.m: We landed!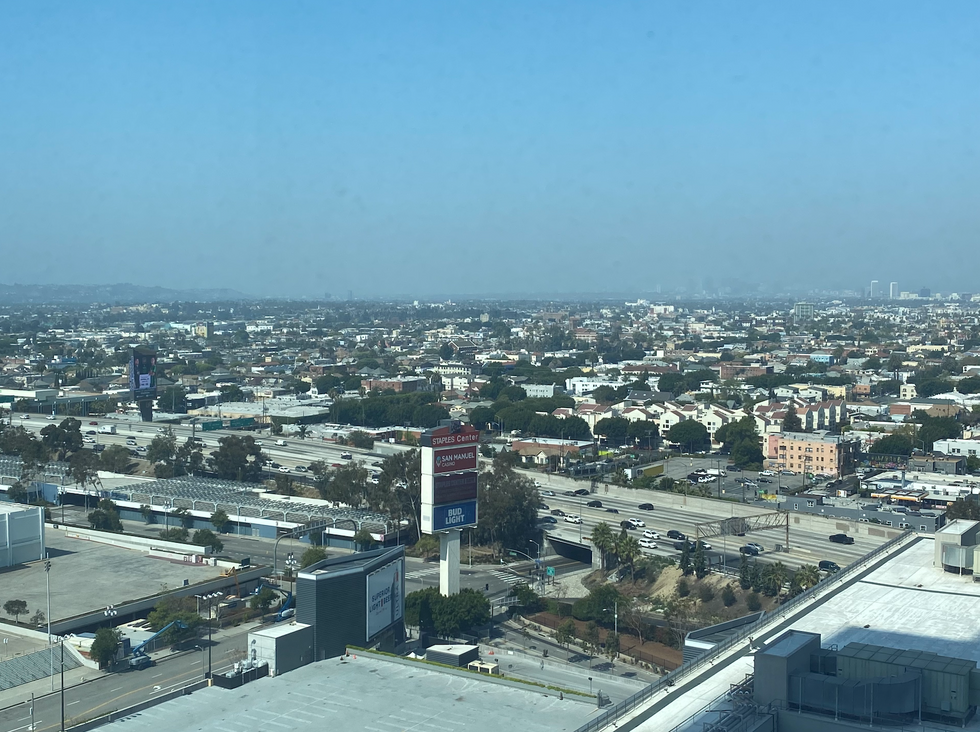 View from hotel room where we're staying; the stadium digital sign can be seen in the right corner. (Sonia Garcia/Austonia)
Switching over to pacific time, we're here and it's almost like no time went by. It's 9:45 a.m. here.
We've been in contact with Los Verdes, an Austin FC supporter group, who is also here in LA counting down to kickoff.
8:20 a.m: LA bound
Like many of you, we've been looking forward to this moment for, let's just say, a very long time. Today, we woke up bright and early, headed to Austin-Bergstrom International Airport and hopped on a flight to LA.
A gloomy day in Austin with a very quiet airport, we're headed to sunny skies in California.
As we wait for the game to start at 4:30 p.m., check out Claire's preview of the game with a predicted lineup and timeline of the long journey to get here.