Get connected with our daily update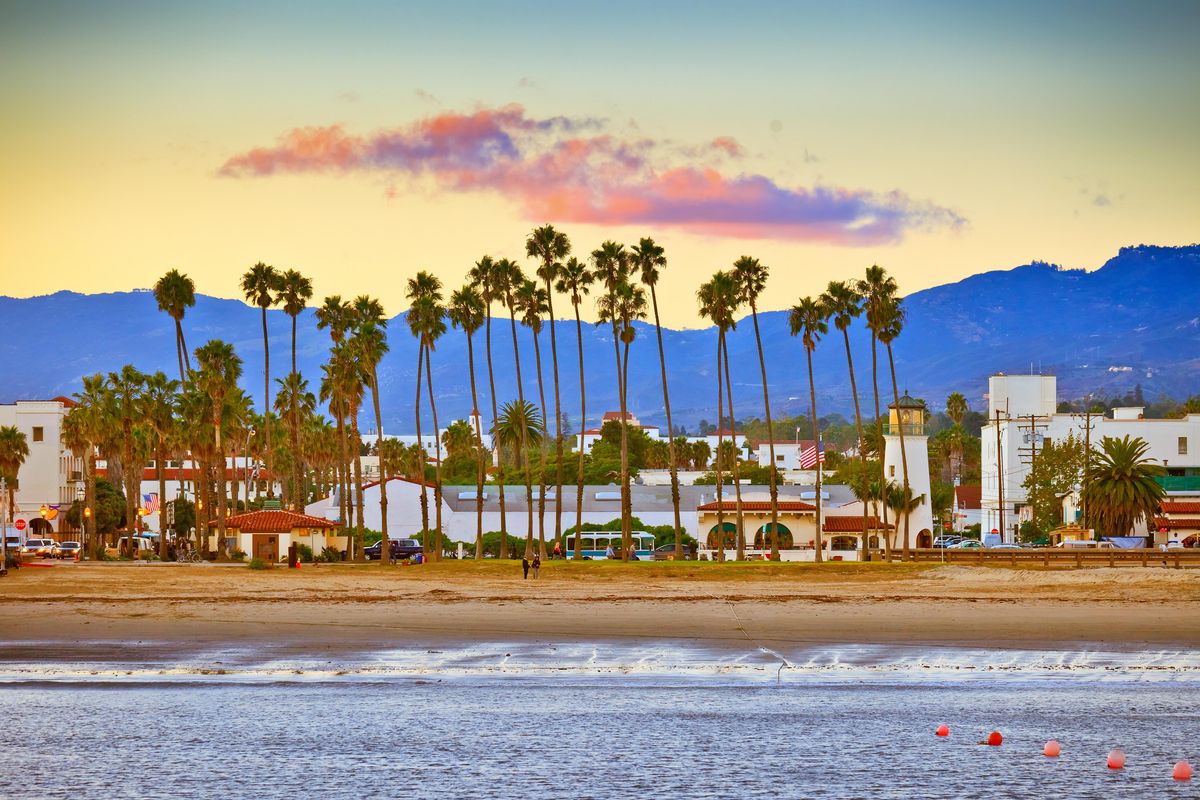 Like Austin, Santa Barbara transcends being a geographic place and has become an aspirational lifestyle brand. While Austin's lifestyle, at its best, is casually hip, Santa Barbara is casually luxurious on the California coast.
---
What's so special about Santa Barbara?
Natural beauty
There's probably nowhere in the United States more beautiful than Santa Barbara. A ribbon of a city tucked between a coastal mountain range and the Pacific Ocean, it looks southward toward a chain of islands that rise out of the sea 30 miles away and paint a perfect backdrop. The city itself is primarily Spanish architecture with red tile roofs. It's easy to believe you're in Europe. The landscapes, which in their original, pre-settlement state were much like the Texas Hill Country–live oaks and native grasses–are now lush, well-watered plantings of palm trees, roses, birds of paradise and agapanthus.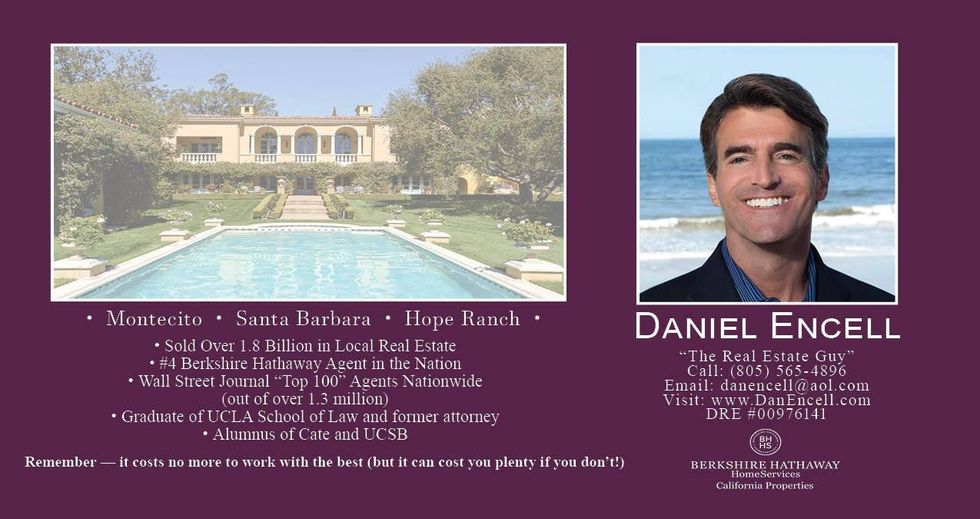 Weather
The Mediterranean climate in Santa Barbara is close to perfect. Average highs range from 60s in winter to high 70s in summer. In the last few years, summer temperatures have spiked higher. Wintertime lows are in the 40s. Summer is nice and fall is glorious—crisp and clear with low humidity.
The chance of summer rain is 0%. Rain comes, when it comes, in the winter.
Late spring and early summer can be foggy, especially in the mornings. The locals call it "June Gloom."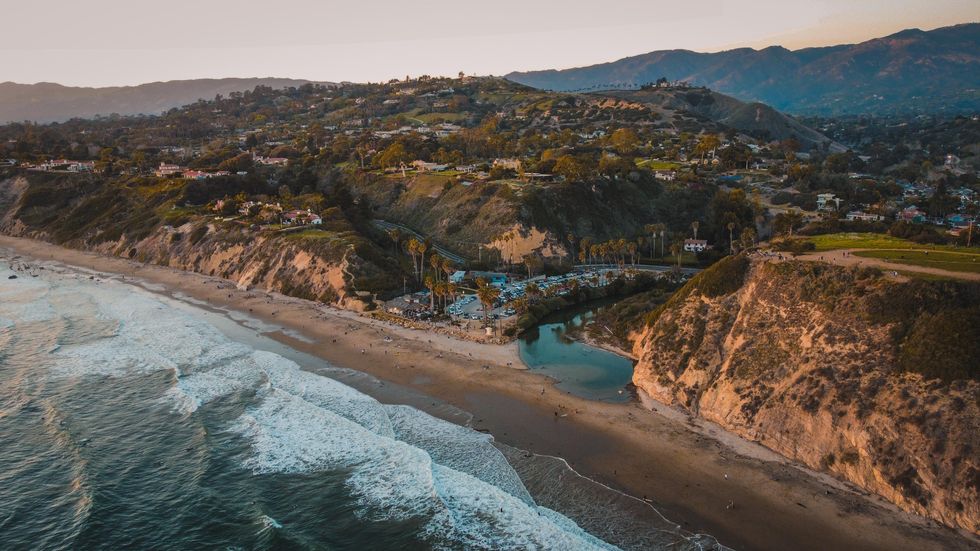 (Pexels)
The sea
Santa Barbara has beautiful beaches, from El Capitan in the west to Fernald Point in the east. All of them are a place to pack your cooler, set up your chairs and lather up with sunscreen. But here the beaches are more of a setting than an experience. A place to get some sun, take a walk or let your dog loose. The water is cold, mostly braved by young children splashing in the surf and by wetsuit-clad surfers. Walk the beach, or sit and look in the early morning or late afternoon, and you'll see a passing parade of dolphins and pelicans, and sea lions frolicking and foraging in the kelp forests beyond the breakers.
The mountains
​It's hard to turn away from the ocean, but when you do, there's a range of 4,000-foot mountains just behind. Spidered with hiking trails and greened with chaparral brush and trees, the mountains are a crinkled, photo-friendly backdrop, especially in the moments before sunset when the hills glow softly in what's called "the pink moment." Invisible from below, the upper canyons conceal big predators like bears and mountain lions.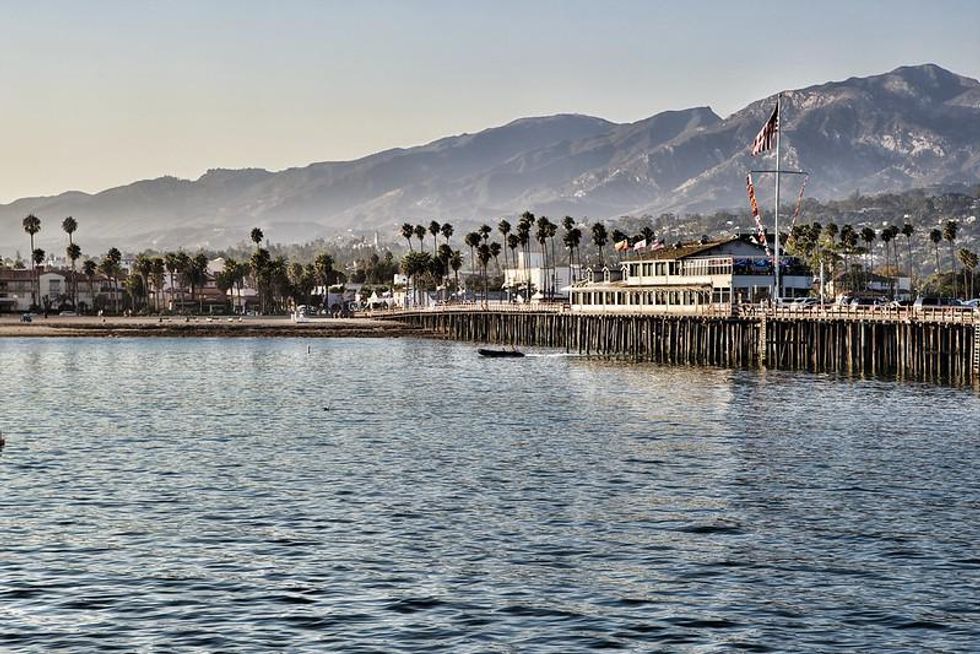 (Michael Theis/Flickr)
Wine country
​Here's a rule of thumb: where wine grapes grow, life is good. And lucky for us, wine grapes grow here. Warm, sunny, summer days and cool nights with occasional foggy mornings are a recipe for world-class wines. Santa Barbara is full of tasting rooms and the nearby Santa Ynez Valley is packed with vineyards and low-key, world-class wineries.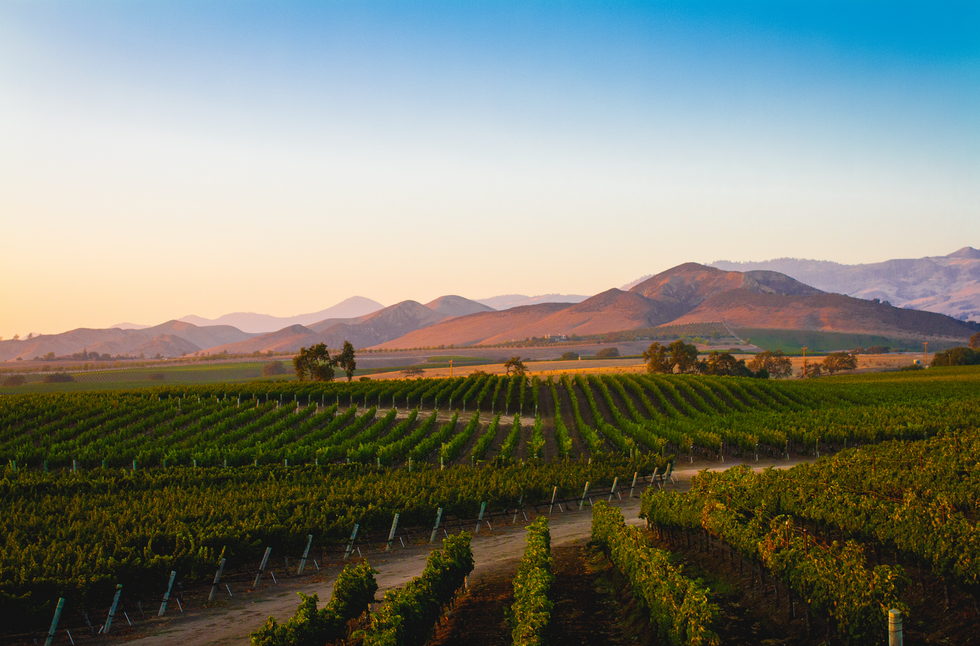 (Shutterstock)
Gawking
The famous and the wealthy discovered Santa Barbara 100 years ago and they never forgot it. Keep your eyes open and you might see the Duke of Sussex walking his dogs on the beaches of Summerland, Ellen and Portia watching Brandi Carlile perform at the Santa Barbara Bowl, or maybe Oprah and Stedman getting coffees to go at Pierre Lafond.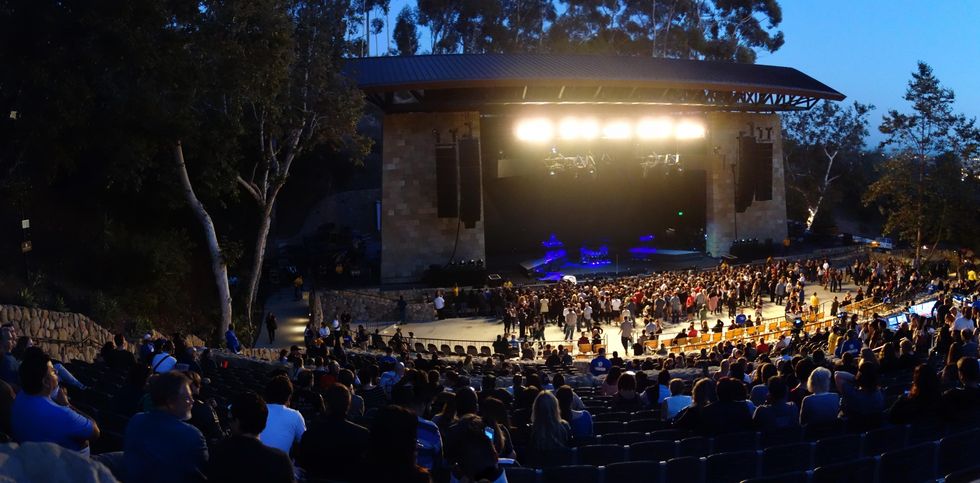 (Mark Krynsky/CC)
Outdoors
​It's so easy to be healthy here. A list of daily activities:
walk the beach
mountain hike
ebike ride
Paddleboard
Pickleball
In one morning, you can splash your feet in the Pacific, walk on the beach, ride your bike in the mountains, and have time to clean up and have a leisurely wine-soaked lunch. The climate and soil will grow anything, and there are farmer's markets almost every day. Any kind of bodywork or spiritual help you can think of, it's here. Namaste.
Other things to do
What to do depends on you. If you're traveling with someone special, or with small children, or if you're a surfer or kiteboarder, your activities will be different. But here are a few for everyone to consider.
Visit the Mission and the Rose Garden
Santa Barbara Courthouse (self-guided tour, climb stairs to clock tower for view)
Stearns Wharf (touristy but fun, with beautiful views)
Funk Zone and Harbor (for visitors it's the heart of the city)
Santa Barbara Bowl (outdoor amphitheater with ocean views)
Montecito (wealthy community of celebrities, tycoons and trust funders)
Wine tasting in the Santa Ynez Valley (one hour drive, numerous wineries and the charming town of Los Olivos)
Where to eat
This and the other recommendations are just samplings. There are lots of great places, and you'll have fun finding your own special spots.
Clark's (coming soon, Montecito. This is Clark's, the McGuire Moorman Lambert oyster bar on Austin's 6th St. They expanded to Aspen and now to Santa Barbara)
Shoreline Beach Cafe (at the beach, some tables are in the sand)
Brophy Bros. (harbor seafood house with bar and great views)
Carazon Cocina (downtown, tacos)
Santa Barbara Public Market (casual, various)
Shalhoob's Funk Zone Patio (casual, funk zone)
Finney's Crafthouse (bar/restaurant, funk zone)
Arigato (sushi, downtown)
Ca'Dario (Italian)
The Lark (LA style, funk zone)
Bouchon (fine dining, downtown)
The Stonehouse (fine dining, Montecito style)
Coffee & breakfast
Jeannine's (breakfast and lunch, two locations)
Handlebar Coffee Roasters (coffee shop, two locations)
Caje (coffee shop, Haley Street)
Tre Lune (known for dinner, but serves an outstanding full breakfast)
Beer, wine & cocktails
Figueroa Mountain Brewing (beer, funk zone)
Melville Winery Tasting Room (wine, downtown)
Riviera Bar (cocktails, downtown)
Santo Mezcal (cocktails, downtown)
The Pickle Room (cocktails, downtown)
Harry's Plaza Cafe (cocktails and food, locals place, Loreto Plaza)
Lucky's (Cocktails and steakhouse, Montecito)
Test Pilot (never been but want to try it!)
Where to stay
You're not going to spend much time in your room, so keep that in mind when choosing your accommodations. Any of the big hotels along the beach, or the boutique hotels in town, are worth a look. And some spectacular places are available on Vrbo and Airbnb. Just be sure the location works for you. What's called "Santa Barbara" could be a 20-30 minute drive from downtown. That can get you something really special, so it can be worth it.
A few recommendations:
Hotel Californian (perfect location—walk anywhere)
El Encanto (tranquil, beautiful views)
San Ysidro Ranch (laid back luxury, Montecito)
Rosewood Miramar Beach (seaside luxury, Montecito)
Motel 6 (the first-ever Motel 6, some rooms have ocean views)
Getting there
Flying: There are no direct flights to Santa Barbara. Fly private if you can. For the rest of us, here are your best choices:
Southwest Airlines via Las Vegas
American Airlines via Phoenix or Dallas
United Airlines via Denver or San Francisco
Driving: Another option, fun for some and not for others, is to drive.
1. Measured from Austin's Steve Ray Vaughn statue to Santa Barbara's Dolphin Family sculpture at Stearns Wharf, the trip is 1,474 miles and takes about 22 hours.
2. Driving up from Los Angeles can be fun if you avoid morning and afternoon rush hours. Rent a car and drive through Santa Monica and up the Pacific Coast Highway. Stop in Malibu and get a cup of coffee, a drink or some lunch. Distance: 96 miles. Time: 2 hours+.
3. Driving down from San Francisco on the Pacific Coast Highway is one of the most beautiful drives in the USA. It's 7 ½ hours on Google Maps, but don't go if you're in a hurry. Take two days and spend the night in Carmel, or further south, along the Big Sur coast. At Pismo Beach, take the 101 and when you get to the wine country town of Los Olivos, switch to highway 154 for a spectacular first view of Santa Barbara as you crest San Marcos pass and glimpse the ocean, and soon after, the city of Santa Barbara on its shore.

If you go, let us know how it went, and pass along any recommendations you think we should add (or subtract). Enjoy your trip!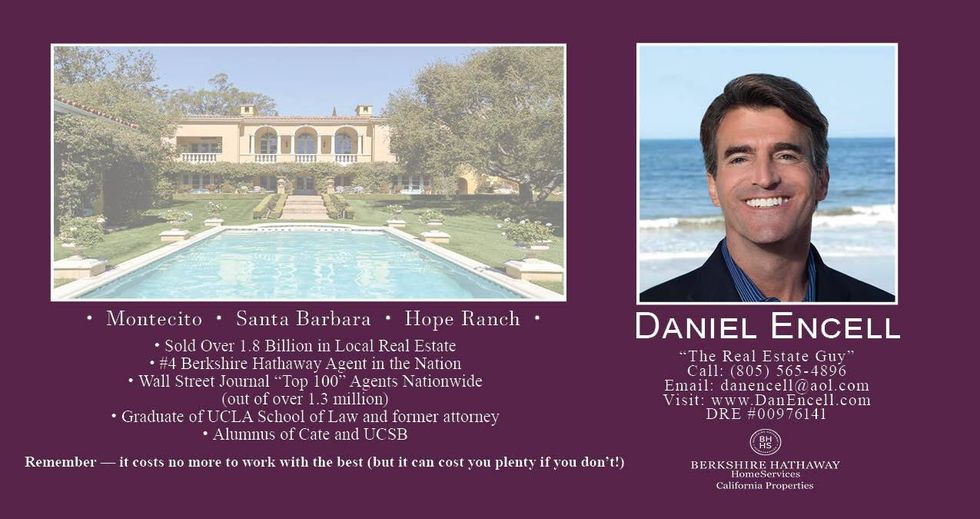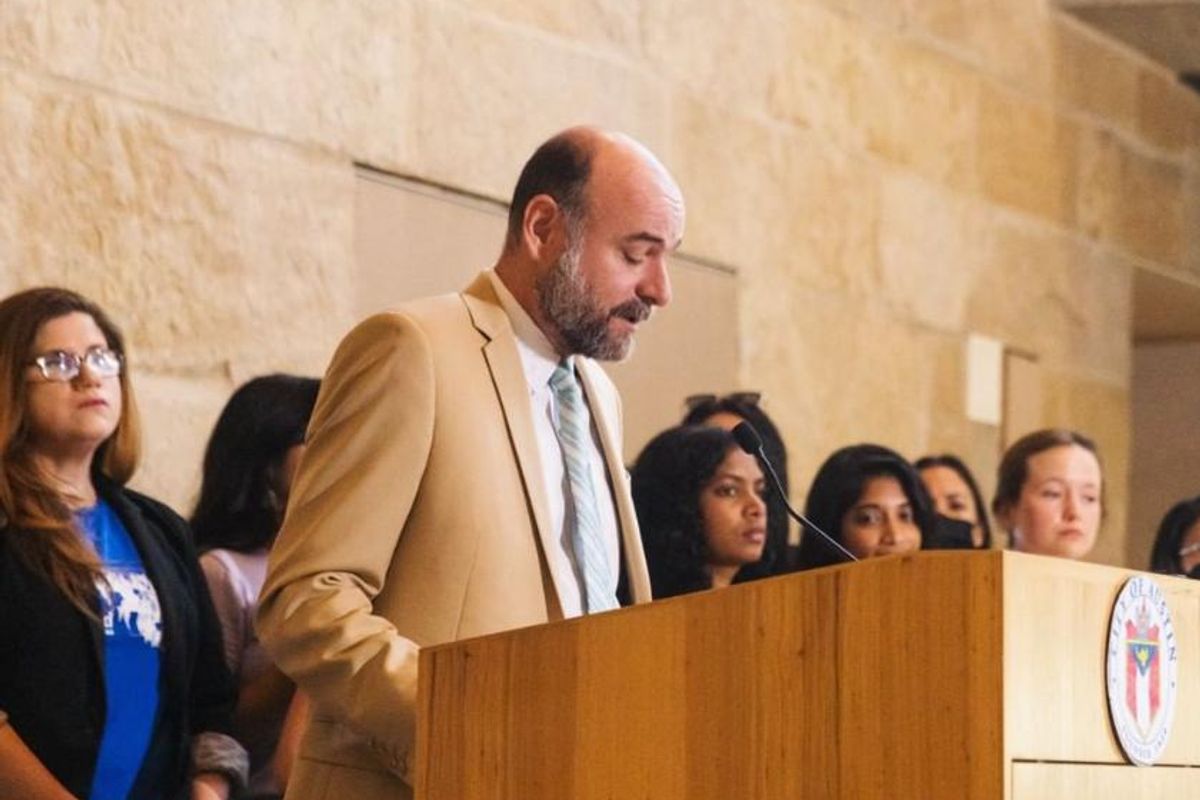 The U.S. Supreme Court overturned Roe v. Wade, the landmark ruling that guaranteed a constitutional right to an abortion, Friday morning. Moments later, Austin City Council set a special meeting for next month to pass a resolution aimed at decriminalizing abortion.
The GRACE Act, which stands for guarding the right to abortion care for everyone, is a twofold plan submitted by council member Jose "Chito" Vela. It recommends that city funds shouldn't be used to surveil, catalog, report or investigate abortions. It also recommends that police make investigating abortion their lowest priority.
Council Member Vanessa Fuentes, who co-sponsored the resolution along with council members Paige Ellis, Kathie Tovo and Mayor Steve Adler, said the importance of the GRACE Act cannot be overstated.
"By introducing this resolution during a special session, City Council is doubling down on fighting back for reproductive health," Fuentes said. "Items like the GRACE Act will promote essential healthcare while enabling individuals to exercise their bodily freedom."
The act takes an approach similar to when former council member Greg Casar moved to decriminalize the possession of small amounts of marijuana. Ultimately, state law doesn't allow city officials to order police chiefs to adopt specific enforcement policies so the resolution would be a request to Police Chief Joe Chacon. In May, Politico reported that Vela is having "ongoing conversations" with Chacon about the proposal.
Austonia contacted Attorney General Ken Paxton for comment on the GRACE Act but did not hear back by time of publication. On Friday, Paxton celebrated the overturning of Roe and announced an annual office holiday on June 24 in recognition of the high court's decision.
In a press release, Vela said the Texas state government has a history of overturning municipal protections of human rights. Thirty days after the Supreme Court's ruling, Texas will ban all abortions, with exceptions only to save the life of a pregnant patient or prevent "substantial impairment of major bodily function."
Still, Vela expressed hope for the GRACE Act's longevity. Council's special meeting on it is set for the week of July 18.
"We know this resolution is legally sound, and Austin is not alone in this fight," Vela said. "We are working with several other cities who are equally horrified by the prospect of an abortion ban and want to do everything they can to protect their residents."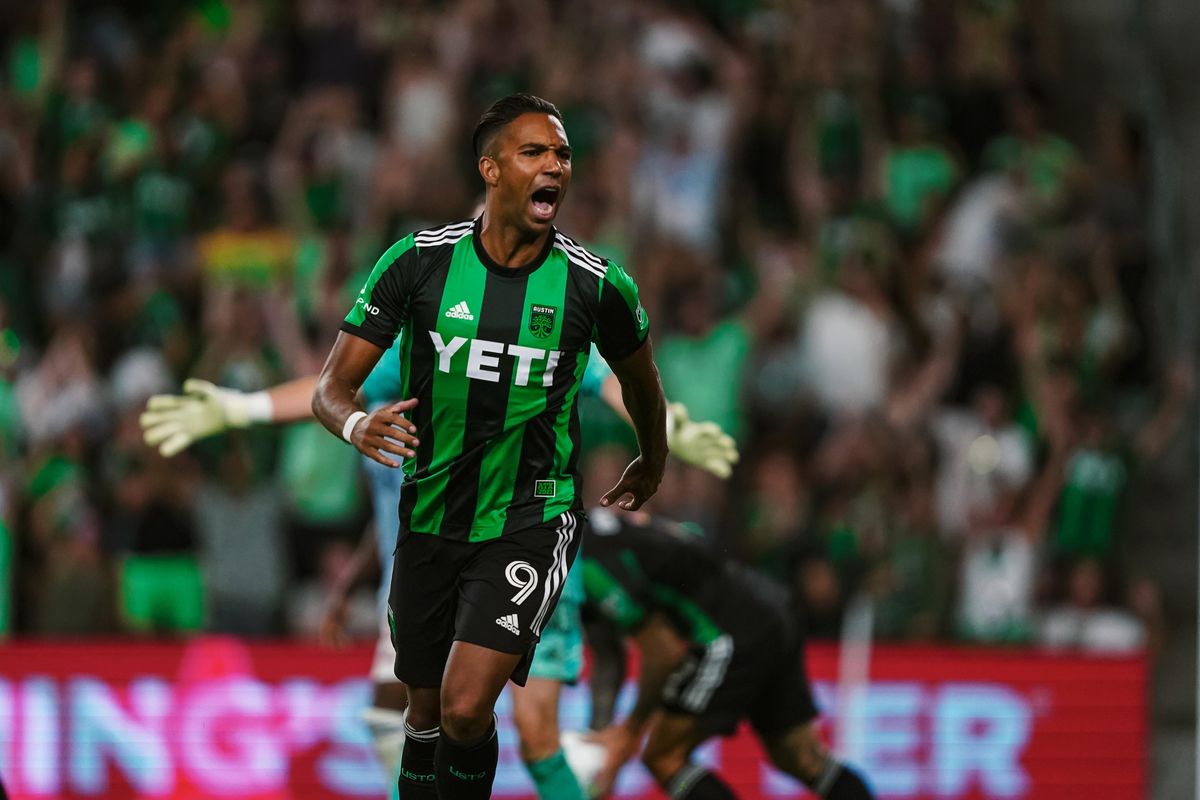 Despite a 2-0 deficit, there was a pot of gold for Austin FC after all as it celebrated its annual Pride Night with rainbows and a 2-2 comeback draw to FC Dallas Saturday night.
After three FC Dallas losses last season, the Dallas derby draw marks the first time Austin FC has tied against its Copa Texas rival. Austin continues to edge over FC Dallas as it sits at 3rd in the MLS West.
Here are the biggest takeaways from the match:
A somber start
¡Ya Basta! Enough! End Gun Violence. #uvaldestrong

📷 @arubiophotospic.twitter.com/3PiVdTPtik

— Los Verdes (@LosVerdesATX) June 26, 2022
Decked out in colorful hues for LBGTQ+ Pride, Verde fans started the match on a somber note as they held up banners to take a stand against gun violence before the match.
As the national anthem began, fans held up banners with the names of each child that was killed in the Uvalde school shooting and a plea to "end gun violence."
The supporters' section was also dotted with Pride flags and a "Bans off Our Bodies" banner in protest of the Supreme Court's decision to overturn Roe v. Wade.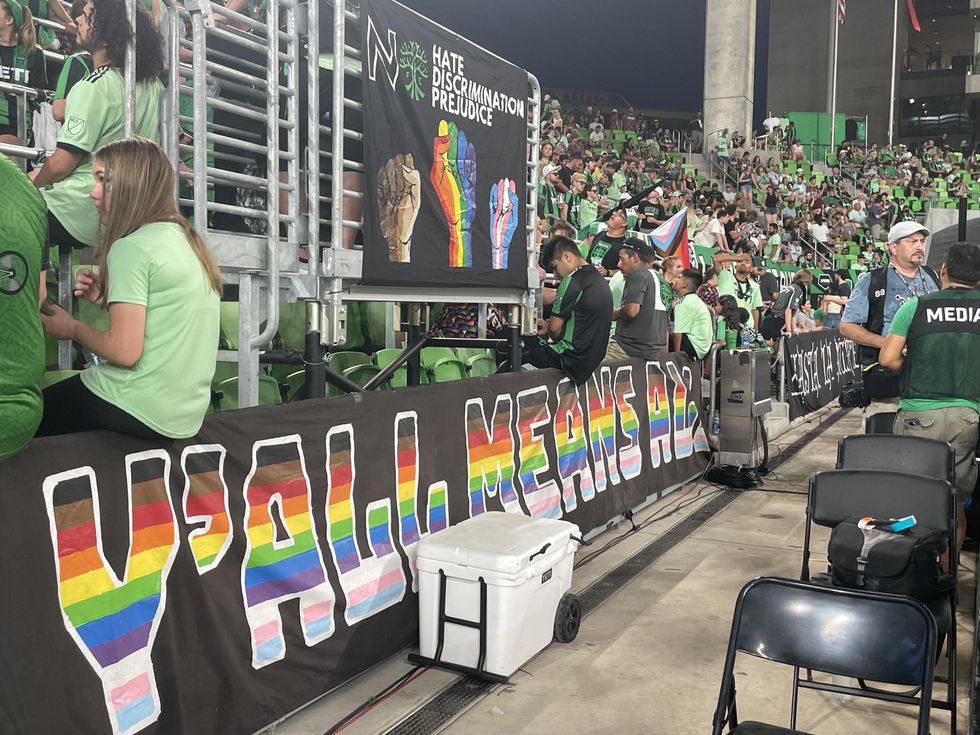 (Claire Partain/Austonia)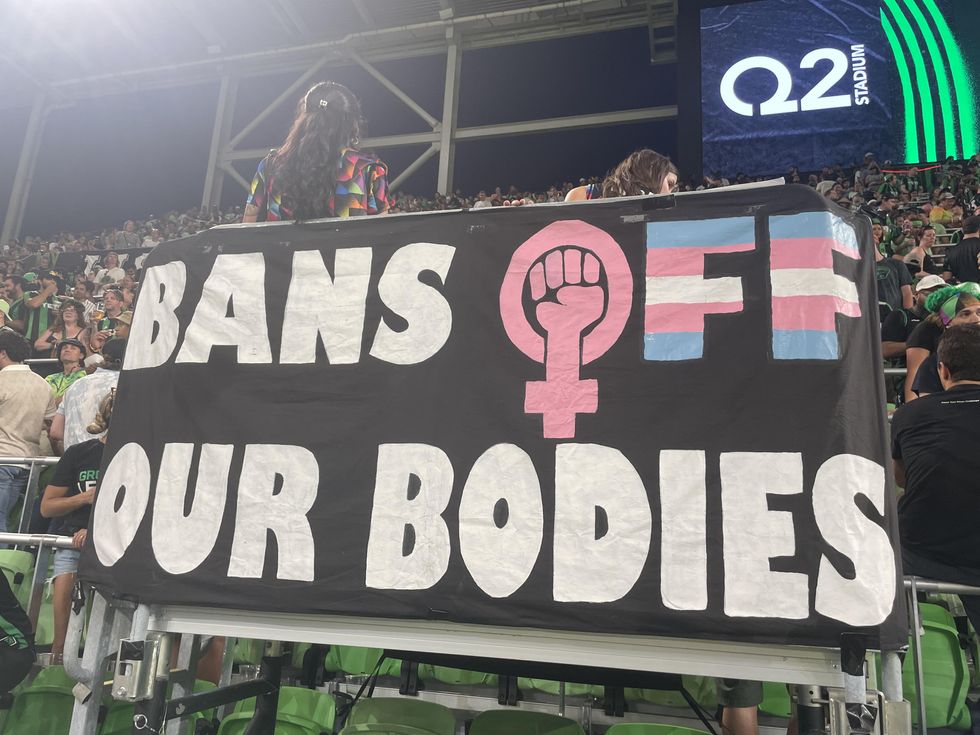 (Claire Partain/Austonia)
FC Dallas earns a 2-0 lead
Paul Arriola is there to put it away and put @FCDallas ahead! pic.twitter.com/Z4AMmM6lp3

— Major League Soccer (@MLS) June 26, 2022
That sober tone continued onto the pitch. With midfielder Daniel Pereira's absence due to a red card, the Verde and Black lost two goals to FC Dallas by the 70th minute of play.
FC Dallas played it sneaky for the first half of the match, giving Austin FC plenty of room to hold possession as it waited to strike on a Verde error. That mentality proved dangerous for Austin as Dallas' Paul Arriola took advantage of Brad Stuver's deflection to score the first goal of the night in the 57th minute of play.
Dallas struck once more as Brandon Servant pushed past the Verde line to score the second goal of the match.
Austin FC strikes back
Sebastián Driussi pulls one back!#AustinFC are still in this one. 👀 pic.twitter.com/Yoi0x768jb

— Major League Soccer (@MLS) June 26, 2022
But energy quickly returned to Austin's favor thanks to Designated Player Sebastian Driussi, who scooted past several FC Dallas defenders alongside Moussa Djitte to snag an unlikely first goal for Austin.
A full Verde comeback
Late drama in this Texas Derby!@AustinFC ties it up, Danny Hoesen with the diving header. 😱 pic.twitter.com/Jk2f4fIEXG

— Major League Soccer (@MLS) June 26, 2022
Austin's subs proved deadly as momentum returned to the home team toward the end of the match. A well-placed cross from Nick Lima—and a diving header from a fresh-legged Danny Hoesen—helped the team secure the draw with a second Verde goal in the 84th minute of play.
Hoesen, who was Austin's first starting striker last season, has now scored two goals with the team after a yearlong injury stuck him on the bench.