Get connected with our daily update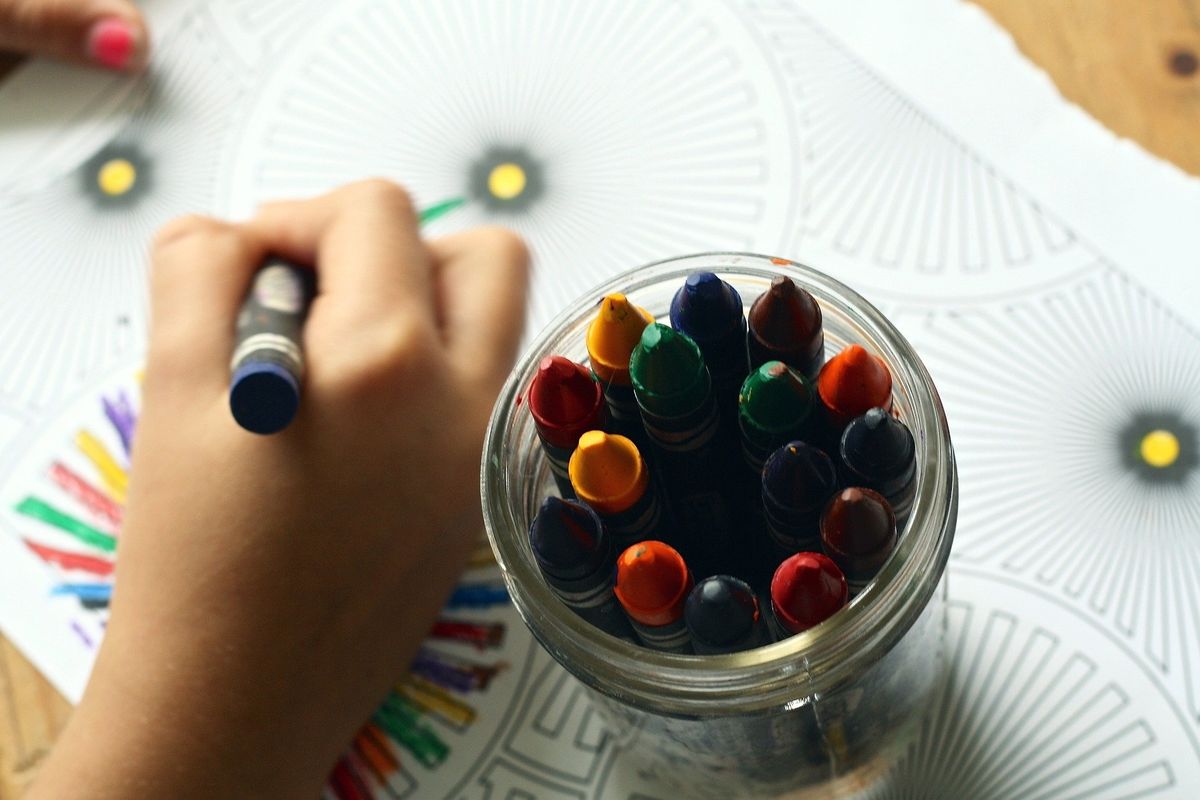 (Stock photo)
As some children gear up to head back to school, many parents are wondering what to expect next with their child's learning.
For Ashley McGuire, mother of 6-year-old Mason, in-person schooling can't come quickly enough. The online process, she said, is lonely and has been frustrating for everyone in the family.
---
"I'm not equipped to be a school teacher," McGuire said. "I never wanted to be a school teacher. My kid is struggling. He needs structure, and he needs better advice than I can give him."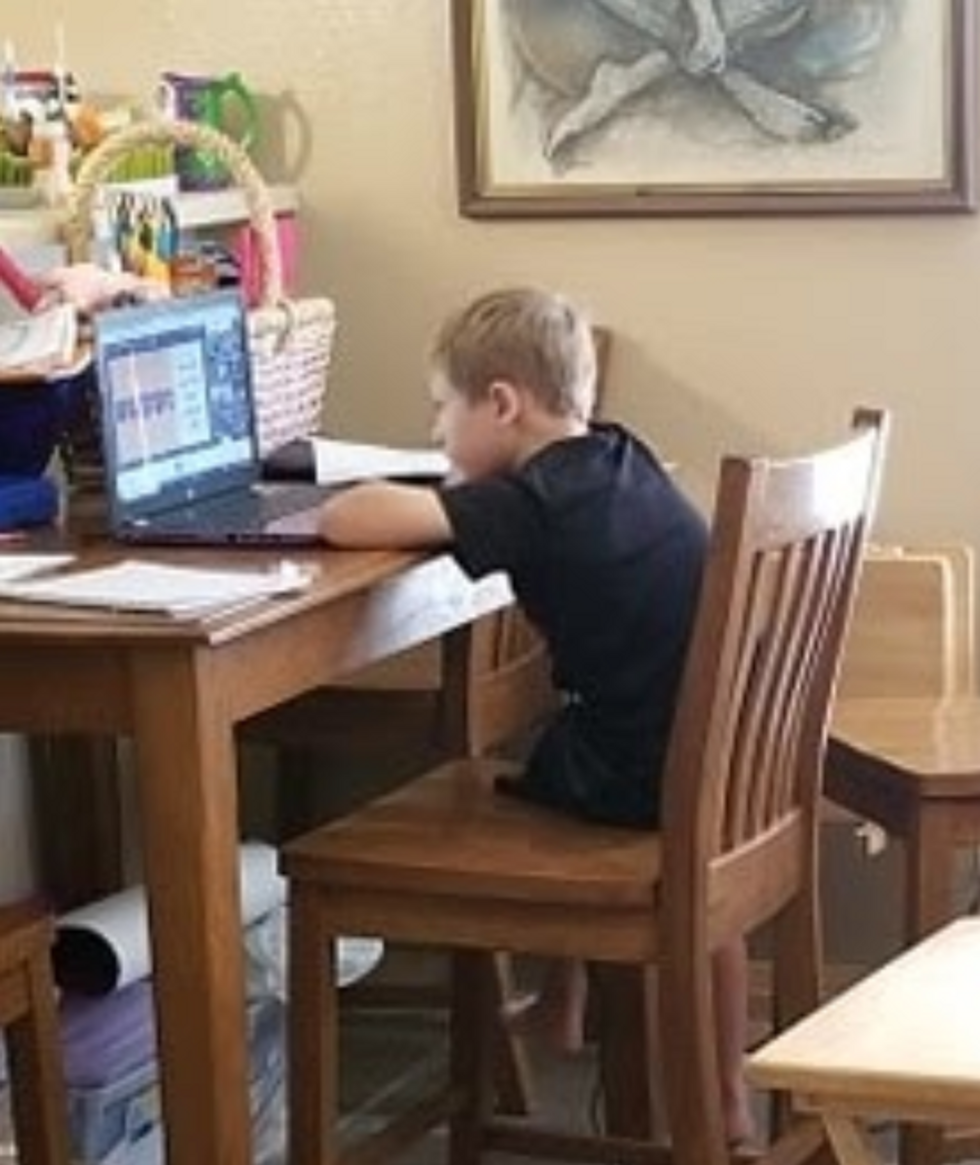 Mason working on his e-learning assignments from home. (Photo courtesy of Ashley McGuire)
Mason will attend first grade online through the first nine-week grading period of the year, returning to his Lake Travis elementary school during the second nine weeks, a choice the family made because McGuire has concerns about him getting sick at school.

"Your kids are not always as good as teachers say they are," McGuire said. "It's very difficult to have them keep (their mask) on, especially properly, you know, over the nose and all that stuff. I mean, they're kids. They pick their noses, for goodness sakes."
As some schools and districts are opening their doors for the fall semester, health professionals are nervous about COVID-19 cases in classrooms.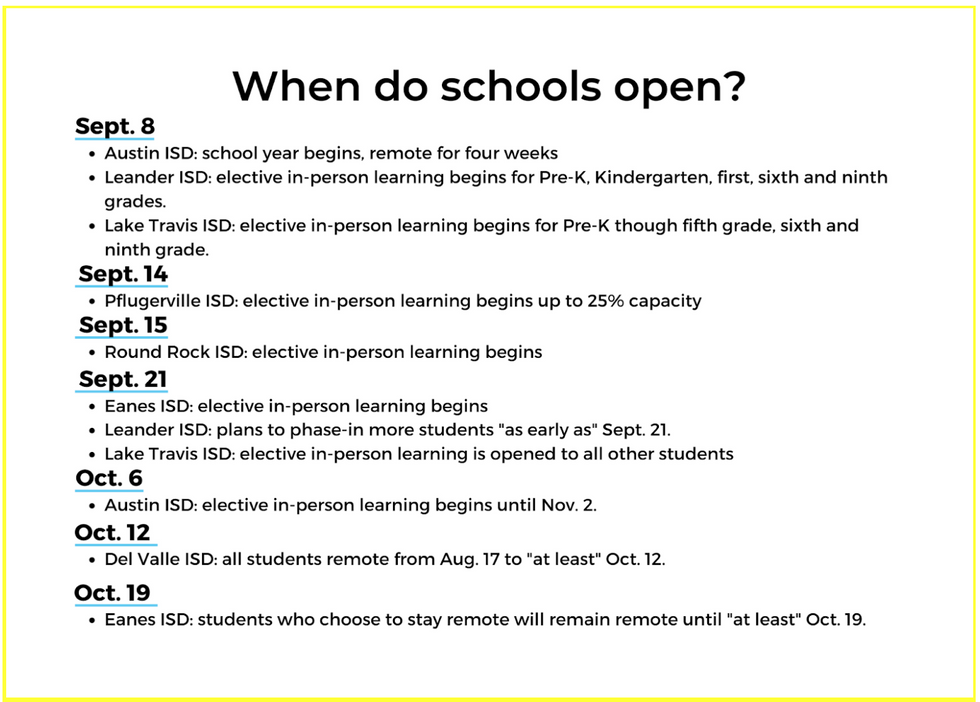 Dr. Stanley Spinner, vice president and chief medical officer at Texas Children's Pediatrics and Texas Children's Urgent Care, said there is no practical way to test every student returning to school and many doctors expect rates to spike in October as a result.

"Those that may be asymptomatic are certainly going to have the capacity to infect those around them," Spinner said. "We know that someone is just as likely to infect another person whether they are asymptomatic or symptomatic if they have COVID, so that's one of the reasons we expect rates to go up again as we get kids into class."
Detecting whether or not someone has the flu or COVID-19 is going to be more difficult as flu season approaches, as the two viruses have similar symptoms.
Spinner said very few children require hospitalization for COVID-19. In fact, many more children are hospitalized for the flu, but getting a flu shot can greatly decrease the need for medical care.
"What most people don't understand is... that vaccine works exceedingly well to prevent the vast majority of those infected individuals from getting sick enough to be in the hospital," Spinner said. "The vaccine is critical when it comes to minimizing the severity of the illness of influenza."
Spinner said getting a flu vaccine is uniquely important this year to help reduce the strain on hospitals and healthcare workers.
"If we start seeing a lot of flu in the community and we're starting to see more COVID because of school starting, we would really worry that we're going to see a lot more adults and children hospitalized, which would put a much bigger strain on hospitals (and) medical care personnel," Spinner said. "(COVID-19 and the flu) together could cause a lot of problems."
Spinner said the best way to prevent spreading and becoming infected with COVID-19 or the flu is to wear a mask and maintain social distancing.
"Wear a mask anytime you're around other people, especially when you're inside," Spinner said. "When you're around groups of people, you should be wearing a mask. Period. That's the number one best preventative."
In the meantime, McGuire said she and her son are adjusting to new habits to protect others around them, such as wearing masks and frequently sanitizing their hands anytime they go out.
"We're all navigating this together," McGuire said. "I think everybody's doing the best they can with what they have."
More on schools: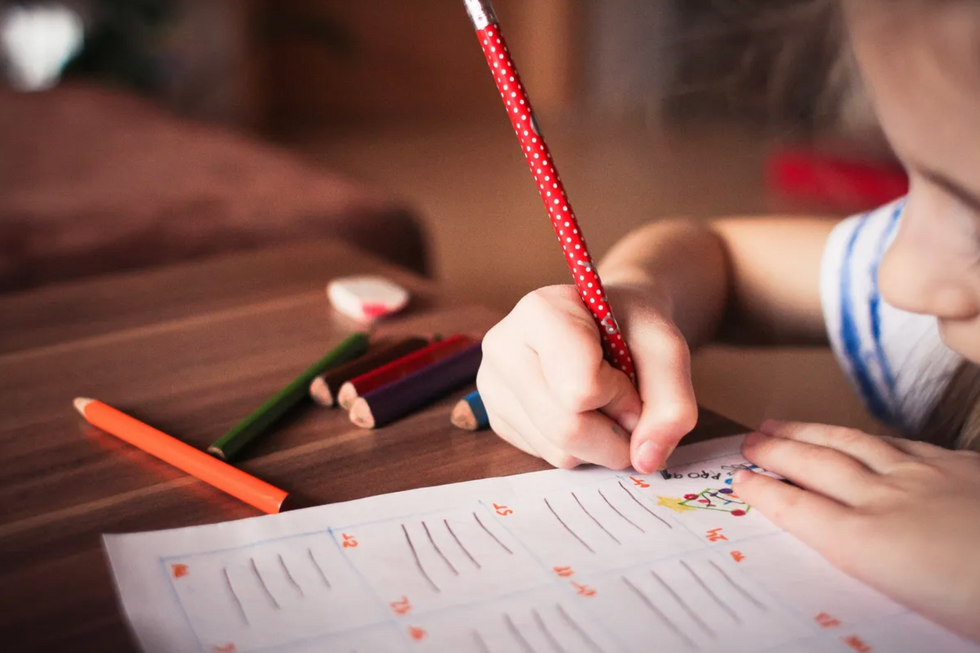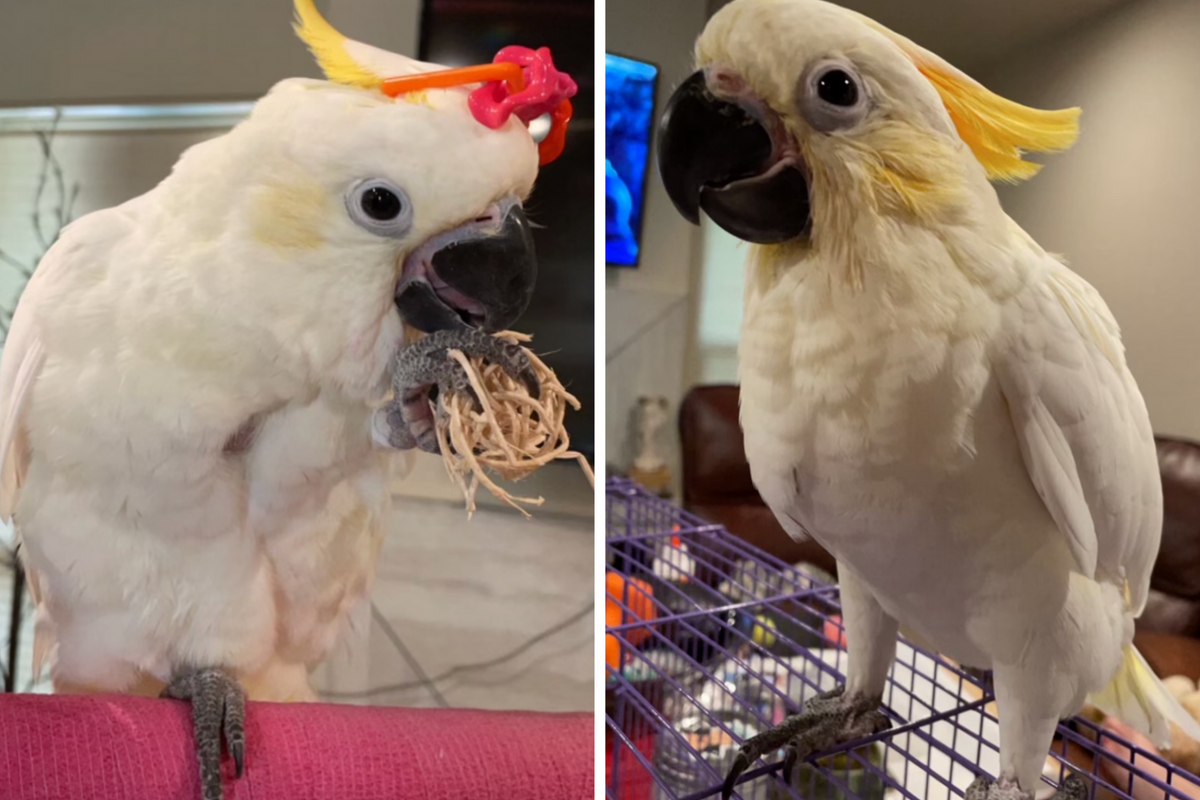 A big-money bird has been stolen from a northwest Austin pet store.
Kelsey Fernandez, the owner of a $6,000 sulphur and citron-crested cockatoo named Lemon Grab, said the emotional support animal was taken from the Gallery of Pets store, around closing time on Sunday.
"I've struggled with mental illness my entire life, and ever since I got him I've been doing so much better," Fernandez told Austonia.
The $6k cockatoo is young and will starve unless he is fed by hand, Fernandez said.
In a surveillance video, a man appears to have something under his shirt as he and two others exit the business around the same time the store believes that Lemon Grab was stolen.
Fernandez said a report has been filed with the Austin Police Department with an $1,000 reward for his return.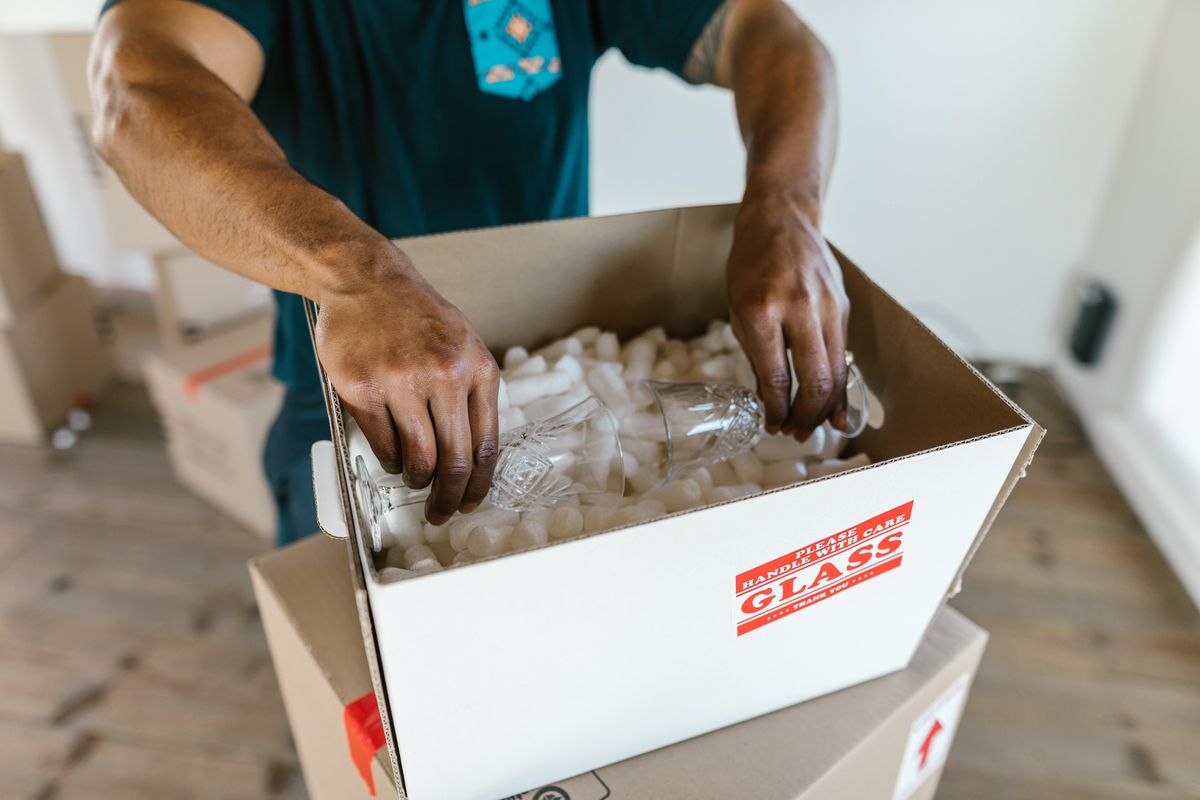 Introverts and personal space lovers may not want to make the move to Austin anytime soon: The Texas capital saw a bigger increase in one-bedroom rent prices than almost any other U.S. city in April, according to a Rent.com report.
Austin's one-bedroom rent has more than doubled—a 112% increase—from April 2021 to 2022, the report said. Only Oklahoma City saw a higher year-over-year increase with a 133% jump.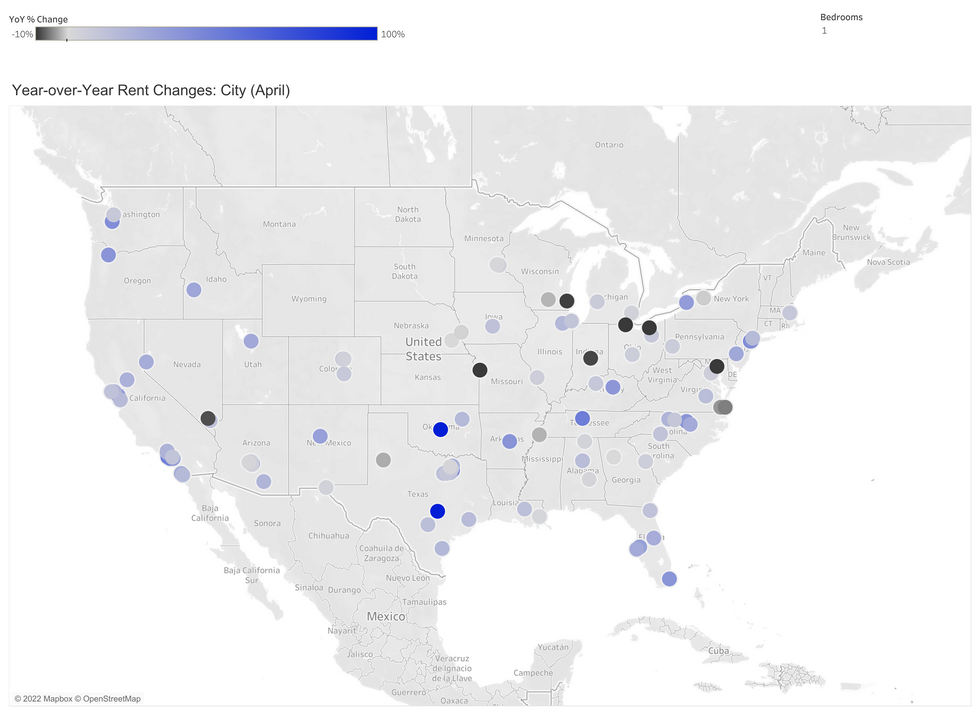 Austin also had the fourth-highest increase in two-bedroom rent, with a 50% increase in the past year. The city joined a nationwide trend where rents were up 8.3% year-over-year across the U.S, a trend exacerbated by a 6.2% increase in inflation in the same time period.
But "not everyone is experiencing inflation the same way," Redfin Deputy Chief Economist Taylor Marr said in the report, and a brunt of the load has gone to cities with more move-ins. While over 90% of state rental markets increased in the last year, that jump was seen most in Sun Belt states, including Texas, Arizona and Florida.
Even with breakneck increases in rent, however, Austin's rent prices still haven't cracked the top 10: the city's one-bedroom apartments are the 12th most expensive in the nation with an average price of $2,918. Meanwhile, its two-bedrooms fall behind Texas cities Frisco, Dallas and Plano and come out 34th on the list with a $2,302 average monthly rent.