Get connected with our daily update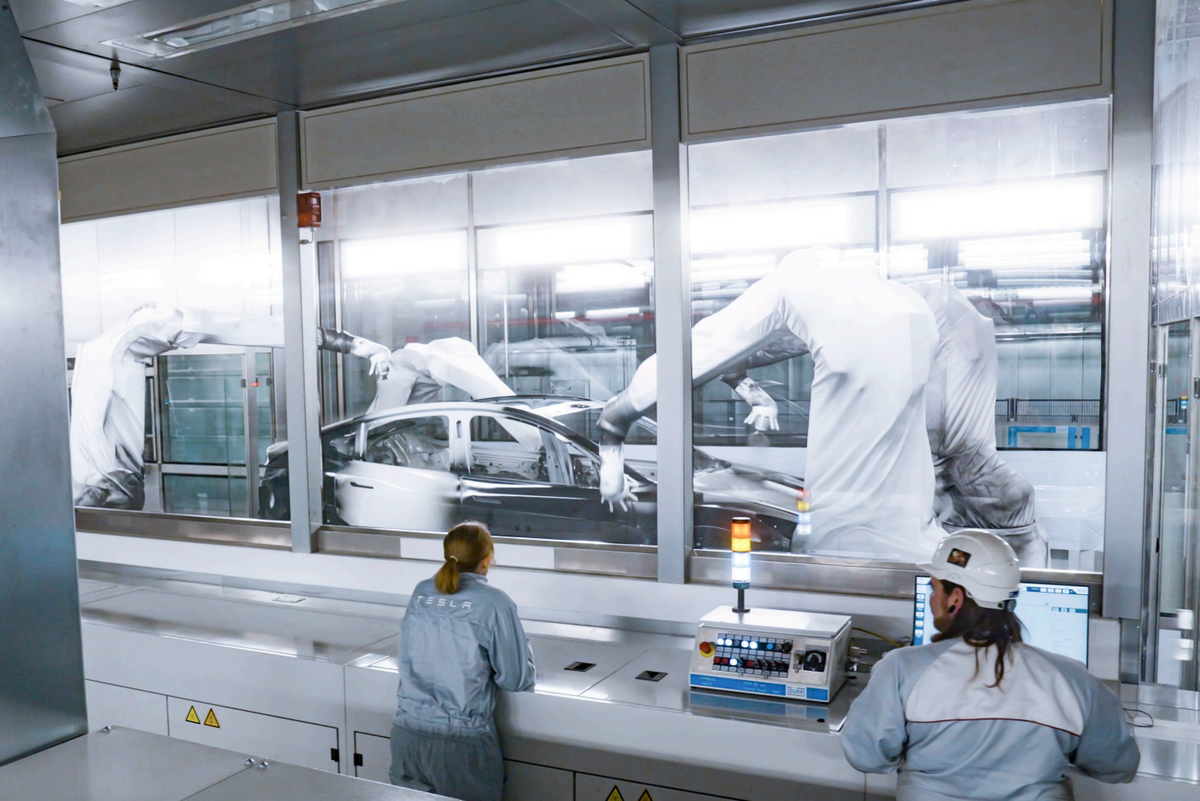 Someday, electric vehicles could go distances fit for road trips across Texas.
Researchers at the University of Texas at Austin, who have previously made strides in the lithium-ion battery industry, have developed a new electrode for such batteries that could draw greater power and allow faster charging.
So far, the research has looked at just a single type of battery electrode and is in its early stages. But it offers exciting potential as some buyers consider driving range an important factor when making the switch to an EV or picking one.
Tesla's Model Y being produced out of Giga Texas, for example, offers an estimated 330-mile range, which is lower than what many have become accustomed to in gas-powered vehicles.
So UT professor Guihua Yu, along with other researchers, had their findings on battery electrodes published in the Proceedings of the National Academy of Sciences.
"The unprecedented growth of electric vehicles during the past decade has played an indispensable role in paving the way for a carbon-neutral future," the researchers write.
That's why it's key to address a hitch with next-generation batteries, where restacking material can cause "significant bottlenecks" in charge transport, Yu says. Consequently, it can be difficult to achieve high energy and fast charging.
To tackle the sluggish reactions of electrodes, the team used thin two-dimensional materials as the building blocks and stacked them to create thickness. Then, they used a magnetic field to manipulate their orientations and put the materials in vertical alignment. In doing so, researchers essentially made a fast lane for ions to travel through the electrode.
They compared their results to a commercial electrode and a horizontally arranged one for experimental control purposes. In that comparison, they recharged the vertical thick electrode to 50% energy level in 30 minutes. The horizontal electrode took 2 hours and 30 minutes.
Zhengyu Ju, a graduate student in Yu's research group who is leading this project, said the team's electrode shows superior electrochemical performance.
In part, that's "thanks to the unique architecture we designed," Ju said. It ultimately allowed for high mechanical strength, high electrical conductivity and facilitated lithium-ion transport.
Going forward, the team aims to generalize their methodology of vertically organized electrode layers to apply it to different types of electrodes using other materials. They imagine if this technique becomes more widely adopted in industry, it may create future fast-charging, high-energy batteries to power EVs.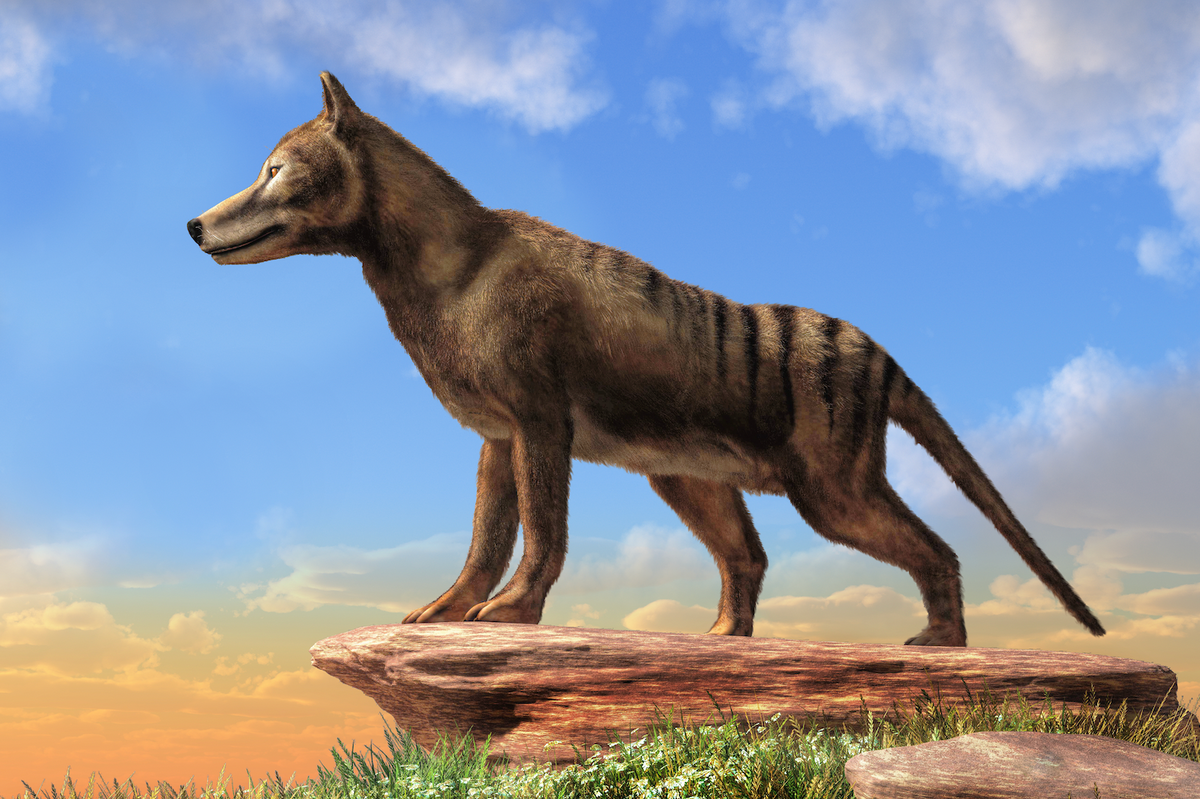 Genetic engineering company Colossal Biosciences announced it has started de-extinction of the thylacine, also known as the Tasmanian tiger.
Partnering with the University of Melbourne and its Thylacine Integrated Genetic Restoration Research Lab on these efforts, Colossal says bringing the tiger back could "re-balance the Tasmanian and broader Australian ecosystems."
"With our planet's biodiversity at risk, we will continue to contribute scientific resources to preserving the species and ecosystems necessary to sustain life," CEO Ben Lamm said.
Founded last year, Colossal aims to further develop technologies for marsupial conservation efforts and say they are the first to apply CRISPR technology for the purpose of species de-extinction.
The company has its headquarters in Dallas with Austin ties through its software and hardware team. Also with Lamm, who is former CEO of Austin AI company Hypergiant.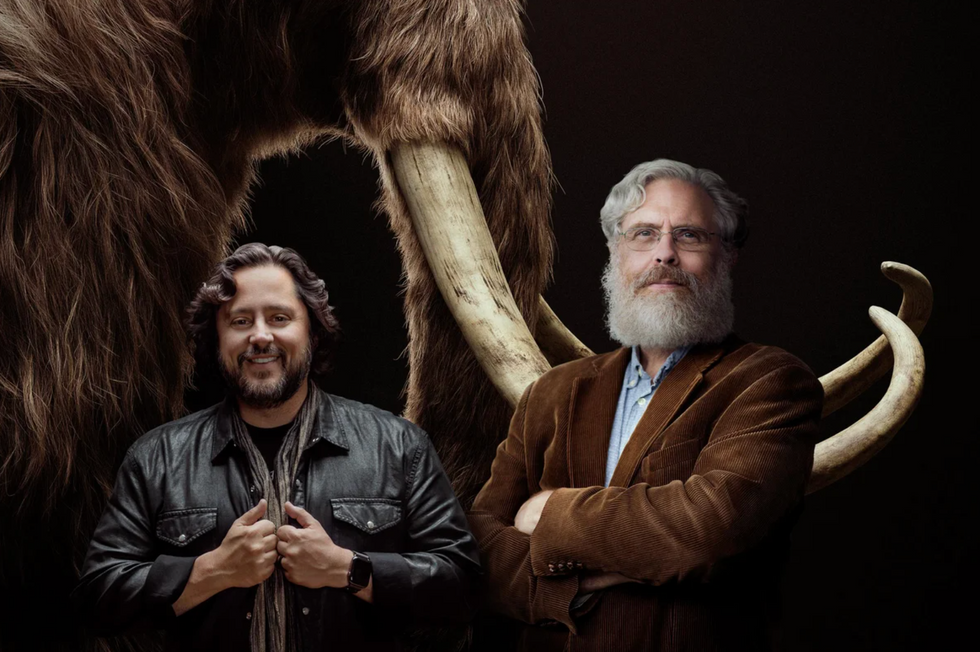 Ben Lamm and co-founder George Church
The Tasmanian tiger marks Colossal's second de-extinction project. Before its work on the Australian marsupial that was eradicated nearly a century ago, Colossal announced its plans to resurrect the woolly mammoth.
Now, Lamm said they are thrilled about teaming up with the Melbourne lab, which is headed by Andrew Pask, a marsupial evolutionary biologist and Tasmanian tiger expert.
Pask said this is a "landmark moment" for marsupial research and that the technology from the project will influence the next generation of conservation efforts.
"Additionally, rewilding the thylacine to the Tasmanian landscape can significantly curb the destruction of this natural habitat due to invasive species," Pask said. "The Tasmanian tiger is iconic in Australian culture. We're excited to be part of this team in bringing back this unique, cornerstone species that mankind previously eradicated from the planet."
\u201cIntroducing Texas #pumas reinvigorated the Florida panther population.\u201d

— Colossal Biosciences (@Colossal Biosciences) 1655137149
Colossal points to the reintroduction of wolves to Yellowstone and the Tasmanian Devil to Australia as examples of the importance of rewilding species to their original habitats. Through that, Colossal says, damaged ecosystems can be restored and revitalized.
To achieve the successful birth of the Tasmanian tiger, Colossal says advancement of current marsupial assisted reproductive technology is required. The work goes beyond the Tasmanian tiger though and Colossal says this technology will be instrumental in the preservation of marsupials at large. The company notes this is especially important in Australia, which faces a fast rate of biodiversity loss and where marsupials are highly concentrated.
Colossal boasts investors like nature gaming group Untamed Planet and local Australian non-profit WildArk, as well as actors the Hemsworth brothers.
"Our family remains dedicated to supporting conservationist efforts around the world and protecting Australia's biodiversity is a high priority," Chris Hemsworth said. "The Tassie Tiger's extinction had a devastating effect on our ecosystem and we are thrilled to support the revolutionary conservation efforts that are being made by Dr. Pask and the entire Colossal team."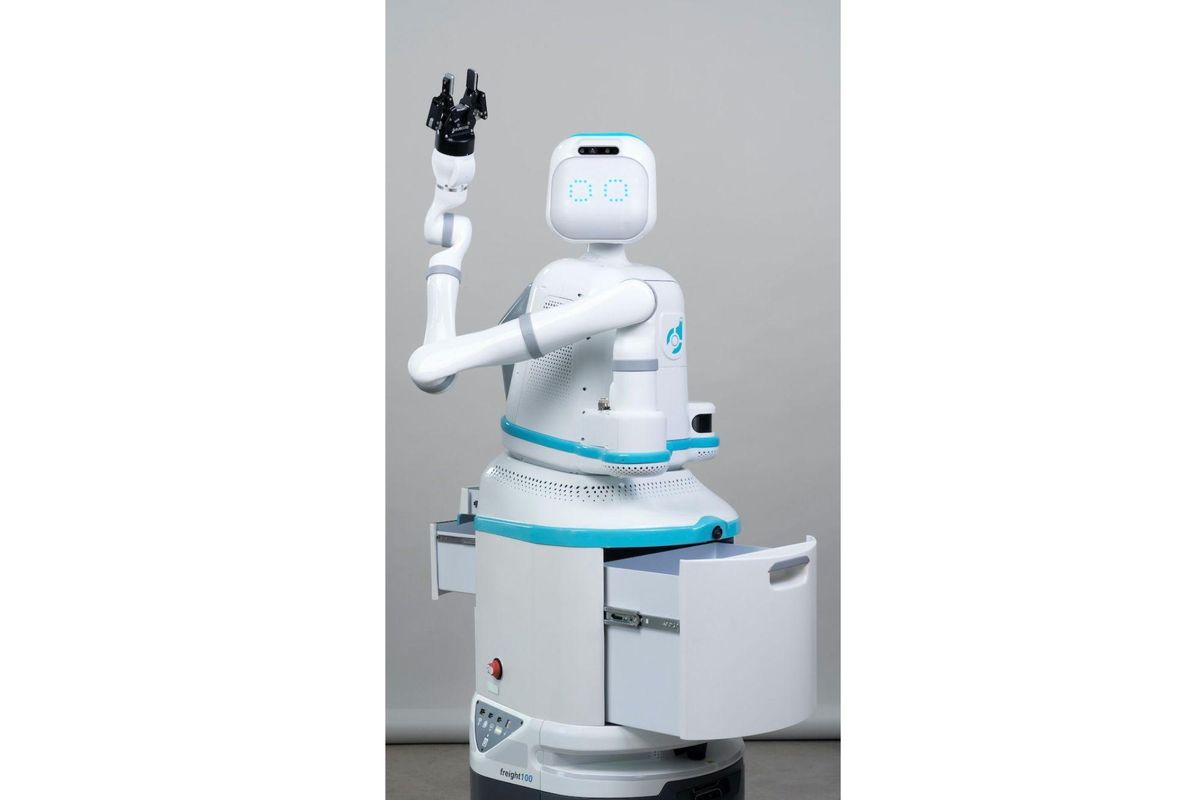 Founded in 2017 by University of Texas at Austin research scientist Andrea Thomaz and Vivian Chu, an alum of Google and IBM, Diligent Robotics aims to offload non-patient tasks from hospital workers.
It's accomplished through Moxi, a robot that carries out key tasks around a hospital like delivering lab samples and picking up pharmacy prescriptions. Moxi is in hospitals across the country, including Dell Children's Medical Center in trial years for the bots.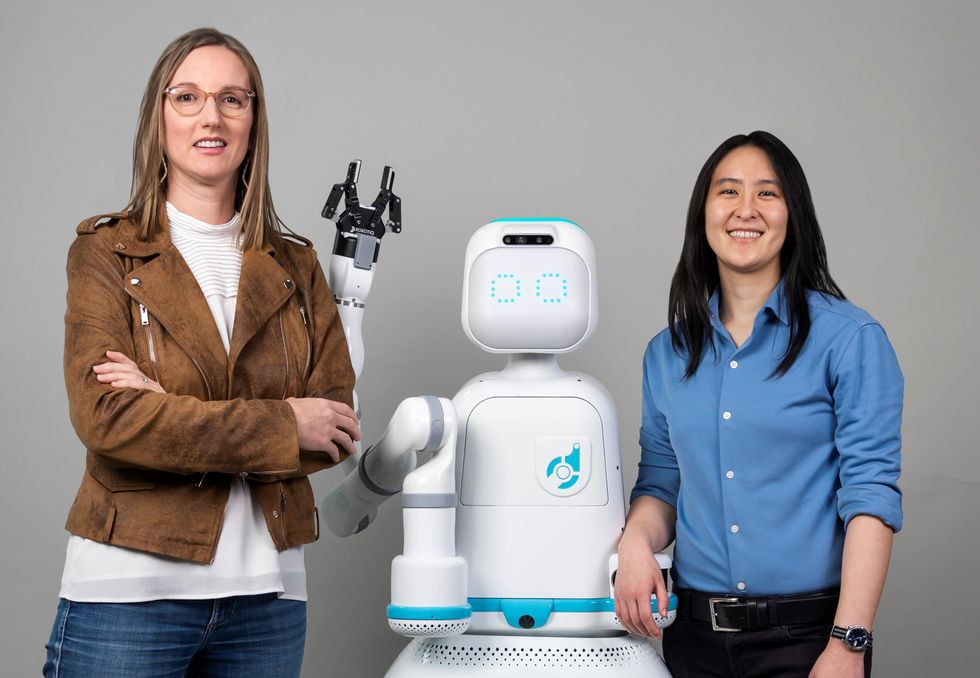 Christy Warring, director of marketing and PR at Diligent Robotics, said that operation departments at hospitals have started reaching out with interest in having Moxi join the team. Previously, they had more commonly heard from the innovation department.
"It's hey, this used to be a really fun innovation project," Warring said. "Now, it's we need you. This is something we have to have. So it's really moved from an innovation to a necessity in hospitals."
While Moxi has an important role, the robot is undeniably cute, providing a warm expression resembling Eve from WALL-E. The team didn't want to just make a box that carries items across the hospital, but a robot with a demeanor, an arm of sorts and a height around 4'11.
"They wanted to create a robot that felt like it belonged in your environment, but not something that would take over your environment right?" Warring said. "Moxi is never going to do patient care. So that was very deliberate."
Of course, Moxi needs time to train just as anyone else doing the job. Over the course of six to 12 weeks, Moxi becomes skilled at maneuvering its way to an elevator, badging into rooms and learning its way around a hospital so that nurses can save themselves time.
"They understand that Moxi can come in here, and actually reduce those routine tasks so that you don't actually need your nurses to have to go deliver those lab samples or pick up those pharmacy prescriptions," Laxmi Shetty, chief of people at Diligent Robotics said. "That's the importance of giving them that time back so that they can focus on patient care. And a lot of the time, that's what brings them joy— the impact that they're having on their patients."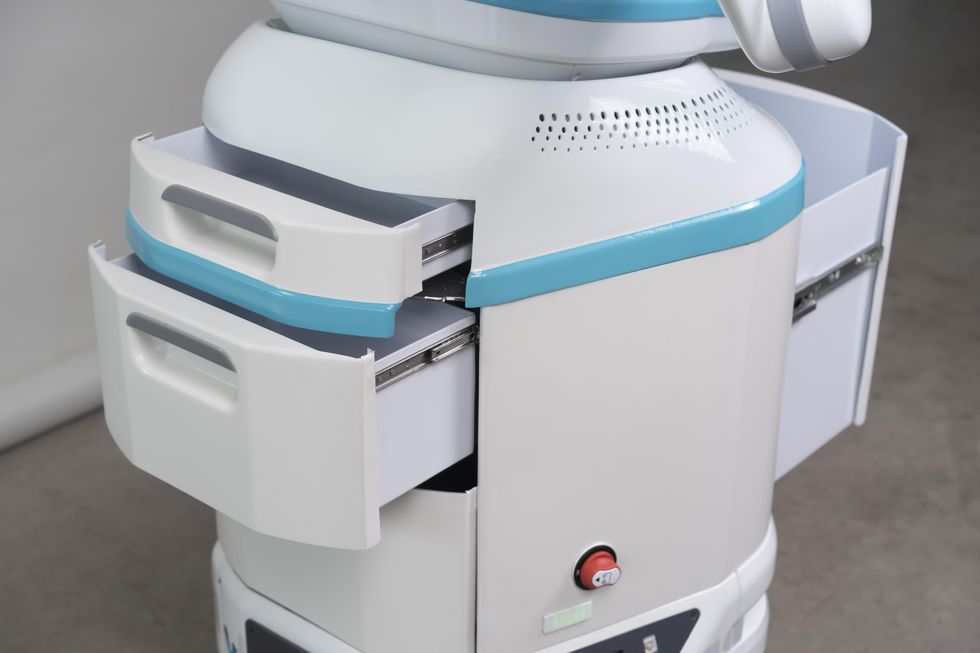 Moxi comes at a time when the stress of working in a hospital, especially during the COVID-19 pandemic, has led to burnout among nurses and staffing crises across the nation. So Diligent Robotics sees room for relieving hospital workers of some tasks.
"They're hearing their nurses, their clinical staff and what they're feeling and thinking about how do we supplement this? How do we support our team and support retention?" Shetty said. "Moxi is that solution."
Going forward, the company is in "hyper-growth mode," Shetty says. Earlier this year, Diligent Robotics received funding from Tiger Global and some other key investors for $30 million. With about 100 people at the company currently, Diligent Robotics is aiming to reach up to 200 by the end of the year and are hiring across all departments with some positions in Austin and in their other markets.
As they look to expand, Moxi continues bonding with patients and healthcare workers alike.
"I've heard several people say they'll walk by Moxi in the morning, 'Good morning, Moxi' like talking to the robot. Moxi is truly part of the team," Warring said. "So I think it's been fun for Andrea and Vivian, just to watch their vision of having a robot interact with humans actually come to life."