Never miss a story
Sign up for our free daily morning email...
...and afternoon text update
Get connected with our daily update
(Ken Lundberg/Twitter)
SpaceX launched 60 of its Starlink satellites Wednesday night, bringing a string of lights into the Austin sky that some mistook for UFOs.

The satellites trailed after each other through the night sky and were visible to the naked eye, leading many to speculate that the mysterious lights were supernatural.
The "freaky lights in the sky", which could be seen as far north as Denton, are the latest of SpaceX's satellite launches.
SpaceX's satellites orbit at a lower altitude than most others so that they can fall to Earth and be recycled in a few years instead of becoming "space junk." The satellites are about the size of a table and are part of a project to launch up to 12,000 satellites to form a "megaconstellation" and work toward constant global service.
SpaceX CEO Elon Musk said the company is hoping to "rebuild the internet in space." The project has sent 1,238 satellites into orbit so far, creating the largest satellite constellation in the world. It's enough to provide basic global service, but Musk and the company look to extend their reach even further in the future.
Some called out the billionaire Austinite directly after they saw the newest pack of satellites join their lookalikes in Earth's orbit.
While no UFO was spotted this time, many more unexplained phenomenons have been spotted in the Austin sky in the past.
According to reports on the National UFO Reporting Center's website, six UFO sightings have already been reported in the greater Austin area in 2021. Cleveland Browns quarterback Baker Mayfield and his wife, Emily, most recently spotted something they were "almost 100%" certain was a UFO over Lake Travis in March, giving the notoriously "weird" city of Austin the spotlight for its latest possible alien encounter.
Austin Public Health is helping those 80 years old and older get quick access to vaccines. Although vaccine appointments opened up to the general public in Texas on Monday, APH will also continue to book appointments for first responders, people 50 and older, those with an underlying health condition and teachers before offering appointments to the public.
APH is asking residents 80 and older to call 3-1-1 for a quicker appointment set up. Those who qualify can call and provide their name and phone number so that the department can call back with an appointment time.
The state is expecting over 1 million doses to ship in this week, and APH will loosen their vaccine qualifications as more at-risk individuals receive their vaccines.
Austin Public Health's vaccine and testing website will be intermittently offline for updates on 7 p.m. Tuesday. Appointments normally open Monday and Thursday evenings, so vaccine appointments shouldn't be affected. Once back online, the site will have a more user-friendly design, APH said Tuesday.
With 31% of the adult population at least partially vaccinated, Austin is experiencing a flattening in cases and hospitalizations. COVID deaths per capita in Travis County continue to be about half of what they are for Texas as a whole.
The UK variant continues to be the most prevalent in Texas, with over 500 cases statewide as of Tuesday.
Shaking up the construction industry, one startup is preparing to take its 3-D technology from Austin to the moon.
ICON, the Austin-based 3-D printing tech startup that is establishing the first neighborhood of 3-D homes for sale in East Austin, is teaming up with NASA and members of its Artemis Generation to create a 3-D-printed rocket landing pad made of materials found on the moon.
Members of the Artemis Generation, made of undergraduate students from 10 colleges and universities across the U.S., experimented with creating a device that helped solve the issue of excess dust lifting from a powerful engine taking off from the moon's surface. A solution was first proposed in 2019, and students found last summer that a 3-D printed Lunar Plume Alleviation Device worked best for the project.
With tech mogul Elon Musk's SpaceX and NASA saddling up for further lunar and space exploration, ICON will join the race as the technology behind the 3-D printed structures.
"This is the first milestone on the journey to making off-world construction a reality, which will allow humanity to stay—not just visit the stars," ICON's head of design Michael McDaniel told KXAN.
More on ICON: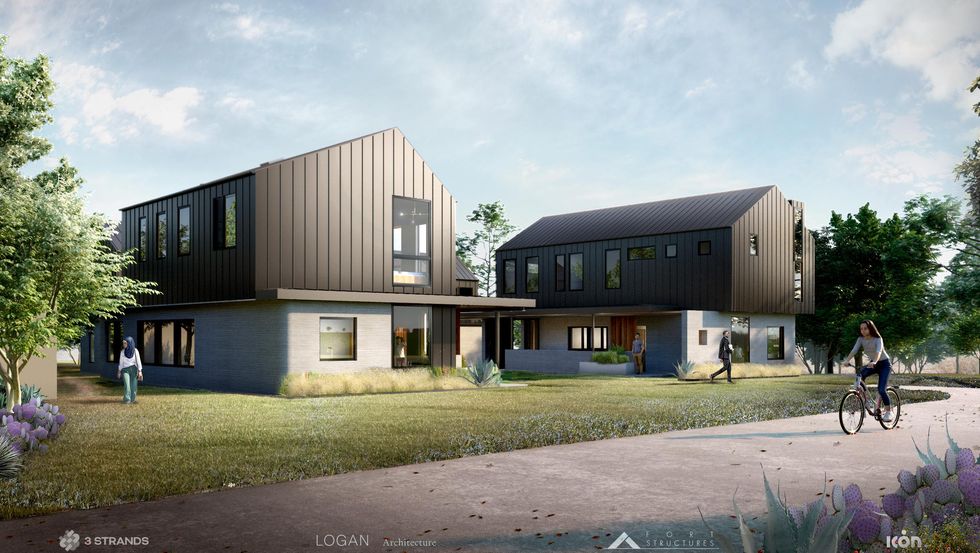 FOR SALE: 'Boomtown' Austin selling first series of 3D-printed homes in US
Texas Judge Lora Livingston ruled that the city of Austin can keep its citywide mask mandate, after a hearing on Friday morning.
Following a three-hour Zoom hearing, Livingston blocked a March 12 request by Texas Attorney General Ken Paxton to overrule the city health authority's masking restrictions.
The mandate, reinstated by Austin-Travis County Interim Health Authority Dr. Mark Escott, enforces COVID restrictions such as masking and social distancing effective Wednesday, March 10. While Gov. Abbott's order that reopened Texas at 100% doesn't let local jurisdictions overrule his order, it does grant counties the authority to reverse the reopening if COVID hospitalizations increase.
Paxton went through with a lawsuit against the city earlier this month after threatening to do.
Austin currently has a COVID death rate lower than any other metro in Texas. While the city experiences 73 deaths per 100,000, Texas has about 160 per 100,000. Escott credits mask use with saving at least 1,100 Austinites.
The city was previously in a similar position when the county tried to enforce a curfew on New Year's Eve weekend. The Texas Supreme Court went in the state's favor.