Get connected with our daily update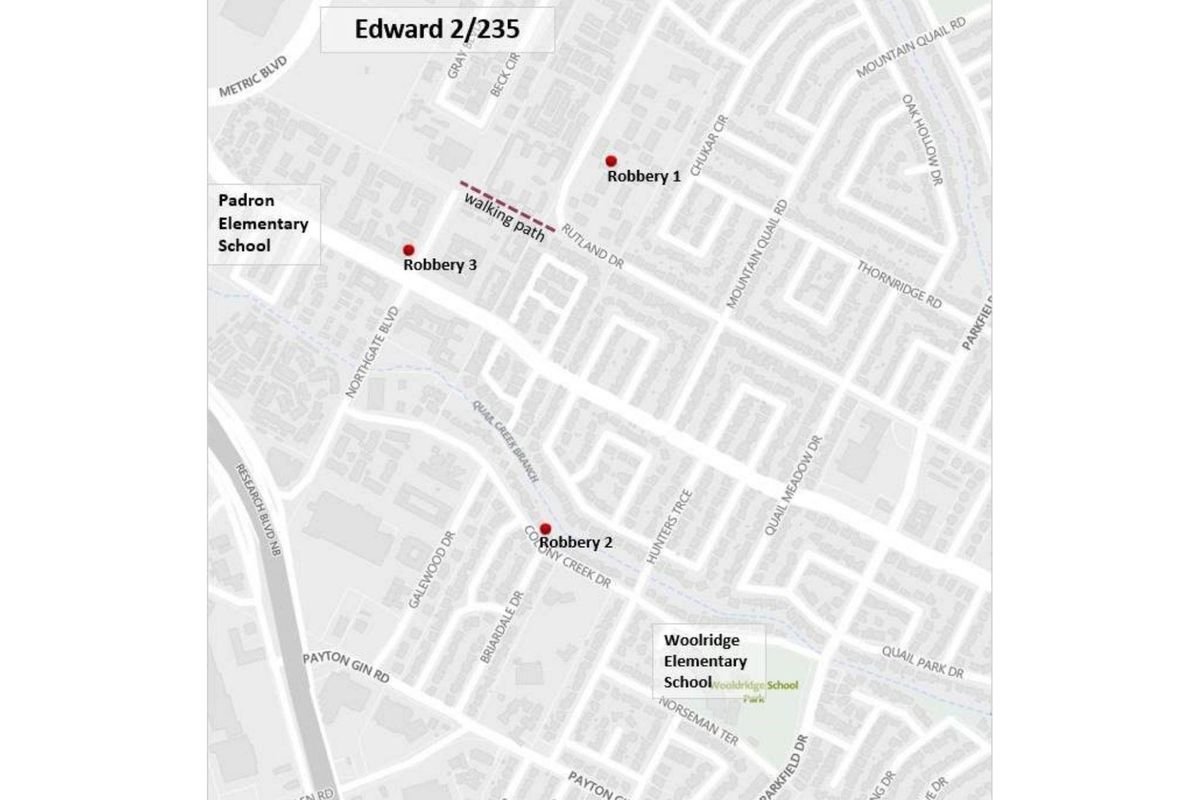 The Austin Police Department has arrested the man suspected to be behind a series of robberies that were sexual in nature.

---
The suspect, who was only identified by police as a 22-year-old Hispanic man, was arrested by police on Thursday with one account of aggravated robbery, but more charges are expected to be made. The suspect's identity has not been revealed by police in order to not taint any current investigations, police said in a press conference. Little details were released on how police identified the suspect, but APD told the media that the community played a large role in capturing him.
The man is believed to be behind a series of robberies in North Austin within a 30-day period.
Here's a breakdown of the cases:

1. At 7:56 a.m. on Sept. 22 at the 1600 block of Rutland Drive, a woman was walking alone and returning from her child's school when a suspect walking by inappropriately touched her. The suspect then grabbed her by the arm, threatened her with a knife and demanded "her property."
2. At 8:10 a.m. on Oct. 11 at 1700 block of Colony Creek Drive, a woman was walking to her child's school when a man approached her with a knife and then demanded her personal items. The suspect then said he would return the items in return for sex.
3. At 11:03 a.m. on Oct. 13 at the 9300 block of Northgate Boulevard, a woman was with her child in the laundry room of an apartment complex when a man walked in performing a sexual act. The suspect demanded personal items from the victim, threatening to hurt the victim and take her child.
Police are encouraging other potential victims to come forward.
Enjoying Austonia? Signup for our newsletter to get daily Austin news, straight to your morning inbox!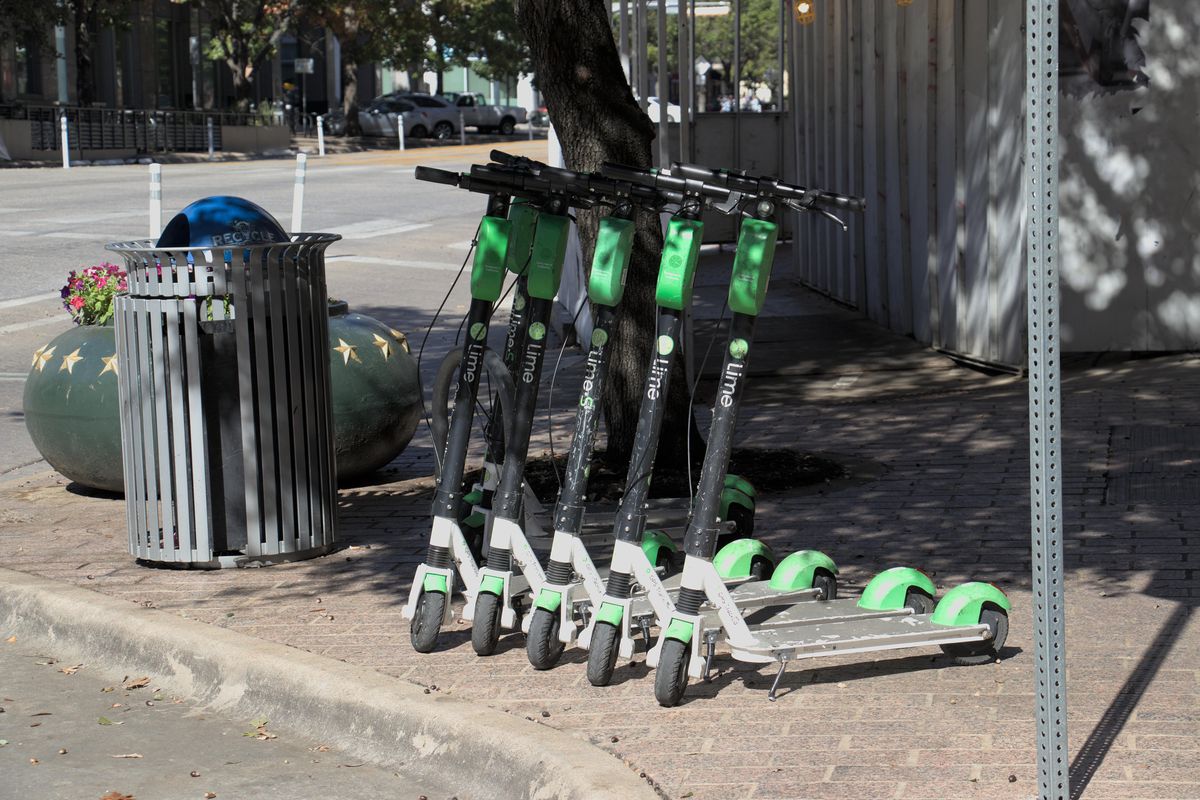 By Kali Bramble
Calls for firmer regulation of the dockless scooters, mopeds and e-bikes scattered about the city may hit the desks of City Council in coming months, as a recommendation from the Downtown Commission makes its way to the agenda.
The recommendation proposes stricter requirements for providers to remove devices blocking sidewalks, crosswalks and other rights of way and increase fees for subsequently impounded vehicles. The proposal also calls for implementing a ticketing system for riders who violate municipal traffic code or state law.
Since 2018, the steady influx of electronic scooters has left Austin's Transportation Department scrambling to integrate the devices into city infrastructure. As of this year, companies Bird, Lime, LINK, and Wheels collectively operate a total of 14,100 micromobility devices, many of which are concentrated in Austin's urban core.
"I walked out of my office at Sixth and Congress today at noon and counted 65 scooters laying on their side," Texas Monthly founder Michael Levy said in a public comment. "It looks like a war zone."
Critics of the exploding scooter market cite incidents of devices blocking pedestrian walkways for days on end. Under the commission's proposal, improperly discarded devices would be subject to impounding within two hours, with the time limit reduced to one hour in the downtown area. A $100 release fee along with a $5 per day storage fee would go toward investment in infrastructure solutions, such as augmenting the 25 existing parking corrals throughout the city.
Detractors also cite episodes of reckless and inebriated scooter riders as an increasing public health problem. While restrictions like in-app speed reduction technology have sought to mitigate such incidents, emergency room workers anecdotally report an alarming number of scooter-related injuries, especially on weekends. Preliminary data from Austin Public Health supports such claims, though it is still a challenge to quantify.
Micromobility advocates, on the other hand, argue that scooters provide an important service to those navigating Austin's patchwork public transportation system. The Transportation Department considers such short-distance mobility options another solution in its toolbox to combat the city's over-reliance on cars.
Still, scooter skeptics wonder if these benefits outweigh consequences. Levy noted that cities like San Diego have responded very differently to the burgeoning industry, instituting strict regulations and penalties that have reduced the presence of scooters without banning them entirely.
The Downtown Commission's recommendation proposes citations for scooter riders violating municipal parking and traffic laws amounting to $100 for first-time offenders, followed by $250 for subsequent offenses. The proposal would also ban scooter-riding on a number of highly trafficked sidewalks, though these remain unspecified.
The commission hopes such tools could work alongside efforts by the Transportation Department to ramp up enforcement, including the recent establishment of 10 full-time mobility service officer positions charged with regulating scooter use. Increased revenue from licensing fees and ticketing could also serve to finance infrastructure solutions.
"It's shocking to me that we currently only get around $1 million a year out of these fees," Commissioner Mike Lavigne said. "I did some rough math … and figure we've maybe gotten $6 million since this thing started. It seems to me like we could be getting a whole lot more to invest in making it more sustainable, like more docking stations and corrals, so there's somewhere for these scooters to go."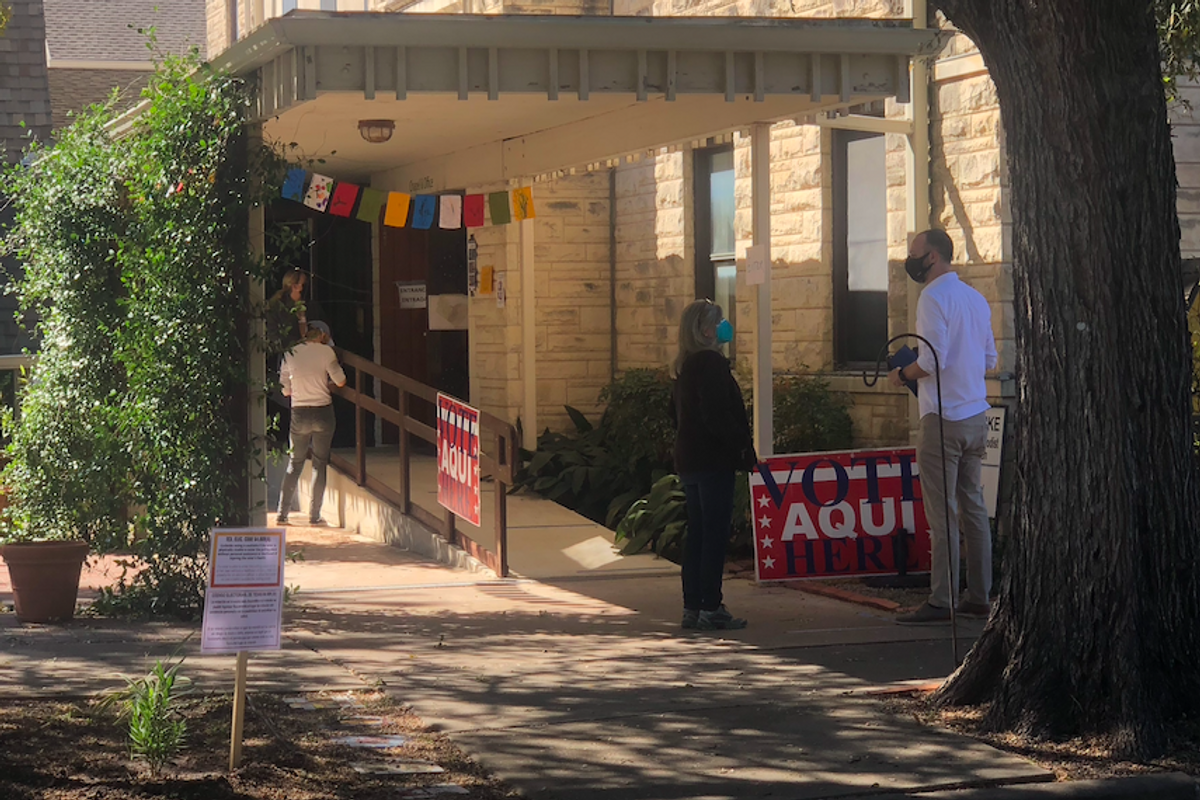 Come later tonight, Texans will officially know who will be on the ballot for the November general election.
In Texas, candidates must win at least 50% of the vote to be elected. In the March primaries where the top candidate only received a plurality of votes, a runoff is being held. Voters will decide on the candidates to represent their party in the November general election. Just like the March primaries, voters will choose which party they'd like to vote in. Then based on location, each ballot will show which races are in a runoff.
Here's everything you need to know before heading to the polls.

Know before you go
The registration period for this election has passed; check if you're registered to vote here.
The polls are open from 7 a.m. to 7 p.m. daily. As long as you're in line by 7 p.m., you can vote.
You'll need a valid photo ID to present once you're at a polling location.
Here is where you can vote in Travis County.
View wait times at polling locations here.
Races to watch in Travis County:
Statewide
Lieutenant Governor
Republican: Incumbent Lt. Gov. Dan Patrick won his primary in March.
Democratic: Mike Collier and Michelle Beckley are vying to be the Democrat candidate on the ballot.
Attorney General
Republican: Incumbent AG Ken Paxton is fighting for his seat against George P. Bush.
Democratic: Rochelle Garza and Joe Jaworski will face off to be the Democratic candidate in this race.
View all the statewide races on the ballot here.
U.S. House of Representatives

View the district you live in here.
District 21
Republican: Incumbent Chip Roy won his primary in March.
Democratic: Claudia Andreana Zapata and Ricardo Villarreal are hoping to secure this vote.
District 35
Republican: Dan McQueen and Michael Rodriguez are going head to head to be the Republican candidate in this race.
Democratic: Former Austin council member Greg Casar won this race in March.
Texas House
District 19
Republican: Ellen Troxclair and Justin Berry are vying to be the Republican candidate in this race.
Democratic: Pam Baggett won her primary in March.