Get connected with our daily update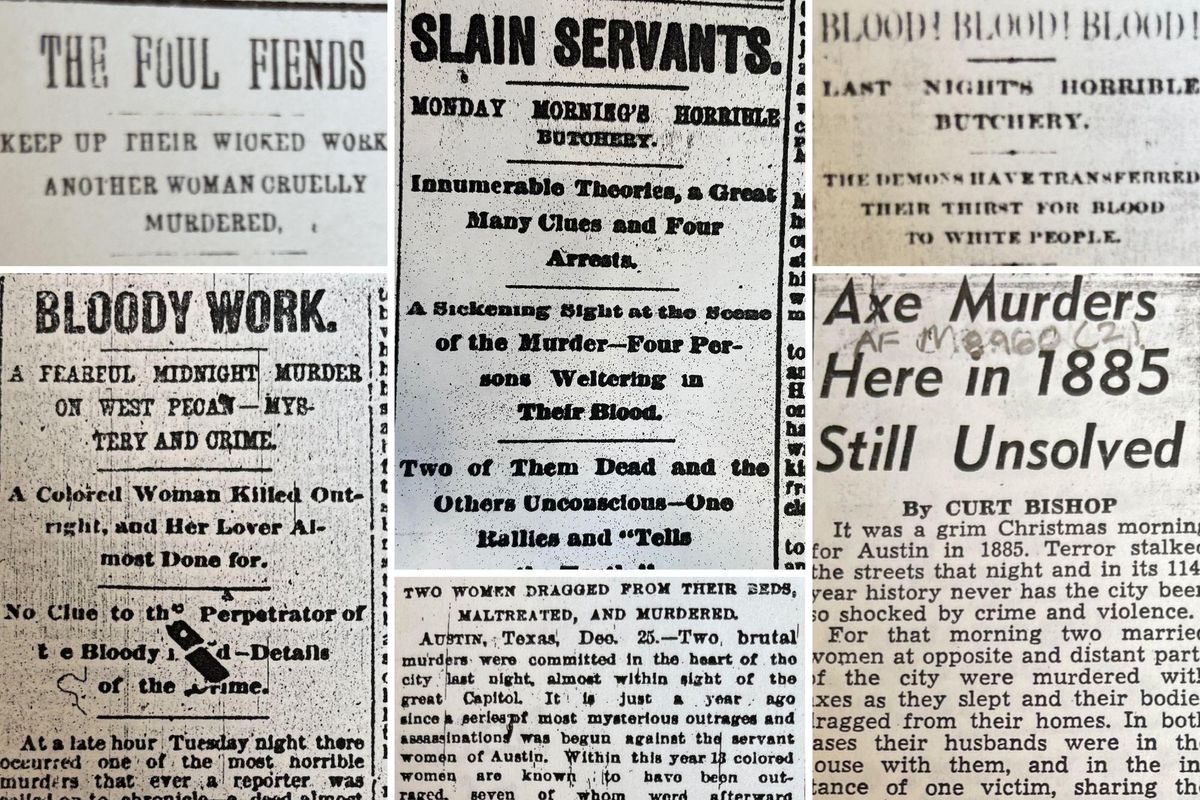 On Christmas Eve of 1884, the city of Austin was given a less-than-jolly surprise as two married white women, Susan Hancock and Eula Phillips, met their grisly ends to a mysterious murderer.
---
The slayings were the latest—and last—in a series of murders that plagued the town from 1884 to 1885, a spree that was believed to be the work of a serial killer later dubbed the Servant Girl Annihilator. Sound similar to Jack the Ripper? Surprisingly, some Ripper sleuths believe that Jack's first victims may have been in Austin just three years prior to his famous London killings.
The murders ripped a young Austin apart, causing the city's raucous nightlife to come to a halt and servant women everywhere to keep their eyes peeled and doors locked. But perhaps most chilling is that the city's most prolific killer was never caught.
Though it's never seen Ripper infamy, the Servant Girl Annihilator has been subject to many books, podcast episodes and articles in the past—and some even falsely claim that Austin's famous moontowers were built as a result of the midnight murders.
It's a journey to capture the hullabaloo of a murder-stricken 1880s Austin, but we'll try to give you the gist here and let you decide whether or not you'd like to get to be the case's next Sherlock Holmes.
Background—Austin, 1885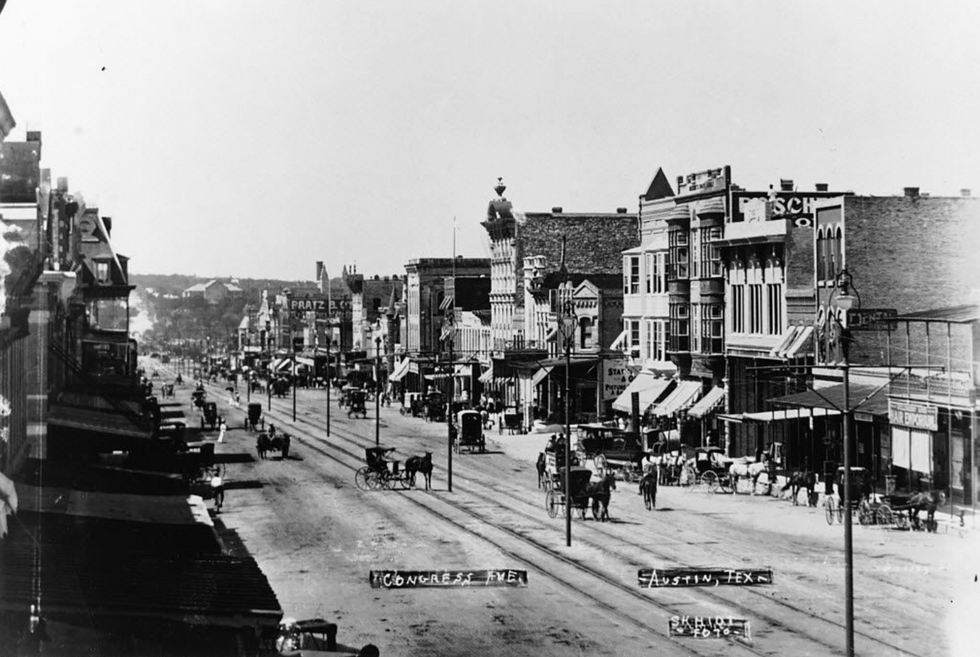 Pecan Street in the 1800s before it was renamed Congress Avenue. ("The Midnight Assassin" by Skip Hollandsworth/Austin History Center)
With around 23,000 residents, mid-1800s Austin was a once-tiny outlaw town that had seen enormous growth in a few short years.

With the fledgling University of Texas giving the town the nickname the "Athens of the South" and the Texas Capitol just a year or two from being constructed, the town was bridging the gap between the Wild West and post-Industrial modernity.
Jan. 1, 1885, began a year of unprecedented violence for the small city as four Black servant women, an 11-year-old Black girl, one Black man and two white women were murdered by axe or knife in just under a year. Several others were injured.
Before it was even officially named, Austin was faced with one of America's first well-documented serial killings. A visiting writer dubbed the killer the "Servant Girl Annihilator."
The city's ragtag police force, led by a saloon-loving City Marshal named Grooms Lee, fell under intense scrutiny as they scrambled to stomp the unprecedented crimes. Detectives from Houston and the famous Pinkerton crew were hired to solve the mystery, and Lee hired a new chief and expanded the police force by December of 1885.
News of the crimes was broadcast in grisly language on front pages of the then Austin Daily Statesman and even the New York Times. As quickly as it had started, the "Athens of the South" was on the verge of collapse.
Doors were locked, visitors were apprehended immediately after they entered the city, and even the city's raucous 24-hour saloons began closing at midnight. Neighbor turned against neighbor, and the city's ne'er-do-wellers became some of the case's biggest suspects.
According to the Statesman's May 30, 1886 edition, "all these murders occurred about midnight, in a majority of instances on moonlight nights, and the same mysterious and utterly impenetrable silence, unbroken by sound or cry, reigned while the assassin was at his terrible work."
Some older residents began to believe that the silent marauder had supernatural powers that kept him from alerting nearby dogs. Other residents speculated that a gang of the city's most evil were behind the gruesome crimes. But with all of the crimes' similarities, most were convinced that a singular sinister force was behind the terror of 1885.
Over 400 men were arrested in the case, at least one lynching was narrowly evaded and two husbands of the suspects were tried in court. One was convicted, though the case was overturned within six months.
But unbeknownst to 1885's Austinites, the killer would never strike again. Had the "Servant Girl Annihilator" been arrested, killed, or skipped town?
About the victims—when and where the crimes occurred 
Suspects—Ripper theories and the case of the missing toe
Austin police were given a hard task as they looked for the mystery killer—especially as eyewitnesses gave them seemingly opposite information. The mystery killer was described as a man who was light, dark or "yellow"; had been seen wearing bizarre outfits including a women's dress; and was sometimes identified as different local delinquents, though they were never found guilty.
The lovers of murder victims, including Richard Spencer, Moses Hancock and James Phillips, were prime suspects, though both Spencer and Phillips had been hacked with an axe themselves.
Spencer was acquitted after a few days of the death of his girlfriend Gracie Vance, and a suspect, Vance's former lover William Brooks, was also proven innocent after a brief interrogation.
Moses Hancock was unharmed in the killing of his wife Susan and made it difficult for pro bono lawyer John Hancock to prove him innocent. Susan was afraid of any drunk man and had even written a letter telling Moses she would leave him, though she never did. The letter was used to prove Moses' abusive drunkenness, which had escalated in the wake of Susan's death, though his 16-year-old daughter Lena always backed up her father. After intense family conflict during the trial, Moses was acquitted with a hung jury in 1887.
A drunken, jealous James Phillips was next on the chopping block for the murder of his 17-year-old wife Eula. James had good reason to be suspicious of his young wife—Eula had already likely had an abortion after becoming pregnant with another man's baby and had visited an "assignation house," or rent-by-the-hour romance hotel owned by local prostitute May Tobin, on the night of her murder.
Phillips barely survived the axeman's encounter, but he was still strongly suspected of murdering his adulterous wife and was convicted of the murder. Phillips served six months before his conviction was overturned by the Texas Court of Appeals.
Soon the trail went cold, and few new theories were provided for decades. But some modern-day theorists, including former UT professor and extensive researcher J.R. Galloway, have provided new insights into the centuries-old murders.
The Ripper connection
In the years after the bloody year, tales of Austin's serial killer flew mostly under the radar as tales of Jack the Ripper came in London three years later. But some have given evidence that the two crimes could be connected.
A Malay cook—"perhaps named Maurice"—was reported by a Statesman reporter in 1888 at The Pearl House at the time of the Austin crime spree of 1885, and conveniently left in January of 1886, just after the Annihilator's final murders. The Pearl House was located just next to the neighborhood of almost all of the crimes.
Perhaps coincidentally, a Malay cook was named as one of the suspects in the London crimes just a few years later.
Author Shirley Harrison posed a different Ripper story. A Liverpool man named James Maybrick, who Harrison says signed as "Jack the Ripper" and confessed to killing prostitutes in his journal, was apparently in Austin at the time of the killings. In Harrison's book, "Jack the Ripper: The American Connection," she presents Maybrick's apparent diaries and finds his motive—Maybrick had apparently seen his wife having an affair in the streets of London and periodically returned to the area to conduct murders. Maybrick's marriage woes wouldn't improve—he died from poisoning (likely from his wife) after both crime sprees had ended in 1889.
The case of the missing toes
The midnight Austin assassin had a damning detail unknown to the public—he often went barefoot, and bloody footprints were often found at the scene of the crime. Interestingly, he appeared to be missing a toe on his right foot, and perhaps more interestingly, two possible culprits were found that fit that profile.
The first suspect was Alex Mack, a local troublemaker who happened to be missing the same toe. Mack was attacked by detectives and officers, who tied a noose around his neck outside of a bar one day. A local patron intervened last minute and stopped the potential lynching, but Mack was then beaten for nine days during police questioning. He was never tried or convicted for the crime.
But just after the final murders of Christmas Eve occurred, a new possible culprit emerged—a young man named Nathan Elgin. Elgin made the papers in February 1885 after drunkenly dragging a woman from a bar to his brother's house nearby, where he subsequently beat and berated her.
A local policeman, saloon keeper and neighbor put a stop to the attack, but Elgin resisted arrest and brandished a knife before he was shot. Elgin died the following day, and the Servant Girl Murders never occurred again.
Galloway paints a damning picture in his criminology of Elgin. A later plaster of his foot matched that of the missing-toed killer, and several other bits of evidence, including Elgin's criminal past, his history of living with servant women and his knowledge of the neighborhoods in the murder, all contribute to a possible culprit for the infamous murders.
Not satisfied? You can read all about the crimes on Galloway's website, go on a Murder Walk tour downtown that takes you through the murder locations, or check out other accounts, including a PBS investigation, a My Favorite Murder podcast episode and Harrison's book.
All news clippings and other information on the crime was provided by the Austin History Center.
Enjoying Austonia? Signup for our newsletter to get daily Austin news, straight to your morning inbox!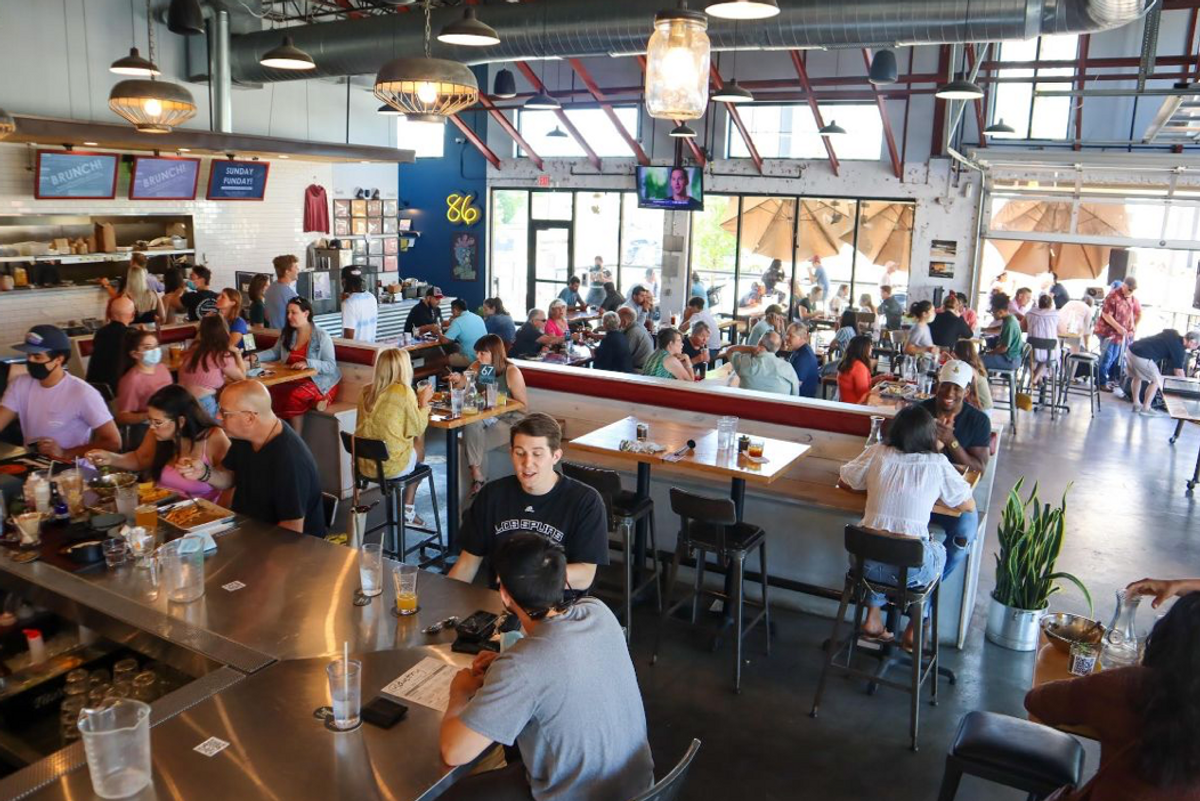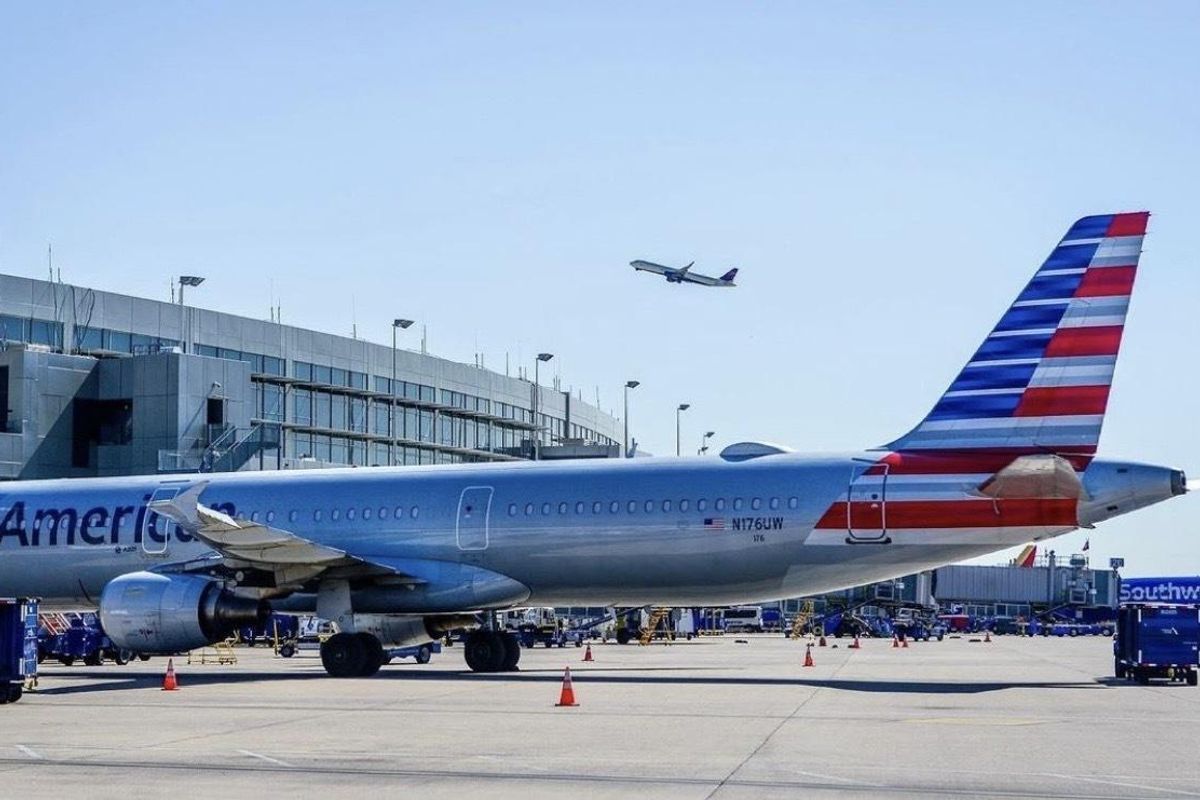 With major entertainment events slated for October, the Austin-Bergstrom International Airport is gearing up for a busy month.
Artists and music lovers are set to pack into Zilker Park for The Austin City Limits Music Festival in the coming two weekends. Following that, Formula One will bring racing fans to the Circuit of the Americas.
For those two events, the airport is anticipating high passenger days with 30,000 or more people departing flights.
ABIA recommends arriving at least two and a half hours in advance for domestic flights on those days. For ACL, it's expected on both Sundays of the festival along with the Monday and Tuesday after. The F1-driven high passenger days are expected on Oct. 20-21 and Oct. 23-26.
\u201c#AustinCityLimits visitors, you\u2019re in for a weird and wild ride \ud83e\udd18\u262e\ufe0f \n\nFlying in or out of our airport? We got firm and fun tips for you: https://t.co/RawVRalOXN\u201d

— Austin-Bergstrom International Airport (AUS) (@Austin-Bergstrom International Airport (AUS)) 1664894083
F1, especially, could draw in loads of travelers as the three-day event saw 400,000 attendees last year. ABIA warns that highways leading to the airport may see even higher traffic than usual around the event and that travelers should plan their route accordingly.
Bailey Grimmett, a spokesperson for ABIA, said travel numbers come in 24 hours in advance. So, it's hard to predict if the airport will see travel volumes at the same levels that have happened around previous F1 races or if it'll top ACL's flight traffic.
Still, she says historical knowledge points to a chance for it.
"We've had that Monday after F1 break the record for single busiest in airport history," Grimmett said. "So context clues I would say yes, but I can't confirm that. But the historical background points to that."
In anticipation of the high volume of flyers, the airport received additional TSA officers for security screening through the end of October. To prepare even further, the Department of Aviation and partners hosted a job showcase and hiring fair to address the continued labor shortage the airport has experienced.
Relief from hectic travel days is on the horizon with November likely to see a slowdown.
"I don't anticipate it will be as busy as October just because we don't have as many events going on," Grimmett said. "Thanksgiving is kind of our primary holiday that we see a lot of passengers coming in and out of the airport."