Get connected with our daily update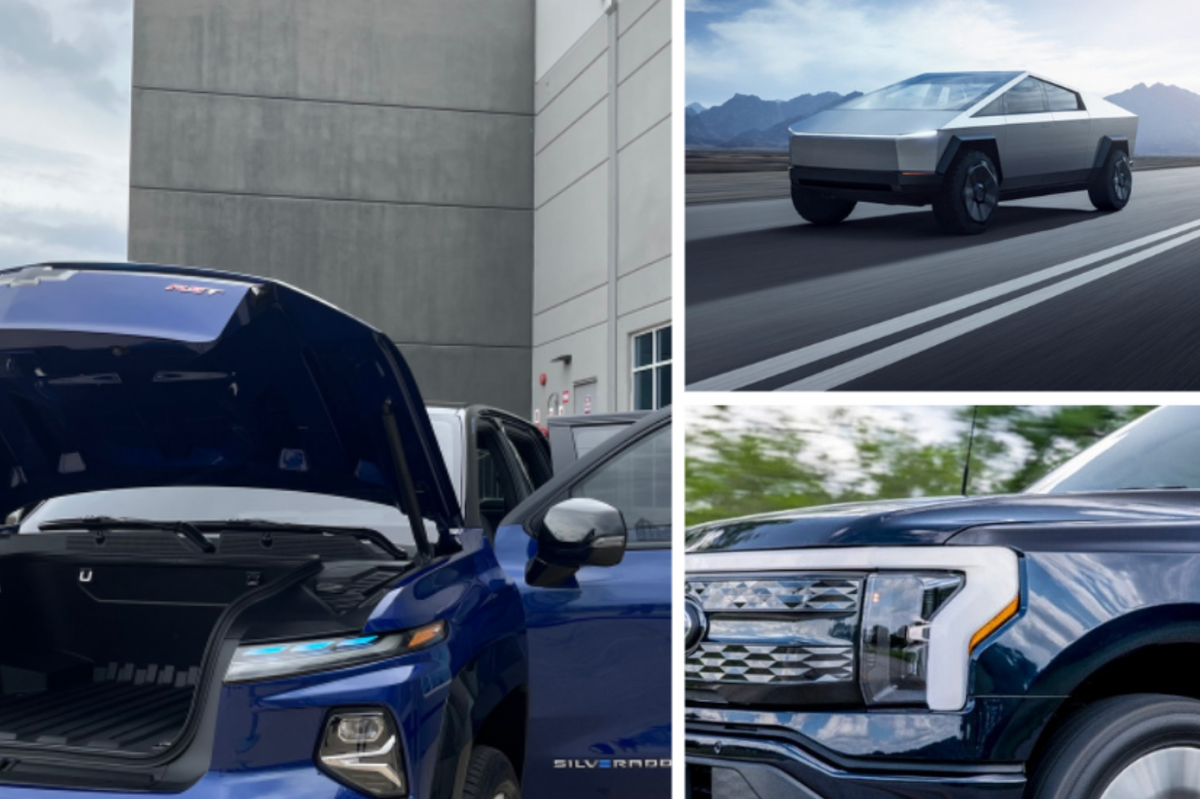 General Motors stepped onto Tesla's turf this week by bringing the 2024 Chevy Silverado EV to Austin for a showing. It's driving up competition in an increasingly hot market for electric pickups, which include the Cybertruck and Ford's F-150 Lightning.
---
"Especially here in Austin, there's a really, really high interest in electric vehicles and keeping that zero-emissions goal in mind," said Rachel Reid, a spokesperson for General Motors. "And then just like anywhere in Texas, trucks are something that people use in their daily lives for things from carrying different furniture or anything from a job site or even just having the family in the backseat and being able to carry something along with them."
Pickups play a major role in Texas culture, so much that the Texas Standard notes auto companies sometimes approach their marketing strategy by the regions of North, East, West and Texas. So, here's a look at the pickup options in the coming years if you're looking to go electric.
Production site and release schedule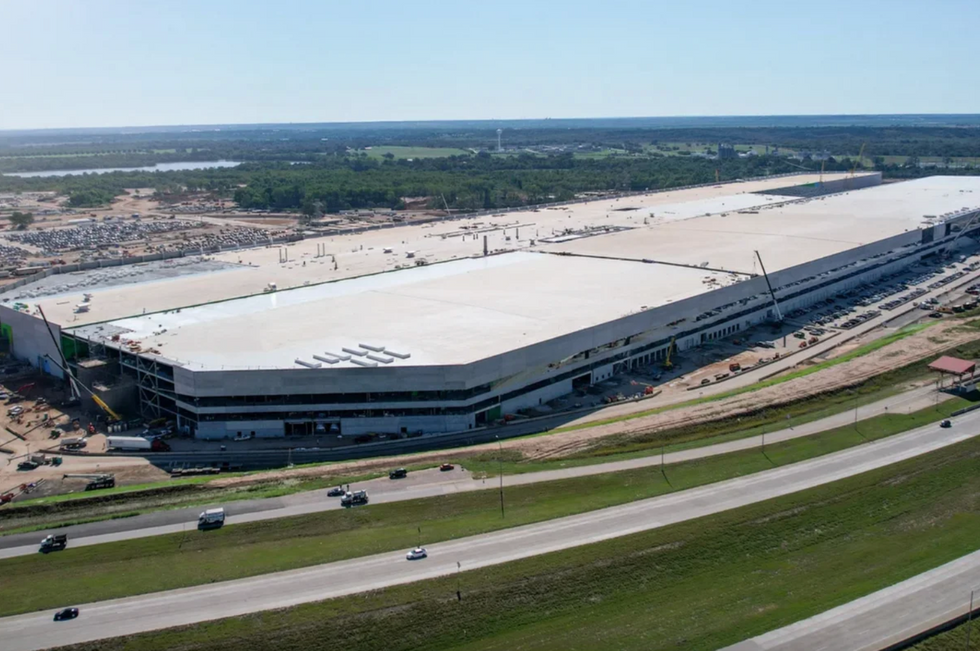 The Silverado is being made at the company's first fully dedicated EV assembly plant in Detroit, Michigan. Known as Factory ZERO, it's named as such to reflect the company's vision of a world with zero crashes, emissions or congestion.
The Cybertruck, meanwhile, will be produced at Giga Texas. At the recent opening of the factory in southeast Travis County, CEO Elon Musk addressed delays on the truck and said it would be out in 2023.
Orders are closed for the 2022 F-150 Lightning, but 2023 versions are just around the corner. They are being produced at Ford's EV center within their Rouge Complex in Dearborn, Michigan
Cost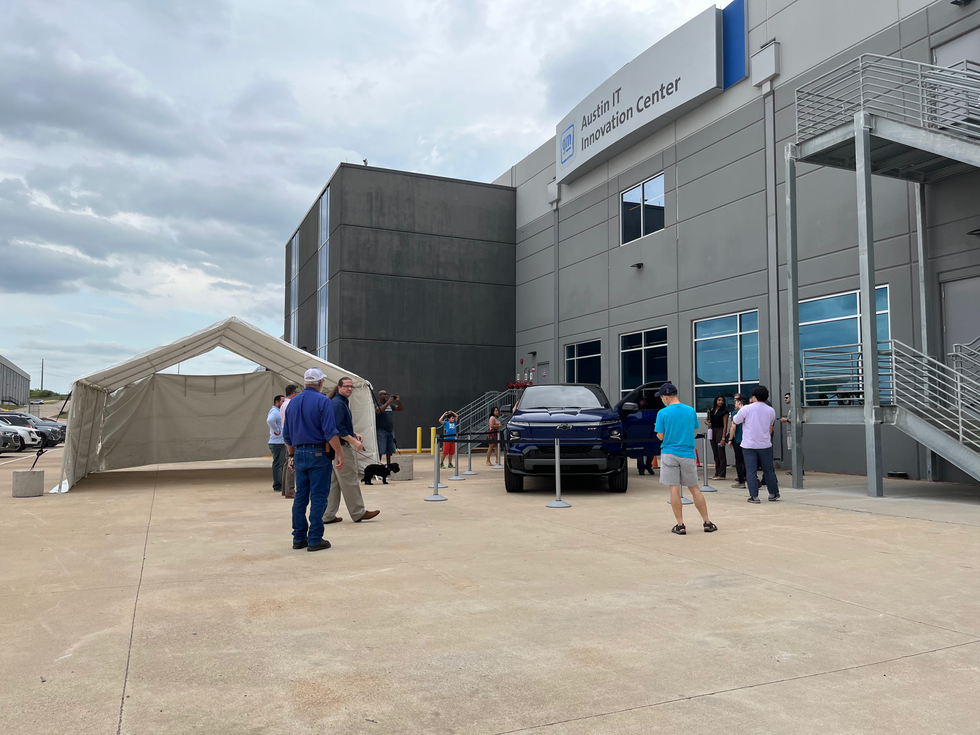 The Silverado has an estimated MSRP starting at $39,900 with a reservation cost of $100. Depending on which feature options are added, the truck could end up costing around $80,000.
The Cybertruck also requires a reservation cost of $100 and a final price varies by the number of electric motors. So the price ranges from $39,900 for a single motor and $69,900 for a tri motor.
This year's F-150s ranged in price from $39,974 to $90,874.
Autonomous features
You'll have to be at the wheel and alert no matter which car you choose since no vehicle is fully autonomous.
Chevrolet has compatible roads that drivers can use their driver-assisted technology, known as Super Cruise which includes adaptive cruise control, lane centering and hands-free operation with an attentive driver.
The Cybertruck order site doesn't appear to have many details on what its tech will include, but Tesla has previously made plans to launch a new self-driving computer with the pickup.
The more expensive Lightning models have Blue Cruise available, which is Ford's hands-free driving system that can be used on prequalified sections of divided highways. It includes a driver-facing camera to ensure the driver has their eyes on the road and Ford has said there's potential for future enhancements.
Charging time and range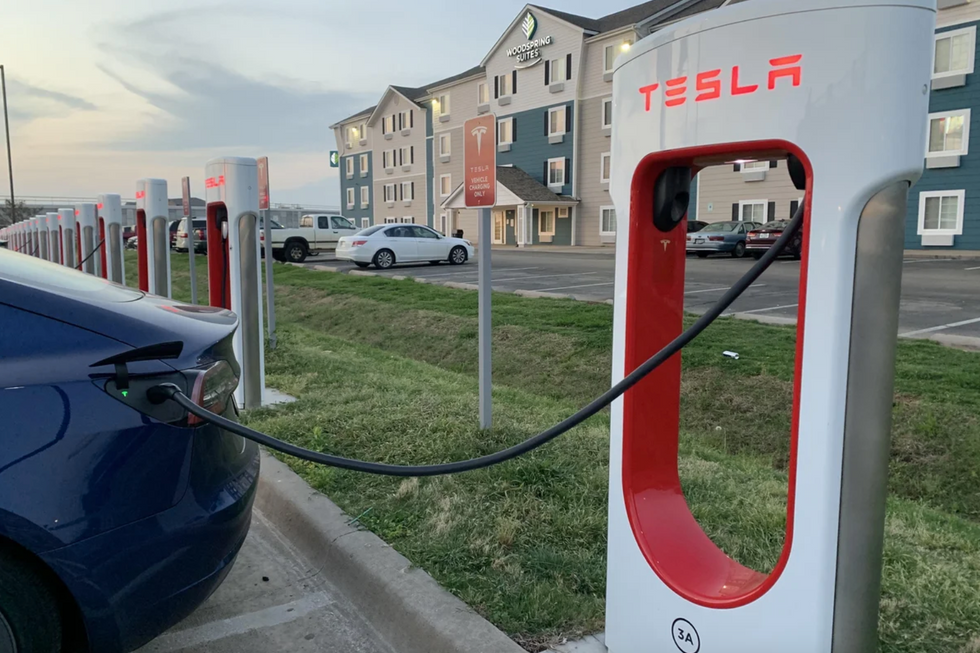 If you're looking to take some road trips outside of Austin, then this is one of the critical factors you'll consider while EV shopping.
The Chevy is estimated to reach 400 miles of range. With a 10 minute charge on a fast charger, it'll be able to get about 100 miles of range.
It will vary by battery pack, but the Environmental Protection Agency shows the Lightning as capable of traveling between 230 and 320 mile range.
It's yet to be realized, but Tesla is currently boasting the highest of the three with up to 500 miles of range on its Cybertruck.
Screens and storage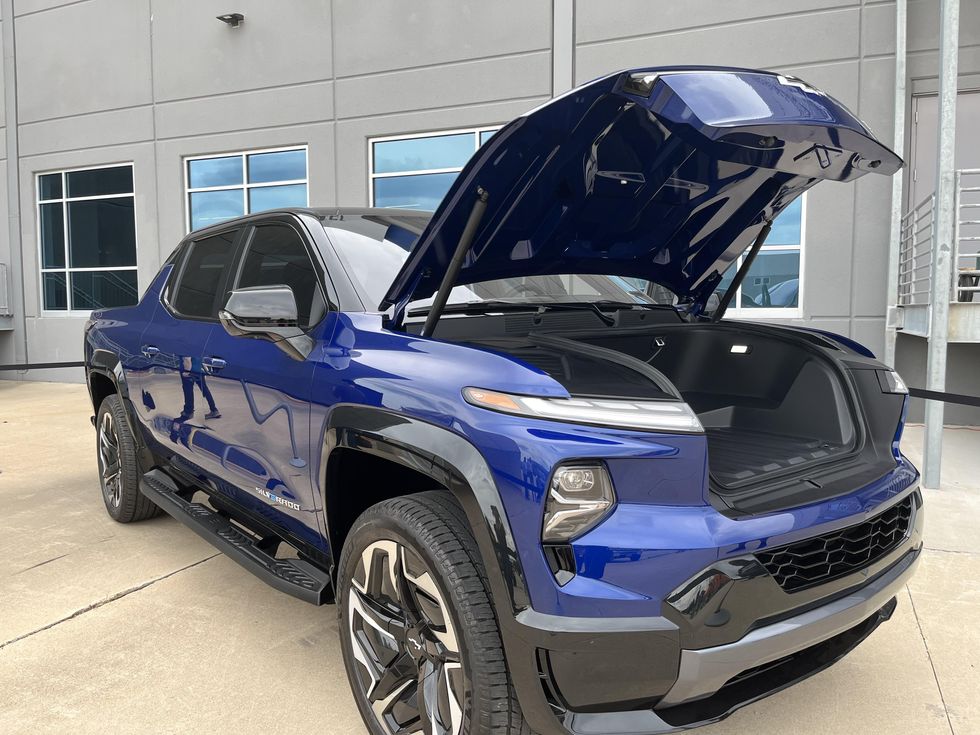 Of course, there are things you can do to keep busy while charging.
Generally, Tesla screens can display navigation, apps and a media player where you can access the radio and streaming services.
When it comes to loading up the vehicle, the Cybertruck flexes enough storage in the back for a motorcycle that you can transport up with a ramp.
The Silverado has a screen above the wheel that functions as a traditional dashboard and another larger screen. Chevy also replaced the space up front where an internal combustion engine would be with a "frunk."
The Lightning also has a frunk, with Insider listing it as one of the reasons it's perfect for road trips.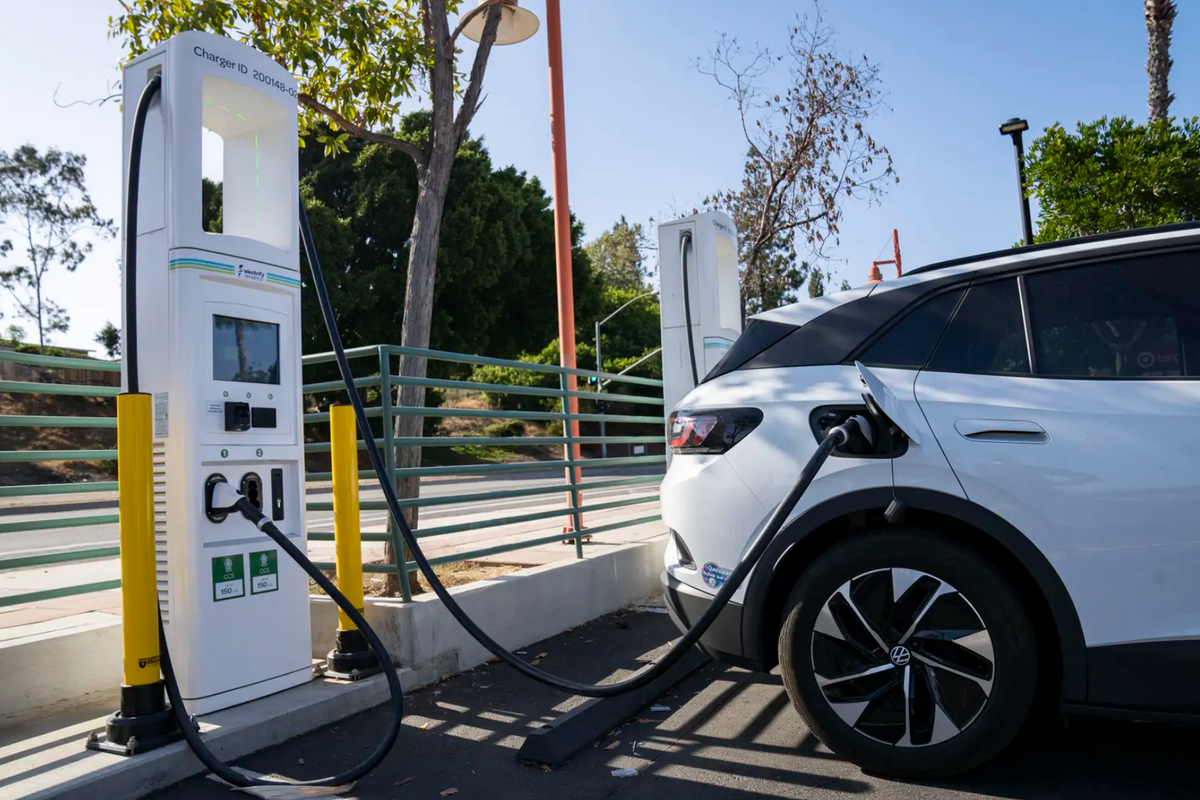 By Reese Oxner
Texas is planning to add enough electric vehicle charging stations throughout the state to support 1 million electric vehicles with dozens of new stations to allow for easier long-distance travel.
In a draft plan released this month, the Texas Department of Transportation broke down a five-year plan to create a network of chargers throughout the state, starting along main corridors and interstate highways before building stations in rural areas.
The plan is to have charging stations every 50 miles along most non-business interstate routes.
In most other areas in the state, there will be charging stations within 70 miles, according to the plan. Each station is designed to have multiple stalls so there will likely be one available whenever someone stops to charge.
The chargers will be high-powered at 150kW, able to bring most electric vehicles from 10% to 80% in about half an hour, according to the report.
The funding is coming from the federal Infrastructure Investment and Jobs Act passed last year, which is estimated to allocate about $408 million over five years to Texas for the purpose of expanding its electric vehicle charging network. No funds from the state budget will be used. Nationally, the goal is to create a network of 500,000 convenient and reliable electric vehicle chargers by 2030. In total from the infrastructure act, Texas is expected to receive about $35.44 billion over five years for roads, bridges, pipes, ports, broadband access and other projects.
Less than 1% of Texans' registered vehicles are electric. As of May 31, there were 129,010 electric vehicles registered in Texas, according to the report.
"However, since 2020, the total number of electric vehicles across Texas has nearly tripled as more people adopt the technology," TxDOT stated in its report. "With rapidly growing adoption rates, it is necessary to ensure Texas will be able to meet the demand of these new vehicles on the road."
The state is gathering public comment on the plan, after which it will be finalized. To receive the funds, TxDOT must submit a finalized plan by Aug. 1 to the Federal Highway Administration.
Officials plan to award contracts for construction starting in January.
During the first year of implementation, Texas plans to add around 48 new locations to satisfy the 50-mile FHWA requirement. This is in addition to 27 existing private sector locations and 26 planned locations funded by a separate grant.
The next year, the focus will turn to stations in rural counties, small urban areas and areas advised by metropolitan planning organizations.
After that, during the third through fifth year of implementation, Texas will continue building out charging infrastructure in smaller and rural areas. The report states that charging stations might be equipped with a combination of solar and battery equipment to supplement their power supplies.
Gov. Greg Abbott stressed the importance of including rural areas in TxDOT's plan in a March 22 letter.
"Texas' sheer volume of roadway miles leaves ample opportunity for EV charging deployment. The plan should ensure that every Texan can access the infrastructure they need to charge an EV," Abbott wrote. "Additionally, I direct TxDOT and stakeholders to include in the plan a way for Texans to easily get from Beaumont to El Paso and Texline to Brownsville in an EV–with a focus on rural placement and connectivity."
Chandra Bhat, a University of Texas transportation engineering professor and the director of the U.S. Department of Transportation's Center on Data-Supported Transportation Operations and Planning, said the additional charging stations are a welcome upgrade to Texas transportation. Some of Bhat's research has been funded by TxDOT.
Bhat said there are several barriers to electric vehicle adoption by consumers: the upfront cost, anxiety over how far a driver can travel and the wait times for charging.
This new plan addresses range anxiety by providing many options only 50 miles apart — however, it doesn't address cost or fully address wait times, he said. Although the planned chargers will be high speed, it still takes around half an hour, he said. A driver might not know how long they may have to wait if someone else is already using the stalls.
That uncertainty can cause consumers to pass on purchasing electric vehicles altogether, he said.
Bhat said he thinks allowing drivers to reserve charging stations at specific times might help reduce that uncertainty. But still, Bhat said he is optimistic that more people will adopt electric vehicles in Texas due to the planned infrastructure upgrades. He also hopes the state will invest in putting information in front of consumers about the increased availability of chargers.
"We will see a clear uptick in the next two or three years, I believe," Bhat said. "And if we get an announcement that batteries are going to be lasting longer and are going to be less expensive, you're gonna see them bought by the droves."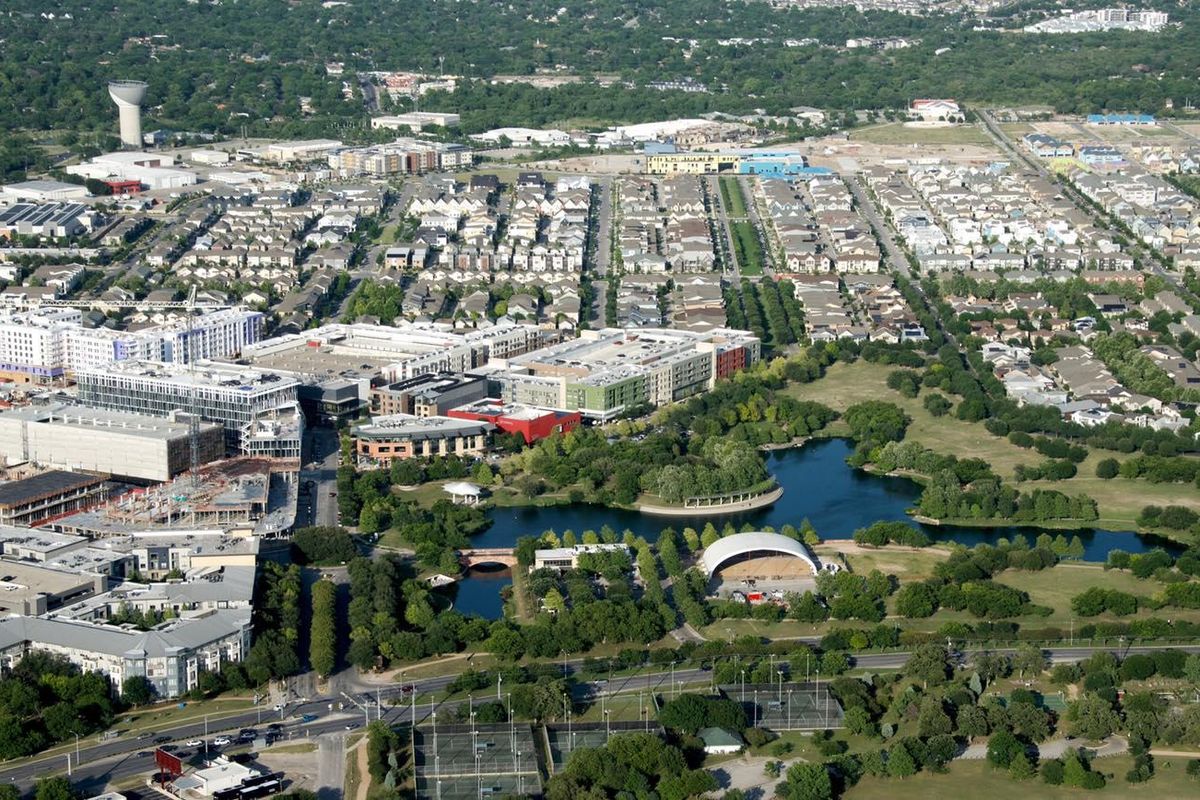 Active listings in Austin swelled by nearly 150% May 2021-2022 as the region begins to recover from the "dangerously low" housing inventory of the pandemic housing frenzy, according to the latest Austin Board of Realtors report.
For the first time since September 2020, the metro saw 1.2 months of available inventory, up from a critically low 0.4 months in early 2020. Still, median home prices continued their ascent and increased almost 20% year-over-year to tie April's record of $550,000.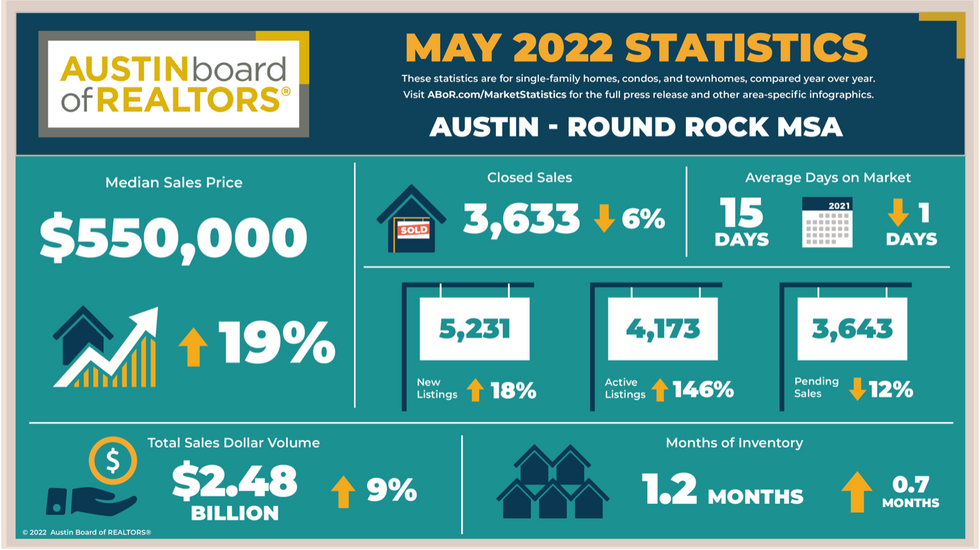 Austin's inventory rose by 0.7 months form May 2021-2022. (Austin Board of Realtors)
While Austin's housing market has seen some signs of decline—residential home sales declined 6.7% year-over-year—available homes still spent 15 days on the market, a day less than May 2021. Texas A&M University research economist Adam Perdue said that while a crash is not imminent, prices should begin to stabilize as the number of available homes continues to increase.
"The Austin region saw dangerously low levels of inventory, as low as 0.4 months of inventory in January 2021, so this slight increase in inventory and active listings point to the market beginning to normalize," Perdue said. "While year-over-year price increases will continue to remain high, we project them to fall slightly lower than the long-term trend we've monitored over the past two years."
Still, Perdue said that Austin's "bubble" isn't likely to burst anytime soon.
"The Austin housing market has experienced a multitude of factors that have influenced its current state, one of those being the high influx of companies and individuals migrating to the area both from within Texas and out-of-state, which has contributed to a strong and diverse economy attractive to people seeking opportunity," Perdue said. "These migrations of individuals and companies will continue to happen, especially as Austin is relatively affordable compared to some out-of-state markets when it comes to owning a home and operating a business."