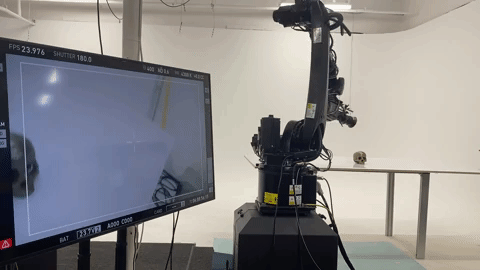 Hollywood film companies are coming to Austin—and they won't be needing to look far for some high-tech movie magic.
Coming in with a wingspan of 20 feet and hand-guided motion technology that is "miles ahead of the competition," the C31 cinema robot from Austin-based robotics company SISU is on a mission to disrupt the film industry.
---
The machines can do a lot of things humans can't: the robot can be programmed to take a set path and capture smooth and steady shots while moving. It also has a much greater range of motion and moves much faster than a mortal form.
And it's deceptively easy—the robot was designed with cinematographers, photographers and gamers in mind. With a console that closely resembles a video game crossed with Adobe Premiere, a screen in one hand and a joystick in the other are all that you need to become a movie-making pro, according to the company.
Cinema robots are not a new concept, and the film industry has been using bionic arms to capture the perfect shot for decades. However, SISU says that almost anyone can operate the bot after only an hour's worth of training and that its "cutting-edge" cinema robot is the most user-friendly on the market.

"We've had cinema robots for a while but they're super complicated, they're intimidating," Aldridge said. "Usually (robots are) programming with a kind of text-based language. It's just a bunch of stuff that makes no sense whatsoever—only to a programmer would that make sense."
Founded back in 2010, SISU started as a workshop in Aldridge's garage where they started off doing trade show demos, making custom machines for big tech companies.
"We started helping other companies to make products that would just really disrupt industries," Aldridge said. "But then we thought, 'Let's make one for ourselves—let's make robots just as easy to use as playing a video game.'"
The fledgling company made demos including a life-size Rock 'Em Sock 'Em Robot, a target that moves to make sure you get a bullseye every time and a giant music box.
Now, SISU's technology is being used by major companies like Dell, Bubba's LA and LionStar Films to create commercials, films and more. SISU doesn't fit into one box, however—using the same structure, the robots can be programmed for practical purposes like welding or grinding.
While it may be a blip in a company like Dell's budget, the top-notch C31 model will set you back a cool $150,000 if bought outright. For the average film hobbyist, the company offers financing and rentals to mitigate the cost.