Get connected with our daily update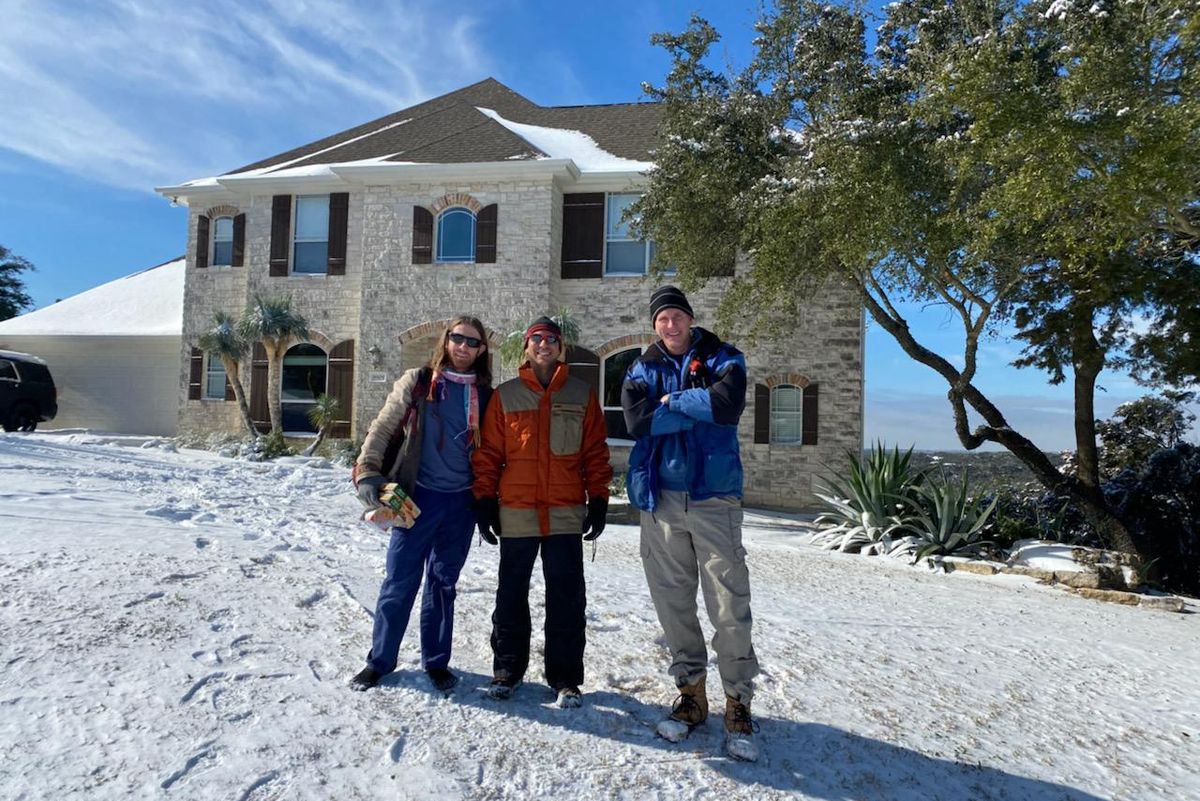 As Central Texans grapple with freezing temperatures, some neighbors have been elevated to 'Snow Angel' status, taking life-saving measures to rescue total strangers from troubles caused by the winter storm.
Need a smile? Read on.
---
Nathan Burch and Charlotte Bryant
With his four-wheel drive vehicle equipped with snow tires, Lakeway resident Nathan Burch and his girlfriend Charlotte Bryant, drove carefully to Target in South Austin on Monday to replenish their food supply. While there, he overheard survival stories from shoppers, prompting Burch to post an offer to help others on various social media pages. Although he only expected a few people to reach out, within 30 minutes, he received more than 200 responses.
"It blew my mind how many people were without power," Burch said.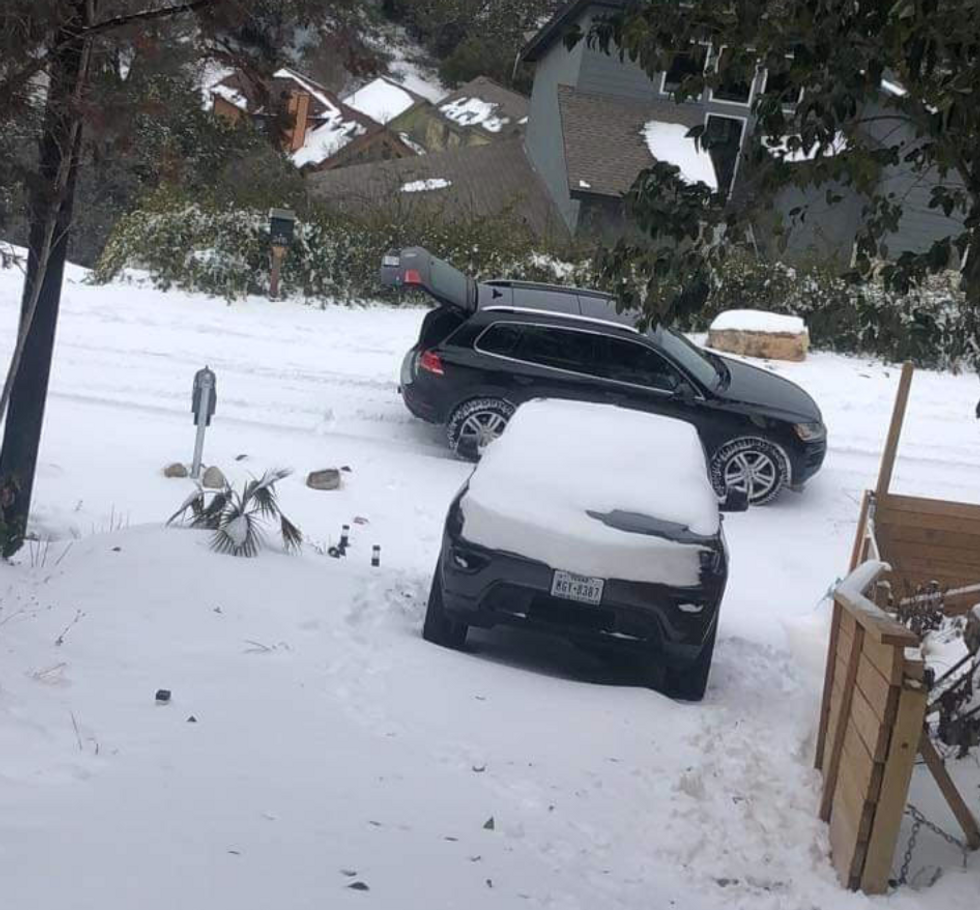 Nathan Burch drops off food for a stranded resident in the Lakeway area Tuesday. (Nathan Burch)
His efforts included a detoured, two-hour drive to take a stranded motorist across town; helping a caregiver deliver prescription medicine and food to her patients; transporting an elderly resident from her cold house; and driving a nurse from the Sweetwater community off Texas 71 to her job at St. David's North Austin Medical Center only to pick up another nurse at the same hospital and take her home after an extended shift. For Burch, these heroic measures have kept him up most of the night, getting home around 3:30 a.m. and rising at 7 a.m.
Despite being laid off from a boat charter company on Lake Travis, he declines payment.
"It feels good to be able to help people," Burch said. "I call it 'paying it forward.'"
A Hurricane Katrina survivor, he explained that he knows only too well about doing without during an emergency.
"I know what it's like to not have adequate transportation; I've been without power before," Burch said, choking through tears. "I've seen some people without things. I know what it's like to be stranded."
Tony Iglesias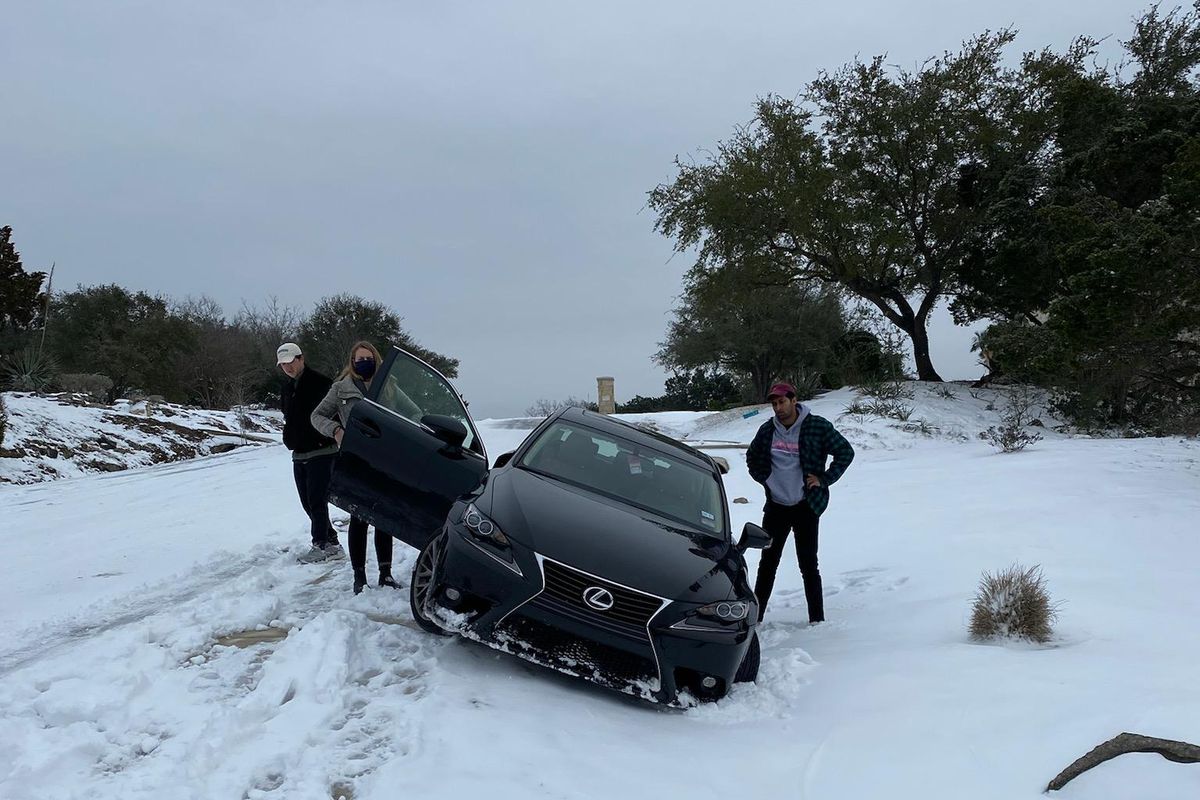 Tony Iglesias has helped many including a Lexus out of the icy hillside in front of his home. (Tony Iglesias)
Westminster Glen resident Tony Iglesias said he's had a front-row seat to vehicles spinning out of control on the icy hillside in front of his home. One of those victims was a nurse at a psychiatric hospital in downtown Austin, trying to get to work to relieve his comrades who have been taking double shifts. Finding the nurse in his car, Iglesias invited him in and he became his guest for a couple of days until a truck could get him past I-35.
"I admire the commitment of the essential workers, what they would go through to try and get to where they could be of most good," Iglesias said.
Sarah Gosztonyi
And as Central Texas is no stranger to northern transplants, those neighbors who are used to combatting winter storms have stepped up to help. A native of Pennsylvania, Austin Lake Hills-resident Sarah Gosztonyi, said she's used to this type of winter weather that Austinites rarely experience. Using her four-wheel drive Porsche, she has pulled out stuck truck drivers from the snow and helped stranded residents get to safety.

"We're young, we're completely capable and we can drive in the snow, and we're not concerned about it," she said of herself and her two team members at Aura, the security technology company the trio founded. "So we just want to help everybody we can."
Clint and Kat Turner
Without power in their home, North Austinites Clint and Kat Turner spent the past few days driving, helping people needing groceries or gas, from Mueller up to Pflugerville.
"We figured if we could get around and go help, then we might as well instead of sitting in our cold house," Clint Turner said.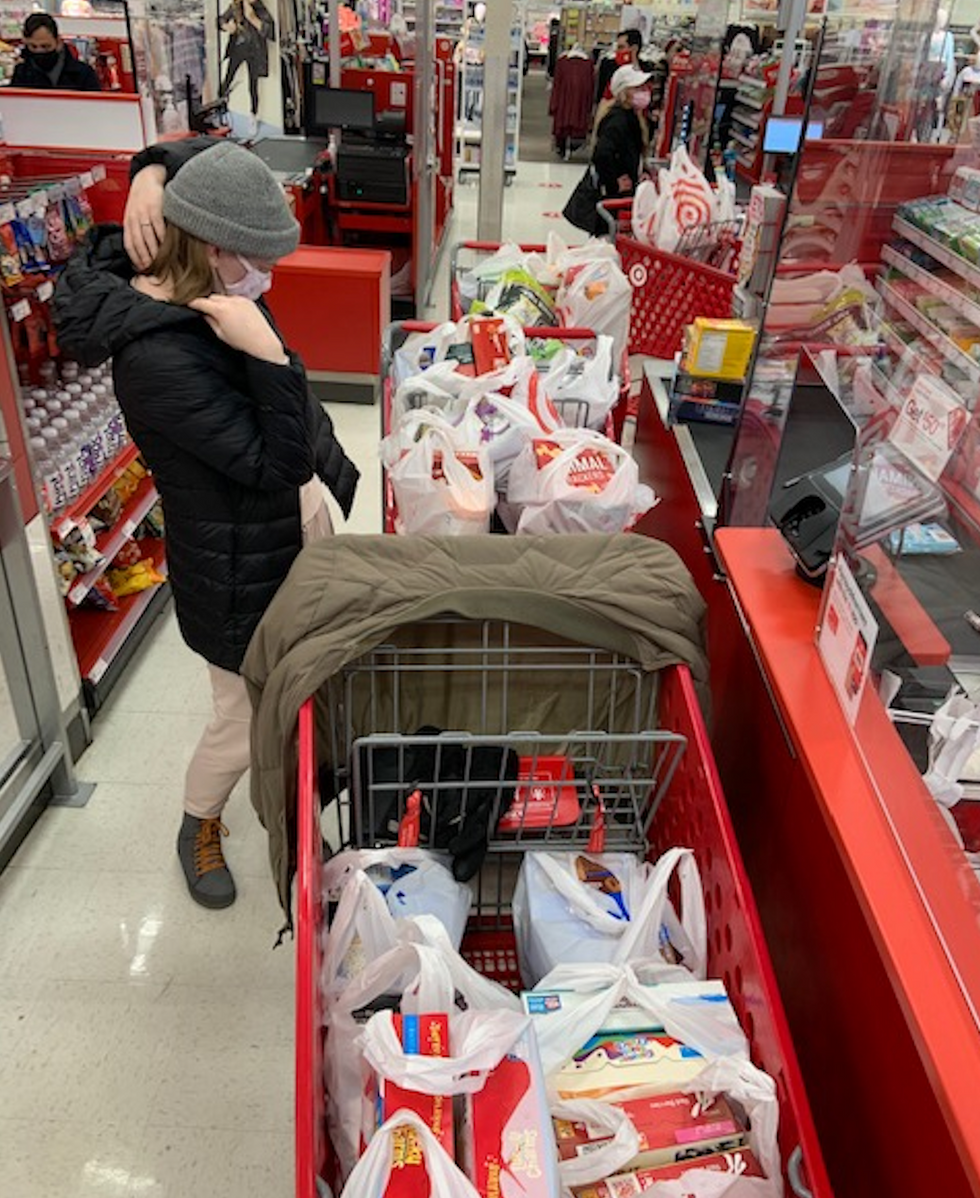 Clint and Kat Turner buying groceries to donate. (Turners)
In lieu of accepting money for their troubles, the couple asked for contributions to go toward buying groceries for Helping Hand Home For Children. Amassing about $1,000 to date, Clint and Kat Turner shopped Wednesday to stock up the nonprofit's pantry before the next round of bad weather.
Victoria Winburne and Lynn Brown
The Homestead residents Victoria Winburne and Lynn Brown live on a wooded acre-and-a-half parcel. When they realized the grocery stores were out of firewood, they collected woodpiles from their property, creating bundles to help others keep warm and offering their tract up should residents have further need. Neighbors responded, rolling up wagons and carts to make use of the kindling, including young families new to the area.
"Here's the deal," said Winburne whose house also lacked power. "It's just a small thing but when you think about what extra you might have and who might benefit, it's not a hard leap to make. It's good to give. It's good for the person receiving and it's good for the person giving."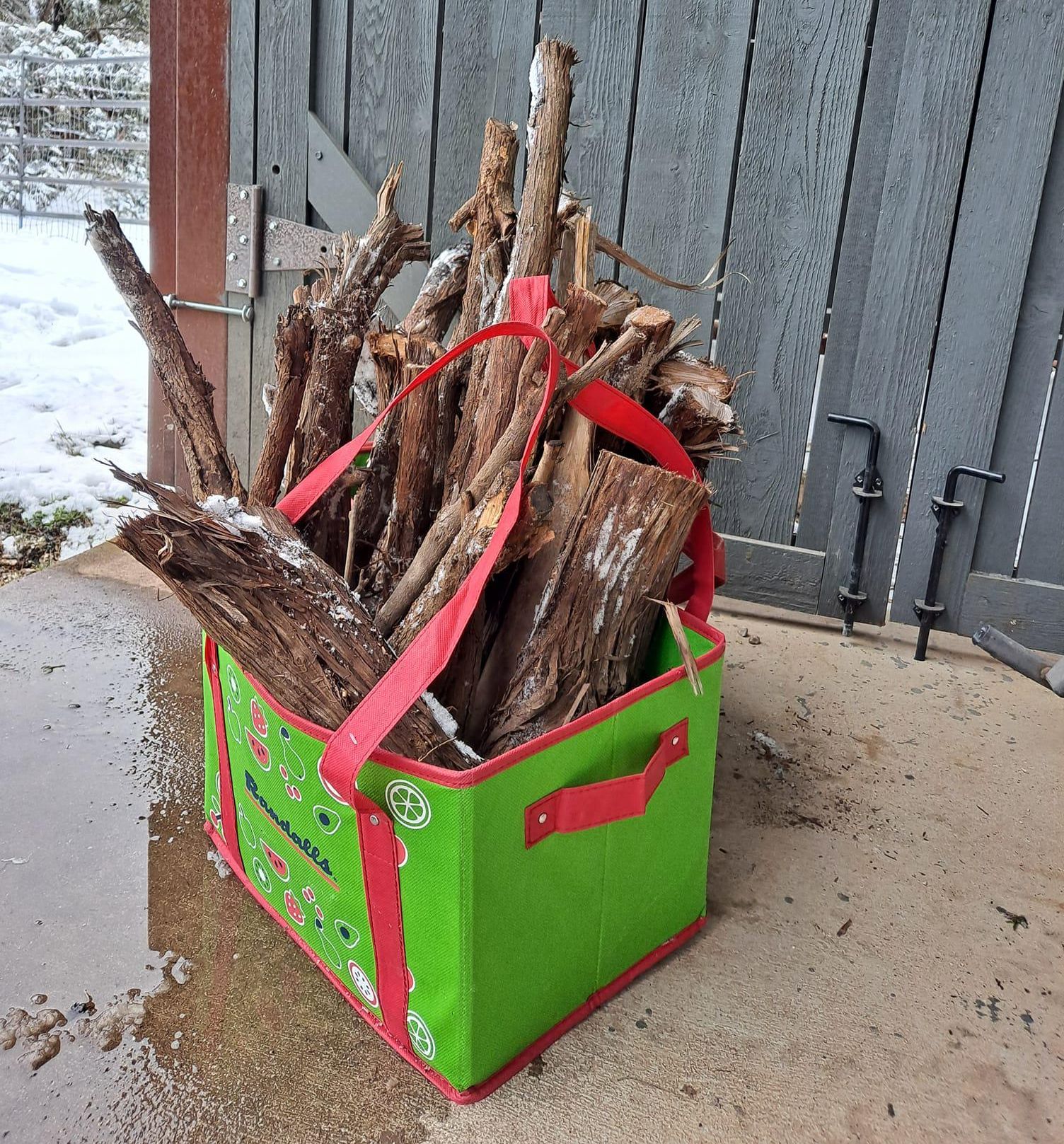 (Victoria Winburne)
Some of that firewood may have made its way to Kiki Long's western Travis County home she shares with her 72-year-old disabled mother, boyfriend and three small dogs. With the power out and no firewood left, Long took extreme measures into her own hands.
"We ended up burning our bed frame in the fireplace to keep warm," she said.
After Long posted that action on social media, local neighbors dropped off two bundles of firewood on her doorstep.
"It was really touching how random people I didn't even know reached out to me so quickly to bring us firewood so we didn't have to burn anymore furniture," she said.
As for the bed frame? "At this point, we're fine without it," Long said, adding the mattress is lying on a box spring on the floor. "Just to keep my mom and my dogs warm, I would have done more than that."
Group 12:31
Michael Dahlhauser created Facebook group "12:31" on Feb. 8, not too long before the winter storms hit. The effort—referencing bible scripture Mark 12:31, love your neighbor as yourself,"—is aimed at linking folks who need help with others who can provide that assistance within the Lake Travis community for small things such as putting together furniture or loading a moving truck.

The timing was perfect.
"Who would have thought that would be put to the test the way it has been the last few days," Dahlhauser said of the group that includes motorists with trucks, chains and four wheel drives who are able to make deliveries, save stranded motorists, provide space heaters and firewood to others as well as lodging. "This is quite literally a community effort."
With the harsh weather, the site sprang into action, including Johnathan Paul Wojtewicz, a native-Austinite and former United States Marine who could put to use his extensive disaster training. Since the weekend, his assistance has ranged from providing a family, including a three-month-old baby, with firewood to taking a woman to the hospital after she fell on slick ice, fracturing her arm. And bringing her back home again when she was released.
Strangers
With the grocery stores packed, Lakeway resident Robert Ferguson drove his pickup truck yesterday to a Valero gas station off RM 620 for supplies. However, when he reached the register and swiped his credit card, the purchase was declined due to a fraud alert. The line of shoppers behind him soon started to grow as he tried the card again. The next thing Ferguson heard was a man in the back of the line calling out, "I've got it," paying his $42 tab.
Ferguson said he turned around and thanked the gentleman, telling him, 'God bless you.'
"It was just a surprisingly nice thing that somebody did," he said.
Similarly, Marianne Odhner, Cuernavaca resident, was worried about her ex-husband Mark Odhner, who lives nearby. A diabetic, he ran out of insulin on Monday. Travis County Emergency Services District No. 10, also known as the CE-Bar Fire Department, gave him a ride to the hospital emergency room for care but he still came home without the essential medicine. So, Odhner asked for help on her Nextdoor site. A neighbor in a nearby development offered up an extra vial and another resident drove the insulin over in a Jeep.
"Everyone's just being so kind," she said. "It makes you feel happy."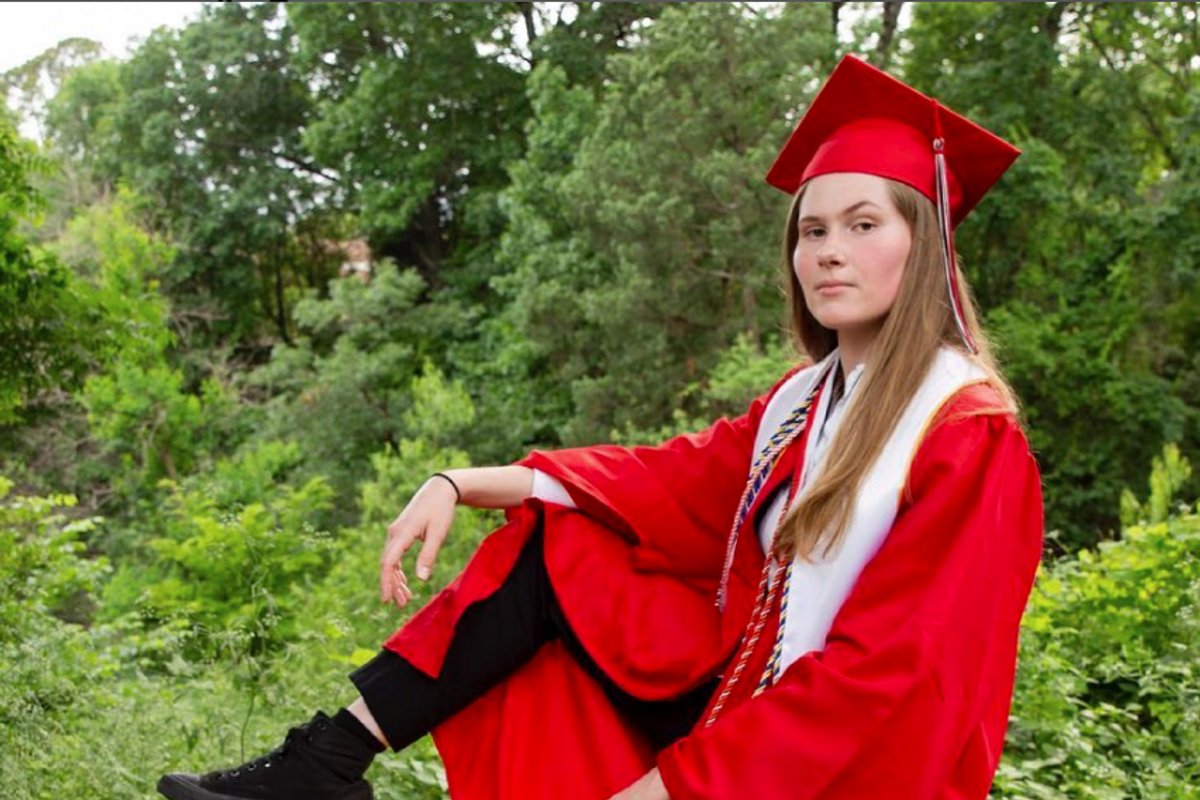 Paxton Smith's 2021 valedictory speech at Lake Highlands High School in Dallas wasn't the same speech she had previously shared with school administrators. She dropped the approved speech and made a case for women's reproductive rights after lawmakers passed the Texas "Heartbeat Bill."
Her advocacy made news on NPR, YouTubeTV and in The Guardian. Just over a year later, the "war on (women's) rights" she forewarned has come to a head as the U.S. Supreme Court voted Friday morning to overturn Roe v. Wade, ending constitutional protection for abortion access.
"It is up to the people to show up and show the courts and the politicians that we won't sit back and let this happen," Smith told Austonia Friday morning. "We will show up, we will fight back. Before, we were scared of them, now they should be scared of us."
Now a University of Texas sophomore and abortion rights activist, 19-year-old Smith said she wanted to give the same speech in the "the most public way possible" to reach "as many people as possible who don't agree that I deserve this right."
However, she says the response was "actually overwhelmingly positive" and supportive of her cause. According to a recent UT poll, 78% of Texas voters support abortion access in most cases.
The speech opened up further opportunities for activism: she advocated for reproductive rights at the International Forum on Human Rights in Geneva, interviewed with Variety magazine and spoke to tens of thousands at Austin's Bans Off Our Bodies protest at the Texas Capitol in May.
Smith also serves on the board of directors for the Women's Reproductive Rights Assistance Project, a national nonprofit organization that helps fund abortions or medication abortion—like Plan C pills—in all 50 states. Most recently, Smith has been attending protests in Washington, D.C. leading up to the ruling.
"This is land of the free. This is where you get to choose how you live your life," Smith said. "Overturning Roe v. Wade violates everything that we have come to believe about what it means to live in this country. I think a lot of people aren't willing to accept that this is a human right that is most likely just going to be gone for over half of the country within the next couple of weeks."
Bracing for the next steps, Smith gave some tips for supporters:
Find a protest to attend.

"I would say invite somebody to go to those protests with you, invite a couple of friends, invite people into the movement," Smith said.

Talk about the issue on social media—use the platform you have.

"Have these kinds of conversations where people can just talk about their fears and then find ways to go and advocate for yourself," Smith said.

Volunteer at a nonprofit near you.
"I feel like a lot of the reason things have gotten as bad as they have within the abortion rights world is that people are not making a scene, not protesting, not putting the effort into ensuring that the government doesn't take away this right," Smith said. "I want to emphasize that if you're not doing anything, don't expect the best scenario, expect the worst because that's the direction that we're going in."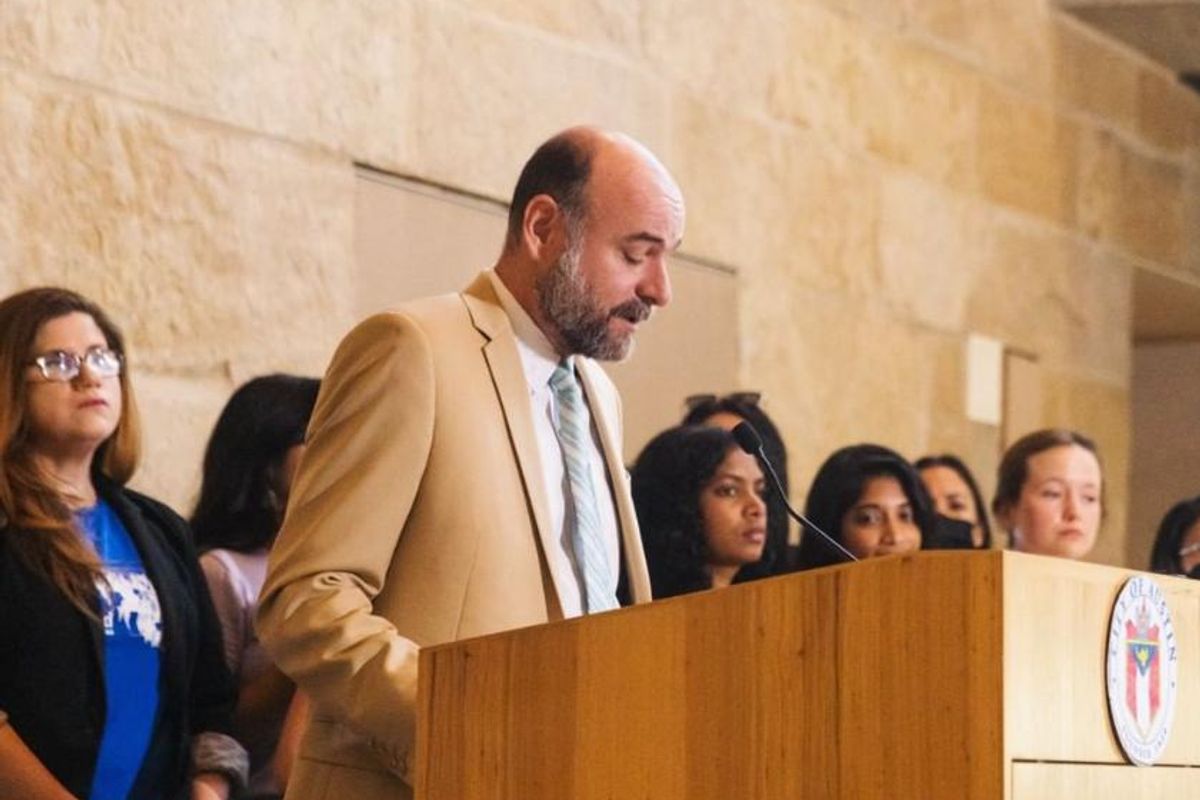 The U.S. Supreme Court overturned Roe v. Wade, the landmark ruling that guaranteed a constitutional right to an abortion, Friday morning. Moments later, Austin City Council set a special meeting for next month to pass a resolution aimed at decriminalizing abortion.
The GRACE Act, which stands for guarding the right to abortion care for everyone, is a twofold plan submitted by council member Jose "Chito" Vela. It recommends that city funds shouldn't be used to surveil, catalog, report or investigate abortions. It also recommends that police make investigating abortion their lowest priority.
Council Member Vanessa Fuentes, who co-sponsored the resolution along with council members Paige Ellis, Kathie Tovo and Mayor Steve Adler, said the importance of the GRACE Act cannot be overstated.
"By introducing this resolution during a special session, City Council is doubling down on fighting back for reproductive health," Fuentes said. "Items like the GRACE Act will promote essential healthcare while enabling individuals to exercise their bodily freedom."
The act takes an approach similar to when former council member Greg Casar moved to decriminalize the possession of small amounts of marijuana. Ultimately, state law doesn't allow city officials to order police chiefs to adopt specific enforcement policies so the resolution would be a request to Police Chief Joe Chacon. In May, Politico reported that Vela is having "ongoing conversations" with Chacon about the proposal.
Austonia contacted Attorney General Ken Paxton for comment on the GRACE Act but did not hear back by time of publication. On Friday, Paxton celebrated the overturning of Roe and announced an annual office holiday on June 24 in recognition of the high court's decision.
In a press release, Vela said the Texas state government has a history of overturning municipal protections of human rights. Thirty days after the Supreme Court's ruling, Texas will ban all abortions, with exceptions only to save the life of a pregnant patient or prevent "substantial impairment of major bodily function."
Still, Vela expressed hope for the GRACE Act's longevity. Council's special meeting on it is set for the week of July 18.
"We know this resolution is legally sound, and Austin is not alone in this fight," Vela said. "We are working with several other cities who are equally horrified by the prospect of an abortion ban and want to do everything they can to protect their residents."