Get connected with our daily update
As Central Texans grapple with freezing temperatures, some neighbors have been elevated to 'Snow Angel' status, taking life-saving measures to rescue total strangers from troubles caused by the winter storm.
Need a smile? Read on.
---
Nathan Burch and Charlotte Bryant
With his four-wheel drive vehicle equipped with snow tires, Lakeway resident Nathan Burch and his girlfriend Charlotte Bryant, drove carefully to Target in South Austin on Monday to replenish their food supply. While there, he overheard survival stories from shoppers, prompting Burch to post an offer to help others on various social media pages. Although he only expected a few people to reach out, within 30 minutes, he received more than 200 responses.
"It blew my mind how many people were without power," Burch said.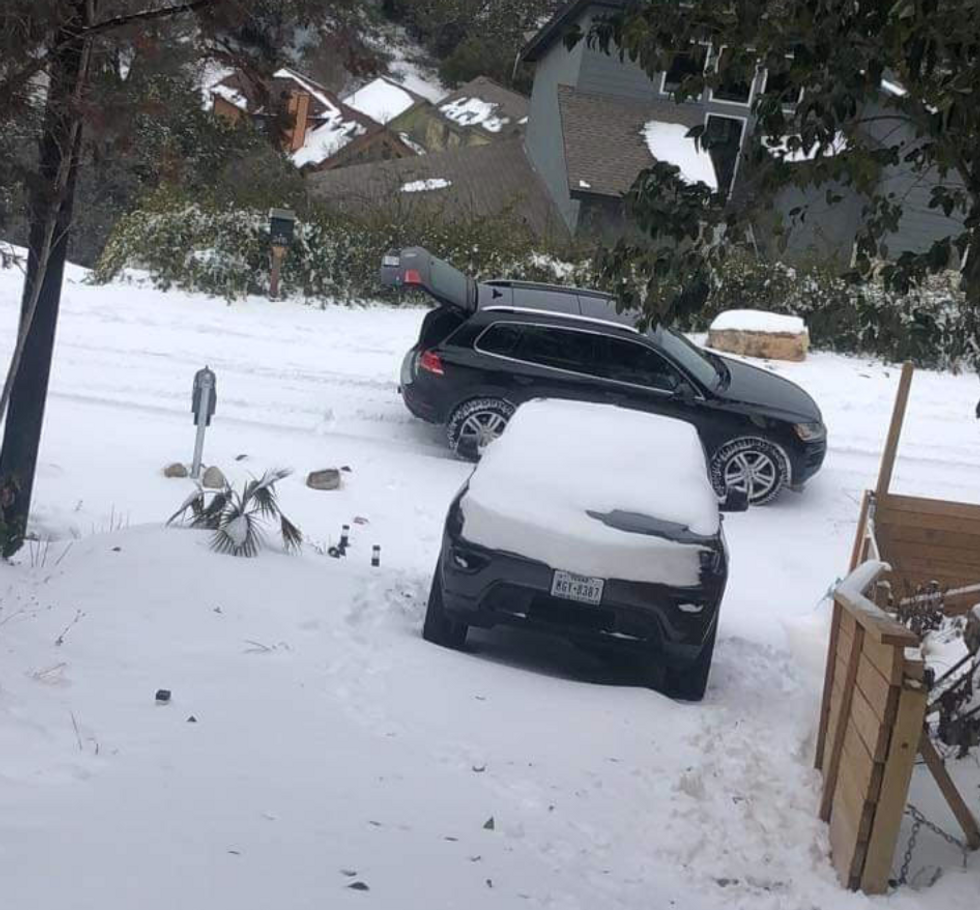 Nathan Burch drops off food for a stranded resident in the Lakeway area Tuesday. (Nathan Burch)
His efforts included a detoured, two-hour drive to take a stranded motorist across town; helping a caregiver deliver prescription medicine and food to her patients; transporting an elderly resident from her cold house; and driving a nurse from the Sweetwater community off Texas 71 to her job at St. David's North Austin Medical Center only to pick up another nurse at the same hospital and take her home after an extended shift. For Burch, these heroic measures have kept him up most of the night, getting home around 3:30 a.m. and rising at 7 a.m.
Despite being laid off from a boat charter company on Lake Travis, he declines payment.
"It feels good to be able to help people," Burch said. "I call it 'paying it forward.'"
A Hurricane Katrina survivor, he explained that he knows only too well about doing without during an emergency.
"I know what it's like to not have adequate transportation; I've been without power before," Burch said, choking through tears. "I've seen some people without things. I know what it's like to be stranded."
Tony Iglesias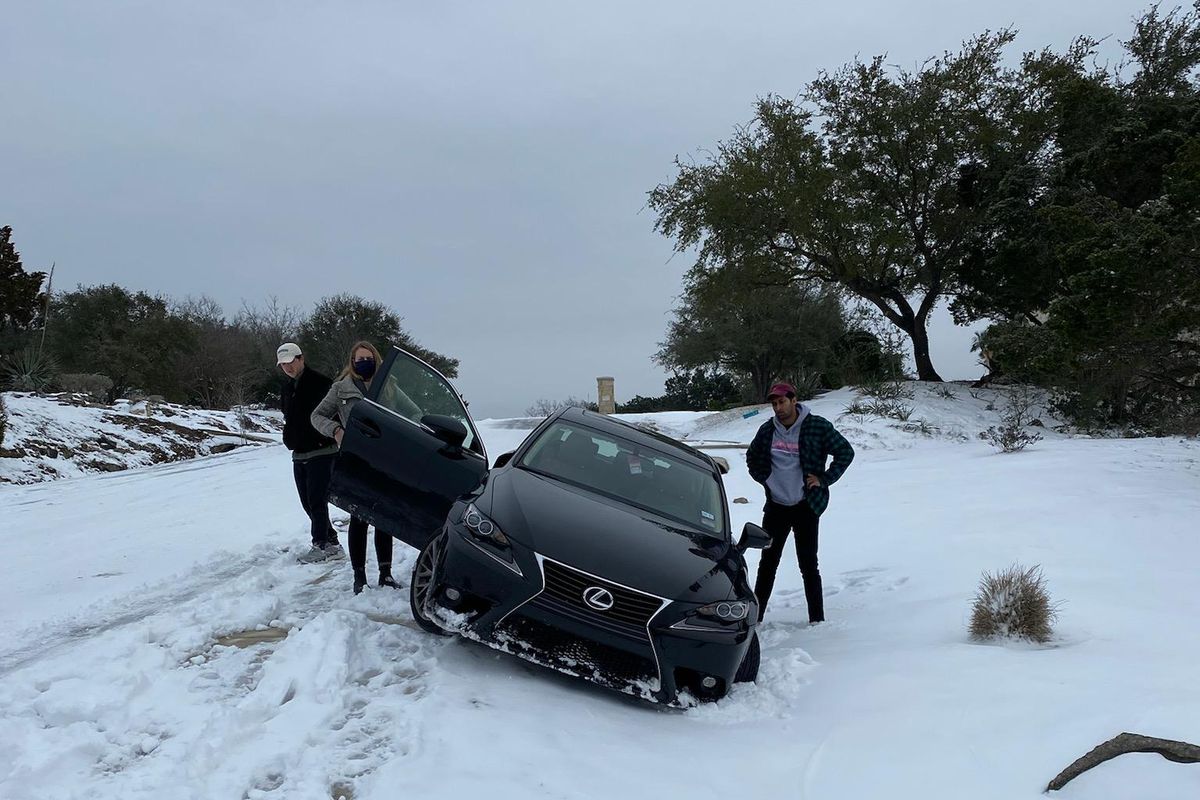 Tony Iglesias has helped many including a Lexus out of the icy hillside in front of his home. (Tony Iglesias)
Westminster Glen resident Tony Iglesias said he's had a front-row seat to vehicles spinning out of control on the icy hillside in front of his home. One of those victims was a nurse at a psychiatric hospital in downtown Austin, trying to get to work to relieve his comrades who have been taking double shifts. Finding the nurse in his car, Iglesias invited him in and he became his guest for a couple of days until a truck could get him past I-35.
"I admire the commitment of the essential workers, what they would go through to try and get to where they could be of most good," Iglesias said.
Sarah Gosztonyi
And as Central Texas is no stranger to northern transplants, those neighbors who are used to combatting winter storms have stepped up to help. A native of Pennsylvania, Austin Lake Hills-resident Sarah Gosztonyi, said she's used to this type of winter weather that Austinites rarely experience. Using her four-wheel drive Porsche, she has pulled out stuck truck drivers from the snow and helped stranded residents get to safety.

"We're young, we're completely capable and we can drive in the snow, and we're not concerned about it," she said of herself and her two team members at Aura, the security technology company the trio founded. "So we just want to help everybody we can."
Clint and Kat Turner
Without power in their home, North Austinites Clint and Kat Turner spent the past few days driving, helping people needing groceries or gas, from Mueller up to Pflugerville.
"We figured if we could get around and go help, then we might as well instead of sitting in our cold house," Clint Turner said.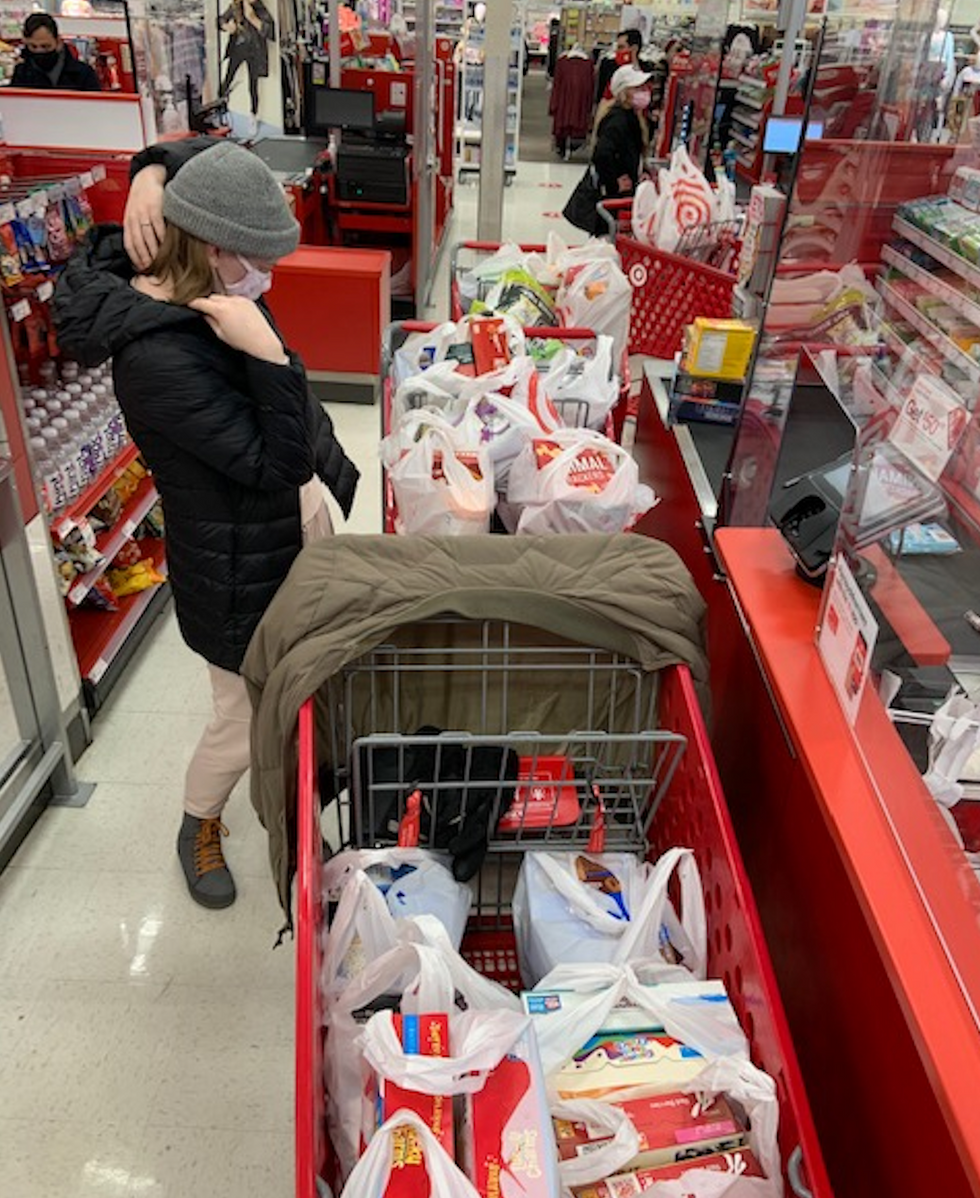 Clint and Kat Turner buying groceries to donate. (Turners)
In lieu of accepting money for their troubles, the couple asked for contributions to go toward buying groceries for Helping Hand Home For Children. Amassing about $1,000 to date, Clint and Kat Turner shopped Wednesday to stock up the nonprofit's pantry before the next round of bad weather.
Victoria Winburne and Lynn Brown
The Homestead residents Victoria Winburne and Lynn Brown live on a wooded acre-and-a-half parcel. When they realized the grocery stores were out of firewood, they collected woodpiles from their property, creating bundles to help others keep warm and offering their tract up should residents have further need. Neighbors responded, rolling up wagons and carts to make use of the kindling, including young families new to the area.
"Here's the deal," said Winburne whose house also lacked power. "It's just a small thing but when you think about what extra you might have and who might benefit, it's not a hard leap to make. It's good to give. It's good for the person receiving and it's good for the person giving."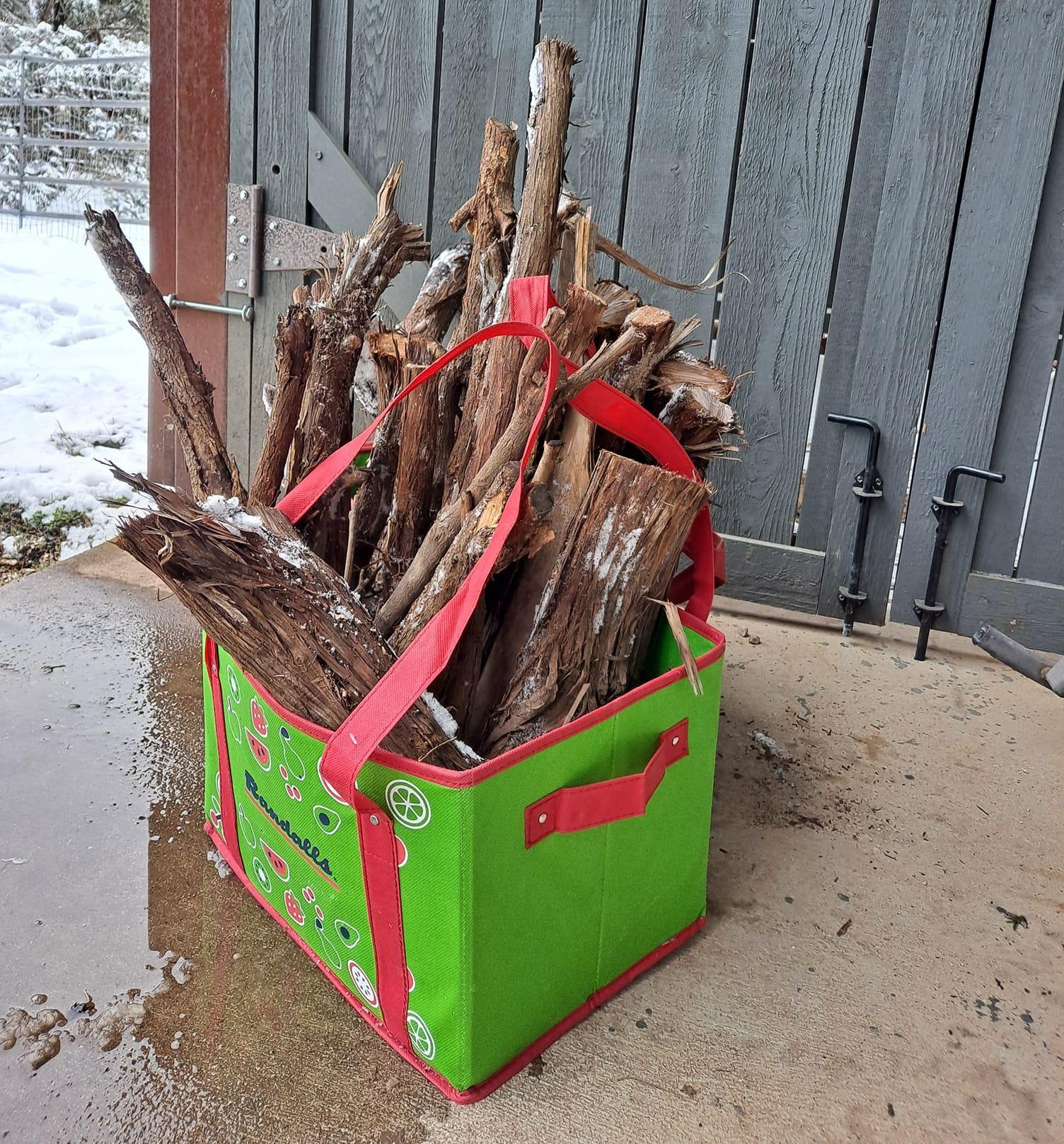 (Victoria Winburne)
Some of that firewood may have made its way to Kiki Long's western Travis County home she shares with her 72-year-old disabled mother, boyfriend and three small dogs. With the power out and no firewood left, Long took extreme measures into her own hands.
"We ended up burning our bed frame in the fireplace to keep warm," she said.
After Long posted that action on social media, local neighbors dropped off two bundles of firewood on her doorstep.
"It was really touching how random people I didn't even know reached out to me so quickly to bring us firewood so we didn't have to burn anymore furniture," she said.
As for the bed frame? "At this point, we're fine without it," Long said, adding the mattress is lying on a box spring on the floor. "Just to keep my mom and my dogs warm, I would have done more than that."
Group 12:31
Michael Dahlhauser created Facebook group "12:31" on Feb. 8, not too long before the winter storms hit. The effort—referencing bible scripture Mark 12:31, love your neighbor as yourself,"—is aimed at linking folks who need help with others who can provide that assistance within the Lake Travis community for small things such as putting together furniture or loading a moving truck.

The timing was perfect.
"Who would have thought that would be put to the test the way it has been the last few days," Dahlhauser said of the group that includes motorists with trucks, chains and four wheel drives who are able to make deliveries, save stranded motorists, provide space heaters and firewood to others as well as lodging. "This is quite literally a community effort."
With the harsh weather, the site sprang into action, including Johnathan Paul Wojtewicz, a native-Austinite and former United States Marine who could put to use his extensive disaster training. Since the weekend, his assistance has ranged from providing a family, including a three-month-old baby, with firewood to taking a woman to the hospital after she fell on slick ice, fracturing her arm. And bringing her back home again when she was released.
Strangers
With the grocery stores packed, Lakeway resident Robert Ferguson drove his pickup truck yesterday to a Valero gas station off RM 620 for supplies. However, when he reached the register and swiped his credit card, the purchase was declined due to a fraud alert. The line of shoppers behind him soon started to grow as he tried the card again. The next thing Ferguson heard was a man in the back of the line calling out, "I've got it," paying his $42 tab.
Ferguson said he turned around and thanked the gentleman, telling him, 'God bless you.'
"It was just a surprisingly nice thing that somebody did," he said.
Similarly, Marianne Odhner, Cuernavaca resident, was worried about her ex-husband Mark Odhner, who lives nearby. A diabetic, he ran out of insulin on Monday. Travis County Emergency Services District No. 10, also known as the CE-Bar Fire Department, gave him a ride to the hospital emergency room for care but he still came home without the essential medicine. So, Odhner asked for help on her Nextdoor site. A neighbor in a nearby development offered up an extra vial and another resident drove the insulin over in a Jeep.
"Everyone's just being so kind," she said. "It makes you feel happy."
Republic Square Park has turned into a Ford-themed fiesta for its Built to Connect pop-up experience, complete with test drives, off-roading and an inside look at the Tesla-rivaling electric vehicles that the motor vehicle company is planning to integrate over the next decade.
The outdoor driving event is free, open to the public and will stay in the park from now until Oct. 24, offering rides on Bronco Mountain, a 0-40 mph zip in the 2022 all-electric Ford F-150 Lightning and a chance to win an original Ford Bronco.
The event kicked off with a panel of speakers, including Austin Director of Transportation Rob Spillar, Ford General Manager Darren Palmer and engineering specialists discussing Ford's goals to make it so that 50% of the vehicles on the road are electric by 2030.
As an eco-conscious city, Spillar said that around 4,000 vehicles, or 22% of the Texas electric vehicle market, as well as over 15,000 plugins lie in Austin, meaning driving electric just got accessible.
"Austin, as you know, is a fast-growing modern city that is committed to protecting the long term health and viability of our communities and strategies that reduce greenhouse gases, mitigate the effects of climate change and improve the drone quality of life here in Central Texas for all of our residents," Spillar said.
And Ford's electric vehicles are putting up some steep competition for newly-Austin-based company Tesla. The new electric Mustang Mach-E and F-150 Lighting offer amenities that used to be exclusive to Musk's brand, such as the BlueCruise self-driving network. The cars also boast a 300-mile range on a single charge, assisted reverse technology and access to the biggest charging network outside of the home.
Plus, Ford's got affordability on its side. The F-150 Lightning starts at $39,974 and the Mustang Mach-E starts at $42,895, while the cheapest Tesla model, the Model 3, starts at $41,990 and averages 262 miles on a single charge.
Speaking of price, the numbers on the electric vehicles may look like a little more than you'd like to pay for your transport, but Palmer promises it will pay off. In addition to a $7,500 tax credit you can earn for your sustainability, you'll never have to buy a pricey tank of gas again.
"Personally, I have not found one customer ever, who would go back to gas so that says something," Palmer said. "I realized, at $51,000, that car outruns every childhood hero car I ever had."
Texas buyers: take note. The Ford Lightning can power your house for three to 10 days, just in case the statewide power grid fails. You can take it glamping with you, so you don't have to leave the comfort of modern life behind, and in a pinch, Palmer said he's even seen a wedding party powered by the truck.
Ford is investing $30 billion into the U.S. market to meet demand by 2025 and the new electric truck already has over 150,000 reservations.
"I think they're going to take off much faster than you expect—they're going to be extremely, extremely popular next year," Palmer said. "With the incentives that are available today, this is starting to become more mainstream and viable for more and more families. We couldn't have done that before, we didn't have the technology, or the technology at that price."
The event is ongoing through next weekend from 12-9 p.m. Monday-Friday and 9 a.m.- 8 p.m. Saturday and Sunday.
The Austin Police Department is searching for a man who is believed to be behind a series of robberies that is "sexual in nature and is escalating."
Three robbery cases that took place in North Austin within a 30-day period are being investigated by police, who report the victims all had similar descriptions for suspects in the case. The suspect is described as a 20-25-year-old Spanish-speaking Hispanic man, approximately 5'3, thin build, recently shaved with black hair. Police say he is known to typically wear athletic clothing and used a knife on each of the victims.
Here's a breakdown of the cases:
1. At 7:56 a.m. on Sept. 22 at the 1600 block of Rutland Drive, a woman was walking alone and returning from her child's school when a suspect walking by inappropriately touched her. The suspect then grabbed her by the arm, threatened her with a knife and demanded "her property."
2. At 8:10 a.m. on Oct. 11 at 1700 block of Colony Creek Drive, a woman was walking to her child's school when a man approached her with a knife and then demanded her personal items. The suspect then said he would return the items in return for sex.
3. At 11:03 a.m. on Oct. 13 at the 9300 block of Northgate Boulevard, a woman was with her child in the laundry room of an apartment complex when a man walked in performing a sexual act. The suspect demanded personal items from the victim, threatening to hurt the victim and take her child.
Police cautioned the public to walk without earbuds, stay alert and report suspicious activity to the police.