Get connected with our daily update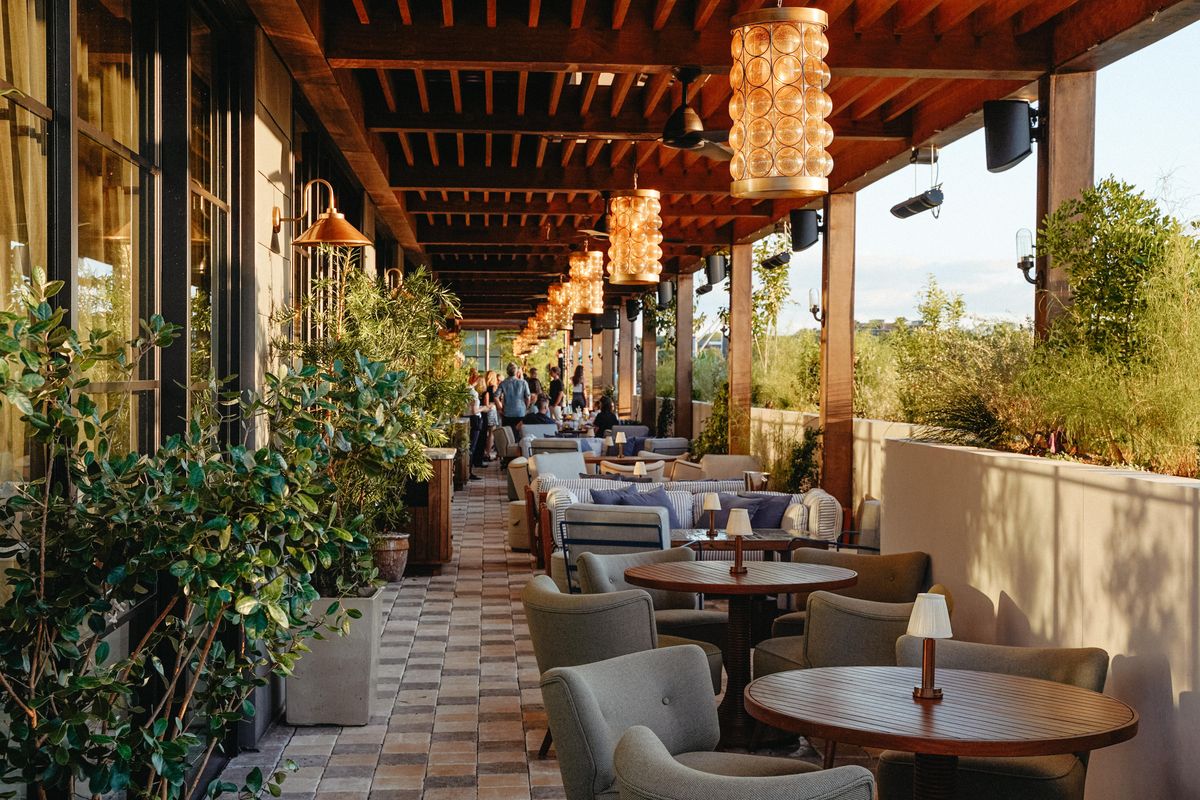 From its garden-studded outdoor space and rooftop pool to its cozy-yet-luxury indoor bar and club, Soho House Austin has arrived.

The London-based, members-only club opened its 27th global location, sandwiched in between music venues, iconic Austin eateries and more on South Congress' new Music Lane last month.
---
While the House's 46 bedrooms and screening room are still in the works, Austonia's Claire Partain and Laura Figi took an exclusive tour around the club's bar, terrace and rooftop pool, all of which opened May 19. Here's an insider's view of the new space, with photos provided by the Austin Soho House itself:
Greens, golds and beiges at the third-floor bar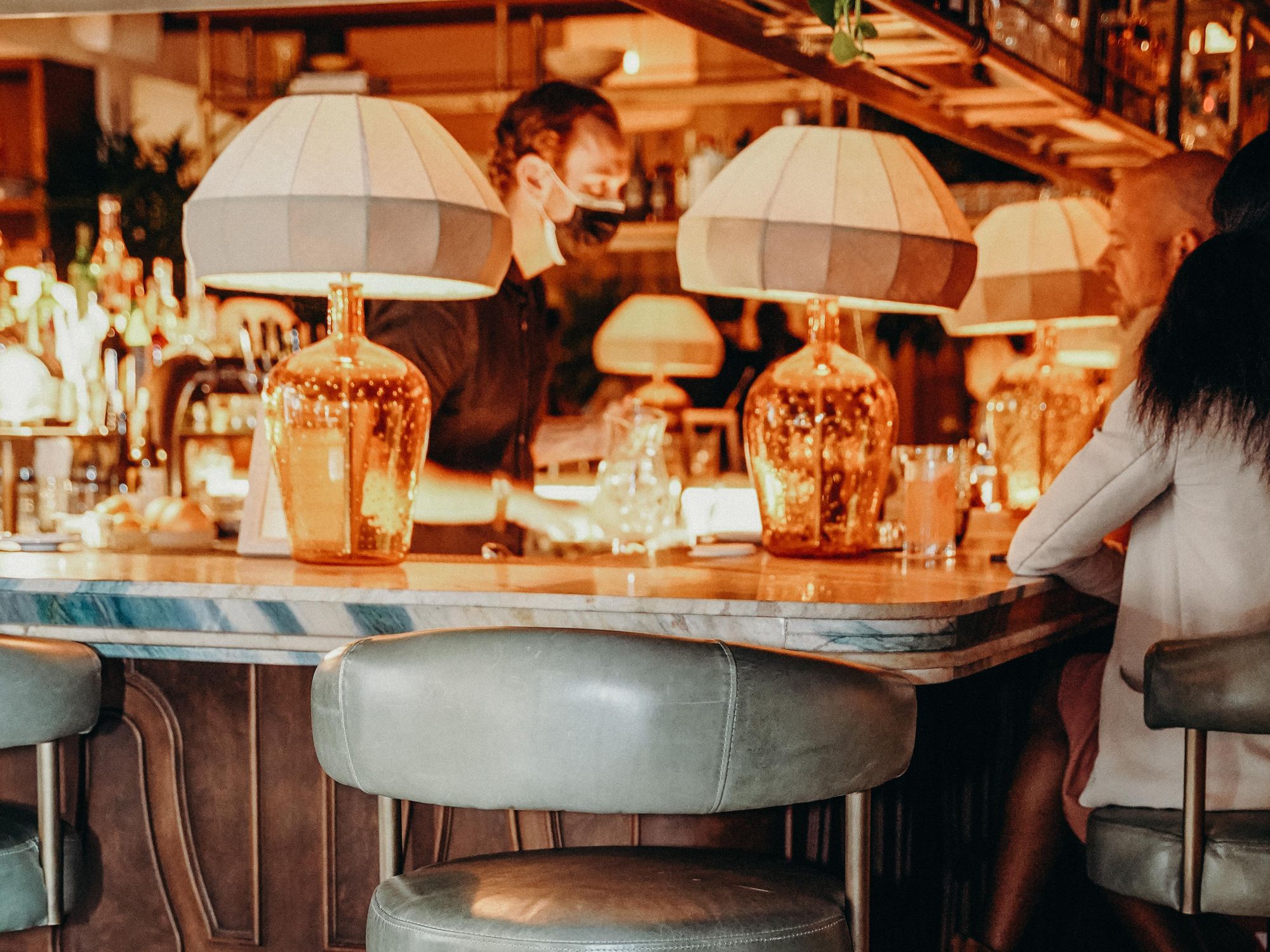 (Christina Fisher)
Inside the bar, which serves as the hub for social hangouts, DJ features and events, club members will feel right at home among the dusty sage green and beige color scheme. The bar is lined with cushioned green stools, a marble countertop and warm lighting.
Cushy seating for both work and play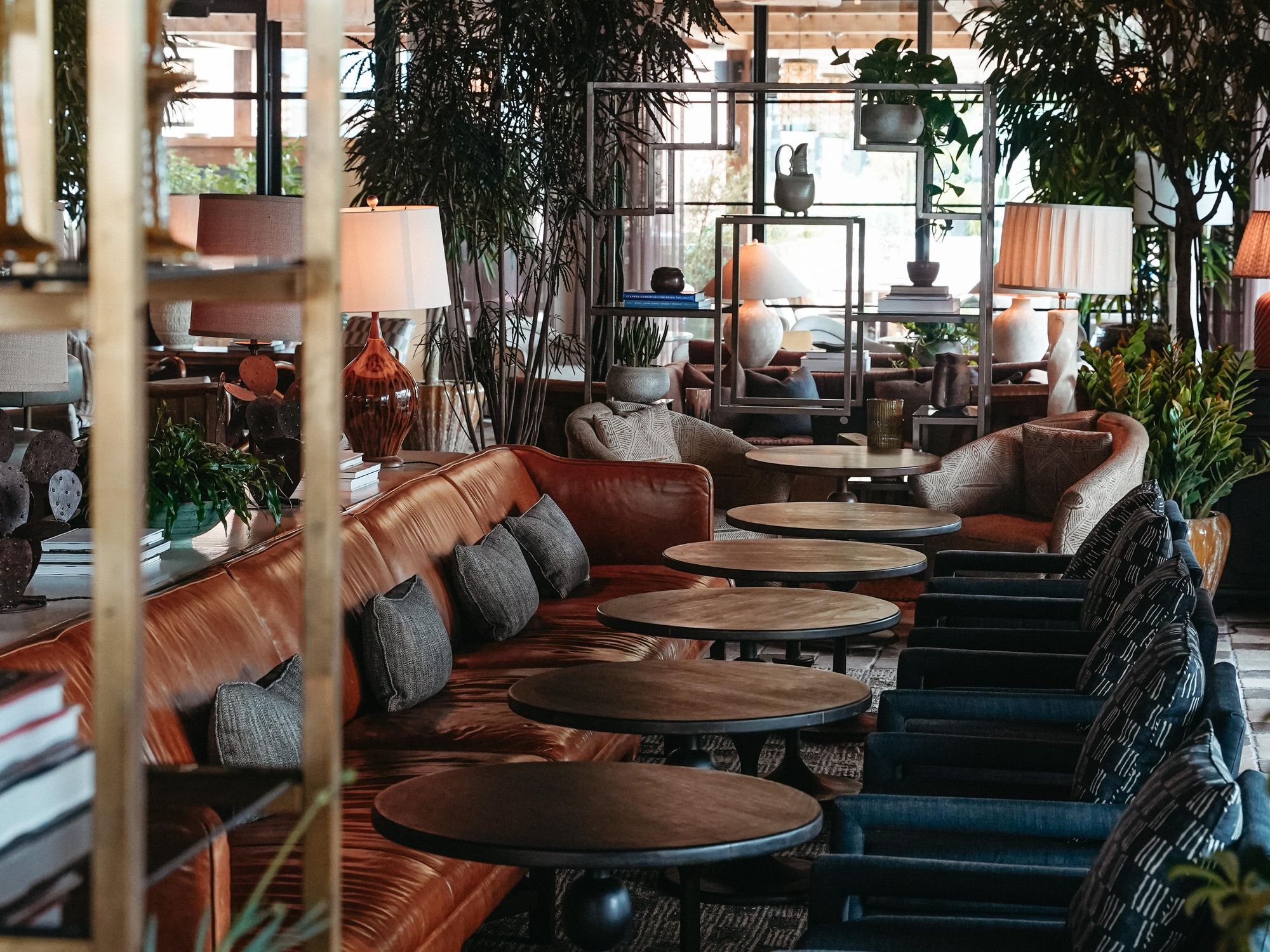 (Christina Fisher)
The airy indoor seating area is lined with professionals during the day, but as the sun begins to set, a strict no-laptop policy is employed. Cushy seats, open to groups both big and small, are designed for both times of day, with plenty of space for members of the community to mingle. Windows line the space to merge both indoor and outdoor seating areas.
Vintage furniture, work from local artists and craftsmen and reclaimed lighting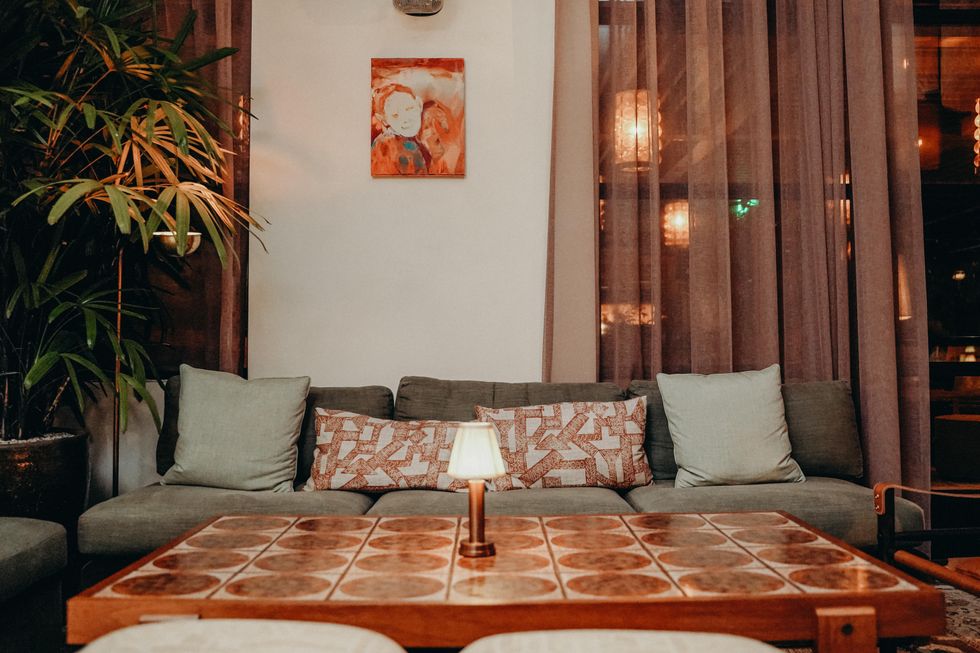 (Christina Fisher)
Brown and beige vintage furniture and lush green vegetation give the room an earthy, Southwestern feel that is somehow authentically Texan. Aged reclaimed floor lamps and glass pendant lights give the space a warm glow.
A full bar menu, from appetizers to gourmet meals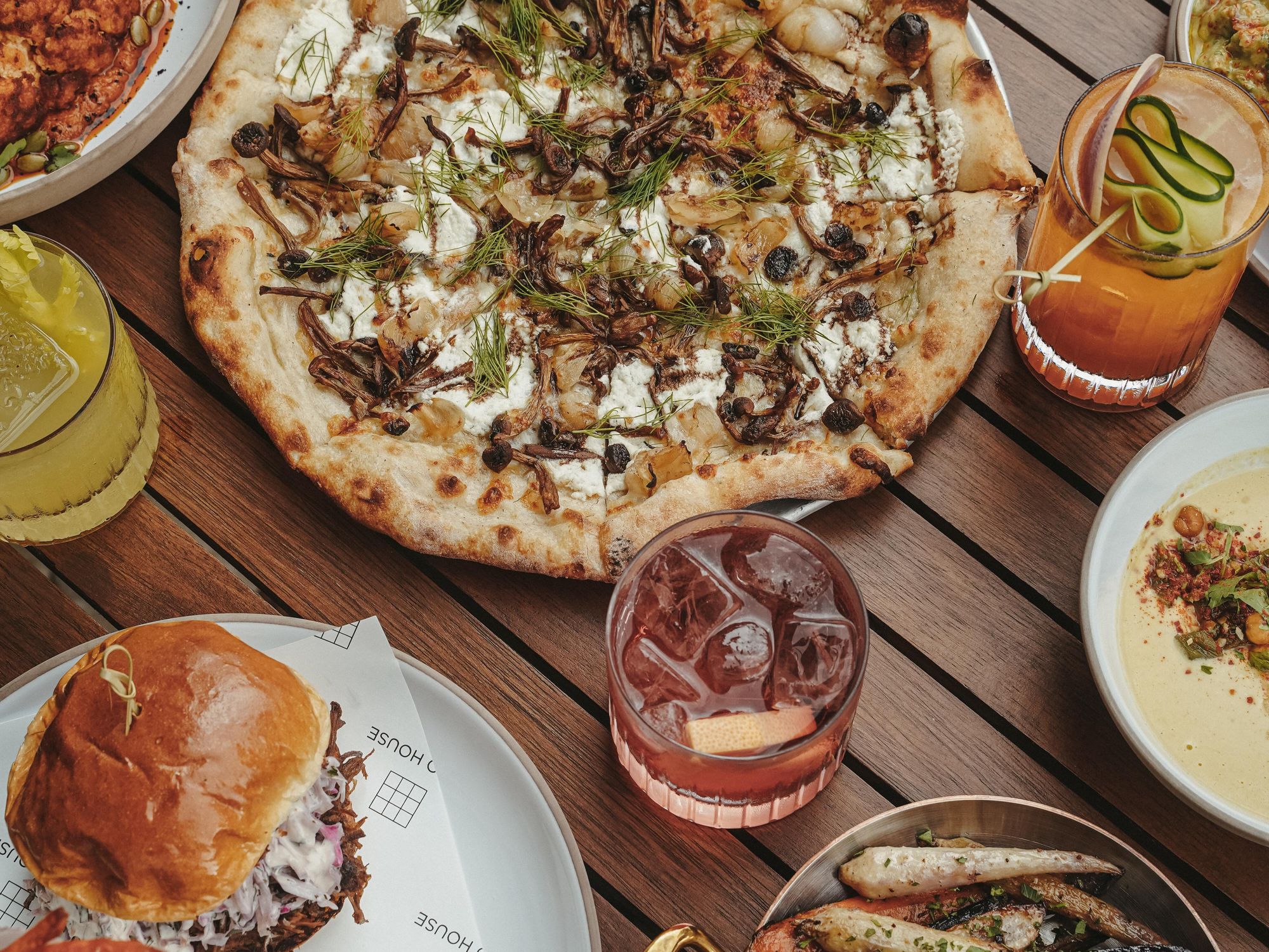 (Christina Fisher)
Soho House's bar serves gourmet kitchen items as well, from homemade Tex-Mex items like guacamole to deluxe pizzas. The Texas-inspired kitchen is led by Chef Dustin Musgrave, a former executive chef at Soho House Chicago.
A lush terrace complete with views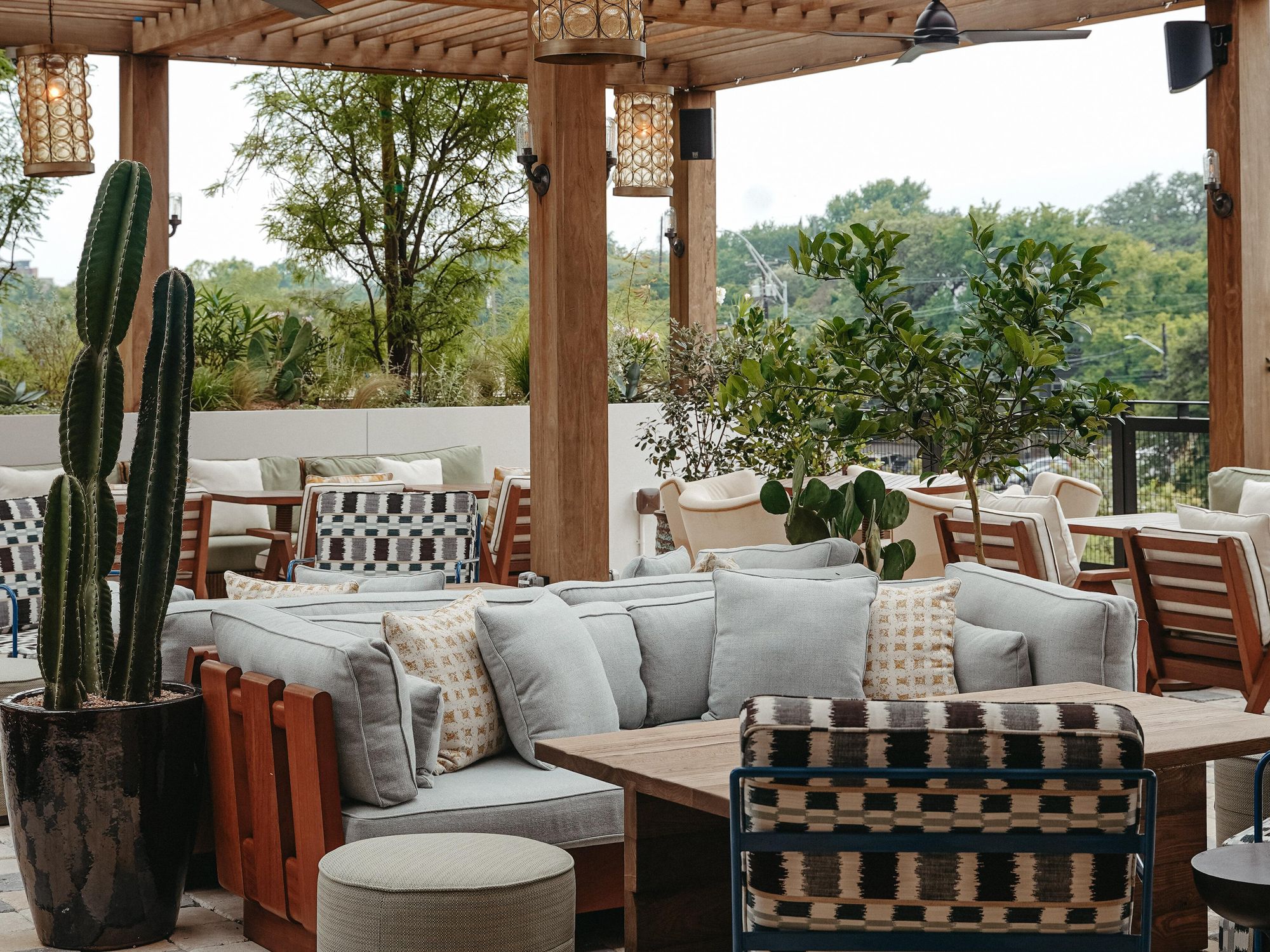 (Christina Fisher)
Soho House worked with local artists and craftspeople to merge both Texas Modernism and Spanish contemporary styles, and it's best seen on the terrace. A wooden pergola hangs overhead, and more seating is nestled in every corner between native Texas plants, with chairs centered around a large tree. The outdoor club space overlooks Austin's Music Lane, with views of the city and more greenery amid the terrace gardens.
The rooftop pool overlooking downtown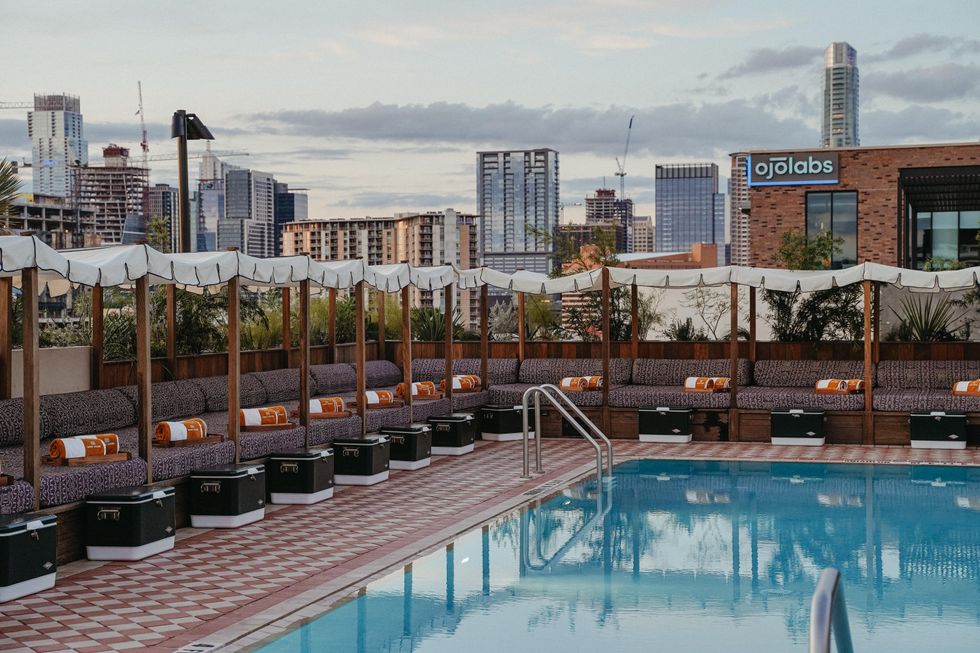 (Christina Fisher)
The Soho House rooftop pool hasn't gotten much use in the weeks of rain, but Austonia still got a peek at the house's crown jewel. The House's Spanish feel is embodied by red-and-white tile, while shaded seating equipped with coolers line the entire pool. While taking a dip, club members get a birds-eye view of the city on the third floor.
From spicy to sweet, the bar's drinks have plenty to offer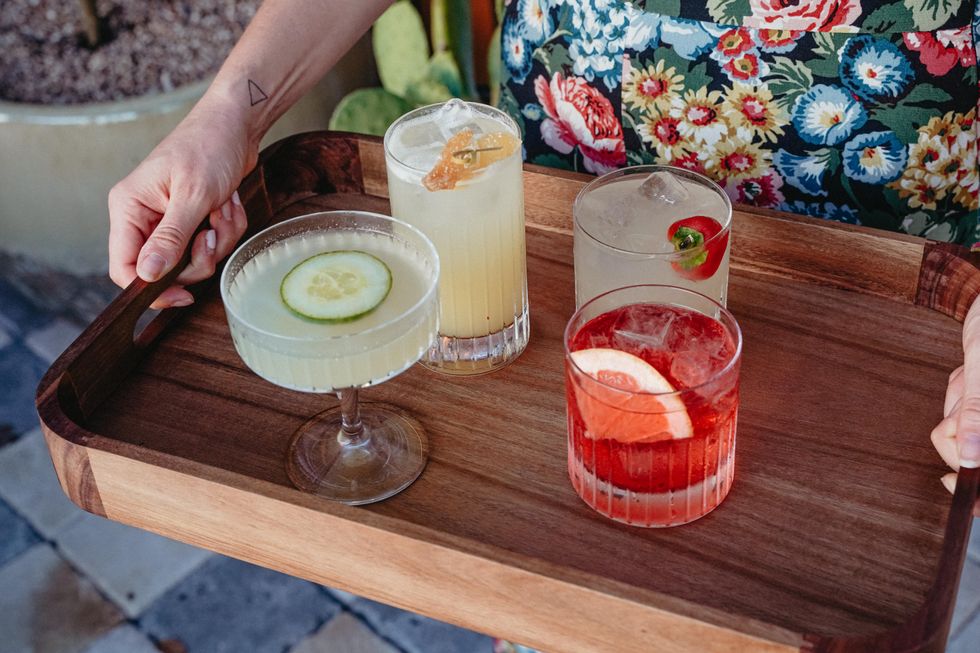 (Christina Fisher)
Just like the rest of the space, Soho House's bar menu can make club members feel both surprised and at home. For a Texas feel, try the spicy Picante, or stick to a classic Soho House Mule.
After looking at all it has to offer, you might be wondering how you can join. Admission to the club is on the steeper end—membership is $3,500 annually for access to every location and $2,290 for Austin-only entry, and the bar still comes with $14 drinks. Still, the club offers huge discounts to those under 27 ($1,750 and $1,140, respectively), and the space also provides something many consider priceless: for many Austin creatives, it's a one-of-a-kind club perfect for building a community.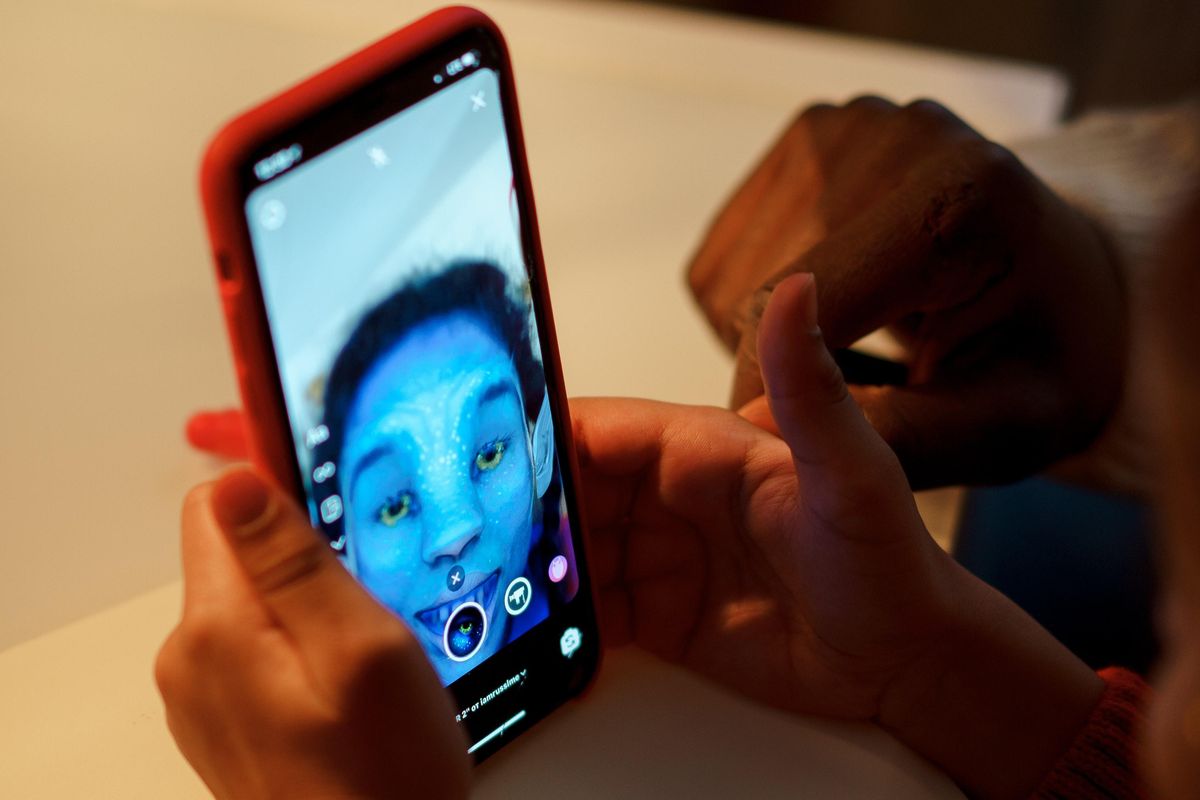 Some of your favorite Instagram filters can't be used in Texas anymore and Austinites are sounding off on social media.
Meta, Facebook and Instagram's parent company, announced on Wednesday that certain filters would no longer be available in Texas.
The change is a result of Texas Attorney General Ken Paxton's lawsuit against Meta, alleging the company uses facial recognition technology that violates laws in Texas. A release from Meta says it stopped using facial recognition tech in November 2021 and denies Paxton's allegations.
Some Austinites bemoaned the shift, saying some of their favorite filters were now unavailable.
But more often than not, locals joked about the ban.
And some in-between chose to show off some natural beauty.
Finally, some are trying to cash in on the opportunity.
Meta said it plans to create an opt-in system for both Texas and Illinois residents, who are facing the same issues.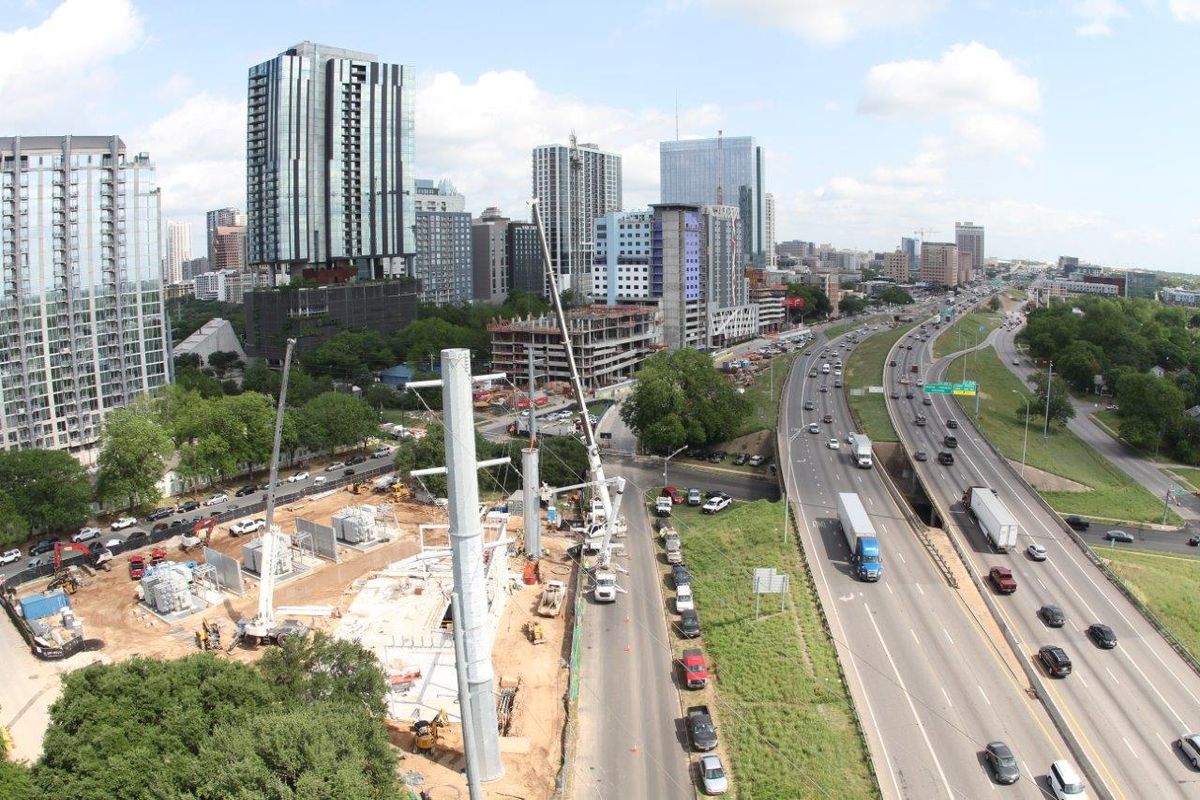 Power demand is forecast to push within 600 megawatts of the Electric Reliability Council of Texas' capacity Friday afternoon as a record month of heat continues.

Demand for the statewide power grid hit over 65,000 Mw at 5 p.m., just under the capacity the grid can handle. ERCOT announced approximately 2,900 Mw of power was lost on Friday due to six power generation facilities tripping offline. At 5 p.m. it said all reserve generation resources available are operating. Texans have been asked to conserve energy.
Inbox: ERCOT says "six power generation facilities tripped offline resulting in the loss of approximately 2,900 MW of electricity. At this time, all reserve generation resources available are operating." Asks Texans to conserve power... pic.twitter.com/g6LxJlHlop
— Forrest Wilder (@Forrest4Trees) May 13, 2022
As the power grid threatens to buckle under the weight of consumers, record-breaking heat continues to push up demand. Austin is currently in the hottest May on record, with temperatures averaging at 82 degrees—eight degrees higher than average—at Austin's Camp Mabry.

And Austin is expected to have another triple-digit onslaught next week, with temperatures peaking at highs of 100 degrees Friday and Saturday. As a result, demand could peak Monday, with forecast demand expected to reach a May record of 70,758 Mw. The previous record was 67,265 in 2018, while ERCOT's all-time high was 74,820 Mw in August 2019.
While ERCOT has not yet seen a heat surge reminiscent of 2021's Winter Storm Uri, power outage woes became all too real for around 3,600 southeast Austinites Saturday as Austin Energy put on a last-resort power pause from around 3:30 to 7:30 p.m.
The outage was a culmination of many factors—from near-100 degree heat to unfortunately-timed maintenance checks and growth in the Bluff Springs area. The result was an overheating circuit that needed relief fast.
"It was related to high usage overloading one circuit at a time when some of our infrastructure was still undergoing maintenance in preparation for the months to come," Austin Energy spokesperson Matt Mitchell told Austonia. "So it was a very unique set of circumstances that we do not see repeating itself."
Mitchell said that all seasonal maintenance is complete and that Austin Energy will open a new power substation in Bluff Springs this June. The organization also said the issue had nothing to do with ERCOT, which released a statement assuring consumers that power was not threatened during that time.
ERCOT also told Austonia before 5 p.m. that it "projects there will be sufficient generation to meet demand for electricity" on Friday. It then informed the public about the energy loss due to a power trip.