Get connected with our daily update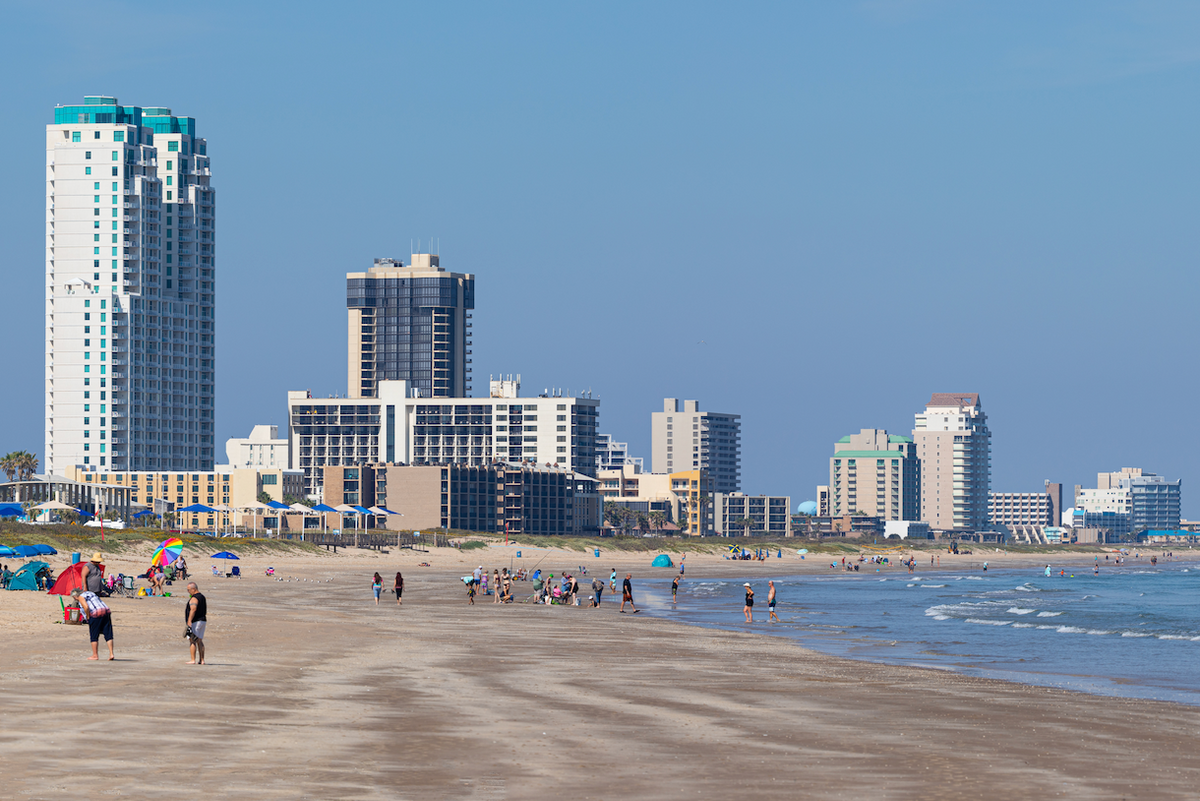 With soft sand, plenty of beach bars and the best ceviche, there's arguably only one beach worth going to in Texas—South Padre Island.
---
You might know this beach as a college student's spring break hotspot, but really, it's the Rio Grande Valley's most secret gem. From someone who has been going to "the island" every year since before I could walk, here's a guide to the best SPI has to offer.
Weather
First thing's first, don't underestimate how hot South Texas is. Be ready with plenty of sunscreen. If you thought Austin was hot, you're in for a treat as high humidity will make the Valley feel scorching. Luckily, the water offers some reprieve from the sun's rays—still, be sure to bring sunscreen and a hat.
Getting there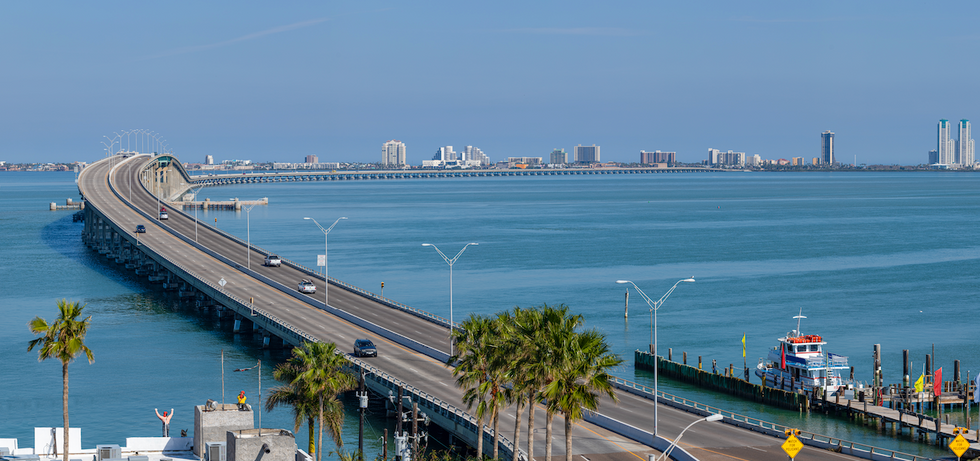 Driving in: From Austin, you can expect almost a six hour drive. Your navigation will take you either around San Antonio (which is a plus for most people) or through San Antonio, funneling to U.S. 77 until you reach Valley grounds in Harlingen.
From there, it might be smarter to take the toll roads, which border the Port of Brownsville and will save you going through small towns like Los Fresnos that can get backed up with traffic.
But if you do decide to hightail it through Los Fresnos, be wary of how fast you are going and the speed limit. Cops are especially on the prowl in those areas, catching out of towners unfamiliar with the speed limit changes.
Still, no matter which route you take, you'll go through Port Isabel before crossing the 2-mile bridge to South Padre. During peak times, such as early afternoon, expect to sit in traffic. Better times to travel are in the early morning.
Flying in: For the people that read a six-hour drive with wide eyes, there is a nearby airport in Brownville, a 40-minute drive from SPI, as well as the Valley International Airport in Harlingen, a 1-hour drive away. Be ready to spend $250-$400 a person.
Sights and sounds
Getting to the RGV, you'll be welcomed with palm trees well before you've made it to the beach. And just before crossing the bridge from Port Isabel to South Padre, you'll see a sign that may be blinking, indicating to watch out for pelicans.
As you drive over that bridge, your passengers will want to get their phones out and take the classic video of the the water, boats and parasailers in the bay. It's the best way to let everyone know you're on vacation!
And don't forget to roll down your window to take in the salty smell of the gulf of Mexico.
Lodging
Resorts: For beach access and the fun amenities that come with that, places like The Pearl, The Palm and The Saphire are where you'll get a resort-style feel.
Affordable: You can still find a Holiday Inn, Ramada and La Quinta along the beach bars.
Airbnb is always an option where you can rent out condos, but you'll want to make sure to book in advance as options may be limited in peak summer.
The beach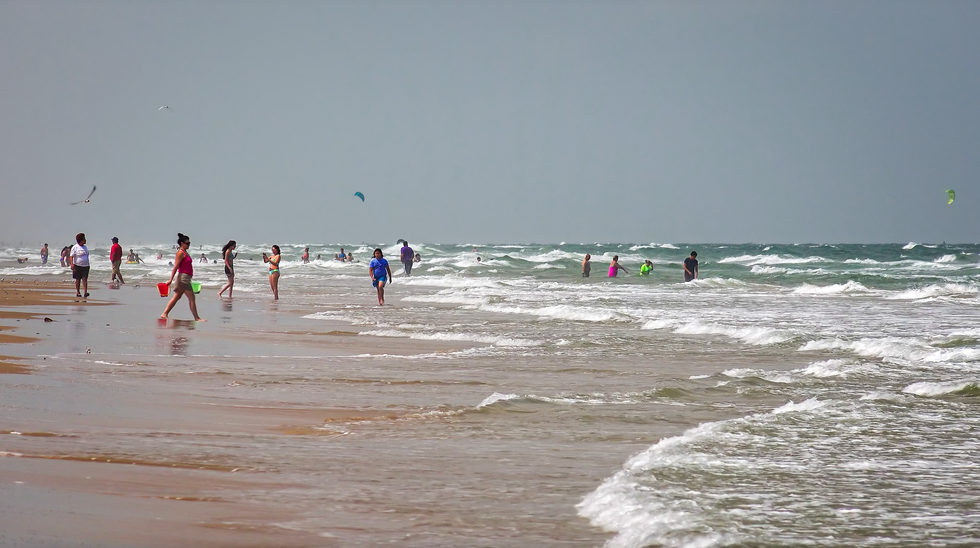 There are at least 25 access points to the beach, which is on the east edge of the island. Some you can only get to if you're a hotel guest. Here are the most popular ways to reach the sand.
Walking to the beach: Between the bars and hotels, you'll find free access points where you get to just park and walk right onto the beach. You're likely to still find umbrellas and chairs you can rent out.
Beach bar access: Some of the most popular places for beach entry are those that come with a nearby bar. But don't worry, all ages are welcome. You'll want to check these bars' social media pages in the evenings if you're looking for live music.
Where you're almost certain to not struggle for parking is one of the hottest spots on the beach: Clayton's Beach Bar and Grill. At Clayton's, you're able to get your drink on, get a bite to eat and have access to the beach and volleyball courts.
A smaller, but just as cool alternative is Wanna Wanna Beach Bar and Grill. With the same amenities as Clayton's, you can't go to Wanna Wanna without trying a turbo, a pina colada with a rum floater—you can get these just about anywhere on the beach, but they just taste better beachside.
*Tip: If you're not trying to take your own chairs and umbrella, don't worry, you'll see umbrellas and chairs set up on a first-come, first-serve basis, where you'll pay about $35 to use the umbrella and two chairs for the day. And don't worry about paying before, just sit down and a beach worker will come collect your cash.
Driving on the beach: If you want to try your four-wheel drive on the sand, you can! Access points #5 and #6 allow you to pay a small fee to take your vehicle out there. Click here to see how you might prepare your vehicle for the sand. If you choose to go with this option, you'll want to make sure to pack appropriately as there are no rentals or bars nearby.

More fun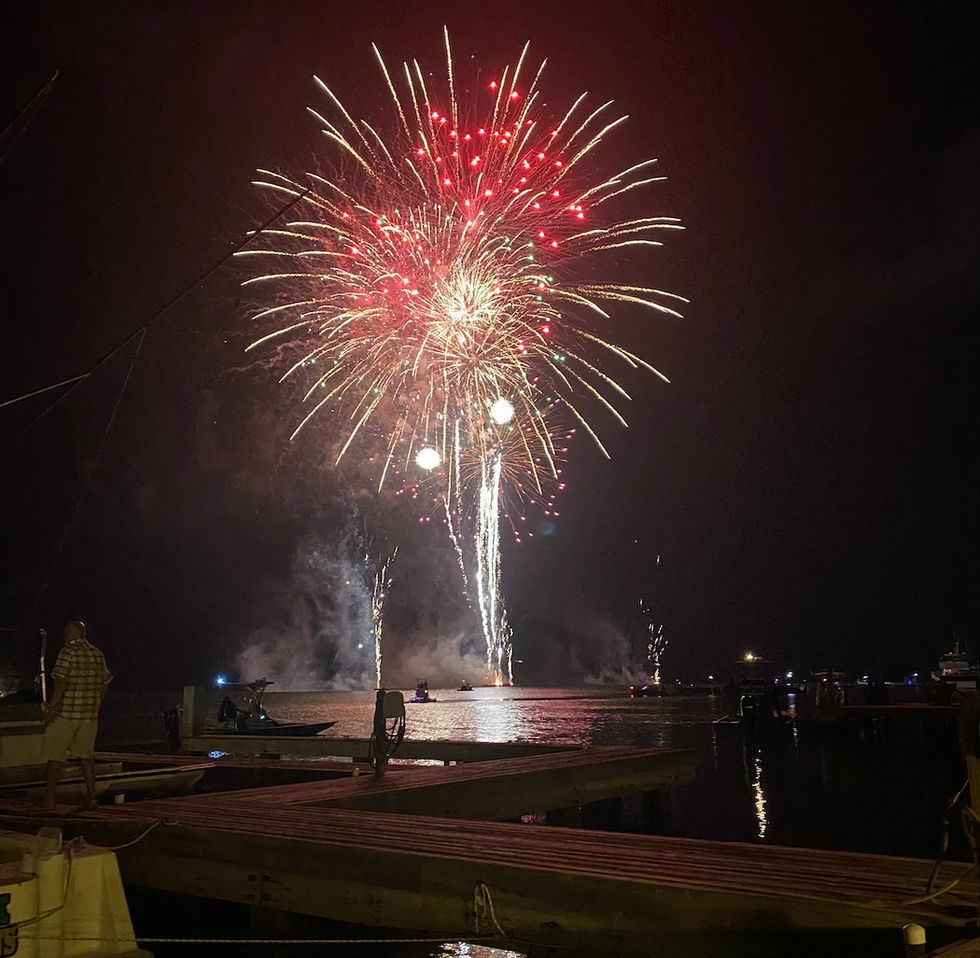 If you're trying to make the most of your South Padre getaway, we have you covered with things for the whole family as well as the nightlife scene.
Watch the fireworks: Catch a fireworks display at the island all summer long. Catch them displayed on the bay in front of Louie's Backyard on Tuesdays and near Clayton Beach Bar on Fridays and Saturdays.
Beach Park and Isla Grande: The former Schlitterbahn is now a beach park that opened in 2021. The 25-acre waterpark has water slides, a zipline and beach access. (Day passes are $38.99 for children and $10 more for adults)
Sea Turtle, Inc.: Learn about sea turtles and sea life conservation at the largest state-of-the-art sea turtle hospital. You'll be able to get up close and personal with the turtles! ($4 for children, $10 for adults)
Gravity Park: For the adrenaline junkies, this park has the tallest reverse bungee in the world ($25), a skycoaster ($25), go-karts ($15-$20), mini-golf ($8-10), a 60-foot ferris wheel ($8), and a climbing wall ($8).
Sandcastle exhibit: Right next to Gravity Park is a small sandcastle exhibit that is free and about a 5-minute walk to see all the exhibits made entirely from sand by professionals. (Free w/ donations accepted)
Get in on the water sports: A couple of rental places like Coconut Jacks SPI offer jet skis for rental as well as equipment for parasailing.
Rent a pontoon boat: Tritoon Charters allows you to rent a pontoon boat for the day perfect for the whole family. The charter offers private snorkeling, shell hunting, up close dolphin and turtle encounters, tubing and sight seeing.
Party like a local: Escape the beachside and head to the west edge of the island for live music and dancing. Tourists love to flood Louie's Backyard, but there are other bars along the bay worth going to such as Longboard, Laguna Bobs and Tequila Sunset.
Food
You can't leave the island before eating ceviche and fried shrimp. And you can't go wrong by eating at the already mentioned beach bars and bay bars. But here are some other notable places to visit:
Breakfast: Yummies Bistro and Grapevine Cafe are both places to get your breakfast tacos in the morning.
Lunch: Cafe on the Beach are good midday options to catch a quick bite without sacrificing quality.
Dinner: F&B is about as upscale as it gets if you can snag a reservation—Elon Musk has been spotted here. They also offer Sunday brunch.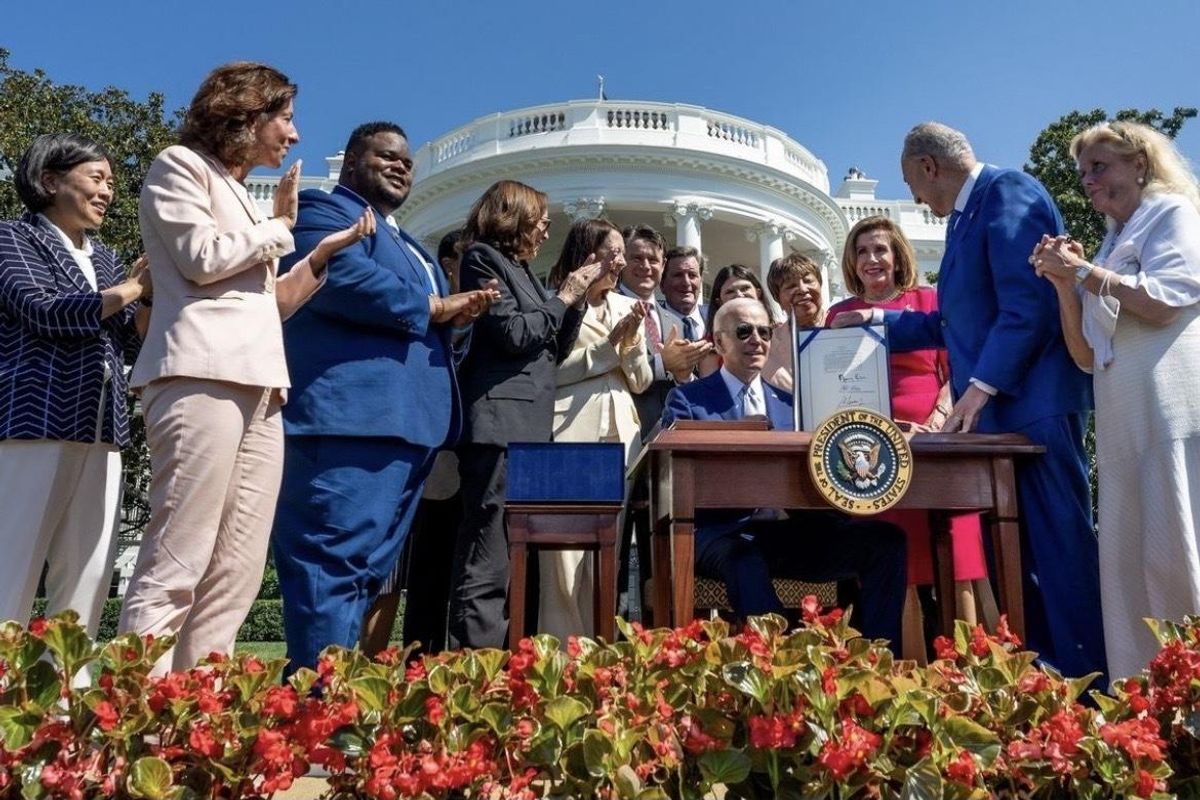 President Joe Biden signed the CHIPS and Science Act into law on Tuesday, a move that the White House says will unlock hundreds of billions more in semiconductor investment across the country.
Part of that investment could make waves in Central Texas, where semiconductor companies have laid the groundwork for more plants and jobs as a global shortage of semiconductors continues.
For example, Samsung already had a $17 billion semiconductor factory in Taylor on the way. Then in July, documents filed with the state showed that the tech giant is considering 11 chipmaking facilities in the Austin area that it'd build over the next two decades. The proposed $192.1 billion investment would bring more than 10,000 jobs.
\u201cThe CHIPS Act will supercharge our efforts to make semiconductors here in America. It will make cars, appliances, and computers cheaper and lower the costs of everyday goods. And, it will create high-paying manufacturing jobs across the country.\u201d

— Joe Biden (@Joe Biden) 1659828240
Micron Technology is another giant that could make a multi-billion regional investment.
At the start of the year, Micron Technology was reportedly considering a new plant in neighboring Caldwell and Williamson counties, though California, North Carolina and Arizona were also being reviewed as potential sites for the plant.
On Tuesday, Micron announced plans to invest $40 billion between now and 2030 for chip manufacturing in the U.S.
In a public video statement, CEO Sanjay Mehrotra noted how semiconductors are essential to many tools that are a part of everyday life such as computers, smartphones and cars.
"Today is a proud moment for the global Micron team and a strong step forward for American high tech manufacturing leadership," Mehrotra said. The company said specific plans for the investment will be made available in the coming weeks.
\u201cToday, we announced plans to invest $40 billion in the U.S. through the end of the decade to build leading-edge memory #manufacturing. Our investment will create 40k American jobs and strengthen U.S. supply chains. Watch this space! #jobs #innovation https://t.co/WPePuDVJs6\u201d

— Micron Technology (@Micron Technology) 1660050842
Recently, the city has made efforts to train Austin residents for the kind of roles companies like Micron and Samsung would try to fill. A couple of months ago, the city announced a "hire local" plan with Workforce Solutions to help people in fields like manufacturing and information technology get training to move up in their careers.
The bipartisan bill includes $52 billion in semiconductor subsidies. Nationwide, these incentives could create thousands of jobs and multiple fabs, the Semiconductor Industry Association estimates. Some of that could happen in the Austin area from companies looking to expand.
NXP Semiconductors is weighing a $2.6 billion expansion and Infineon Technologies is looking at a $700 million expansion. Respectively, those two could add 800 and 100 jobs.
Central Texas has a reputation as a major hub for semiconductors, and the competition with other areas could ramp up in the coming years as others like Qualcomm and Intel consider new facilities. Dallas-based Texas Instruments also celebrated the passing of the CHIPS Act.
"TI has an exciting manufacturing investment roadmap and these provisions will be meaningful to the development of our 300-mm water fabs in Texas and Utah," the company said in a Tuesday Twitter post.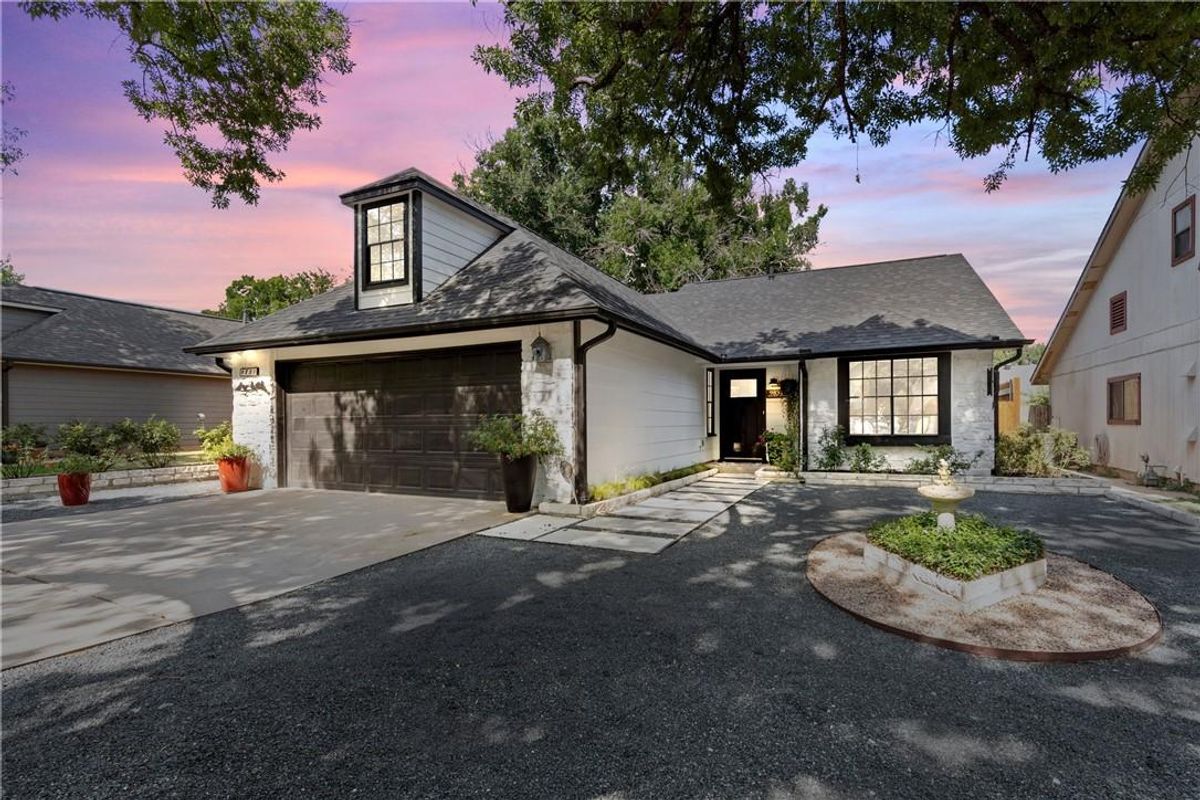 It's slowly but surely becoming easier to buy a house in Austin.
According to the Austin Board of Realtors, the median house price in the Austin-Round Rock metropolitan area is $537,475 as of July. Take a look at what that price range can get you.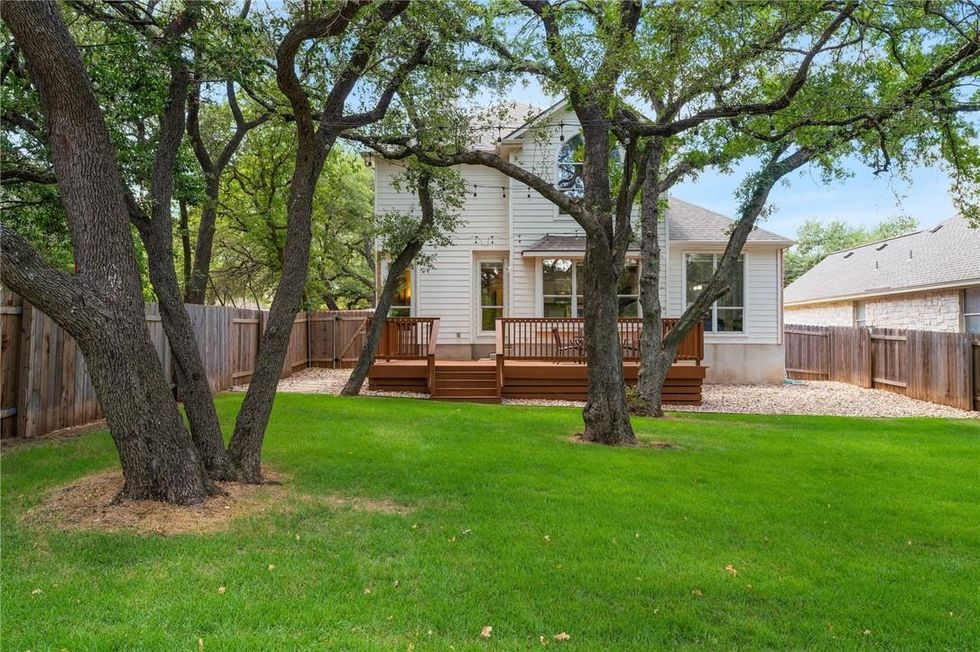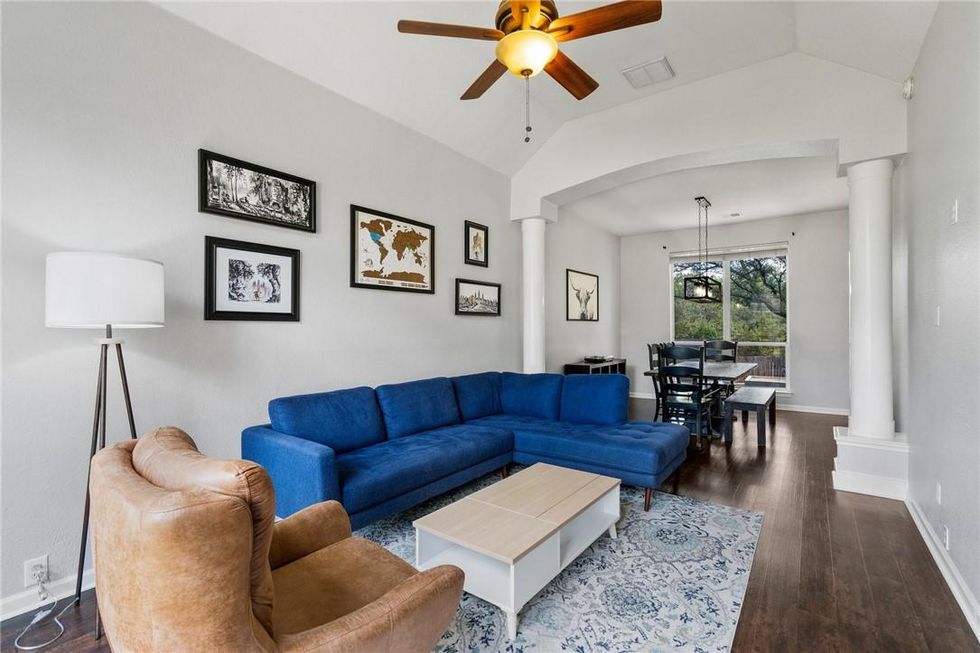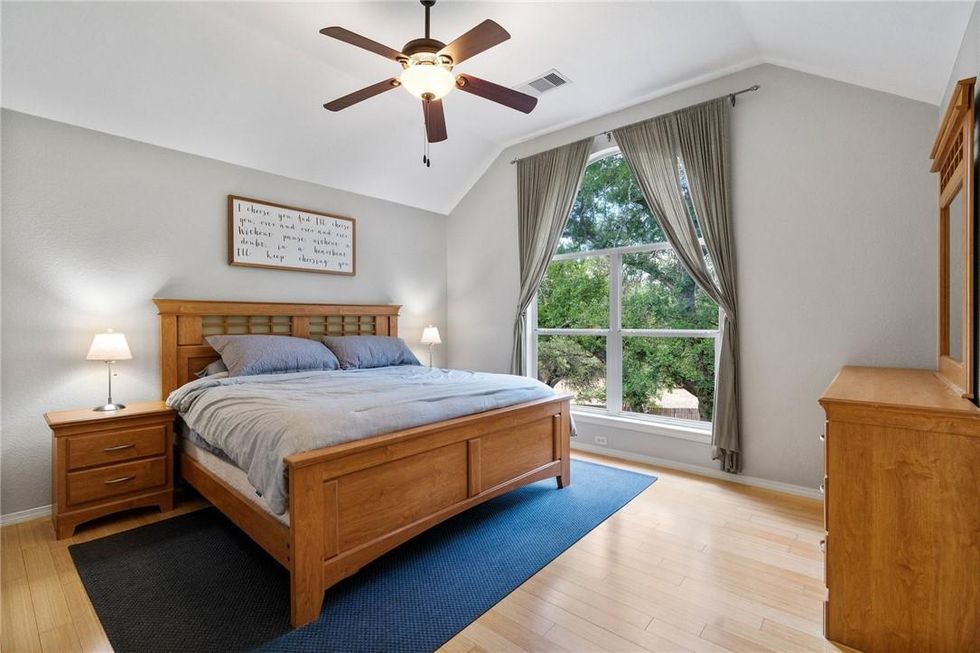 This two-story brick home is the biggest on the list, with four bedrooms and two-and-a-half bathrooms across 2,156 square feet in Round Rock. Characterized by its sky-high ceilings, large windows and newly updated fixtures, the home has a spacious backyard with mature trees, a wooden deck, a lounge area and close proximity to a nearby greenbelt.
This listing is held by Drew Griffin with Compass.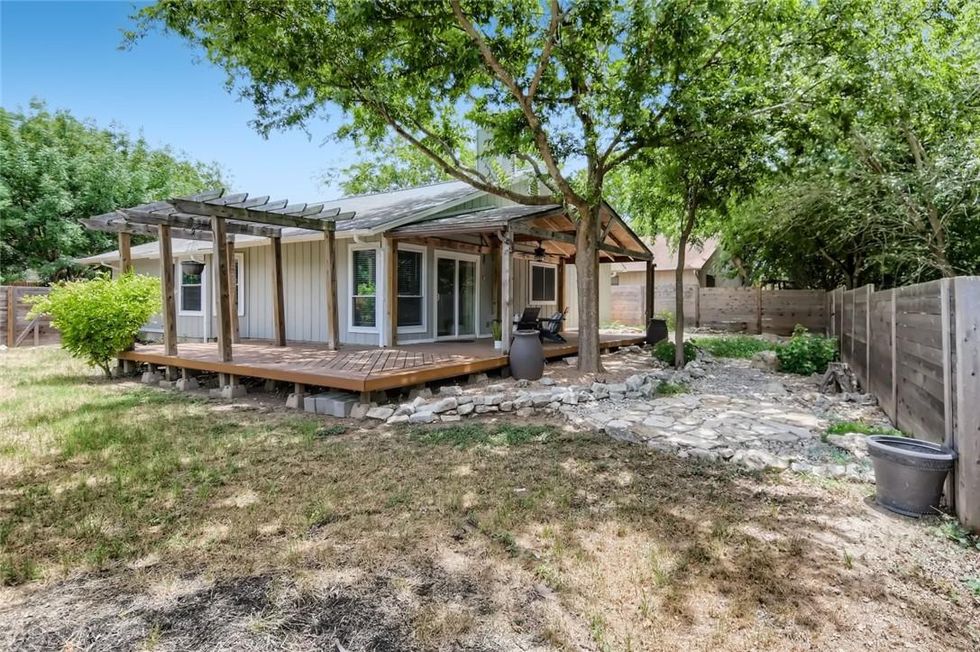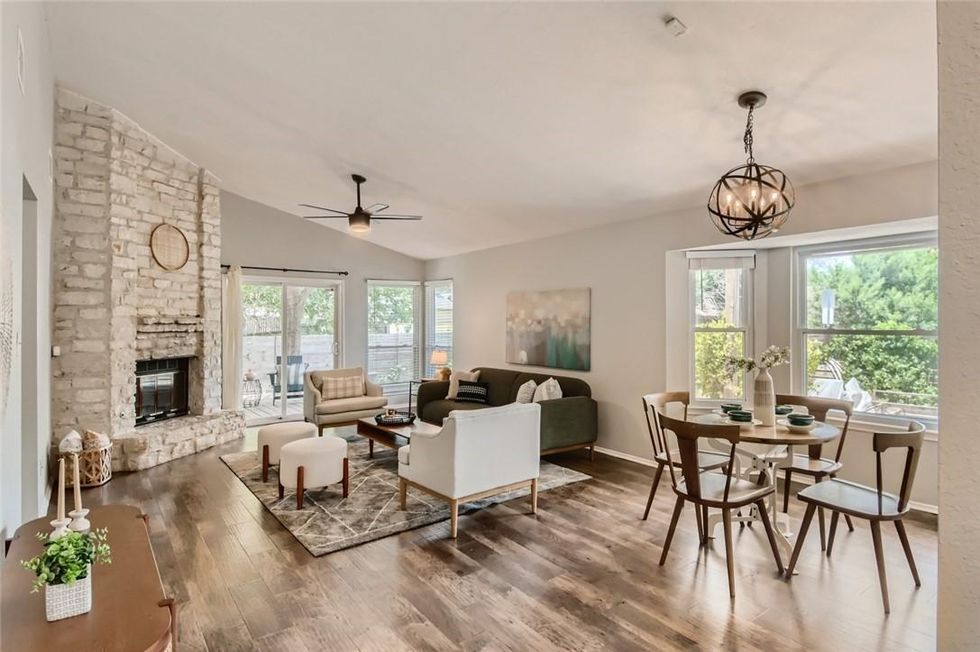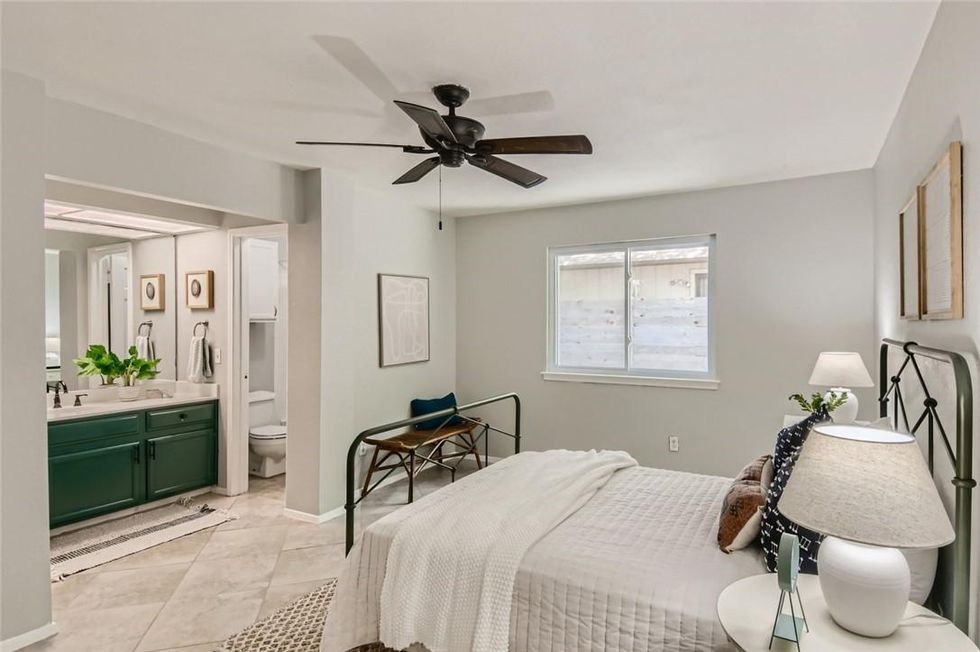 This recently updated three-bedroom, two-bathroom home was built in 1983 but fits in perfectly with the design standards of today. On top of newly-updated floors, roof and windows, this home comes complete with a floor-to-ceiling stone fireplace, a spacious open floor plan and plenty of natural light. The biggest gem of this house is its vaulted and covered back patio, which gives way to a large backyard on a corner lot. At 1,280 square feet, the home is just a few minutes away from The Domain and Q2 Stadium.
This listing is held by Jennifer Buterick and Nicole Marburger with Compass.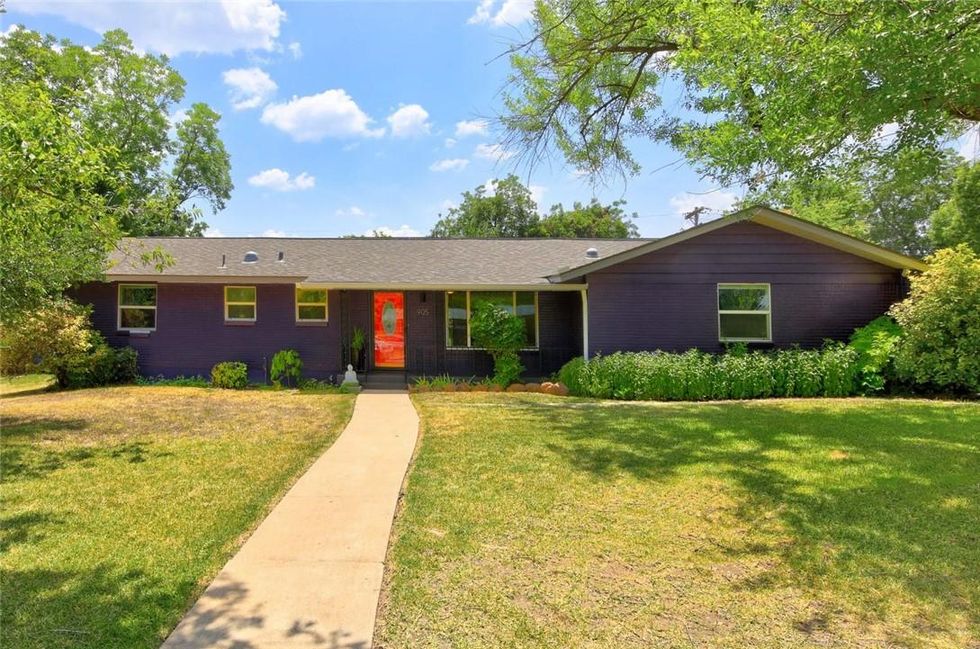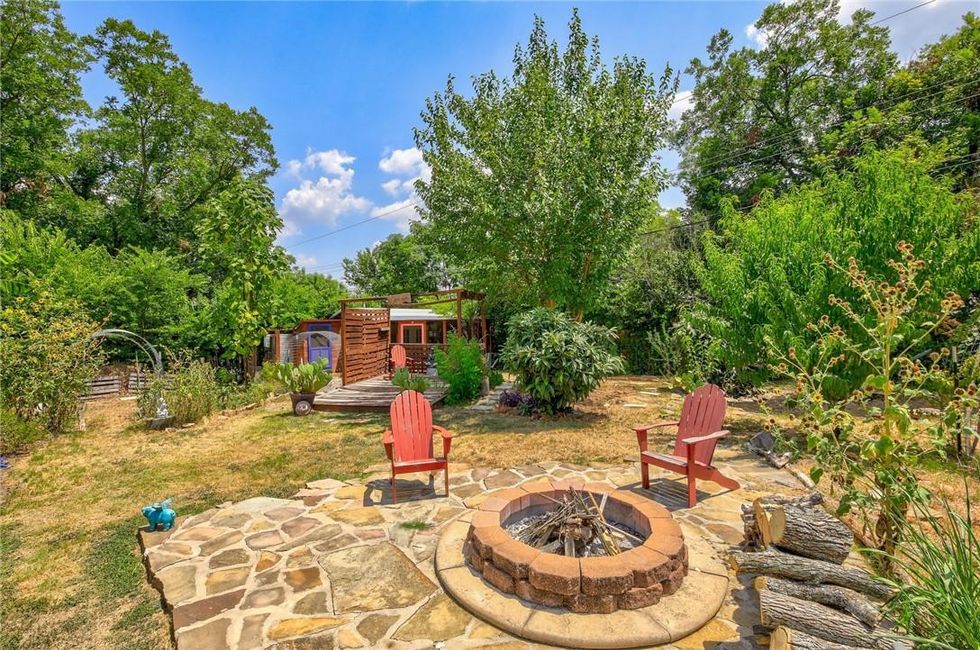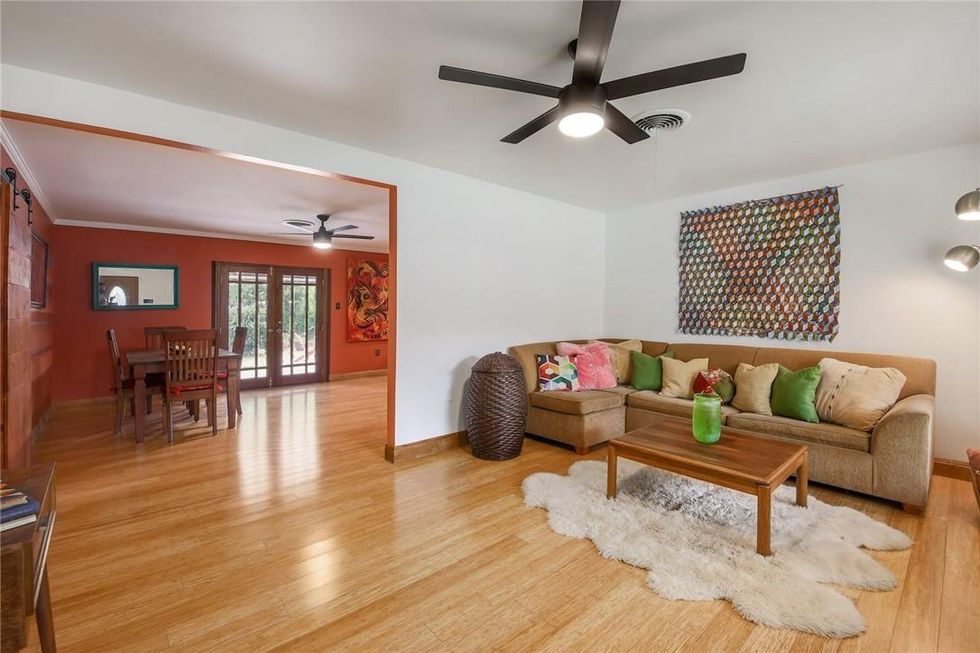 Another retro find, this 2,098-square foot home has character to go around and is looking for a caretaker who will love it as much as the last. With four bedrooms and two bathrooms, the house has plenty of room for a home office and is colorfully painted throughout, including bright blue kitchen cabinets. On a third of an acre, this home comes with 12 fruiting trees in the backyard, solar panels, rain-catching barrels and a converted garage with living space.
This listing is held by Niki Duncan with Compass.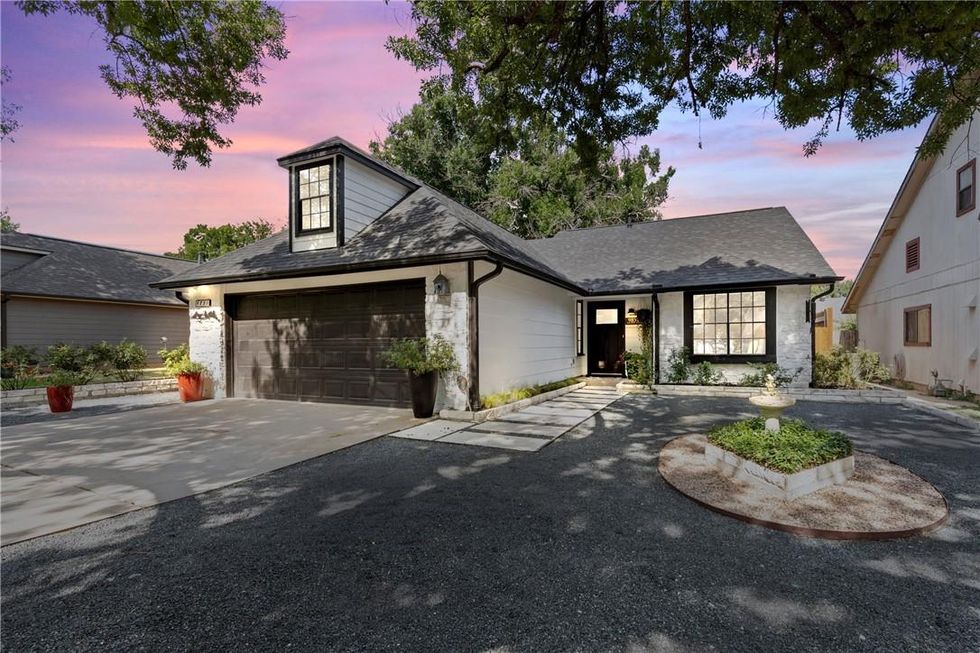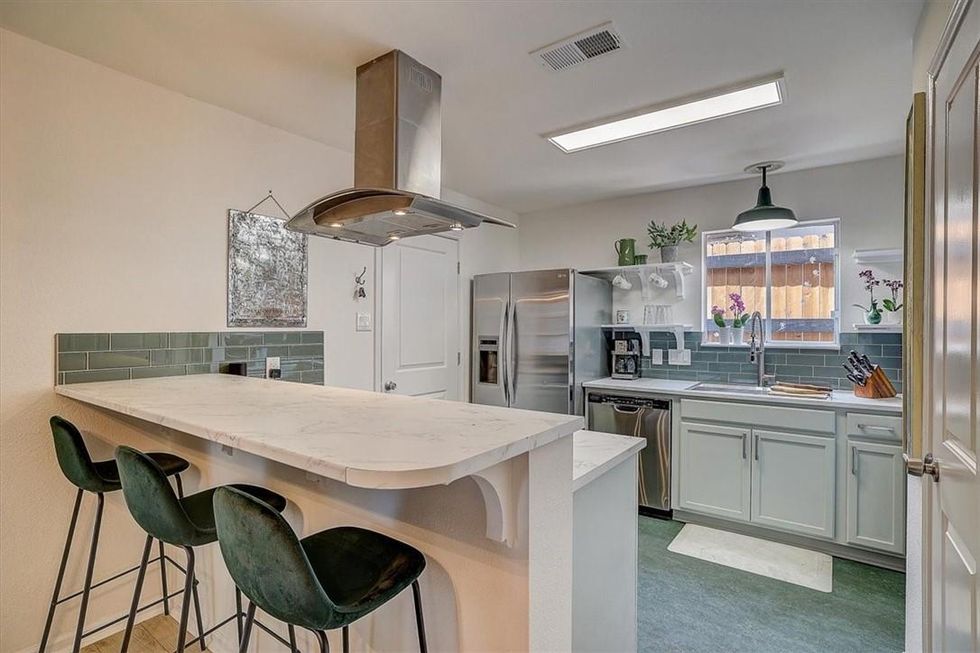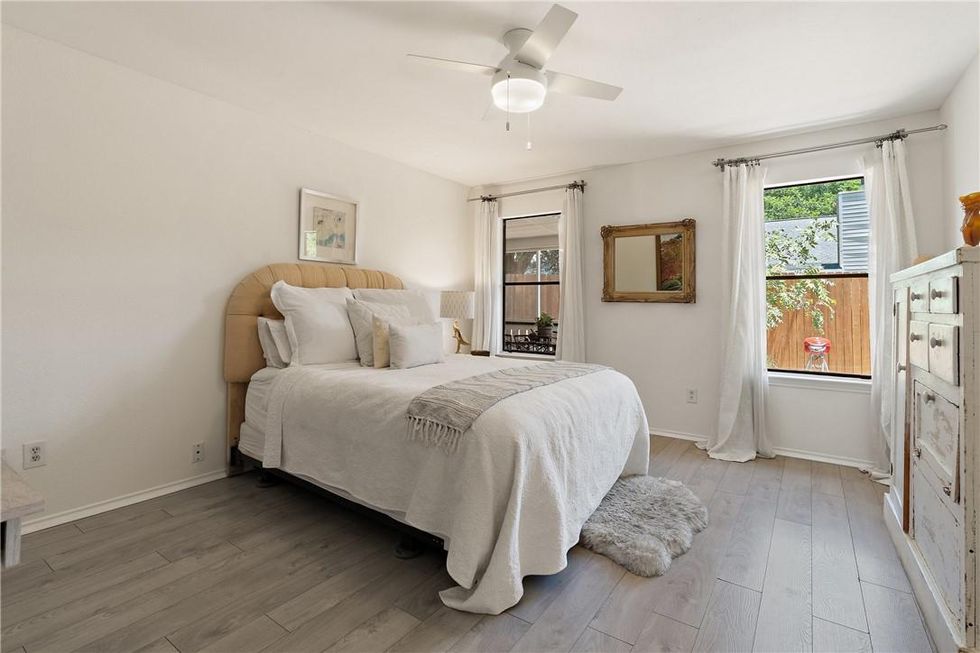 This three-bedroom, two-bathroom South Austin home has a wide-open floor plan and sparkling white interiors. The vaulted ceiling in the living room gives height to the room while the fireplace will keep you warm. An airy master suite comes with double pedestal sinks and two walk-in closets, so you don't have to worry about sharing space with your partner. Enjoy the Texas weather with a private yard, screened-in porch, and fire pit.
This listing is held by Michelle Hendrix and Khani Zulu with Compass.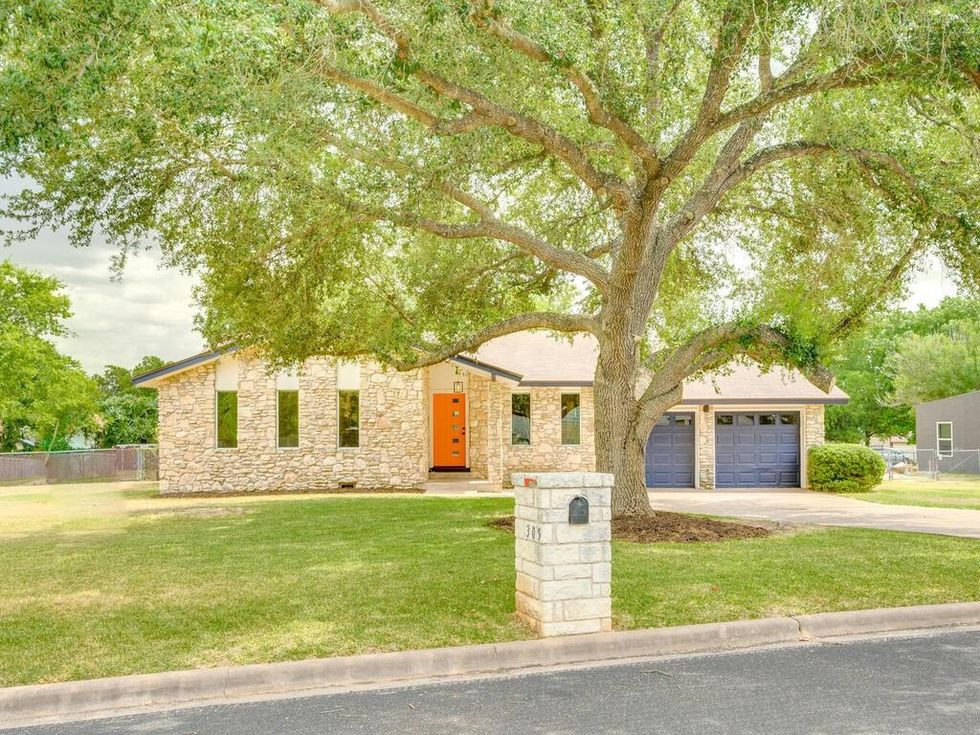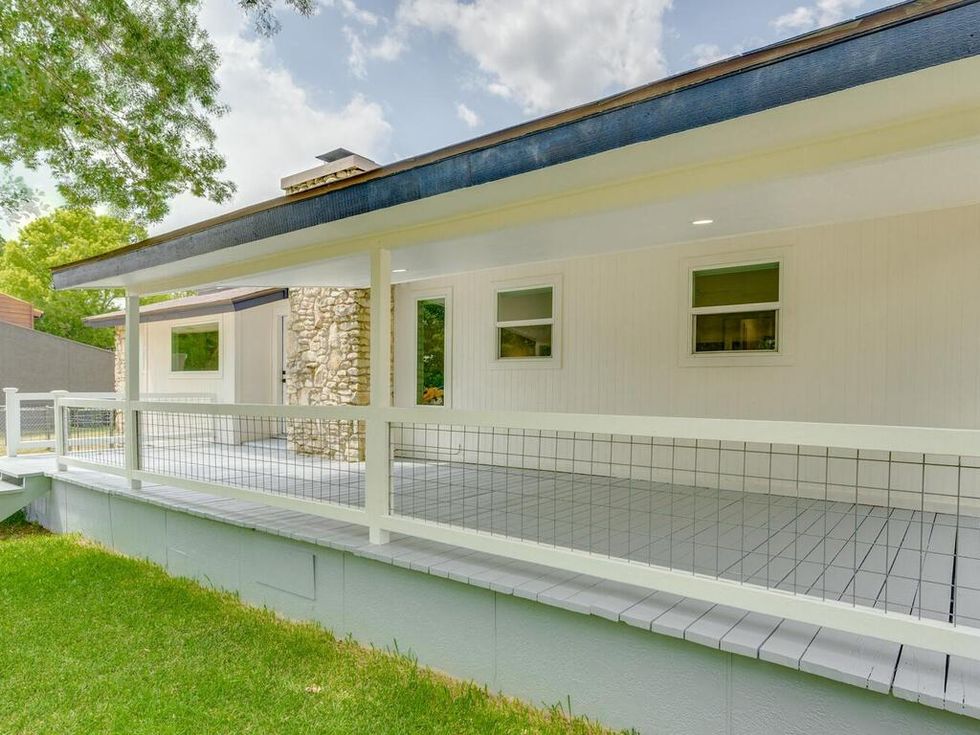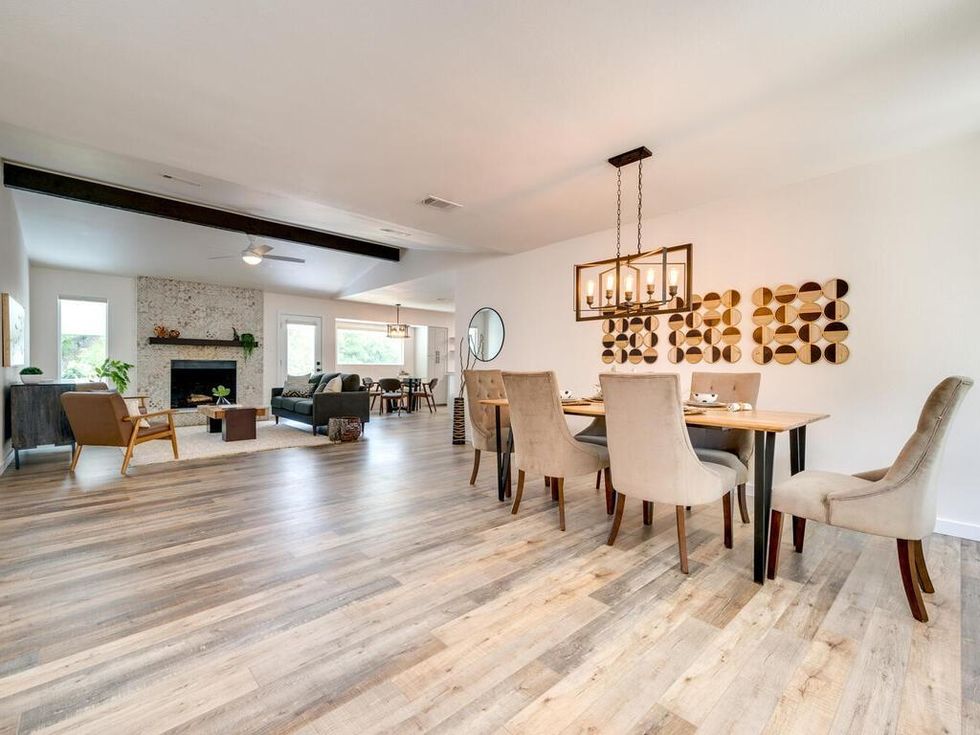 A retro-on-the-outside, single-story home was built in 1973 but has been given a full modern update on the inside. The three-bedroom, two-bathroom, 1,676-square foot home is situated on a half acre of land, complete with an above-ground pool and covered porch to keep you shady during the oppressive heat. Inside, you'll walk directly into an open living and dining area, which features a floor-to-ceiling tiled fireplace, that leads to the breakfast nook, and kitchen with mosaic-tiled backsplash and a built-in wine rack.
This listing is held by Derek Peterson with Compass.