Get connected with our daily update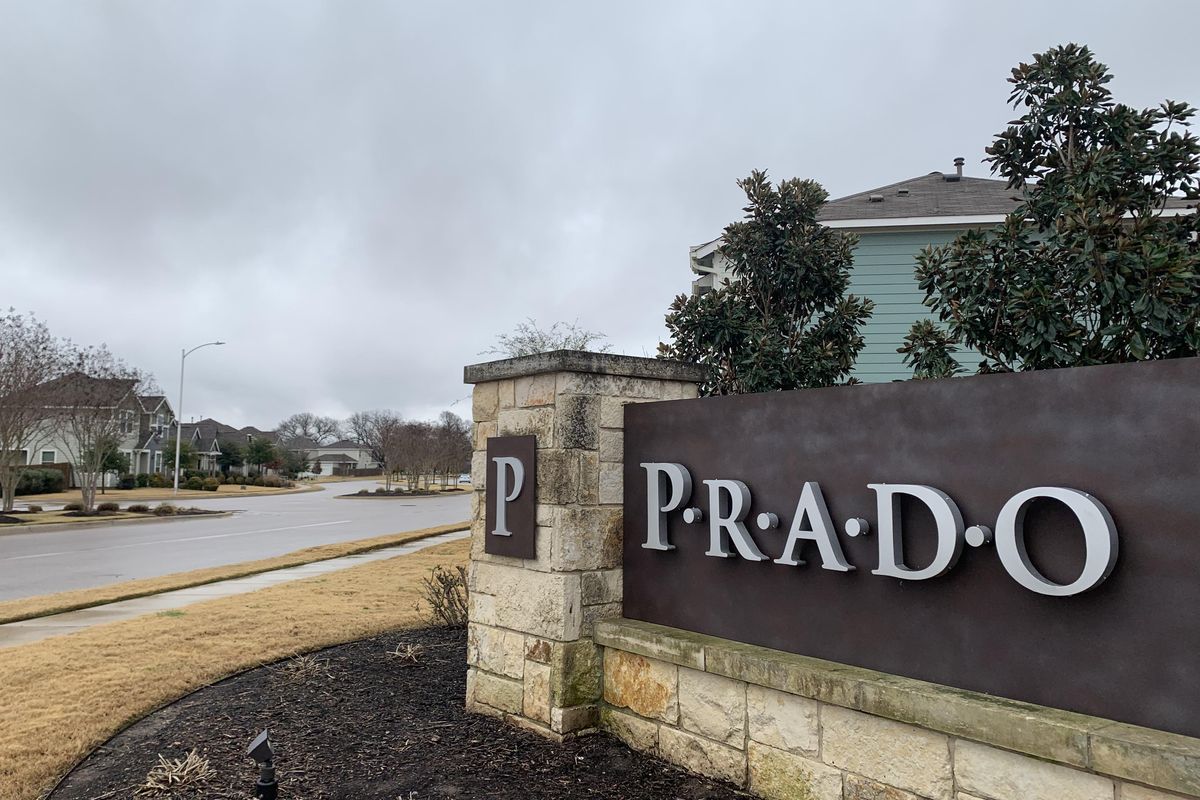 Brandon Reich and his wife needed a backup plan after an offer they put on a home just west of the Austin-Bergstrom International Airport fell through. That's when they found the Prado neighborhood in southeast Travis County.
In 2018, the couple settled into a home that would end up being less than three miles from the headquarters of the world's leading electric vehicle maker.
---
"I think it was positive news," Reich said of the moment he learned that Tesla would be landing in Austin, adding that the area is currently limited to a couple of other neighborhoods and the factory. "As far as we were concerned, it was more hopeful in that it would more quickly develop the area and accelerate things. Like we really want a grocery store that's not 15 minutes away."
Sitting under a shared neighborhood pavilion near his home, Reich talks about his neighborhood saying it's peaceful with nice sidewalks and a play area. Across the street is the wastewater treatment plant which he refers to as a "poop farm."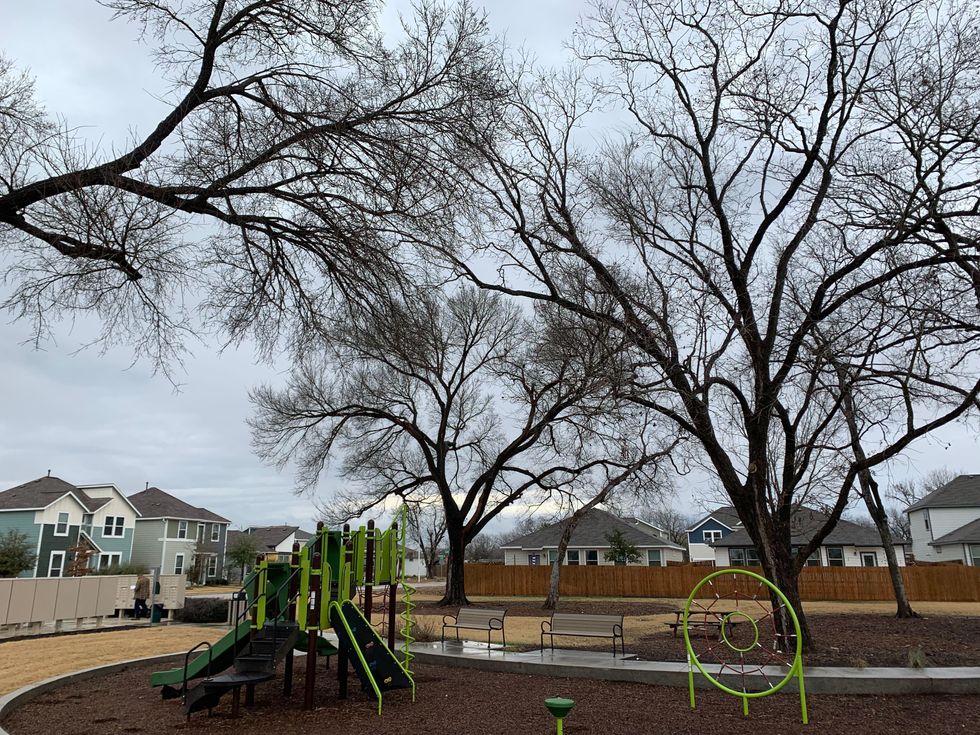 A playground by Giga Texas in Southeast Travis County. (Andrea Guzman/Austonia)
For Reich, who works from home as a filmmaker, and his wife who works in land planning and development, finding their home years ago feels lucky. After Tesla started investing more in Austin, Reich said he and his neighbors saw their home value jump about $50,000.
"We could not afford to live here in our neighborhood if we were to be searching after the announcement of Tesla HQ," said Reich, who spent $207,000 on his home.
In December 2021, the Austin Board of Realtors reported a median home price of $375,00 in Reich's zip code. Near the end of last year, home prices near the factory were up 45% from what they were in 2020 and 10% higher than the rest of the Austin-Round Rock metro area. A report by Suzy Hartgrove, who analyzes submarkets, showed 10 proposed developments totaling nearly 3,200 units. And earlier this month, Houston-based real estate firm Hines announced a $500 million mixed-use development.

Still, there's little else for now. There's an observation point of the factory along with an auto parts store, an asphalt plant and a computer service store.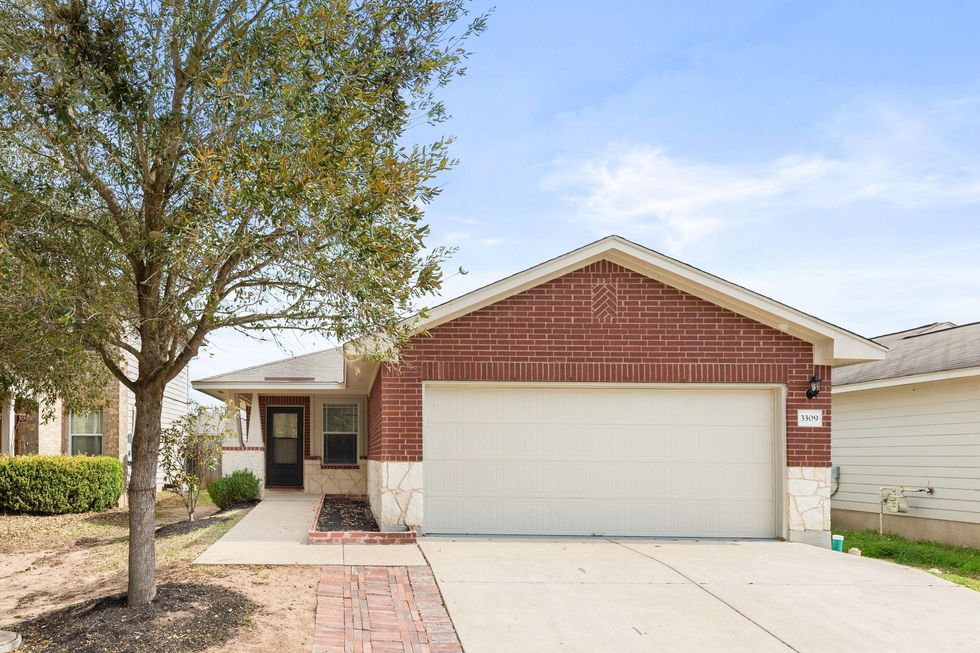 An Airbnb at Hornsby Bend near Giga Texas. (Neb Franc/Redfin)
Neb Franc, who lives and manages a condo in San Diego, California, bought a house near the Gigafactory that he now rents out on Airbnb for $244 a night. The Tesla investor and fan dubbed the three-bedroom property the Tesla Giga Texas Home, and it's booked out through March.
"I think just by keeping the prices in moderation, especially compared to Austin proper markets, I think that helps us being pretty heavily booked," Franc said. "This year, we're definitely going to break even on the cost of improvements and then our loan repayments."
Getting the house wasn't easy. Franc said during his first attempt buying a home near the factory in 2020—the year Austin was announced as the home of Giga Texas—he made the second-best offer and was passed up. On the home he now owns, he said it came on the market at 10 a.m. and within two hours a real estate agent was typing up a contract for him. When the agent checked her phone, it was flooded with six voicemails all with cash offers.
To Franc, this competitiveness is a little worrisome and he notices that locals are having a tough time keeping up with pricing.
"They're going to be priced out, which is unfortunate for the local population because it seems there's nonstop pressure—I keep track on the market and it seems it's still going up steadily," Franc said. "Austin is going to grow. It's going to become a big, expensive city with tons of high-paying good tech jobs. But nonetheless, it's going to be pricey."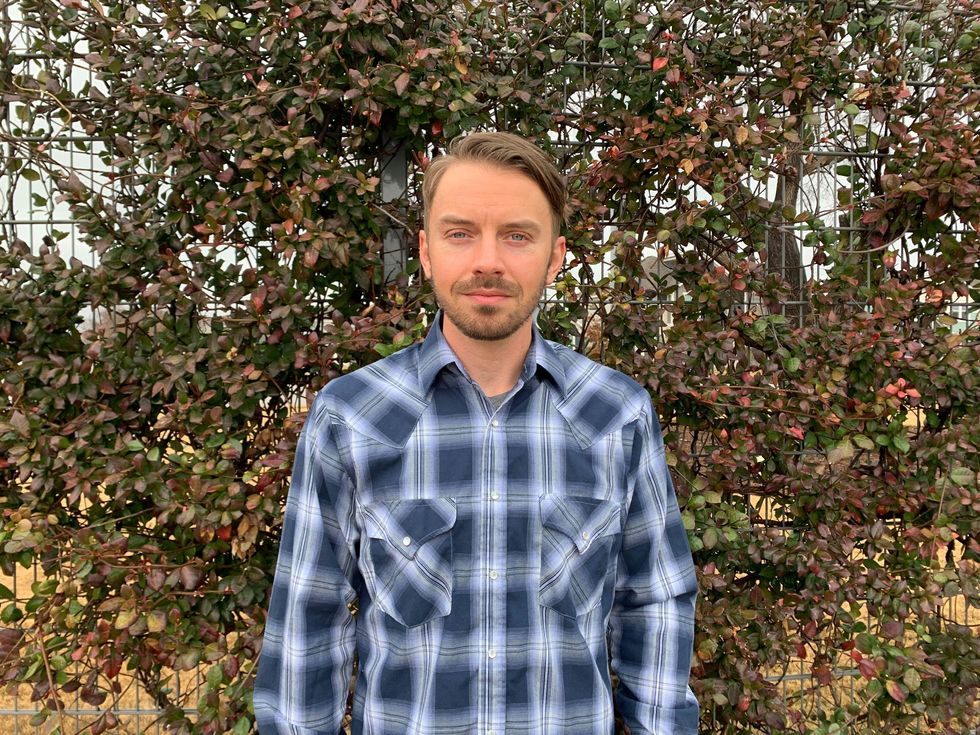 Brandon Reich lives with his wife and toddler in the Prado neighborhood by Giga Texas. (Andrea Guzman/Austonia)
As for Tesla as a neighbor, Reich said it seems there are some conversations lacking between the community and the EV maker.
"I think it's important for management to recognize and also communicate with the surrounding community that they're developing. Because the extent is large, not only from a financial standpoint but there's a great impact on people of all sorts," Reich said.
The factory has given rise to heavier traffic, and construction on facilities has brought power outages nearby. But Reich has a strong connection to the area. He shot his first feature film on the land that eventually turned into homes near his and he's excited about a film studio coming nearby, in Bastrop. So for him, the sacrifices that come with being near Tesla are worth it.
"I know Austin's on the rise and people are moving here," Reich said. He added that his goal is to continue living and working in Austin and serving the community. But he sees how Tesla and other newcomers driving Austin's growth are having an adverse impact. "So the fact that rents are on the rise and prices, housing, everything is just going up. I have a heart for anyone who's struggling or just can't make it."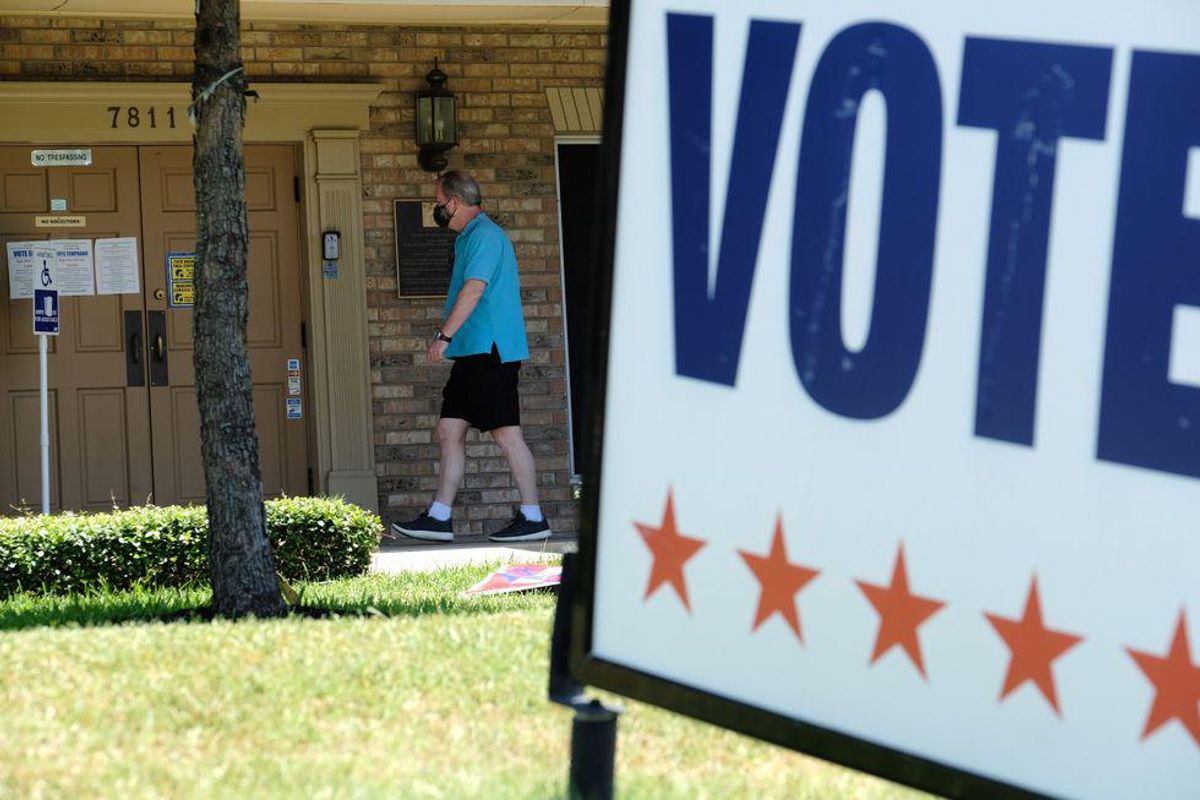 May's second election is here, in which voters will decide on the candidates to represent their party in the November general election after the winner in some March primary races was unclear.
Just like the March primaries, voters will choose which party they choose to vote in. Then based on location, each ballot will show which races are in a runoff.
In Texas, candidates must win at least 50% of the vote to be elected. In the races where the top candidate only received a plurality of votes, a runoff is being held.
Here's everything you need to know before heading to the polls.
Know before you go
Early voting for the Texas primary runoff election begins Monday and will last through May 20; Election Day is May 24.
The registration period for this election has passed; check if you're registered to vote here.
The polls are open from 7 a.m. to 7 p.m. daily. As long as you're in line by 7 p.m., you can vote.
You'll need a valid photo ID to present once you're at a polling location.
Here are the early voting locations in Travis County.
View wait times at polling locations here.
Races to watch in Travis County:
Statewide
Lieutenant Governor
Republican: Incumbent Lt. Gov. Dan Patrick won his primary in March.
Democratic: Mike Collier and Michelle Beckley are vying to be the Democrat candidate on the ballot.
Attorney General
Republican: Incumbent AG Ken Paxton is fighting for his seat against George P. Bush.
Democratic: Rochelle Garza and Joe Jaworski will face off to be the Democratic candidate in this race.
View all the statewide races on the ballot here.
U.S. House of Representatives

View the district you live in here.
District 21
Republican: Incumbent Chip Roy won his primary in March.
Democratic: Claudia Andreana Zapata and Ricardo Villarreal are hoping to secure this vote.
District 35
Republican: Dan McQueen and Michael Rodriguez are going head to head to be the Republican candidate in this race.
Democratic: Former Austin council member Greg Casar won this race in March.
Texas House
District 19
Republican: Ellen Troxclair and Justin Berry are vying to be the Republican candidate in this race.
Democratic: Pam Baggett won her primary in March.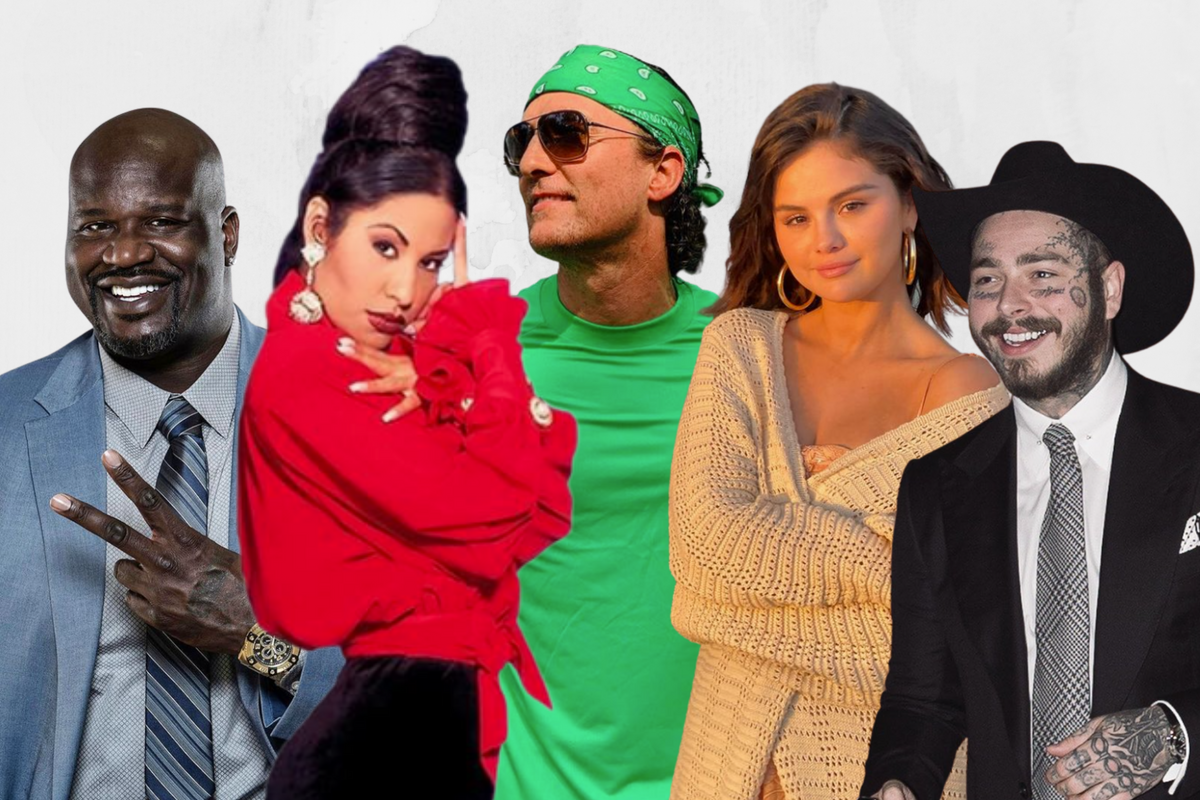 Texas has been home to some of the country's biggest celebrities of all time—think Amarillo resident Georgia O'Keeffe, Lubbock's Buddy Holly and Corpus Christi's famous singer Selena.
The Pudding's People Map of the U.S., which shows each city's "most Wikipedia'ed" resident, placed celebrities from all walks of life on the Texas map. As for Central Texas celebrities, there are some interesting (and not so surprising) names on deck.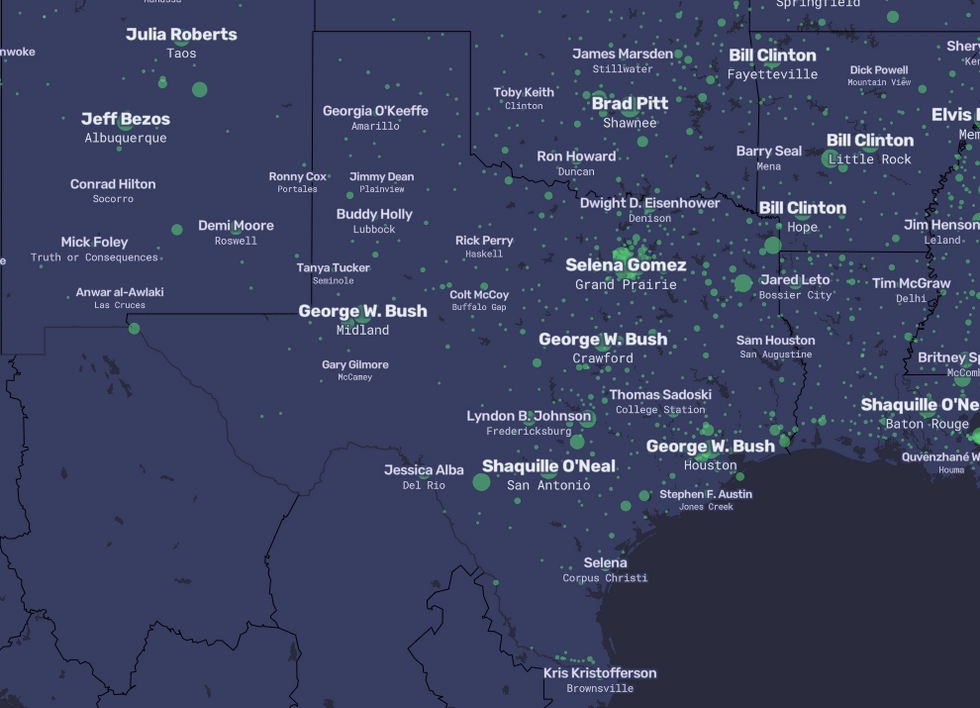 (The Pudding)
Proving that Austin is "alright, alright, alright," Minister of Culture Matthew McConaughey is both Austin's and Uvalde's top Wikipedia'ed resident. McConaughey, who was born in San Antonio adjacent Uvalde, has deeply ingrained himself in Austin by studying Radio-Television-Film at UT Austin, starring in the Austin-filmed movie "Dazed and Confused" and investing in Austin FC.
Heading down just a few miles south, San Marcos claimed former president Lyndon Baines Johnson as Texas State University's most famous alumni, who graduated in 1930, and was also named in Fredericksburg. LBJ wasn't the only ex-president on the map—George W. Bush was listed as the top resident in Dallas, Midland, Houston and Crawford.
You'll see some other names with ties to Austin strewn around the state: Janis Joplin in Beaumont and Port Arthur; Stone Cold Steve Austin in Victoria and Edna; Dan Rather in his hometown of Wharton; and Waylon Jennings in Littlefield.
Venturing outside of the central areas, there are big celebrities who call Texas Home. Actress and artist Selena Gomez dominated search traffic in her hometown of Grand Prairie, musical artist Post Malone was most "Wikipedia'ed" in Grapevine, and Shaquille O'Neal was named in the city where he went to high school, San Antonio.
Plus, Thomas Haden Church, Angela Kinsey, Jessica Simpson, Chuck Norris, Roy Orbison, Ron White, Jessica Alba, Colt McCoy, Jimmy Dean and Johnny Manziel all had at least one city covered on the list.
Where's Texas' newest resident, Elon Musk? You'll find him still in Los Angeles, as his foray into Texas living has just begun.
Click here
to view the full map.