Get connected with our daily update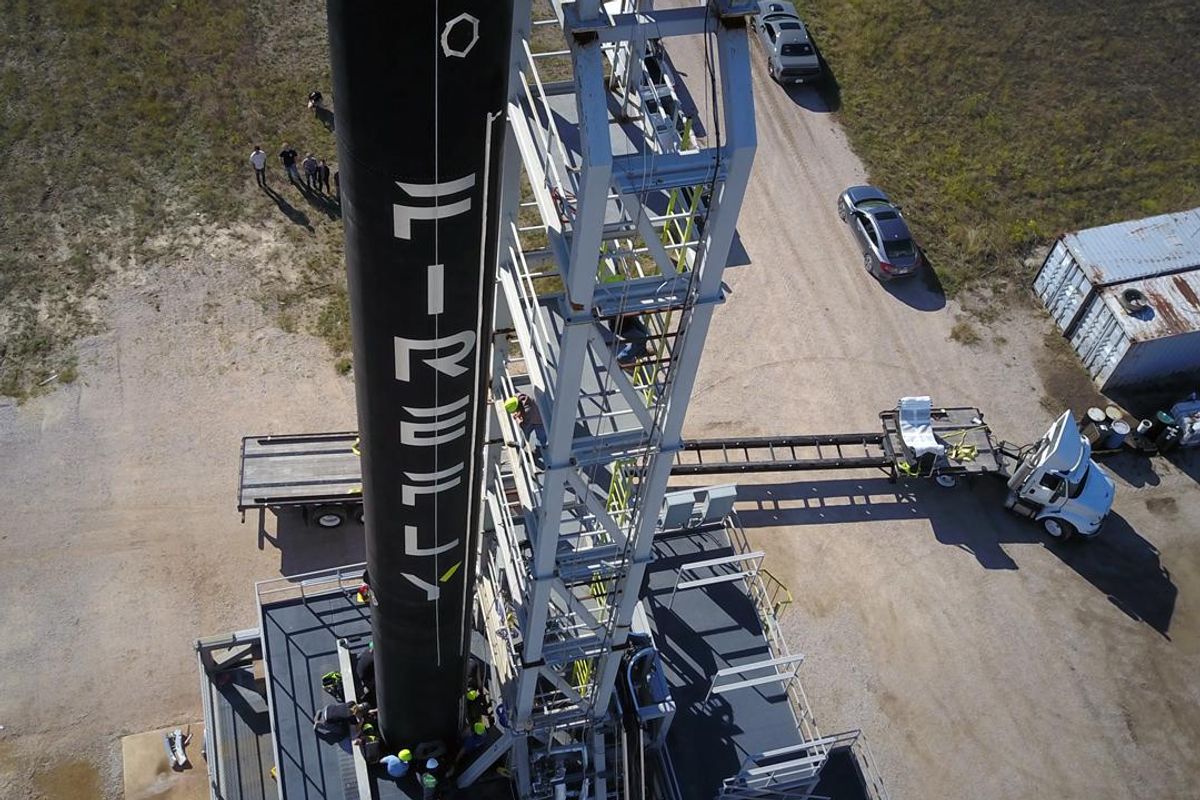 Some Austin startups are doing work that's out of this world.
---
Amid all the headlines of the Billionaire Space Race— the competition among Elon Musk, Jeff Bezos and Richard Branson to launch rockets and take tourist space flights— you may have missed the launch of these Austin projects.
From lunar missions to satellites and training the next generation of space explorers, these Austin startups are on the cutting edge of space tech:
ICON
A robotics, software, and building materials developer known as ICON has had their materials appear in 3D-printed East Austin homes and in a partnership with the Texas Military Department for 3D-printed barracks. But they're also making progress on space projects.
Last month, the company announced it was awarded a government research contract that includes funding from NASA to develop a space-based construction system that may support future Moon exploration.
The company now has a division focused on space. CEO Jason Ballard said the company was honored to start the work, which will be known as Project Olympus and the Olympus Construction System.
"Building humanity's first home on another world will be the most ambitious construction project in human history and will push science, engineering, technology, and architecture to literal new heights," Ballard said. "NASA's investment in space-age technologies like this can not only help to advance humanity's future in space, but also to solve very real, vexing problems we face on Earth."
Firefly
We are one step closer to landing on the Moon! After successfully completing @NASA's Critical Design Review (CDR), our Blue Ghost lunar lander is on schedule for a September 2023 landing in Mare Crisium. Congrats BG team! https://firefly.com/firefly-aerospace-is-one-step-closer-to-landing-on-the-moon/\u00a0\u2026 #Fireflypic.twitter.com/d4Rb3BsyKe

— Firefly Aerospace (@Firefly Aerospace) 1635169797
Even though their September test launch wound up in flames, startup rocket company Firefly is on schedule for a lunar mission after completing NASA's critical design review in October. CEO Tom Markusic remarked on the milestone, calling it "another step in an aggressive schedule."
"Meeting it continues to showcase our spacecraft team's ability to consistently deliver incredible work," Markusic said. "This mission is a forerunner of what we see as a growing cadence of recurring data and payload service missions in cis-lunar space that will kickstart a lunar economy."
The spacecraft, which has been dubbed the Blue Ghost lunar lander, has plans to touch down in the Mare Crisium lunar basin in September 2023 carrying ten NASA payloads and several commercial payloads.
But they won't stop there: the 2023 launch will be the first of what they expect to be yearly lunar surface missions for Firefly.
CesiumAstro
Building an array of communication systems satellites, UAVs, launch vehicles, and other space platforms, CesiumAstro has raised more than $14 million in venture capital and is looking to make a couple dozen more Austin hires. CEO Shey Sabripour founded the company in 2017 after a stint at Firefly, where he worked as chief technology officer.
In September, CesiumAstro announced a successful launch and deployment of its first 2 satellites, a move Sabripour described as getting them "one step closer to transforming in-orbit and aircraft connectivity."
"We will see major advancements over the course of the next decade which will revolutionize a highly-anticipated era of connected mobility," Sabripour said. "Our suite of core technologies is fully elevated through consistent and frequent testing as we initiate our first fleet deployments."
Now, CesiumAstro, which boasts that its satellites provide an on-orbit testbed for the next generation of wireless communications and sensing technologies, has entered its next phase of testing. The satellites are running experiments over the next few months through which the company offered demonstration partnerships with interested commercial and government organizations.
Slingshot Aerospace
Based in both Austin and El Segundo, California, Slingshot Aerospace started in 2017 and quickly secured key contracts with NASA, the U.S. Air Force, and others.
One contract was with the U.S. Space Force for a tool to train the next generation of space operators and engineers through simulations. But in September, the company announced it will be available for commercial use through a partnership with STEM3 Academy in an effort to make the space industry more accessible.
"The growing space industry needs top talent but many are not trained in fundamental spaceflight astrodynamics, which creates a barrier to entry. We've created a tool that enables companies to incorporate astrodynamics into their training curriculum, blasting the doors wide open on recruiting," CEO Melanie Stricklan said. "At the same time, young students who are interested in space can more easily understand complex methodologies through visual and collaborative learning, empowering them to develop concepts through investigative and explorative means—making space for everyone."
HyperSciences
Working in realms like clean energy and mining, Hypersciences does not define itself as an orbital space company and said it's looking to revolutionize multiple industries. Still, the company specializes in the application of hypersonic technology, which powers engines with velocities five times the speed of sound, and has made aerospace core to their research. They also supply equipment as a first-stage rocket replacement.
Mark Russell, a former lead engineer and manager for Jeff Bezos' Blue Origin, founded the Washington-based company in 2014, bringing on a team that includes Leon Vanstone, founder of the Texas Rocket Engineering Lab. The startup also has a key office in Austin.
"After years of looking at rocket after rocket, and trying to predict how they would fail, I realized that we needed a new way to fly," Russell said during an interview at South by Southwest in 2019.
He said he was drilling one night at 2 in the morning, in a hole that was over 3 kilometers when he had an "aha!" moment. "I'd seen a technology called ram accelerator from the University of Washington where it was just a tube filled with natural gas and air and you could take a projectile and fly through it and exit at multiple times the speed of sound putting vehicles to the edge of the atmosphere so you only need a teeny little rocket to get you into space," Russel said. "That put me down a path of both merging that aerospace with the underground solutions."
Enjoying Austonia? Signup for our newsletter to get daily Austin news, straight to your morning inbox!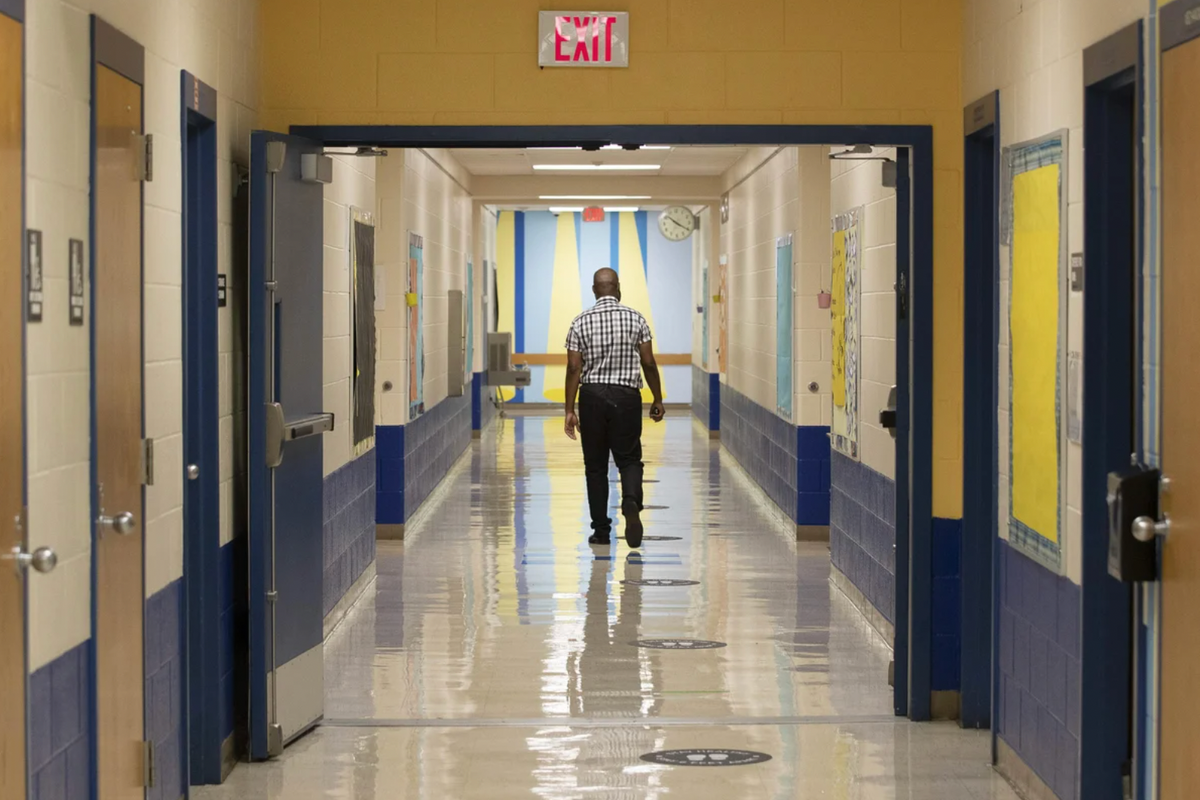 Matias Segura swept his hand across a whiteboard in his office at AISD headquarters, describing how an entrance vestibule works. It might remind you of a sally port at a prison. The vestibule is designed to protect our children from the active shooters who have plagued our nation since Columbine in 1999.
"You start with the signage," he said. "You know exactly where the entrance is, and that's for first responders too. We really want to make sure we keep up with visitor patterns. If they come in, they go through a system. Driver's license, background check, which takes about a minute. We have a software system."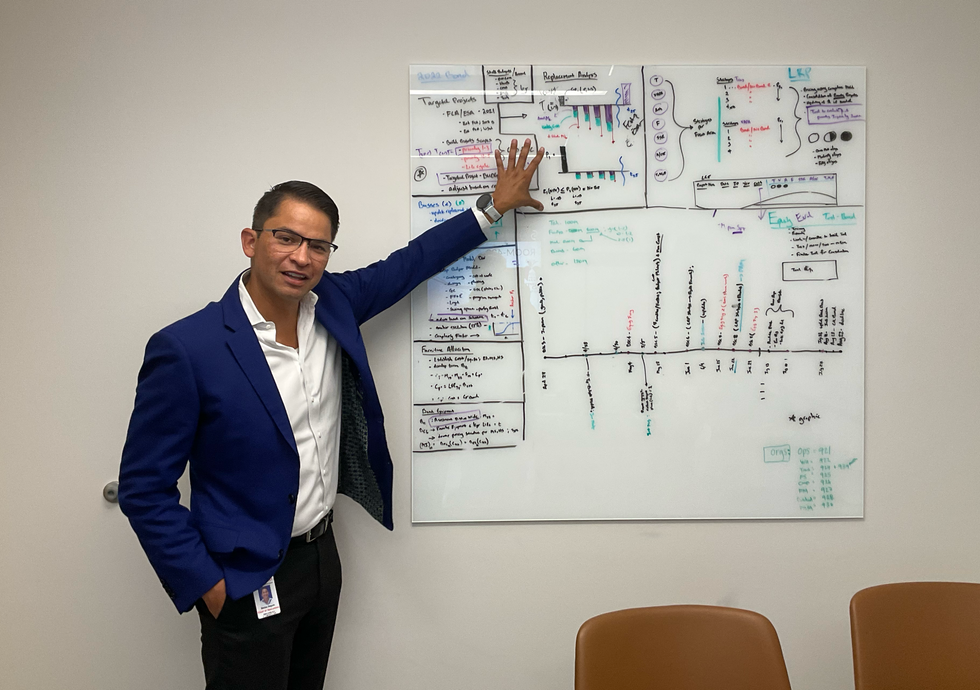 AISD Director of Operations Matias Segura explains the overall school construction and what the entry vestibule looks like. (Rich Oppel)
The vestibule has two sets of locked doors. The exterior set has an audio-visual intercom, operated by a desk officer who has a view of visitor parking, the building approach and the vestibule. If allowed in, a visitor is buzzed through and then faces questioning and clearance by the desk officer. The visitor is given a card-reader pass. If a second person attempts to "trail in" behind another visitor, he is trapped in the vestibule until his status is determined. The second set of doors, into the main school building, remains locked and shut. It is open when students arrive in the morning.
Thus, the days of walking into the school, maybe waving at the principal's executive assistant and strolling off to the cafeteria for lunch with your daughter are gone, a relic of a more bucolic time when "active shooters" were never imagined. But one must ask, what do we give up for greater safety?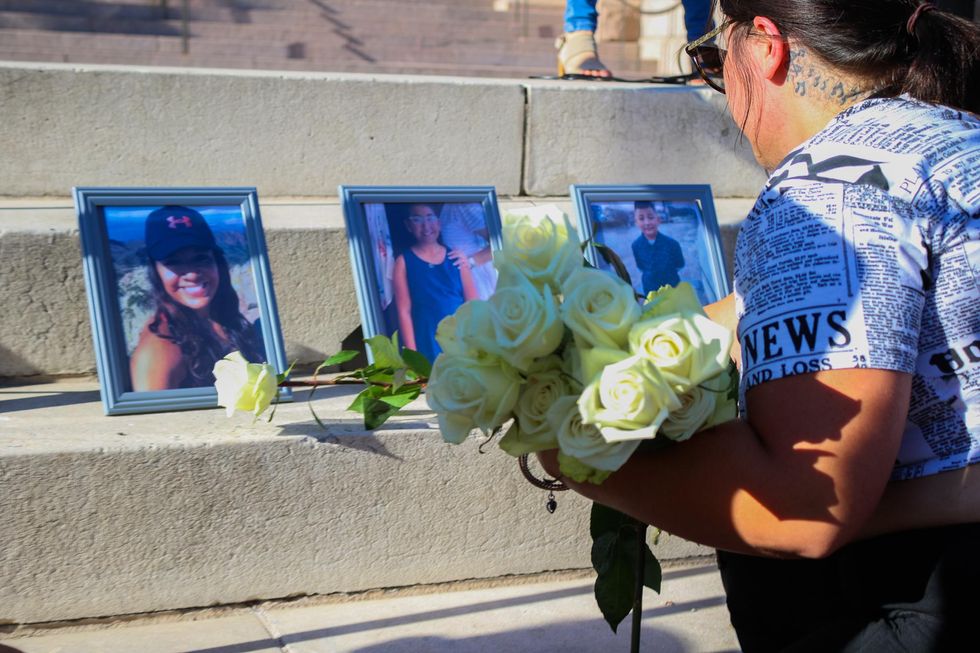 Austinites remembered the Uvalde shooting victims in a vigil at the Texas Capitol in May. (Tony Fuentes)
Some critics argue that we are at risk of losing traditional values in the redesign of schools, courthouses, hospitals, churches and shopping centers. Writing in The Washington Post, architecture critic Philip Kennicott said the nation's gun culture "threatens an essential precondition for democracy: its public space… Ideals of openness, flow, transparency and access will no longer be sustainable."
Segura contemplates the question. At 41, he has held his job as AISD director of operations for four and a half years. Prior to that he was a consultant who led the team to build Austin's new courthouse. His Austin and Texas roots are deep. He was born here, graduated from Bowie High, and went off to Lubbock to earn a degree in civil engineering from Texas Tech. He returned to secure an MBA at the University of Texas at Austin. He and his wife Joy Burson-Segura have two daughters who attend AISD schools. Segura said he and his operations team love AISD, care deeply about their work, and want citizens "to see us as partners."
Back to what we lose in hardening the schools.
Segura says, "We think about students' health. Having daylight, bringing light into a hardened facility, being able to access outdoor learning areas, (which is) hypercritical, especially in what we have learned in the pandemic." Segura doesn't like the idea of moats around schools (exotic, expensive) nor of classroom bomb shelters (what would teachers and students think about their looming presence?), efforts that are being tried elsewhere.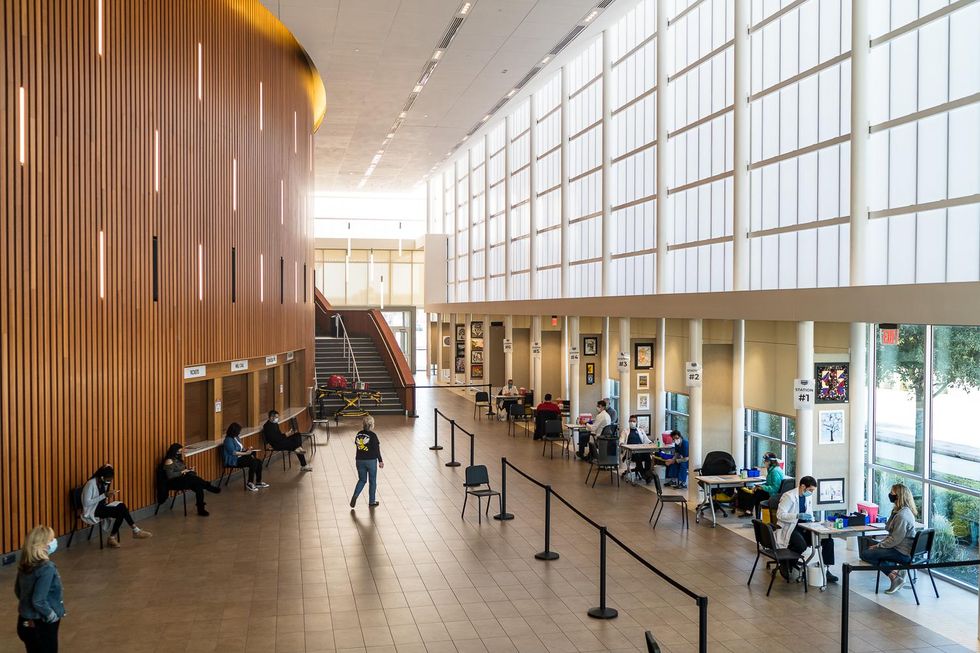 Healthcare workers receive the Moderna COVID-19 vaccine at the AISD Performing Arts Center in Mueller in 2021. (Jordan Vonderhaar)
AISD must juggle school security with the historic use of our schools for other purposes, such as voting, PTA-PTO meetings, community fairs, and, more recently, COVID-19 testing, vaccinations and food distribution. AISD does not want to end those uses, so the challenge is to design schools with separate rooms or places for those uses.
Clearly, Segura has thought about balancing conflicting equities. For him, it's not all locked doors and blank brick or concrete walls. He stresses the importance of building a culture that includes shared responsibility of all school employees where, for example, a custodian could ask a stranger whether they have a visitor's badge. All staffers should be well-trained in security measures, knowledgeable about new technology, and committed to working as a team to protect students, teachers and others. "We are working very, very hard on the culture," he says. "Also, we need (financial) investment if we are going to move the needle."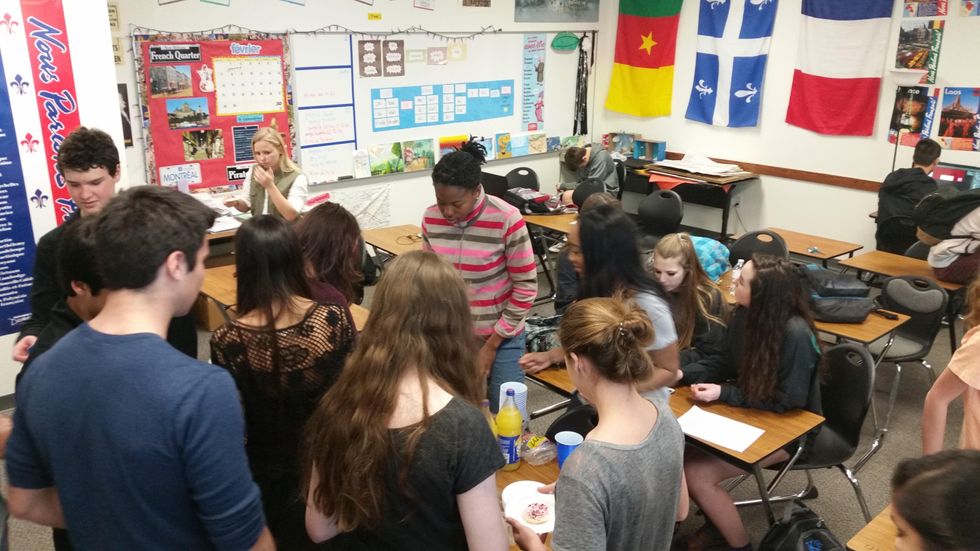 (Laura Figi)
Kennicott, the Washington Post critic, quotes the late Sen. Patrick Moynihan, a sociologist and New York Democrat, who said, "Architecture is inescapably a political art, and it reports faithfully for ages to come what the political values of a particular era were. Surely, ours must be openness and fearlessness in the face of those who hide in darkness."
But that was in 2001. What messages will Austin's new public schools convey to future generations about our 2021 political values?
"First and foremost, these are education spaces that belong to our community. Our objective is to create incredible learning experiences for our students and at the same time ensure that the students and staff are safe." He said he wants people to view schools as "inspired," places where they would want to send their children. "Great things are happening in that space," and that teachers see a place where they want to work and where they feel safe.
Voters in AISD will decide Nov. 8 on a $2.44 billion bond package to provide "funding for improvements to enhance safety, centers on equity, benefits every campus, and addresses affordability," according to AISD officials.