Get connected with our daily update
Some Austin startups are doing work that's out of this world.
---
Amid all the headlines of the Billionaire Space Race— the competition among Elon Musk, Jeff Bezos and Richard Branson to launch rockets and take tourist space flights— you may have missed the launch of these Austin projects.
From lunar missions to satellites and training the next generation of space explorers, these Austin startups are on the cutting edge of space tech:
ICON
A robotics, software, and building materials developer known as ICON has had their materials appear in 3D-printed East Austin homes and in a partnership with the Texas Military Department for 3D-printed barracks. But they're also making progress on space projects.
Last month, the company announced it was awarded a government research contract that includes funding from NASA to develop a space-based construction system that may support future Moon exploration.
The company now has a division focused on space. CEO Jason Ballard said the company was honored to start the work, which will be known as Project Olympus and the Olympus Construction System.
"Building humanity's first home on another world will be the most ambitious construction project in human history and will push science, engineering, technology, and architecture to literal new heights," Ballard said. "NASA's investment in space-age technologies like this can not only help to advance humanity's future in space, but also to solve very real, vexing problems we face on Earth."
Firefly
We are one step closer to landing on the Moon! After successfully completing @NASA's Critical Design Review (CDR), our Blue Ghost lunar lander is on schedule for a September 2023 landing in Mare Crisium. Congrats BG team! https://firefly.com/firefly-aerospace-is-one-step-closer-to-landing-on-the-moon/\u00a0\u2026 #Fireflypic.twitter.com/d4Rb3BsyKe

— Firefly Aerospace (@Firefly Aerospace) 1635169797
Even though their September test launch wound up in flames, startup rocket company Firefly is on schedule for a lunar mission after completing NASA's critical design review in October. CEO Tom Markusic remarked on the milestone, calling it "another step in an aggressive schedule."
"Meeting it continues to showcase our spacecraft team's ability to consistently deliver incredible work," Markusic said. "This mission is a forerunner of what we see as a growing cadence of recurring data and payload service missions in cis-lunar space that will kickstart a lunar economy."
The spacecraft, which has been dubbed the Blue Ghost lunar lander, has plans to touch down in the Mare Crisium lunar basin in September 2023 carrying ten NASA payloads and several commercial payloads.
But they won't stop there: the 2023 launch will be the first of what they expect to be yearly lunar surface missions for Firefly.
CesiumAstro
Building an array of communication systems satellites, UAVs, launch vehicles, and other space platforms, CesiumAstro has raised more than $14 million in venture capital and is looking to make a couple dozen more Austin hires. CEO Shey Sabripour founded the company in 2017 after a stint at Firefly, where he worked as chief technology officer.
In September, CesiumAstro announced a successful launch and deployment of its first 2 satellites, a move Sabripour described as getting them "one step closer to transforming in-orbit and aircraft connectivity."
"We will see major advancements over the course of the next decade which will revolutionize a highly-anticipated era of connected mobility," Sabripour said. "Our suite of core technologies is fully elevated through consistent and frequent testing as we initiate our first fleet deployments."
Now, CesiumAstro, which boasts that its satellites provide an on-orbit testbed for the next generation of wireless communications and sensing technologies, has entered its next phase of testing. The satellites are running experiments over the next few months through which the company offered demonstration partnerships with interested commercial and government organizations.
Slingshot Aerospace
Based in both Austin and El Segundo, California, Slingshot Aerospace started in 2017 and quickly secured key contracts with NASA, the U.S. Air Force, and others.
One contract was with the U.S. Space Force for a tool to train the next generation of space operators and engineers through simulations. But in September, the company announced it will be available for commercial use through a partnership with STEM3 Academy in an effort to make the space industry more accessible.
"The growing space industry needs top talent but many are not trained in fundamental spaceflight astrodynamics, which creates a barrier to entry. We've created a tool that enables companies to incorporate astrodynamics into their training curriculum, blasting the doors wide open on recruiting," CEO Melanie Stricklan said. "At the same time, young students who are interested in space can more easily understand complex methodologies through visual and collaborative learning, empowering them to develop concepts through investigative and explorative means—making space for everyone."
HyperSciences
Working in realms like clean energy and mining, Hypersciences does not define itself as an orbital space company and said it's looking to revolutionize multiple industries. Still, the company specializes in the application of hypersonic technology, which powers engines with velocities five times the speed of sound, and has made aerospace core to their research. They also supply equipment as a first-stage rocket replacement.
Mark Russell, a former lead engineer and manager for Jeff Bezos' Blue Origin, founded the Washington-based company in 2014, bringing on a team that includes Leon Vanstone, founder of the Texas Rocket Engineering Lab. The startup also has a key office in Austin.
"After years of looking at rocket after rocket, and trying to predict how they would fail, I realized that we needed a new way to fly," Russell said during an interview at South by Southwest in 2019.
He said he was drilling one night at 2 in the morning, in a hole that was over 3 kilometers when he had an "aha!" moment. "I'd seen a technology called ram accelerator from the University of Washington where it was just a tube filled with natural gas and air and you could take a projectile and fly through it and exit at multiple times the speed of sound putting vehicles to the edge of the atmosphere so you only need a teeny little rocket to get you into space," Russel said. "That put me down a path of both merging that aerospace with the underground solutions."
Enjoying Austonia? Signup for our newsletter to get daily Austin news, straight to your morning inbox!
The holiday season is upon us, so get ready to celebrate with carols, snacks and light shows galore. Austin is full of holiday festivities spanning throughout all of December so get out and enjoy the cool weather while it lasts.
Don't miss these nine holiday-themed light shows.
Austin's most famous annual light show and a Readers Choice of USA Today's 10 Best Public Displays of Holiday Lights, the Trail of Lights will be drive-thru again this year Nov. 27-Dec. 31. For 57 years in a row, the Trail of Lights has lit up Zilker Park with games, food, local vendors and more than two million lights gleaming for the holidays. The event, as always, is free to the public and you can reserve slots here. The Zilker Tree is already up, so you can already see it if the holiday cheer is too much to bear.
Coming back for the second year in a row, Peppermint Parkway will transport you to COTALAND, where six million lights gleam and Christmas is just a one-mile drive away. The hybrid event will have you drive through the display of lights, dancing elves and unique little villages before you hit the walking plaza, where you can grab a bite to eat and meet Santa. Tickets range from $40-$95, some including a lap around the COTA track, running from Nov. 26-Dec. 26.
Dreamland Dripping Springs has been transformed into a winter wonderland—running throughout the month of December, the venue's first-ever holiday display is taking over with activities for the whole family. Plus, running from Nov. 20-Jan. 4, a pop-up ice skating rink will really bring the holiday cheer for $10 or $5 Monday specials. The lights display will feature half a million lights and warm, festive sips from the taproom.
With events galore for the holiday season, winter is really when the Hill Country Galleria thrives. Starting with its Light Up The Plaza event on Saturday from 6-8 p.m., where visitors can see Santa, gaze at the official lighting of the holiday tree and hear some live tunes from rock band American Authors. The Galleria will also hold a holiday market every Thursday, Friday and Saturday leading up to Christmas Eve and periodic photos with Santa at Buenos Aires Cafe.
Deck the Halls at the Driskill Hotel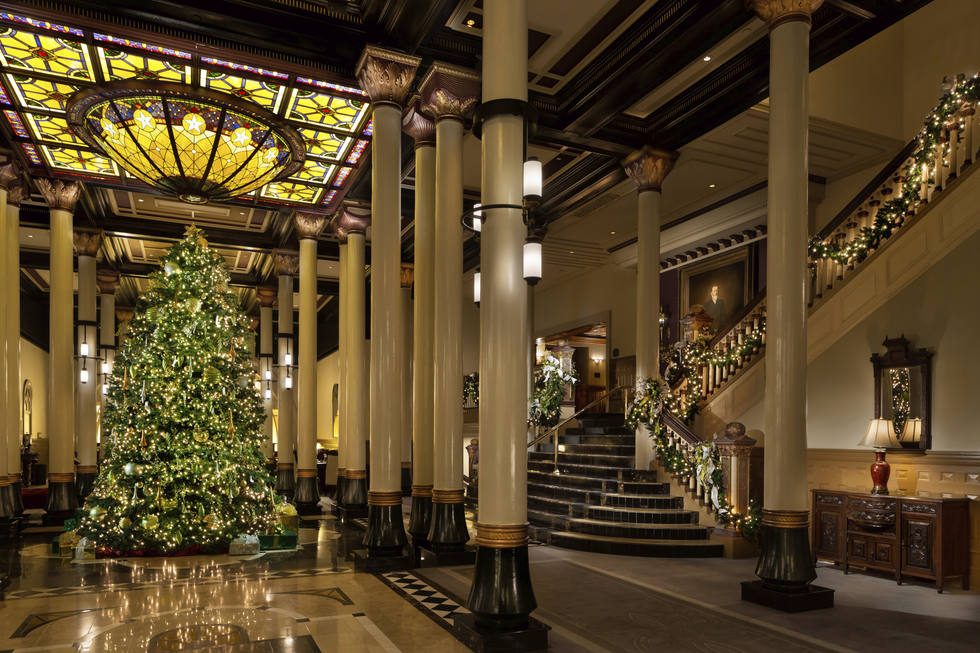 (Courtesy of the Driskill Hotel)
This holiday season, the Driskill will deck out every nook and cranny of the historic hotel from the grand staircase to the 16-foot Christmas tree in the lobby to be lit on a Dec. 1 ceremony that will be open to the public. Touches of Driskill festivities can also be seen at Dell Children's Hospital with a gingerbread village for its annual "Cookies for Caring" event.
Kicking off the lighting of the tree on Saturday, Dec. 4, Austinites will gather on the steps of the Texas Capitol at 6 p.m. to sing the 45-foot tree to life. Afterward, local band Los Coast will close out the night with a free concert. The fun doesn't stop there though as the Downtown Austin Alliance will host the Downtown Holiday Stroll, with "holiday passports" and stamps to collect for local restaurants and stores, and a Frida Friday Holiday Market at Republic Square.
Combining festive holiday lights and the beautiful native plants of Central Texas, Luminations at the Wildflower Center is back with thousands of lights, luminarias and a lit-up look at Fortlandia. This year will also feature an interactive light maze called "silvana" by Ben Busche of architecture firm Brut Deluxe, which will be the maze's first appearance in North America. The event will run Thursdays-Sundays from Dec. 2-Jan. 30 for $10-$25 per person.
Reserved tables are back for Mozart's Coffee Roasters annual Christmas Lights Show for $20 four-person tables and $30 six-person tables—so get your tickets early because these tables are likely to sell out. The light show will also feature a festival-style Bavarian marketplace for those last-minute gifts. If you're too late to reserve a table, don't worry, there will be standing room available for free so come one, come all, and come early for parking.
From Dec. 2-4, Old Settlers Park will light up with holiday displays, family activities, festive refreshments and live music. Watch the balloons hover above the lake as you sip on a hot chocolate or give to those in need, with stands for Round Rock Operation Blue Santa, which is taking toys for kids in need, the Play For All Foundation, which is accepting cash donations for disabled children, and the People & Parks Foundation, accepting cash donations for green space in the community. Admission to the event is free, along with most of the activities in the park.
In this season of gifts, giving, and gratitude, Tito's is making it easy to shop for your friends and loved ones while helping our community.
The beloved Austin company's Love, Tito's retail space, downtown at 215 Lavaca Street, is fully stocked with great gear. 100% of net proceeds of whatever you purchase—a new collar for your four-legged friend, a Tito's tee, some branded barware—go to the nonprofits they support. From the environment to animal rescue, you can choose your cause while choosing a new copper cocktail kit… or old school cap… or golf polo.
The store is stocked with stuff that the online experience just can't offer: never-before-seen swag, doggy photo booths (to say it's a dog-friendly space is an understatement), a record player to spin some tunes, and a bar finder listing local spots serving mean Tito's cocktails. Locals and out-of-town visitors alike can enjoy wonderful distractions while kicking back in an environment designed to cater to Tito's fans.

While you can't enjoy a cocktail there due to Texas liquor laws, the store offers unique experiences for any and all fans of the brand, and gives folks a chance to find what resonates with them while taking home a piece of the Tito's story.
*At our Love, Tito's store in Austin, net proceeds constitute an average margin of at least 25% of the retail price of a product, excluding the cost of tax on the purchase. We are not deducting cost of our people, the store rent or other operating costs.
When Texas and the NCAA passed a bill allowing college athletes to profit off their names and likenesses this summer, Longhorn athletes joined professional teams and athletes by stepping into the growing NFT scene.
NFTs, which are essentially unhackable codes used as one-of-a-kind "certificates of authenticity" paid for with cryptocurrency Ethereum, have been cropping up in the Austin art scene and worldwide—and they're quickly evolving into a sports fans' paradise as a new way to snag some bragging rights through digital trading cards, tickets and highlight reels.

Here are five Austin-based athletes and sports venues now involved in NFTs: