Get connected with our daily update
Q2 Stadium attendees swapped their Verde for red, white and blue as they packed the sold-out venue to watch the United States Men's National Team take down Jamaica 2-0 for their first World Cup Qualifying Match on Thursday.
FC Dallas's 18-year-old standout Ricardo Pepi was the man of the match as he scored twice to put Team USA over The Reggae Boyz. The Texas native has scored a brace at Q2 once before in a 5-3 defeat over Austin FC in August.
In a now-signature move for Austin futbol fans, the South Side supporters' section raised a large banner, or "tifo," depicting the original World Cup trophy with the USMNT slogan "Only Forward" displayed across the bottom as the match began.
The "biggest party in Austin" was in for a treat as the team played better than they had in months, but it wouldn't prove fruitful until the beginning of the second half. Head Coach Gregg Berhalter's emphasis on "verticality," or quickly pushing up the field, paid off as Pepi grabbed a cross from Sergiño Dest to score from six yards out in the 49th minute. According to The Athletic, the drive from goalkeeper to opponent's goal took just 16 seconds.
Pepi would strike again in 62nd as he sped one past Jamaican keeper Andre Blake off a cross to score his third goal in just two appearances with the national team.
Jamaica would be unable to bounce back as they continued to fall to the bottom of the eight-team Concacaf World Cup Qualifying table.
While the win was expected from a team that has defeated longtime rivals Mexico twice this year, the decisive defeat came even as stars Christian Pulisic—of English Premier League club Chelsea—and Gio Reyna—son of Austin FC sporting director Claudio Reyna—were out on injury.
Standout performances from Pepi, DC United's Paul Arriola and Brenden Aaronson propelled the team to the top of the Concacaf Qualifying table with eight points alongside their El Tri rivals.
US national soccer teams are now 3-0 in the brand-new Q2—the USMNT defeated Qatar in July to advance to the Gold Cup finals, while the US Women's National Team beat Nigeria 2-0 in June to christen the stadium.

"When you have atmospheres like we had tonight, it gets the guys up to perform," USMNT head coach Gregg Berhalter said after Thursday's match. "Fantastic field, fantastic stadium, fantastic fans, I mean this is what it's about, this is why we chose a venue like Austin."
The USMNT will head to Panama on Sunday and will finish the World Cup Qualifying series against Costa Rica in Columbus, Ohio on Wednesday, Oct. 13.
Tired of football and futbol? Austin may have waited until 2021 to secure its first major-league professional team, but it's still packed with weird and wonderful teams of every sport to cheer on.
With Austin FC still tucked away in last place, it hasn't been easy being a Verde fan so far, even as they won two straight home matches for the first time this season last week. And the all-day fest that is Texas football isn't going away anytime soon.
But for those looking for more entertainment, there are plenty of teams—from professional to high school—to make even the most sports-averse Austinites become full-fledged fans.
Here is a list of teams to hop onto, ranked from best to worst for those fair-weather fans:
Westlake Chapparals football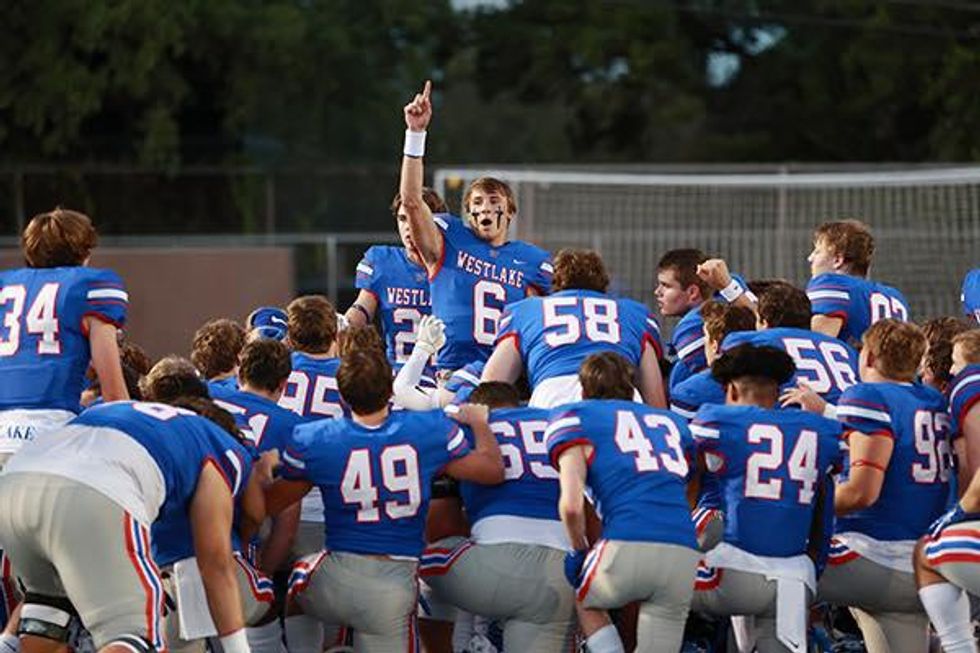 (Westlake Nation/Facebook)
Unsure about Texas' football season this year? If you're looking for few disappointments and plenty of wins, check out Westlake High School's championship football team.
In fact, the team hasn't lost a game since 2019—and they've won two straight State 6A football championships to boot. The school that produced former NFL quarterback Drew Brees and former UT star Sam Ehlinger is still going strong this season and have won all five of their games so far.
If you're looking for some "Friday Night Lights," look no further than the football-crazed culture at Westlake High games.
No. 2 Texas Volleyball
Taking our show on the road 🤘#HookEm pic.twitter.com/JZO52I2DNu

— Texas Volleyball (@TexasVolleyball) September 17, 2021
Longhorn football fans, it's time to ask an important question: is UT a volleyball school?
Even though football is having a winning streak of their own, the Texas volleyball team is certainly making a case for it this season. While they're almost always in the top 10 of NCAA standings, the 2020-21 team propelled even further into the NCAA Championships as they fell to No. 2 Kentucky in the finals.
The Longhorns have kept that spirit going this season: they're ranked No. 2 in the NCAA and are undefeated with 11 straight wins. The team toppled Lone Star rival Texas A&M 3-1 on Sept. 27 and swept their first Big 12 Conference foe West Virginia twice in a row to keep their record clean.
Get on the bandwagon before the NCAA Tournament next spring and you may see the team take home their first championship since 2012!
Austin Outlaws (Quidditch)
Looking for something a little bit more magical? The Austin Outlaws have you covered.
Based on a wizarding game from the Harry Potter series, Major League Quidditch brings the sport into the "muggle" world. It's a full-contact, co-ed sport that involves throwing balls into hoops, chasing an elusive Seeker and yes, having broomstick-like sticks between your legs.
The Austin Outlaws are one of the premier Quidditch teams in the nation, having appeared in all four of the MLQ finals since their founding in 2016. They're coming in hot off of a MLQ Championship title in 2020 and will once again take to the pitch in summer 2022.
Austin Valkyries
Ranked No. 2 in the nation, women's rugby team Austin Valkyries are an aptly-named group of athletes that took home the 7's TOLA (Texas, Oklahoma, Louisiana, Arkansas) trophy in August alongside brother team the Austin Huns (we'll get to them next.)
The Valkyries' 7-man season may be over, but their 15-woman team will take on the Denver Merlins on Oct. 23 at Austin Huns Rugby in the Kandis Ruiz Cookie Bowl named after their late teammate.
Austin Huns
Just like their sisters the Valkyries, men's rugby club the Austin Huns brought in awards of their own as they won the "Plate" at Nationals and took home the TOLA cup themselves in August.
The Huns took home three other tournament titles over the summer, and they're not new to the championship scene: in 2017, the team made history as they became the U.S. Division 1 National Champions.
The Huns are taking a break from the pitch but will be back this fall.
Major League Pickleball
We ranked this one high because of its novelty and significance to pickleball-loving Austin.
For those not on the pickleball train, the fast-growing sport has fully wedged itself into the Texas capital's culture. Those young and old can be seen playing side-by-side at bars, tennis courts and even pickleball-centered venues around the metro.
As the first major league ever to be founded in Austin, Major League Pickleball seeks to hop into the pickleball craze. The new co-ed league, based at Dreamland in Dripping Springs, will bring the best-of-the-best pickleballers to the city for a four-day inaugural tournament on Nov. 5-8.
Round Rock Express
One of the metro's most-loved teams prior to the arrival of Austin FC, the Round Rock Express are a Triple-A minor league team affiliated with Dallas' Texas Rangers. The team, which is owned by famous Ranger Nolan Ryan, is currently seventh in their 30-team league and are rounding out their season with a series of home events through October and November.
Austin Spurs
The San Antonio Spurs are overrated, right? For those not wanting to make the trip down I-35, the Austin Spurs are an NBA G-League team that serve as a minor-league affiliate to their San Antonio neighbors.
The team was fifth in the league last season and sixth the year before, advancing to playoffs both years. Catch up-and-coming stars before their big break all while staying in town—the team kicks off their first game since March of 2020 at Cedar Park's H-E-B Center on Nov. 14.
Austin Sol
Playing Frisbee may seem like a beachside hobby, but the pastime has blossomed into a high-intensity sport with a professional league of its own in the form of ultimate frisbee.
Think of your favorite aspects of basketball, soccer and football, and you'll get something similar to ultimate frisbee. It's a fast-paced, no-contact sport that involves strategic passes, interception, and touchdown-esque goals that occur when a pass is completed in the endzone.
If you're still confused, check out Austin Sol, an American Ultimate Disc League team founded in Austin in 2015. The team enjoyed an even 6-6 record this summer to finish their season at third in the West Division.
They may not be playing until next summer, but be sure to watch the team catch some high-flying discs at Chaparral Stadium come June.
Austin Bold FC
Not interested in $10 beers?
Austin FC packs in the party at their 20,500 capacity stadium every week, but for those looking for a quieter professional soccer team, the Austin Bold are another viable option.
Located in Southeast Austin at Circuit of the Americas, the United Soccer League club is sixth in its seven-team conference but is enjoying a bit of a late-season comeback with a 3-1-1 record in their last five matches.
They may not make playoff berth, but they've got $2 beers. What's not to like?
Catch the Austin Bold at home for their next two matches at 8 p.m. on Wednesday and Sunday.
Austin Ice Bats
Think it's too hot for hockey in Central Texas? Think again—Austin is now home to two minor league hockey teams, the Texas Stars and aptly-named Austin Ice Bats.
The Texas Stars are a professional hockey team and American Hockey League affiliate to major-leaguers the Dallas Stars. They've been around since 2009 and have since won two titles in 2013 and 2014.
The club was second-to-last in their division last season, but they'll have a chance to make up for it with a season opener at Cedar Park's H-E-B center against the Iowa Wild on Saturday, Oct. 16.
The Ice Bats' name may seem familiar to seasoned Austinites—that's because the new team owes their name to the original Ice Bats, a minor league hockey team that preceded the Stars before disbanding in 2008.
The new Ice Bats are a Division III juniors team that will start their first season states away on Friday but come home to play College Station's Texas Roadrunners starting on Oct. 29 at Chaparral Ice.
FC Austin Elite
Women's semipro soccer team FC Austin Elite may have finished fifth in the eight-team Southwest conference this year, but they have more to look forward to: they'll upgrade into Austin's first professional women's soccer team in a Division II league next year, according to FC Austin Elite general manager Danny Woodfill.
"We are actually out recruiting professional players," Woodfill said. "Everybody in the country wants to come to Austin right now, and now they can play pro soccer now in Austin as women."
Catch the FC Austin Elite fill in those professional shoes at the Round Rock Multipurpose Complex come spring.
Austin Outlaws
Looking to watch some girl power? Catch the Austin Outlaws, a women's full-equipment, full-contact football team that plays in the Southwest division of the 60-team Women's Football Alliance.
The team is one of the longest-running full-contact women's football clubs in the U.S., and they've got the stats to prove it as they flip-flopped across football leagues and through playoffs through their 20 years.
It takes a special type of fan to get behind the Outlaws—they lost every game last season—but the monthlong May-June season is still sure to pack in entertainment and female badassery.
Barton Springs vs. bayou. Black Pumas vs. Beyonce. Live Music Capital vs. Energy Capital.
As Austin expands into "boomtown" status, it's become subject to a growing rivalry between another storied Texas city: Houston.
While Houston still edges out Austin in population—it's the fourth-largest city in the U.S. and boasts a metro of over 7 million compared to Austin's 2.3 million—Austin has been generating significant buzz as tech CEOs, Californians and migrants nationwide begin to call the Texas capital home.
Most Austinites will tout their Hill Country beauty, world-renowned live music and the proud "weirdness" that has long defined their city. But some say Houston's signature self-deprecating humor and status as the most diverse city in the nation gives them a leg up
It's time for these quarreling siblings to duke it out.
Here's how Austin and Houston compare, mapped out in five categories:
Austin FC picked up its seventh win of the year thanks to a brace from midfielder Cecilio Domínguez in a 2-1 victory over Real Salt Lake Saturday afternoon at Q2 Stadium.
Despite the win over fifth-place Salt Lake, Austin FC, with an overall record of 7-17-4, remains two points behind the Houston Dynamo and in last place in the Western Conference.
The Verde and Black were in control of the game from the outset with a header off target by Diego Fagundez after a corner kick coming in the fourth minute.
Austin FC was awarded its third corner kick in the 16th minute which found its way to Sebastián Driussi who fired off a left-footed shot toward the center of the goal. Real Salt Lake goalkeeper David Ochoa was able to make the save but unable to control the ball. Domínguez was in the right place at the right time for the rebound and put his shot into the bottom right corner to put Austin FC up 1-0.
With a one-goal lead, Austin FC kept its foot on the pedal and continued to outplay Real Salt Lake for the remainder of the half. Austin managed three more shots in the half, two coming from Moussa Djitté, while Salt Lake City got off one.
In total for the first half, Austin controlled possession 53.2% of the opening half and held advantages over Salt Lake City including shots (7-3), shots on goal (2-0), passes (264-235) and tackles (12-5).
Austin FC started the second half with similar energy as the first. Domínguez had two shots early in the half, one off-target in the 47th minute and one on target in the 53rd minute, while Zan Kolmanic had a shot on target in the 52nd minute.
Austin picked up its security goal in the 55th minute after Driussi placed a tricky pass over the Real Salt Lake defenders for Fagundez who then found the wide-open Domínguez for the easy goal.
Following the goal, Real Salt Lake picked up the aggression and began to test the Austin defense. This sense of urgency by Salt Lake City culminated in a goal in the 64th minute by Damir Kreilach. Rubio Rubín placed a touch-pass behind the Austin defenders and Kreilach was there to put the shot past Brad Stuver into the bottom right corner.
Now only up 2-1, Austin opted to sub out Domínguez along with Hector Jiménez and insert Nick Lima and Daniel Pereira.
Austin FC's momentum slowed down significantly following the goal as the team tried to run out the clock. Salt Lake City, on the other hand, tried desperately to secure the equalizing goal and prevent the loss.
The last bit of drama came in the 78th minute. Austin came dangerously close to a third goal after Djitté appeared to draw a foul in the penalty area. Following a VAR decision, the penalty was rescinded.
As the match came to a close both teams tested the opposing defenses but neither team came away with a goal.
In the end, Austin FC walked away with the three points and its fifth home win. Next time out, Austin will once again be at Q2 Stadium as it takes on Minnesota United at 8 p.m. on Saturday.