Get connected with our daily update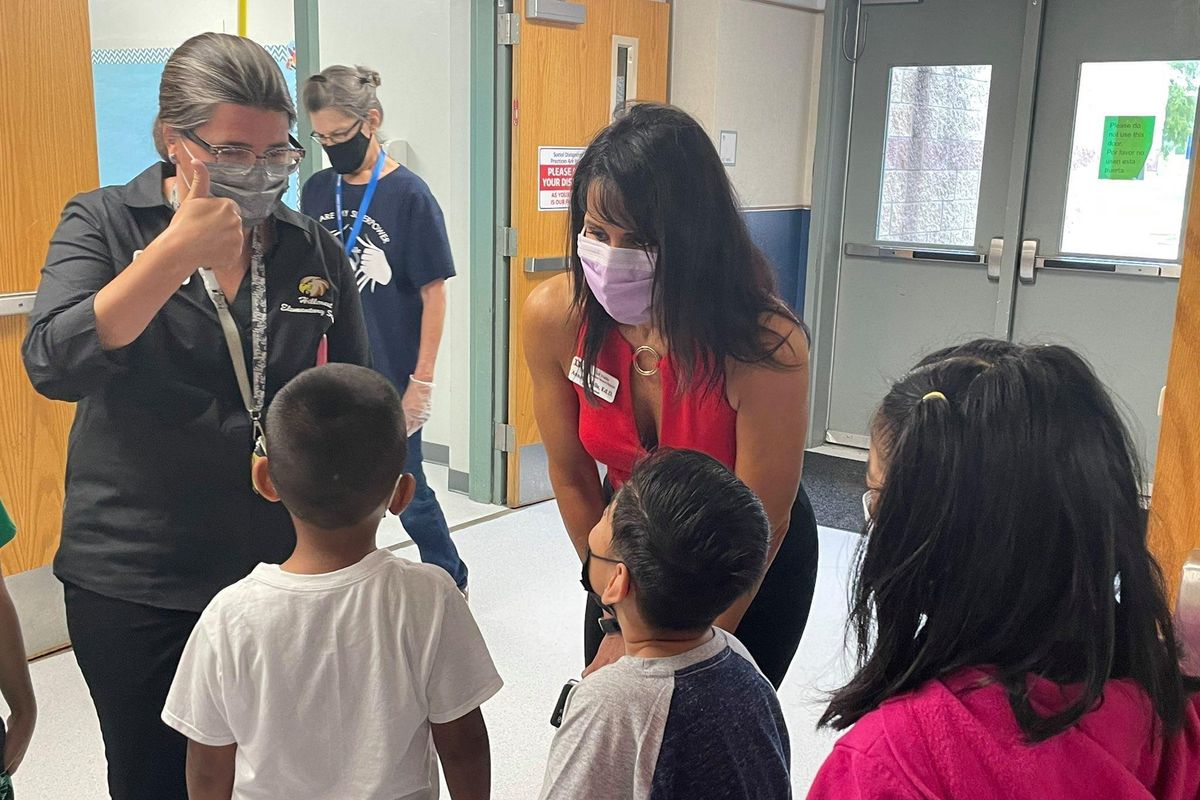 Austin ISD alone saw 30% of its 1,200 tested students and staff test positive for COVID on Monday, prompting the district and schools across Central Texas to consider tightening restrictions amid the omicron COVID surge.
---
Omicron, the highly transmissible COVID variant responsible for the latest nationwide surge, has contributed to the highest COVID rate since the start of the pandemic with one in three COVID tests positive in Central Texas. Sitting at the Stage 5 threshold in Austin Public Health's risk-based guidelines, there has been a major increase in COVID hospitalizations, including in pediatric hospitalizations with 42 kids hospitalized locally as of Monday—a 281% increase from the week before.
Children still pose a far lower risk of severe complications than adults leading some Central Texas schools and universities to keep the spring semester near-normal. However, others have added new masking rules or switched back to temporary online learning.
Schooling during a pandemic has remained a hot-button issue with some reluctant to see another year with restrictions. Still others, including Round Rock ISD parent Brenda Barraza, think their districts aren't doing enough to protect kids, faculty and families.
"I just feel that the schools should give the parents the option to stay virtual," Barraza said. "With the new variant hitting children the hardest it's just scary. And what about those with pre-existing health issues, or having them bring it home? My mom, for example, is vaccinated but is disabled and COVID would really hurt her."
Here's a roundup of which schools around Austin have made changes for the spring semester:
Austin ISD
1,200 students and staff @AustinISD underwent Covid tests today…

ONE THIRD tested positive.

School starts in 2 days.

H/T @MarietteHummelhttps://t.co/qp38wQ2Xrb

— Harry Thomas (@DrHarryThomas) January 4, 2022
Just as the district did last semester, Austin ISD announced that masks would be required on all district campuses in the spring semester. But with one-third of 1,200 tested students and faculty testing positive on Monday, the district sent out an email Monday with a few more recommendations—including encouraging students to wear an N95 mask or double mask if possible.
The district has also announced 11 testing sites, including a mobile van, that began operation on Jan. 3. In response to the CDC's new guidance, the district said that students can come back to school after five days of isolation as long as they are asymptomatic. If a student tests positive, the child's classmates will be notified and will have the option of staying in school and testing on the fifth day or staying home and testing five days later.
In addition to masking and isolation protocols, AISD said extra ventilation, sanitation and social distancing protocols are in place to help keep kids safe. AISD's spring semester begins Wednesday.
But some parents believe the new recommendations aren't enough—a group of over 50 parents have emailed the district asking for a delayed start, outdoor lunches and other new measures.
Round Rock ISD
Oh, really? "Safe and healthy" but the district isn't even implementing safe and healthy policies:
🚫social distancing
🚫outdoor lunch
🚫reporting close contacts
🚫virtual school
Using a character that resembles coronavirus is incredibly accurate though. pic.twitter.com/TTGpbPKZKr

— Jen (@TheJenAgain) January 2, 2022
Just two weeks after announcing that RRISD would make masking optional starting Jan. 19, the holiday surge forced school officials to reconsider the move.
A Dec. 30 email said that the district would reverse its announcement and continue to require masks indoors on school property as the district's semester begins Wednesday.
While many parents and administrators are focused on a scandal surrounding a Texas Education Agency investigation of district superintendent Dr. Hafedh Azaiez, some parents, including Barraza, are worried that mask requirements aren't enough to protect students.
Hays CISD
While the district does not require masking, Hays County district Hays CISD has begun installing air purifiers throughout its campuses.
In September, the district's board of trustees allocated $4.4 million to buy 1,800 air purification units after the summer Delta variant surge.
The district prioritized Tobias Elementary and Dahlstrom Middle School, which will both have purifiers installed by the first day of the semester on Wednesday. Tobias Elementary closed in September after more than 10% of its campus tested positive for COVID, while Dahlstrom also nearly closed amid a surge.
Leander ISD
While Leander ISD does not have masking requirements in place, the district announced Friday that it would strongly recommend double masking when inside school buildings and getting students above age five vaccinated and boosted when possible.
Contrary to the CDC's new guidelines, Leander said it would continue to require 10 days of isolation for COVID-positive students but said they had contacted the Texas Education Agency for clarity and anticipate shifting to five-day isolation in coming weeks.
The University of Texas
A few days after other area universities announced they would start the spring semester with a brief period of online-only instruction, the University of Texas said it would do the same.
The school announced that it would ask faculty to teach remotely from the semester's start date Jan. 18-28, with instructors allowed to teach in person during that time frame if they also provide online learning.
UT also asked students to test for COVID within three days of returning to campus.
Texas State University
Texas state is online for the first two weeks don't call don't text 😔

— roark (@gymleaderRoark_) January 4, 2022
On Monday, San Marcos' Texas State University became the first Austin-area university to switch to temporary online learning. In an email sent out to students, President Denise Trauth said the school would have online-only instruction from the start of the semester on Jan. 18 through Jan. 31.
Most students were disappointed to have yet another portion of their education conducted online, but students like senior theater undergrad Sarah Morton told Austonia they understand why their school made the switch,
"Being a student of the arts and being in classes that feed off of peer interaction, it's incredibly challenging to be entering my last year of college reverting back to remote learning for the first two weeks, especially after having a great experience being in person last semester," Morton said. "However, because people in our community aren't taking steps toward safety like masking up and getting vaccinated, I understand completely why it's necessary for the safety of everyone. While I am not the happiest to be back online, I'm glad we're all just being safe."
All campuses and offices will remain open for in-person or online services, including the school's transportation, Alkek Library and LBJ Student Center, and resident move-in will stay on time.
But students who live on-campus will need proof of a negative test before move-in, and all university-sponsored events will be moved online or postponed until after the online period.
Huston-Tillotson University
#fRAMily, please see statement below regarding the start of 2022 Spring Semester classes at Huston-Tillotson University.#HTisIDEALpic.twitter.com/g0lg7WP9qx

— Huston-Tillotson (@HustonTillotson) January 4, 2022
Following Texas State's announcement, Austin private HBCU Huston-Tillotson University announced Monday that it will begin the semester with two weeks of online instruction. University President and CEO Colette Pierce Burnett told students and faculty that all classes will begin online on Monday, Jan. 10 and will stay remote until Monday, Jan. 24.
Residence halls will continue to have move-ins as scheduled, and Burnette encouraged students to wear masks on-campus, report positive COVID test results and symptoms to the school's app, and use on-campus testing and vaccination sites available throughout the semester.
Schools not making changes
Mask mandates remain in place for Del Valle and Manor ISD, while Eanes ISD continues to strongly encourage masking without mask requirements.
Colleges including Austin Community College and St. Edward's University have not changed their policies ahead of the spring semester, with the University of Texas telling Statesman reporter Megan Menchaca that they "do not have any updates to share at this time." UT's positivity rate for students, staff and faculty reached nearly 10% Monday, its highest ever reported.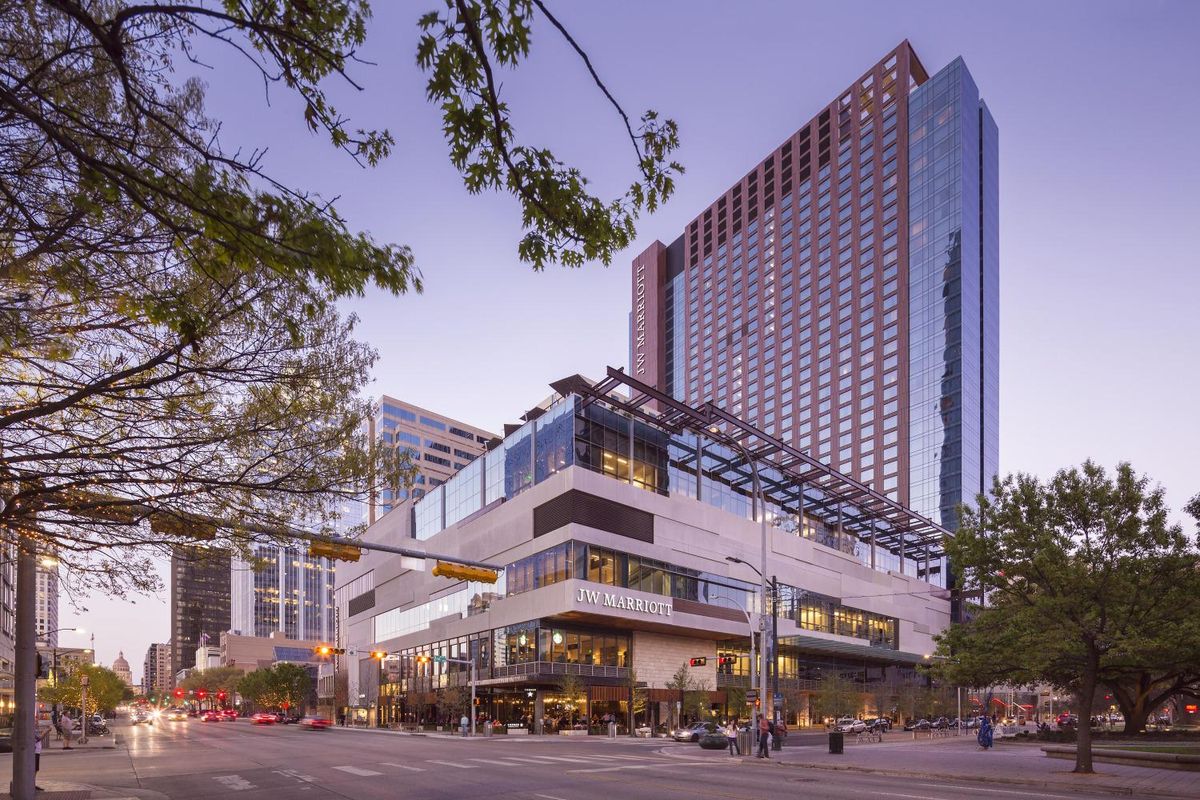 Chi Lee, the director of architecture firm HKS's new Austin office, describes this point in our city's life as puberty.
"Our voices are changing and we have freckles everywhere," Lee said. "You know, starting to look like an adult but still acting like a kid kind of thing."
But as Austin matures and faces all the pressures of its increased popularity—competing for company relocations and expansions all while managing rising rents and affordability woes—Lee thinks we should look outside when planning an approach to Austin's growth.
"A big mistake we could make is if we don't embrace what other cities, nationally, regionally, internationally have done to improve upon the experience of all the folks who live there."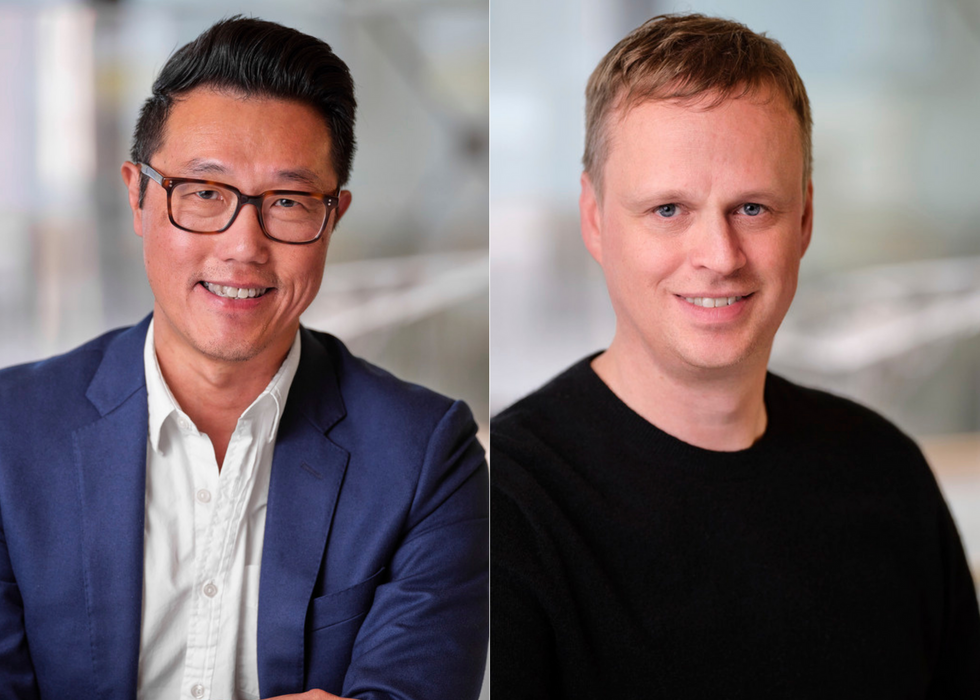 Chi Lee and Brad Wilkins (HKS)
Lee and HKS studio design leader Brad Wilkins keep this in mind as the firm, which has carried out projects in Austin since the 80s, further cements its presence here.
HKS is making ambitious strides in Austin: the firm has more than 50 projects in design or under construction in the Austin market, including Domain 9, the Dell Children's Medical Center expansion and projects in the Rainey Street District including one that may end up being the tallest tower in Texas.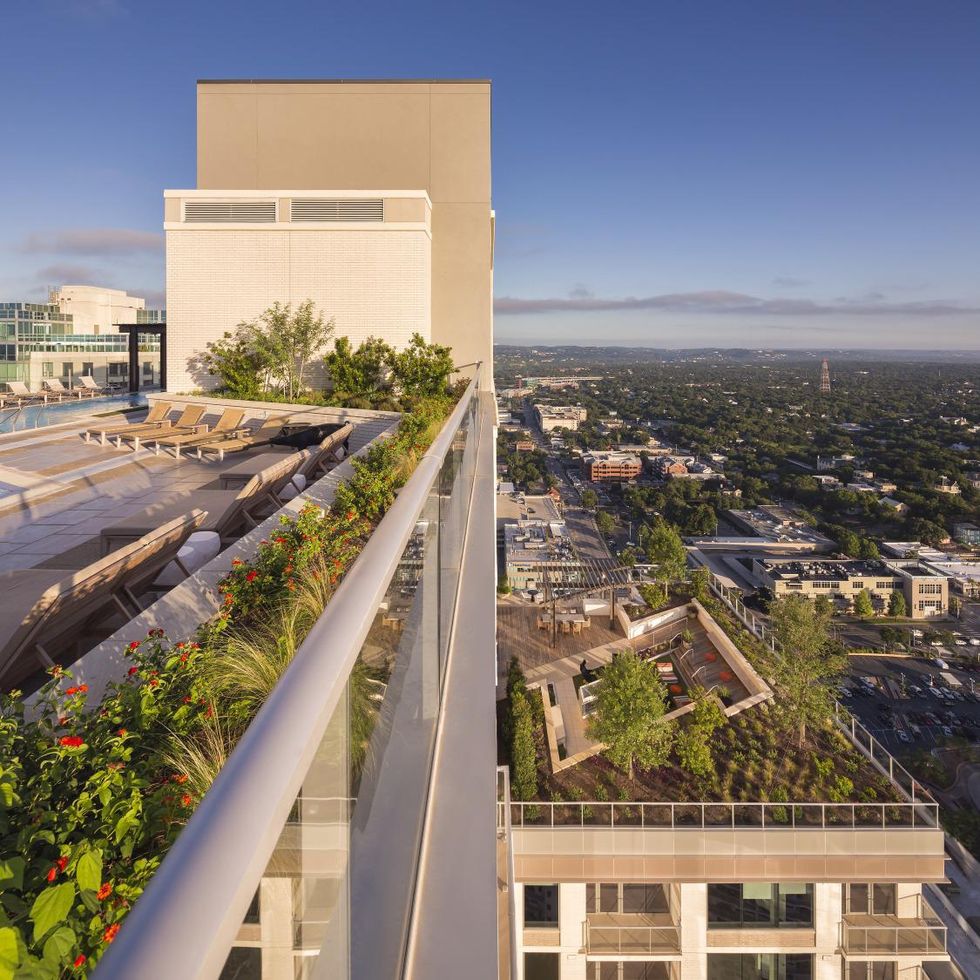 The Bowie, a 36-story apartment tower HKS designed in Austin's Central Business District. (HKS)
"We've been able to do things during the pandemic, and since then, which are really pushing the boundaries of what Austin would typically do. And frankly, what would be done anywhere in the world," Wilkins said. "Things like having outdoor space on every level of an office tower and creating the spaces not just to be like outdoor spaces, but to be spaces that people can actually enjoy."
As these projects span all over the city, Lee and Wilkins are observant of how action on certain quality of life factors could be key to preventing problems as Austin draws in a larger population.
For Wilkins, that's informed by his international work. He's lived in about half a dozen places in Europe and Asia, starting his career out in Chicago. He's carried out big projects and was one of the designers of the first LEED platinum building just outside of Hong Kong.
"One thing that we're always needing to be very careful about is looking at things that were not done great," Wilkins said. "There are mistakes in public transportation in those cities that I worked in overseas, there are mistakes in public housing."
It's partly why the pair see Project Connect—the $7.1 billion transit system expansion voters approved in November 2020 that includes light rail lines, a downtown subway and an expanded bus system—as a boon to the city's future.
Lee said he's excited that HKS is working on a couple of projects that are along the future lines and sees it as a massive opportunity for the city.
"We need to get out of our cars if we can. We just don't have the type of transportation infrastructure in place that needs to be in place," Lee said. "A lot of major metropolitan and urban cities have subway systems and light rail systems and things like that, where we don't."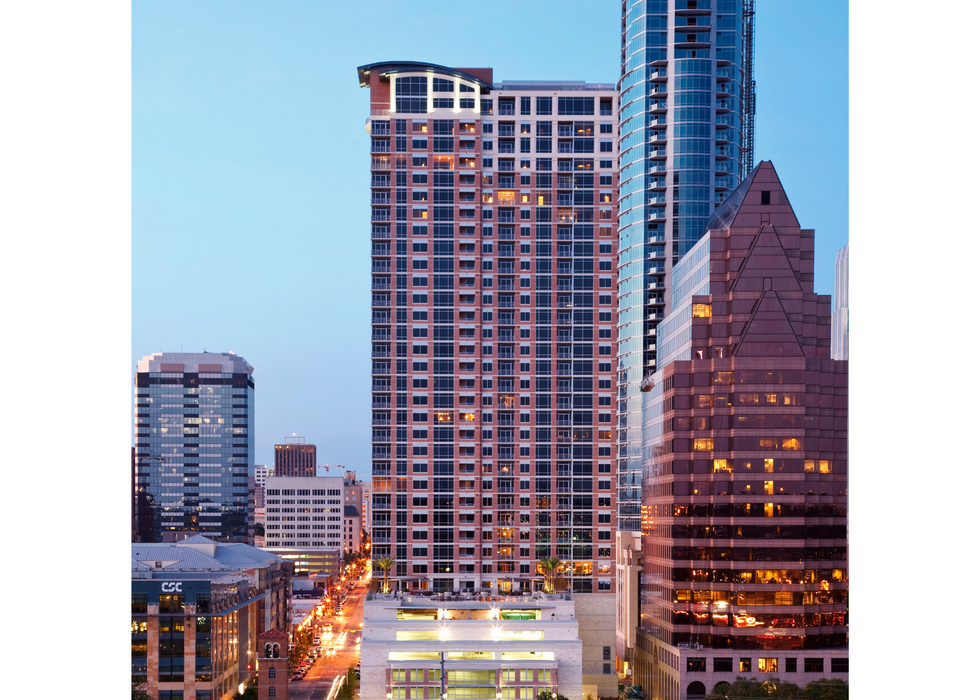 The Ashton (HKS)
Still, someday Austin will. The plan is trudging ahead with moves on anti-displacement initiatives and collecting input on design proposals for key lines. So even while HKS prepares for changes to the city from the ground up, Lee and Wilkins aim to maintain the city's personality.
"I'm always more about the local place, not the international place, even though I do bring with me international experience," Wilkins said. "Chi and I are only interested in doing Austin, we're interested in making Austin special, keeping Austin culture."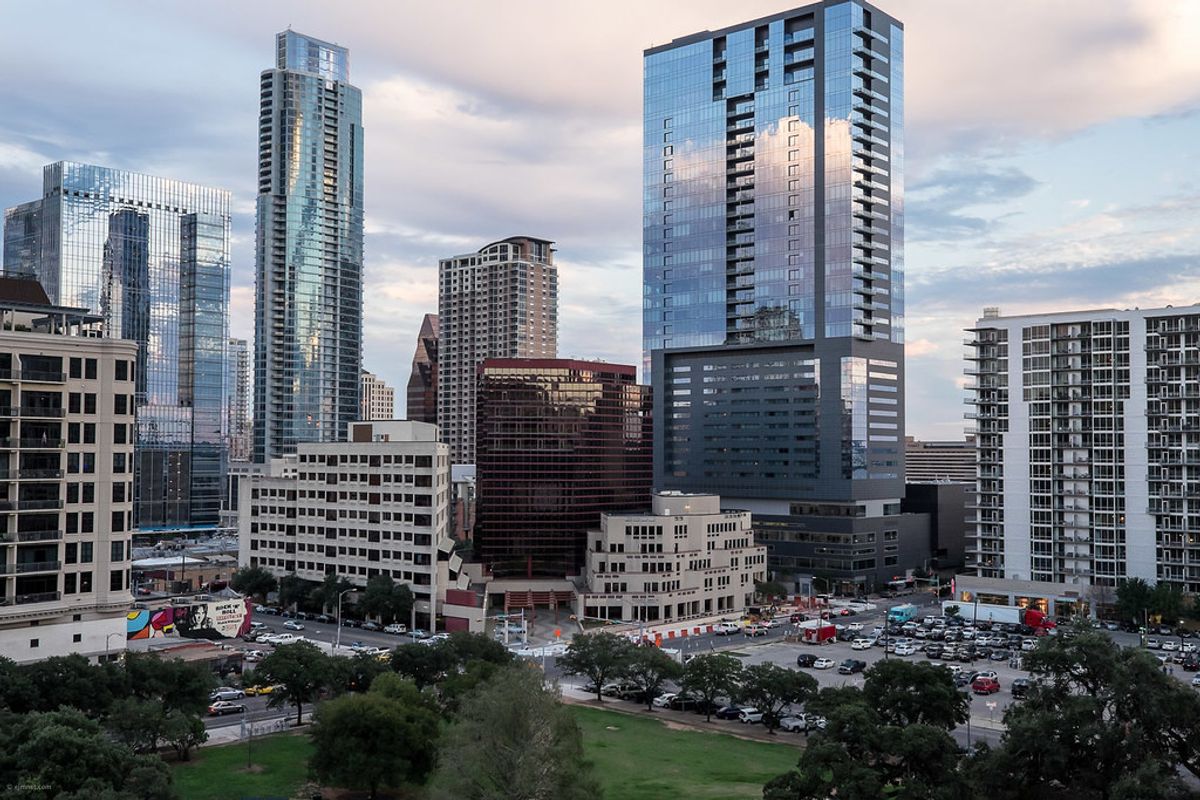 (Earl McGehee/CC)
Austin may still be the most expensive metro area for Texas renters, with reports of rent rising upwards of 25-40%, but the apartment hunting process can still be daunting no matter your budget.
There are a lot of neighborhoods, apartment complexes and prices floating around, which can make the already difficult hunting process more confusing. Smart City apartment locator and lifelong Austinite Maddie Hastings told Austonia which areas are trendiest, cheapest, most over-hyped and hidden gems.
Quick tips from Hastings:
Don't do it alone: Apartment locators offer free services from licensed real estate agents that usually have "behind the scenes" information.
Don't rely on online prices: Apartment prices change every day and third-party websites usually don't have up-to-date information on capacity or current rates.
Take everything with a grain of salt: Read recent reviews and try to see through photos of staged units.
Hottest: Downtown, Barton Springs and South Congress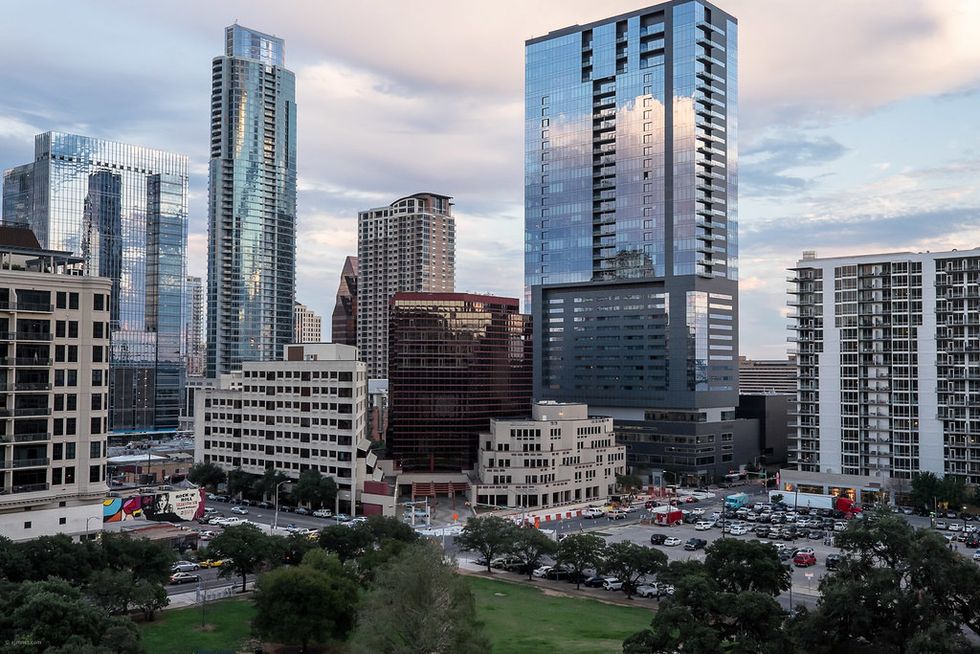 (Earl McGehee/CC)
Hastings said only a small portion of people she locates have previously lived in the Austin area—with the city's growth, many come from Chicago, New York or the West Coast.
New residents tend to want to be near Austin's most famous landmarks like Zilker Park, Barton Springs and Downtown, Hastings said. The problem is that housing in those areas is often limited and expensive, between $1,918-$3,163 on average, according to RentCafe, though she understands the hype.
"I do like South Austin because I feel like it's more accessible and easier to get downtown—it's close to Zilker Park, close to Barton Springs," Hastings said. "A lot of people want to be downtown and the rest want to be in that South Central area where South Lamar, South Congress and South First is."
Not: North Austin suburbs and Riverside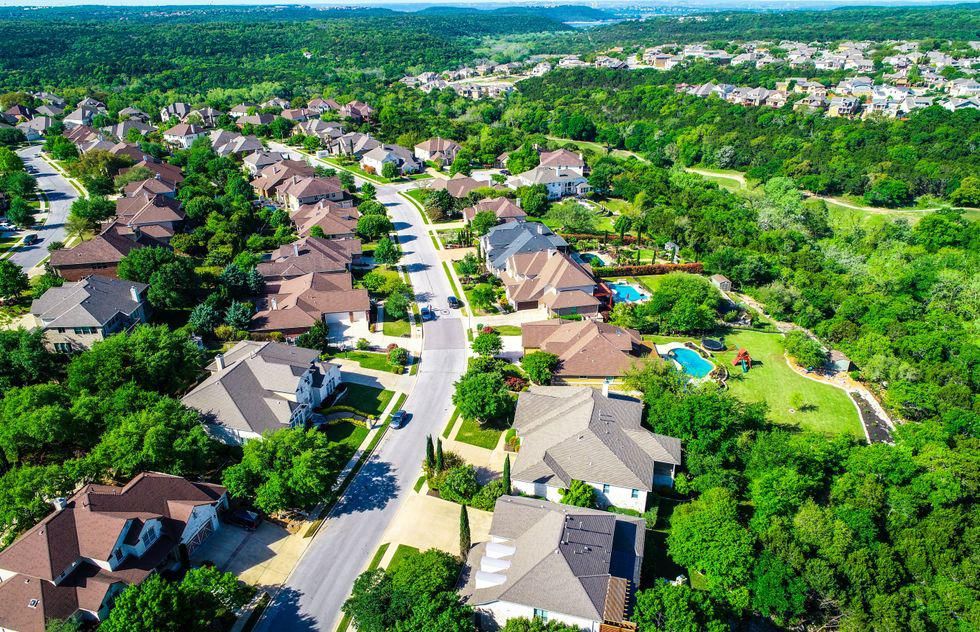 (Roschetzky Photography/Shutterstock)
Hastings said it isn't that she doesn't place people in apartments in places like Round Rock, Pflugerville and Cedar Park, it just tends to be people that work in the area, are specifically looking to live in the area or have an "outside reason" drawing them there."
Meanwhile, Hastings said that one neighborhood she consistently hears people don't want to live in is Riverside, which is a cheaper option with the average tenant paying $1,583 per month, according to RentCafe.
Though Hastings says not to let that taint your image of East Austin. If you like the price but don't want to live in Riverside, Hastings recommends looking at apartments in Montopolis and Pleasant Valley.
"They do have some nice, newer complexes," Hastings said. "So for me, I mean, it's a great way to get a good price on a new place that's close to downtown."
Most underrated: Mueller and Southpark Meadows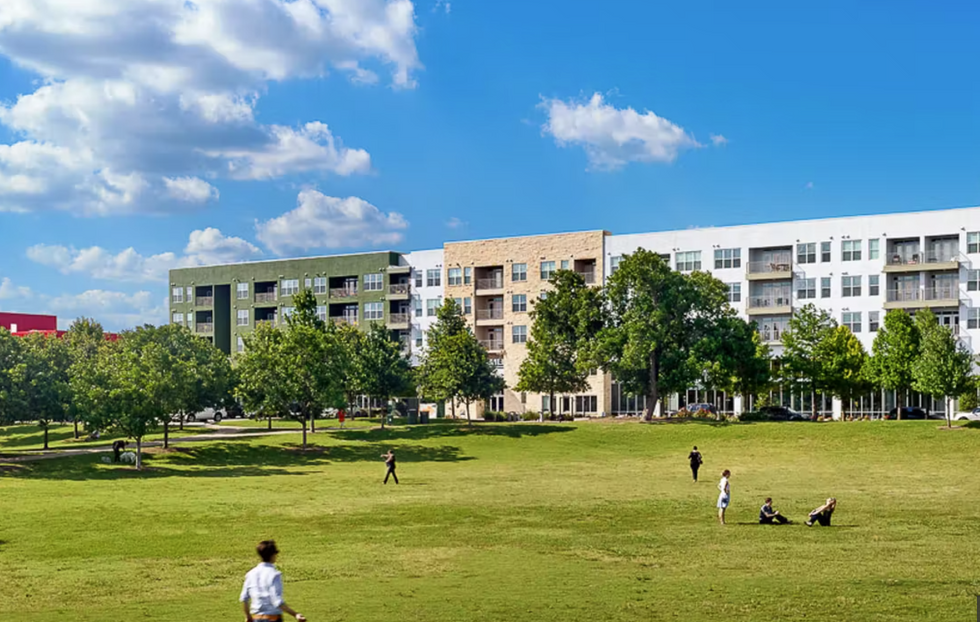 (Mueller AMLI)
Though it may be on the more expensive side, about $2,000 on average for a one-bedroom, Hastings said she really enjoyed living in the Mueller area herself. The perks: It's relatively newly developed, home to the biggest farmer's market in town, has restaurants and coffee shops, trails and feels like a good neighborhood area.
"I personally love Mueller," Hastings said. "It has that neighborhood feel but it's one of the few walkable areas in Austin. I really like that you get everything you need, right in that little area, and it's so close to Central Austin and downtown."
Hastings also said she loves living in Southpark Meadows, which may be a bit cheaper, has easy highway access, nearby shopping and may also land you a newer building.
"If it was me looking on my own, and I had to consider money, that's personally where I would recommend people to get the most bang for their buck," Hastings said.
Most overrated: South Lamar and The Domain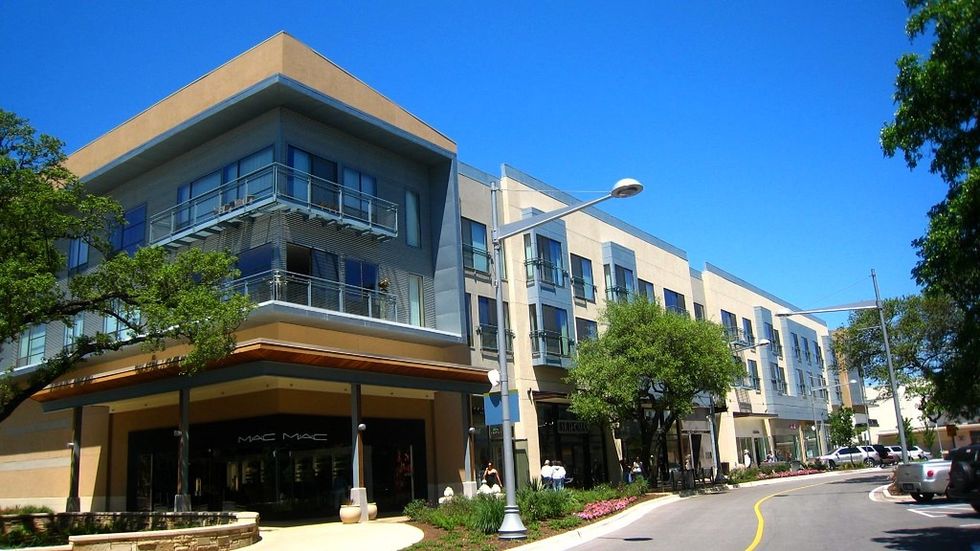 (Peter French/CC)
Hastings said she understands the immediate appeal behind wanting to live at The Domain—the shopping, restaurants, glamor and bar scene—but doesn't like the traffic, higher price tag and lack of "Austin" character"
Plus, Hastings said she doesn't often see people living there for long.
"People move to Austin because it's quirky and different and while The Domain is a good time, it's just super commercialized so you're not really getting the Austin experience," Hastings said. "It's not my favorite, I've definitely leased a few people in The Domain and then after a year they're like, 'Yeah, I'm over it, I'm ready to be somewhere else.'"
Hastings had opposite things to say about South Lamar—she thinks it embodies the city's character—but there just isn't enough housing to go around right now because it's in such high demand. Plus, it has a pricey average rent at $1,918, according to RentCafe.
"I understand why everyone wants to live on South Lamar—that's where everyone wants to be," Hastings said. "And I can't really say it's overrated because there are so many restaurants and things to do."
Happy hunting!