Get connected with our daily update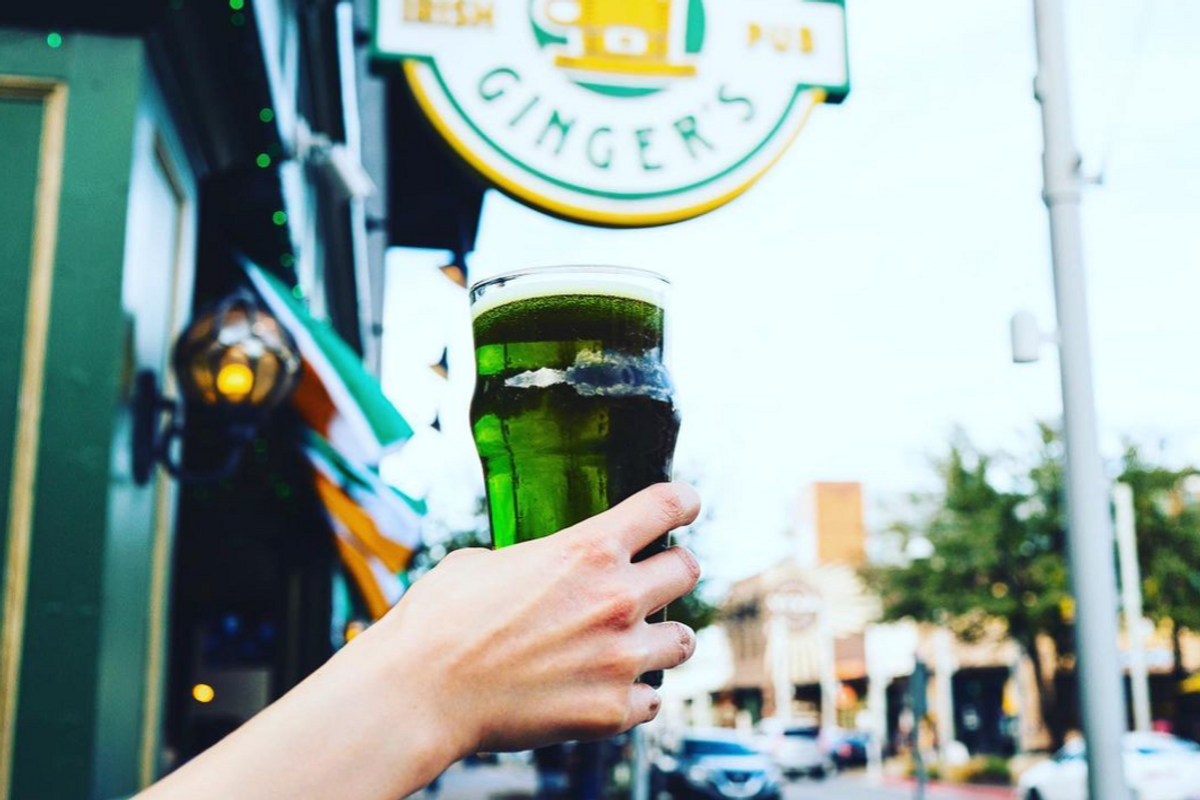 Just like the springtime leaves on the trees, St. Patrick's Day is here to bring green to all kinds of bars, restaurants and events in Austin Thursday.
---
Put on something green to escape wayward pinches and kiss your Irish loved ones (we recommend asking first) before heading to these St. Paddy's Day events running all day long in Austin.
St. Paddy's Day map
Jack & Ginger's Rock Rose—11500B Rock Rose Ave.
Jack & Ginger's Irish Pub at the Domain NORTHSIDE will block off the street to host a full celebration complete with green beer, bagpipes and outdoor stages.
Doors will open at 10 a.m. and be open to those 21 and older for $20. The pub will host 82 beers on tap, Irish comfort foods and menu items including a giant local pretzel and fish & chips.
Seven live music acts will run from 12 p.m. to 1 a.m. across two stages, including Hollie Holloway Band, Chandler and The Bings, Castaneda Project, More Cowbell and Jericho Machine.
B.D. Riley's—1905 Aldrich St. #130
Recently dubbed the "Best Irish Pub in Texas," B.D. Riley's will host a daylong fest complete with Irish music, food, drinks and entertainment.
The pub will open at 10 a.m., stocked with plenty of Guinness and will host performances from Daithy Arwine at 12 p.m., "The Chancers" at 2 p.m. and a Rock 'n Roll Harp set at 5:30 p.m. Everything but beer and grub will be free, including a free four-hour parking pass at the McBee parking garage.
St. Patrick's Day in the Park—200 W. 6th St.
Austin's premiere Celtic band The Here and Now is in for a busy day this St. Paddy's Day, including an afternoon bash under the emerald glow of The Kilroy Star, the Indeed tower's 20-foot tall light art installation. Picnics are welcome at the free public event, which will be held at The Park at Indeed Tower.
Baker Street Pub & Grill—3003 S Lamar Blvd.
For some Sort Austin festivities, head to Baker St. Grill to enjoy free live music, including bagpipes, Widgeon Holland and Uptown Drive, alongside traditional Irish fare from 11 a.m. to 2 a.m.
The Pub—214 W 4th St.
Looking for more green beer? Aptly named bar The Pub will host a St. Paddy's Day fest of its own complete with three music sets from 5 p.m.-11p.m., a special food menu and drink specials all day hosted by Limavady Irish Whiskey.
Bouldin Acres—2027 S Lamar Blvd.
Those craving a classic shepherd's pie can head to Bouldin Acres for a free indoor-outdoor event complete with food and drinks, DJ's and live music from Kin Faux. The venue opens at 11 a.m. and will give out free swag for the first 150 guests.
Speakeasy—412 Congress Ave.
Do some good while enjoying live music in The Austin Warehouse District at Speakeasy, which will welcome four music acts, DJ Mr. E and special guests all day.
Starting at 5:30 p.m., 90s cover band ZOODUST will perform with benefits going toward refugees in Ukraine.
St. Paddy's Day Bar Crawls—Thursday and Saturday
Enjoy no cover charge and drink specials all night with Austin's St. Patrick's Day Bar Crawl.
For $20, pubgoers can keep the party going all night long at seven participating West Sixth bars and pubs. Crawlers can collect special wristbands at Happy Chicks before heading to the six other nearby pubs for endless Guiness and Irish-themed specials.
Looking for some weekend fun? An even bigger bar crawl is set for Saturday with 13 participating bars, an afterparty at the Concrete Cowboy and two free shots or drinks for just $13.50.
St. Patrick's Day Festival Austin—online
Due to COVID and related staffing shortages, Austin's St. Patrick's Day Festival will once again be online this year. But if you're looking for luck-filled festivities from the comfort of your couch, look no further than this fest, officiated by How To Train Your Dragon voice actor Kieron Elliott.
The festival will celebrate all things Irish with performances from Austin's top Irish Dancing school Inishfree, bodhrán player and storyteller Máirtín de Cógáin, The Clickety Cloggers and music groups including The Here and Now, Sean Keane, Stars of Irish Trad music and Jeff Moore.
Corned Beef Cooking Class—Central Market, 4001 N. Lamar Blvd.
Can't get enough of Irish cuisine? For $50, Central Market's North Lamar location is offering an hour and a half class on dishes including:
Corned beef, cabbage and barley soup
Black and tan glazed pork tenderloin
Irish potato cakes
Irish butter shortbread
Plus, enjoy St. Paddy's Day music with a performance from Sean Orr and Celtic Texas at the location starting at 5:30 p.m.
More pubs and grub
For more mellow festivities, head to these Irish pubs and restaurants offering traditional fare and more:
Foxy's Proper Pub is a great downtown bet for Irish comfort bites.
Since 1866, Scholz Biergarten has become a favorite spot for beer lovers, UT fans and St. Paddy's Day celebrators.
Brit-Tex pub Nosh & Bevvy will hold live music, craft beers and plenty of Jameson for the holiday.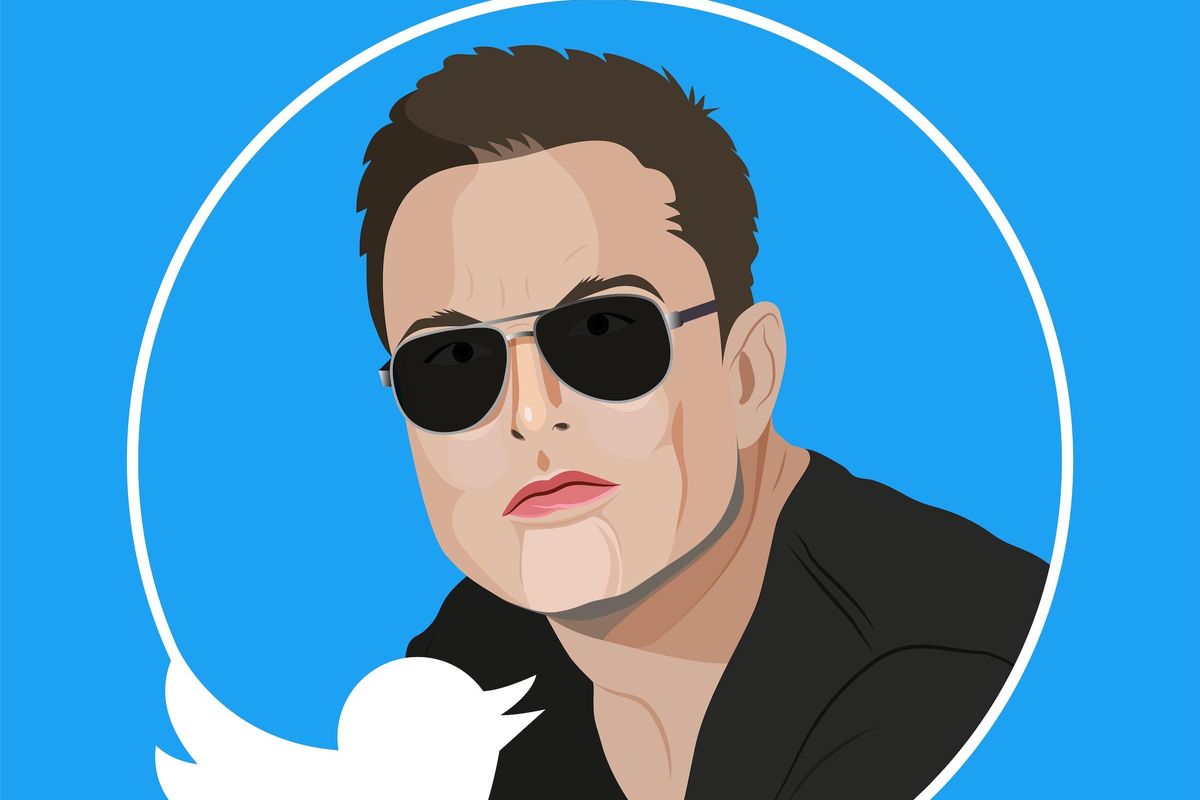 Shutterstock
Elon Musk has proposed once again to buy Twitter for $54.20 a share.
The news that Musk is offering to carry on with the $44 billion buyout was first reported by Bloomberg. Now, a filing with the Securities and Exchange Commission shows Musk made the proposal in a letter to the tech giant on Monday.
The New York Stock Exchange temporarily halted trading in Twitter stock twice Tuesday, first because of a big price move and the second time for a news event, presumably the announcement of Musk's renewed offer.
While the per share offer price on this latest proposal remains the same as the original offer, it's unclear if Musk has made other term changes or if Twitter would reject it. According to other reports, a deal could be reached this week.
The stock closed at $52.00/share Tuesday, indicating market uncertainty around the $54.20 offer.
After Musk informed Twitter of plans to terminate the original agreement in July, Twitter sued. A trial has been expected in Delaware Chancery Court on Oct. 17.
With the proposition of a buyout on the table again, it revives the question of whether Musk might move Twitter from San Francisco to Central Texas.
He's done so with some of his other companies. Tesla's headquarters in southeast Travis County had its grand opening earlier this year and tunneling business The Boring Company moved to Pflugerville. At least two other Musk companies, SpaceX and Neuralink, have a Central Texas presence without being headquartered here.
Technology journalist Nilay Patel this afternoon voiced concerns that owning Twitter and Tesla together could be problematic for Musk, as his Tesla manufacturing facilities in Germany and China are both in countries that have disputes with Twitter over content moderation and censorship.
Telsa shares fell after the Twitter news became public, before rallying to close up, at $249.44.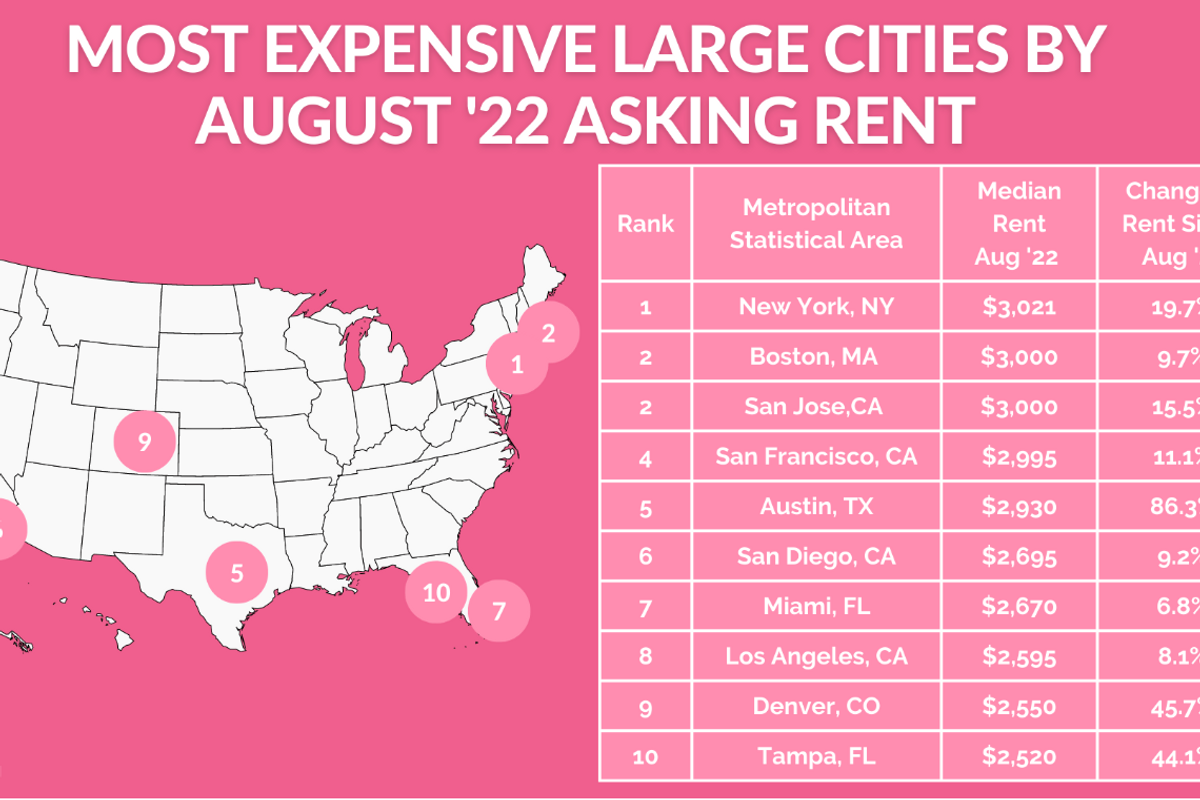 Dwellsy
While searching for a place to live, Austin renters will face monthly rates of nearly $3,000, a recent guide from rental marketplace Dwellsy shows.
The median rent in August this year was $2,930, a more than 86% increase since August 2021. That's $820 more than the nationwide median asking rent in August and puts Austin just below the Bay Area, Boston and New York for large cities with the most expensive asking rent.
"Within this group, Austin, TX stands out for the highest increases in asking rent, which has nearly doubled since this time last year," the study notes.
Outside of those large cities, however, others are seeing even higher rent spikes. Metro areas that ranked above Austin in one-year increases include those like Kansas City, MO with a 112% change in rent since last August and Tucson, AZ with a 124% change.
The data reflects large apartment communities, single-family homes and 2-6 unit buildings.