Get connected with our daily update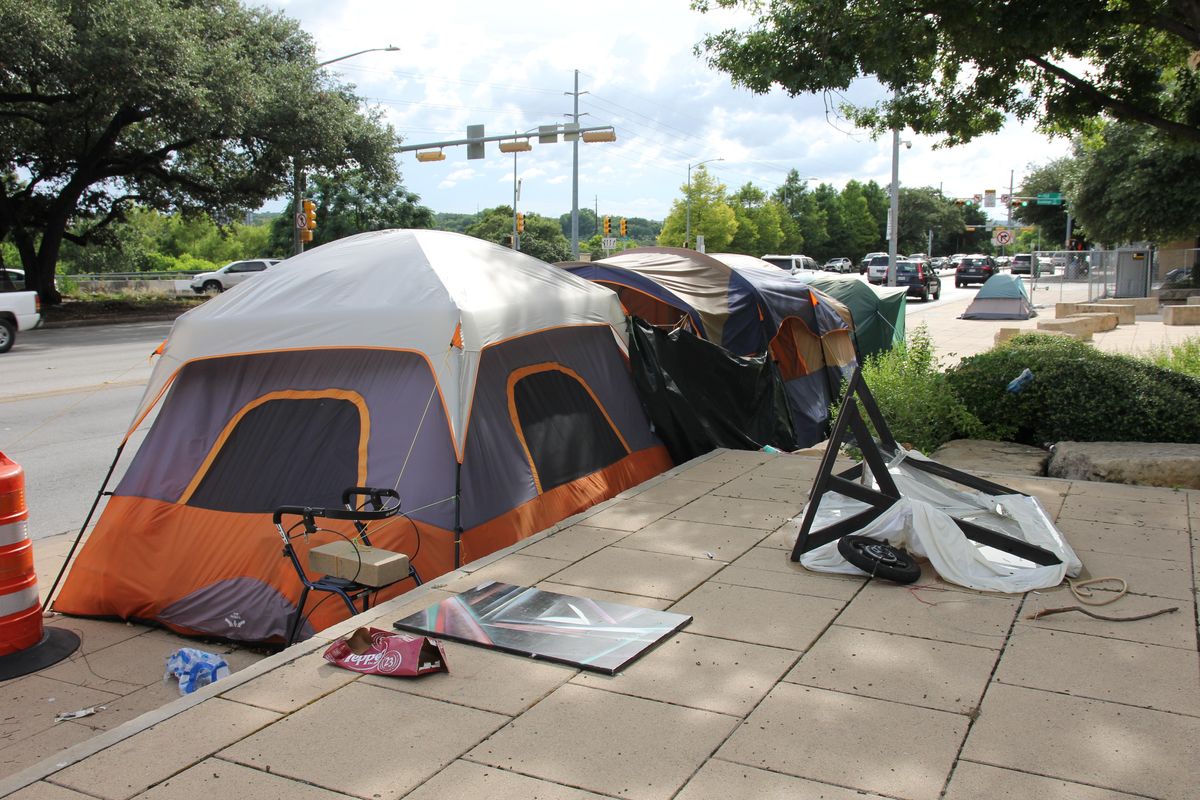 The city of Austin's phased implementation of Proposition B entered its third stage on Sunday, with police now able to issue citations and arrest individuals who refuse to vacate certain homeless camps. But city officials have yet to identify places where they can go.
---
Police feel caught in the middle, tasked with enforcing the ordinances but lacking any clear guidance to offer those impacted. "The elephant in the room … is providing a viable location for folks to be able to go," Community Engagement Lieutenant Lawrence Davis told the public safety commission on Tuesday.
Nearly 58% of Austin voters supported Prop B—a city code amendment to reinstate bans on public sitting, lying, camping and panhandling in certain parts of downtown, near East Austin and West Campus—during the May 1 election.
Austin City Council directed staff to identify possible locations for temporary sanctioned camps in each council district in May. But council members pushed back against the options presented to them and failed to issue clear guidance before their annual six-week summer recess, which ends later this month.
Phase 3 of the City's response plan to the camping ordinance (Prop B) starts today.

It moves from written warnings to citations. Arrests will be utilized only in situations where individuals refuse to vacate areas deemed dangerous.

More info: https://t.co/ZGmrklo55hpic.twitter.com/lfO6ArNo2o
— Vanessa Fuentes 💃🏽 (@VanessaForATX) July 11, 2021
For now, Austin police will issue citations to homeless individuals who have already received written warnings for violating the ordinances. Homeless individuals who refuse to vacate camps that have been deemed dangerous, such as those in flood-prone areas or near highways, may be arrested.

As of July 1, police have recorded a 21% reduction in tents and identified 290 homeless residents who are willing to comply with the ordinances voluntarily so long as there is a place for them to go.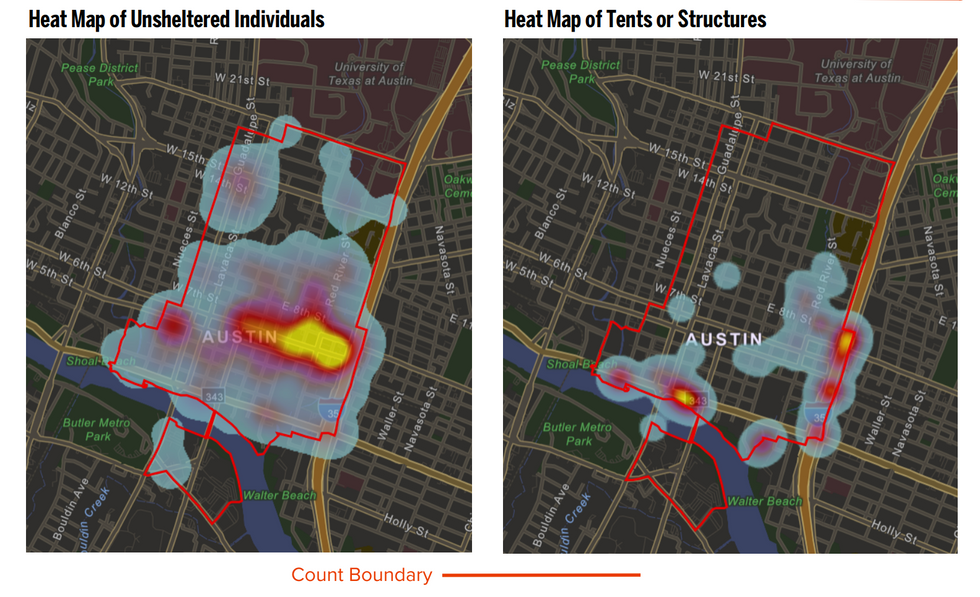 (Downtown Austin Alliance)
Meanwhile, city staff are working to expand existing shelter capacity, which has been constrained by pandemic protocols, which could see more than 300 beds open by mid-August, according to a July 1 memo.

In addition, the city opened the Southbridge Shelter on June 15, a former ProLodge that is now reserved for homeless individuals who lived in camps and are waiting for permanent housing. Approximately 20 individuals from the Terrazas Library camp are living at the shelter, which has 75 rooms. The city has also renewed the lease of a second ProLodge shelter using American Rescue Plan Act funds and expects it to open in early August, after repairs are completed.
Staff will next update the council on July 22, including identifying potential temporary campsites. Members mostly pushed back when staff proposed 45 potential sites, citing concerns ranging from transparency, costs and wildfire risks.
This attitude has prompted pushback. Bill Brice, vice president of investor relations for the Downtown Austin Alliance, chastised Austinites who supported Prop B but now refuse sanctioned camps, shelters or homeless housing in their neighborhoods. "Community members cannot have it both ways," he said at the same public safety commission meeting.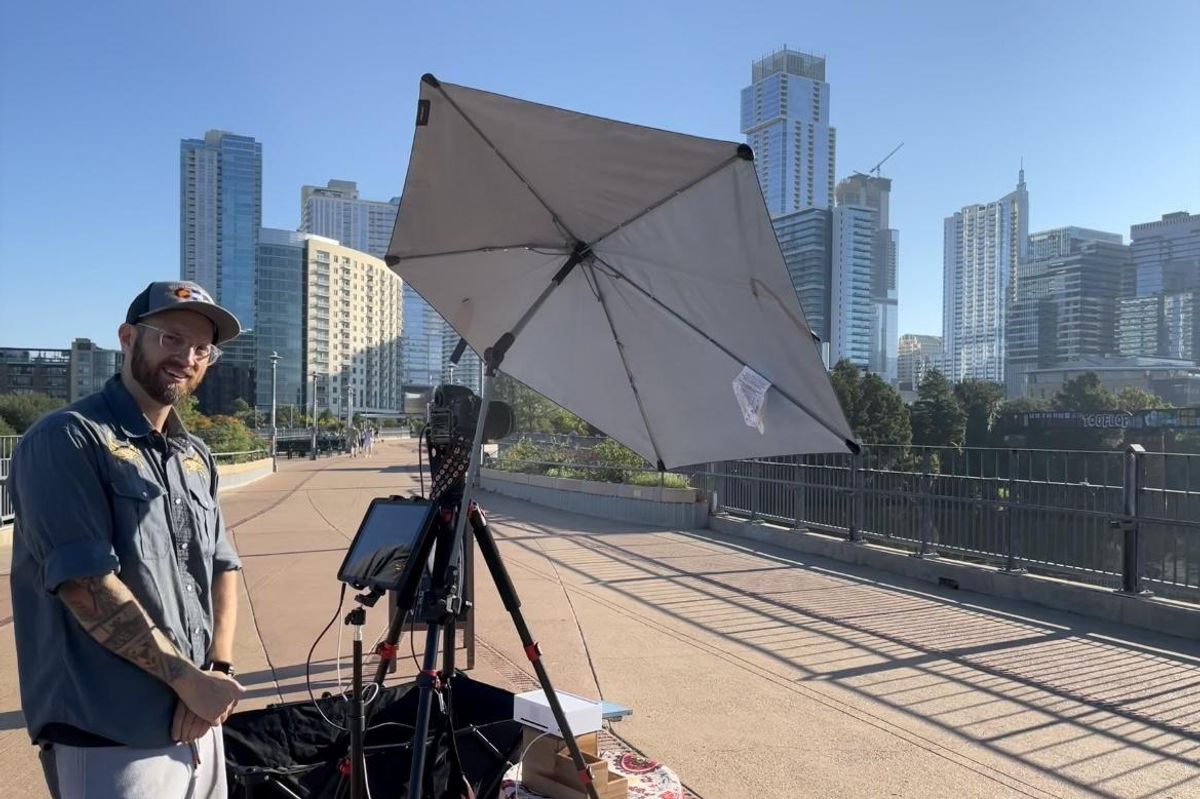 Nicklaus Pereksta says he loves photographing enthusiastic people, and it's why his latest gig offering pictures to people out on Lady Bird Lake's hike and bike trail is going smoothly. He sets up his gear on the Pfluger pedestrian bridge and puts out a sign: Photos, $10.
"Overwhelmingly, this has been a really positive experience," Pereksta said. "I get excited when I wake up in the morning and I can't wait to go to work."
Bikers and joggers are excited about it too. On the pedestrian bridge leading to downtown Thursday morning, a man on an e-bike rode up and posed, wanting more photos.
"I posted the last pictures on Instagram and people loved it. They asked, 'where is this guy?'" the biker told Pereksta. Bashfully, Pereksta, who also photographs landscapes and at weddings and other events, said he was happy to hear that.
Pereksta started these photos about a month ago, after the strenuous runs required in his valet job started causing pain in his legs. And though he has a passion for photography, he wasn't so sure when he started working independently if it would work out.
He felt uncertain about the demand for it and was also worried about having lots of expensive equipment out in the open.
"Then like the first day was nothing but high praise and people are like, this is so awesome. This is great. I've never seen anything like this before. I was like, Wow, this was really good, like positive turnout. So I got encouraged."
Now, he wants to expand and is thinking of contacting the Mueller Farmers Market about how to become a vendor. Still, he'll carry a connection to photographing on the bridge since the word bridge is related to his last name.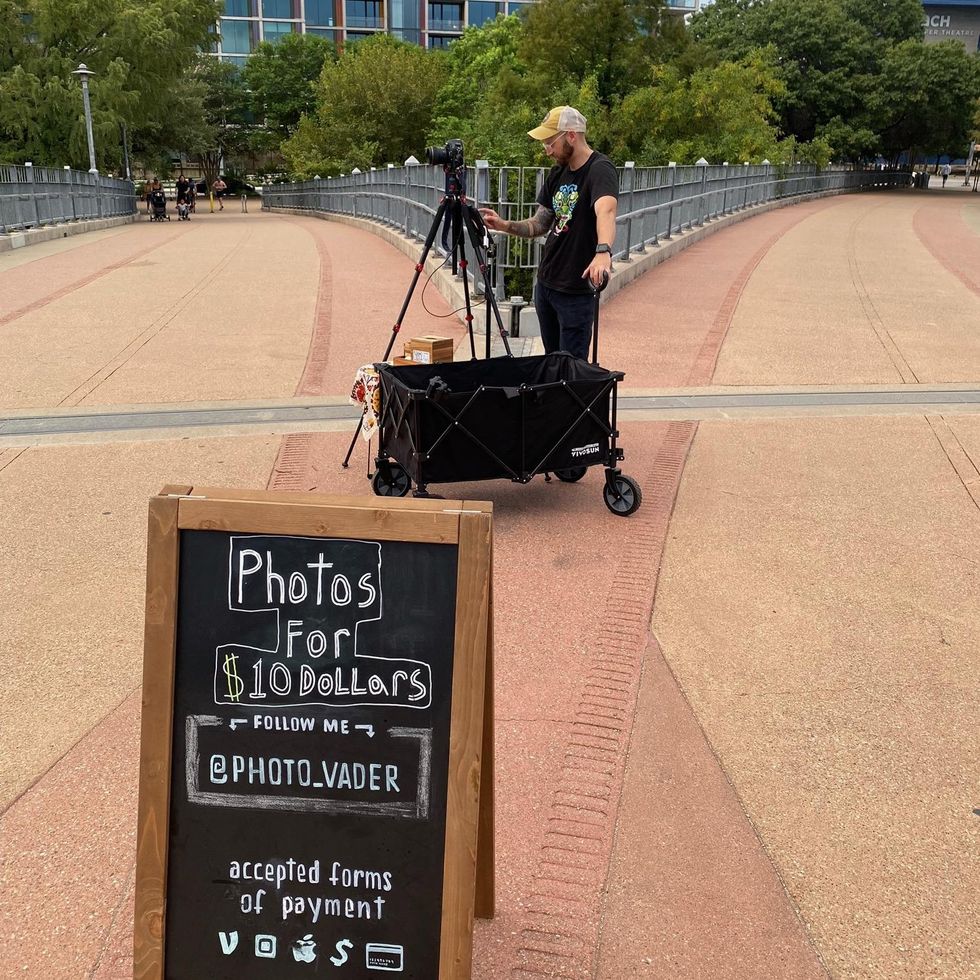 (Dewey C.)
"It's a name my great, great, great grandfather came up with when he was marrying somebody. It's actually quite a romantic name. It means a joining of two bridges," Pereksta said. "So, I thought it was ironic that I'm set up on a bridge. I'm kind of representing my last name right now."
Austonia talked to Pereksta about life in Austin, where he's lived for eight years after living in Boston doing band photography.
What was your first experience with Austin?
I came here to visit some friends and they took me to Barbarella. So we went to Barbarella and I was like, 'wow, this place is great.' And then the restaurants and the food and going to Barton Springs. I was like, 'this is amazing.' Because there's nothing like that in Boston. If you want to go to a natural spring, you got to go to New Hampshire. There's no pools in the city at all. So there's lots of swimming out here.
What do you like best about Austin?
You go to any little quiet bar and there's a band playing that should be like onstage for a sold out show. Yeah, they're playing to 10 people, right? Like, one of the best bands ever and they're playing for 10 people, right? And just little magic moments like that are pretty fun. You just run into little random weird things.
What do you think makes Austin different from other places?
There's no fall.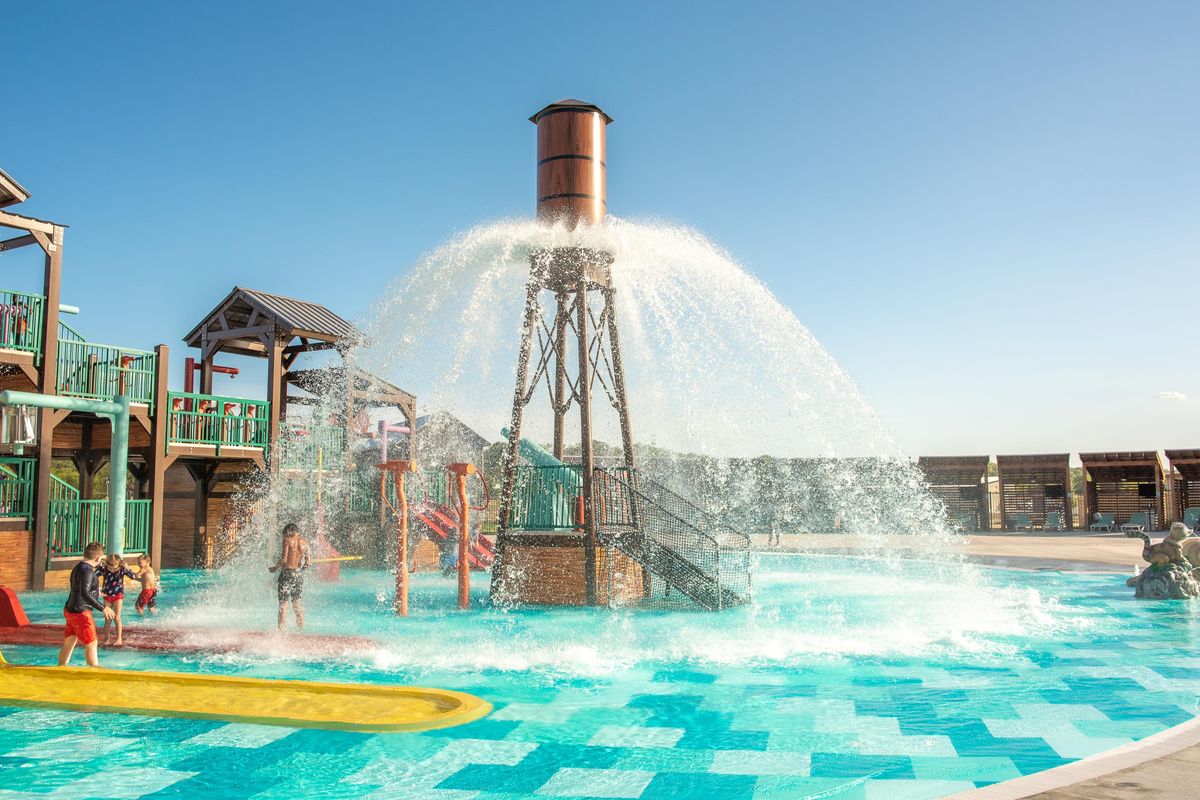 Camp Fimfo Waco
Camp Fimfo Waco, a brand new camping resort, is kicking off football and fall camping season in style! With top-notch amenities, premium accommodations, and 10 weekends of fall fun, there's no better place to have a fall camping getaway, especially if you're a Baylor football fan!
Fall promises to be a one-of-a-kind camping experience. From Sept. 16 to Nov. 24, weekends will be packed with fall-themed activities, including special Halloween weekends in October. Campers can enjoy activities like fall crafts, campground trick-or-treating, costume contests, site decorating, outdoor movie nights, and more!