Get connected with our daily update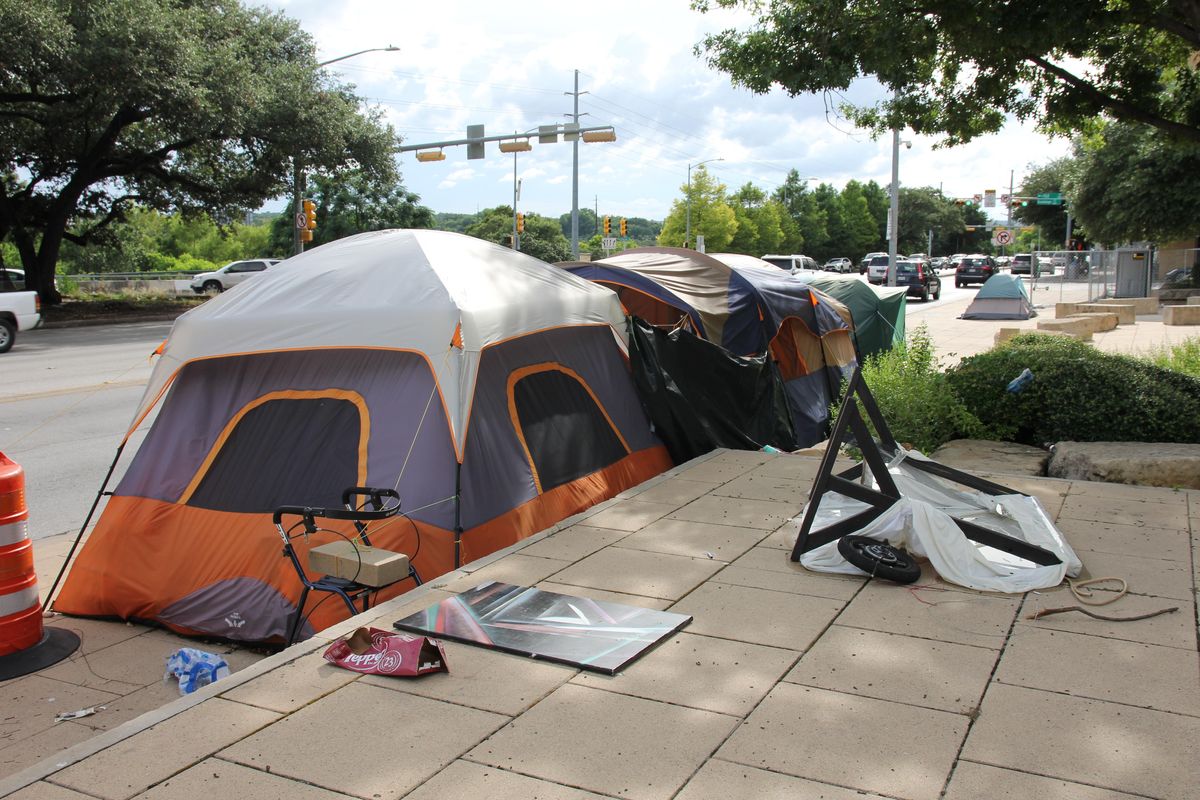 The city of Austin's phased implementation of Proposition B entered its third stage on Sunday, with police now able to issue citations and arrest individuals who refuse to vacate certain homeless camps. But city officials have yet to identify places where they can go.
---
Police feel caught in the middle, tasked with enforcing the ordinances but lacking any clear guidance to offer those impacted. "The elephant in the room … is providing a viable location for folks to be able to go," Community Engagement Lieutenant Lawrence Davis told the public safety commission on Tuesday.
Nearly 58% of Austin voters supported Prop B—a city code amendment to reinstate bans on public sitting, lying, camping and panhandling in certain parts of downtown, near East Austin and West Campus—during the May 1 election.
Austin City Council directed staff to identify possible locations for temporary sanctioned camps in each council district in May. But council members pushed back against the options presented to them and failed to issue clear guidance before their annual six-week summer recess, which ends later this month.
Phase 3 of the City's response plan to the camping ordinance (Prop B) starts today.

It moves from written warnings to citations. Arrests will be utilized only in situations where individuals refuse to vacate areas deemed dangerous.

More info: https://t.co/ZGmrklo55hpic.twitter.com/lfO6ArNo2o
— Vanessa Fuentes 💃🏽 (@VanessaForATX) July 11, 2021
For now, Austin police will issue citations to homeless individuals who have already received written warnings for violating the ordinances. Homeless individuals who refuse to vacate camps that have been deemed dangerous, such as those in flood-prone areas or near highways, may be arrested.

As of July 1, police have recorded a 21% reduction in tents and identified 290 homeless residents who are willing to comply with the ordinances voluntarily so long as there is a place for them to go.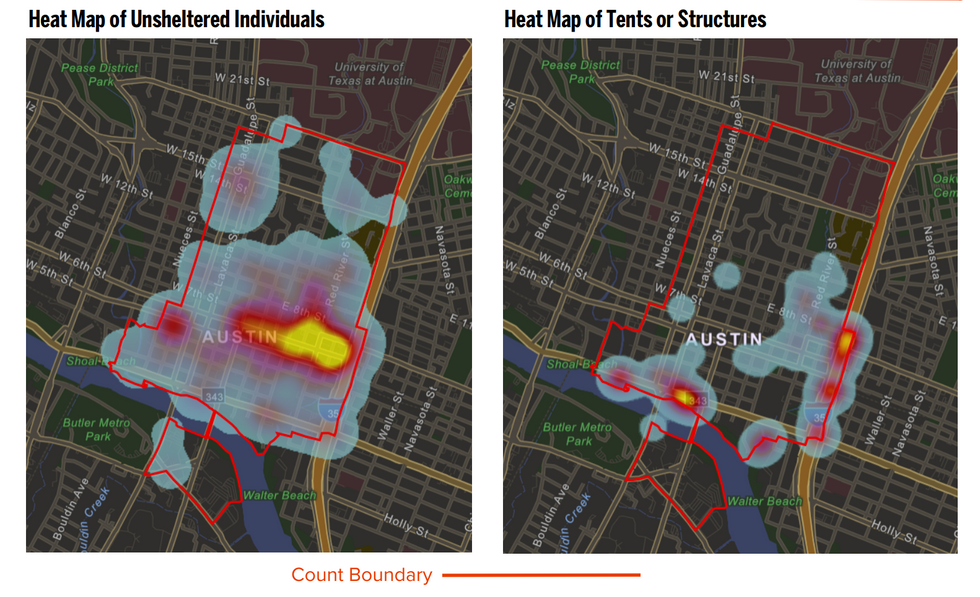 (Downtown Austin Alliance)
Meanwhile, city staff are working to expand existing shelter capacity, which has been constrained by pandemic protocols, which could see more than 300 beds open by mid-August, according to a July 1 memo.

In addition, the city opened the Southbridge Shelter on June 15, a former ProLodge that is now reserved for homeless individuals who lived in camps and are waiting for permanent housing. Approximately 20 individuals from the Terrazas Library camp are living at the shelter, which has 75 rooms. The city has also renewed the lease of a second ProLodge shelter using American Rescue Plan Act funds and expects it to open in early August, after repairs are completed.
Staff will next update the council on July 22, including identifying potential temporary campsites. Members mostly pushed back when staff proposed 45 potential sites, citing concerns ranging from transparency, costs and wildfire risks.
This attitude has prompted pushback. Bill Brice, vice president of investor relations for the Downtown Austin Alliance, chastised Austinites who supported Prop B but now refuse sanctioned camps, shelters or homeless housing in their neighborhoods. "Community members cannot have it both ways," he said at the same public safety commission meeting.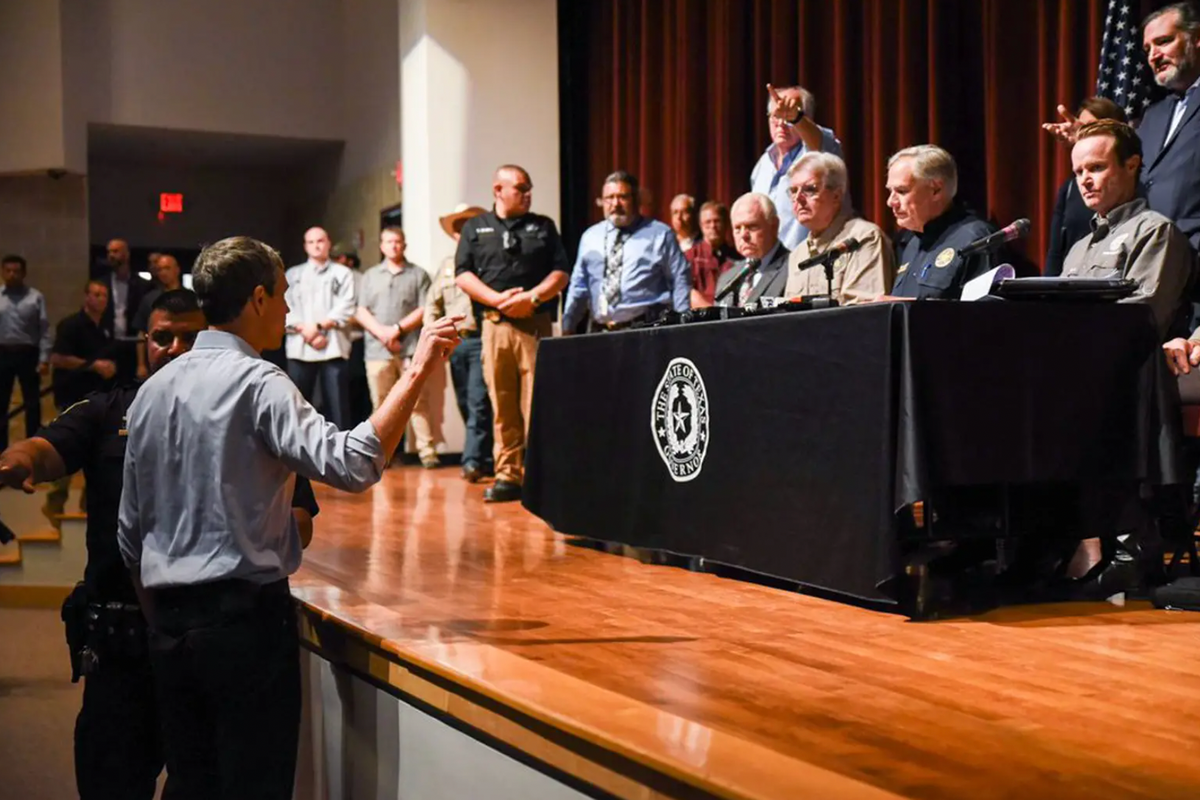 By Patrick Svitek
Beto O'Rourke caused a dramatic scene on Wednesday when he angrily confronted Gov. Greg Abbott at his news conference about the Uvalde school shooting, yelling, "This is on you."
After Abbott was done giving his initial remarks, O'Rourke approached the stage and told Abbott he was "doing nothing" to combat gun violence. He said the Uvalde massacre, in which a gunman killed 19 children and two adults, was "totally predictable."
Some of the Republican officials onstage with Abbott quickly denounced O'Rourke, telling him to go away. Another man onstage used expletives to criticize O'Rourke for interrupting the event.O'Rourke was eventually escorted away amid the unruly scene.
"I can't believe that you're a sick son of a bitch that would come to a deal like this to make a political issue," Uvalde Mayor Don McLaughlin told O'Rourke at one point.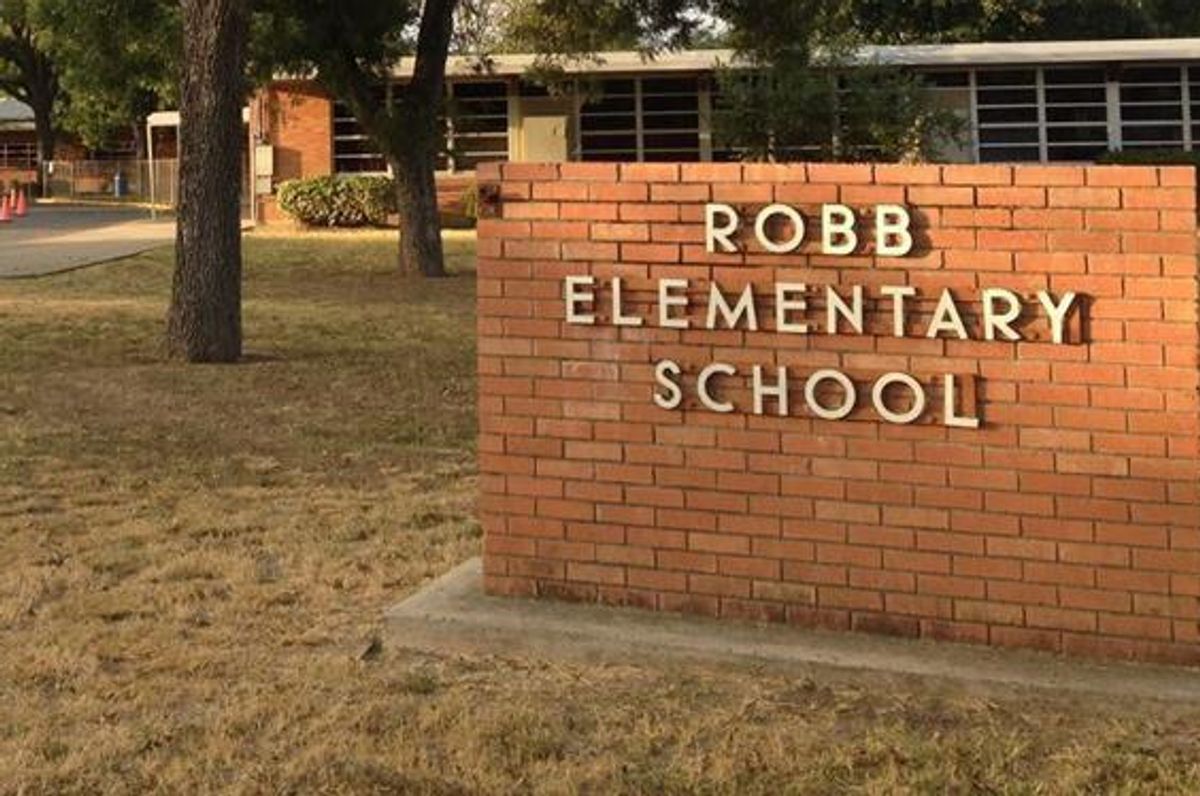 Nineteen kids and two adults are dead after a shooting at Robb Elementary School in Uvalde, Texas—a small town an hour and a half west of San Antonio—on Tuesday afternoon.
Gov. Greg Abbott said the suspect, 18-year-old Salvador Ramos, is believed to have been killed by the police. The Uvalde Police Department said the shooting began at 11:43 a.m. Tuesday.
"What happened in Uvalde is a horrific tragedy that cannot be tolerated in the state of Texas," Abbott said. "He shot and killed—horrifically, incomprehensibly."

Texans are grieving for the victims of this senseless crime & for the community of Uvalde.

Cecilia & I mourn this horrific loss & urge all Texans to come together.

I've instructed @TxDPS & Texas Rangers to work with local law enforcement to fully investigate this crime. pic.twitter.com/Yjwi8tDT1v
— Greg Abbott (@GregAbbott_TX) May 24, 2022
According to University Health Hospital officials, a 66-year-old woman and 10-year-old girl arrived in critical condition. Uvalde Memorial Hospital reportedly received 13 children for treatment and two individuals who were already deceased. At the time, it was believed 14 had died in this shooting.

The shooter prompted a lockdown at the elementary school of just under 550 students, with San Antonio Police sending SWAT, and Eagle chopper and Crime Scene Investigators.
According to White House press secretary Karine Jean-Pierre, President Joe Biden has been briefed on the tragedy and "His prayers are with the families impacted by this awful event, and he will speak this evening when he arrives back at the White House."
At 21 deaths, it is the deadliest school shooting in Texas and one of the deadliest in the U.S. since 26 at Sandy Hook Elementary lost their lives. This is the U.S.'s 213th mass shooting of 2022.