Get connected with our daily update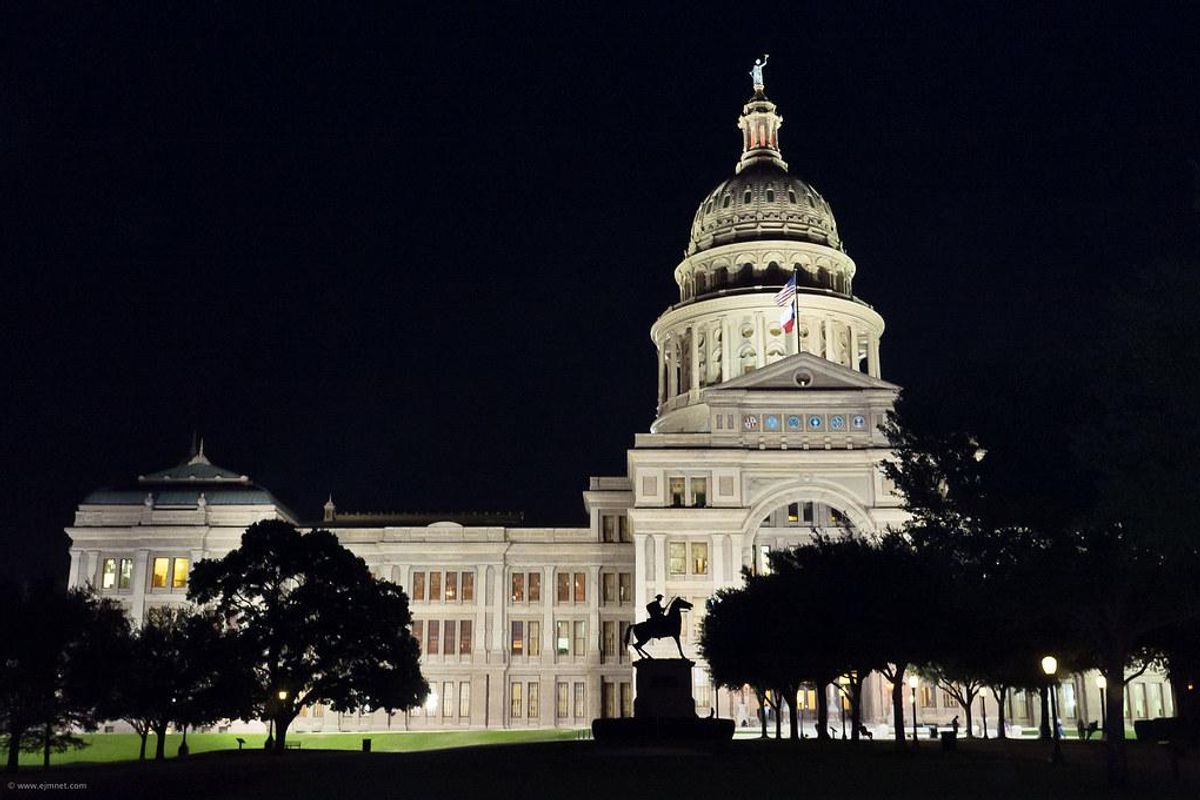 (Earl McGehee/CC)
Bridging the gap between East and West Texas, I-35's brightly lit corridors are familiar to nearly every person living in Central Texas and beyond. The highway is so bright that all the way from Nuevo Laredo, Mexico up through Dallas and everything west of the highway can be seen from space.

This pathway between a light-polluted sky and the stars is called "The Edge of Night."
---
That's because I-35 segments the sections: to the west, the night sky is mostly dark outside of cities, but to the east, the skies gleam all night and day, taking the place of the stars. Austin sits along the edge of night, centrally situated, so you can't see the stars from most areas of the city.
(Tip: click #4 on the dark sky map)
The harm of light pollution
A night sky with no stars is caused by the well-known phenomenon called light pollution, which is the brightening of the sky caused by streetlights and other man-made light sources. According to Starry Sky Austin Director Amy Jackson, light pollution causes more harm than just hiding constellations.

"Some people will never see our Milky Way galaxy and it's crazy to me, because ... that's like a birthright, we should be able to see our Milky Way galaxy and not have to travel far to see it," Jackson said. "We should be able to see our stars in the sky. That's an important issue but there's so many other ones. It's definitely a misconception that's propagated by all kinds of people that it's safer when we light up the night."
Instead of using directional light pointed toward the ground, most light bulbs cause light scatter, spreading light in all directions, which creates a glare that actually makes it harder to see. Glare makes the lit-up areas look brighter and the unlit areas are made to look darker by contrast, causing safety issues and skyglow.

Street lights create a lot of glare, and the transition to LED lights has created even more. LED lights contain a more blue light, making the light look whiter and brighter. This glare can temporarily blind you if it's too bright—like when someone's LED headlights are pointed just so at your rearview mirror.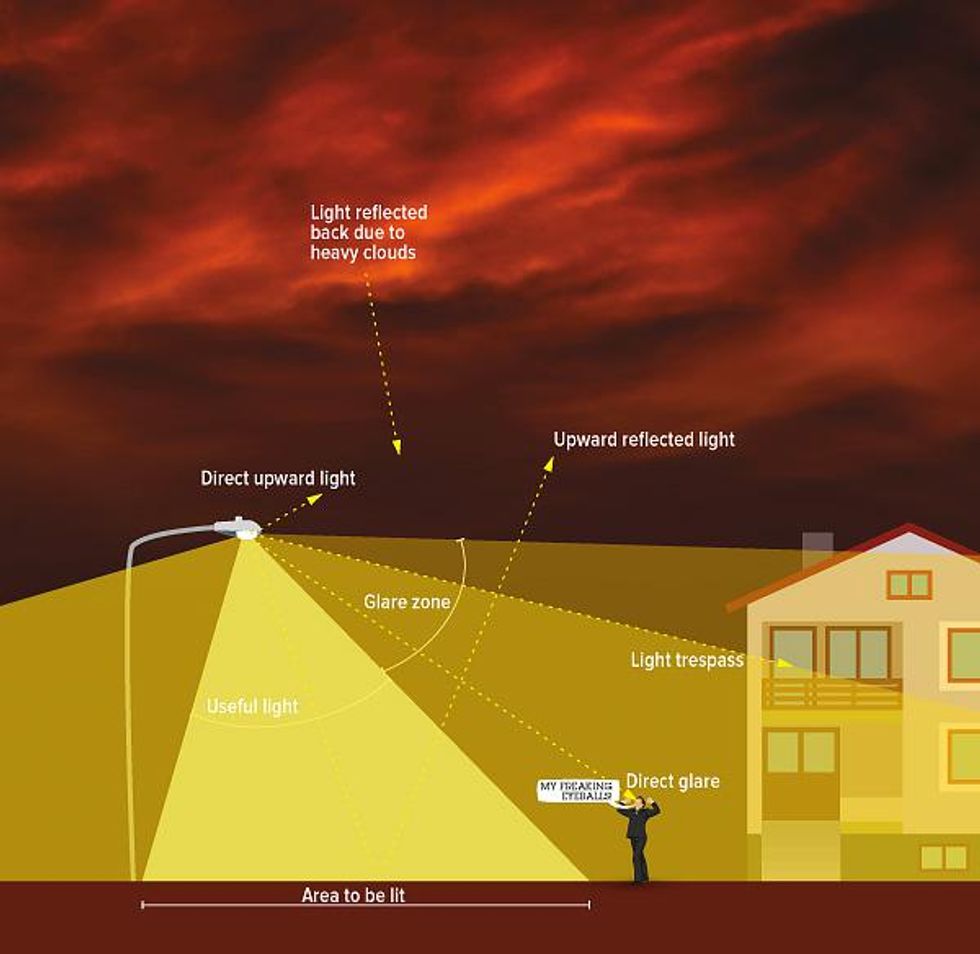 (IDA)
"We just don't think about that light hurting us, we don't think about light blinding us," said Cindy Luongo Cassidy, director of the Texas Chapter of the International Dark Sky Association.

Aside from traffic issues, excess blue light disrupts our circadian rhythm, or sleep cycle, and the ecosystems of plants and animals all around us. Think about the blue light your phone and computer emit, but on a much larger scale.
Blue light affects our production of melatonin—which disrupts our sleep patterns and causes fatigue and strain—but according to Jackson, it causes ecological issues like upsetting bird migratory patterns, nocturnal animals and plant life.
"Lights are telling us and our bodies to stay awake and so now we have our screens and we have our cell phones and we're like 'okay, you should stay awake,' you're like 'no, I need to go to sleep,'" Jackson said. "It messes with our circadian rhythms and we start to have a decreased immune system so we're more prone to illness."
In extreme cases, Cassidy said decreased melatonin can contribute to certain types of cancer because melatonin inhibits the production of cancerous cells. Several studies have stated the same thing, also linking cancer to lack of sleep.
"It really messes up the life on this planet," Cassidy said. "We may not see it right away but it'll say, cause trees to be more susceptible to disease, it causes our cancers to keep growing rather than melatonin being there just to stop it. It's detrimental to us. We hold up the Barton Springs salamander and say we've got to protect this endangered species and yet, artificial light is detrimental to it."
Aside from the health issues and ecological damage, using so much electricity is expensive, wasteful and doesn't even do much to protect us, Cassidy said. In fact, studies have shown that many types of crime, like larceny and theft, are more likely to occur in the daytime.

Advocating for starry nights
Attempting to reduce light pollution, places like Dripping Springs became classified as an International Dark Sky Community, meaning the city is dedicated to "preservation of the night sky through the implementation and enforcement of quality lighting policies."
In order to qualify, cities must make a few minor changes: shield all light fixtures so light is not wasted on the sky, control light wavelength and temperatures (i.e. control blue light) and consistently regulate the emission of light into the sky.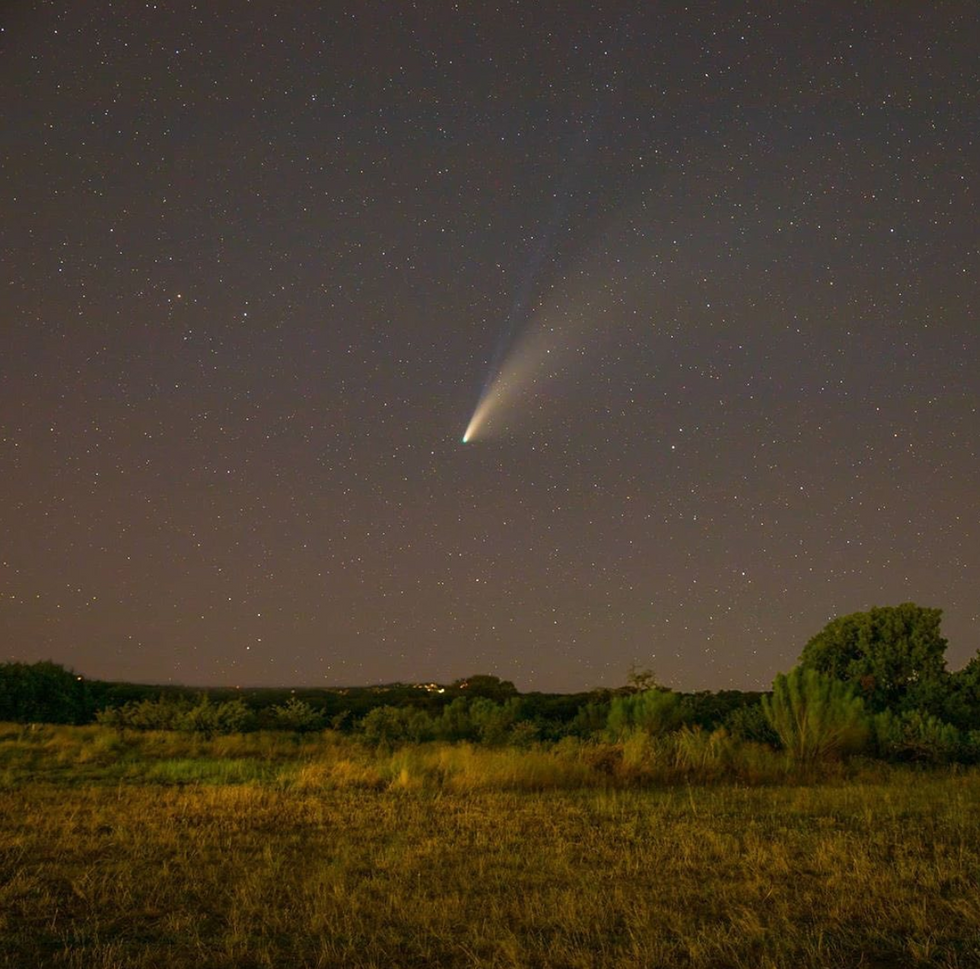 (@destinationdripping/Instagram)
Several other Texas cities have shown interest in becoming dark sky communities like Bee Cave, Lago Vista and Inks Lake. Organizations like Travis County Friends of the Night Sky and Hill Country Alliance have advocated for legislation that would limit light trespass and reduce glare, but due to a bill that was passed during the last legislative session Texas cities can no longer become dark sky cities.
HB 2439 went into effect on Sept. 1, 2019, and restricts the government from regulating local building materials used in construction. The Texas Association of Builders Vice President Ned Muñoz said that while current dark sky communities were exempted, keeping new dark sky communities from emerging was an unintended consequence of the bill.
"In order to be (a dark sky community) you had to already have the ordinances in effect," Muñoz said. "It was unintentionally only applied to ordinances that had already been certified."
Now, Muñoz said he is working with Scenic Texas and other organizations to rectify the problem. The idea is to allow ordinances that regulate outdoor lighting for the purpose of reducing light pollution to be adopted by cities, while simultaneously being exempt from the current bill.
"The way we would try to fix this is to say not only are dark sky certified communities exempted, but we want to exempt cities that have expressed an intent to become a dark sky community and are mandating those International Dark Sky Association guidelines," Muñoz said.
Muñoz said they are trying to rectify the issue this legislative session.
Austin is still a long way from being able to see its night sky clearly, so in the meantime, Jackson recommends heading west if you want to stargaze. However, there are places in and around Austin where you can find some darkness.
"Luckily, Austin has a lot of parks, in Travis County there are parks you can go to, and we have our state parks system," Jackson said. "Enchanted Rock is a dark sky park, South Llano River State Park is a dark sky park, and those are darker than the ones in town like McKinney Falls."
You can view a full list of dark sky areas in Texas here.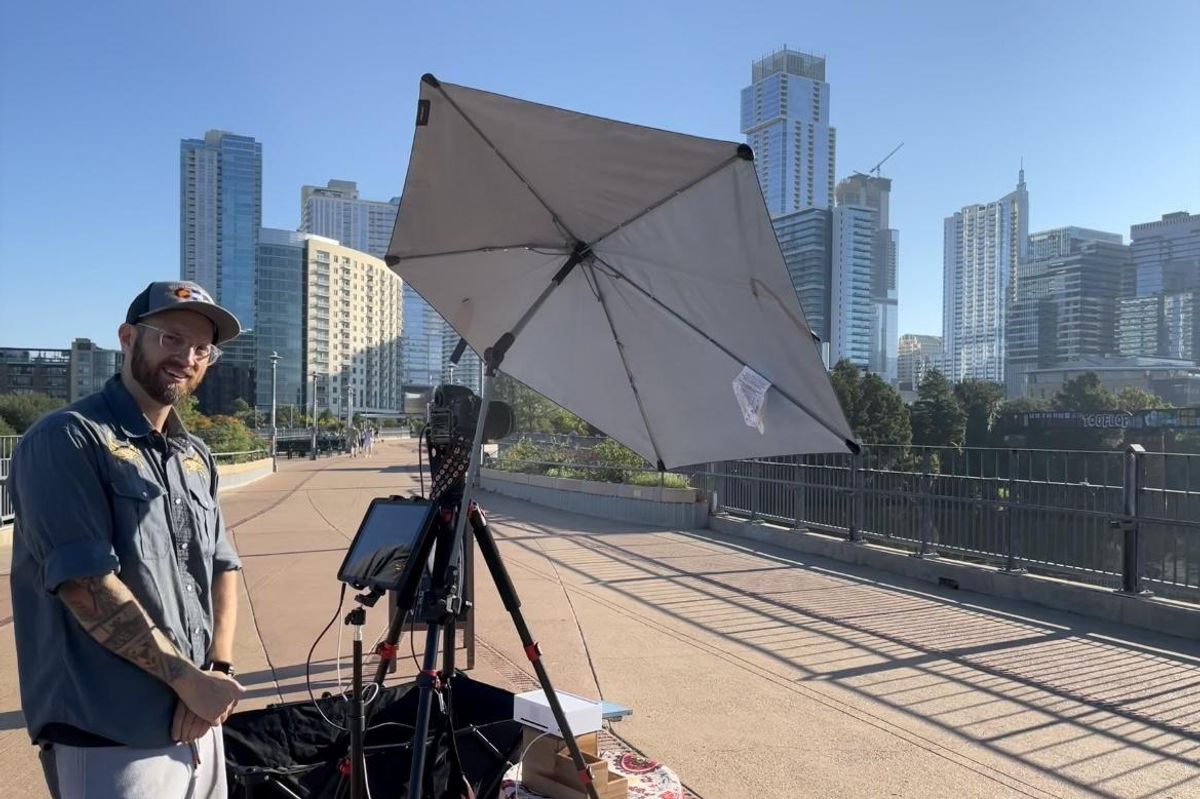 Nicklaus Pereksta says he loves photographing enthusiastic people, and it's why his latest gig offering pictures to people out on Lady Bird Lake's hike and bike trail is going smoothly. He sets up his gear on the Pfluger pedestrian bridge and puts out a sign: Photos, $10.
"Overwhelmingly, this has been a really positive experience," Pereksta said. "I get excited when I wake up in the morning and I can't wait to go to work."
Bikers and joggers are excited about it too. On the pedestrian bridge leading to downtown Thursday morning, a man on an e-bike rode up and posed, wanting more photos.
"I posted the last pictures on Instagram and people loved it. They asked, 'where is this guy?'" the biker told Pereksta. Bashfully, Pereksta, who also photographs landscapes and at weddings and other events, said he was happy to hear that.
Pereksta started these photos about a month ago, after the strenuous runs required in his valet job started causing pain in his legs. And though he has a passion for photography, he wasn't so sure when he started working independently if it would work out.
He felt uncertain about the demand for it and was also worried about having lots of expensive equipment out in the open.
"Then like the first day was nothing but high praise and people are like, this is so awesome. This is great. I've never seen anything like this before. I was like, Wow, this was really good, like positive turnout. So I got encouraged."
Now, he wants to expand and is thinking of contacting the Mueller Farmers Market about how to become a vendor. Still, he'll carry a connection to photographing on the bridge since the word bridge is related to his last name.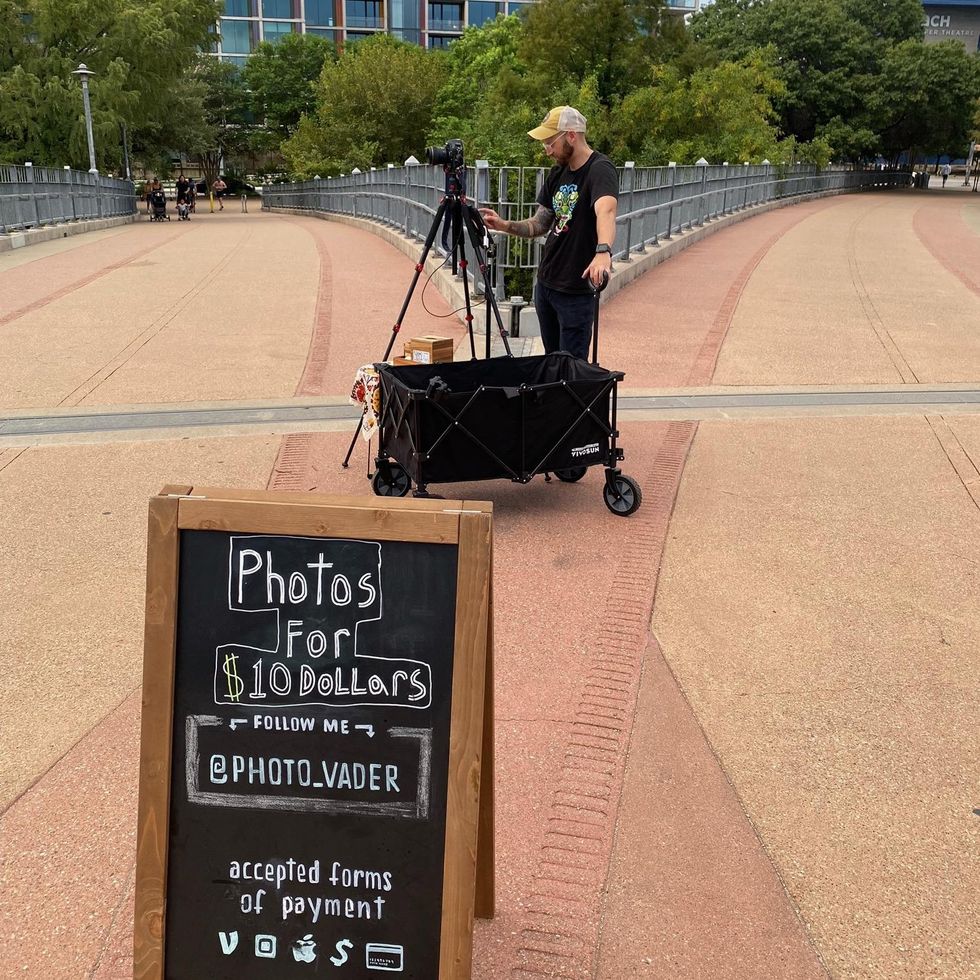 (Dewey C.)
"It's a name my great, great, great grandfather came up with when he was marrying somebody. It's actually quite a romantic name. It means a joining of two bridges," Pereksta said. "So, I thought it was ironic that I'm set up on a bridge. I'm kind of representing my last name right now."
Austonia talked to Pereksta about life in Austin, where he's lived for eight years after living in Boston doing band photography.
What was your first experience with Austin?
I came here to visit some friends and they took me to Barbarella. So we went to Barbarella and I was like, 'wow, this place is great.' And then the restaurants and the food and going to Barton Springs. I was like, 'this is amazing.' Because there's nothing like that in Boston. If you want to go to a natural spring, you got to go to New Hampshire. There's no pools in the city at all. So there's lots of swimming out here.
What do you like best about Austin?
You go to any little quiet bar and there's a band playing that should be like onstage for a sold out show. Yeah, they're playing to 10 people, right? Like, one of the best bands ever and they're playing for 10 people, right? And just little magic moments like that are pretty fun. You just run into little random weird things.
What do you think makes Austin different from other places?
There's no fall.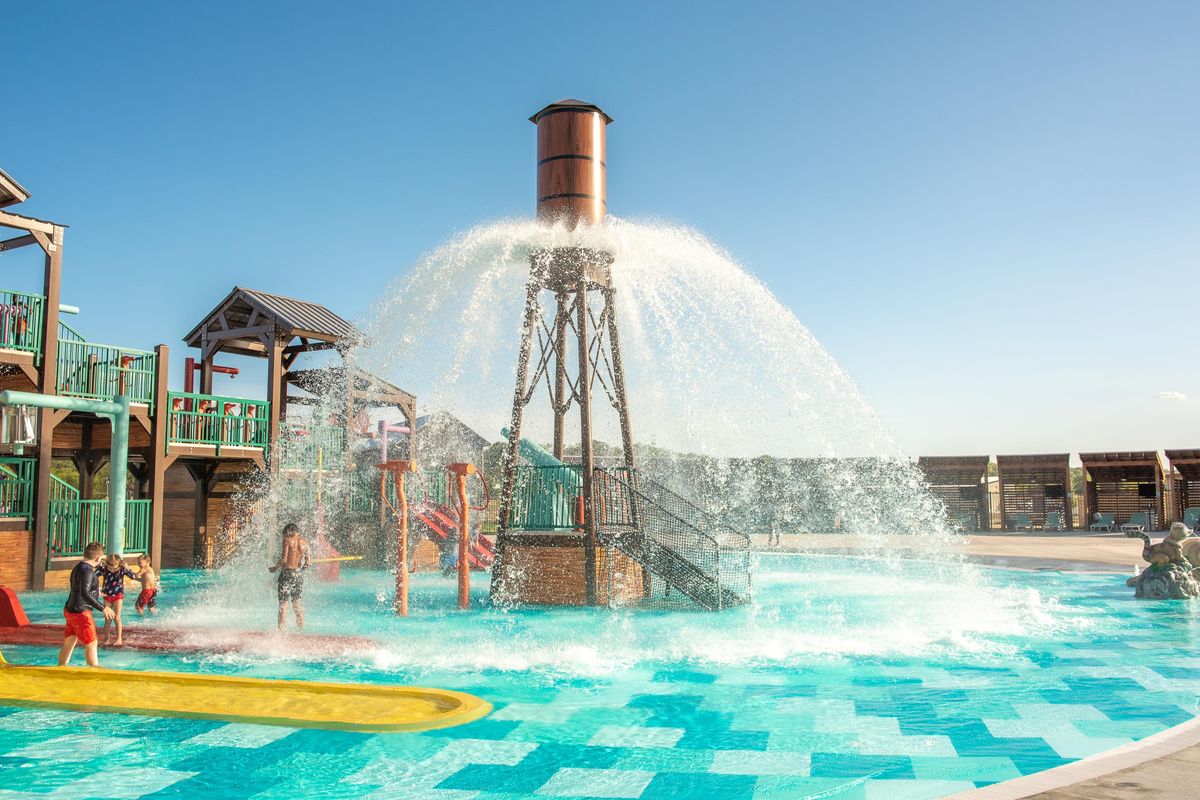 Camp Fimfo Waco
Camp Fimfo Waco, a brand new camping resort, is kicking off football and fall camping season in style! With top-notch amenities, premium accommodations, and 10 weekends of fall fun, there's no better place to have a fall camping getaway, especially if you're a Baylor football fan!
Fall promises to be a one-of-a-kind camping experience. From Sept. 16 to Nov. 24, weekends will be packed with fall-themed activities, including special Halloween weekends in October. Campers can enjoy activities like fall crafts, campground trick-or-treating, costume contests, site decorating, outdoor movie nights, and more!