Get connected with our daily update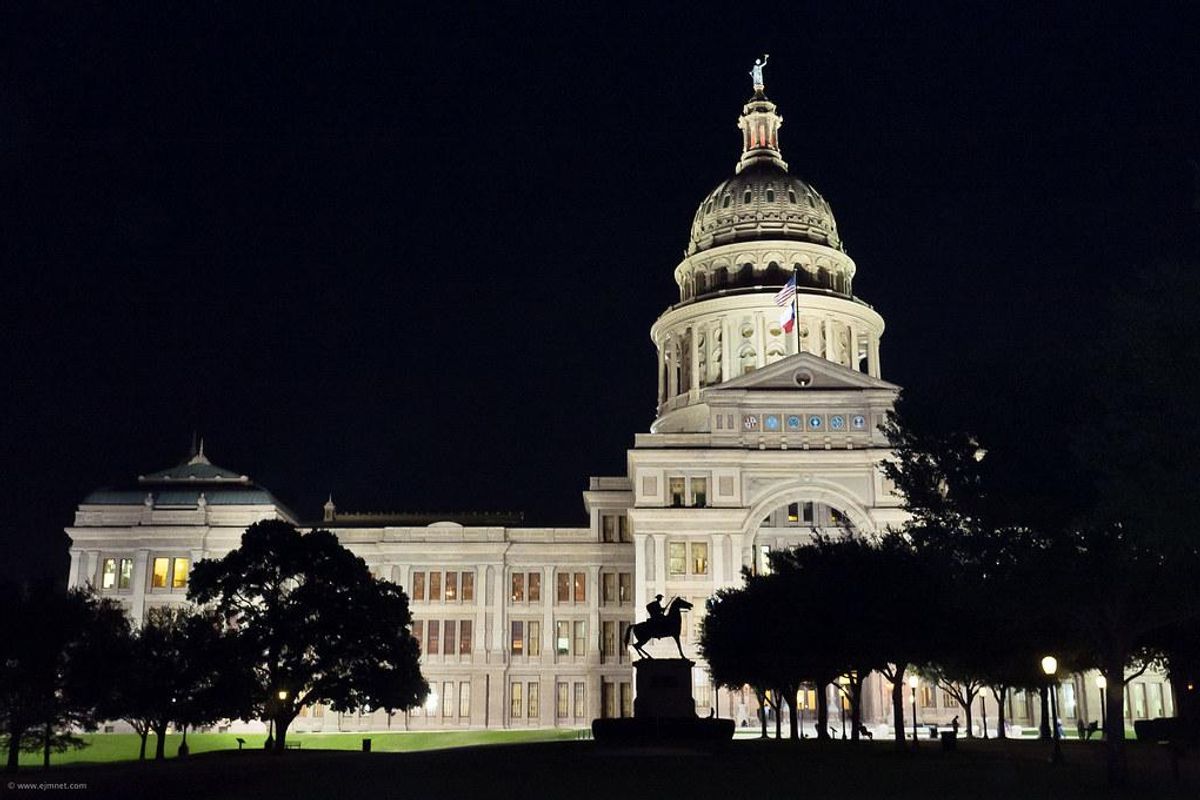 (Earl McGehee/CC)
Bridging the gap between East and West Texas, I-35's brightly lit corridors are familiar to nearly every person living in Central Texas and beyond. The highway is so bright that all the way from Nuevo Laredo, Mexico up through Dallas and everything west of the highway can be seen from space.

This pathway between a light-polluted sky and the stars is called "The Edge of Night."
---
That's because I-35 segments the sections: to the west, the night sky is mostly dark outside of cities, but to the east, the skies gleam all night and day, taking the place of the stars. Austin sits along the edge of night, centrally situated, so you can't see the stars from most areas of the city.
(Tip: click #4 on the dark sky map)
The harm of light pollution
A night sky with no stars is caused by the well-known phenomenon called light pollution, which is the brightening of the sky caused by streetlights and other man-made light sources. According to Starry Sky Austin Director Amy Jackson, light pollution causes more harm than just hiding constellations.

"Some people will never see our Milky Way galaxy and it's crazy to me, because ... that's like a birthright, we should be able to see our Milky Way galaxy and not have to travel far to see it," Jackson said. "We should be able to see our stars in the sky. That's an important issue but there's so many other ones. It's definitely a misconception that's propagated by all kinds of people that it's safer when we light up the night."
Instead of using directional light pointed toward the ground, most light bulbs cause light scatter, spreading light in all directions, which creates a glare that actually makes it harder to see. Glare makes the lit-up areas look brighter and the unlit areas are made to look darker by contrast, causing safety issues and skyglow.

Street lights create a lot of glare, and the transition to LED lights has created even more. LED lights contain a more blue light, making the light look whiter and brighter. This glare can temporarily blind you if it's too bright—like when someone's LED headlights are pointed just so at your rearview mirror.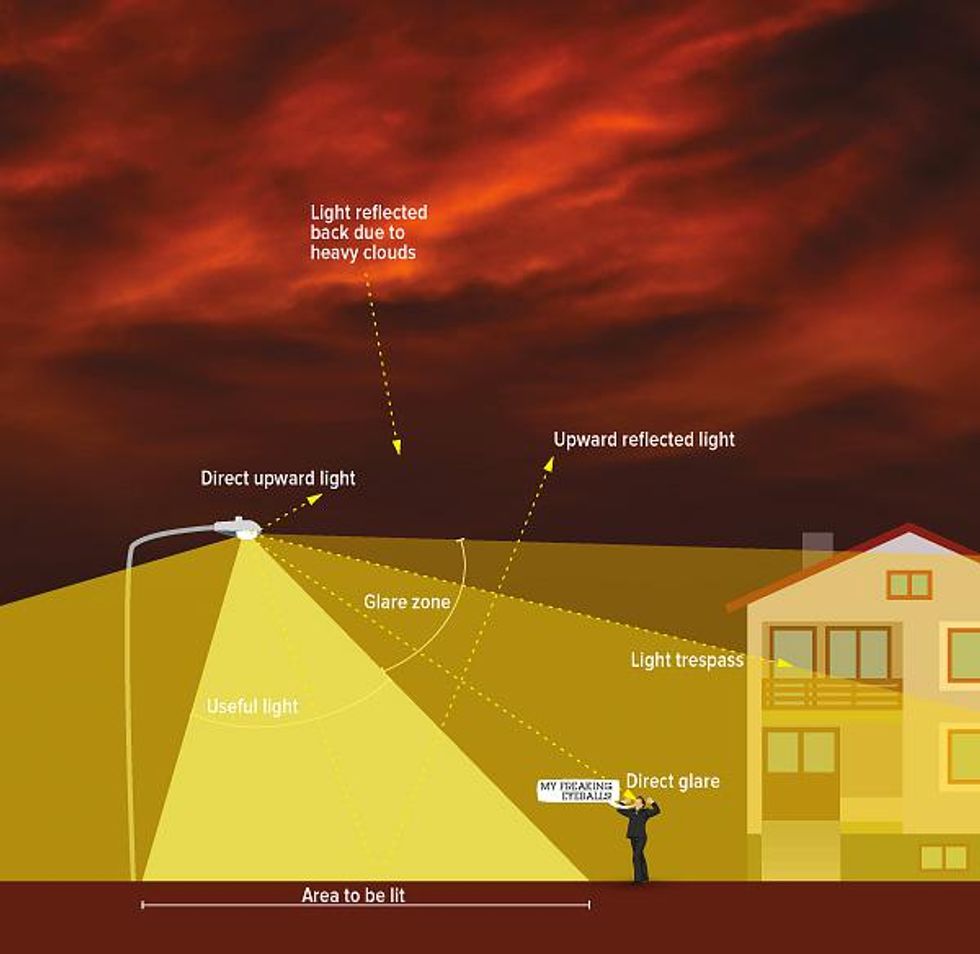 (IDA)
"We just don't think about that light hurting us, we don't think about light blinding us," said Cindy Luongo Cassidy, director of the Texas Chapter of the International Dark Sky Association.

Aside from traffic issues, excess blue light disrupts our circadian rhythm, or sleep cycle, and the ecosystems of plants and animals all around us. Think about the blue light your phone and computer emit, but on a much larger scale.
Blue light affects our production of melatonin—which disrupts our sleep patterns and causes fatigue and strain—but according to Jackson, it causes ecological issues like upsetting bird migratory patterns, nocturnal animals and plant life.
"Lights are telling us and our bodies to stay awake and so now we have our screens and we have our cell phones and we're like 'okay, you should stay awake,' you're like 'no, I need to go to sleep,'" Jackson said. "It messes with our circadian rhythms and we start to have a decreased immune system so we're more prone to illness."
In extreme cases, Cassidy said decreased melatonin can contribute to certain types of cancer because melatonin inhibits the production of cancerous cells. Several studies have stated the same thing, also linking cancer to lack of sleep.
"It really messes up the life on this planet," Cassidy said. "We may not see it right away but it'll say, cause trees to be more susceptible to disease, it causes our cancers to keep growing rather than melatonin being there just to stop it. It's detrimental to us. We hold up the Barton Springs salamander and say we've got to protect this endangered species and yet, artificial light is detrimental to it."
Aside from the health issues and ecological damage, using so much electricity is expensive, wasteful and doesn't even do much to protect us, Cassidy said. In fact, studies have shown that many types of crime, like larceny and theft, are more likely to occur in the daytime.

Advocating for starry nights
Attempting to reduce light pollution, places like Dripping Springs became classified as an International Dark Sky Community, meaning the city is dedicated to "preservation of the night sky through the implementation and enforcement of quality lighting policies."
In order to qualify, cities must make a few minor changes: shield all light fixtures so light is not wasted on the sky, control light wavelength and temperatures (i.e. control blue light) and consistently regulate the emission of light into the sky.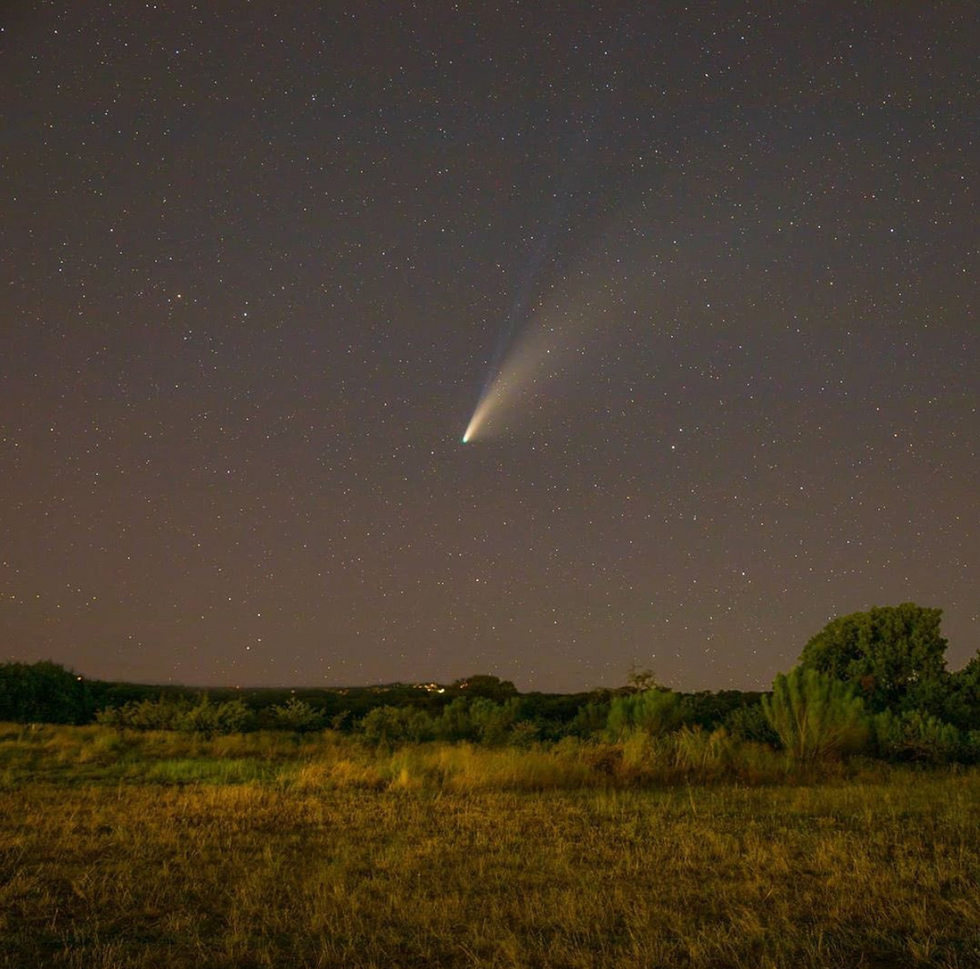 (@destinationdripping/Instagram)
Several other Texas cities have shown interest in becoming dark sky communities like Bee Cave, Lago Vista and Inks Lake. Organizations like Travis County Friends of the Night Sky and Hill Country Alliance have advocated for legislation that would limit light trespass and reduce glare, but due to a bill that was passed during the last legislative session Texas cities can no longer become dark sky cities.
HB 2439 went into effect on Sept. 1, 2019, and restricts the government from regulating local building materials used in construction. The Texas Association of Builders Vice President Ned Muñoz said that while current dark sky communities were exempted, keeping new dark sky communities from emerging was an unintended consequence of the bill.
"In order to be (a dark sky community) you had to already have the ordinances in effect," Muñoz said. "It was unintentionally only applied to ordinances that had already been certified."
Now, Muñoz said he is working with Scenic Texas and other organizations to rectify the problem. The idea is to allow ordinances that regulate outdoor lighting for the purpose of reducing light pollution to be adopted by cities, while simultaneously being exempt from the current bill.
"The way we would try to fix this is to say not only are dark sky certified communities exempted, but we want to exempt cities that have expressed an intent to become a dark sky community and are mandating those International Dark Sky Association guidelines," Muñoz said.
Muñoz said they are trying to rectify the issue this legislative session.
Austin is still a long way from being able to see its night sky clearly, so in the meantime, Jackson recommends heading west if you want to stargaze. However, there are places in and around Austin where you can find some darkness.
"Luckily, Austin has a lot of parks, in Travis County there are parks you can go to, and we have our state parks system," Jackson said. "Enchanted Rock is a dark sky park, South Llano River State Park is a dark sky park, and those are darker than the ones in town like McKinney Falls."
You can view a full list of dark sky areas in Texas here.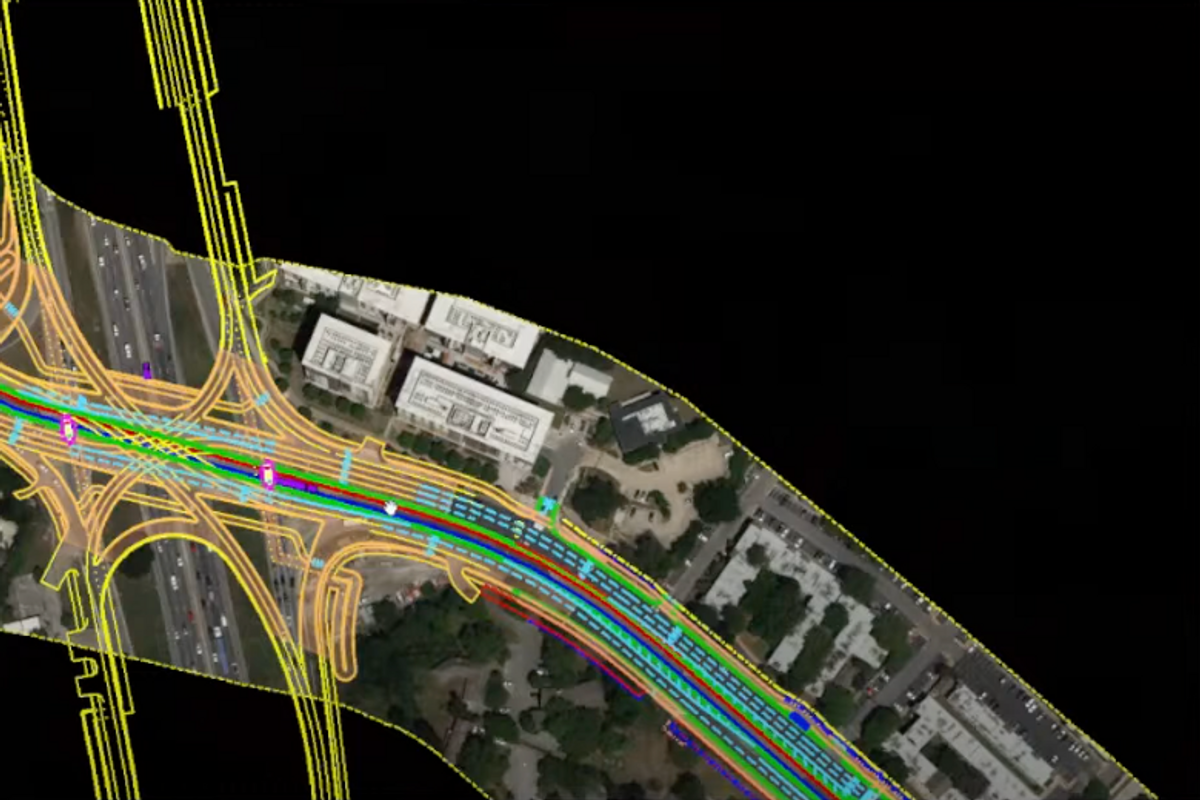 Designs for stations along Project Connect's Blue Line were presented this week, giving a detailed look at what part of the rail system extending from downtown to the airport could look like.
The planned stations that have gotten the latest focus include Waterfront, Travis Heights and Lakeshore stations past Lady Bird Lake.
At the Waterfront station, the preliminary design aims to prevent visual obstructions and save on costs. This is accomplished by a transit guideway that will lower from the bridge to a level station.
Heading onto East Riverside Drive, the light rail faces a curve requiring a slow down to about 10 miles per hour.
The Travis Heights station could involve relocating a pedestrian crosswalk zone at Alameda Drive to Blunn Creek. Since light rails can't effectively operate on a steep grade, this allows the transit guideway to avoid that.
From there, the rail will extend to the Norwood Park area, and though it will reach along the right-of-way zone, the park will be able to remain open.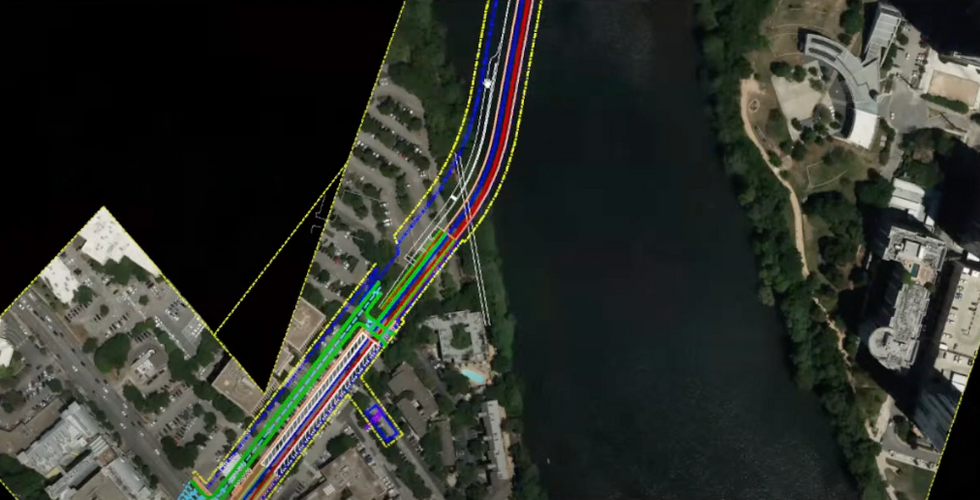 A view of the Blue Line by Lady Bird Lake. (Project Connect)
The line involves some coordination with the Texas Department of Transportation. That's because the department is working on an intersection that will have to be built before the phasing of the section of the Blue Line involving an I-35 crossing.
When it comes to the safety of cyclists and walkers, design ideas include a pedestrian hybrid beacon by East Bouldin Creek that would provide a protected signal to cross. And for the intersection TxDOT is carrying out, Project Connect is working with them on pedestrian access across the intersection. It could involve shared use paths along the street and crossings beneath it.
This summer, the public can expect 30% of design and cost estimates to be released. Though the project was $7.1 billion when voters approved it in November 2020, the latest estimates factoring in inflation and supply chain constraints show it could ultimately be upwards of $10 billion.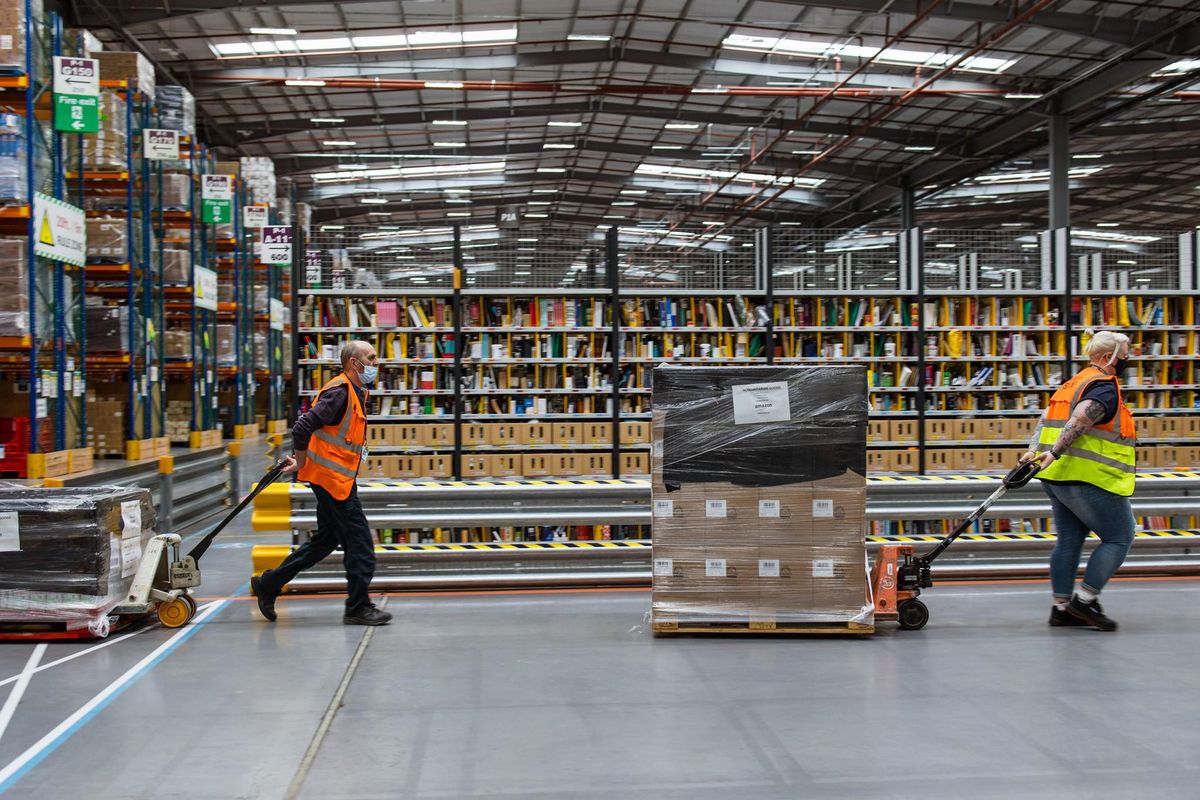 Plans for an Amazon warehouse in Round Rock—a $250 million project slated to be a large distribution center—are on hold.
This comes just after the tech giant had its worst financial quarter in seven years.
The details:
Late last year, it announced an expansion at the Domain adding 2,000 more corporate and tech jobs.
Amazon still owns the site in Round Rock. Plans for it are unclear.
Early this week, the Wall Street Journal reported that Amazon is aiming to scrap warehouse space as it faces a slowdown in its e-commerce operations.
Part of that effort involves exploring the possibility of ending or renegotiating leases with outside warehouse owners. Another aspect is a plan to sublease warehouse space.
"It allows us to relieve the financial obligations associated with an existing building that no longer meets our needs," an Amazon spokeswoman told the Wall Street Journal. "Subleasing is something many established corporations do to help manage their real estate portfolio."