Get connected with our daily update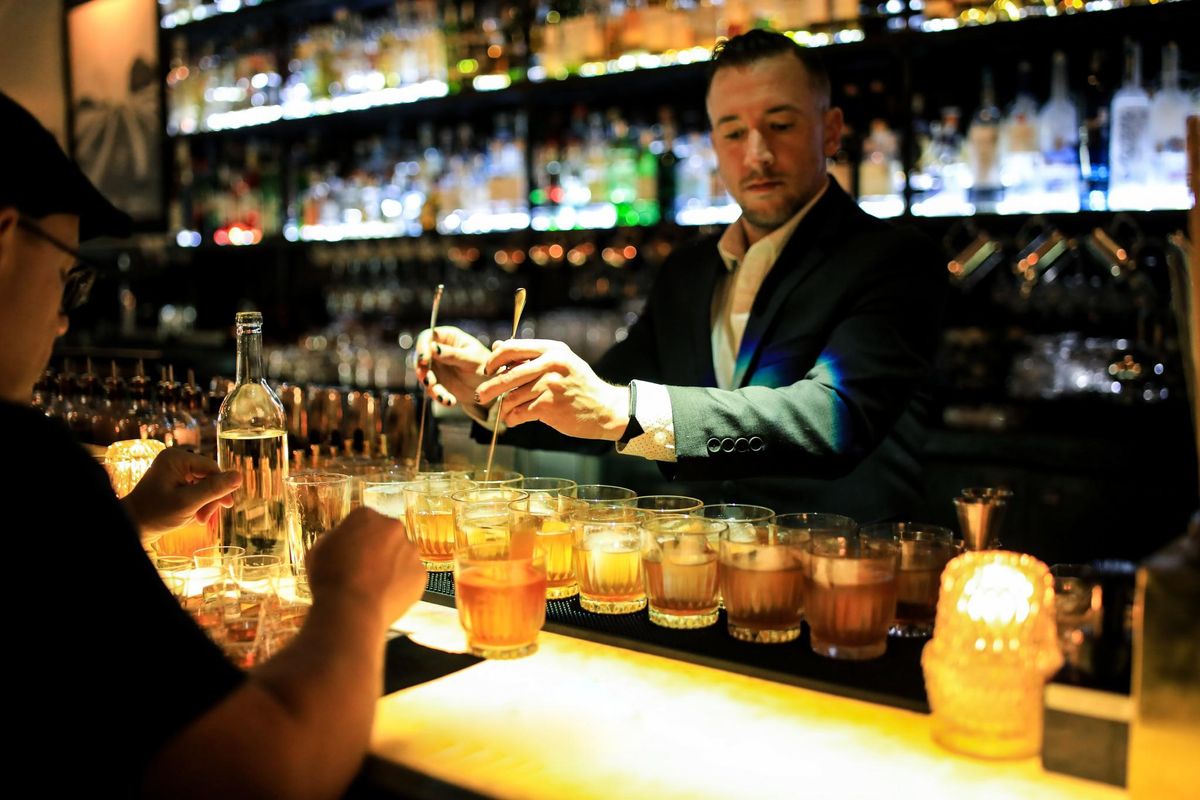 Nightlife is back and better than ever as Austin emerges as an "18-hour city."
---
Austin's tourist and hospitality sectors have seen a surge in revenue showing a complete picture of pandemic recovery, according to the Downtown Austin Alliance's State of Downtown Report, which was released earlier this month.
For 18 hours straight, Austinites are enjoying what the city has to offer, only dropping off between 3 a.m. and 8 a.m.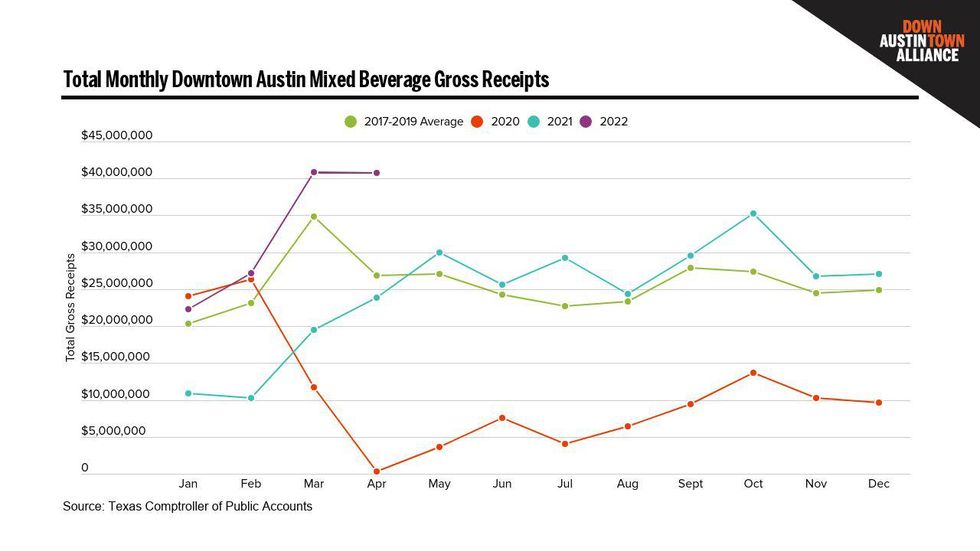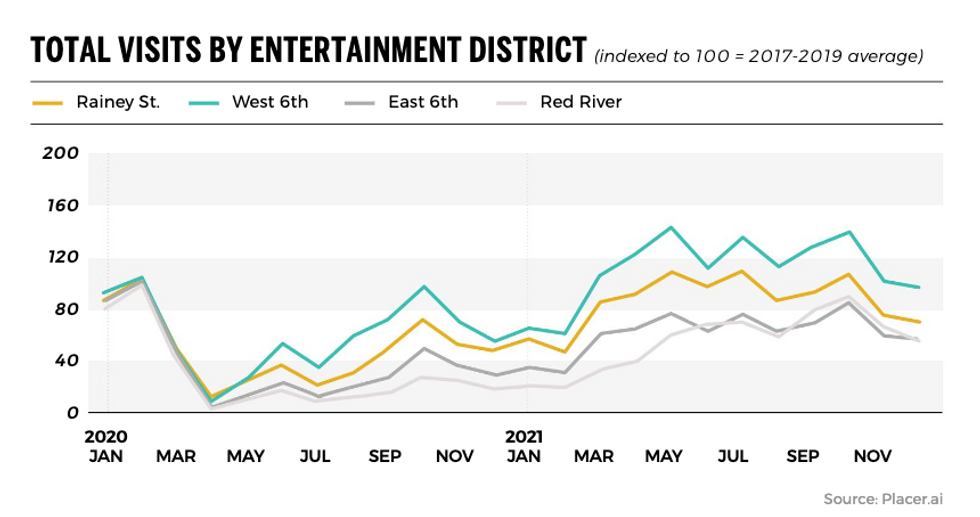 Mixed alcoholic beverage sales downtown reached a record $40.8 million in March this year, nearly matching in April with $40.7 million in sales. Rainey Street and West 6th are neck and neck in terms of sales but the latter wins out in terms of foot traffic; meanwhile, data shows East 6th has become the least popular party district.
The return of nightlife goes hand-in-hand with the recovery of hotel occupancy, which reached 98% of the average traffic from 2017-2019. High hotel prices are also back, reaching $216 of revenue per room in April and $198 in May, surpassing the average from the same time frame.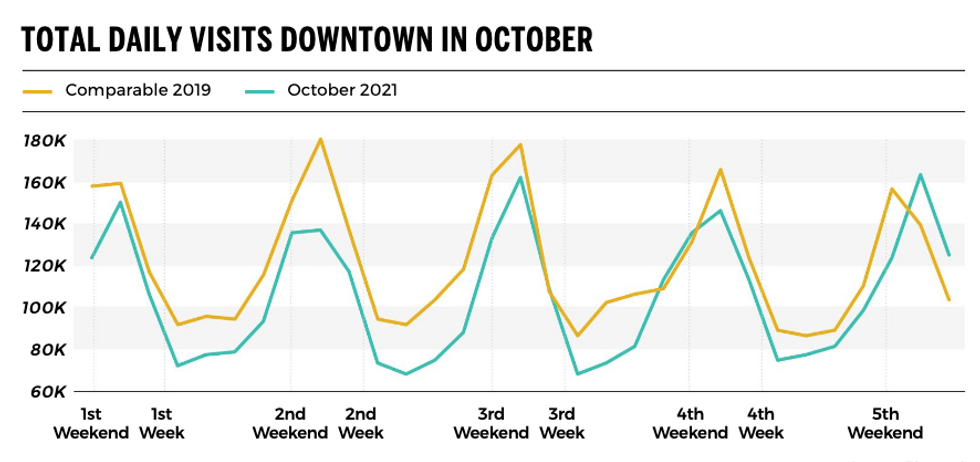 One of Austin's biggest tourism seasons occurs in October, when events like ACL Festival and Formula 1 attract visitors from around the world, a pattern that mirrored previous years in 2021. Tourism tracks through airport traffic as well, which is at an all-time high.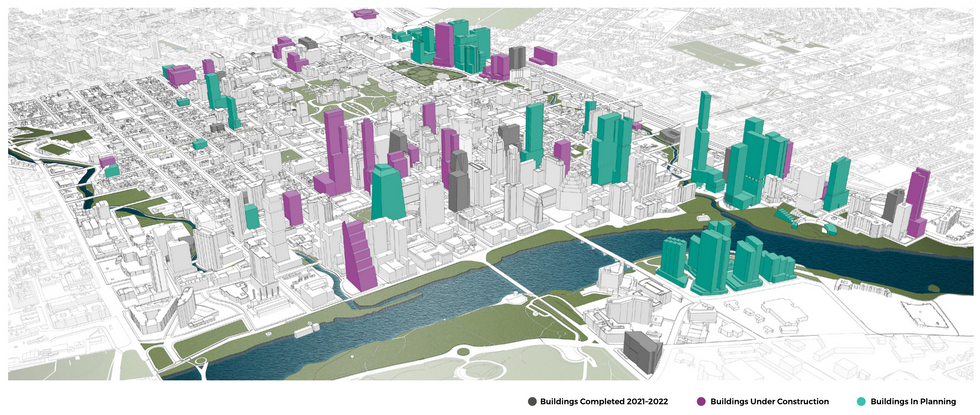 Downtown's COVID-induced need for rentals has also cooled to pre-pandemic levels, with the help of two million square feet of new residential space and another 2,161,727 square feet of office, residential and retail space currently under construction.
However, for-sale housing inventory is still at an all-time low, with fewer than two months of inventory–around 50 listings–in Q4 of 2021.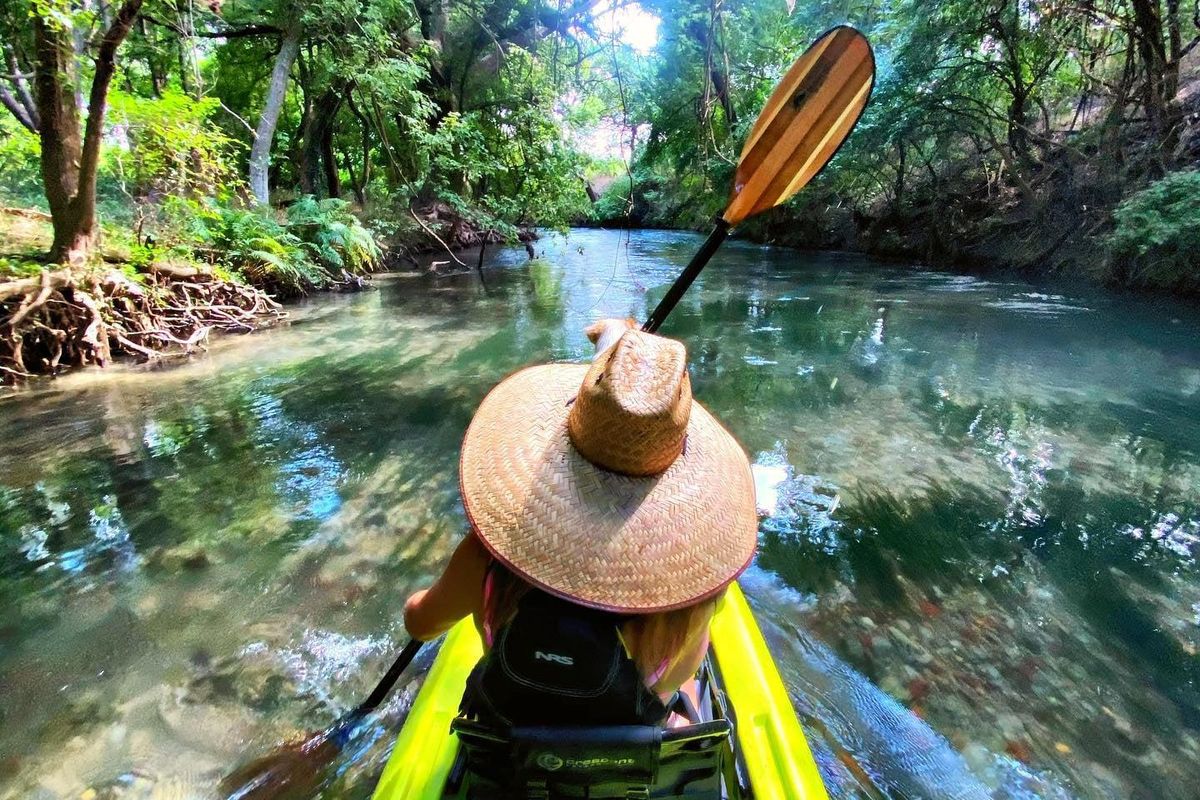 Home of reformed "party school" Texas State University, San Marcos has attracted a reputation for its rowdy college parties and jam-packed river. But as the former home of Lyndon B. Johnson and the birthplace George Strait's career, it's clearly more than a college town.
With its unique blend of old-Austin charm and a fierce individual identity, this laid-back town located 30 minutes south of Austin serves as a great breath of fresh air for fast-paced city dwellers. (Just don't go comparing it to Austin with the locals.)
From a San Marcos has-been, here's a guide to all things "San Mo:"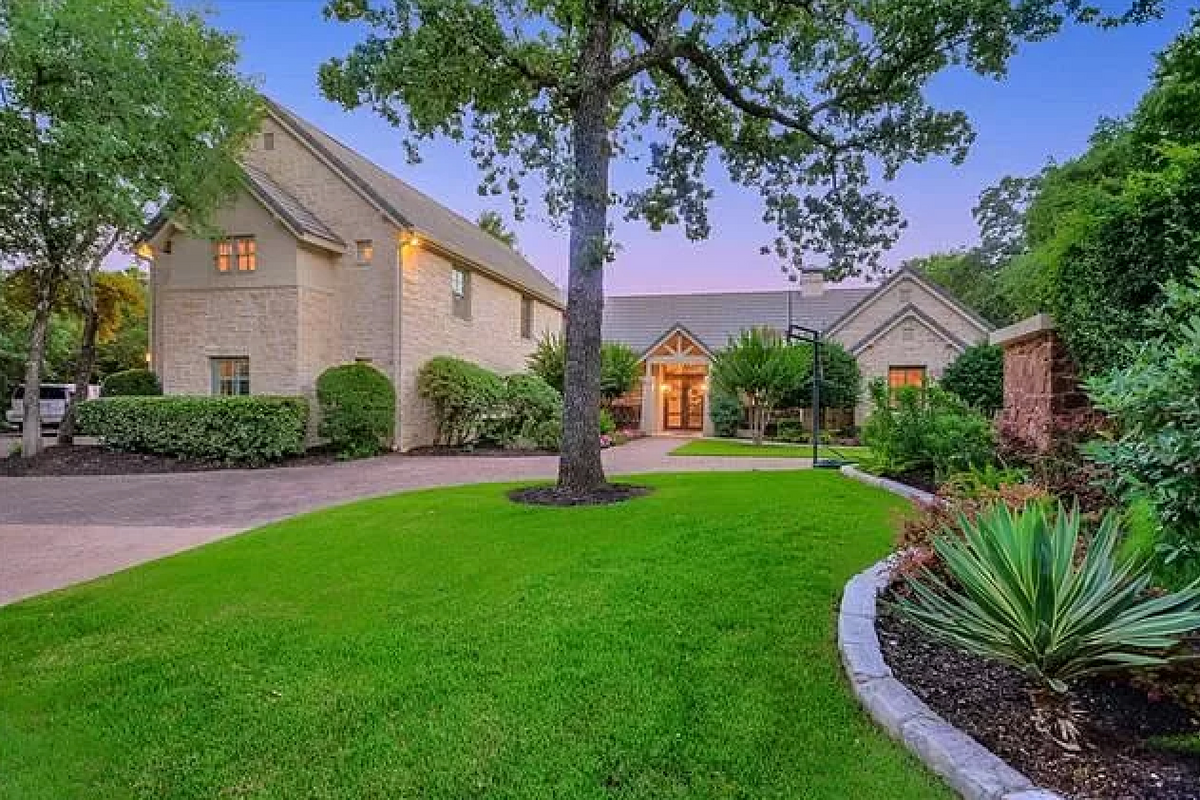 Elon Musk lives in a Westlake mansion at least part-time with his baby mama and new twins, a new report suggests.
Documents acquired by Insider show Musk and Shivon Alice Zilis, the mother of his twins and one of his top Neuralink executives, listing the same Austin residence for their address when petitioning to add Musk's last name to his kids' legal names.
Austonia finds one local home listed under the mother's name, Shivon Alice Zilis, matching the price tag Insider said the house was worth: $4.5 million. According to the Travis County Appraisal District, Zilis got the deed for the home in August 2021, 4 months before giving birth to Musk's twins.

The home, located in Westlake, was built in 1999 and sits on a little over an acre of land in a gated community. The 4,579 square foot home has six bedrooms, five baths and a pool.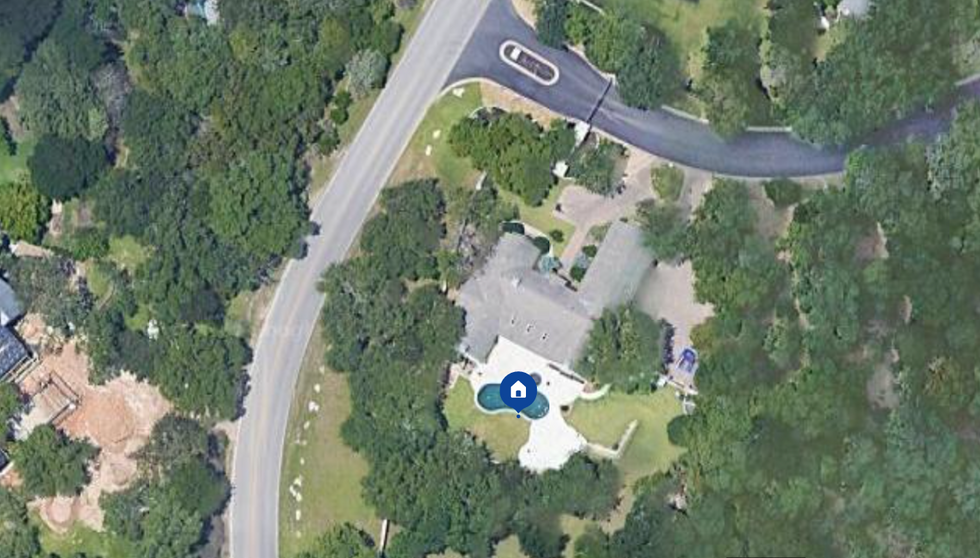 Google satellite view of Musk's residence in Westlake.
Where Musk lives has been highly contested in the past. In July 2021, Musk claimed his primary residence was a 20-feet-by-20-feet box in Boca Chica, Texas, that he rents from SpaceX. Then in December 2021, the month Musk's then-girlfriend, Grimes, had a child with Musk via surrogacy, the Wall Street Journal reported he lived in a $17.9 million Lake Austin home owned by PayPal co-founder Ken Howery. Musk denied he lived in that home, but said he had stayed there previously.
Musk has not commented on his residency since, but the Twitter account that tracks his jet movement shows he's in Austin days at a time on a near-weekly basis.