Get connected with our daily update
"No water, no electricity, very cold, terrible" —An Austonia reader.
Click Keep Reading to read about what your neighbors are going through.
---
No name provided
"We have been out of power since the beginning. Our food most all ruined. Now no water. I cannot say it has been fun, but we have been trying to support our neighbors and help where we can. We are still out of power today, Thursday. Our pipes are frozen. We tried to find a hotel with power and water that would take pets with no luck. Historic episode or not, Austin Energy has grossly mismanaged this situation. I hope some lessons are learned from this and changes made."
No name provided
"We are much luckier than so many others, but at 74 years old, my husband and I had no power from 3 a.m. on Monday until 9 p.m. last night and our house was about 45 degrees for the entire time. We could not leave our house. We did not freeze, but it has been brutal. It did not help that the people who have been in charge of the state for the last 20 years made statements like Rick Perry's saying that Texans are willing to live for 3 days without power to keep the feds out of our lives. This said from his home probably with a whole house generator and his own water well. He does not speak for us. And, every time we heard from the governor, he was trying to find someone else to blame. Please, governor, just take some responsibility, and do something to make things better."
Udi

"Just found out I have stage 3 breast cancer and all my appointments have been cancelled. I'm beyond overwhelmed and depressed. But it seems like everyone I know is feeling sick and scared at the moment. :("
Brent Henry
"It is a real struggle. Had power out early in the storm for 48 hours. I had my neighbors across the street with power while I didn't. No water now going on 2 days but have power. Apartments 50 yards away has been without power now on 4 days."
LS
"I'm one of the lucky ones. My parents in Jollyville have been without power since Sunday night, but they have water, a fireplace, and good camping gear, so they're okay. I'm central East and I still have power and water. I also have a 4wd and have been giving rides and doing what I can."
Mrs. Holloman
"It's been absolutely awful. I have a husband and two kid's ages 8 and 10. We have been without power since Sunday morning! We ran out of food. Luckily we have a gas fireplace but as a precaution we had to monitor it, turning it off periodically. Some of our food expired. We suffered in ways I feel was absolutely unnecessary. We camped in our living room huddled up to try to stay warm. Our water went out. Thursday afternoon and things went downhill from there. 4days like this in the worst ice storm to hit Texas?!?!"
No name provided
"No power since Monday evening 6 p.m., don't have gas connection, no water. Our apartment is very cold."
Colton Katzen
"I live just off of South Congress and we lost power on Sunday but luckily have one working pipe for water. We had a lot of firewood that we burned to stay warm (even sleeping outside by the fire) but that has finally run out after 72+ hours without electricity. We have a gas stove so have resorted to constantly boiling water to get the house up to closer to 45-50 degrees. Food is running low and surviving off 7-11 chips... My office building downtown remains lit up (absolutely terrible they are lit up) so I can walk there for hot showers if need be. This is embarrassing on the city/state!!! Luckily I'm young and healthy so can survive but for the young/old people out there in this just makes me worry."
Rhonda Lands
"Have had power outages of 10, 27 and 33 continuous hours along with brief on and offs. Coping by wearing silk long johns, multiple layers, gas stove for heating soup, a heavy comforter and two loving cats. Charging phone in car. Have a shopping list for next time."
Pam Schott
"Coping with limited heat and no water for several days—I've dressed with four layers all over, lots of contact daily with several groups of friends, offering to help others when and where I can, exercising via dvds, attempting to drive for water but now melting snow. Complaining to friends about the total lack of competence that comes when Republicans are in charge."
Mark Ritter
"It has been difficult. We live in Travis Country West and most of our subdivision has not had power since it went down a few days ago. We are kinda running out of options here.... we have been hoping Austin Energy would cycle us back on, even if for a little bit, but that has not happened. We are in good spirits, giving it the old Texas can do attitude, but again, are a bit discouraged with Austin Energy. This status update is as of Thursday morning. Thanks for asking about us. We would like to get word out to Austin Energy. All we can reach is the automated line...."

Dolores Luna
"We are on our late 70's and our power went out Sunday morning at 5 a.m. We have been without power since. It's been an experience but thanks to our Dear Lord we have so survive it."
Wendy Cavanaugh
"No power for over 77 hours! I'm disabled. I have Lupus, Huntington's Disease, RSD, Arthritis, Neuropathy, high blood pressure- just to name a few. Since it was never said, this would last days? There was no reason for us to anticipate the extended outage. By the time we realized that my health was in great jeopardy? We had NO OPTIONS!! All open hotels were booked solid! I called the Red Cross Tuesday night, crying and scared. I explained my medical conditions AND my concern that my 22 medications weren't supposed to be stored in 42-51 degrees! To replace them? Will now cost ME upwards of 10 THOUSAND dollars!! Insurance companies do not care about WHY they were improperly stored!! I explained that I COULD NOT risk exposure to COVID (very susceptible, due to health issues), but could no longer tolerate the cold with no power, no heat, since Monday, at 2:07am. I honestly thought I'd die if I didn't warm up! She told me to Shelter-in-Place!! I was mortified!!! Therefore, we were forced to stay home! Luckily, though I'm in horrific pain... I survived. Our condo has stayed in the 40s, but it'll still take me months, years, a lifetime, to "recover". My boyfriend missed 3 days of work because he couldn't power his computers, had no internet, etc. Since he's in a contract-position, he lost 3 days of pay. He is our sole source of income!! I understand this was an unprecedented storm, and therefore, I don't "blame" Austin, for lack of readiness. WHO WOULDA THOUGHT THIS COULD EVER HAPPEN!?!? HOWEVER... It's the RIDICULOUS LACK OF COMMUNICATION , that absolutely infuriated me!!!!! Being in a "technical malfunction" area? THEY HAD TO KNOW THIS, from early on. And yet?? We couldn't even get through to a live person, until yesterday! I'm outraged, and would like Austin Energy to compensate us!! Him/us, for lost wages, and me, for cold related health issues, flare ups, pain, medications, and ongoing concerns, due to lack of resources! Our lives were in jeopardy, and NO ONE CARED!! I don't know if I'll EVER get back to pre-storm health (which was already questionable!)... I have a TELEMED appointment with my doc, later today... Many have frozen pipes... We ALL have $1000 wasted in our fridge and freezers... And so on... It's going to be expensive, for us all... HOWEVER- The negligence through all of this? Has caused me extensive long term damage, that NO AMOUNT OF MONEY, can repair!! It's costed me... THE LITTLE "QUALITY OF LIFE" I DID HAVE, and, quite probably, YEARS OF MY LIFE! We are OWED for the ignorance, neglect, and lack of life saving resources!!!!!!!!"
No name provided
"We woke up to no power on Monday morning, like most of the city! After it seemed clear that is was not going to be a "rolling blackout" we opted for a hotel room downtown. Feel very lucky that we made that decision early because many friends were not able to find an empty room later in the day. My husband drives back to the house each day to make sure it's still standing! Power came back on sometime Wednesday but our pipes are frozen so we had to shut the water off. We lost an oak tree-- very sad about that. Pool may not survive... four days in sub freezing temps without power is not good! We feel very fortunate overall. We are well insured and have been safe, warm and fed. So concerned for the people of Austin who don't have equal resources. Epic fail by the state of Texas to protect its citizens."
Lisa
"Melting snow and ice. No bathing, or cleaning allowed.cooking is minimal, due to cant wash dishes. Little water would be better than none at all."

Carolyn M. Appleton
"Both our Lakeway and Bee Cave mayors have been sharing helpful updates on Facebook, proving yet again how important the platform has become when disaster strikes. Our water at 3501 RR 620 S did not go out until Wednesday at noon. It did return to the taps later that evening. Thursday morning, it is still on (fingers crossed). So far, no electrical outages, but last night, I did notice a light at home flickering, suggesting weak power. AT&T Internet has kept going, with a few low moments (sadly, during a mid-morning video meeting) on Wednesday, but all seems fine as of Thursday morning."
No name provided
"I live on a small family ranch. We've had very sporadic times with power, and I consider us lucky for the short bursts we got. The inside of my home got so cold that it froze the water inside of my animals' water bowls. We weren't able to keep our pipes warm, so they froze and broke and we've been without running water for days-no showers, no washing our hands, and we're trying to melt snow in buckets to be able to flush our toilets, but without power and thus no heat, that gets pretty difficult. The only time we have connection to anyone is the times when we do have power, because we live in an area that does not have cellular service and without internet, we can't contact anyone. We can't water our animals outside because the pipes froze, and we can't even get more water for them so we've just been hoping there was enough in their trough. We are lucky to have a furnace we can put firewood in, but the heat still isn't great. Everyone is okay, thankfully, no injuries or major sickness to take care of, but it's been rough. I consider us to be lucky to be alright, but I can't imagine how bad it got for others."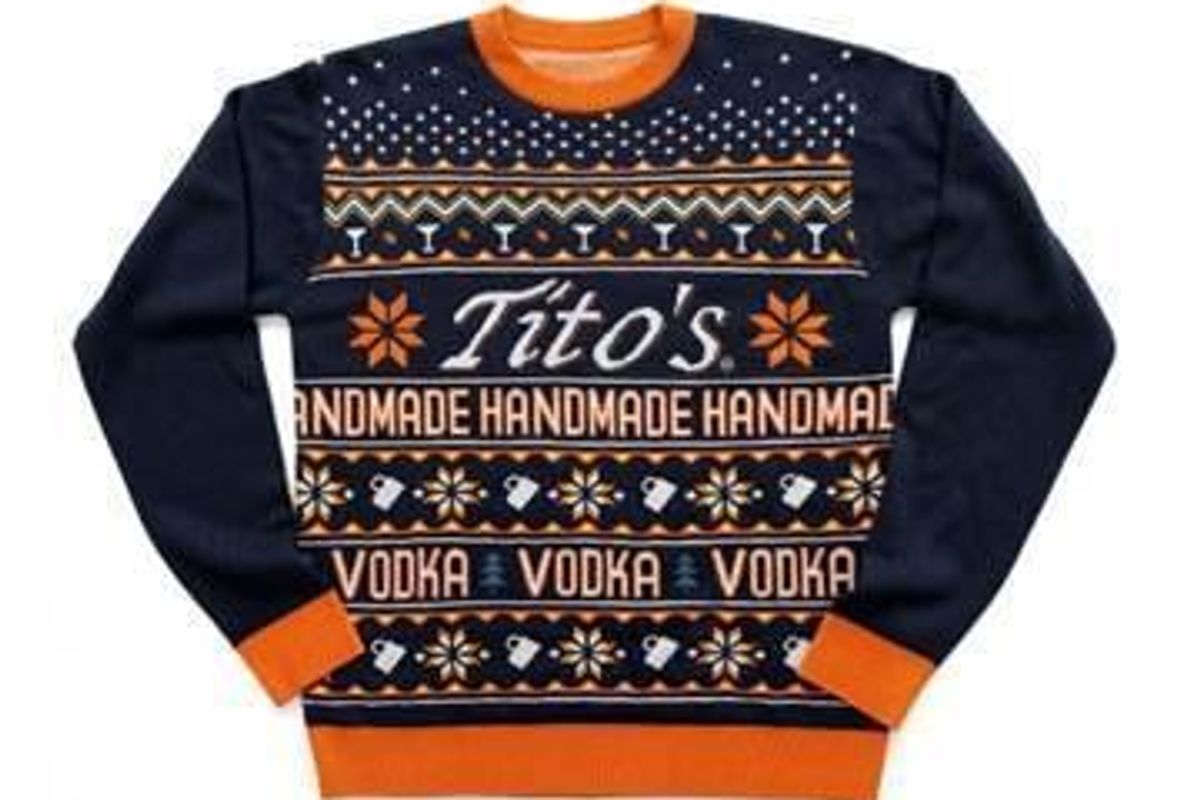 Show your love for Tito's and for the community this year with a wide selection of not that ugly, uglyish, ugly, uglier, and ugliest holiday sweaters.
There's lots choose from, and plenty of accessories like scarves and socks, plus gear for your dog, too.
All of the items can be purchased online or at the Love, Tito's Retail Store in Austin, TX. 100% of all net proceeds from online or in-store purchases go to one of the nonprofits we've teamed up with.
Click here to see the entire collection in the Tito's store.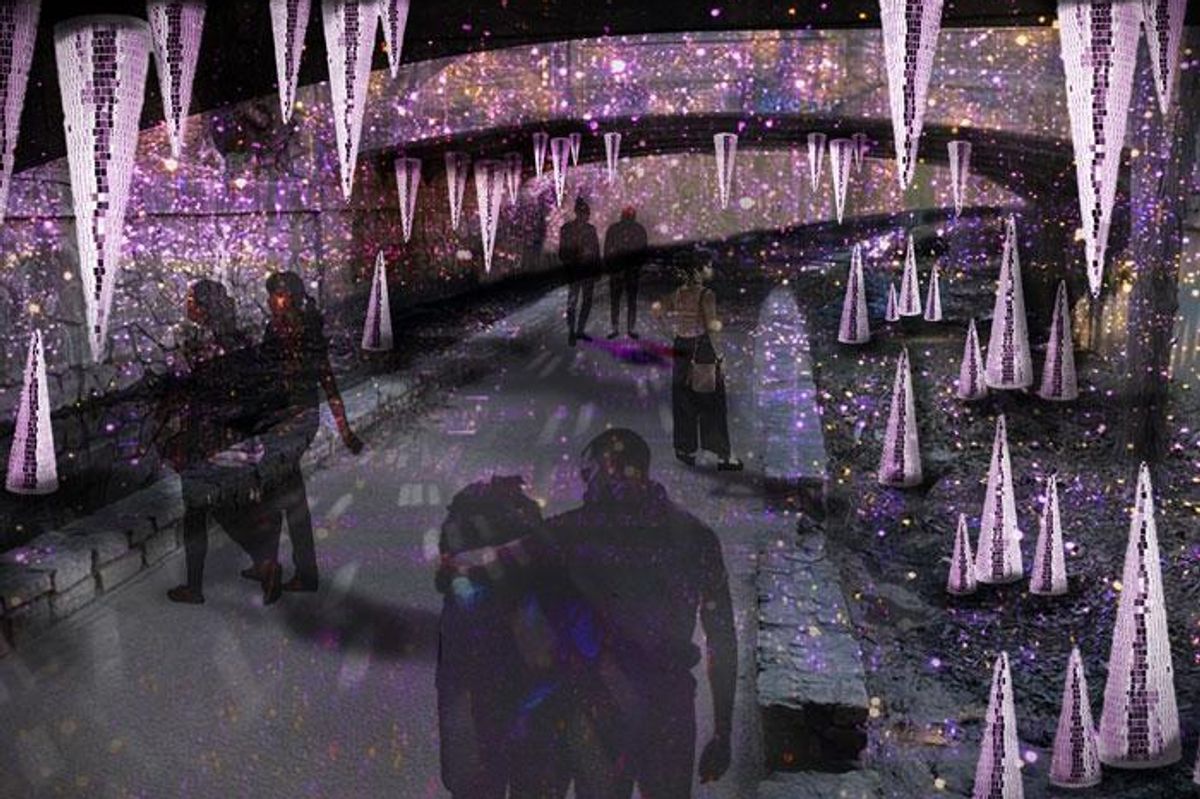 Waterloo Greenway, Good Vibrations Installation
🗓 All weekend
Check out this highly anticipated art exhibition with illuminated art along Waller Creek. Tickets are free and the event includes food vendors, dazzling lights, live music, and hands-on activities
All weekend 6 p.m - 10 p.m | 📍Waterloo Park
This iconic holiday tradition lights up for the first time this holiday season starting this weekend! Reserve your spot for an enchanting light and sound performance, delicious hot cocoa, sweet treats, and some overall fun with your friends or family. The show runs till January 6th.
6 p.m and 9 p.m | 📍Mozart's Coffee Roasters - 3825 Lake Austin Blvd, Austin, TX 78703
🗓 Saturday
This fitness event is free and open to the public. Get your morning started right with a "Fitness in the park" class for kickboxing! The class will be led by certified instructors and is a great way to get a cardio workout in while also honing your self-defense skills.
10 a.m - 11 a.m | 📍 Metz Park
Support local LBGTQ+ and female artists at this outdoor market with over 150 vendors. Get your holiday shopping out of the way at this event, with vendors for food trucks, handmade goods, raffles, hands on workshops and activities, and more.
11 a.m - 5 p.m | 📍Ani's Day and Night - 7107 E Riverside Drive, Austin, TX 78741
Did someone say cheese?! If you're like me and always willing to get your hands on a bowl of mac and cheese, then this event is for you. Check out the Mac and Cheese festival happening this weekend to decide which vendor has. the best mac and cheese for yourself, and enjoy the bar with creative cocktails while you're at it. Tickets start at $45.
11 a.m - 3 p.m | 📍Lantana Place - 7415 Southwest Parkway