Get connected with our daily update
(Amna Ijaz/The Texas Tribune)
As fall progresses, Texas public school superintendents are realizing that virtual instruction simply is not working for thousands of students across the state.
---
Report cards from the first weeks of the school year show more students than last year failing at least one class. Students are turning in assignments late, if at all; skipping days to weeks of virtual school; and falling behind on reading, educators and parents report. Many parents say they're exhausted from playing the role of at-home teacher, and some students without support at home are struggling to keep track of their daily workload with limited outside help.
The problems are concentrated among students trying to learn from home, more than 3 million of the state's 5.5 million public school students, according to administrators' accounts. The trends are adding urgency to calls for getting more students back into classrooms as quickly as possible.
By now, many school districts hoped their students would be making up academic ground lost last spring, when the pandemic caused them to shut down classrooms. Texas is mandating that districts get back to normal this fall and prepare students for upcoming state standardized tests. Schools dialed up the intensity of their classes — and then an alarming number of students began failing.
As the first grading period came to a close, some administrators began temporarily backpedaling from their initial insistence on academic rigor. They gave teachers the message: Do what you can to make sure kids pass.
Judson Independent School District, in San Antonio, added a note to its grading handbook allowing principals to "grant any exceptions" and "extend grace" to students, letting them make up late work or drop assignments. "We understand that connectivity issues, lack of devices, technological issues with the Student Portal, Canvas, and electronic books may impede a student from submitting their assignments in a timely manner," the handbook now reads.
Cathryn Mitchell, principal of Austin ISD's Gorzycki Middle School, sent an email in early October, obtained by The Texas Tribune, alerting all staff to a "campus-wide dilemma." Almost 25% of students were failing at least one class, including 200 failing more than one subject. She attributed the failures to steep technology learning curves, lack of access to devices and Wi-Fi, shifting reopening guidelines and anxiety over the health risks of on-campus learning.
The email implored teachers to exhaust "all measures to assist the student before failing them," including working with them one on one, emailing or calling parents, and setting up Zoom parent conferences. For teachers unable to do everything to help a failing student before the grading deadline, Mitchell wrote, "we would ask that you gift the student with a 70." Texas' "no pass, no play" rule prohibits students pulling less than a 70 in one or more classes in a marking period from playing sports or participating in extracurricular activities for three weeks.
"We know that some students are taking advantage of the situation or have procrastinated to get themselves into this position. There is no question about that," Mitchell wrote. "But we also know that we have asked a great deal of them these first five weeks. ... This will not be the norm every six-weeks."
Austin ISD officials told the Tribune that school leaders are "committed to high standards of academic rigor" and working to "better serve" students with low averages or incomplete grades based on their individual needs. They did not respond to questions about whether Mitchell's approach was supported by the district or whether 25% is an average failure number across the district this marking period. According to KVUE-TV, about 11,700 Austin ISD students are failing at least one class this year, a 70% increase from last year.
As the extent of students' struggles become clear, parents and superintendents are increasingly determined to get students back to school, the pendulum of their worries swinging away from health risks and toward the risks of students not learning at all. "Districts are starting to feel some real internal pressure as educators," said Joy Baskin, legal services director at the Texas Association of School Boards. "If they feel that there's enough momentum around getting everyone back, I think that's their preference."
State data on COVID-19 in schools is limited and full of gaps, but it points toward low student infection rates, encouraging some experts. Experts say layering policies such as sanitization, social distancing and masks is needed to reduce the risk of transmission. Despite outcries from some teachers and parents, dozens of school districts have nixed their virtual learning options altogether and brought nearly all students back to classrooms.
According to the San Antonio Express-News, at least one of those districts is attempting to require all remote learners with failing grades to return in person — violating recently updated state guidance. "Discontinuing remote instruction in a way that only targets struggling students is not permitted," the updated guidance reads.
Texas school districts don't have much time to get students back on track. This academic year, the Texas Education Agency will resume strict sanctions on schools and districts with consistently low student standardized test scores after pausing those penalties last spring. And there are dollars at stake, with state funding tied to student attendance. Districts have reported losing track of thousands of students, including some of their most vulnerable, who haven't logged into virtual classes or responded to phone calls and door knocks. According to state leaders, schools that are open for in-person instruction have seen higher levels of enrollment than those with only virtual education.
San Antonio's Northside ISD has not changed its expectations for virtual students, despite seeing higher failure rates, said Superintendent Brian Woods. Since many students learning from home are low income, Black and Hispanic, lowering academic standards for those students could end up deepening existing inequities, he said.
Instead, the district has put together a call team to reach out to low-performing virtual learners and urge them to come back to campus. Just under 45% of students are learning from classrooms in the second grading period, up from less than 25% earlier in the fall, when the district slowly phased students in. "We're not going to fix it by only taking the good grades or dropping half the grades," Woods said. "We've got to dig in and look more at the root cause. We know what it is: There's kids who need to be in the building, period."
In Brazosport ISD, where 78% of students are learning in classrooms, a quarter of virtual learners are failing two or more classes, compared with 8% of at-school students. The district is "not dropping our expectations for at-home students," said Superintendent Danny Massey. But with coronavirus cases dropping in Brazoria County and district officials being transparent about COVID-19 cases on campuses, more parents are gradually choosing to send their students back.
Some Austin ISD parents are considering sending their children back later this fall, once the district returns to in-person instruction that more closely resembles a regular classroom. When the district reopened, it had students sitting in classrooms but learning virtually. The state halted that approach. Rosemary Wynn, an Austin ISD parent, thinks her eighth and ninth grade sons may get more out of learning in person once it includes more face-to-face instruction.
She and her husband had a stern talk with their O. Henry Middle School eighth grader earlier this fall after realizing he had not opened about 100 emails from his teachers, except one from his football coach. He was previously a straight-A student, but at one point his grade in one class had fallen to 29, she said.
"Children don't know how to read email. That is not part of their repertoire," she said, with exasperation. "I haven't had a single teacher reach out to say, 'your kids' grades this, your kids' grades that.' I think the whole way this is set up is a recipe for disaster."
Kelly Sanders and her son Bizuayehu Crouther, a 14-year-old at Austin High School in Austin ISD, regularly debate whether he should return later this fall. Bizuayehu has dyslexia and dysgraphia, which impacts his ability to write clearly by hand, and he's found virtual learning much easier. "I do not want to go back," he said.
Sanders is concerned that the second grading period will be even more academically rigorous and that her son will not be able to keep up virtually. "I'm happy that [he is] making really good grades right now, but I'm concerned that it still isn't as rigorous as the classes would be if it were in person. If at some point he has to take a standardized test on the material, I don't know what that looks like," she said.
But for other parents, the decision is easy. Single parent Renee Schalk chose to keep her 17-year-old son and 2-year-old triplets home from Georgetown schools and doesn't regret it. "My children are children of color," said Schalk, who is Black. "I don't want them subjected to COVID-19. … We're not doing enough in this state, we're not doing anything in this country to make it safe."
Angelina Allegrini, a 14-year-old ninth grader in San Antonio's North East ISD, said her grades suffered in the beginning of the year as she got accustomed to the variety of programs teachers used for online learning and the exhaustion of staring at a screen for three to four hours a day. After a few weeks, and a little leniency from teachers, she pulled them back up.
But the social, extroverted teenager still felt she was missing something. "I wanted to try to get to know people in my class. I saw some of them on the screen, but that's not the same," she said.
On Monday, after several weeks of learning from home, Angelina walked into her high school for the first time this year. Her mother, Cherise Rohr Allegrini, a prominent epidemiologist in San Antonio, said she was "not thrilled" about her daughter's decision but predicted it wouldn't last long, with a surge in COVID-19 cases likely on the horizon. "I think they're probably going to change and close schools in a couple of weeks or so," she said. "We're going to start seeing outbreaks on campuses."
More on schools: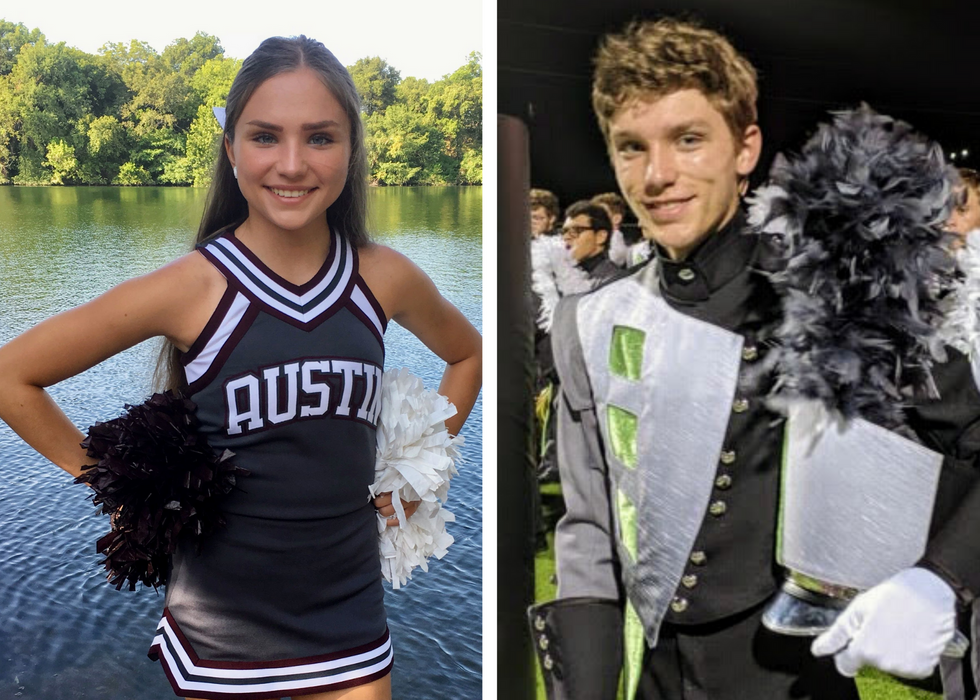 Austin ISD continues its phased-in reopening, but kids' social lives remain absent (Sheryl and Dean Jett)
In a win that brought on the passion from Formula 1's biggest rivals, 24-year-old Max Verstappen won his first U.S. Grand Prix as he bested seven-time champ Lewis Hamilton by less than a second at Austin's Circuit of the Americas on Sunday.
Hamilton, who has won the USGP for Mercedes seven times before, snuck up on Verstappen's lead for the final 15 laps but was unable to beat the Dutchman as Verstappen took a more decisive lead in the 2021 standings. Verstappen is now 12 points ahead of his veteran foe with just five races to go.
After a weekend of big-name performances, celebrity appearances and wacky entertainment, all eyes were on Austin as the fest came to a dramatic end for the final 2 p.m. race.

The 56-lap Texas showdown saw plenty of lead changes between the two stars.
It was Red Bull Racing's Verstappen who nabbed the pole position in a stormy qualifying race on Saturday, but Hamilton quickly closed the 260-yard-gap to take the first lead of the final race. With a well-timed pit stop from Verstappen, however, the young driver edged out Hamilton by six seconds early in the race.
Hamilton's younger tires won him over for the next several laps as he closed the lead, while a slowing Verstappen opted for a new set of hard tires as he took another pit stop in the 29th lap. Hamilton's brief lead lasted until a pit stop of his own that once again had him trail 7.8 seconds behind his competitor in the 37th lap.
With 15 laps to go, Hamilton had halved his lead and took the fastest lap of the race to earn an extra point in the season's standings. It was anyone's battle as the final five laps saw a bumper-to-bumper showdown between the two as Hamilton cut down to less than within one second behind Verstappen. But with Verstappen's cool head and a gust of dirty air, Hamilton was unable to make a last-ditch effort for another U.S. title as he lost the race by 1.33 seconds.
Despite losing the race, Hamilton fist-bumped Verstappen at the end and said the competition's far from over between the two racing greats.
"What a great race down to Turn 1," Hamilton told reporters. "I thought for a second that we might be out to win the race, but we'll have to win the next one."
Verstappen's teammate Sergio Perez, a Mexico native, saw thousands of supporters from his home country as he landed the third-place title in the race. Meanwhile, Hamilton's teammate Valtteri Bottas edged past Carlos Sainz to win a bumper-to-bumper battle for sixth place in the last lap of the race. Ferrari's Charles Leclerc and Mercedes McLaren's Daniel Ricciardo rounded out the top five in fourth and fifth, respectively.
While the lead has widened between the sports' biggest rivals, there is still plenty of time for either to take the throne as they head into the final five races.
Despite losing a race that they normally win, Mercedes' Toto Wolff said they are very much in the running as they head to Mexico City for another showdown at the Mexican Grand Prix on Sunday, Nov. 7.
"We are right there," Wolff said. "It's just good fun for everybody and there's pressure, but it's positive pressure."
Hamilton and Verstappen will once again face off in North America for the Mexican Grand Prix on Sunday, Nov. 7 in Mexico City.
Here are the biggest highlights and final results for the first U.S. Grand Prix since 2019:
Final standings
Max Verstappen, Red Bull Racing
Lewis Hamilton, Mercedes
Sergio Perez, Red Bull Racing
Charles Leclerc, Ferrari
Daniel Ricciardo, McLaren Mercedes
Valtteri Bottas, Mercedes
Carlos Sainz, Ferrari
Lando Norris, McLaren
Yuki Tsunoda, AlphaTauri
Sebastian Vettel, Aston Martin
Antonio Giovinazzi, Alfa Romeo
Lance Stroll, Aston Martin
Kimi Räikkönen, Alfa Romeo
George Russel, Williams
Nicholas Latifi, Williams
Mick Schumacher, Haas
Nikita Mazepin, Haas
Drivers Fernando Alonso (Alpine), Esteban Ocon (Alpine), and Pierre Gasly (AlphaTauri) did not finish.
Lap 50—1.5 seconds separates the leaders
LAP 50/56

Deep breaths everyone, hold it together 😅

Under 1.7 seconds now between Hamilton and Verstappen ⏰👀#USGP 🇺🇸 #F1 pic.twitter.com/qi0aKnJezT

— Formula 1 (@F1) October 24, 2021
Hamilton has improved a six-point deficit for first as his younger tires take him within 1.5 seconds of Verstappen by the 50th lap. With six laps to go, Hamilton continues to beat out Verstappen in lap times, but some think Verstappen is holding out on speed.
Hamilton will need to bully his way past Verstappen very shortly if he's to take his seventh U.S. Grand Prix title, while Verstappen will need to keep his wits if he's to take his first.
Lap 43—Bumper car battle for fifth
LAP 43/56

It's getting spicy between Sainz and Ricciardo 🔥

The two touch as Sainz tries to move round the outside of the McLaren 👀#USGP 🇺🇸 #F1 pic.twitter.com/Qx1zDAQy7W

— Formula 1 (@F1) October 24, 2021
With just over half of a second between the two, Sainz and Riccardo briefly get a bit too close as both cars make contact in the 43rd lap.
Dirty talk abounds—Sainz says Riccardo drove "a bit dirty" with a wide turn in Lap 10—and a bit of damage to Sainz's left-wing may not bode well for him in the remainder of the race. Meanwhile, Bottas encroaches both drivers with less than a second behind himself and Sainz in seventh place.
Lap 41— Hamilton encroaches Verstappen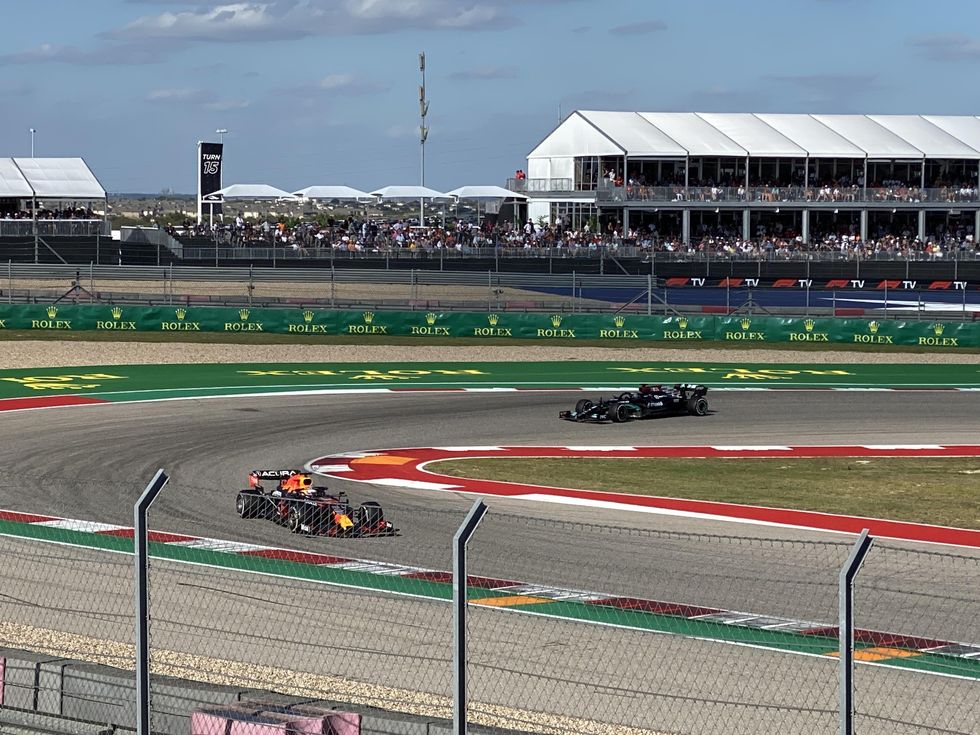 Hamilton charged Verstappen for the final half of the race. (Austonia)
While Verstappen works to weave past the back of the pack as he laps them, Hamilton briskly follows. By Lap 41, he logs the fastest lap of the match, beating Sergio Perez, with a time of 1:39.781. He's now just 3.8 seconds behind a leading Verstappen with less than 15 laps to go.
Lap 37—Hamilton pits, Verstappen takes lead
LAP 37/56

Hamilton comes into the pits

The lead has changed hands once again, with Verstappen back into P1 👀#USGP 🇺🇸 #F1 pic.twitter.com/RCcnpxFR7b

— Formula 1 (@F1) October 24, 2021
Despite a decently quick pit stop—over two seconds shorter than Verstappen's—Hamilton falls 7.8 seconds behind Verstappen as the lead once again switches hands.
Lap 29—Verstappen returns to pit, Hamilton closes lead
LAP 33/56

📻 TOTO: "You're racing for the win Lewis"

📻 LEWIS: "Leave it to me bro, thanks" #USGP 🇺🇸 #F1 pic.twitter.com/uiKgvtKiHH

— Formula 1 (@F1) October 24, 2021
After falling by as many as six seconds near the beginning of the race, Hamilton slowly began encroaching on Verstappen's lead. The Mercedes driver came within three seconds of Verstappen before the leading Dutchman took a pit stop in the 30th lap to opt for a fresh set of hard tires.
Meanwhile, a battle for fifth place has seen both Carlos Sainz, who was less than a second behind Daniel Ricciardo, to take a pit stop. Ricciardo soon followed. Hamilton's teammate Valtteri Bottas earns a temporary fifth place slot, and Ricciardo keeps a lead over Sainz in sixth.
2:25- Verstappen wins over strategy
LAP 14/56

Hamilton comes into the pits

And he comes out behind Verstappen! 😮#USGP 🇺🇸 #F1 pic.twitter.com/7YS4iHz4Sf

— Formula 1 (@F1) October 24, 2021
Hamilton may have grabbed an early lead, but Verstappen's well-timed pit stop in lap 11 put him six seconds ahead of his British foe by lap 14. Verstappen is now comfortable as Red Bull Racing wins the strategy side of the race.
Meanwhile, Red Bull's Perez has reached the No. 3 spot with Hamilton sandwiched in between. The middle race is beginning to expand as Charles Leclerc advances his fourth-place lead over a fifth-place Ricciardo.
2:08 p.m.—Hamilton takes lead, sets fastest lap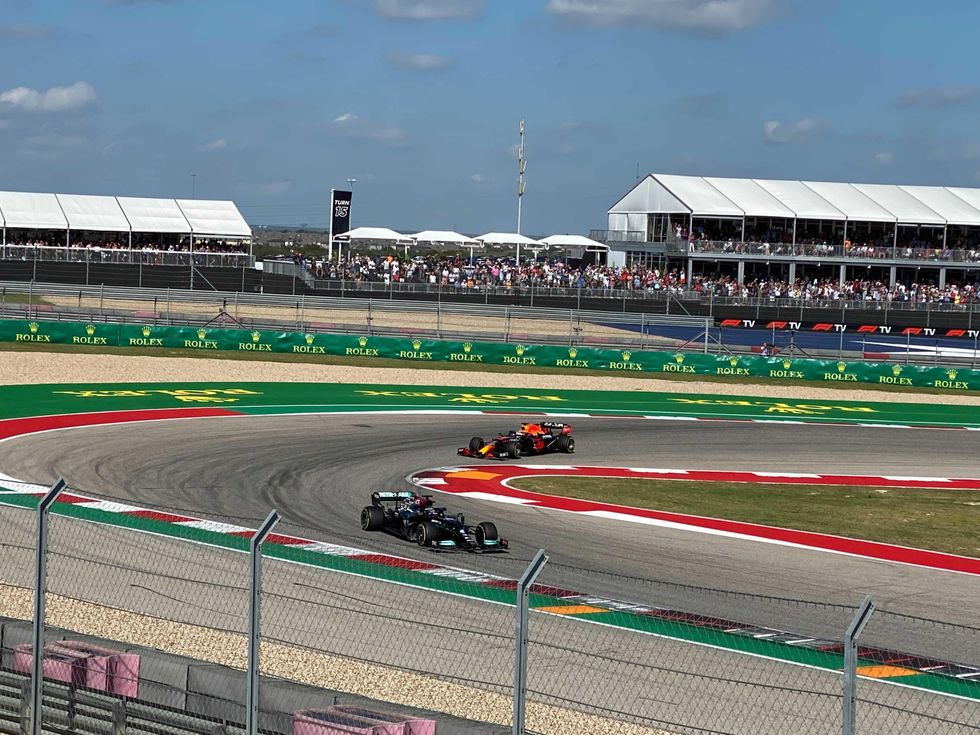 Hamilton is edging out Verstappen in the U.S. Grand Prix race. (Austonia)
Even with a 260-yard deficit, it's Hamilton who edges out Verstappen to take the lead at the start of the race despite being squeezed by Verstappen at the top of the hill. A few minutes later, Hamilton sets a lap-best time at 1:41.071.
Sunday, 1:30—drivers, cars heat up for the big race
Hamilton, Verstappen and the other 20 drivers are warming up their cars and minds as the clock ticks down for the final race.
The starting grid is buzzing with excitement as Verstappen arrives at around 1:15, with Hamilton hitting the grid around 10 minutes later.
The rivals' cars are wheeled just 260 yards apart, a small margin that Hamilton will attempt to close by the end of the first lap on the 20-turn track.
Sunday—Celebrities take COTA as the race heats up
Serena Williams #F1 #USGP pic.twitter.com/jDxSZi40ub

— Bruno HQ (@iPicsHQ) October 24, 2021
As one of the United States' premier racing competitions, it's no surprise that a star-studded cast—and audience—have contributed to the excitement of the race.
Performances from Twenty One Pilots, Billy Joel and Travis Scott have riled up the crowd, while NBA star-turned-DJ Shaquille O'Neal will be performing as DJ Diesel for the race after party.
IndyCar racing great Danica Patrick is commentating nationwide for the race after a decorated career as one of the most prominent female drivers ever in the sport.
The U.S. Grand Prix has seen anyone from former President Bill Clinton to star chef Gordon Ramsey in past crowds, and this year is no different. Shaq's fellow NBA star Chris Bosh has been spotted this weekend as well as tennis star Serena Williams, Texas rapper Megan Thee Stallion and actor William Fichtner.
There's sure to be many more celebs embedded in that thousands-strong crowd, so keep your eyes peeled!
Sunday—Chadwick takes W Series Championship title
A 𝗗𝗢𝗨𝗕𝗟𝗘 @WSeriesRacing champion 🔥 pic.twitter.com/PFr1gSUvY3

— Williams Racing (@WilliamsRacing) October 24, 2021
Formula 1 may be taking the limelight this weekend, but a high-stakes competition took place just before the big race on Sunday morning as the Women's Series' Jamie Chadwick took her second consecutive championship title in Austin.
The 2021 W Series champ took her crown after winning both races this weekend. After taking the Saturday race, Chadwick cruised to victory with a five-second lead over a second-place Abbi Pulling to win the championship over rival Alice Powell.
Chadwick defeated Powell for her second U.S. Grand Prix win since the last race in 2019, earning $500,000 in the process. The W Series, which is free-to-enter unlike Formula 1 and hopes to level out the financial playing field for men and women, is a developmental league that also provides 15 FIA super licence points to season winners. With enough super licence points, W Series drivers can level up to Formula 3 competitions and eventually beyond as they begin to compete against male drivers.
Saturday, 4 p.m.—Verstappen wins first, Hamilton takes second in qualifiers
It's @Max33Verstappen's ninth pole of 2021!#USGP 🇺🇸 #F1 pic.twitter.com/gp7RIlrOaf

— Formula 1 (@F1) October 23, 2021
In a three-round battle on Saturday, Verstappen flipped the switch from the day's practice rounds as he took a last-second lead over Hamilton to win the pole position, or first slot, in Sunday's starting grid on Saturday's qualifiers.
But it wasn't an easy battle. Verstappen's teammate Perez, a Mexico native, earned cheers from plenty of fans from his neighboring home country as he held the lead through the 10-minute round. Hamilton, who had been flanked behind both Red Bull foes, pulled a last-second lead to finish the finals and looked to take the pole position.
As rain began to fall, however, Verstappen pumped the gas for one final lap and won the pole position from his Team Mercedes foe.
It's Verstappen's first pole position on U.S. soil as he looks to take his first U.S. Grand Prix.
Click here for more information on the qualifiers.
Saturday morning—Ricciardo drives Earnhardt's 1984 car
Think @DanielRicciardo might have enjoyed that. 😅 #USGP 🇺🇸 pic.twitter.com/qfkGnEl0sO

— McLaren (@McLarenF1) October 23, 2021
Just as early fans began to trickle in, McLaren Mercedes' Daniel Ricciardo broke the crisp morning air with a roar as he drove some donuts in Dale Earnhardt's 1984 Wrangler car.
Ricciardo fulfilled his childhood dream—unlike many of his competitors his racing heroes growing up were his dad and Earnhardt, a seven-time NASCAR champion. Ricciardo collected many of Earnhardt's model cars growing up, but he never got his hands on this one until now, according to a report from ESPN.
After the exhibition laps, a breathless Ricciardo told reporters about the exhilarating experience.
"I can't speak," Ricciardo said. "That was fun, I think I'm still a little bit high right now."
Ricciardo's joyride caught the attention of Dale Earnhardt's son, NASCAR driver Dale Earnhardt, Jr, who responded with a tweet that gave Ricciardo "goosebumps."
"I'm happy for Daniel," Earnhardt Jr. said. "I'm also appreciative for how he celebrates my father. That makes a lot of dads family members and fans smile."
Austin FC defeated its fellow Texas MLS team, Houston Dynamo FC, 2-1 on Sunday afternoon at Q2 Stadium, marking the club's eighth win of its inaugural season.
It was an unusual match from a scoring perspective, more own goals—when the opposing team inadvertently scores on their own net—were scored than honest ones.
The Verde and Black came out of the gates strong in the first half, dictating the possession and pace from the outset. Austin FC drew two fouls, was awarded two corner kicks and got off three shots all in the first five minutes of action. Austin was rewarded for its effort with a penalty in the sixth minute.

Austin midfielder Cecilio Domínguez drew the penalty by driving up the left wing before being tackled from behind by Houston defender Zarek Valentin just inside the area. It was then Domínguez who stepped up to take the shot. Taking aim with his right foot, the shot bounced off the left post, then the right before bouncing off goalkeeper Marko Maric of the Dynamo and into the goal. Maric was credited with an own goal and Austin found itself ahead 1-0 early on.
Well...you don't see that very often. #VERDE https://t.co/JwBNVKqCxD

— Major League Soccer (@Major League Soccer) 1635111133.0
Following the defensive mistake, the Dynamo played with a heightened sense of urgency for the remainder of the half.
And just as the action seemed to be winding down before halftime, Austin launched one last-ditch attack in the final minute of stoppage time. Team captain Alex Ring got the ball in a dangerous position just outside of the box and after dodging several Houston defenders, got the ball to the open Sebastián Driussi. Driussi fired off a right-footed shot into the bottom left corner to take Austin FC up 2-0 going into the break.
Besides a two-goal advantage for Austin, the stats were fairly even in the first half. Both teams committed six fouls and had a player booked for a yellow card. Houston had a slight advantage shooting the ball, getting off eight shots and three on target while Austin had seven shots and two on target.
Austin once again came out quick to start the second half, getting off two shots in the first minute followed by two more in the 53rd minute. All were handled by the Dynamo defense.
As the final whistle neared, the Dynamo ramped up its aggression in an attempt to squeak by with a draw. Just as it seemed that Austin FC would walk away with the clean sheet, defender Julio Cascante sent the ball into his own net after it was cleared by his teammate and ricocheted off of his body.
Now only trailing 2-1, Houston tried desperately to even the score and was awarded two corners in the final minute of stoppage. Alas, the Dynamo could not get off a shot and Austin FC walked away with the win.
With the win, Austin now holds a 2-1 all-time record against the neighboring Houston. Austin remains at the bottom of the Western Conference in 13th place with a record of 8-19-4 while Houston is in 11th place.
Austin FC's next match will be away against FC Dallas on Oct. 30. Dallas FC joins them at the bottom in 12th place.
In a one-hour sprint that may be nearly as dramatic as the big race itself, Red Bull Racing's Max Verstappen won the top starting position for Sunday's U.S. Grand Prix in the race qualifiers on Saturday.
The three-day Formula 1 event, which has brought hundreds of thousands to Austin's Circuit of the Americas to see a historic neck-and-neck rivalry between Verstappen and Mercedes' Lewis Hamilton, will culminate in the final U.S. Grand Prix competition at 2 p.m. on Sunday.
And the duo didn't disappoint in the qualifying round. Just as rain began to fall, Verstappen edged out the seven-time champ in a crowd-pleasing qualifying round that saw the Dutchman take the pole position from Hamilton just after the checkered flag waved on Saturday afternoon.
Hamilton took second as he fell behind his younger competitor, while Verstappen's teammate Sergio Perez took the third position in the starting grid.
The world's best drivers first competed in a 20-, minute trial as they looked to grab the fastest lap times.
In Formula 1 qualifiers, each driver can attempt as many flying laps as they desire in F1's qualifiers until the flag is waved and the bottom five are taken out of the running for the best racing spots. The top 15 drivers then continue to Round 2, with the bottom five in that race taking the 11th through 15th spots in Sunday's race.
Finally, a hotly-contested 10-minute battle determines the top 10 spots for the final competition, with the fastest driver taking the pole position and winning a big advantage in the big race.
Final starting grid
Here's how that starting grid will look come Sunday afternoon:
Max Verstappen, Red Bull Racing
Lewis Hamilton, Mercedes
Sergio Perez, Red Bull Racing
Valtteri Bottas, Mercedes (will start ninth due to a penalty)
Charles Leclerc, Ferrari
Carlos Sainz, Ferrari
Daniel Riccardo, McClaren Mercedes
Lando Norris, McClaren Mercedes
Pierre Gasly, Alphatauri Honda
Yuki Tsunoda, Alphatauri Honda
Esteban Ocon, Alpine Renault
Sebastian Vettel, Aston Martin Mercedes
Antonio Giovinazzi, Alfa Romeo Racing Ferrari
Fernando Alonso, Alpine Renault
George Russell, Williams Mercedes
Lance Stroll, Aston Martin Mercedes
Nicholas Latifi, Williams Mercedes
Kimi Räikkönen, Alfa Romeo Racing Ferrari
Mick Schumacher, Haas Ferrari
Nikita Mazepin, Haas Ferrari
Here's how those three rounds played out:
Round One- Leclerc takes surprise lead
#Charles16 closing the lap in 1:34.153 😍 P1!

Both drivers are qualified for #Q2 💪#USGP #Quali pic.twitter.com/WV4ZsTlBbv

— Scuderia Ferrari (@ScuderiaFerrari) October 23, 2021
With Verstappen and Hamilton just six points apart, it may seem like the qualifiers would stay a Red Bull vs. Mercedes battle. But even after a standout practice session from Hamilton earlier in the day, it was Ferrari's Charles Leclerc who took Round One.
The Mercedes two took second and third, while drivers Nikita Mazepin, Mick Schumacher, Kimi Raikkonen, Nicholas Latifi and Lance Stroll were knocked out of the running. They'll take the last five spots in tomorrow's starting grid.
Round Two- Verstappen bests Hamilton
Kicking off Q2 on the Mediums. Lewis and Valtteri slot into P2 and P3 after the first runs. 👊 pic.twitter.com/Qla3O8ujl6

— Mercedes-AMG PETRONAS F1 Team (@MercedesAMGF1) October 23, 2021
Round Two proved more predictable as Hamilton and Verstappen duked it out for the first two slots. Daniel Riccardo, a fan favorite and member of McClaren Mercedes, just scraped by with a ninth place finish. Drivers Fernando Alonso, George Russell, Antonio Giovinazzi, Sebastian Vettel and Esteban Ocon were eliminated from the final round.
Round Three- Verstappen takes down teammate and Hamilton for pole position
It's @Max33Verstappen's ninth pole of 2021!#USGP 🇺🇸 #F1 pic.twitter.com/gp7RIlrOaf

— Formula 1 (@F1) October 23, 2021
A gust of wind began as the final qualifying round commenced, and Red Bull took advantage of the breeze as Sergio Perez bested teammate Verstappen to take the provisional pole less than four minutes in. A Mexico native, he was met with plenty of cheers from admiring fans as he crossed that first finish.
But Verstappen wasn't finished. The Dutchman held second place over Mercedes' Valtteri Bottas and Hamilton until the clock ran out, when Hamilton pulled an upset for his final round to momentarily take first place.
Braving the rain, Verstappen pumped the gas for a final effort to finish with a race-best 1:32.91 lap time to take his seventh pole in the last ten races.