Get connected with our daily update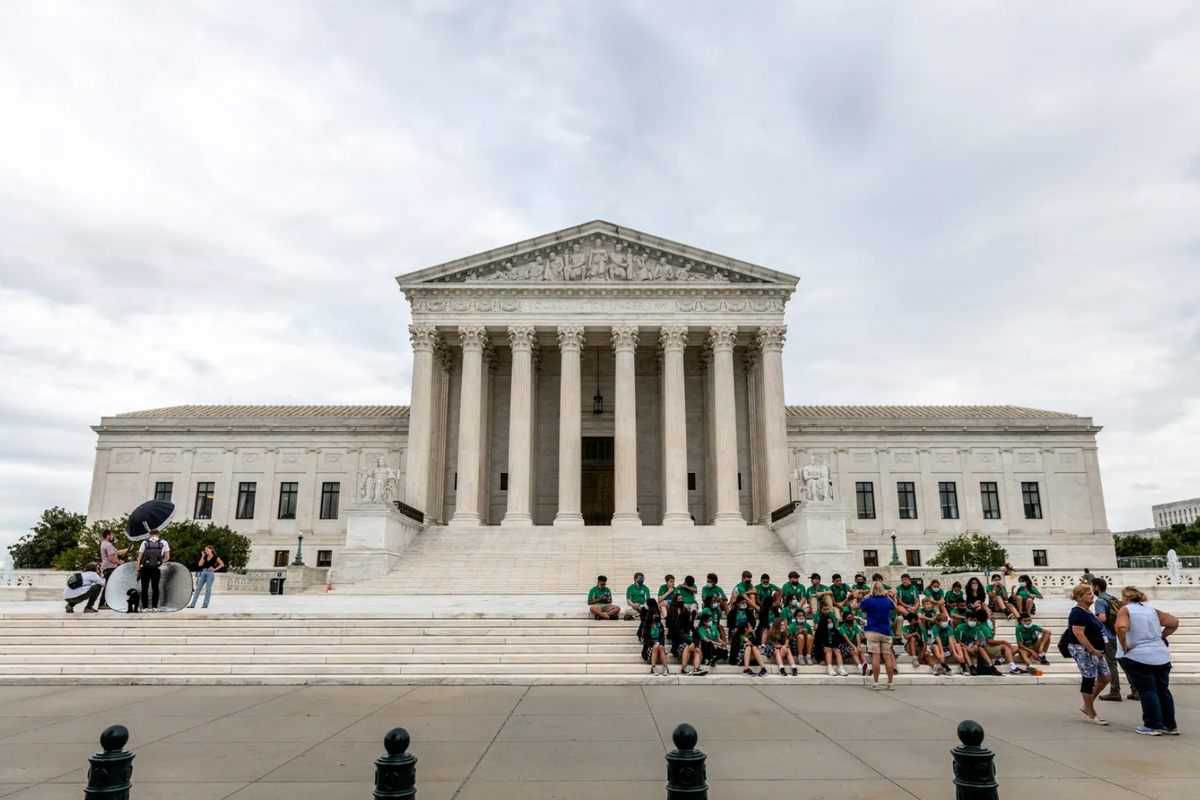 By Reese Oxner
The U.S. Supreme Court will take up on Monday the highest-profile legal challenges to Texas' new abortion law. The Supreme Court previously declined to act on the near-total abortion ban, making next week's proceedings the first time the high court is stepping in on lawsuits seeking to stop it.
---
The court will consider two suits against the law, commonly referred to as Senate Bill 8, which blocks abortions as early as six weeks into a pregnancy. One is waged by the federal government, the other by a group of abortion providers and advocates.
The Supreme Court's review will focus on how SB 8 is enforced, not abortion rights themselves. It's hard to predict what the court could decide, but its ruling will likely determine the future of abortion care in Texas and shape the legal battles to come.
Here's what you need to know before the Supreme Court convenes.
What's the story with Texas' abortion law? And why is it so controversial?
After years of attempts to limit access to abortions, Texas passed a law that successfully bars procedures as early as six weeks, before many people know they're pregnant. It would have blocked an estimated 85% to 90% of the abortions performed in Texas before the law went into effect.
A person's right to an abortion until around 24 weeks of pregnancy — when a fetus can survive independently outside the womb — is a constitutional right established by Supreme Court cases like Roe v. Wade. But Texas was successful in limiting that right through legal loopholes, making it elusive to court review.
The statute also opens providers and those who help someone get an abortion banned by SB 8 to several lawsuits, including multiple ones for the same instance. One of the most controversial aspects of the bill is that it allows anyone in the nation to sue someone who assists a person in getting an abortion, even if the person suing has no connection to those involved. Opponents to say the law has potential to create "bounty hunters."
It also insulates those suing from having to pay for their opponents' legal fees, even if the case is thrown out — but guarantees that theirs will be paid for if they win. This could create a financially ruinous situation for providers or even individuals, who would have to pay for attorneys to defend themselves, even in cases deemed frivolous.
The night after the law went into effect, the Supreme Court chose to neither block it nor rule on its constitutionality. Instead, in a 5-4 vote, justices allowed it to continue, citing procedural issues. The two separate suits filed by the U.S. Department of Justice and abortion providers have brought SB 8 back before the high court again.
Is this hearing about Roe v. Wade or abortion rights?
No. At least, the briefings prepared by the parties involved in the lawsuit are not. The Supreme Court presented two narrow questions about technical details of the lawsuits.
However, the Supreme Court justices can ask any questions and make any ruling they see fit.
What is the Supreme Court ruling on then?
The court laid out two narrow questions that have to do with how SB 8 is enforced.
In the case brought forward by the Department of Justice, the court will review whether the federal government can sue Texas in this attempt to overturn SB 8. DOJ is asking the court if it can sue the state, judges and all private parties to protect from litigation anyone getting an abortion banned by SB 8.
In the abortion providers' suit, known as Whole Woman's Health v. Jackson, the court will consider whether a state "can insulate from federal-court review a law that prohibits the exercise of a constitutional right" by offloading its enforcement to the general public.
The Supreme Court can issue an order as broad or as narrow as it wants, said Elizabeth Sepper, a law professor at the University of Texas at Austin. Technically, the court could rule on abortion rights overall — although that is very unlikely at this stage.
What's so special about how SB 8 is enforced? What makes it so hard to challenge in courts?
The statute has bucked judicial review by making it difficult to sue the law's enforcers.
To block a law, courts usually stop state officials from enforcing it. But in the case of Texas' law, state and law officials are forbidden from enforcing it. Instead, the state empowered private citizens to sue those who "aid or abet" abortions. If those private citizens win, they get at least $10,000 and recover their attorney fees.
Removing state officials from the equation means that opponents of the law don't have anyone specific to sue for enforcing the law. They have struggled to name the right person in their legal efforts.
The law has another provision that works as a kind of failsafe. Even if blocked for a time, the statute allows people to sue those who aided an abortion during that period if the law is restored. Even in the case that a lawsuit succeeds in temporarily blocking the law, the fear of future litigation could continue to discourage abortion clinics in Texas from performing the procedure.
The fear of financial ruin has led to virtually 100% compliance with the law, with one known exception.
Josh Blackman, a constitutional law professor at South Texas College of Law Houston, said that even if Texas' law is blocked now, the fact that it can be retroactively applied could threaten providers afterward.
A person's constitutional right to an abortion is being challenged in another suit before the high court, and many believe it could be in danger of being overturned. If the Supreme Court decides to later erode that constitutional right, Blackman said, the general public might once again be able to sue those who assisted in abortions — even during periods when the law was blocked.
"The only reason why this [enforcement mechanism] works for abortion is a court might overrule Roe," he said. "If California were to enact a law that bans the sale or private ownership of firearms, I think others would just say, 'Come and take it.'"
Blackman said the law has been successful so far because abortion rights are seemingly in jeopardy when compared to other established constitutional rights.
How could this case affect the battle for abortion access in the state?
Since the Supreme Court can issue any kind of order, even outside of the questions presented, it's hard to predict exactly what could happen.
The court could decide that neither party suing Texas has a right to sue in the cases. If that happened, the lawsuits would be dead in the water. Or the justices could rule that just one of the parties does not have standing, allowing the other to continue in lower courts.
If the justices ruled in favor of the U.S. and abortion providers, the fight could still be far from over, said Dale Carpenter, a constitutional law professor at Southern Methodist University. The cases would likely have to return to lower courts, and a temporary block on the law would likely be reinstated, he said.
The court could also put a stop to the law's enforcement mechanism, therefore removing the penalties for abortions outlawed by SB 8, Carpenter said.
But again: If the Supreme Court later strikes down a person's right to an abortion, the law could have retroactive consequences. This could happen in December, when the Supreme Court is set to take up another abortion case, possibly revisiting the constitutionality of abortions.
"I don't know that I can hazard a prediction," Sepper said. "I was pretty confident back in August that even though the court is exceptionally hostile to the right to abortion, that the court would protect its own power and slap down attempts to avoid the federal courts, but it didn't do that."
She said her best bet is that at least one of the lawsuits will be allowed to continue.
"But I think our best bets are far less certain than they used to be," she said.
What does the situation look like on the ground?
All Texas abortion providers have had to shutter the bulk of the procedures they previously offered. Some stopped offering any abortions, even ones allowed under SB 8.
Providers described having to turn away patients, many emotional, as the law went into effect on Sept. 1 at midnight. Since then, people seeking abortions have sought services in other states, forming backlogs of Texas patients desperate for the procedure.
What does the schedule look like for these cases? When will the court issue a decision?
The court is hearing arguments less than two weeks after the U.S. Department of Justice requested that the court weigh in — which is very quick by Supreme Court standards. A decision will almost certainly not come the same day.
But the justices can vote and issue an order on whatever timeline they choose and may do so without prior notice. Carpenter predicts that the justices will issue a ruling soon.
"The fact that they've called for such an expedited briefing strongly suggests that we will get some word from the court within a matter of weeks, if not days," Carpenter said. "I think probably in the month of November would be a good guess.
"But you can't be sure," he added.
Many legal observers pointed out that this case is being considered very rapidly, by Supreme Court standards.
But Sepper said that is relative.
"On the one hand, court watchers say, 'Wow, the Supreme Court's acting so quickly,'" Sepper said. "But on the other hand, for, you know, women and other people who can become pregnant in the state of Texas, the Supreme Court and other federal courts have been essentially twiddling their thumbs for the last two months.
"I think it depends on what your perspective is," she said.
Are there any other lawsuits related to SB 8?
Yes. More than a dozen were filed in lower courts challenging the law. Those lawsuits were consolidated into a single case but have not yet been considered.
Additionally, private citizens in three states, including Texas, have filed lawsuits against a San Antonio doctor who admitted to performing an abortion not allowed under SB 8. That doctor, Alan Braid, countersued and asked the court to strike down the law. That case is still pending.
Are there any other cases related to abortion before the Supreme Court?
Yes. The Supreme Court is set to take up its other high-profile abortion case, Dobbs v. Jackson Women's Health Organization, in December. In fact, Blackman believes Texas' two cases were expedited to be handled before arguments in Dobbs begin.
Many believe that case — which is over the constitutionality of Mississippi's 15-week abortion ban — will put Roe v. Wade and other constitutional affirmations of a person's right to an abortion to the test.
The Texas case "is being decided in the shadow of Dobbs," Blackman said. "If the court overrules Roe, then SB 8 has a very strong footing. If the court affirms, Roe then SB 8 is going to be unconstitutional in many regards. So I think they sort of have to defer ruling on the merits to allow Dobbs to play out, and that's why they're only resolving the procedural issues at this early juncture."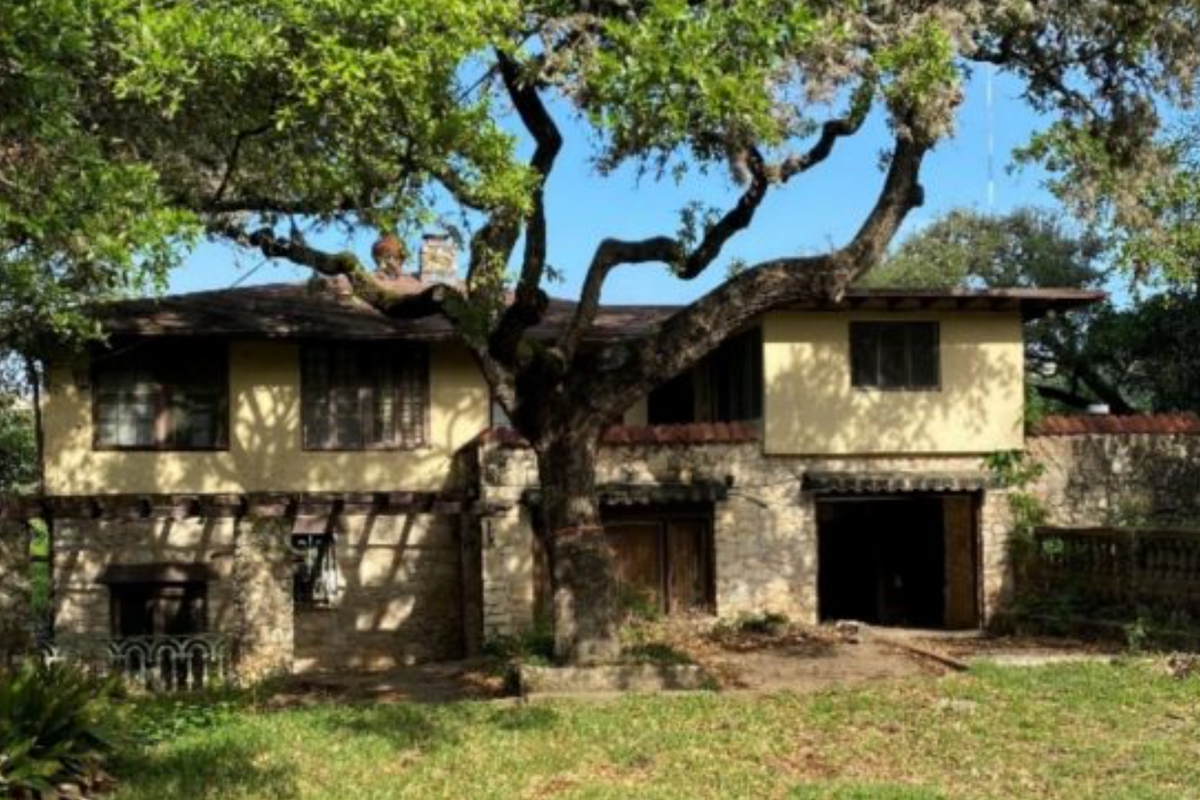 Austin Monitor
By Jonathan Lee
The Planning Commission was split Tuesday on whether to help save an eclectic lakefront estate from demolition by zoning it historic amid concerns over tax breaks and the likelihood that a previous owner participated in segregation as a business owner.
The property in question, known as the Delisle House, is located at 2002 Scenic Drive in Tarrytown. The main house, with Spanish and Modern influences, was built in 1923 by Raymond Delisle, an optician. A Gothic Revival accessory apartment was built in 1946. The current owner applied to demolish the structures in order to build a new home.'
Historic preservationists, for their part, overwhelmingly support historic zoning, which would preserve the buildings in perpetuity. The Historic Landmark Commission unanimously voted to initiate historic zoning in July, citing architectural significance, landscape features and association to historic figures. City staffers recommend historic zoning, calling both structures one-of-a-kind examples of vernacular architecture.
Tarrytown neighbors have also banded together to stop the demolition. Many have written letters, and a few spoke at the meeting. "How could anyone buy this property with the intent of destroying it?" Ila Falvey said. "I think it's an architectural treasure."
Michael Whellan, an attorney representing the property owner, said that the claims made by preservationists are shaky. The buildings are run down, he said, and have had substantial renovations. A structural engineer hired by the owner said any attempt at preservation would involve tearing down and rebuilding – an undertaking Whellan said would likely cost millions.
Whellan also argued that any historical significance derived from the property's association with Delisle and longtime owner C.H. Slator is dubious. "These men are not noted for any civic, philanthropic or historic impact," he said.
What's more, according to Whellan, Slator likely participated in segregation as the owner of the Tavern on North Lamar Boulevard between 1953 and 1960.
A city staffer, however, said she found no evidence to support the claim. "We would never landmark a property where a segregationist lived, or there was a racist person," Kimberly Collins with the Historic Preservation Office said.
Commissioner Awais Azhar couldn't support historic zoning in part due to lingering uncertainty about Slator. "Focusing on that factor is not here to disparage an individual or family. It is not about playing the race card. This is an important assertion for us to consider as Planning commissioners," Azhar said.
Commissioner Carmen Llanes Pulido said that allegations of racism should come as no surprise. "We're talking about white male property owners in the 1950s, in Austin, on the west side – and of course they were racist," she said. But she argued that allowing the house to be demolished based on these grounds does nothing to help people of color who have been harmed by racism and segregation.
The question of tax breaks was also controversial. Michael Gaudini, representing the property owner, said that the tax breaks associated with historic zoning would exacerbate inequality by shifting property tax burdens to less affluent communities. City staffers estimate that the property, appraised at $3.5 million, would get either a $8,500 or $16,107 property tax break annually, depending on whether a homestead exemption is applied.
Commissioner Grayson Cox preferred the commission focus not on tax breaks but on whether the structures merit preservation. "To me, nothing in the historic preservation criteria lists, is this person deserving of a tax break or not?"
Azhar, on the other hand, said he plans to propose a code amendment getting rid of city property tax breaks for historic properties.
The commission fell one vote short of recommending historic zoning, with six commissioners in support and three opposed. Azhar and commissioners Claire Hempel and Greg Anderson voted against.
The odds of City Council zoning over an owner's wishes are slim. Nine out of 11 members must vote in favor, and there have only been a handful of such cases over the past several decades.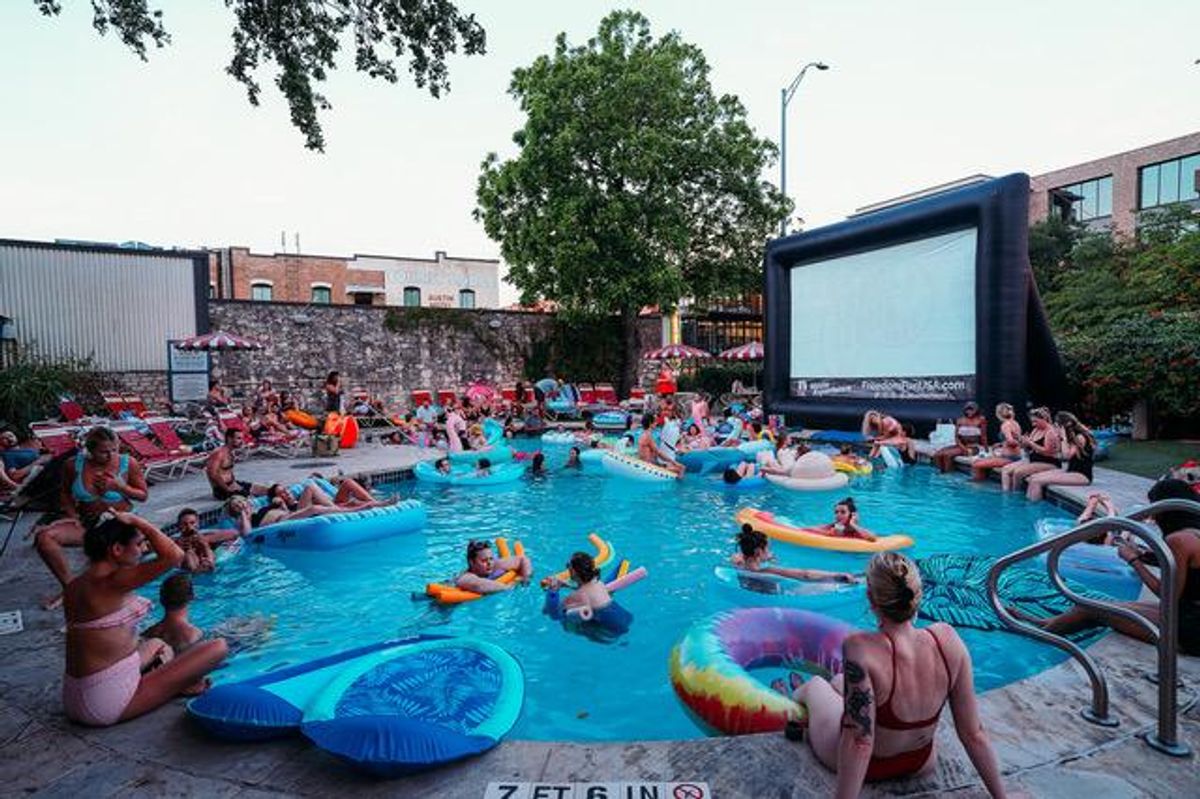 Austin Motel
What's new in Austin food & drink this week:
Nau's Enfield Drug closing after losing their lease. Did McGuire Moorman Lambert buy the building, with its vintage soda fountain?
Nixta Taqueria Chef Edgar Rico named to Time Magazine's Time 100 Next influencer list, after winning a James Beard Award earlier this year.
Question: From what BBQ joint did pescatarian Harry Styles order food this week?
Austin Motel is opening the pool and pool bar Wednesday nights in October for Freaky Floats.
Vincent's on the Lake closing due to "economic conditions and low water levels [at Lake Travis]."
Cenote has closed its Windsor Park location. The East Cesar Chavez location remains open.
The Steeping Room on N. Lamar has closed.
Local startup It's Skinnyscored new financing for its gluten-free pasta business.
P. Terry's opened a new location in Kyle, at 18940 IH-35.