Get connected with our daily update
By Reese Oxner
The U.S. Supreme Court will take up on Monday the highest-profile legal challenges to Texas' new abortion law. The Supreme Court previously declined to act on the near-total abortion ban, making next week's proceedings the first time the high court is stepping in on lawsuits seeking to stop it.
---
The court will consider two suits against the law, commonly referred to as Senate Bill 8, which blocks abortions as early as six weeks into a pregnancy. One is waged by the federal government, the other by a group of abortion providers and advocates.
The Supreme Court's review will focus on how SB 8 is enforced, not abortion rights themselves. It's hard to predict what the court could decide, but its ruling will likely determine the future of abortion care in Texas and shape the legal battles to come.
Here's what you need to know before the Supreme Court convenes.
What's the story with Texas' abortion law? And why is it so controversial?
After years of attempts to limit access to abortions, Texas passed a law that successfully bars procedures as early as six weeks, before many people know they're pregnant. It would have blocked an estimated 85% to 90% of the abortions performed in Texas before the law went into effect.
A person's right to an abortion until around 24 weeks of pregnancy — when a fetus can survive independently outside the womb — is a constitutional right established by Supreme Court cases like Roe v. Wade. But Texas was successful in limiting that right through legal loopholes, making it elusive to court review.
The statute also opens providers and those who help someone get an abortion banned by SB 8 to several lawsuits, including multiple ones for the same instance. One of the most controversial aspects of the bill is that it allows anyone in the nation to sue someone who assists a person in getting an abortion, even if the person suing has no connection to those involved. Opponents to say the law has potential to create "bounty hunters."
It also insulates those suing from having to pay for their opponents' legal fees, even if the case is thrown out — but guarantees that theirs will be paid for if they win. This could create a financially ruinous situation for providers or even individuals, who would have to pay for attorneys to defend themselves, even in cases deemed frivolous.
The night after the law went into effect, the Supreme Court chose to neither block it nor rule on its constitutionality. Instead, in a 5-4 vote, justices allowed it to continue, citing procedural issues. The two separate suits filed by the U.S. Department of Justice and abortion providers have brought SB 8 back before the high court again.
Is this hearing about Roe v. Wade or abortion rights?
No. At least, the briefings prepared by the parties involved in the lawsuit are not. The Supreme Court presented two narrow questions about technical details of the lawsuits.
However, the Supreme Court justices can ask any questions and make any ruling they see fit.
What is the Supreme Court ruling on then?
The court laid out two narrow questions that have to do with how SB 8 is enforced.
In the case brought forward by the Department of Justice, the court will review whether the federal government can sue Texas in this attempt to overturn SB 8. DOJ is asking the court if it can sue the state, judges and all private parties to protect from litigation anyone getting an abortion banned by SB 8.
In the abortion providers' suit, known as Whole Woman's Health v. Jackson, the court will consider whether a state "can insulate from federal-court review a law that prohibits the exercise of a constitutional right" by offloading its enforcement to the general public.
The Supreme Court can issue an order as broad or as narrow as it wants, said Elizabeth Sepper, a law professor at the University of Texas at Austin. Technically, the court could rule on abortion rights overall — although that is very unlikely at this stage.
What's so special about how SB 8 is enforced? What makes it so hard to challenge in courts?
The statute has bucked judicial review by making it difficult to sue the law's enforcers.
To block a law, courts usually stop state officials from enforcing it. But in the case of Texas' law, state and law officials are forbidden from enforcing it. Instead, the state empowered private citizens to sue those who "aid or abet" abortions. If those private citizens win, they get at least $10,000 and recover their attorney fees.
Removing state officials from the equation means that opponents of the law don't have anyone specific to sue for enforcing the law. They have struggled to name the right person in their legal efforts.
The law has another provision that works as a kind of failsafe. Even if blocked for a time, the statute allows people to sue those who aided an abortion during that period if the law is restored. Even in the case that a lawsuit succeeds in temporarily blocking the law, the fear of future litigation could continue to discourage abortion clinics in Texas from performing the procedure.
The fear of financial ruin has led to virtually 100% compliance with the law, with one known exception.
Josh Blackman, a constitutional law professor at South Texas College of Law Houston, said that even if Texas' law is blocked now, the fact that it can be retroactively applied could threaten providers afterward.
A person's constitutional right to an abortion is being challenged in another suit before the high court, and many believe it could be in danger of being overturned. If the Supreme Court decides to later erode that constitutional right, Blackman said, the general public might once again be able to sue those who assisted in abortions — even during periods when the law was blocked.
"The only reason why this [enforcement mechanism] works for abortion is a court might overrule Roe," he said. "If California were to enact a law that bans the sale or private ownership of firearms, I think others would just say, 'Come and take it.'"
Blackman said the law has been successful so far because abortion rights are seemingly in jeopardy when compared to other established constitutional rights.
How could this case affect the battle for abortion access in the state?
Since the Supreme Court can issue any kind of order, even outside of the questions presented, it's hard to predict exactly what could happen.
The court could decide that neither party suing Texas has a right to sue in the cases. If that happened, the lawsuits would be dead in the water. Or the justices could rule that just one of the parties does not have standing, allowing the other to continue in lower courts.
If the justices ruled in favor of the U.S. and abortion providers, the fight could still be far from over, said Dale Carpenter, a constitutional law professor at Southern Methodist University. The cases would likely have to return to lower courts, and a temporary block on the law would likely be reinstated, he said.
The court could also put a stop to the law's enforcement mechanism, therefore removing the penalties for abortions outlawed by SB 8, Carpenter said.
But again: If the Supreme Court later strikes down a person's right to an abortion, the law could have retroactive consequences. This could happen in December, when the Supreme Court is set to take up another abortion case, possibly revisiting the constitutionality of abortions.
"I don't know that I can hazard a prediction," Sepper said. "I was pretty confident back in August that even though the court is exceptionally hostile to the right to abortion, that the court would protect its own power and slap down attempts to avoid the federal courts, but it didn't do that."
She said her best bet is that at least one of the lawsuits will be allowed to continue.
"But I think our best bets are far less certain than they used to be," she said.
What does the situation look like on the ground?
All Texas abortion providers have had to shutter the bulk of the procedures they previously offered. Some stopped offering any abortions, even ones allowed under SB 8.
Providers described having to turn away patients, many emotional, as the law went into effect on Sept. 1 at midnight. Since then, people seeking abortions have sought services in other states, forming backlogs of Texas patients desperate for the procedure.
What does the schedule look like for these cases? When will the court issue a decision?
The court is hearing arguments less than two weeks after the U.S. Department of Justice requested that the court weigh in — which is very quick by Supreme Court standards. A decision will almost certainly not come the same day.
But the justices can vote and issue an order on whatever timeline they choose and may do so without prior notice. Carpenter predicts that the justices will issue a ruling soon.
"The fact that they've called for such an expedited briefing strongly suggests that we will get some word from the court within a matter of weeks, if not days," Carpenter said. "I think probably in the month of November would be a good guess.
"But you can't be sure," he added.
Many legal observers pointed out that this case is being considered very rapidly, by Supreme Court standards.
But Sepper said that is relative.
"On the one hand, court watchers say, 'Wow, the Supreme Court's acting so quickly,'" Sepper said. "But on the other hand, for, you know, women and other people who can become pregnant in the state of Texas, the Supreme Court and other federal courts have been essentially twiddling their thumbs for the last two months.
"I think it depends on what your perspective is," she said.
Are there any other lawsuits related to SB 8?
Yes. More than a dozen were filed in lower courts challenging the law. Those lawsuits were consolidated into a single case but have not yet been considered.
Additionally, private citizens in three states, including Texas, have filed lawsuits against a San Antonio doctor who admitted to performing an abortion not allowed under SB 8. That doctor, Alan Braid, countersued and asked the court to strike down the law. That case is still pending.
Are there any other cases related to abortion before the Supreme Court?
Yes. The Supreme Court is set to take up its other high-profile abortion case, Dobbs v. Jackson Women's Health Organization, in December. In fact, Blackman believes Texas' two cases were expedited to be handled before arguments in Dobbs begin.
Many believe that case — which is over the constitutionality of Mississippi's 15-week abortion ban — will put Roe v. Wade and other constitutional affirmations of a person's right to an abortion to the test.
The Texas case "is being decided in the shadow of Dobbs," Blackman said. "If the court overrules Roe, then SB 8 has a very strong footing. If the court affirms, Roe then SB 8 is going to be unconstitutional in many regards. So I think they sort of have to defer ruling on the merits to allow Dobbs to play out, and that's why they're only resolving the procedural issues at this early juncture."
In a city where live music is heralded above all else, Pete Monfre was surprised to find local musicians working for free that he quit the industry for 10 years in 2006.
Local musicians tended to be underpaid before COVID-19 sent the music industry reeling, but the fallout from the pandemic exasperated the existing problems. Musician and marketer Monfre knows—he's been behind that shaking tip jar, trying to turn a profit while doing what he loves. He's tackling the problem with a unique brand of live shows, which go against the grain, mix business with pleasure and help bring home the bacon.
The shows, called Stories from the Road, are an informal storytelling jam session at The Saxon Pub that encourages interaction between the artist and audience.
After a brief hiatus due to ongoing woes of the pandemic Stories from the Road came back to The Saxon Pub on Saturday. It was the first of 23 consecutive shows that didn't sell out, which Monfre attributes to the break of not having shows.
"We called it Stories from the Road—not a band, an experience," Monfre said. "We're not going to rehearse, we're not going to have a list, we're not going to prepare, every show is a one-off and you will never see it again."
His shows start early at 6 p.m., with a rotating group of musicians playing blues or Americana who need not rehearse. This time it featured Mark "Kaz" Kazanoff on saxophone and harmonica, bassist Mark Epstein, drummer Kevin Hall and Adam Pryor on Hammond Organ.
You'll probably end up spending a bit more than the typical show at the Saxon Pub, around $30 per person, but each show goes directly to supporting the artists that made it.
"Part of the mission was to advocate for fair wages for musicians and to help musicians understand their economic value," Monfre said. "Now I can afford to pay musicians a modest guarantee and we call that the Fair Play approach to live music."
Monfre moved to Austin as a young adult with the intention of "conquering the music industry" in 1981, which he told Austonia he did not do but did meet "a lot of interesting people." He left Austin to tour for a few years, then moved to Milwaukee, where he continued to play music.
After returning to Austin in 2006, Monfre discovered some musicians were playing shows for free.
"I'm playing in Chicago and Michigan and hardcore blues places, and we don't play for free," Monfre said. "So I actually quit for 10 years. There is no reason to play for free whatsoever if you just get the model right."
Having already tried to conquer the music industry once, Monfre took a business-forward approach the second time. The model also caters to what he believes is an underserved group: working professionals who want to meet like-minded individuals but also be home by 9 p.m.
Chief Technology Officer for Economic Transformation Technologies David Smith, who has been coming to other Monfre shows since they started in 2016, said he enjoys the improvisational nature of the shows because it reminds him of old Austin.
"The Stories from the Road get back to the root of what music is: the fact that you can sit and jam, make music with musicians because they understand music, and that's the soul of Austin," Smith said. "It really is a celebration of music."
Monfre said the informality is what makes his shows so popular—you'll hear the musicians ask the key for a song, take a request from the crowd, make a lighthearted jab at one another or create a song from scratch.
"They want to see the sausage being made, it's really funny I would have never thought it," Monfre said.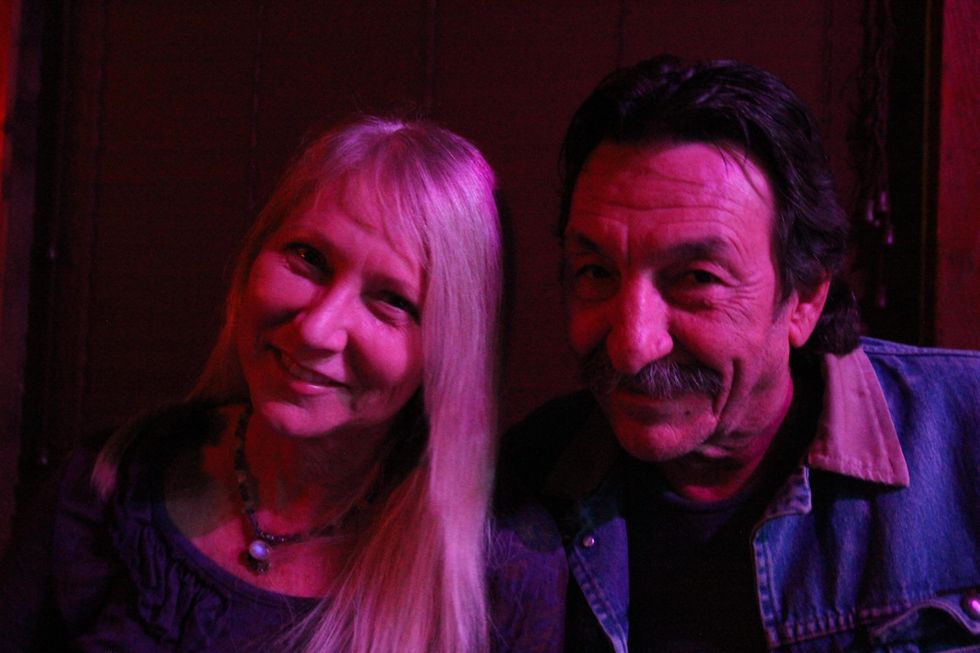 Price (right) said he was happy the show ended early so he could make it home to Lampasas. (Laura Figi/Austonia)
"I am knocked out. It just really didn't get any better than what we just had—this band was so good, the crowd was so good," Price said. "That's what Austin in the '60s and '70s was all about, just everybody throwing it together."
Stories from the Road is returning to The Saxon Pub stage on Dec. 18, with a completely new group of musicians. The show, like always, will start at 6 p.m.
In this season of gifts, giving, and gratitude, Tito's is making it easy to shop for your friends and loved ones while helping our community.
The beloved Austin company's Love, Tito's retail space, downtown at 215 Lavaca Street, is fully stocked with great gear. 100% of net proceeds of whatever you purchase—a new collar for your four-legged friend, a Tito's tee, some branded barware—go to the nonprofits they support. From the environment to animal rescue, you can choose your cause while choosing a new copper cocktail kit… or old school cap… or golf polo.
The store is stocked with stuff that the online experience just can't offer: never-before-seen swag, doggy photo booths (to say it's a dog-friendly space is an understatement), a record player to spin some tunes, and a bar finder listing local spots serving mean Tito's cocktails. Locals and out-of-town visitors alike can enjoy wonderful distractions while kicking back in an environment designed to cater to Tito's fans.

While you can't enjoy a cocktail there due to Texas liquor laws, the store offers unique experiences for any and all fans of the brand, and gives folks a chance to find what resonates with them while taking home a piece of the Tito's story.
*At our Love, Tito's store in Austin, net proceeds constitute an average margin of at least 25% of the retail price of a product, excluding the cost of tax on the purchase. We are not deducting cost of our people, the store rent or other operating costs.
The holiday season is upon us, so get ready to celebrate with carols, snacks and light shows galore. Austin is full of holiday festivities spanning throughout all of December so get out and enjoy the cool weather while it lasts.
Don't miss these nine holiday-themed light shows.
Austin's most famous annual light show and a Readers Choice of USA Today's 10 Best Public Displays of Holiday Lights, the Trail of Lights will be drive-thru again this year Nov. 27-Dec. 31. For 57 years in a row, the Trail of Lights has lit up Zilker Park with games, food, local vendors and more than two million lights gleaming for the holidays. The event, as always, is free to the public and you can reserve slots here. The Zilker Tree is already up, so you can already see it if the holiday cheer is too much to bear.
Coming back for the second year in a row, Peppermint Parkway will transport you to COTALAND, where six million lights gleam and Christmas is just a one-mile drive away. The hybrid event will have you drive through the display of lights, dancing elves and unique little villages before you hit the walking plaza, where you can grab a bite to eat and meet Santa. Tickets range from $40-$95, some including a lap around the COTA track, running from Nov. 26-Dec. 26.
Dreamland Dripping Springs has been transformed into a winter wonderland—running throughout the month of December, the venue's first-ever holiday display is taking over with activities for the whole family. Plus, running from Nov. 20-Jan. 4, a pop-up ice skating rink will really bring the holiday cheer for $10 or $5 Monday specials. The lights display will feature half a million lights and warm, festive sips from the taproom.
With events galore for the holiday season, winter is really when the Hill Country Galleria thrives. Starting with its Light Up The Plaza event on Saturday from 6-8 p.m., where visitors can see Santa, gaze at the official lighting of the holiday tree and hear some live tunes from rock band American Authors. The Galleria will also hold a holiday market every Thursday, Friday and Saturday leading up to Christmas Eve and periodic photos with Santa at Buenos Aires Cafe.
Deck the Halls at the Driskill Hotel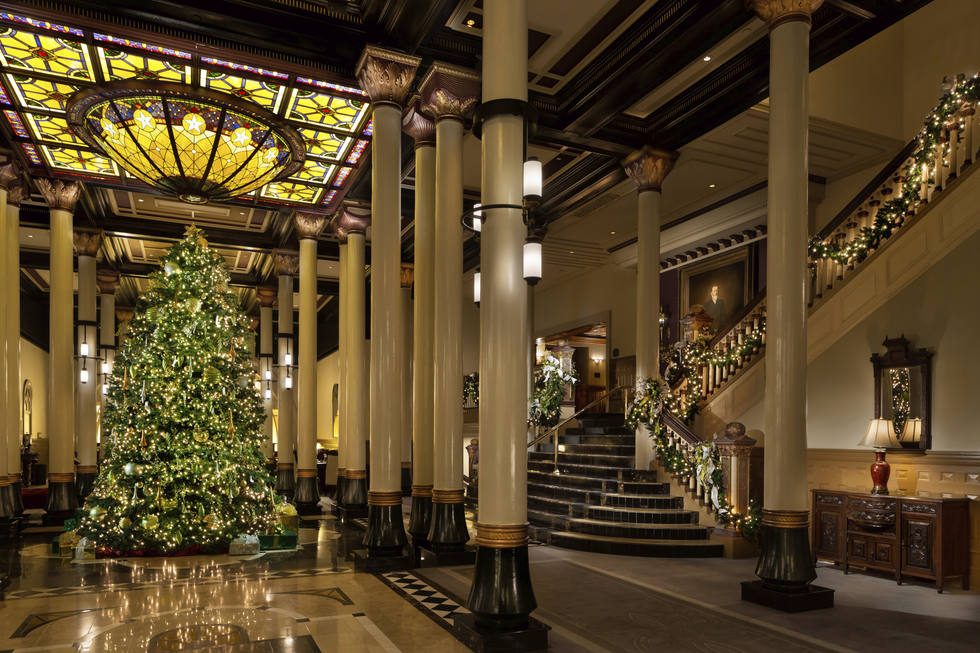 (Courtesy of the Driskill Hotel)
This holiday season, the Driskill will deck out every nook and cranny of the historic hotel from the grand staircase to the 16-foot Christmas tree in the lobby to be lit on a Dec. 1 ceremony that will be open to the public. Touches of Driskill festivities can also be seen at Dell Children's Hospital with a gingerbread village for its annual "Cookies for Caring" event.
Kicking off the lighting of the tree on Saturday, Dec. 4, Austinites will gather on the steps of the Texas Capitol at 6 p.m. to sing the 45-foot tree to life. Afterward, local band Los Coast will close out the night with a free concert. The fun doesn't stop there though as the Downtown Austin Alliance will host the Downtown Holiday Stroll, with "holiday passports" and stamps to collect for local restaurants and stores, and a Frida Friday Holiday Market at Republic Square.
Combining festive holiday lights and the beautiful native plants of Central Texas, Luminations at the Wildflower Center is back with thousands of lights, luminarias and a lit-up look at Fortlandia. This year will also feature an interactive light maze called "silvana" by Ben Busche of architecture firm Brut Deluxe, which will be the maze's first appearance in North America. The event will run Thursdays-Sundays from Dec. 2-Jan. 30 for $10-$25 per person.
Reserved tables are back for Mozart's Coffee Roasters annual Christmas Lights Show for $20 four-person tables and $30 six-person tables—so get your tickets early because these tables are likely to sell out. The light show will also feature a festival-style Bavarian marketplace for those last-minute gifts. If you're too late to reserve a table, don't worry, there will be standing room available for free so come one, come all, and come early for parking.
From Dec. 2-4, Old Settlers Park will light up with holiday displays, family activities, festive refreshments and live music. Watch the balloons hover above the lake as you sip on a hot chocolate or give to those in need, with stands for Round Rock Operation Blue Santa, which is taking toys for kids in need, the Play For All Foundation, which is accepting cash donations for disabled children, and the People & Parks Foundation, accepting cash donations for green space in the community. Admission to the event is free, along with most of the activities in the park.