Get connected with our daily update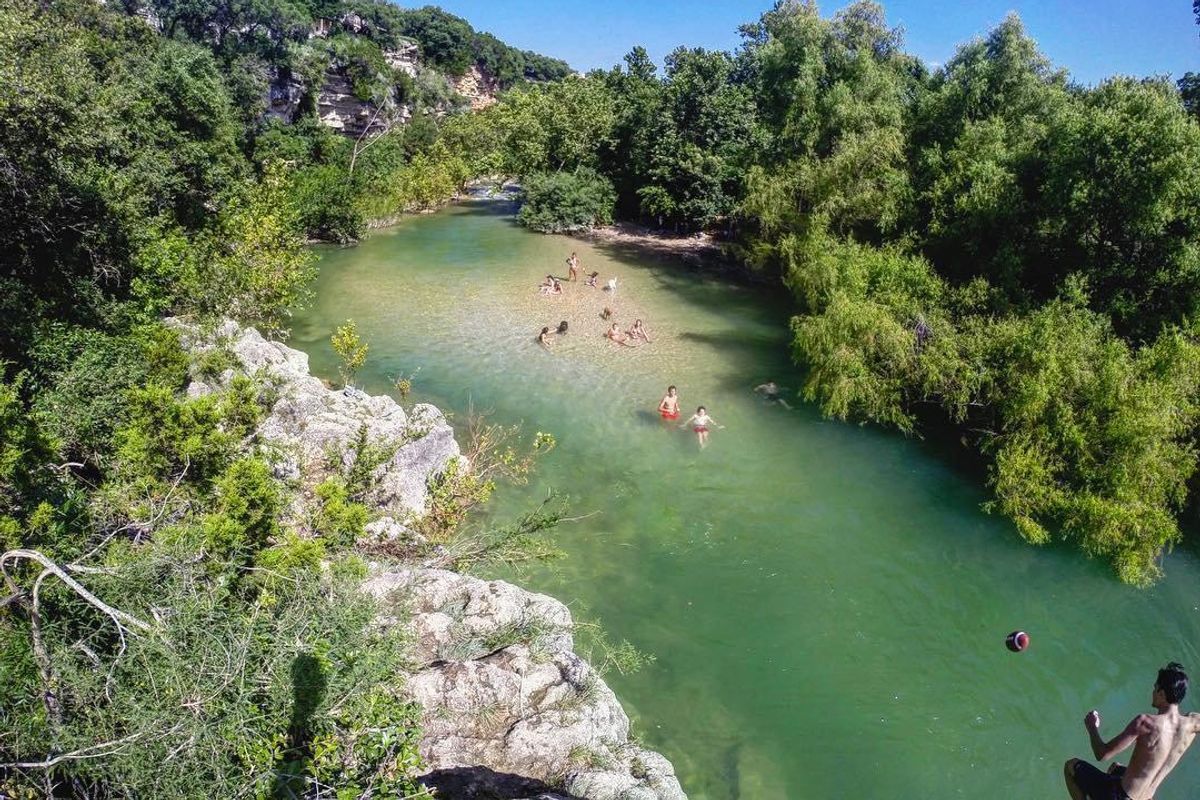 Swimming pools have plenty to offer in this relentless summer heat, but there's just something so Austin about swimming holes in Central Texas that keeps locals coming back for more.
From hideaways within city limits to Wimberley's famous bottomless well, here's a dozen swimming holes to dip into this summer.
---
What to know before you go
Most gear needed to go to a local swimming pool coincides with what's needed at swimming holes, but there are a few extra steps to take when you visit.
In general, you will need:
Water shoes may come in handy if you're headed to a natural swimming hole but make sure you choose the right footwear if there's a hike beforehand.
Sunscreen
Plenty of water, as there usually isn't usually anywhere to grab a drink nearby
Blankets, coolers, snacks and drinks for a casual picnic by the water
Money, if you're headed somewhere that requires a pass
Tubes/floats are always a fun addition at some swimming holes
Here are a few more steps to take before you head out:
Look for places to grab a bite to eat before, especially if you're planning on staying a while. Barton Springs Pool has Zilker Cafe nearby, while the Spyglass access to Barton Creek is close to a Tacodeli.
Check out the amenities of the small town you're headed to. Wimberley's historic square is stocked with famous restaurants, antiques and more, while Dripping Springs is known for its craft breweries.
Make sure you grab a pass if you need it. Some offer free access, others require reservations beforehand.
Plan your parking situation ahead of time. Some swimming holes are limited on parking, so leave early if you're headed to a popular spot.
If you're planning on drinking or eating at the pool, make sure to check if alcohol, glass containers or other materials are allowed on site.
Many of these locations aren't just swimming holes—if you're interested in more, check to see if the park offers rock climbing, boating, camping or other activities.
Barton Creek Greenbelt, multiple locations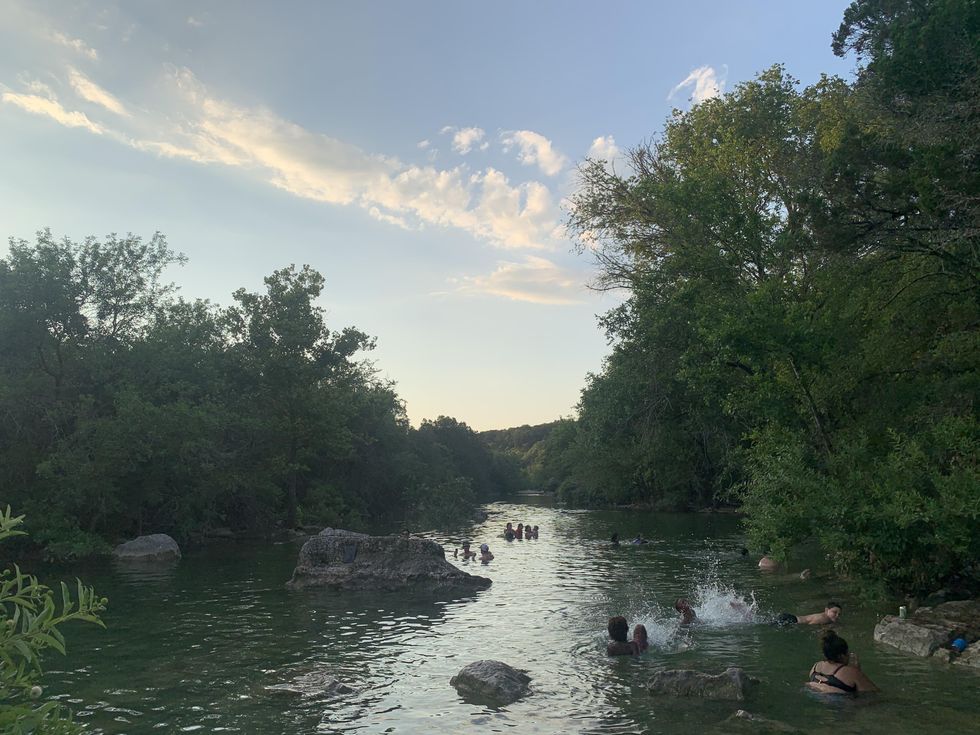 The Barton Creek Greenbelt has plenty of access points and swimming holes throughout its miles of trails. (Claire Partain/Austonia)
The famed Barton Creek Greenbelt is pockmarked with swimming holes throughout its 12.68 miles of trails.
Twin Falls is a popular destination for swimming, rope swings and a 40-foot-deep section perfect for doing your best diving tricks, which you can reach after a quick hike. There are many Greenbelt stopping points, so look up the "Barton Creek Greenbelt Trailhead" if this is your desired destination. Take a left on the Mopac Expy Frontage Road to find plenty of parking. It's about a half-mile walk, so prepare accordingly.
Gus Fruh offers something for everyone—for those looking for a hike, the Main Access point is about 1.4 miles from the swimming hole, and popular rock climbing spots, including Urban Assault, sit nearby. For quick access, head to 2642 Barton Hills Dr. It's located in a residential neighborhood, so there may be limited parking.
Campbell's Hole is a more off-the-grid option for Austinites. The swimming hole can be accessed two ways: via 1601 Spyglass Drive or 2010 Homedale Dr. (Barton Hills Elementary.) However, you can also hike to this less-trafficked spot from Gus Fruh or by way of Trail's Head.
For those looking to conquer the wild, Trail's End/Sculpture Falls swimming hole is just a 1.25-mile walk from the Twin Falls access point and also accessible at 1710 Camp Craft Road. If you're not looking for a workout, beware that the half-mile stretch before reaching the falls is the steepest area of the Greenbelt.
Barton Springs Pool, 2201 Barton Springs Rd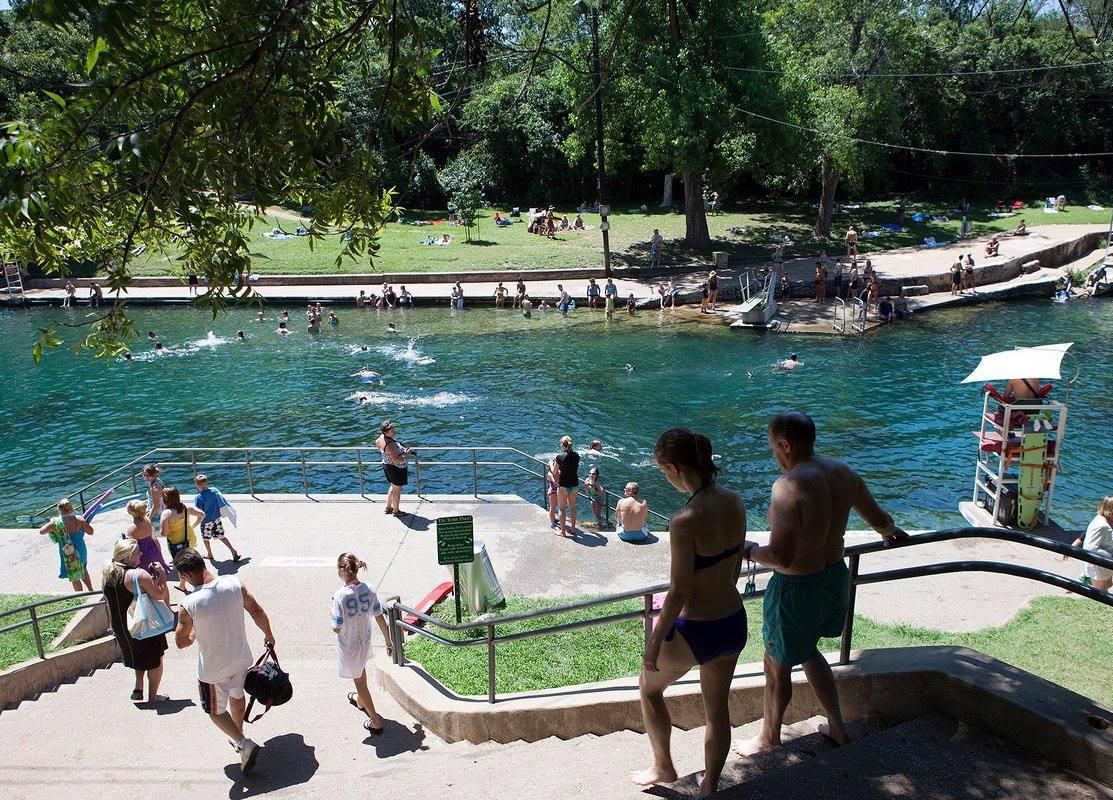 Barton Springs Pool has been a favorite for Austinites for decades. (Barton Springs Pool/Facebook)
Barton Springs Pool has continued to turn heads in its decades of existence. According to the city of Austin, state legislators have made laws there, topless swimmers made waves in the 1970s and actor Robert Redford learned to swim at this site while visiting family.
The pool's rectangular shape and concrete edges mimic a man-made swimming pool, but it is actually fed by springs that keep temperatures near 70 degrees year round.
The pool is located in Zilker Park and attracts hundreds of visitors a day. Efforts made by nearby restaurant Zilker Cafe to bring alcohol on the premises recently failed, but the cafe is still open for a bite to eat just before or after taking a dip.
New lifeguards have joined the team, meaning residents will have access to the pool from 8 a.m.-10 p.m. for five days a week instead of four. Click here to buy a Barton Springs Pool pass.
Krause Springs, 404 Krause Springs, Spicewood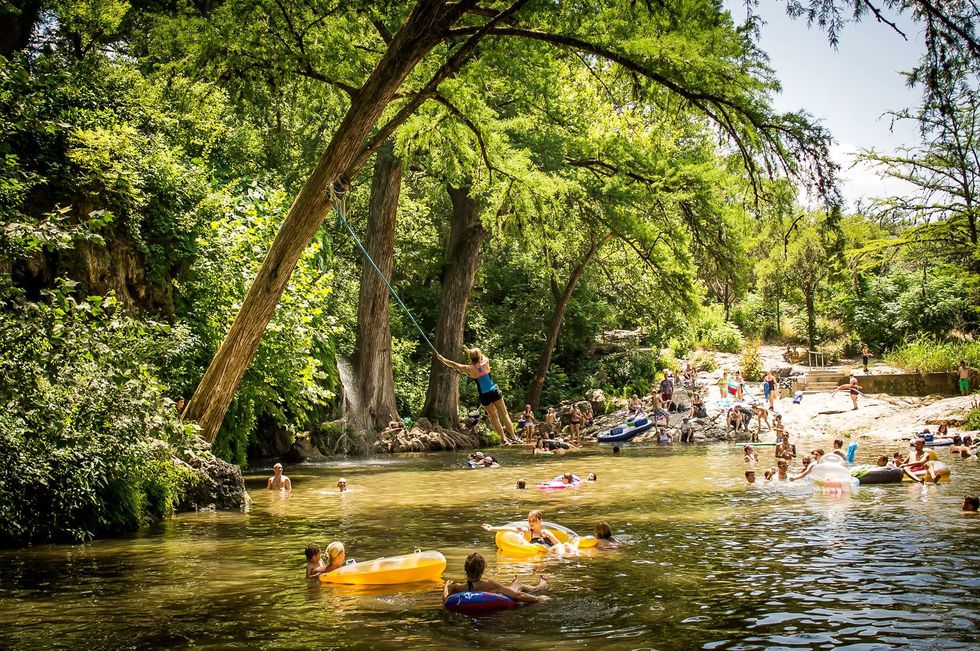 Krause Springs offers a man-made and natural pool on its preserve. (Krause Springs/Facebook)
This popular swimming and camping destination has been run by the Krause family for over 50 years. Much like Barton Springs Pool, the site offers a man-made pool fed by 68-degree water year round. It also features a natural watering hole and plenty of space for camping.
The springs are located in Spicewood, around 30 miles northwest of Austin, and are open from 9 a.m.-8 p.m. every day.
Day passes for adults are $9 apiece, while overnight passes including tent and RV camping are $15 a night. For more information, click here.
Jacob's Well and more in Wimberley
Wimberley is the perfect summer getaway. With a downtown stocked with old-fashioned cafes, live music and unique goods, an H-E-B nearby and beautiful scenery everywhere you look, it's hard to be bored at the Hill Country hideaway.
Located about 45 minutes southwest of Austin, Wimberley has multiple swimming locations to choose from.
Jacob's Well, 1699 Mt. Sharp Rd., is one of the most famous swimming holes in Texas, partially because of the mystery that lies underneath. The hole drops 140 feet down before funneling into several underwater caves, some of which have yet to be fully explored. The hole, which is the second-longest submerged cave in Texas, attracts thousands every year due to its vast depths, beautiful scenery and abundance of unique wildlife. The hole itself, which comes after a mile hike, is as small as it is deep, meaning reservations are scarce. Plan in advance if you wish to jump off the cliff into the water. Those not looking to swim can access the point without a reservation from 8 a.m-6 p.m. daily. Click here to reserve a spot.
Blue Hole Swimming Area (100 Blue Hole Lane) is another classic go-to in Wimberley, equipped with a large lawn for picnicking, hiking trails and a high-flying rope swing. Book one of two daily time slots—or both—here.
Cypress Falls (50 Marina Cir) is a private swimming hole complete with a nearby bar, lodging and more. Grab an $8 day pass here.
Hamilton Pool Preserve, 24300 Hamilton Road, Dripping Springs—partially closed
Dripping Springs' iconic natural swimming area is partially closed due to falling rocks caused by the winter storm. No swimming or hiking is allowed underneath the hole's natural overhang, although the park and beach nearby are still open.
While it may not be an ideal spot to cool off for the foreseeable future, locals can still enjoy hiking and outdoor excursions at the park. Book a reservation here.
McKinney Falls State Park, 5808 McKinney Falls Parkway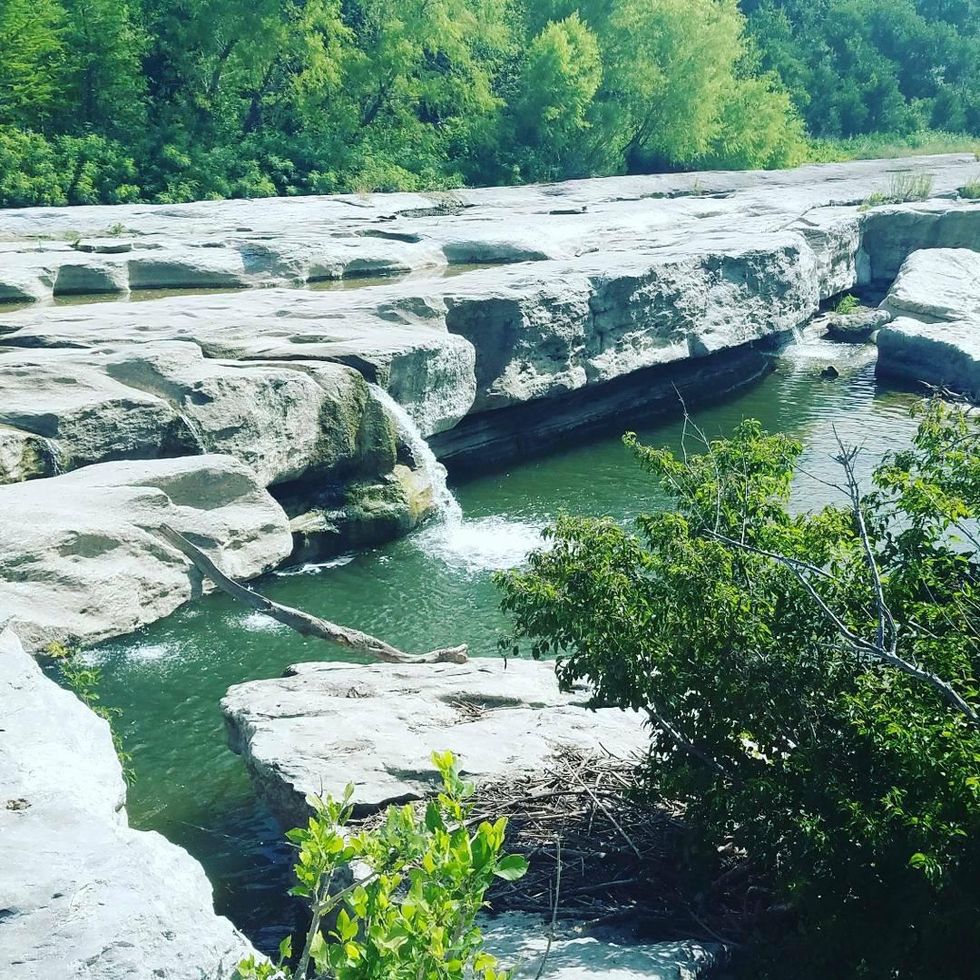 There's more than just a waterfall tucked within Austin city limits at McKinney Falls State Park. (McKinney Falls State Park/Facebook)
Tucked away in deep southeast Austin is McKinney Falls State Park, complete with a waterfall, fishing, hiking and camping destinations. The park, which sits within city limits, also has plenty of swimming spots along Onion Creek. Check out fees and more information here.
Cliff jumping at Pace Bend, 2805 Pace Bend Road North, Spicewood
While Pace Bend sits on Lake Travis, not a swimming hole, the site is perfect for thrill-seekers looking to spice up their summer. Besides cliffside camping, horseback riding, boating and hiking trails, the park's main attractions are the cliffs overlooking the lake. Cliffjumpers squeal in delight as they splash into the water from dizzying heights, and there's plenty of space to picnic or barbeque with thrilling cliffside views.
If you plan on going, leave your dog at home or out of the water: algae that can be harmful to dogs has been found on Lake Travis.
Day passes are $5 a person. Learn more about the park here.
As summer temperatures continue to increase, so does Austin's "Party Island"—a hundreds-strong army of kayakers and paddle boarders who gather each weekend in the middle of Lady Bird Lake.
Born from the pandemic, the swarm of paddleboarding partiers has continued to grow each summer and can be seen from the nearby Lamar Boulevard Bridge. And while "Party Island" certainly lives up to one half of its name, it's not actually an island at all: instead, it's located at a shallow sandbar near Lou Neff Point.
With beers, burgers from portable grills and even DJ turntables in hand, more friends and strangers continue to beat the heat in new ways at the distinct Austin hangout.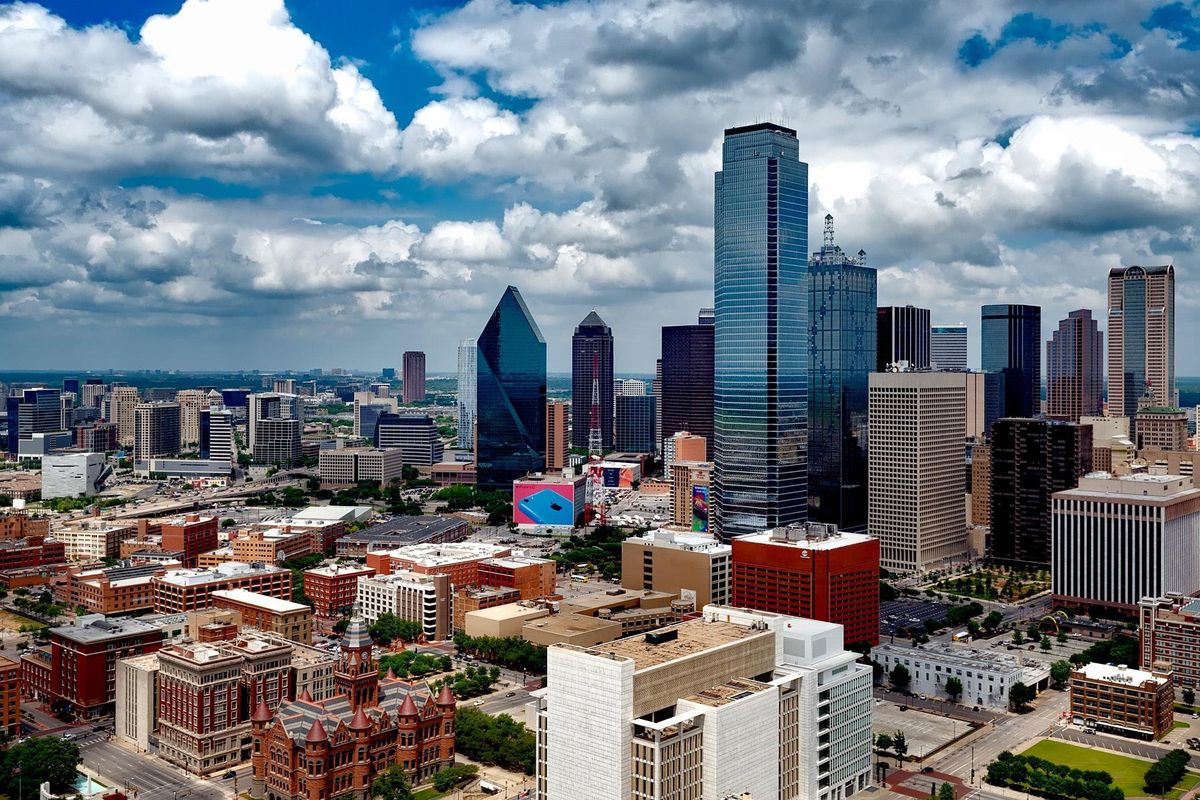 If you are a committed, grunge-wearing resident of the Pacific Northwest, it is easy–almost automatic–to look at Texas as an extraordinarily dry, hot and culturally oppressive place that is better to avoid, especially in the summer. Our two granddaughters live with their parents in Portland.
Recently we decided to take the older girl, who is 15, to Dallas. Setting aside the summer heat, a Portlander can adjust to the vibes of Austin without effort. So let's take Texas with all of its excesses straight up. Dallas, here we come.
Our 15-year-old granddaughter and her sister, 12, have spent summer weeks with us, usually separately so that we could better get to know each individually. In visits focused on Austin and Port Aransas, the girls seemed to be developing an affection for Texas.
Houston and Dallas are two great American cities, the 4th and 9th largest, each loaded with cultural treasures, each standing in glittering and starchy contrast to Austin's more louche, T-shirts and shorts ways.
Three hours up I-35, Dallas loomed before us as a set of gray skyscrapers in a filmy haze, accessed only through a concrete mixmaster of freeways, ramps and exits. I drove with false confidence. Be calm, I said to myself, it will all end in 10 minutes under the hotel entrance canopy. And it did.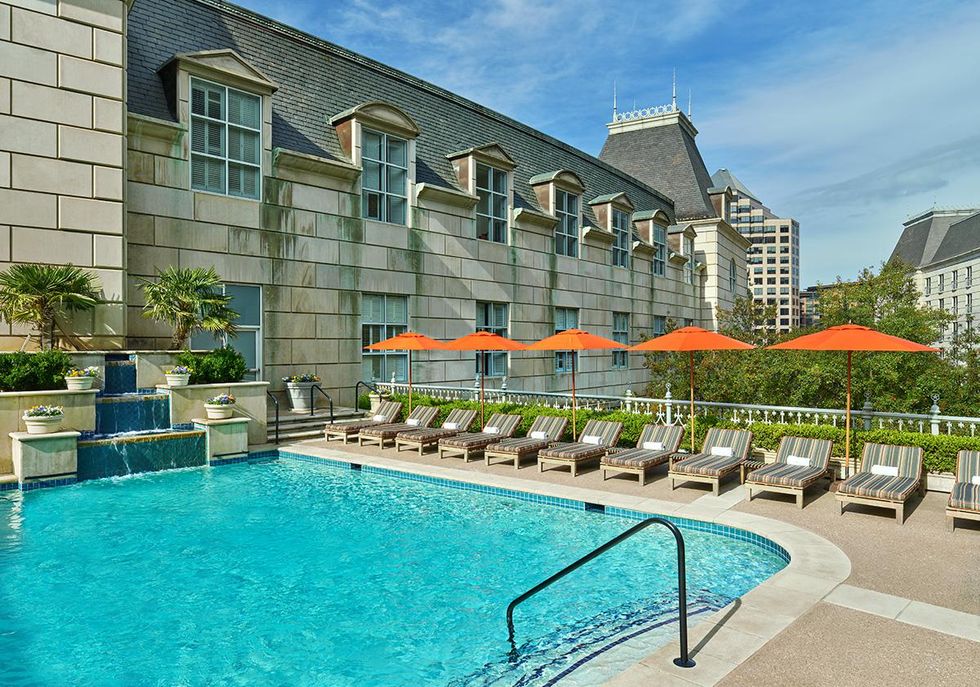 The pool at the Crescent Court Hotel in Dallas. (Crescent Court Hotel)
We stayed three nights at the Crescent Court Hotel ($622 a night for two queens), a high-end hotel in Uptown, patronized by women in white blazers, business people in suits, and tall, lean professional athletes, their shiny Escalades and Corvettes darting in and out, and other celebrities like Bill Barr, the former attorney general who shoe-horned his ample self into a Toyota.
Each morning as I walked to Whole Foods for a cappuccino, a fellow identified by a bellman as Billy the Oilman arrived in his Rolls Royce Phantom. Where does he park? "Wherever he wants to. He likes the Starbucks here."
We garaged our more modest set of wheels for the visit. We were chauffeured for tips by Matt Cooney and Alfonza "The Rev" Scott in the hotel's black Audi sedan. They drove us to museums, restaurants and past the enclaves of the rich and famous. In Highland Park, The Rev pointed out the homes of the Dallas Cowboys' Jerry Jones and Troy Aikman along with the family compound of the Hunts, oil and gas tycoons.
The Dallas Museum of Art's "Cartier and Islam" exhibit (until Sept. 18) attracted an older crowd; the nearby Perot Museum of Nature and Science was a powerful whirlpool of kids' groups ricocheting from the Tyrannosaurus Rex to the oil fracking exhibit. Watch your shins.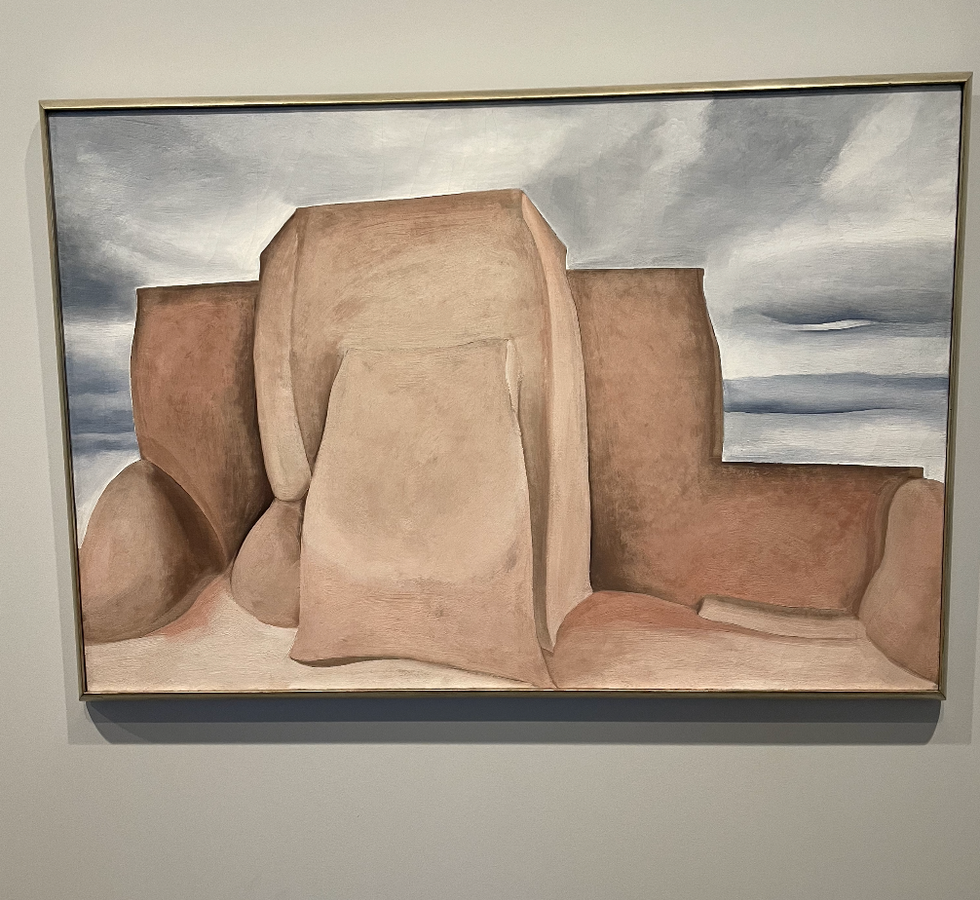 A Geogia O'Keeffe oil painting called "Ranchos Church, New Mexico" at the Amon Carter Museum of Modern Art. (Rich Oppel)
For us, the best museum was the Amon Carter Museum of Modern Art in Fort Worth, a 50-minute, madcap drive away via a 75 mph toll lane along I-30. Don't try it during rush hour. The Carter has an exquisite collection of Remington paintings and sculptures and an excellent array of 19th and 20th-century paintings as well. Pick one museum? The Amon Carter. Peaceful, beautiful, uncrowded, free admission and small enough to manage in two hours.
The Fort Worth Stockyards, a place of history (with a dab of schmaltz), fun and good shopping, filled one of our mornings. The 98 acres brand the city as Cowboy Town, with a rodeo and a twice-daily (11:30 a.m. and 4 p.m.) cattle drive. We shopped for boots, drank coffee and watched the "herd" of 18 longhorns. So languid was their progress that if this were a real market drive the beef would have been very tough and leathery before it hit the steakhouse dinner plate.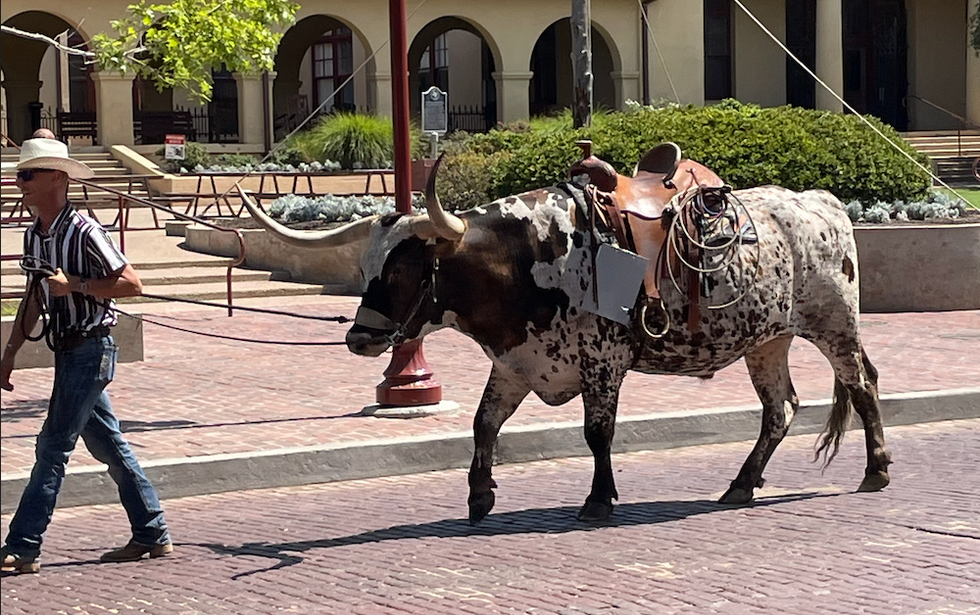 The cattle drive at the Fort Worth Stockyards. (Rich Oppel)
But we could identify: the temperature was 97. "I saw a dog chasing a cat today," said the emcee, deploying a very old joke. "It was so hot that both were walking."
With limited time, we chose three very different restaurants:
Nobu, in the Crescent Court Hotel; Jia, a modern Chinese restaurant in Highland Park; and Joe T. Garcia's in Fort Worth. Nobu's exotic Japanese menu set us back $480, with tip, for four (we had a guest), but it was worth it.
Jia was an ordinary suburban strip mall restaurant, but with good food and a reasonable tab of $110 for four.
Joe T.'s is an 85-year-old Fort Worth institution (think Matt's El Rancho but larger), a fine Mexican restaurant where a meal with two drinks was $115.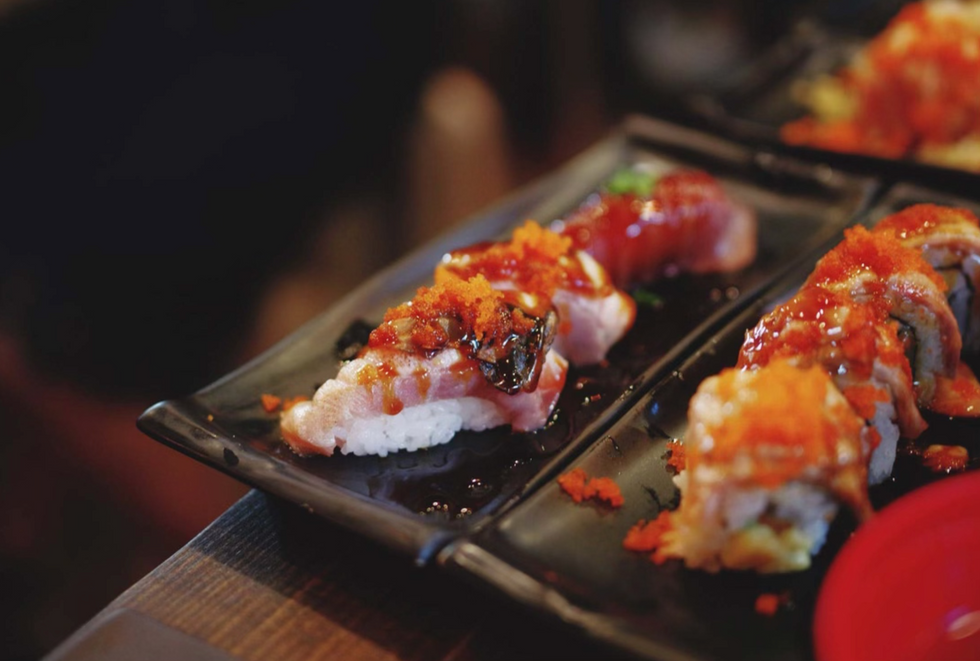 Sushi at high-end restaurant Nobu. (Crescent Hotel)
It was all a splurge for a grandchild's visit. Now we will get back to our ordinary road trips of Hampton Inns, where a room rate is closer to the Crescent Court's overnight parking rate of $52. And to corner cafes in small towns.
Did Dallas change our 15-year-old's view of Texas? "Yes. I think it's a lot cooler than I did. The fashion, the food." So, not only Austin is cool. Take Texas as a whole. It's a big, complex, diverse and wonderful state.