Get connected with our daily update
Swimming pools have plenty to offer in this relentless summer heat, but there's just something so Austin about swimming holes in Central Texas that keeps locals coming back for more.
From hideaways within city limits to Wimberley's famous bottomless well, here's a dozen swimming holes to dip into this summer.
---
What to know before you go
Most gear needed to go to a local swimming pool coincides with what's needed at swimming holes, but there are a few extra steps to take when you visit.
In general, you will need:
Water shoes may come in handy if you're headed to a natural swimming hole but make sure you choose the right footwear if there's a hike beforehand.
Sunscreen
Plenty of water, as there usually isn't usually anywhere to grab a drink nearby
Blankets, coolers, snacks and drinks for a casual picnic by the water
Money, if you're headed somewhere that requires a pass
Tubes/floats are always a fun addition at some swimming holes
Here are a few more steps to take before you head out:
Look for places to grab a bite to eat before, especially if you're planning on staying a while. Barton Springs Pool has Zilker Cafe nearby, while the Spyglass access to Barton Creek is close to a Tacodeli.
Check out the amenities of the small town you're headed to. Wimberley's historic square is stocked with famous restaurants, antiques and more, while Dripping Springs is known for its craft breweries.
Make sure you grab a pass if you need it. Some offer free access, others require reservations beforehand.
Plan your parking situation ahead of time. Some swimming holes are limited on parking, so leave early if you're headed to a popular spot.
If you're planning on drinking or eating at the pool, make sure to check if alcohol, glass containers or other materials are allowed on site.
Many of these locations aren't just swimming holes—if you're interested in more, check to see if the park offers rock climbing, boating, camping or other activities.
Barton Creek Greenbelt, multiple locations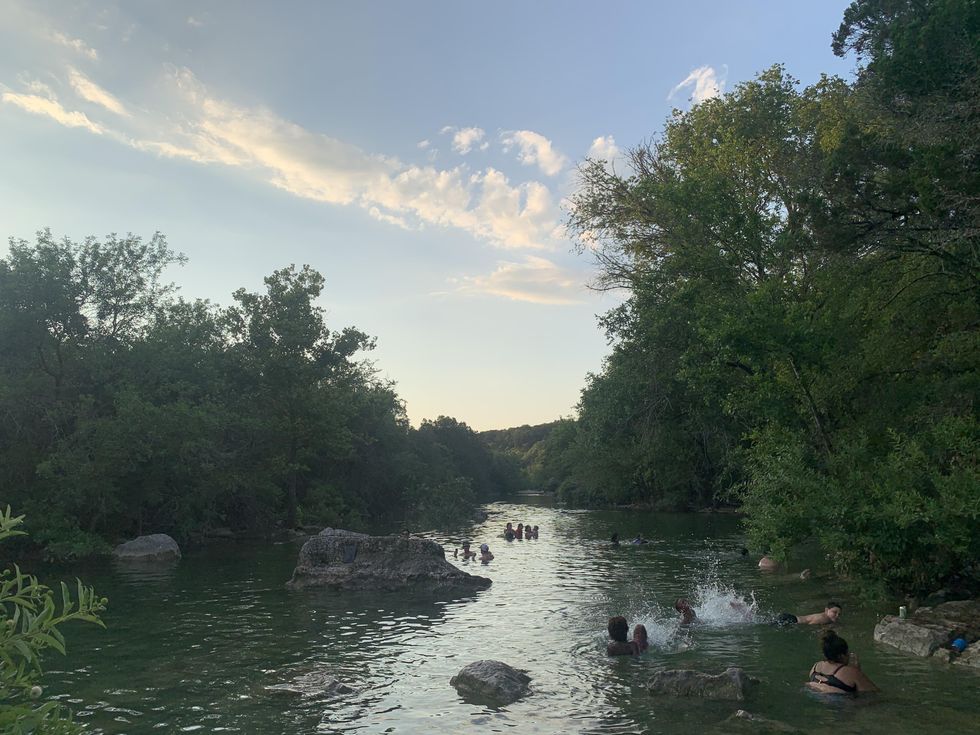 The Barton Creek Greenbelt has plenty of access points and swimming holes throughout its miles of trails. (Claire Partain/Austonia)
The famed Barton Creek Greenbelt is pockmarked with swimming holes throughout its 12.68 miles of trails.
Twin Falls is a popular destination for swimming, rope swings and a 40-foot-deep section perfect for doing your best diving tricks, which you can reach after a quick hike. There are many Greenbelt stopping points, so look up the "Barton Creek Greenbelt Trailhead" if this is your desired destination. Take a left on the Mopac Expy Frontage Road to find plenty of parking. It's about a half-mile walk, so prepare accordingly.
Gus Fruh offers something for everyone—for those looking for a hike, the Main Access point is about 1.4 miles from the swimming hole, and popular rock climbing spots, including Urban Assault, sit nearby. For quick access, head to 2642 Barton Hills Dr. It's located in a residential neighborhood, so there may be limited parking.
Campbell's Hole is a more off-the-grid option for Austinites. The swimming hole can be accessed two ways: via 1601 Spyglass Drive or 2010 Homedale Dr. (Barton Hills Elementary.) However, you can also hike to this less-trafficked spot from Gus Fruh or by way of Trail's Head.
For those looking to conquer the wild, Trail's End/Sculpture Falls swimming hole is just a 1.25-mile walk from the Twin Falls access point and also accessible at 1710 Camp Craft Road. If you're not looking for a workout, beware that the half-mile stretch before reaching the falls is the steepest area of the Greenbelt.
Barton Springs Pool, 2201 Barton Springs Rd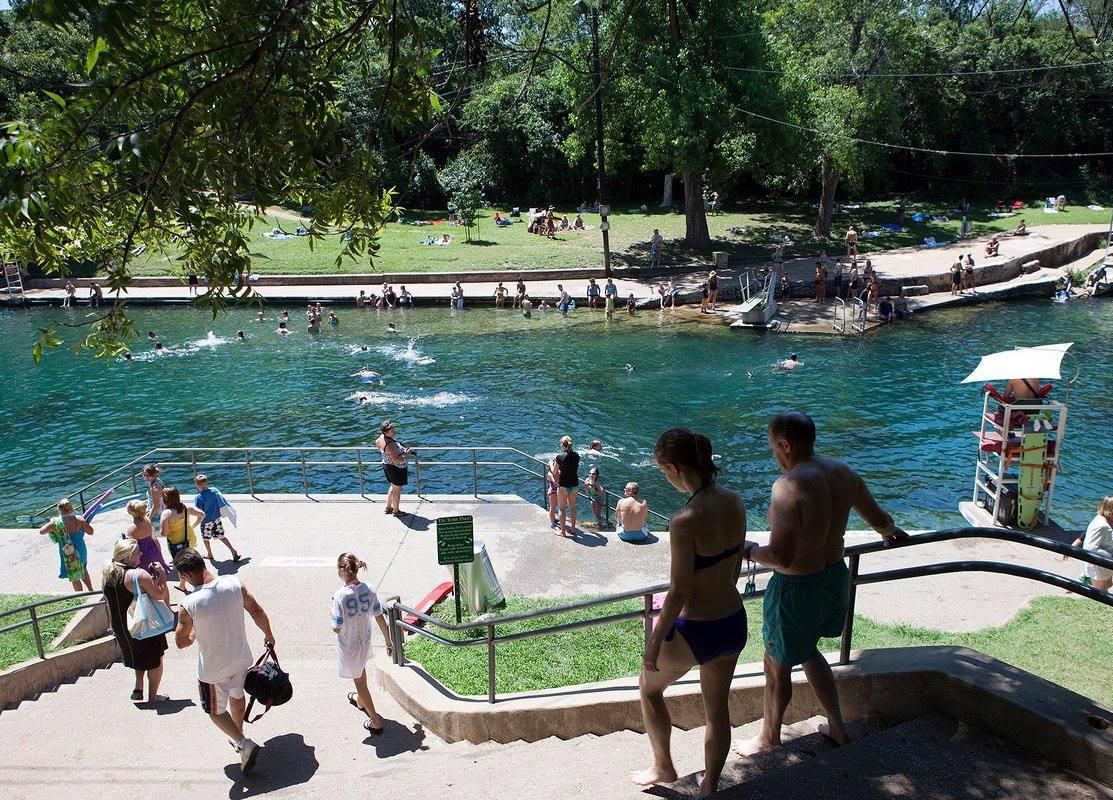 Barton Springs Pool has been a favorite for Austinites for decades. (Barton Springs Pool/Facebook)
Barton Springs Pool has continued to turn heads in its decades of existence. According to the city of Austin, state legislators have made laws there, topless swimmers made waves in the 1970s and actor Robert Redford learned to swim at this site while visiting family.
The pool's rectangular shape and concrete edges mimic a man-made swimming pool, but it is actually fed by springs that keep temperatures near 70 degrees year round.
The pool is located in Zilker Park and attracts hundreds of visitors a day. Efforts made by nearby restaurant Zilker Cafe to bring alcohol on the premises recently failed, but the cafe is still open for a bite to eat just before or after taking a dip.
New lifeguards have joined the team, meaning residents will have access to the pool from 8 a.m.-10 p.m. for five days a week instead of four. Click here to buy a Barton Springs Pool pass.
Krause Springs, 404 Krause Springs, Spicewood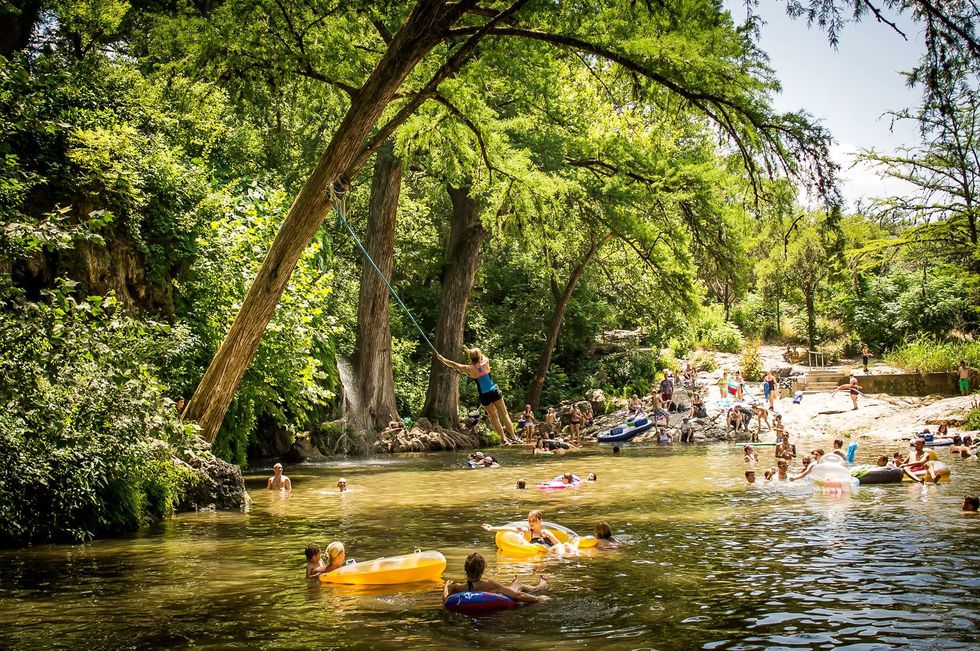 Krause Springs offers a man-made and natural pool on its preserve. (Krause Springs/Facebook)
This popular swimming and camping destination has been run by the Krause family for over 50 years. Much like Barton Springs Pool, the site offers a man-made pool fed by 68-degree water year round. It also features a natural watering hole and plenty of space for camping.
The springs are located in Spicewood, around 30 miles northwest of Austin, and are open from 9 a.m.-8 p.m. every day.
Day passes for adults are $9 apiece, while overnight passes including tent and RV camping are $15 a night. For more information, click here.
Jacob's Well and more in Wimberley
Wimberley is the perfect summer getaway. With a downtown stocked with old-fashioned cafes, live music and unique goods, an H-E-B nearby and beautiful scenery everywhere you look, it's hard to be bored at the Hill Country hideaway.
Located about 45 minutes southwest of Austin, Wimberley has multiple swimming locations to choose from.
Jacob's Well, 1699 Mt. Sharp Rd., is one of the most famous swimming holes in Texas, partially because of the mystery that lies underneath. The hole drops 140 feet down before funneling into several underwater caves, some of which have yet to be fully explored. The hole, which is the second-longest submerged cave in Texas, attracts thousands every year due to its vast depths, beautiful scenery and abundance of unique wildlife. The hole itself, which comes after a mile hike, is as small as it is deep, meaning reservations are scarce. Plan in advance if you wish to jump off the cliff into the water. Those not looking to swim can access the point without a reservation from 8 a.m-6 p.m. daily. Click here to reserve a spot.
Blue Hole Swimming Area (100 Blue Hole Lane) is another classic go-to in Wimberley, equipped with a large lawn for picnicking, hiking trails and a high-flying rope swing. Book one of two daily time slots—or both—here.
Cypress Falls (50 Marina Cir) is a private swimming hole complete with a nearby bar, lodging and more. Grab an $8 day pass here.
Hamilton Pool Preserve, 24300 Hamilton Road, Dripping Springs—partially closed
Dripping Springs' iconic natural swimming area is partially closed due to falling rocks caused by the winter storm. No swimming or hiking is allowed underneath the hole's natural overhang, although the park and beach nearby are still open.
While it may not be an ideal spot to cool off for the foreseeable future, locals can still enjoy hiking and outdoor excursions at the park. Book a reservation here.
McKinney Falls State Park, 5808 McKinney Falls Parkway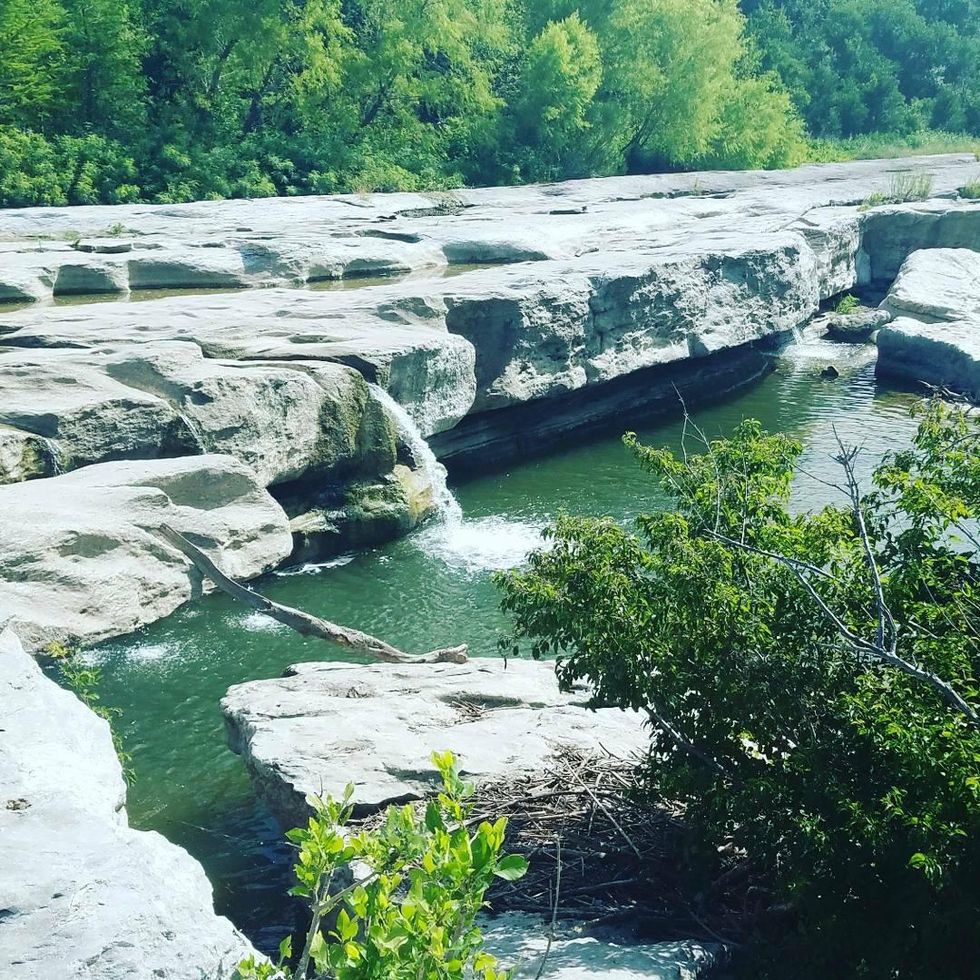 There's more than just a waterfall tucked within Austin city limits at McKinney Falls State Park. (McKinney Falls State Park/Facebook)
Tucked away in deep southeast Austin is McKinney Falls State Park, complete with a waterfall, fishing, hiking and camping destinations. The park, which sits within city limits, also has plenty of swimming spots along Onion Creek. Check out fees and more information here.
Cliff jumping at Pace Bend, 2805 Pace Bend Road North, Spicewood
While Pace Bend sits on Lake Travis, not a swimming hole, the site is perfect for thrill-seekers looking to spice up their summer. Besides cliffside camping, horseback riding, boating and hiking trails, the park's main attractions are the cliffs overlooking the lake. Cliffjumpers squeal in delight as they splash into the water from dizzying heights, and there's plenty of space to picnic or barbeque with thrilling cliffside views.
If you plan on going, leave your dog at home or out of the water: algae that can be harmful to dogs has been found on Lake Travis.
Day passes are $5 a person. Learn more about the park here.
Republic Square Park has turned into a Ford-themed fiesta for its Built to Connect pop-up experience, complete with test drives, off-roading and an inside look at the Tesla-rivaling electric vehicles that the motor vehicle company is planning to integrate over the next decade.
The outdoor driving event is free, open to the public and will stay in the park from now until Oct. 24, offering rides on Bronco Mountain, a 0-40 mph zip in the 2022 all-electric Ford F-150 Lightning and a chance to win an original Ford Bronco.
The event kicked off with a panel of speakers, including Austin Director of Transportation Rob Spillar, Ford General Manager Darren Palmer and engineering specialists discussing Ford's goals to make it so that 50% of the vehicles on the road are electric by 2030.
As an eco-conscious city, Spillar said that around 4,000 vehicles, or 22% of the Texas electric vehicle market, as well as over 15,000 plugins lie in Austin, meaning driving electric just got accessible.
"Austin, as you know, is a fast-growing modern city that is committed to protecting the long term health and viability of our communities and strategies that reduce greenhouse gases, mitigate the effects of climate change and improve the drone quality of life here in Central Texas for all of our residents," Spillar said.
And Ford's electric vehicles are putting up some steep competition for newly-Austin-based company Tesla. The new electric Mustang Mach-E and F-150 Lighting offer amenities that used to be exclusive to Musk's brand, such as the BlueCruise self-driving network. The cars also boast a 300-mile range on a single charge, assisted reverse technology and access to the biggest charging network outside of the home.
Plus, Ford's got affordability on its side. The F-150 Lightning starts at $39,974 and the Mustang Mach-E starts at $42,895, while the cheapest Tesla model, the Model 3, starts at $41,990 and averages 262 miles on a single charge.
Speaking of price, the numbers on the electric vehicles may look like a little more than you'd like to pay for your transport, but Palmer promises it will pay off. In addition to a $7,500 tax credit you can earn for your sustainability, you'll never have to buy a pricey tank of gas again.
"Personally, I have not found one customer ever, who would go back to gas so that says something," Palmer said. "I realized, at $51,000, that car outruns every childhood hero car I ever had."
Texas buyers: take note. The Ford Lightning can power your house for three to 10 days, just in case the statewide power grid fails. You can take it glamping with you, so you don't have to leave the comfort of modern life behind, and in a pinch, Palmer said he's even seen a wedding party powered by the truck.
Ford is investing $30 billion into the U.S. market to meet demand by 2025 and the new electric truck already has over 150,000 reservations.
"I think they're going to take off much faster than you expect—they're going to be extremely, extremely popular next year," Palmer said. "With the incentives that are available today, this is starting to become more mainstream and viable for more and more families. We couldn't have done that before, we didn't have the technology, or the technology at that price."
The event is ongoing through next weekend from 12-9 p.m. Monday-Friday and 9 a.m.- 8 p.m. Saturday and Sunday.
The Austin Police Department is searching for a man who is believed to be behind a series of robberies that is "sexual in nature and is escalating."
Three robbery cases that took place in North Austin within a 30-day period are being investigated by police, who report the victims all had similar descriptions for suspects in the case. The suspect is described as a 20-25-year-old Spanish-speaking Hispanic man, approximately 5'3, thin build, recently shaved with black hair. Police say he is known to typically wear athletic clothing and used a knife on each of the victims.
Here's a breakdown of the cases:
1. At 7:56 a.m. on Sept. 22 at the 1600 block of Rutland Drive, a woman was walking alone and returning from her child's school when a suspect walking by inappropriately touched her. The suspect then grabbed her by the arm, threatened her with a knife and demanded "her property."
2. At 8:10 a.m. on Oct. 11 at 1700 block of Colony Creek Drive, a woman was walking to her child's school when a man approached her with a knife and then demanded her personal items. The suspect then said he would return the items in return for sex.
3. At 11:03 a.m. on Oct. 13 at the 9300 block of Northgate Boulevard, a woman was with her child in the laundry room of an apartment complex when a man walked in performing a sexual act. The suspect demanded personal items from the victim, threatening to hurt the victim and take her child.
Police cautioned the public to walk without earbuds, stay alert and report suspicious activity to the police.