Get connected with our daily update
Swimming pools have plenty to offer in this relentless summer heat, but there's just something so Austin about swimming holes in Central Texas that keeps locals coming back for more.
From hideaways within city limits to Wimberley's famous bottomless well, here's a dozen swimming holes to dip into this summer.
---
What to know before you go
Most gear needed to go to a local swimming pool coincides with what's needed at swimming holes, but there are a few extra steps to take when you visit.
In general, you will need:
Water shoes may come in handy if you're headed to a natural swimming hole but make sure you choose the right footwear if there's a hike beforehand.
Sunscreen
Plenty of water, as there usually isn't usually anywhere to grab a drink nearby
Blankets, coolers, snacks and drinks for a casual picnic by the water
Money, if you're headed somewhere that requires a pass
Tubes/floats are always a fun addition at some swimming holes
Here are a few more steps to take before you head out:
Look for places to grab a bite to eat before, especially if you're planning on staying a while. Barton Springs Pool has Zilker Cafe nearby, while the Spyglass access to Barton Creek is close to a Tacodeli.
Check out the amenities of the small town you're headed to. Wimberley's historic square is stocked with famous restaurants, antiques and more, while Dripping Springs is known for its craft breweries.
Make sure you grab a pass if you need it. Some offer free access, others require reservations beforehand.
Plan your parking situation ahead of time. Some swimming holes are limited on parking, so leave early if you're headed to a popular spot.
If you're planning on drinking or eating at the pool, make sure to check if alcohol, glass containers or other materials are allowed on site.
Many of these locations aren't just swimming holes—if you're interested in more, check to see if the park offers rock climbing, boating, camping or other activities.
Barton Creek Greenbelt, multiple locations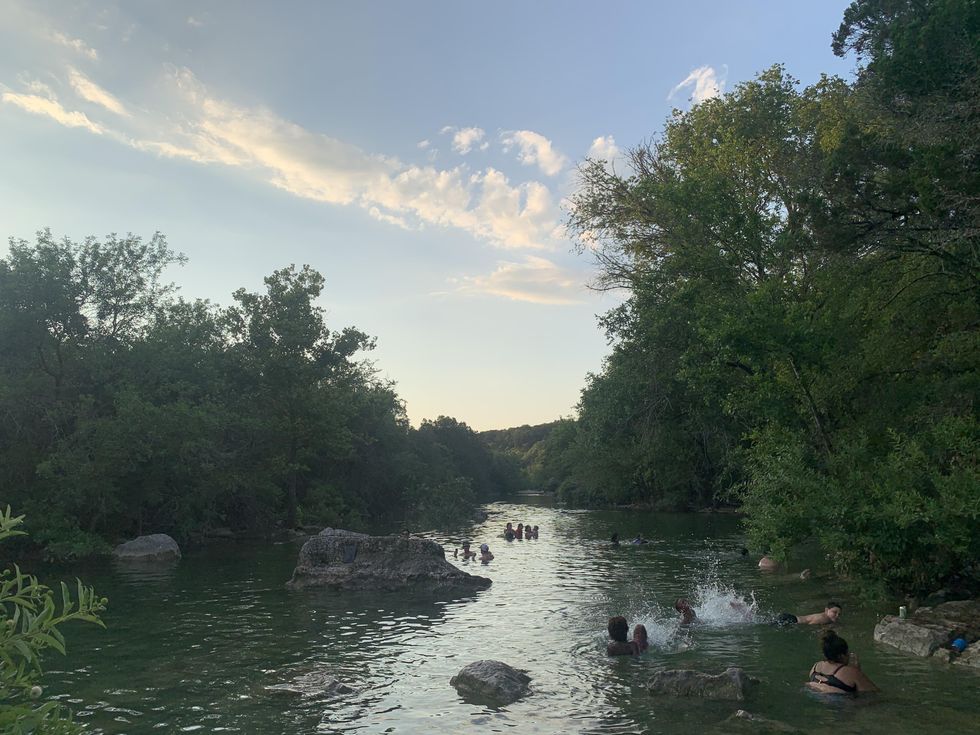 The Barton Creek Greenbelt has plenty of access points and swimming holes throughout its miles of trails. (Claire Partain/Austonia)
The famed Barton Creek Greenbelt is pockmarked with swimming holes throughout its 12.68 miles of trails.
Twin Falls is a popular destination for swimming, rope swings and a 40-foot-deep section perfect for doing your best diving tricks, which you can reach after a quick hike. There are many Greenbelt stopping points, so look up the "Barton Creek Greenbelt Trailhead" if this is your desired destination. Take a left on the Mopac Expy Frontage Road to find plenty of parking. It's about a half-mile walk, so prepare accordingly.
Gus Fruh offers something for everyone—for those looking for a hike, the Main Access point is about 1.4 miles from the swimming hole, and popular rock climbing spots, including Urban Assault, sit nearby. For quick access, head to 2642 Barton Hills Dr. It's located in a residential neighborhood, so there may be limited parking.
Campbell's Hole is a more off-the-grid option for Austinites. The swimming hole can be accessed two ways: via 1601 Spyglass Drive or 2010 Homedale Dr. (Barton Hills Elementary.) However, you can also hike to this less-trafficked spot from Gus Fruh or by way of Trail's Head.
For those looking to conquer the wild, Trail's End/Sculpture Falls swimming hole is just a 1.25-mile walk from the Twin Falls access point and also accessible at 1710 Camp Craft Road. If you're not looking for a workout, beware that the half-mile stretch before reaching the falls is the steepest area of the Greenbelt.
Barton Springs Pool, 2201 Barton Springs Rd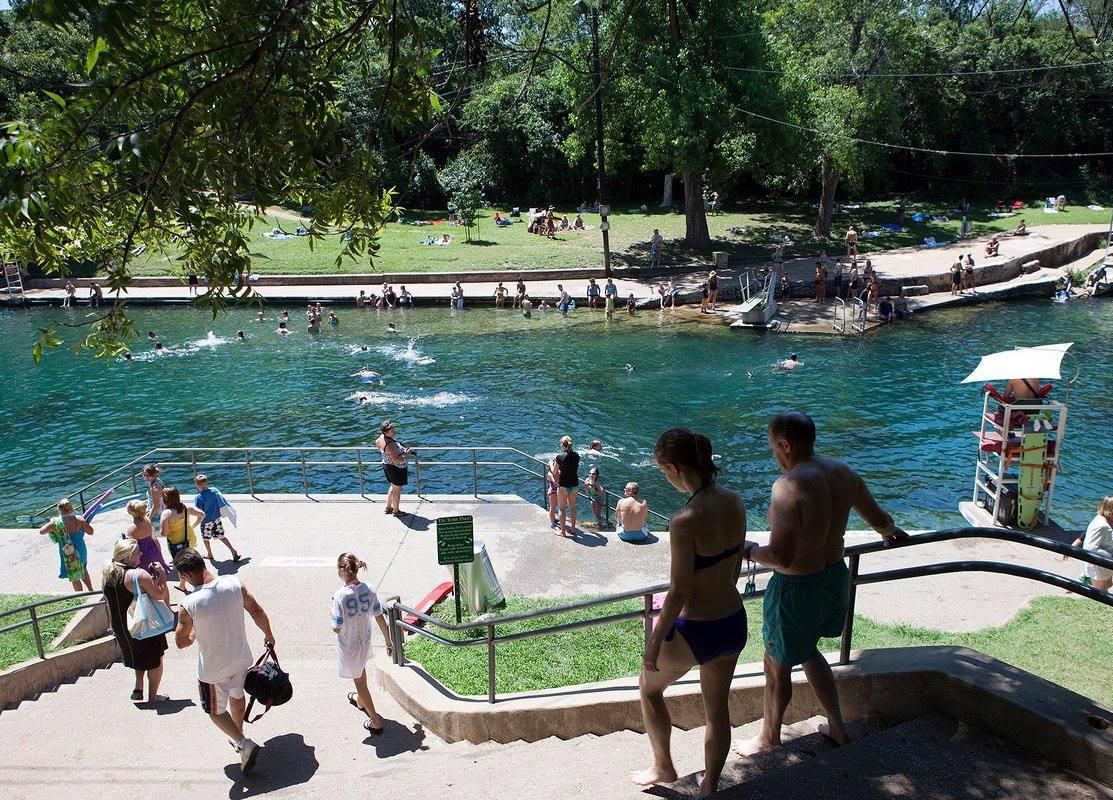 Barton Springs Pool has been a favorite for Austinites for decades. (Barton Springs Pool/Facebook)
Barton Springs Pool has continued to turn heads in its decades of existence. According to the city of Austin, state legislators have made laws there, topless swimmers made waves in the 1970s and actor Robert Redford learned to swim at this site while visiting family.
The pool's rectangular shape and concrete edges mimic a man-made swimming pool, but it is actually fed by springs that keep temperatures near 70 degrees year round.
The pool is located in Zilker Park and attracts hundreds of visitors a day. Efforts made by nearby restaurant Zilker Cafe to bring alcohol on the premises recently failed, but the cafe is still open for a bite to eat just before or after taking a dip.
New lifeguards have joined the team, meaning residents will have access to the pool from 8 a.m.-10 p.m. for five days a week instead of four. Click here to buy a Barton Springs Pool pass.
Krause Springs, 404 Krause Springs, Spicewood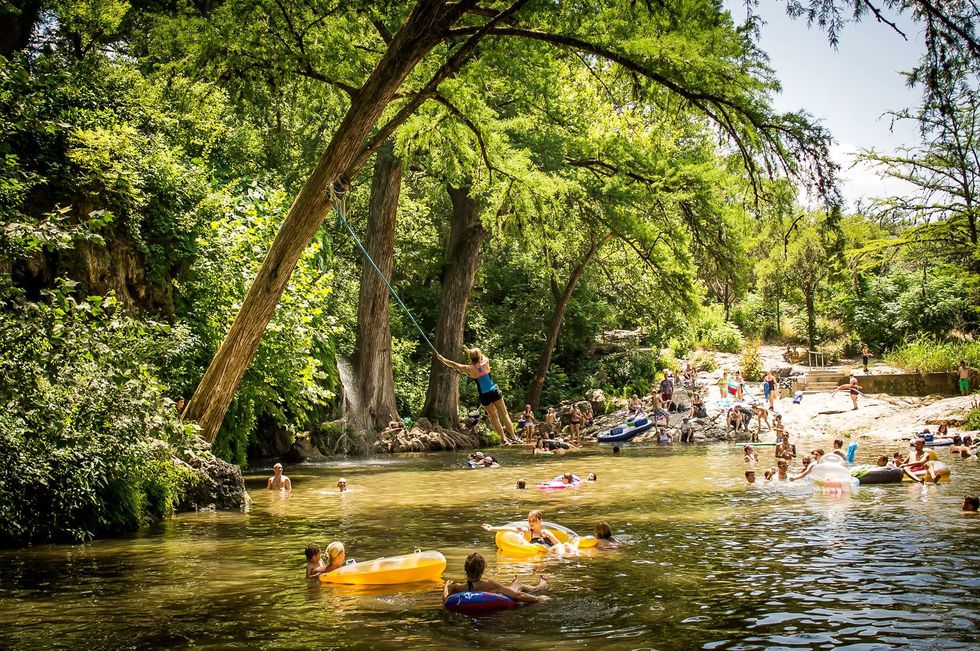 Krause Springs offers a man-made and natural pool on its preserve. (Krause Springs/Facebook)
This popular swimming and camping destination has been run by the Krause family for over 50 years. Much like Barton Springs Pool, the site offers a man-made pool fed by 68-degree water year round. It also features a natural watering hole and plenty of space for camping.
The springs are located in Spicewood, around 30 miles northwest of Austin, and are open from 9 a.m.-8 p.m. every day.
Day passes for adults are $9 apiece, while overnight passes including tent and RV camping are $15 a night. For more information, click here.
Jacob's Well and more in Wimberley
Wimberley is the perfect summer getaway. With a downtown stocked with old-fashioned cafes, live music and unique goods, an H-E-B nearby and beautiful scenery everywhere you look, it's hard to be bored at the Hill Country hideaway.
Located about 45 minutes southwest of Austin, Wimberley has multiple swimming locations to choose from.
Jacob's Well, 1699 Mt. Sharp Rd., is one of the most famous swimming holes in Texas, partially because of the mystery that lies underneath. The hole drops 140 feet down before funneling into several underwater caves, some of which have yet to be fully explored. The hole, which is the second-longest submerged cave in Texas, attracts thousands every year due to its vast depths, beautiful scenery and abundance of unique wildlife. The hole itself, which comes after a mile hike, is as small as it is deep, meaning reservations are scarce. Plan in advance if you wish to jump off the cliff into the water. Those not looking to swim can access the point without a reservation from 8 a.m-6 p.m. daily. Click here to reserve a spot.
Blue Hole Swimming Area (100 Blue Hole Lane) is another classic go-to in Wimberley, equipped with a large lawn for picnicking, hiking trails and a high-flying rope swing. Book one of two daily time slots—or both—here.
Cypress Falls (50 Marina Cir) is a private swimming hole complete with a nearby bar, lodging and more. Grab an $8 day pass here.
Hamilton Pool Preserve, 24300 Hamilton Road, Dripping Springs—partially closed
Dripping Springs' iconic natural swimming area is partially closed due to falling rocks caused by the winter storm. No swimming or hiking is allowed underneath the hole's natural overhang, although the park and beach nearby are still open.
While it may not be an ideal spot to cool off for the foreseeable future, locals can still enjoy hiking and outdoor excursions at the park. Book a reservation here.
McKinney Falls State Park, 5808 McKinney Falls Parkway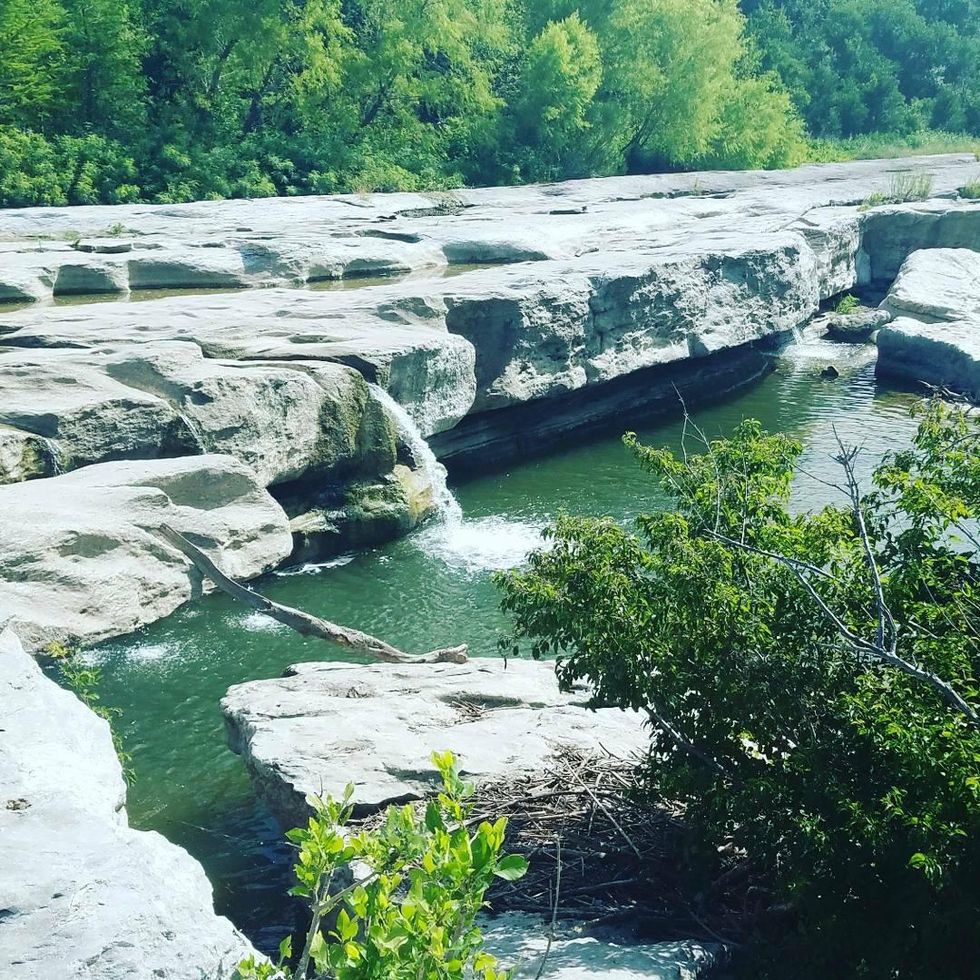 There's more than just a waterfall tucked within Austin city limits at McKinney Falls State Park. (McKinney Falls State Park/Facebook)
Tucked away in deep southeast Austin is McKinney Falls State Park, complete with a waterfall, fishing, hiking and camping destinations. The park, which sits within city limits, also has plenty of swimming spots along Onion Creek. Check out fees and more information here.
Cliff jumping at Pace Bend, 2805 Pace Bend Road North, Spicewood
While Pace Bend sits on Lake Travis, not a swimming hole, the site is perfect for thrill-seekers looking to spice up their summer. Besides cliffside camping, horseback riding, boating and hiking trails, the park's main attractions are the cliffs overlooking the lake. Cliffjumpers squeal in delight as they splash into the water from dizzying heights, and there's plenty of space to picnic or barbeque with thrilling cliffside views.
If you plan on going, leave your dog at home or out of the water: algae that can be harmful to dogs has been found on Lake Travis.
Day passes are $5 a person. Learn more about the park here.
After casually searching for a home for years, Austin influencer and blogger Jane Ko experienced the pandemic housing surge firsthand when she found an empty lot near the airport in the summer of 2020. Stretched thin by high demand and limited supply, Austin's median home prices had already reached a then-record of $435,000 in August of that year, while new inventory grew by just 0.1% in that month.
Due to seemingly ever-increasing demand, Austin's homebuilding market has been busy—if not strained. New listings were up 6% in November 2021, while median home prices had cooled ever-so-slightly to $470,000. The area was ranked the fifth-busiest metro in the country for single-family homebuilding permits in August 2021, according to a National Association of Homebuilders report.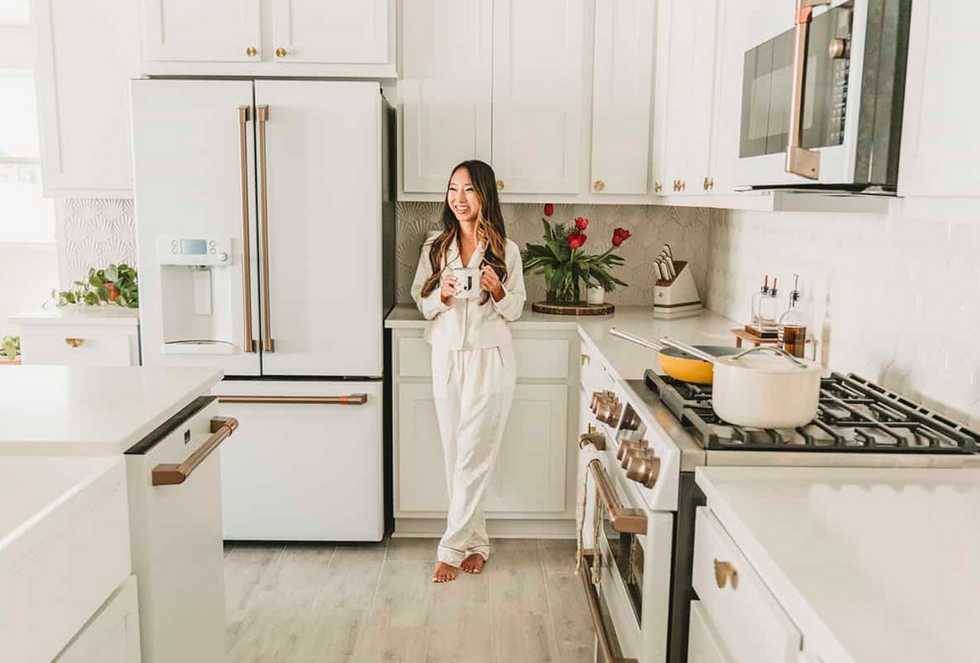 Austin influencer Jane Ko build a semi-custom home on an empty lot near Austin-Bergstrom International Airport. (Jane Ko/A Taste of Koko)
"I think for those of us that have been here, we've seen prices rise in the last five years and I kind of figured if I don't buy now, then I probably won't be able to," Ko said. "I kind of stumbled upon it and I think for a lot of people that's been really the only way to find real estate since the market is so hot."
Austin's inventory has remained somewhat low, especially in the center of town, leading some to believe that homebuyers are being "priced out" by the city's limited options. Area suburbs are reflecting that—the Kyle-Buda-San Marcos region saw 2,900 new home starts from September 2020-21, more than any other Austin submarket.
But with new developments working to keep pace with demand, 2021 Austin Board of Realtors President Susan Horton told Austonia the trend just reflects customer desires.
"I don't think that folks are being pushed by any means," Horton said. "Folks that want to buy out in the rural areas are buying for personal reasons and they're buying because they want the land and privacy. Folks really, truly want to be out. If you want a big lot, it's there."
Like many homebuyers during the pandemic, Ko was happy to scrap Austin's downtown for more space. Because she works from home, she said she and many of her friends are looking for bigger homes and bigger lots in hot areas like Dripping Springs.
Ko had the option of moving into already-built homes within the neighborhood but opted for a custom-built home instead—something that Horton said is another draw for prospective homebuyers.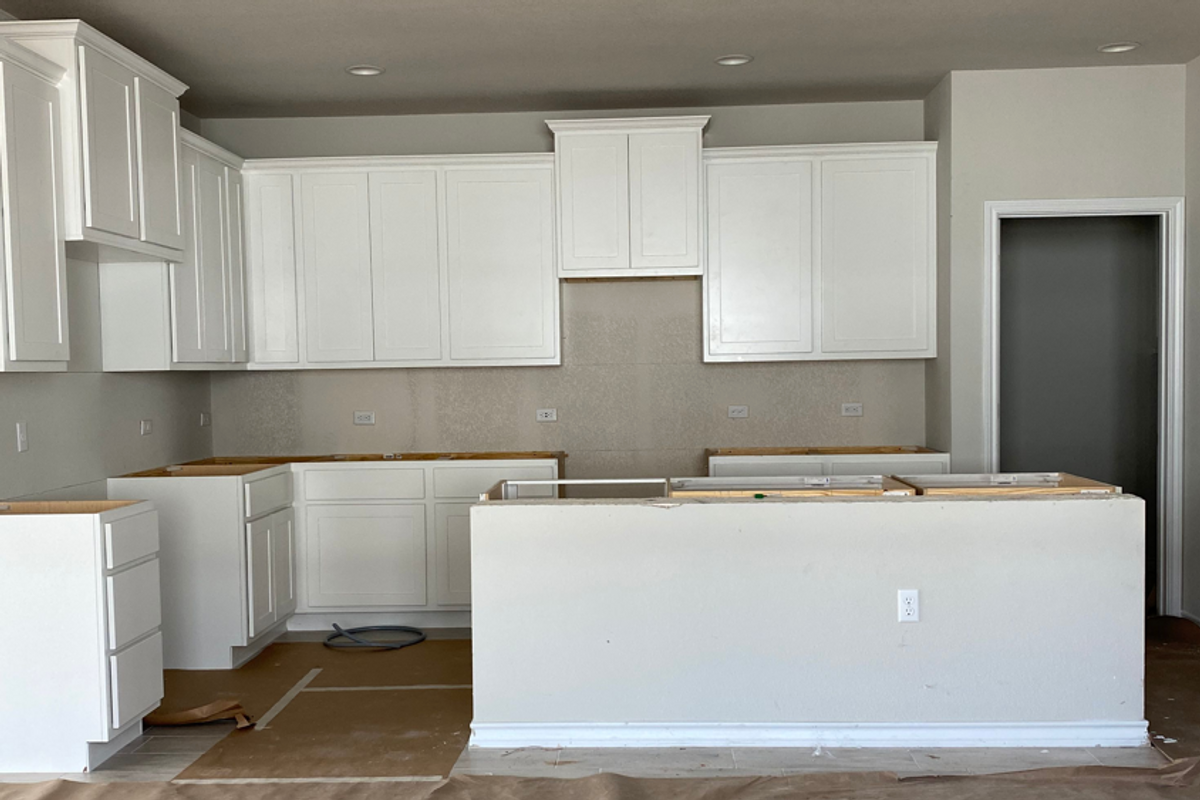 Austin influencer Jane Ko remodeled her kitchen after building her semi-custom home. (Jane Ko/A Taste of Koko)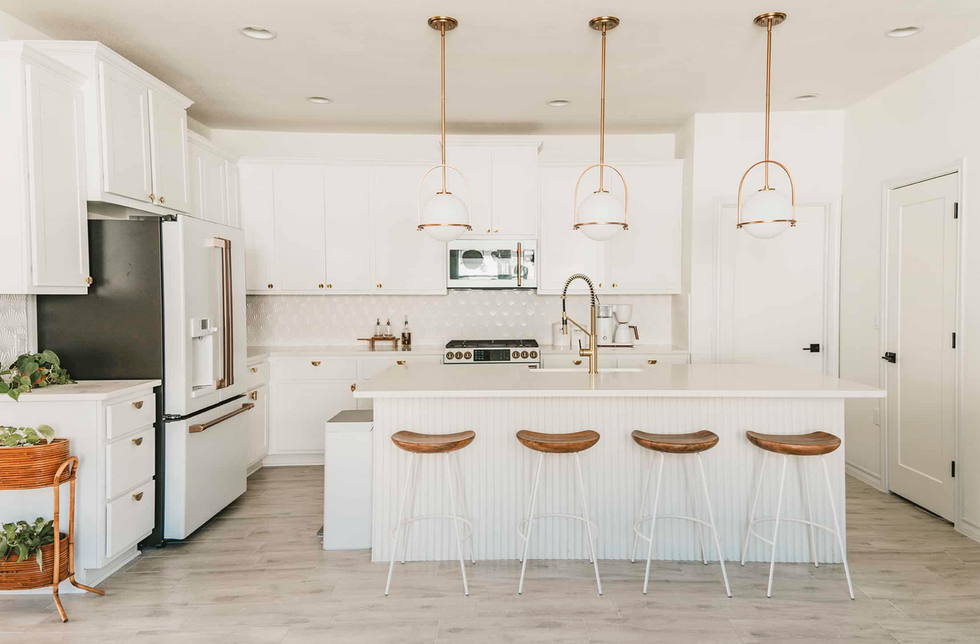 Ko's kitchen remodel took months due to supply chain delays/ (Jane Ko/A Taste of Koko)
"The desire to be away from the person next door is really most of the time the deciding factor," Horton said. "And then there are those that want to have a house simply because they want to design it themselves, and so those are the aspects that make buying that raw land and building a house really important."
But building a custom home has its drawbacks. Horton said construction loans, land surveying, zoning restrictions and road access are all hoops that can be jumped through with an experienced realtor.
But even through the tedious and stalled homebuilding process, Ko said it's been worth it to create a home made just for her.
"This is a place that I'm hopefully going to stay in for a very long time," Ko said. "And I think because I do a lot of entertaining at home and shoot photos at home, it's really important that my space looks the way I want it to."
In earlier phases of the pandemic, people took it as the perfect moment to uproot their lives to the newest boomtown. Many, particularly Californians, found a fit with Austin, enjoying the Texas weather and lower cost of living. But for some, it may only be a pitstop.
Melaku Mihret, who works remotely in Austin for a Meta office in the Bay Area, thinks some of the Californians who have moved to Texas in the pandemic may just move here temporarily, save money and then head back. Others have also speculated a possible reverse migration, but it may be too early to tell.
According to the Kinder Institute at Rice University, Texan migration to California has remained steady for years. And when it comes to Californians leaving, the institute says it's less about a pull into Texas and more of a push out of California driven by home prices.
But they're not all staying in Austin. U-Haul data shows departures from Austin were up 18% even as one-way arrivals were up 22% in 2021.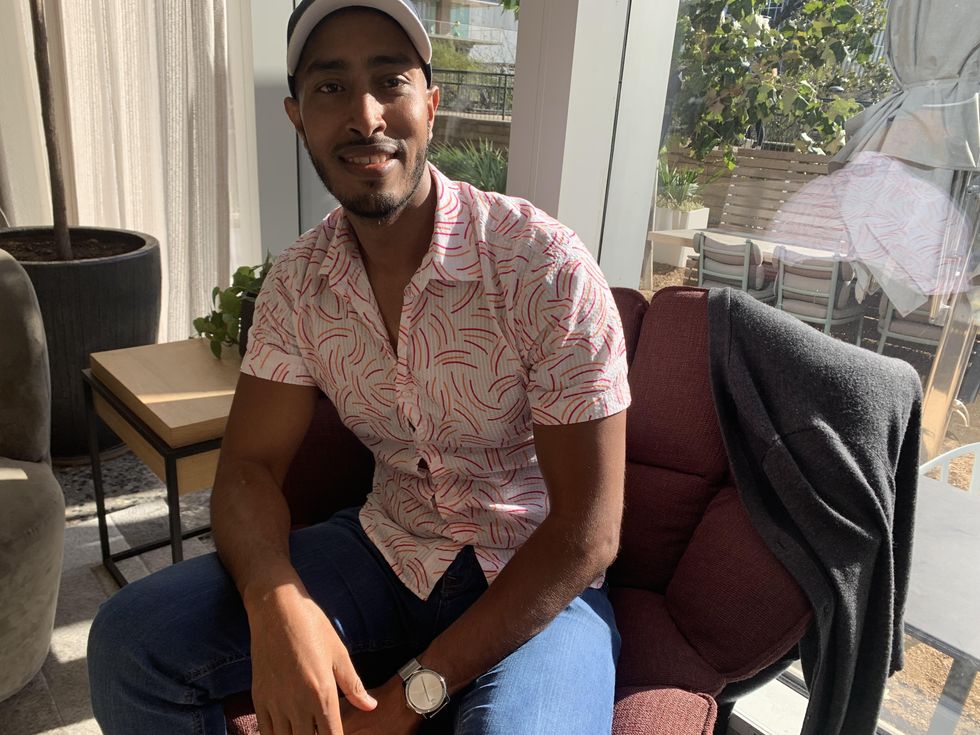 Melaku Mihret, a remote worker a Meta office in the Bay Area, is now living in Austin. (Andrea Guzman)
For Mihret, the biggest driver behind his move was the squeeze of costs in Northern California. If the cost of living wasn't an issue, Mihret said he'd live in the Bay Area. So if Austin continues to become less and less affordable, would Californians go back?
For Mihret, not many places come close to what California offers. He points to the nature, such as the mountains and lakes, in California and the massive tech hub it is. Austin is "not even nearly close to California," Mihret said, after acknowledging Austin's growth as an emerging tech hub.
Meanwhile others like Ian Davies, who grew up in Austin and left in 2011 when he was in high school, much prefer living in Austin.

His family had moved to Philadelphia, years passed and he eventually landed a job in financial operations at NBC Universal in Los Angeles, California. When the option of remote work during the pandemic came around, he longed to return home.

"I couldn't wait to move back to Austin," Davies said. "Not that I didn't enjoy my time in LA. But LA is just a whole other beast than Austin."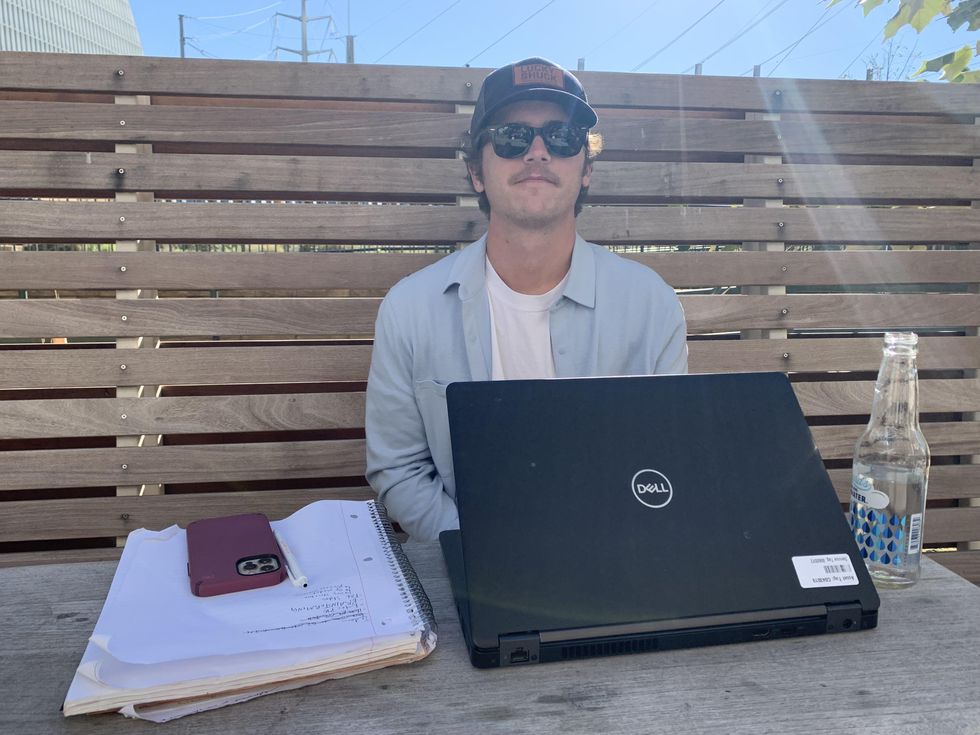 Ian Davies does remote work for NBC Universal in Downtown Austin in early January. (Andrea Guzman)
But a downside he says is it's become more expensive in the past year and half since he returned. The Austin-Round Rock-Georgetown metro area had the 12th highest change in a recent study on cost of living increases across the country. And among the nation's top 10 tech hubs, Austin saw the largest year-over-year increase in average rent this past September, with an average of $1,647.
It's a cost of a growing city. Davies sees a positive in all the growth, as he enjoys living in a city with a diverse population, like when he was in LA.
"There's a group of Austinites who are very against people moving here, and I'm definitely not part of that crowd. I want to share this city with other people. I think it's awesome."

He says he wouldn't want to be anywhere else.
"I hope that Austin can keep its soul and keep its weirdness. Like blues and rock and live music," Davies said. "I haven't seen much of that change. I hope people that move here can adapt the spirit of the past and carry that."