Get connected with our daily update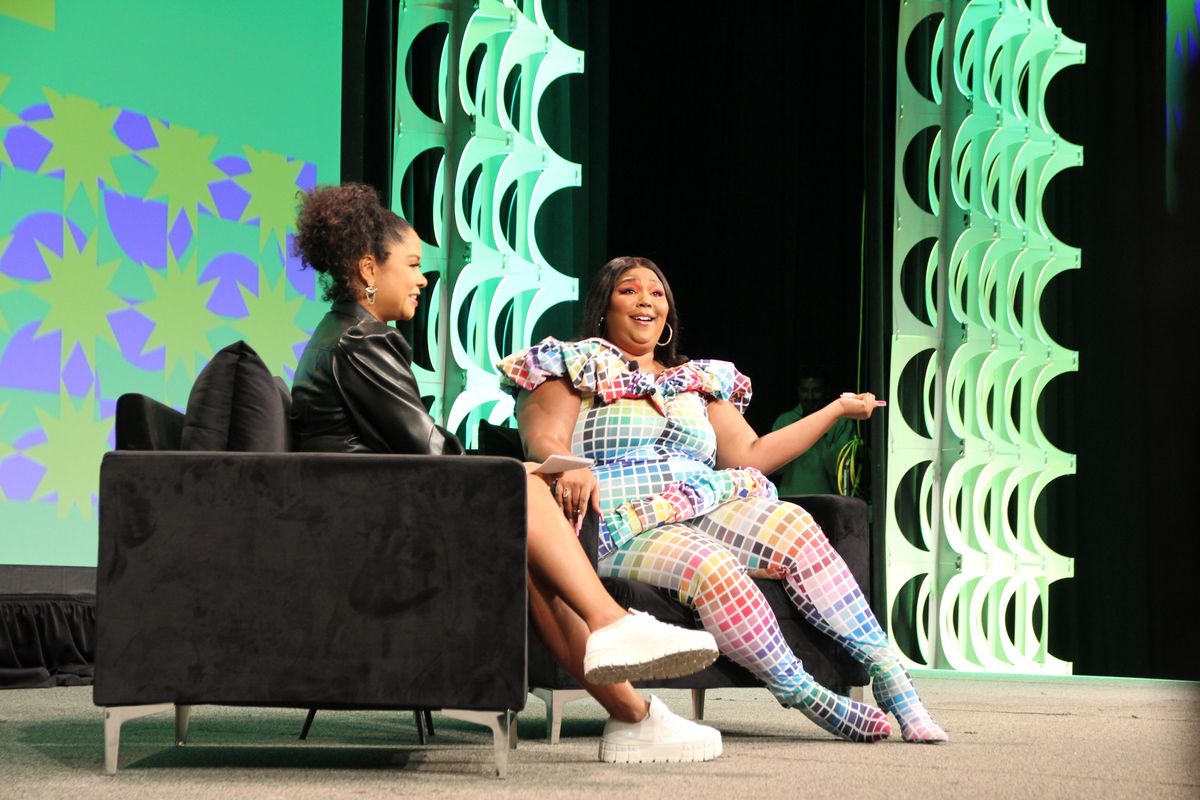 Though we're already well into SXSW 2022, there's still so much left to see! This weekend, I went to a free yoga session with Austin's own Adriene Mishler, entered the VR expo and saw Lizzo speak about her new show, "Watch Out for the Big Grrrls," live.
---
Here are the highlights.
11 a.m. Saturday, morning yoga with Adriene Mishler | Palmer Events Center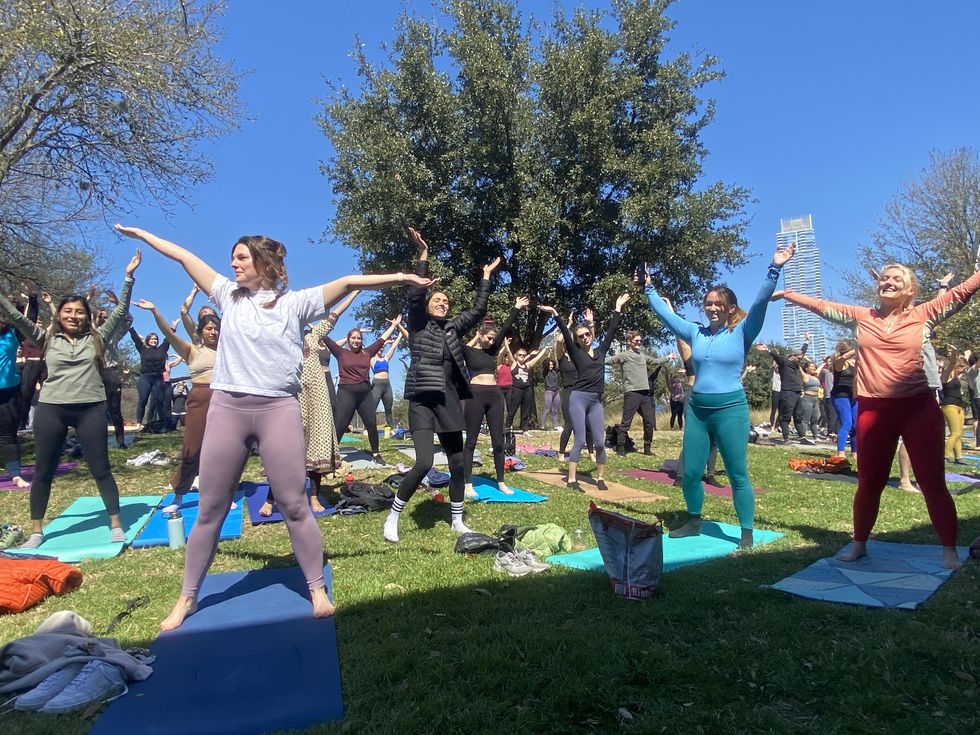 Mishler, in all black, clapped alongside students. (Laura Figi/Austonia)
In her first live class since 2019, Austin native Adriene Mishler got teary-eyed when she got on stage to welcome everyone to her Find What Feels Good session. In the chilly, low-50s temperatures, Mishler promised her workout would warm everyone up.
Over the course of an hour, Mishler led the massive crowd, which spread out through the pavilion and adjacent hill, through planks, stretches, warrior poses and a short dance number toward the end. Longtime fans of Mishler's YouTube series Josh and Kelly Pullin said they got a little starstruck when Mishler roamed the audience during the session.
"It was great," Josh said. "Her personality always comes through really well, even in her videos. It was kind of surreal."
2 p.m. Saturday, preview of XR at SXSW | Fairmont Hotel Congressional Ballroom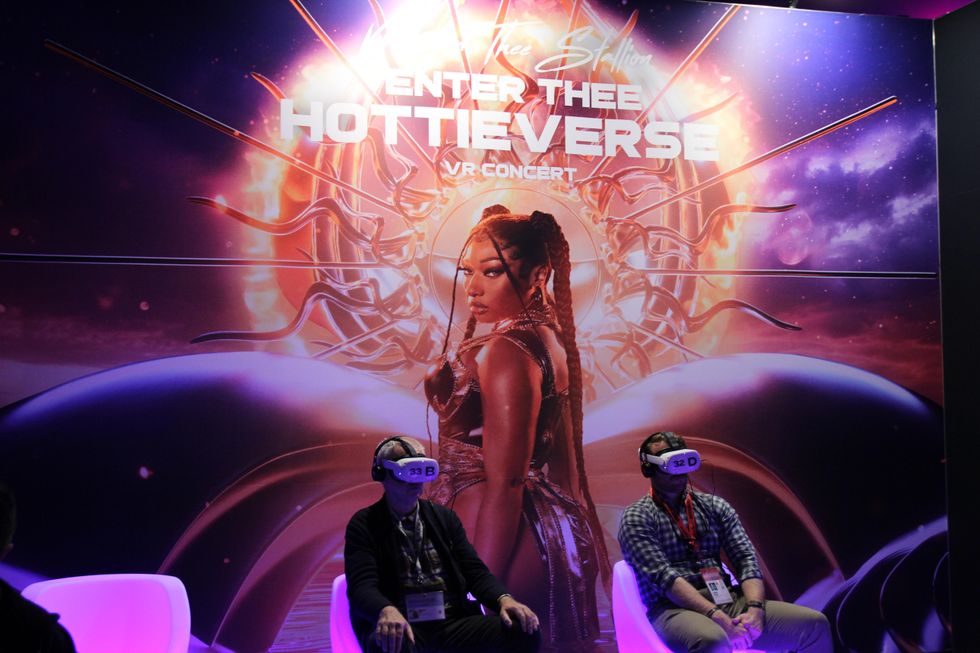 One of more than 30 XR experiences, you can get up close and personal with Megan Thee Stallion in the Hottieverse. (Laura Figi/Austonia)

Opening at the Fairmont Hotel Sunday, you can explore 30 pieces of virtual cinema, storybooks, music, gaming and more. Each VR experience is very different in duration, subject matter and interactivity, but all of them are worth a shot.
Keep in mind, you're not going to be able to experience all of them. After three hours, I was only able to try out a handful.
A few on the schedule:
Megan Thee Stallion's Enter Thee Hottieverse: Skeptical about a concert in VR? I was too. After a short game that leads you to Thee Hottieverse, the Houston rapper herself comes out on stage with a host of virtual backup dancers. This virtual concert puts you closer than you could ever get to the (twerk-filled) action at an in-person event.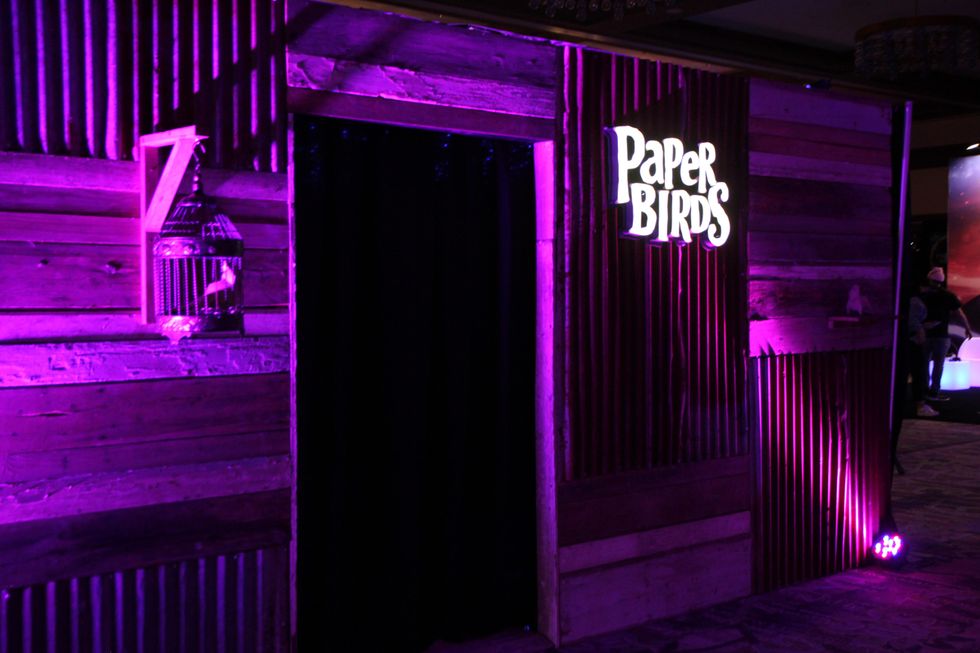 Paper Birds: This beautifully animated interactive storybook follows a young musician named Toto, who goes on a quest to understand the secret his beloved grandfather is hiding and save his sister, Azul, from the invisible world. The 30-minute experience has enchanting scenery and is driven by music.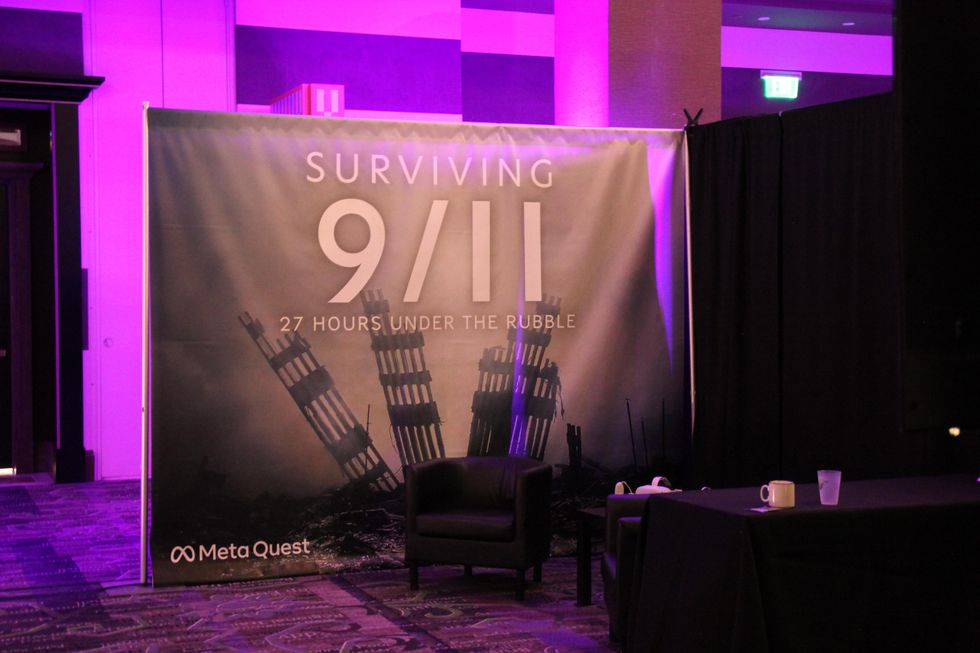 Surviving 9/11: 27 Hours Under the Rubble, a VR documentary by Chloé Rochereuil, tells the story of Genelle Guzman-McMillan, the last person to be rescued after the World Trade Center was attacked in 2001. The 20-minute documentary allows you to step back into New York City before the attacks and gives viewers an inside look at the horrors that took place that day. In the end, Guzman-McMillan revisits Ground Zero for the first time in 20 years.
Catch these XR experiences before they leave on March 15.
1 p.m. Sunday, Keynote with Lizzo | Austin Convention Center Ballroom D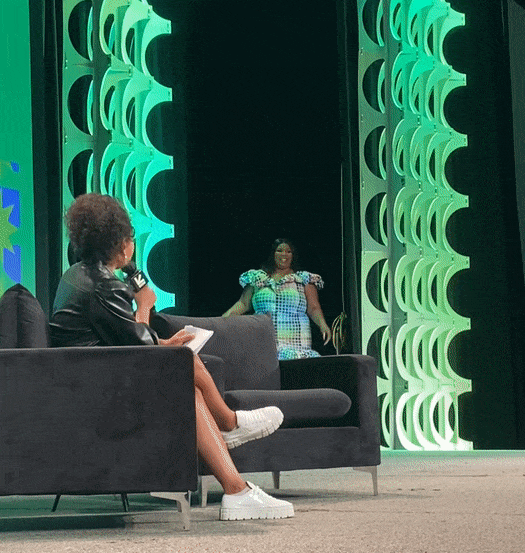 It's been an emotional weekend! Coming on stage, three-time Grammy winner Lizzo said she felt nervous and held back tears as she took the stage at the festival. In a keynote conversation moderated by iHeart Media's Angela Yee, Lizzo came to talk about the importance of body representation.
Lizzo tackles the issue in her Amazon Prime show, "Watch Out for the Big Grrrls," premiering next Friday. In the show, she works with full-figured women aspiring to be her backup dancers. Many of Lizzo's new dancers, who will join her on a world tour, were in the audience—she made sure to shout them out before the conversation took off.
"This is something that has been a passion of mine for years and years and years before I had a TV show," Lizzo said. " I needed big girls more than I needed a television show. Ever since 2014, I've had open casting calls for dancers that look like me and it's been very difficult."
Lizzo said she hopes the show inspires people to be kind and accepting of others for who they are.
"It was also important that I changed the narrative of what a reality competition television show looks like—we don't have to pit people against each other," Lizzo said. "If I have the power to change that, why not change that?"
8 p.m. Sunday, Apollo 10 1/2: A Space Age Childhood | The Paramount Theatre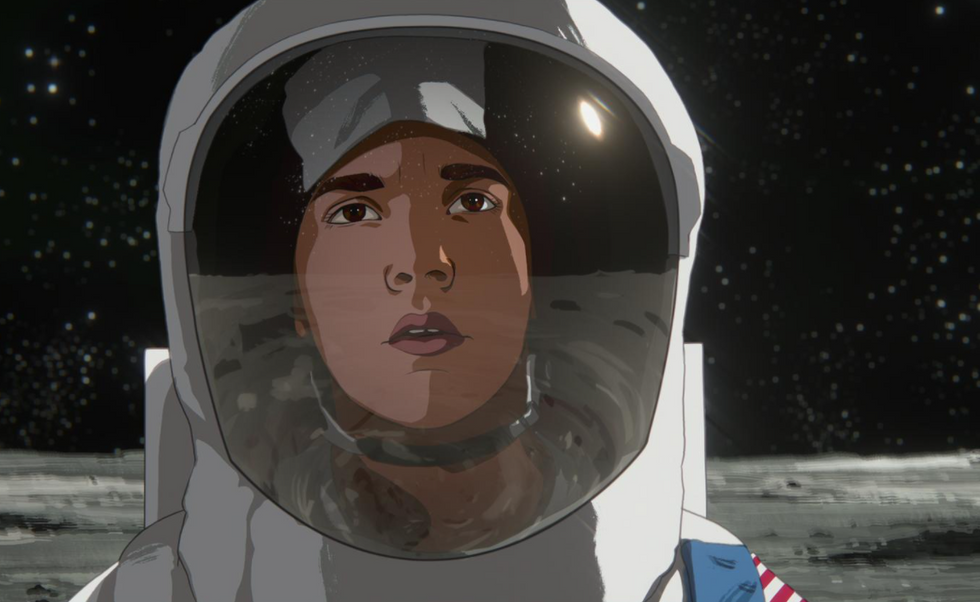 Directed by Austin's own Richard Linklater, "Apollo 10 ½: A Space Age Childhood," is an extended nostalgia trip for those who experienced the moon landing in 1969. The story follows Stan, the youngest of five children, as he watches the landing through a unique perspective when he gets the chance of a lifetime. His adult narrator is played by Jack Black.
Beautifully and uniquely animated, the film lets viewers young and old step back into a Houston summer that is remarkably similar to a modern one in Texas: new development, excitement over burgeoning technology and the carefree nature of children don't seem to have changed much in 60 years.
This film showcases more vignettes of life in the '60s than it does in outer space but whether or not you remember the days of record players, brand-new color TVs and riding in the back of pickup trucks on the way to Galveston, "Apollo 10 ½," will put you back in the action.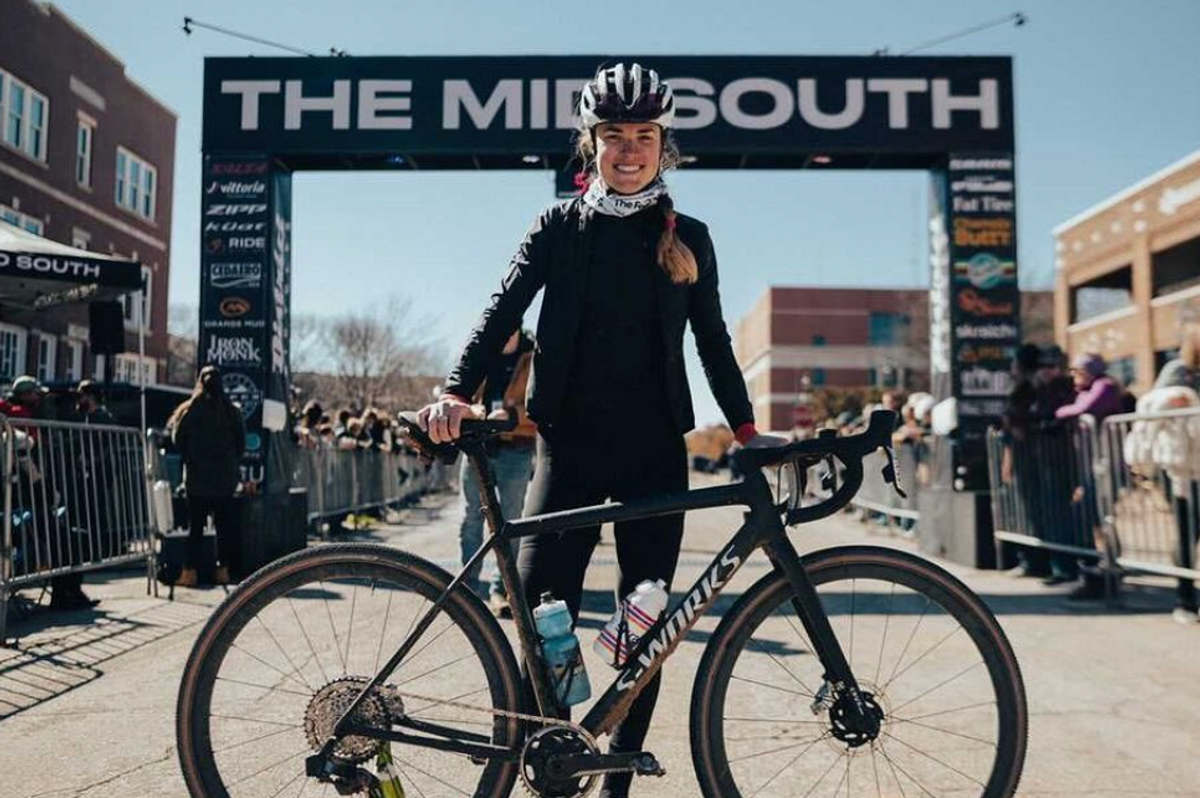 Austin police are investigating the killing of Moriah "Mo" Wilson after she was found with gunshot wounds inside an Austin home.
Wilson, a gravel and mountain bike racer, was visiting Austin from Colorado in preparation for the Gravel Locos race on Saturday taking place in Hico, a small town 2 hours from Austin.
On Wednesday, her roommate came home and found Wilson unresponsive with "a lot of blood near her," police said. It is now being investigated as a suspicious death. No further information on the suspect or motive behind the killing are available at this time.
Wilson recently had become a full-time biker after winning a slew of races in the past year.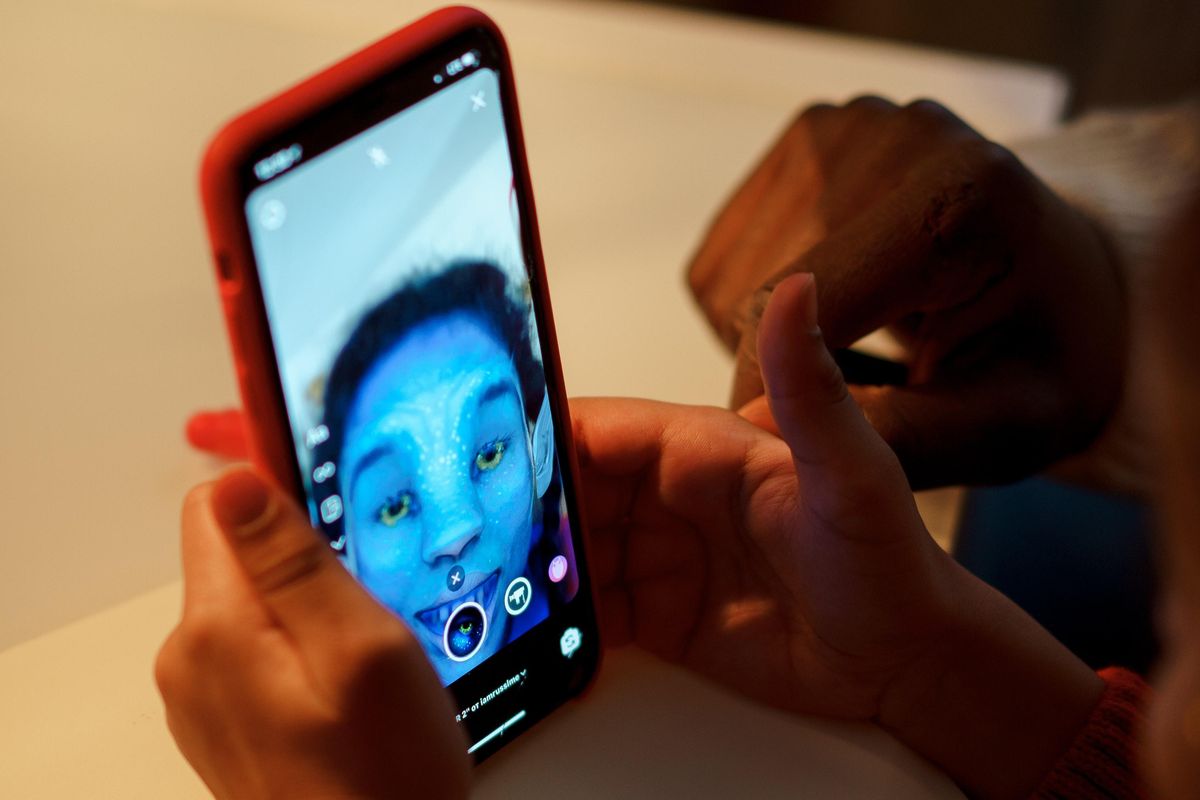 Some of your favorite Instagram filters can't be used in Texas anymore and Austinites are sounding off on social media.
Meta, Facebook and Instagram's parent company, announced on Wednesday that certain filters would no longer be available in Texas.
The change is a result of Texas Attorney General Ken Paxton's lawsuit against Meta, alleging the company uses facial recognition technology that violates laws in Texas. A release from Meta says it stopped using facial recognition tech in November 2021 and denies Paxton's allegations.
Some Austinites bemoaned the shift, saying some of their favorite filters were now unavailable.
But more often than not, locals joked about the ban.
And some in-between chose to show off some natural beauty.
Finally, some are trying to cash in on the opportunity.
Meta said it plans to create an opt-in system for both Texas and Illinois residents, who are facing the same issues.