Get connected with our daily update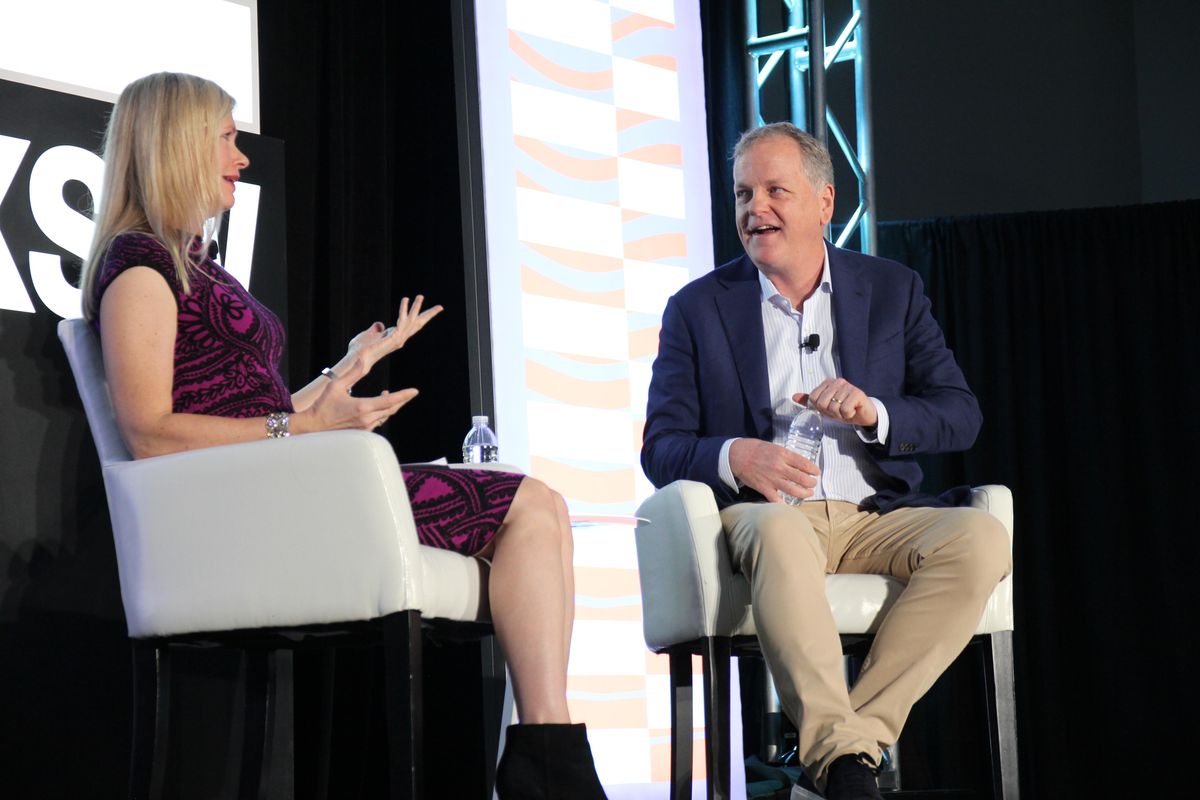 After bearing witness to two of the most destructive events for aviation, 9/11 and the COVID-19 outbreak, American Airlines CEO Doug Parker has seen the best of days and the worst of days for air travel.
---
Parker sat down with Aviation Week executive editor Lee Ann Shay to chat about the recovery process for travel after the pandemic hit and the future of sustainable aviation at SXSW on Thursday morning.
Parker, who began working with American Airlines in1986, said since the pandemic shut down the demand for travel altogether, domestic travel has made a full recovery. In fact, Parker said three of the last five days were some of the highest traffic in the history of the airline.
"The demand for domestic travel is as strong as it's ever been," Parker said. "If you're traveling today, you're seeing full airplanes. Really, I can't remember a period of time when there was so much demand given the number of seats that are out there."
Aviation progress isn't just about finding sustainable fuel or electric jets, it's about paving the way for a work environment to thrive in and having tough conversations of all types.

The number of passenger assaults on flight attendants during the pandemic was well-documented. While Parker said the number was going down, American Airlines has decided it will not serve alcohol as long as the mask mandate on planes is in effect.
"It's going down but it's still too high," Parker said. "(It's about) three people a day, including someone who punched one of our flight attendants and broke her nose. This is more about where we are as a country as it is versus anything else. If you do something like that you're never gonna fly American Airlines again."
Parker shared an anecdote in which he said he was forced to fly Southwest Airlines, due to sold-out American flights, around the time of George Floyd's murder. At the recommendation of a friend Parker was reading the book "White Fragility," when a young Black flight attendant told him that she had been praying for her safety at work. She said seeing him take initiative to learn felt like the answer to her prayers.
Parker was in People Magazine the next day.
"It was incredibly impactful to me—it made a huge difference," Parker said. "As I told her in (a) note, I'm never gonna forget that conversation and we're gonna do something about it. I'm gonna do what I can, as best as I can."
Parker will retire from American Airlines come March 31. As one of the last things before he left, Parker oversaw severing all ties with Russia as American will no longer fly over Russian airspace in support of Ukraine.
"We immediately did everything we could and any relationships we have with Russia, we terminated," Parker said. "We're working really hard to do everything we can to help."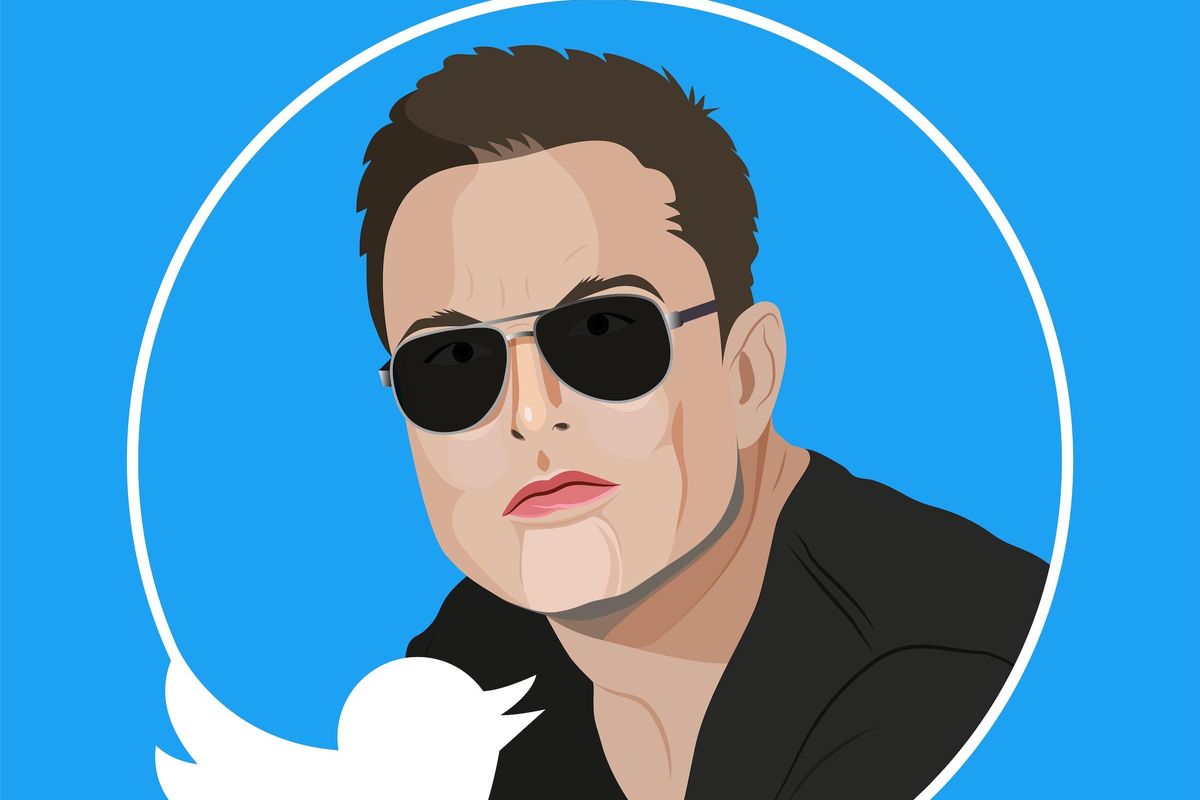 Shutterstock
Elon Musk has proposed once again to buy Twitter for $54.20 a share.
The news that Musk is offering to carry on with the $44 billion buyout was first reported by Bloomberg. Now, a filing with the Securities and Exchange Commission shows Musk made the proposal in a letter to the tech giant on Monday.
The New York Stock Exchange temporarily halted trading in Twitter stock twice Tuesday, first because of a big price move and the second time for a news event, presumably the announcement of Musk's renewed offer.
While the per share offer price on this latest proposal remains the same as the original offer, it's unclear if Musk has made other term changes or if Twitter would reject it. According to other reports, a deal could be reached this week.
The stock closed at $52.00/share Tuesday, indicating market uncertainty around the $54.20 offer.
After Musk informed Twitter of plans to terminate the original agreement in July, Twitter sued. A trial has been expected in Delaware Chancery Court on Oct. 17.
With the proposition of a buyout on the table again, it revives the question of whether Musk might move Twitter from San Francisco to Central Texas.
He's done so with some of his other companies. Tesla's headquarters in southeast Travis County had its grand opening earlier this year and tunneling business The Boring Company moved to Pflugerville. At least two other Musk companies, SpaceX and Neuralink, have a Central Texas presence without being headquartered here.
Technology journalist Nilay Patel this afternoon voiced concerns that owning Twitter and Tesla together could be problematic for Musk, as his Tesla manufacturing facilities in Germany and China are both in countries that have disputes with Twitter over content moderation and censorship.
Telsa shares fell after the Twitter news became public, before rallying to close up, at $249.44.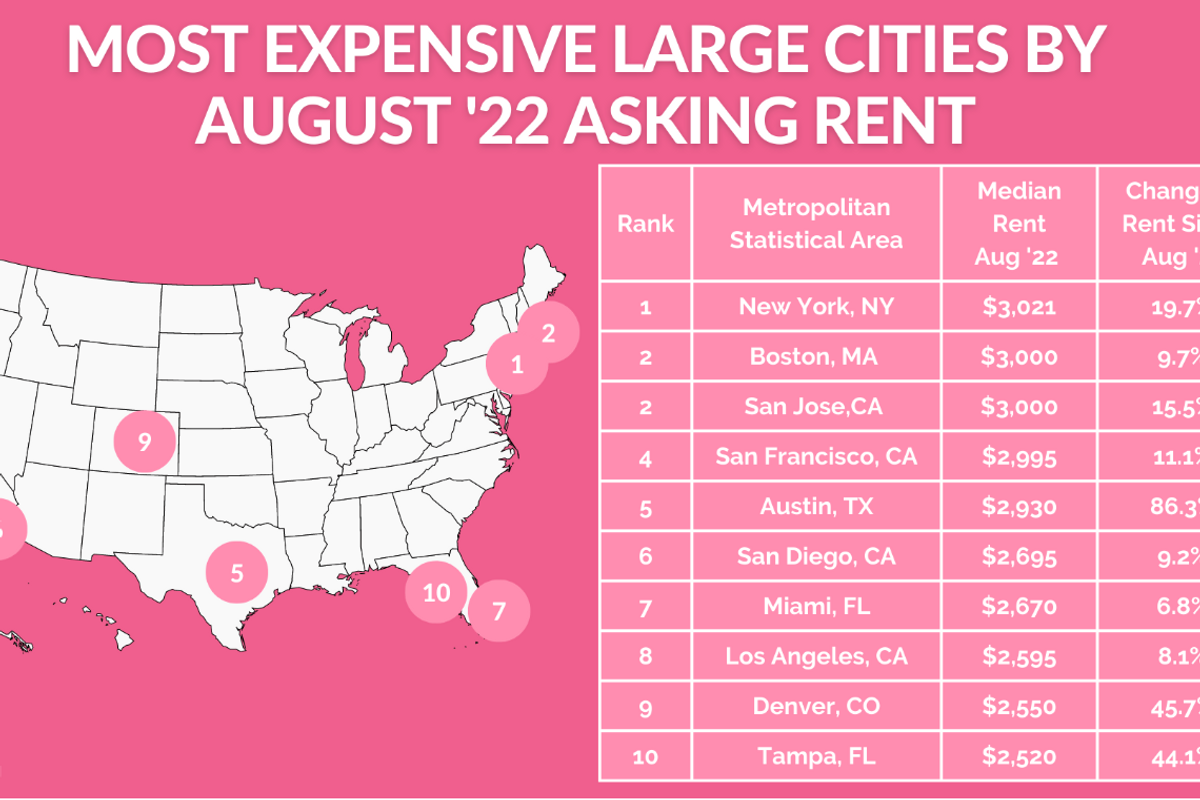 Dwellsy
While searching for a place to live, Austin renters will face monthly rates of nearly $3,000, a recent guide from rental marketplace Dwellsy shows.
The median rent in August this year was $2,930, a more than 86% increase since August 2021. That's $820 more than the nationwide median asking rent in August and puts Austin just below the Bay Area, Boston and New York for large cities with the most expensive asking rent.
"Within this group, Austin, TX stands out for the highest increases in asking rent, which has nearly doubled since this time last year," the study notes.
Outside of those large cities, however, others are seeing even higher rent spikes. Metro areas that ranked above Austin in one-year increases include those like Kansas City, MO with a 112% change in rent since last August and Tucson, AZ with a 124% change.
The data reflects large apartment communities, single-family homes and 2-6 unit buildings.