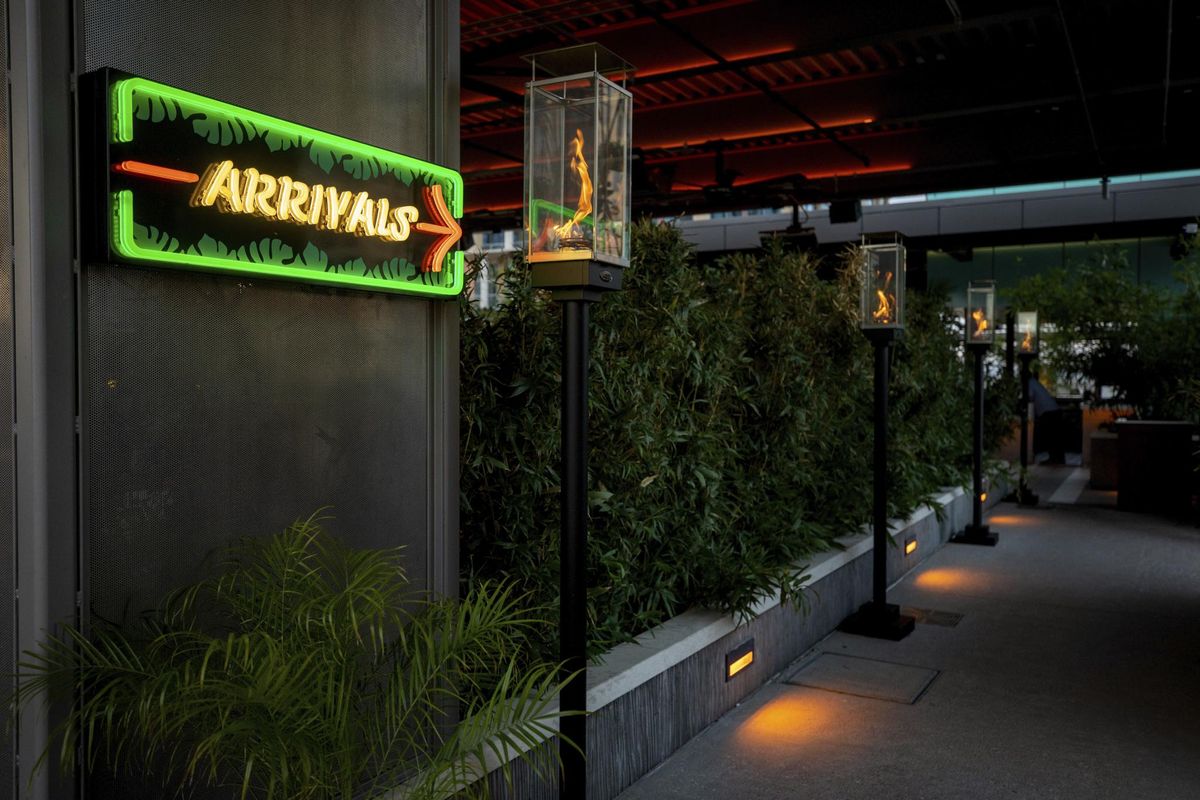 South by Southwest 2022 is right around the corner with sessions starting on Friday, so get ready for an action-packed 10 days. The tech, arts, film, music and culture festival attracts hundreds of thousands of attendees every year, so why not get creative when you get your grub on?
---
When looking for a place to eat in Downtown Austin, here's a few tips:

Check inside the nearest hotel
Look up in the high-rises
Look for large patios
When in doubt, head east!
Whether you're attending the conference or just want to be near the action, these restaurants are in close proximity to all the festivities.
-
​Analog Bar + Bites | 301 W 17th St.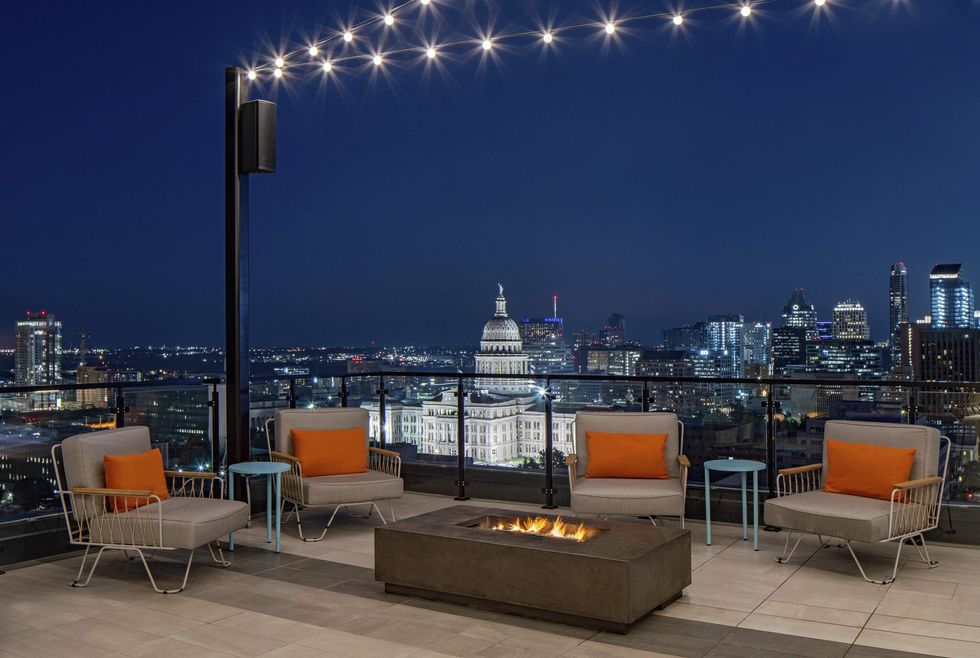 (Rachel Ayotte)
Located inside the Hilton Garden Inn Austin University Capitol District, Analog was created with inspiration from the city's many food trucks.
With an interior bar, covered patio and rooftop patio with views of the Capitol, there is plenty of room to spread out after a day at the festival.
The restaurant serves dishes inspired by Texas culture, like fried green tomatoes, triple barbecue sliders and cocktails made with Texas-local Tito's Vodka. During the festival, Analog will offer a special late-night menu available from 10 p.m.-midnight, including salted caramel popcorn, rosemary cashews, shrimp cocktails, dill pickled green beans and salami and brie sandwiches.
Corinne | 304 E Cesar Chavez St.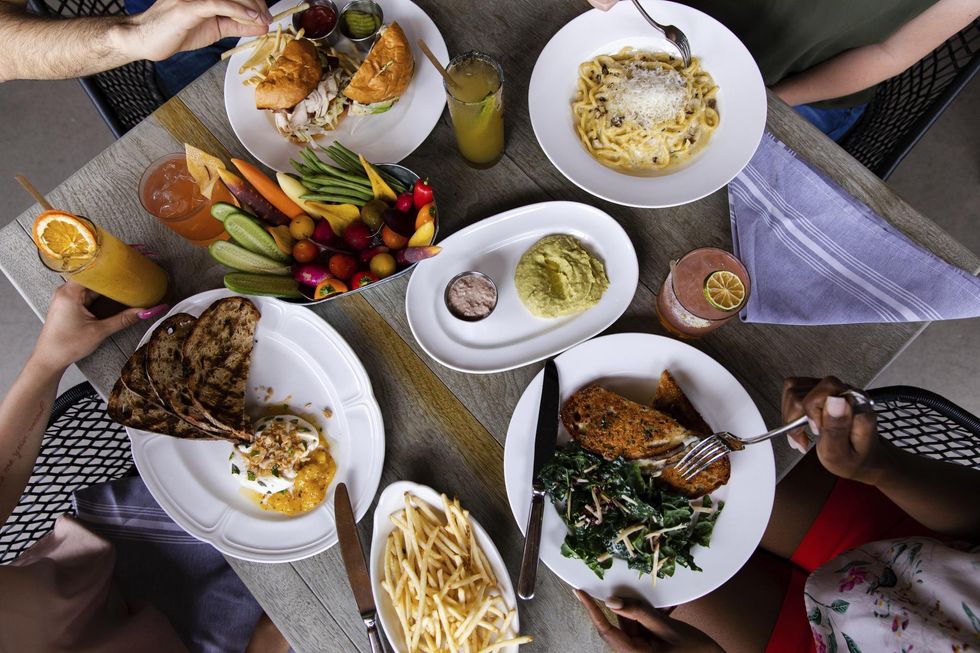 (Anne Burnett)
Serving upscale American comfort food, Corinne is one of the best areas for people watching after the festival with one of the largest outdoor patios on West Cesar Chavez Street. From the breakfast pecan praline french toast or housemade biscuits, to truffled bucatini or crab croquettes for later in the day, to craft cocktails to close out the evening, Corinne is open for all occasions.
Fareground | 111 Congress Ave.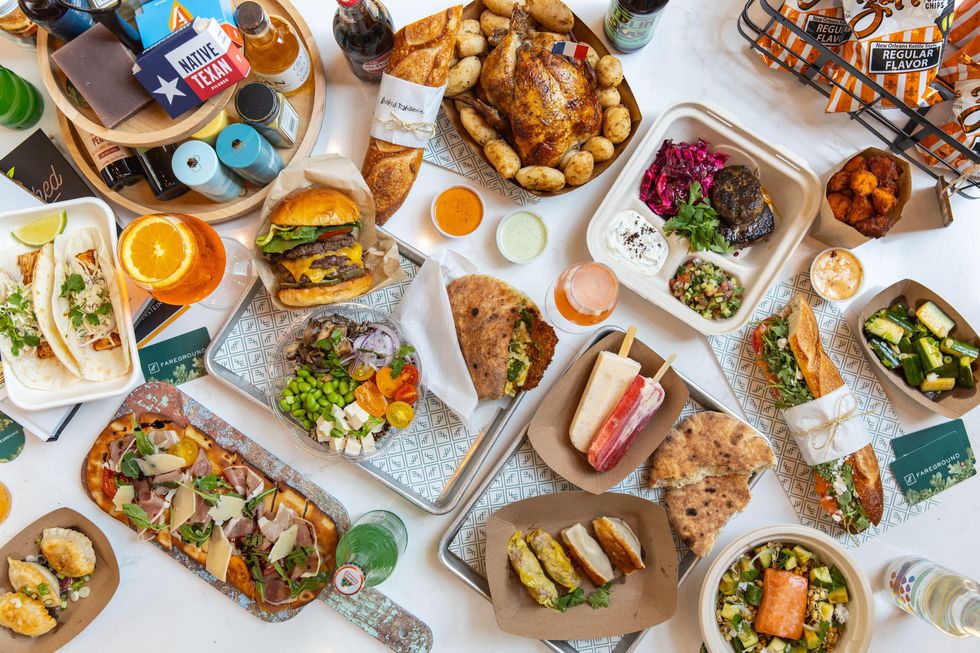 (Dillon Burke)
With two full-service bars and six restaurants to choose from, Fareground is an upscale food court with options for everyone.
Choose from an array of noodles and potstickers at Little Wu, Israeli street food like falafels and schnitzel sandwiches at TLV, James Beard-nominated pizza and salads at The Market, plus more James Beard-nominated American fare like chicken sandwiches, burgers and salmon bowls from Henbit.
Every day at 5 p.m. at DRINK, you can find $4 house cocktails, beers and wines. Fareground also has weekend brunch offerings and is steps away from the Austin Convention Center.
​Old Thousand | 1000 E. 11th St.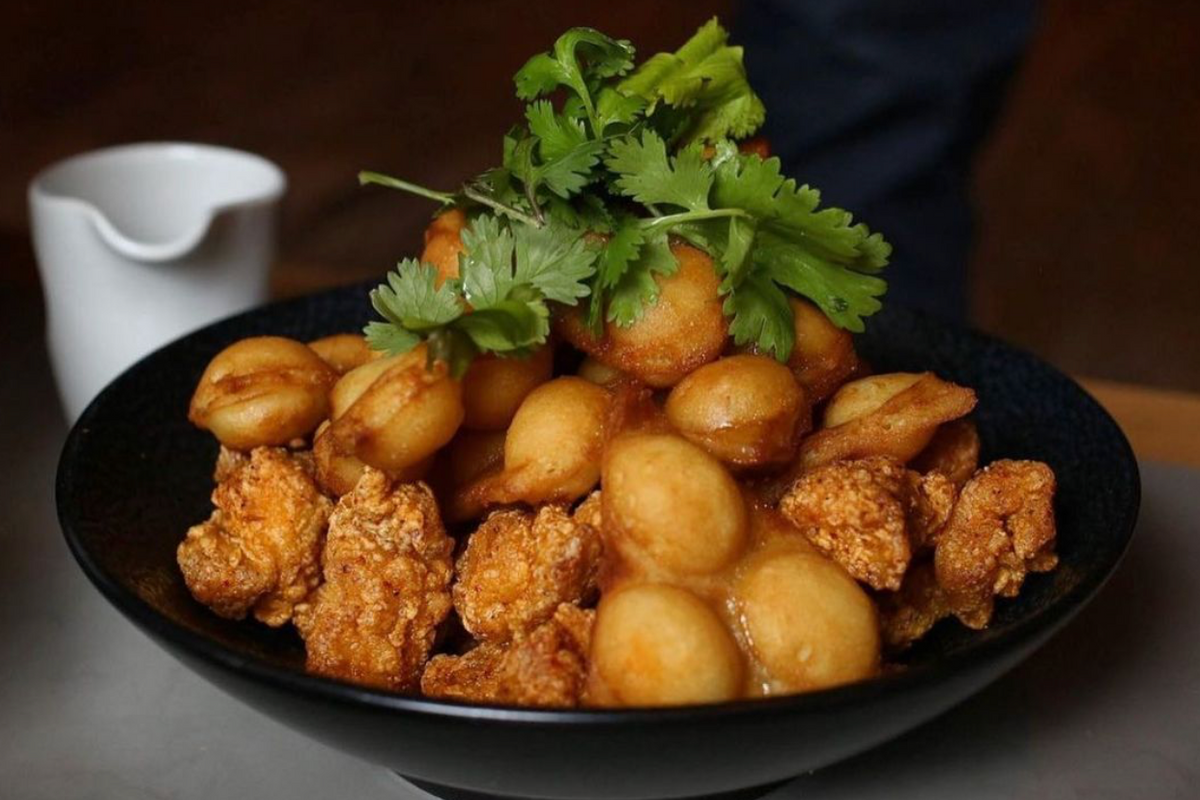 (Old Thousand)
If you find yourself on the east side, don't miss out on Old Thousand, a mix of Chinese food and Texas flavors. Though you can get brisket fried rice or General Tso's chicken, the menu is also very vegetarian/vegan friendly with options like mapo tofu or the Buddha's Delight noodle bowl.
Unwind with a gin-based Red Lantern cocktail, given a red hue by hibiscus, cherry heering and cranberry bitters. Check in on Sundays for chicken and waffle brunch!

​Reverly Kitchen + Bar | 1410 E 6th St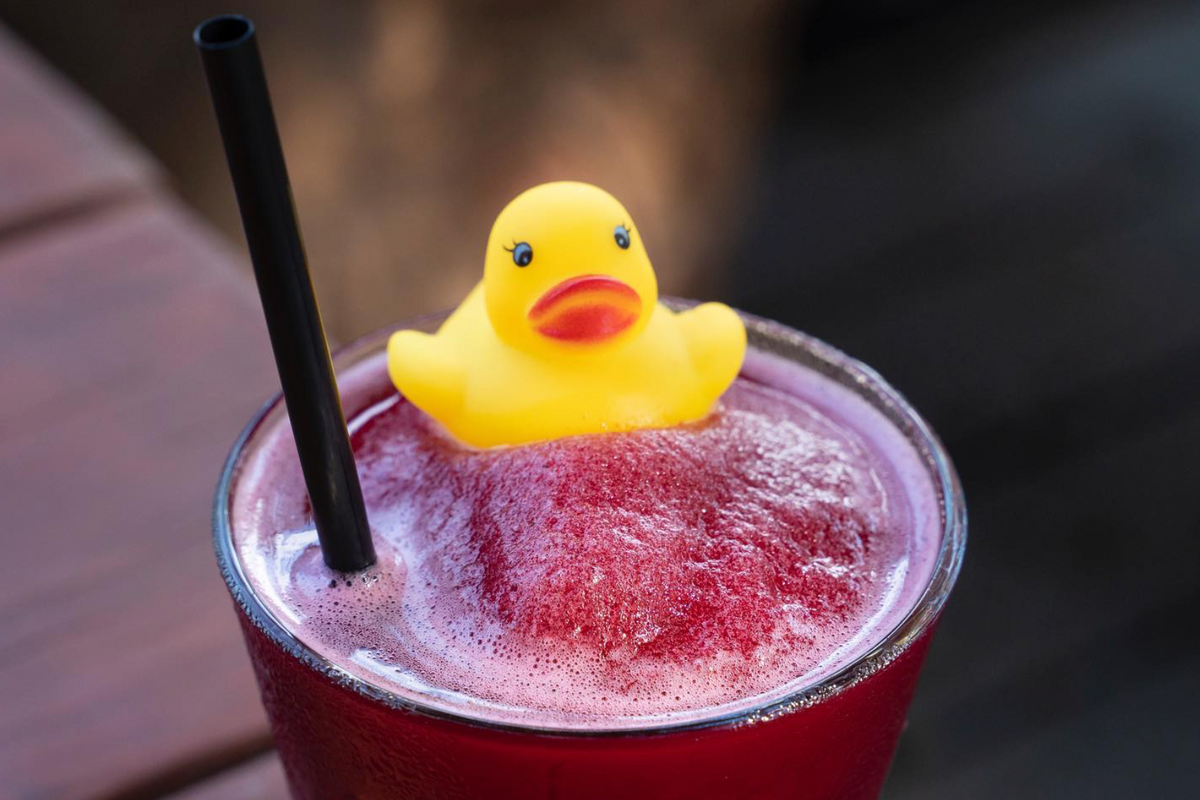 (Revelry)
Another east side option, Revelry's specials will keep you fed and its spacious patio will give you a break from the crowds. On the menu are crispy chicken sandwiches with house pickles, angus beef burgers, Bavarian pretzels and more.
Its daily weekday happy hour, running all night Monday and from 4 p.m.-7 p.m. Tuesday-Friday, will get you $5 off wells and certain appetizers, $2 off house cocktails and wine, and $1 off beer.

Walton's Fancy and Staple | 609 W 6th St.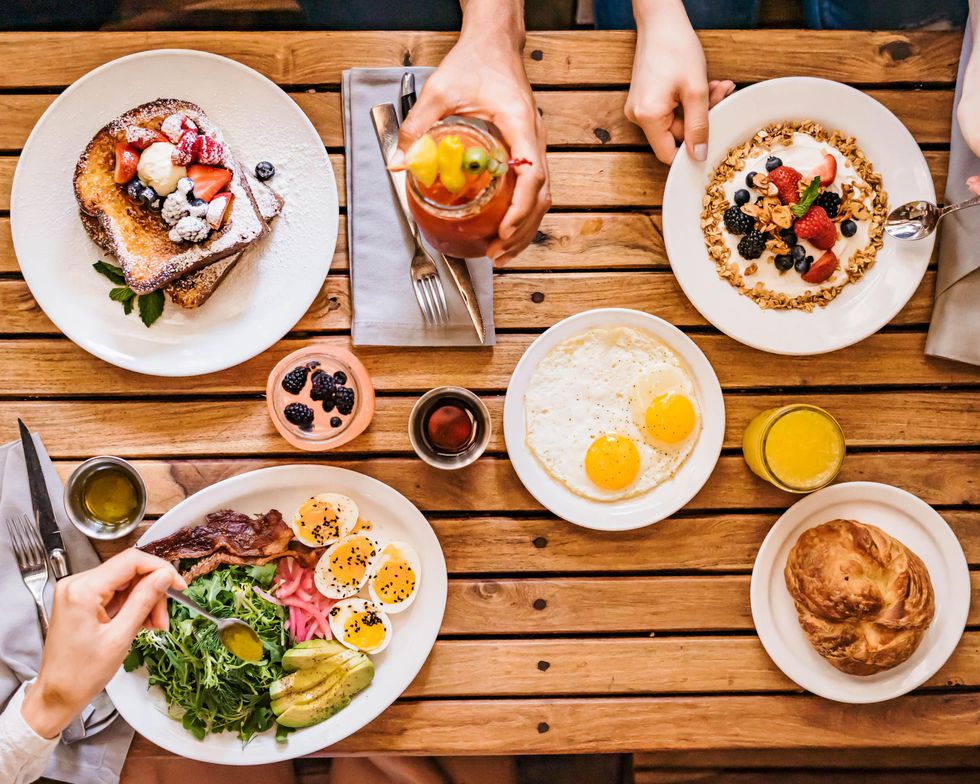 (Walton's Fancy and Staple)
Your one-stop shop for a quick breakfast and latte, Fancy Lunch combo or flowers on the way to SXSW, Walton's Fancy and Staple has you covered. Walton's opens at 8 a.m., early enough to stop by on your way to the fest, and normally closes at 4 p.m. but stays open later from Thursday to Saturday for its 5:30-7:30 p.m. happy hour.
Stop by early in the morning for a breakfast taco or challah french toast, grab a gourmet sandwich for an afternoon pick-me-up or indulge in some $6 sips for happy hour.
​Zanzibar | 304 E Cesar Chavez St.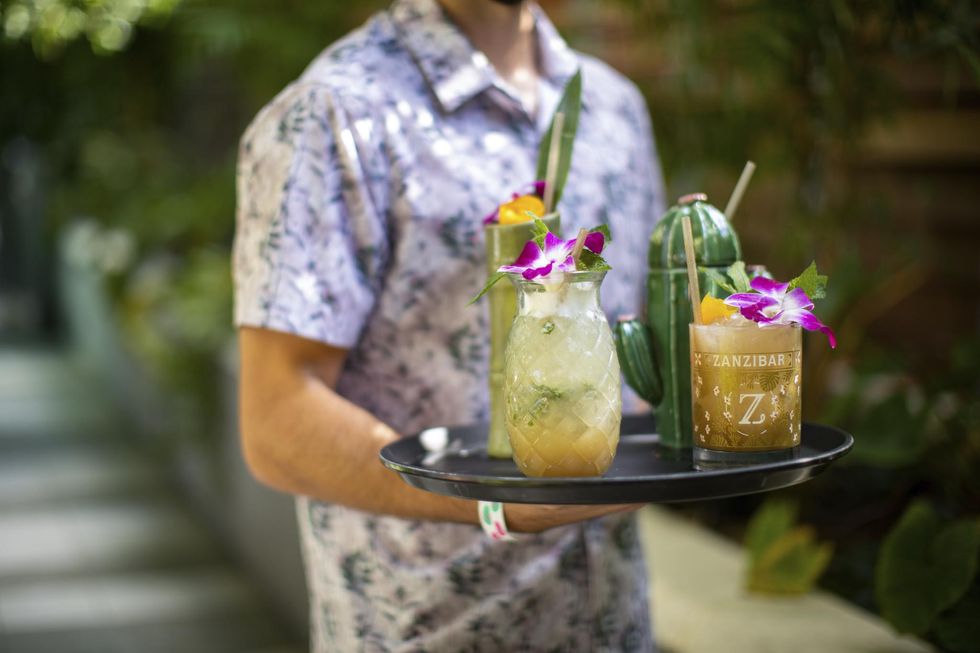 (Anne Burnett)
Located in the same building as Corinne, the Austin Marriott hotel downtown, Zanzibar is a tropical oasis seven stories above the ground. With a lush rooftop terrace and pool to enjoy tiki cocktails or small plates beside, the bar has its own street-level elevator on San Jacinto Boulevard to take you straight up.
Through Monday-Wednesday of SXSW, Zanzibar will host a "Tiki & Chill" happy hour from 4-6 p.m., or you can pop in on Sunday for the "Sunday Staycation" special with tropical mimosas and $7 small bites.