Get connected with our daily update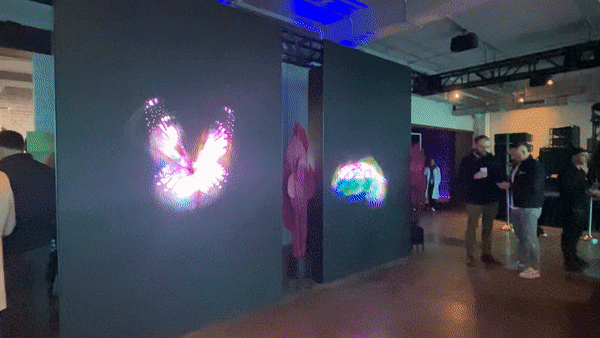 After two long years of waiting, SXSW 2022 is kicking off with a bang starting today with hundreds of film, music, interactive and tech experiences flocking to the city.
Austonia's agenda for opening day is packed with a chat about the future of DAOs from Blockchain Creative Labs, a gallery of street artist Banksy's most famous works, a jam session from England-born but Austin-based artist Jade Bird, a showcase of Texas short films and a talk from Austin podcaster Brené Brown.
---
In case you missed it, check out our guides to...
Follow along all day as I attend various SXSW events:
10 a.m. Blockchain Creative Labs | 5th and Trinity Streets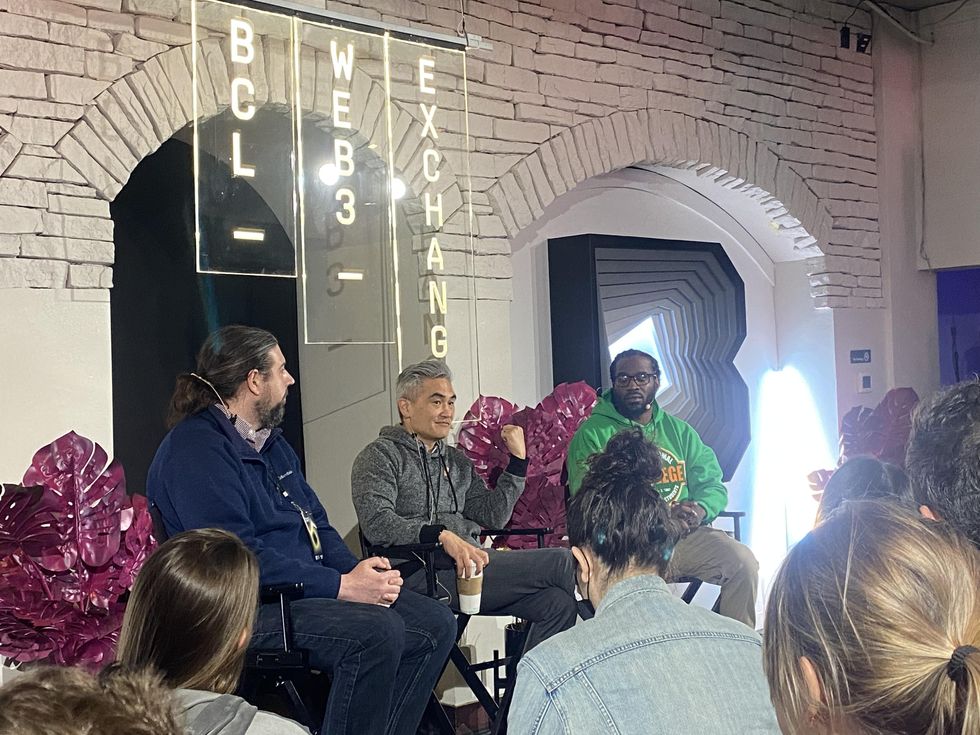 Showcasing NFTs, Blockchain usage and the dynamic future of DAOs, Blockchain Creative Labs' Event is a colorful, high-tech wonderland for Web3 enthusiasts. BCL, FOX Entertainment's NFT studio, is hosting NFTs created by Dolly Parton, including a concert on March 18. Like-minded individuals have gathered to chat about blockchain and explanations on DAOs, or decentralized autonomous organizations that pool together capital and go on to make investments or take on blockchain-based projects.
During a Q&A with Potion DAO member Vanilla Delphia, Collab.Land CEO James Young and community builder Delleon McGlone, the trio discussed how they believe DAOs are the future of the workplace.
McGlone gave a few tips to anyone looking to join a DAO:

Be crypto-curious

There are no dumb questions, so fire away! Young compared the rise of DAOs to the rise of online shopping in 1998---no one knew it would take off until it did—-because crypto is still a very new invention.

Do your research

Not all DAOs are created equal. Do your research and join one that you can happily contribute to, that you believe in and that you are eager to work in.

Leverage your hardest-working self

It might take a while to get your foot in the door because it may not be a fit and some DAOs are too small to answer the call. Reach out often, don't be nervous. When you join a DAO, you become a part-owner, so you have to want to contribute.
11 a.m. Banksy Experience (Unauthorized) | Atmosphere TV, 416 Congress Ave.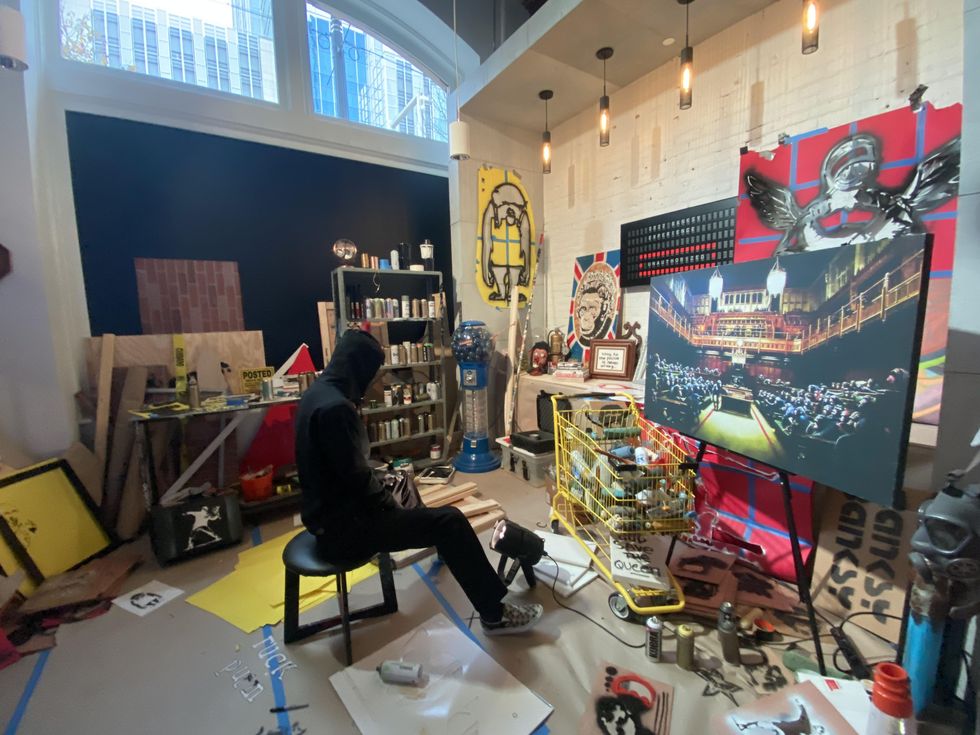 Open through March 19, Atmosphere's HQ is hosting an opportunity to immerse yourself in the world of Banksy's tongue-in-cheek, screen-printed world. With over a dozen authenticated and limited pieces, like the original Girl with Balloon Purple and what is believed to be one of the first painted garage doors from the famously anonymous artist.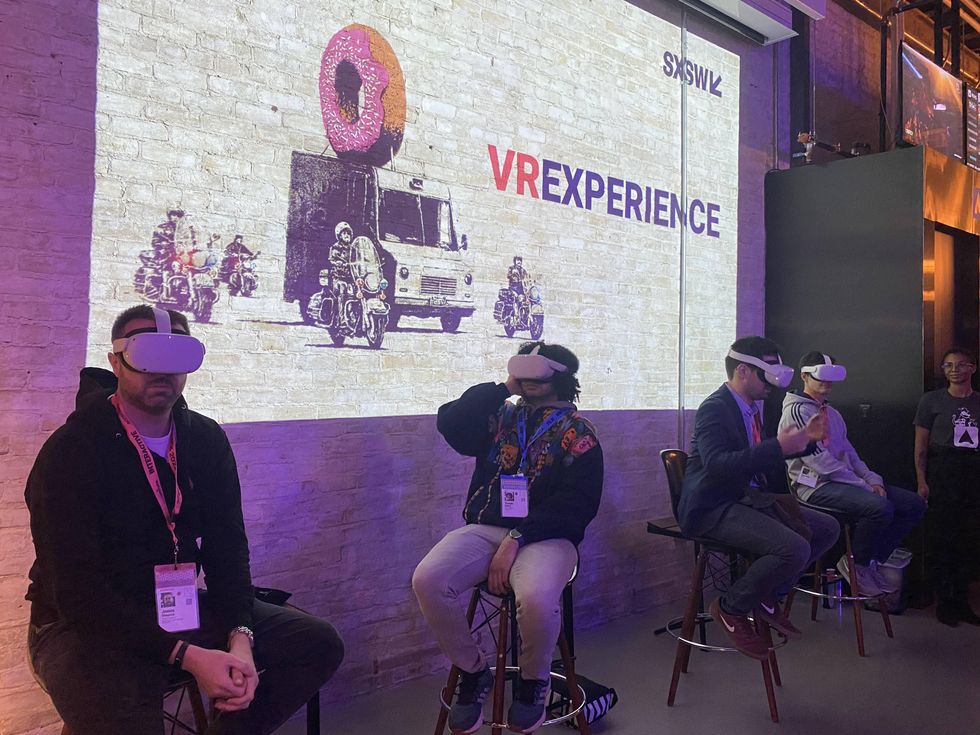 As part of the installation, badge holders can view the Banksy VR experience, which takes the viewer through multiple city-scapes that the artist has made his mark on.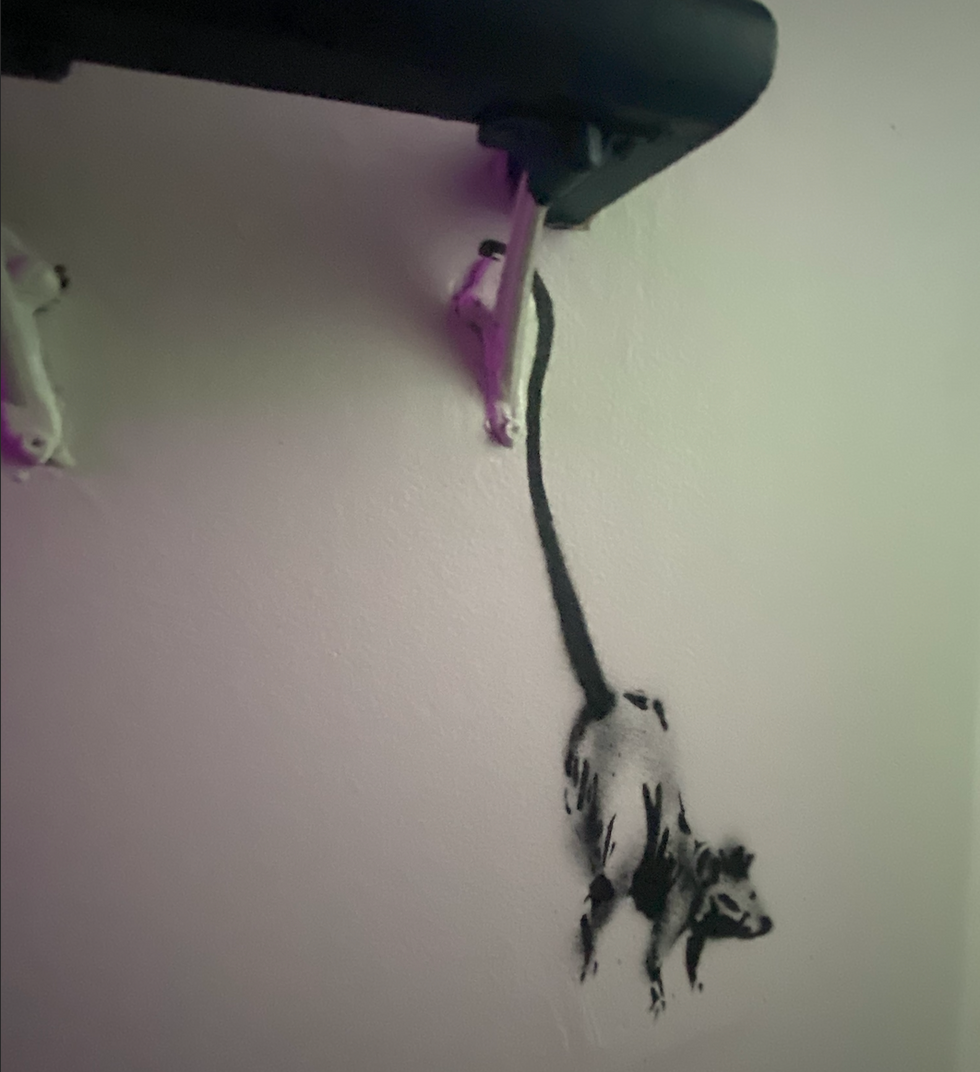 You'll want to explore this exhibit thoroughly! There are little Easter Eggs throughout the building, like this rat hanging from a stair rail.
12:45 p.m. Jade Bird opens up for Alexis McGill Johnson and Busy Philipps Keynote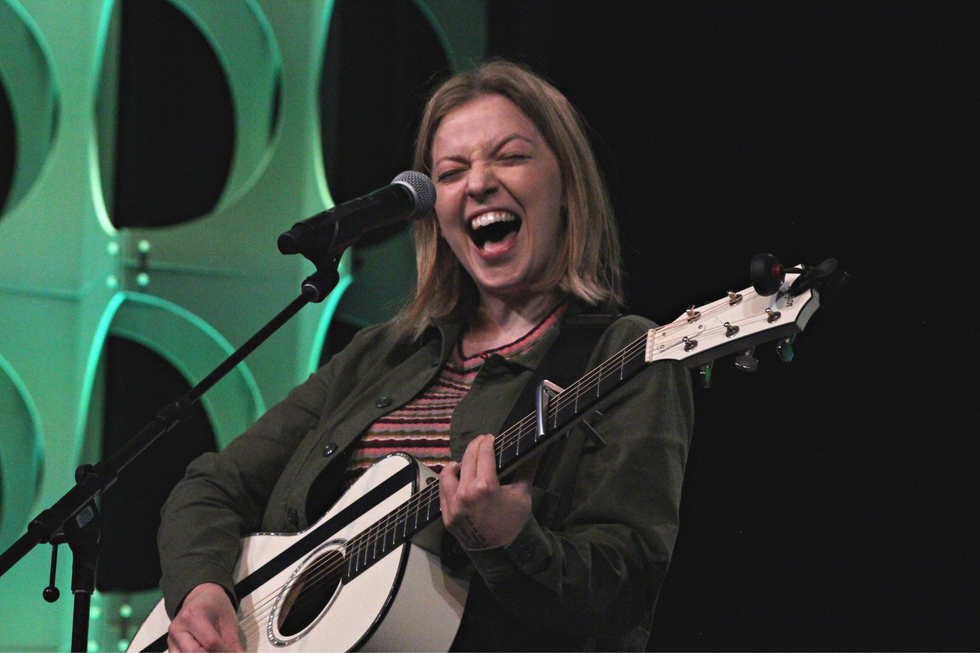 (Laura Figi/Austonia)
Though Jade Bird only played four songs, her short set was mighty. The new Austin resident was alone on stage with her acoustic guitar, telling the crowd she fell in love with the city after attending SXSW, before beginning with one of her older songs, "Uh Huh."
Bird debuted a never-before-released tune at the festival, "Save Your Tears," before dedicating the song "Candidate" to Planned Parenthood in honor of CEO Alexis McGill Johnson's upcoming keynote, which she said was close to her heart. Bird closed out the set with the power-vocals song, "I Get No Joy."
7 p.m. A Conversation with Brené Brown, with acclaimed writers Priya Parker and Anand Giridharadas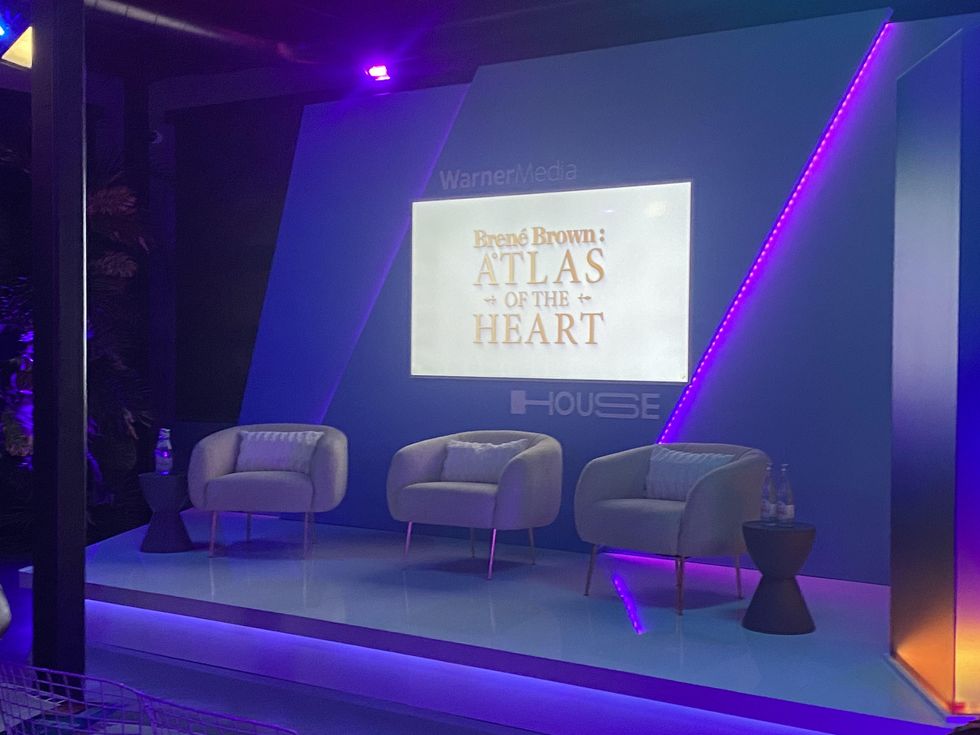 The use of cell phones or cameras was not permitted at the start of the event. (Laura Figi/Austonia)
Alongside the premiere of her new HBO Max show, "Atlas of the Heart," #1 New York Times bestselling author star Dr. Brené Brown sat down with authors Priya Parker and Anand Giridharadas to speak to SXSW attendees about identifying feelings, the complexity of emotions and checking in with yourself.
In her book, which shares the same name as the show, Brown breaks down the difference between similar-seeming concepts like belonging and fitting in. According to Brown, when you belong, you are accepted for who you are. When you fit in, you are accepted for behaving like those around you.
Key concepts:
Near enemies vs. far enemies: A Buddhist concept for important emotions like connection or compassion, the far enemy is the complete opposite, while the near enemy masquerades as the true virtue we are seeking.

Ex. The far enemy of compassion is cruelty, while the near enemy of compassion is pity.
Far enemies are much more obvious than near enemies, which Brown says cause separation.

Awkwardness often opens a door for connection—humans tend to be so averse to awkward situations because they "wrongly" believe it is a threat to belonging. Brown says it's the opposite—awkwardness creates a shared moment where there is no shared code, which can open up a tense moment.
Ask yourself a couple questions and use a specific example if you can:

What does it look like when you try to control vs. protect vs. respect those around you?
What's something you do that's very difficult but worth it in the end?
"Our early research showed the majority of people can identify three emotions in themselves when they were talking themselves: Happy, sad, pissed off," Brown said during the event. "How do we work our way through the world if we don't have a vocabulary that's as expansive as our experience?"
Attendee and UT student M. Bourne said they originally heard of Brown through her work as a visiting professor at the university, but now that they have seen her speak, they plan to read "Atlas of the Heart" and watch the special to explore emotions.
"From her talks today, she was just so amazing and I see the hype now," Bourne said. "I had never thought about compassion and how the near enemy of that was pity. I had always seen pity, I guess, more like a feeling of 'I wish I could do more.'"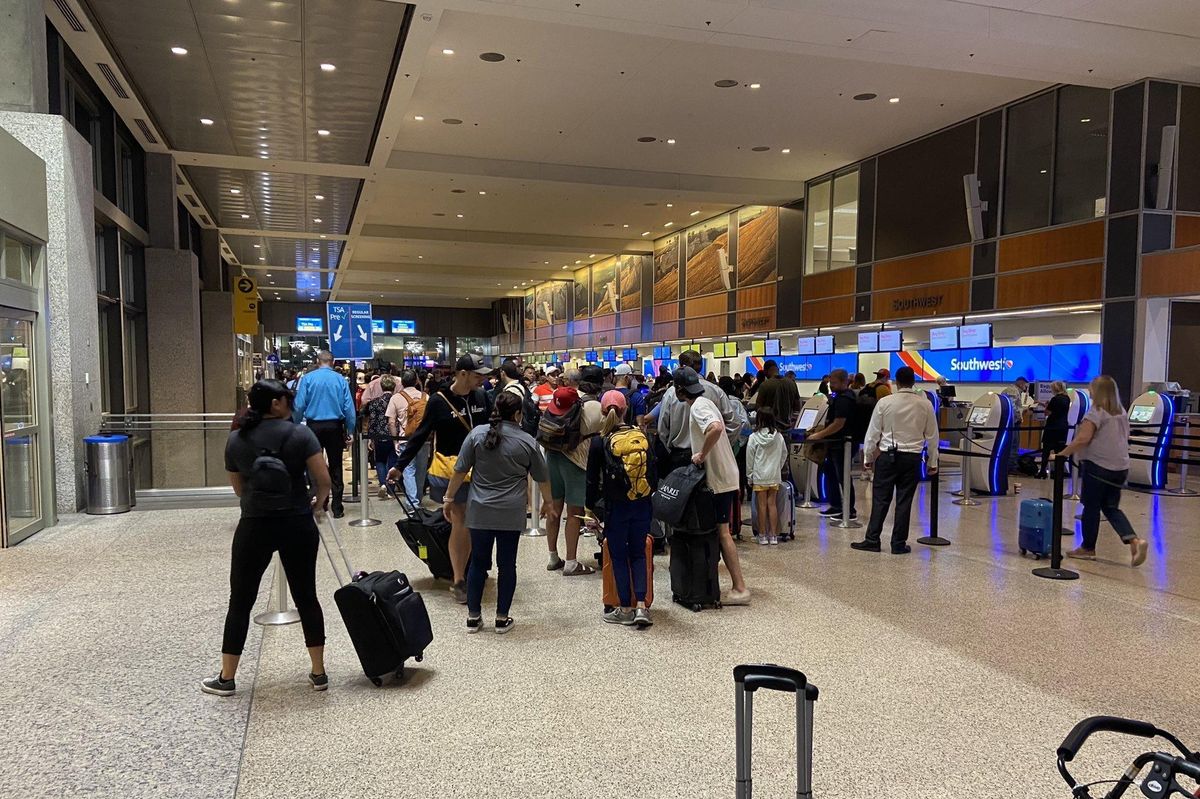 Flyers are less satisfied with the Austin-Bergstrom International Airport than a year ago, a new study shows.
Research firm J.D. Power placed ABIA at No. 15 on a list ranking overall customer satisfaction at large airports, a slip from last year's spot at No. 7. Other Texas airports secured rankings ahead of Austin, with Dallas Love Field at third, Houston Hobby at eight, and San Antonio International Airport at ninth.
Dallas/Ft. Worth ranked eight in the "mega airport" category.
The study examined airports based on the following factors: terminal facilities; airport arrival/departure; baggage claim; security check; check-in/baggage check; and food, beverage and retail.
On a 1,000-point scale, Austin-Bergstrom received 785 points this year compared to its score of 819 in 2021.
Passenger experiences at Austin-Bergstrom have been influenced by population growth in Central Texas, which has brought record traffic and longer wait times at TSA. And a recent power outage at Austin-Bergstrom caused flight delays. Michael Taylor, travel intelligence lead at J.D. Power., said that consumer satisfaction with flying has decreased overall.
"The combination of pent-up demand for air travel, the nationwide labor shortage and steadily rising prices on everything from jet fuel to a bottle of water have created a scenario in which airports are extremely crowded and passengers are increasingly frustrated—and it is likely to continue through 2023," Taylor said.
Bailey Grimmett, a spokesperson for ABIA, commented on the ranking.

"We're grateful that AUS customers continue to rank our airport above average, especially during this year that saw air travel disruption here in Austin and across the globe as airports, airlines and the air travel industry continued navigating the impacts of the pandemic," Grimmett said. "We look forward to delivering near-term and long-term improvements through our Journey With AUS program to improve the passenger experience."
That program is slated to bring a new midfield concourse to increase gates and connect to the Barbara Jordan Terminal through an underground connector tunnel.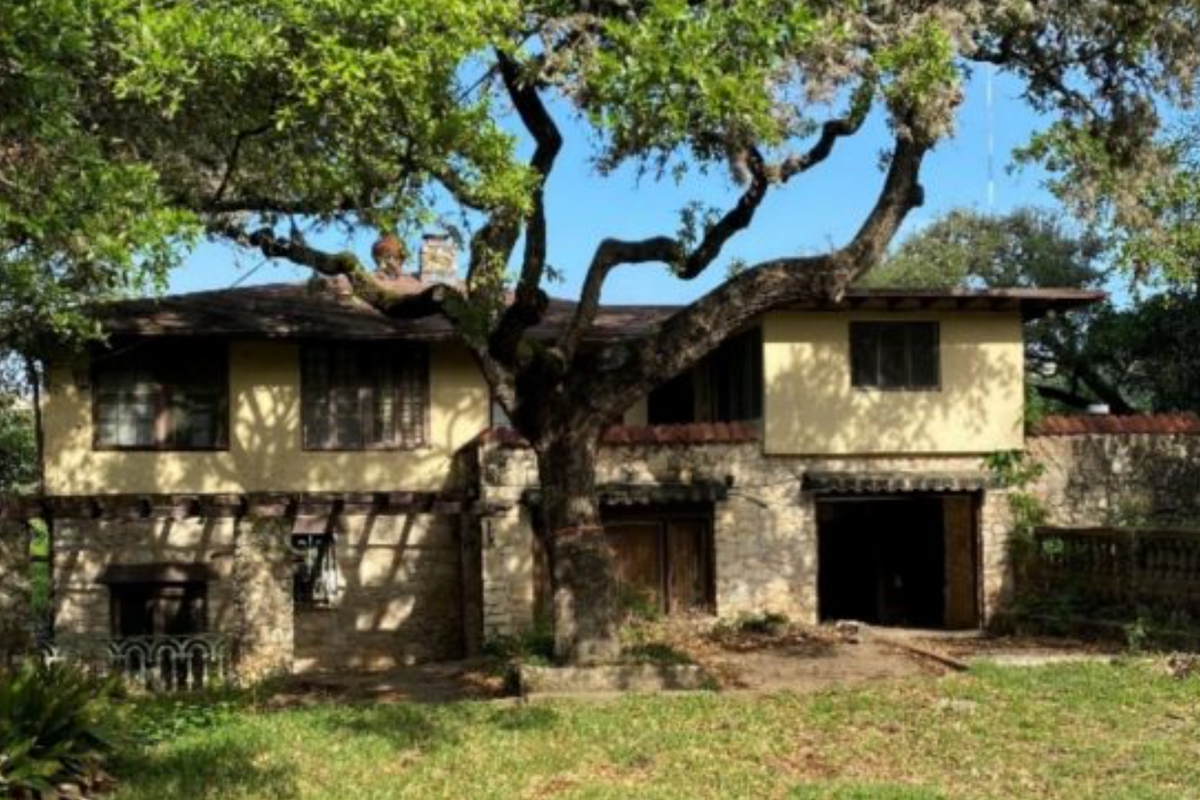 Austin Monitor
By Jonathan Lee
The Planning Commission was split Tuesday on whether to help save an eclectic lakefront estate from demolition by zoning it historic amid concerns over tax breaks and the likelihood that a previous owner participated in segregation as a business owner.
The property in question, known as the Delisle House, is located at 2002 Scenic Drive in Tarrytown. The main house, with Spanish and Modern influences, was built in 1923 by Raymond Delisle, an optician. A Gothic Revival accessory apartment was built in 1946. The current owner applied to demolish the structures in order to build a new home.'
Historic preservationists, for their part, overwhelmingly support historic zoning, which would preserve the buildings in perpetuity. The Historic Landmark Commission unanimously voted to initiate historic zoning in July, citing architectural significance, landscape features and association to historic figures. City staffers recommend historic zoning, calling both structures one-of-a-kind examples of vernacular architecture.
Tarrytown neighbors have also banded together to stop the demolition. Many have written letters, and a few spoke at the meeting. "How could anyone buy this property with the intent of destroying it?" Ila Falvey said. "I think it's an architectural treasure."
Michael Whellan, an attorney representing the property owner, said that the claims made by preservationists are shaky. The buildings are run down, he said, and have had substantial renovations. A structural engineer hired by the owner said any attempt at preservation would involve tearing down and rebuilding – an undertaking Whellan said would likely cost millions.
Whellan also argued that any historical significance derived from the property's association with Delisle and longtime owner C.H. Slator is dubious. "These men are not noted for any civic, philanthropic or historic impact," he said.
What's more, according to Whellan, Slator likely participated in segregation as the owner of the Tavern on North Lamar Boulevard between 1953 and 1960.
A city staffer, however, said she found no evidence to support the claim. "We would never landmark a property where a segregationist lived, or there was a racist person," Kimberly Collins with the Historic Preservation Office said.
Commissioner Awais Azhar couldn't support historic zoning in part due to lingering uncertainty about Slator. "Focusing on that factor is not here to disparage an individual or family. It is not about playing the race card. This is an important assertion for us to consider as Planning commissioners," Azhar said.
Commissioner Carmen Llanes Pulido said that allegations of racism should come as no surprise. "We're talking about white male property owners in the 1950s, in Austin, on the west side – and of course they were racist," she said. But she argued that allowing the house to be demolished based on these grounds does nothing to help people of color who have been harmed by racism and segregation.
The question of tax breaks was also controversial. Michael Gaudini, representing the property owner, said that the tax breaks associated with historic zoning would exacerbate inequality by shifting property tax burdens to less affluent communities. City staffers estimate that the property, appraised at $3.5 million, would get either a $8,500 or $16,107 property tax break annually, depending on whether a homestead exemption is applied.
Commissioner Grayson Cox preferred the commission focus not on tax breaks but on whether the structures merit preservation. "To me, nothing in the historic preservation criteria lists, is this person deserving of a tax break or not?"
Azhar, on the other hand, said he plans to propose a code amendment getting rid of city property tax breaks for historic properties.
The commission fell one vote short of recommending historic zoning, with six commissioners in support and three opposed. Azhar and commissioners Claire Hempel and Greg Anderson voted against.
The odds of City Council zoning over an owner's wishes are slim. Nine out of 11 members must vote in favor, and there have only been a handful of such cases over the past several decades.