Get connected with our daily update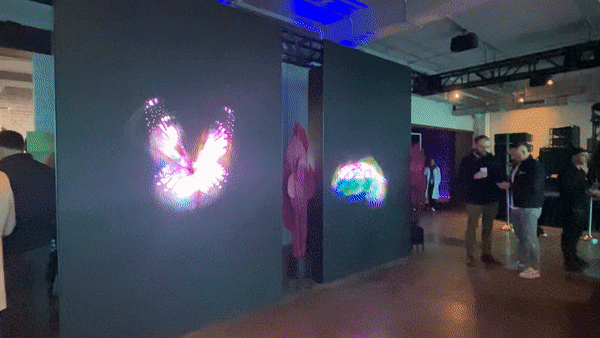 After two long years of waiting, SXSW 2022 is kicking off with a bang starting today with hundreds of film, music, interactive and tech experiences flocking to the city.
Austonia's agenda for opening day is packed with a chat about the future of DAOs from Blockchain Creative Labs, a gallery of street artist Banksy's most famous works, a jam session from England-born but Austin-based artist Jade Bird, a showcase of Texas short films and a talk from Austin podcaster Brené Brown.
---
In case you missed it, check out our guides to...
Follow along all day as I attend various SXSW events:
10 a.m. Blockchain Creative Labs | 5th and Trinity Streets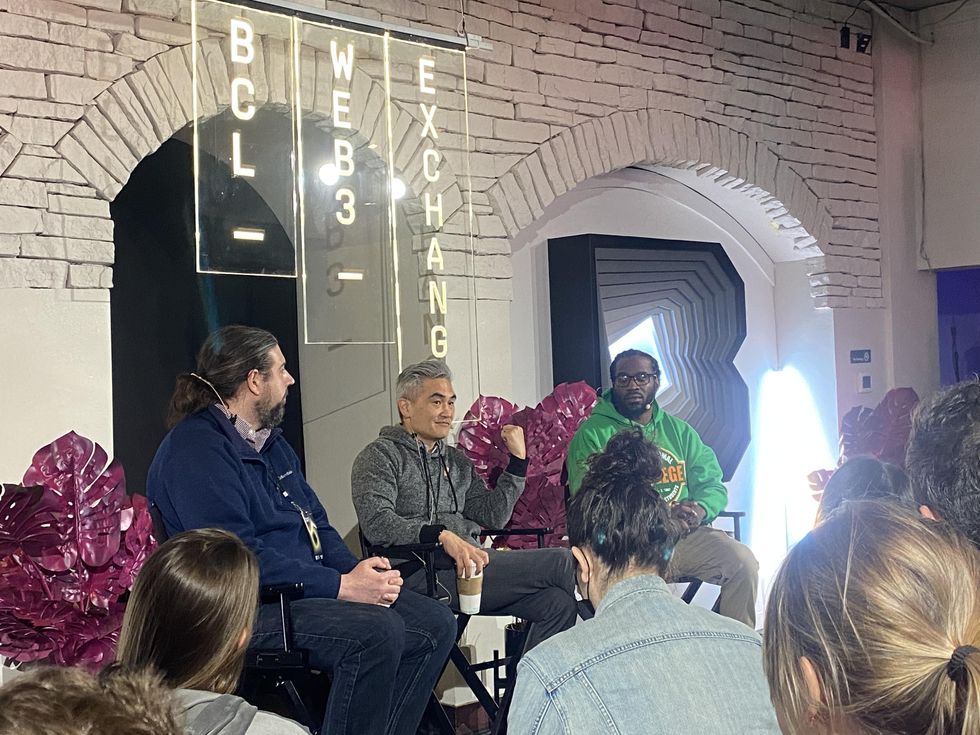 Showcasing NFTs, Blockchain usage and the dynamic future of DAOs, Blockchain Creative Labs' Event is a colorful, high-tech wonderland for Web3 enthusiasts. BCL, FOX Entertainment's NFT studio, is hosting NFTs created by Dolly Parton, including a concert on March 18. Like-minded individuals have gathered to chat about blockchain and explanations on DAOs, or decentralized autonomous organizations that pool together capital and go on to make investments or take on blockchain-based projects.
During a Q&A with Potion DAO member Vanilla Delphia, Collab.Land CEO James Young and community builder Delleon McGlone, the trio discussed how they believe DAOs are the future of the workplace.
McGlone gave a few tips to anyone looking to join a DAO:

Be crypto-curious

There are no dumb questions, so fire away! Young compared the rise of DAOs to the rise of online shopping in 1998---no one knew it would take off until it did—-because crypto is still a very new invention.

Do your research

Not all DAOs are created equal. Do your research and join one that you can happily contribute to, that you believe in and that you are eager to work in.

Leverage your hardest-working self

It might take a while to get your foot in the door because it may not be a fit and some DAOs are too small to answer the call. Reach out often, don't be nervous. When you join a DAO, you become a part-owner, so you have to want to contribute.
11 a.m. Banksy Experience (Unauthorized) | Atmosphere TV, 416 Congress Ave.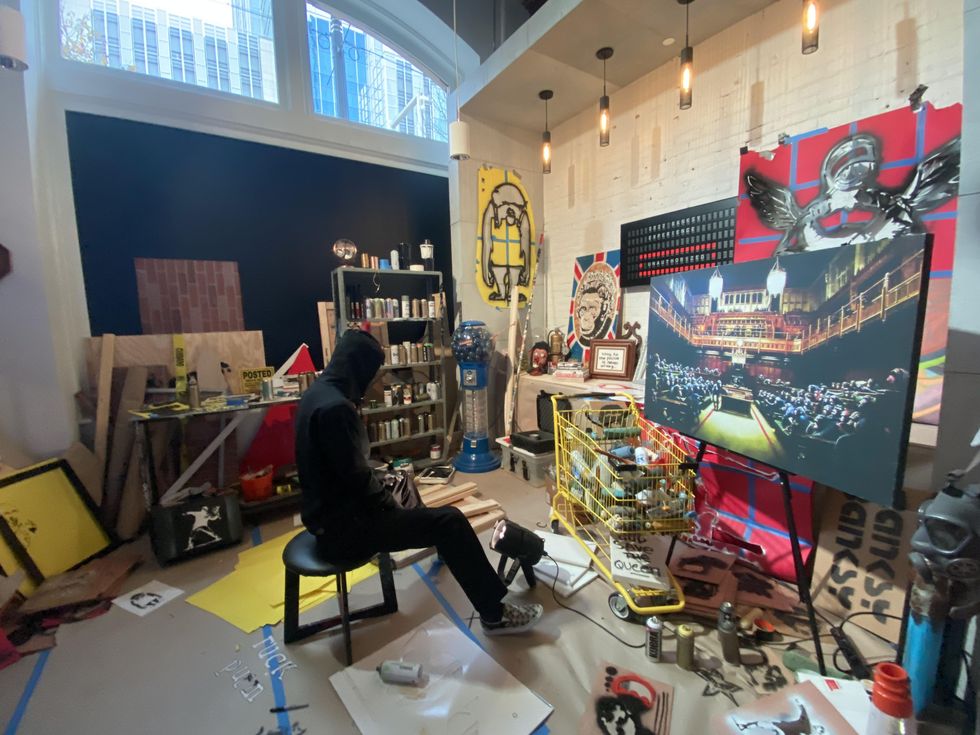 Open through March 19, Atmosphere's HQ is hosting an opportunity to immerse yourself in the world of Banksy's tongue-in-cheek, screen-printed world. With over a dozen authenticated and limited pieces, like the original Girl with Balloon Purple and what is believed to be one of the first painted garage doors from the famously anonymous artist.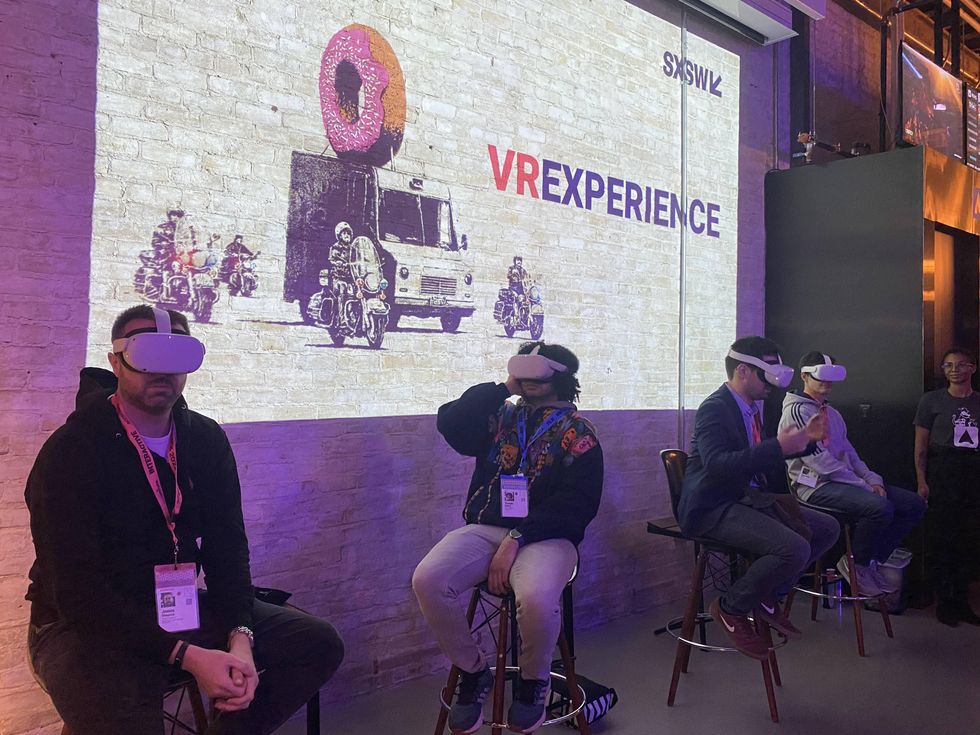 As part of the installation, badge holders can view the Banksy VR experience, which takes the viewer through multiple city-scapes that the artist has made his mark on.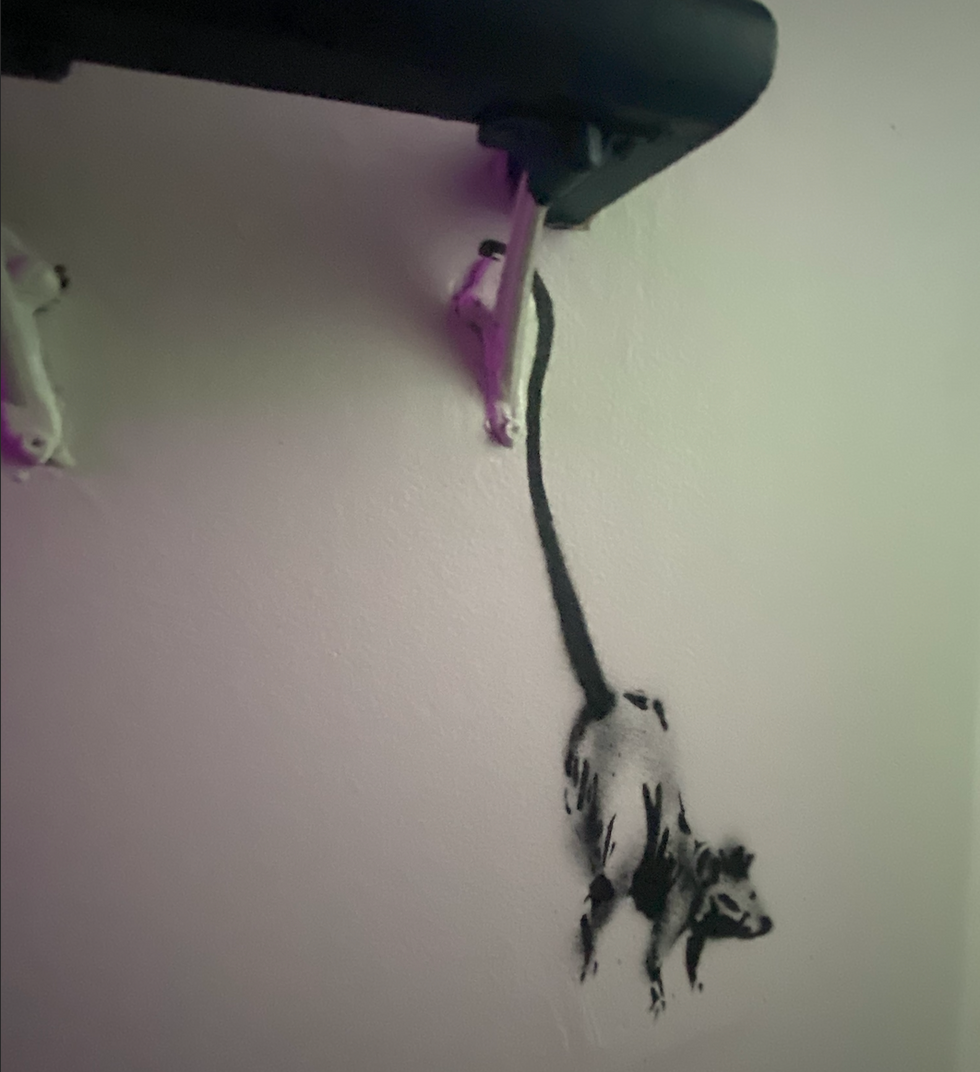 You'll want to explore this exhibit thoroughly! There are little Easter Eggs throughout the building, like this rat hanging from a stair rail.
12:45 p.m. Jade Bird opens up for Alexis McGill Johnson and Busy Philipps Keynote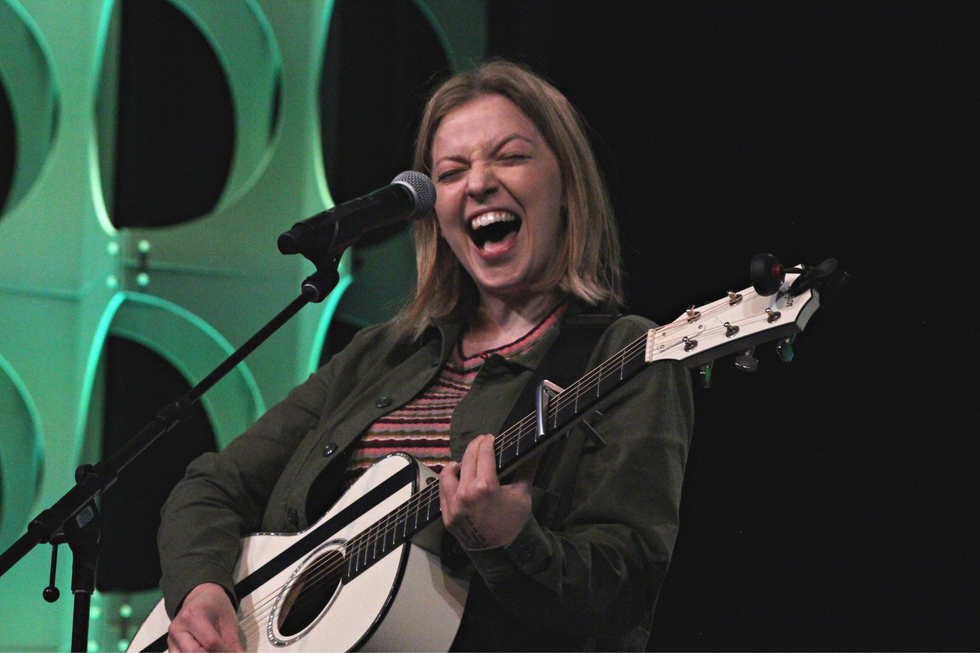 (Laura Figi/Austonia)
Though Jade Bird only played four songs, her short set was mighty. The new Austin resident was alone on stage with her acoustic guitar, telling the crowd she fell in love with the city after attending SXSW, before beginning with one of her older songs, "Uh Huh."
Bird debuted a never-before-released tune at the festival, "Save Your Tears," before dedicating the song "Candidate" to Planned Parenthood in honor of CEO Alexis McGill Johnson's upcoming keynote, which she said was close to her heart. Bird closed out the set with the power-vocals song, "I Get No Joy."
7 p.m. A Conversation with Brené Brown, with acclaimed writers Priya Parker and Anand Giridharadas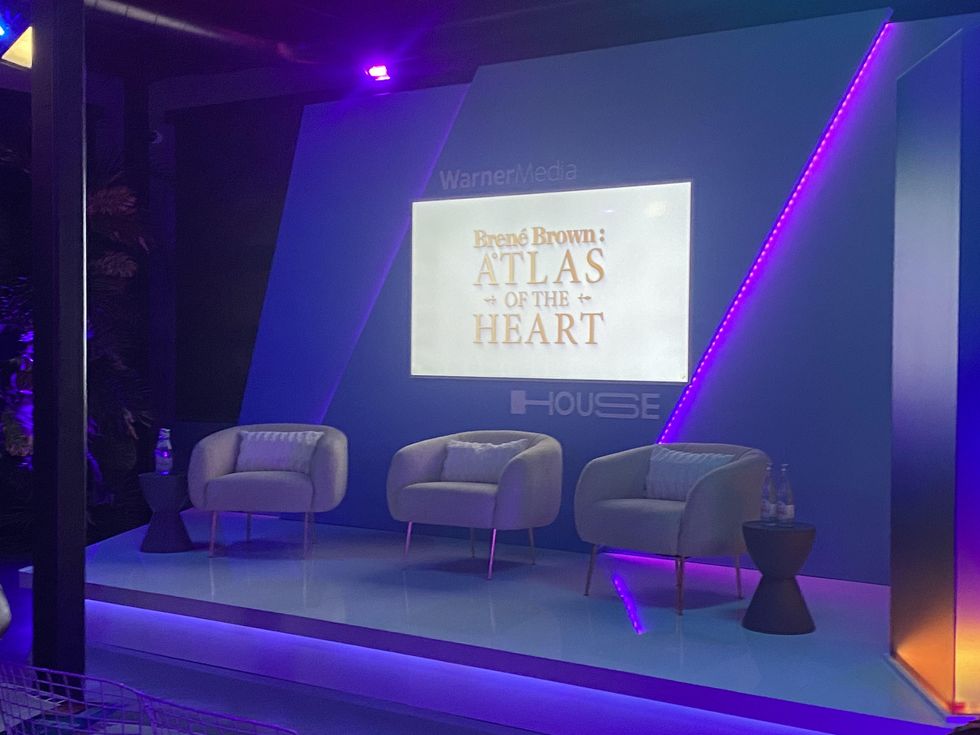 The use of cell phones or cameras was not permitted at the start of the event. (Laura Figi/Austonia)
Alongside the premiere of her new HBO Max show, "Atlas of the Heart," #1 New York Times bestselling author star Dr. Brené Brown sat down with authors Priya Parker and Anand Giridharadas to speak to SXSW attendees about identifying feelings, the complexity of emotions and checking in with yourself.
In her book, which shares the same name as the show, Brown breaks down the difference between similar-seeming concepts like belonging and fitting in. According to Brown, when you belong, you are accepted for who you are. When you fit in, you are accepted for behaving like those around you.
Key concepts:
Near enemies vs. far enemies: A Buddhist concept for important emotions like connection or compassion, the far enemy is the complete opposite, while the near enemy masquerades as the true virtue we are seeking.

Ex. The far enemy of compassion is cruelty, while the near enemy of compassion is pity.
Far enemies are much more obvious than near enemies, which Brown says cause separation.

Awkwardness often opens a door for connection—humans tend to be so averse to awkward situations because they "wrongly" believe it is a threat to belonging. Brown says it's the opposite—awkwardness creates a shared moment where there is no shared code, which can open up a tense moment.
Ask yourself a couple questions and use a specific example if you can:

What does it look like when you try to control vs. protect vs. respect those around you?
What's something you do that's very difficult but worth it in the end?
"Our early research showed the majority of people can identify three emotions in themselves when they were talking themselves: Happy, sad, pissed off," Brown said during the event. "How do we work our way through the world if we don't have a vocabulary that's as expansive as our experience?"
Attendee and UT student M. Bourne said they originally heard of Brown through her work as a visiting professor at the university, but now that they have seen her speak, they plan to read "Atlas of the Heart" and watch the special to explore emotions.
"From her talks today, she was just so amazing and I see the hype now," Bourne said. "I had never thought about compassion and how the near enemy of that was pity. I had always seen pity, I guess, more like a feeling of 'I wish I could do more.'"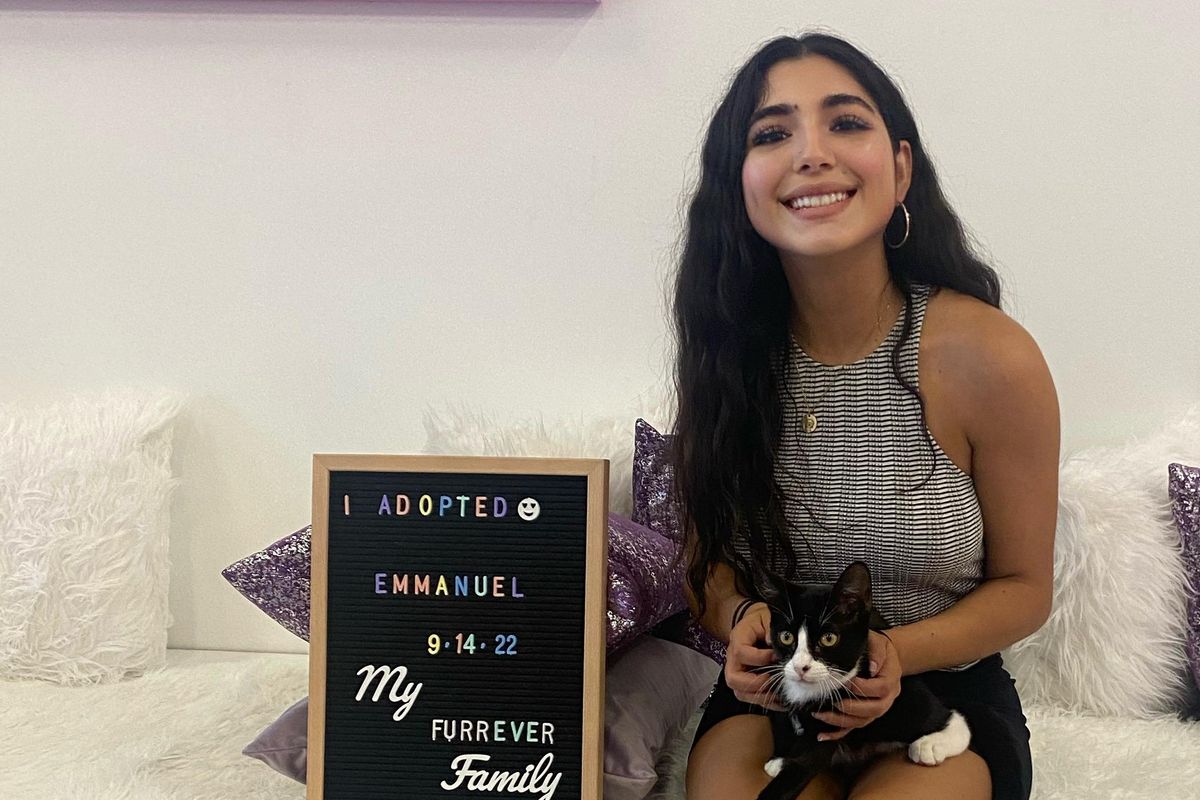 Purr-fecto Cat Lounge
Timmy and Tommy are ready to play.
As the 2-month-old white-and-tabby brothers swat feather wands, chase toys and generally hold court inside Purr-fecto Cat Lounge, a half-dozen potential adoptive parents look on lovingly, trying to get their attention.
"This is kind of like the speed dating of cats," said Lupita Foster, owner of Purr-fecto Cat Lounge. "I intentionally didn't put in any tables. That's why we call it a lounge instead of a cat café because we have these lounge areas where you can sit and relax and cuddle."
Foster, who has owned a cleaning company, Enviromaids, for 18 years, was inspired to open Purr-fecto Cat Lounge after adopting her own cat, Romeo, from a local shelter.
"When you want to adopt a cat, you have to spend a lot of time with them to get their personality," Foster said. "I wanted to do something to help the community and something that makes me feel good, that warms my heart. A business with a purpose. This was a perfect idea."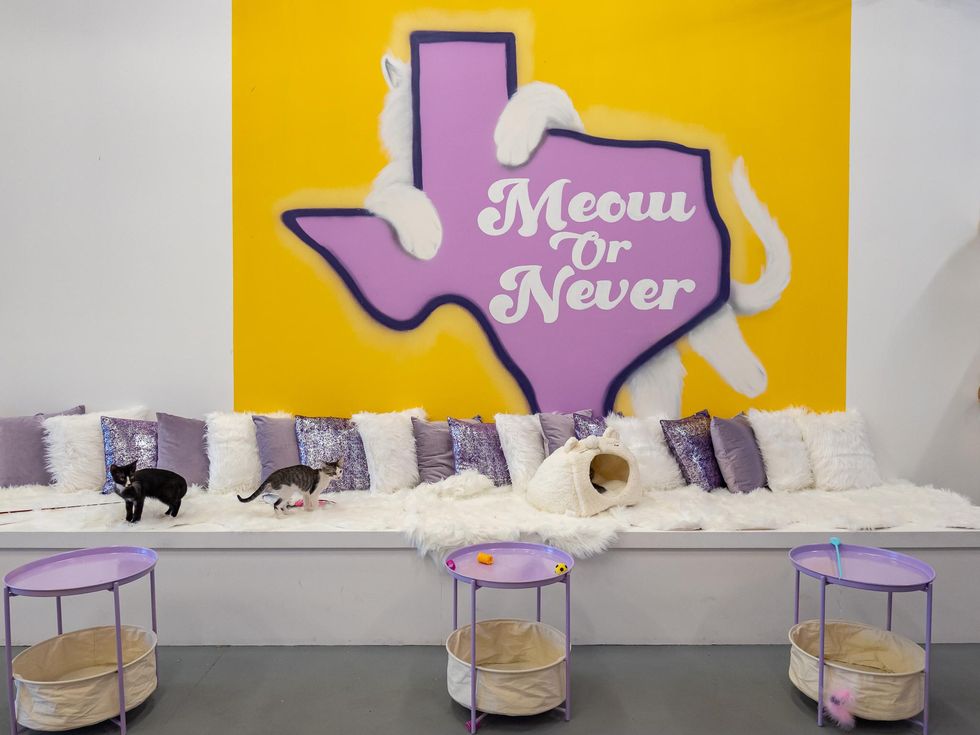 Actually, a purr-fect idea.
Inspired in part by a cat lounge she visited in Los Angeles, Foster began laying the groundwork for the business in late 2021 and officially opened the doors of Purr-fecto Cat Lounge, located at 2300 S. Lamar Blvd., in July 2022. Since then, she's worked with rescue organizations such as Fuzzy Texan Animal Rescue and Sunshine Fund Cat Rescue to facilitate nearly 100 cat adoptions.
At any given time, there are 10-15 cats living in the space, which features an ideal blend of calm, cool corners and adorably Instagrammable backdrops with phrases such as "I want to spend all my 9 lives with you."
Lina Martinez, 32, learned about Purr-fecto Cat Lounge from a friend's Instagram post and made an appointment to visit two days later.
"My first impression was, 'AWW!'" Martinez said. "The kittens were to die for. I felt happy and at peace – just what I needed."
Visitors to the cat lounge pay $15 for a 30-minute CATXperience session or $30 for a 70-minute session that is spent getting to know the personalities of each cat. Foster said the first thing she typically sees from visitors to the lounge is a smile.
"Everybody that enters the door is smiling," she said. "And we've seen people who have cried because they can't have kids and they decide to go and adopt a cat instead."
Foster said she loves bringing in cats who might not have a chance to be adopted at traditional shelters. She told the story of one cat named Izzy, who was partially blind, who was adopted by a family that had a deaf cat at home.
"Izzy was not going to get adopted anywhere else, but she's extremely beautiful," she said. "If she was in a cage in a rescue and you tell people she's blind, she was probably going to be overlooked. But visiting our space, she doesn't seem like she's blind. She knows her way around. She moves around perfectly."
Although Martinez, who had been casually looking for a pet to adopt since moving to Austin nearly four years ago, was interested in a cat named Ruby that she had seen on Purr-fecto's social media, at the lounge she instead found herself drawn to 5-month-old mixed breed Tuxedo cat.
"I thought he was a star," she said. "He worked the room and introduced himself to everyone. When I laid down to pet Ruby, he ran from the other side of the room and cuddled with me. It was game over. He got me."
And she, of course, got him, complete with a commemorative photo that read "My Furrever Family" the day she took him home. Although his original name was Emmanuel, she renamed him Sullivan after her favorite DJ.
"Purr-fecto is special because of the amount of effort and love they put into taking care of the cats," Martinez said, "and finding them good homes and making possible adopters feel at home."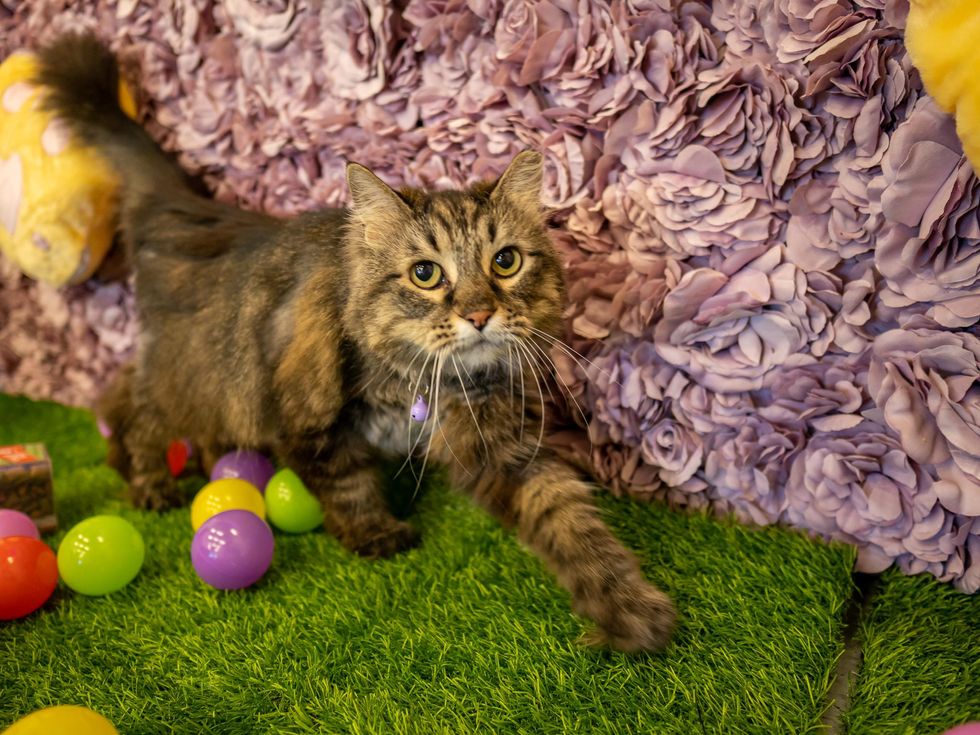 Foster, who spent a recent Thursday hosting a group of teenagers in foster care at the lounge, several of whom expressed interest in working there, said the best part about her new endeavor is that her heart is always full.
"I just feel complete," she said. "I always felt as an entrepreneur that I was missing something. I knew I accomplished a lot, but in my heart I was missing a little connection with the community. Now I'm creating connections between humans and pets and that's amazing. I'm creating family bonds. It's just about love, you know. And we need that."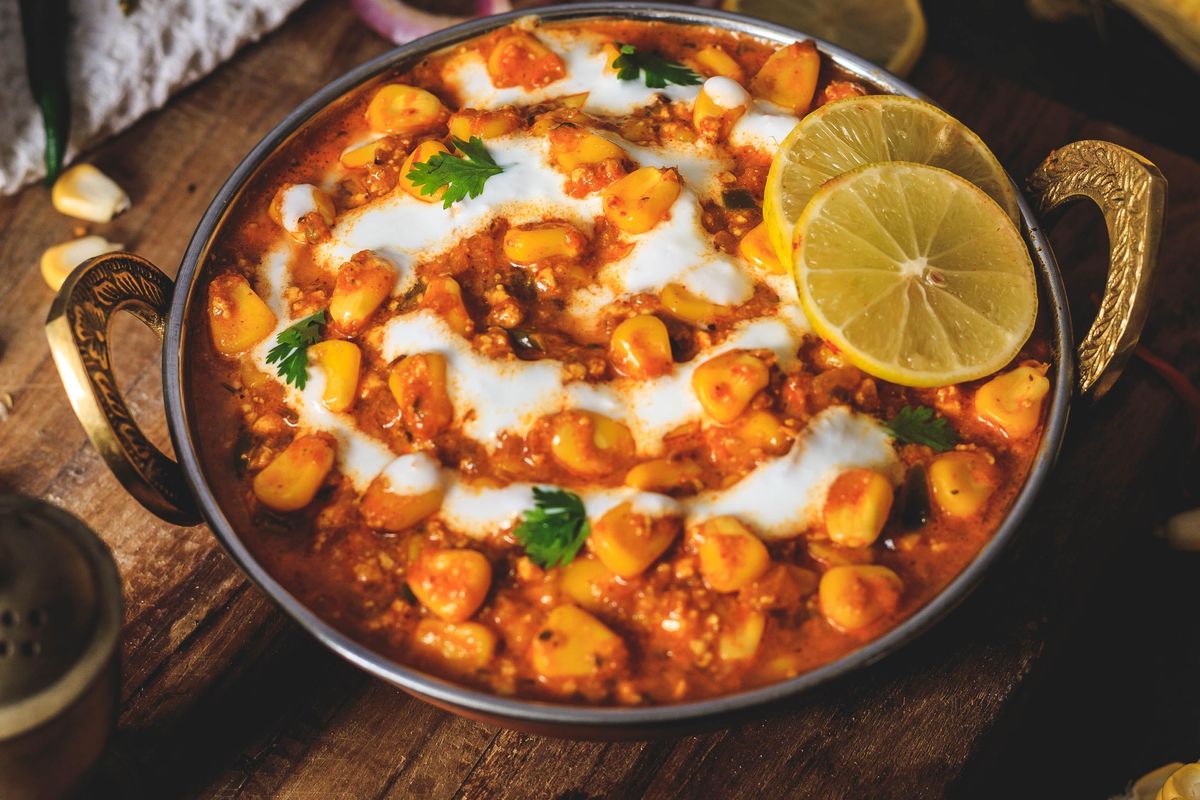 We all have those cravings for an amazing butter chicken or some authentic dosas with coconut chutney, but when I was thinking about where I wanted to go to satisfy my taste buds I realized that my list of great Indian food around Austin was surprisingly short. After doing some research and asking around, here is your list of the best Indian restaurants around town.
This restaurant claims to have the most authentic South Indian food, and from what I've heard, the claims might be true! Their menu features the traditional South Indian dishes of Idlis, Vadas, a variety of Dosas, and more.
If you're looking for an Indian and Tex-Mex fusion cozy restaurant, then look no further! Nasha on East 7th Street prides itself on its specialty margaritas, Tikka con Queso, Biryani, and more creative dishes!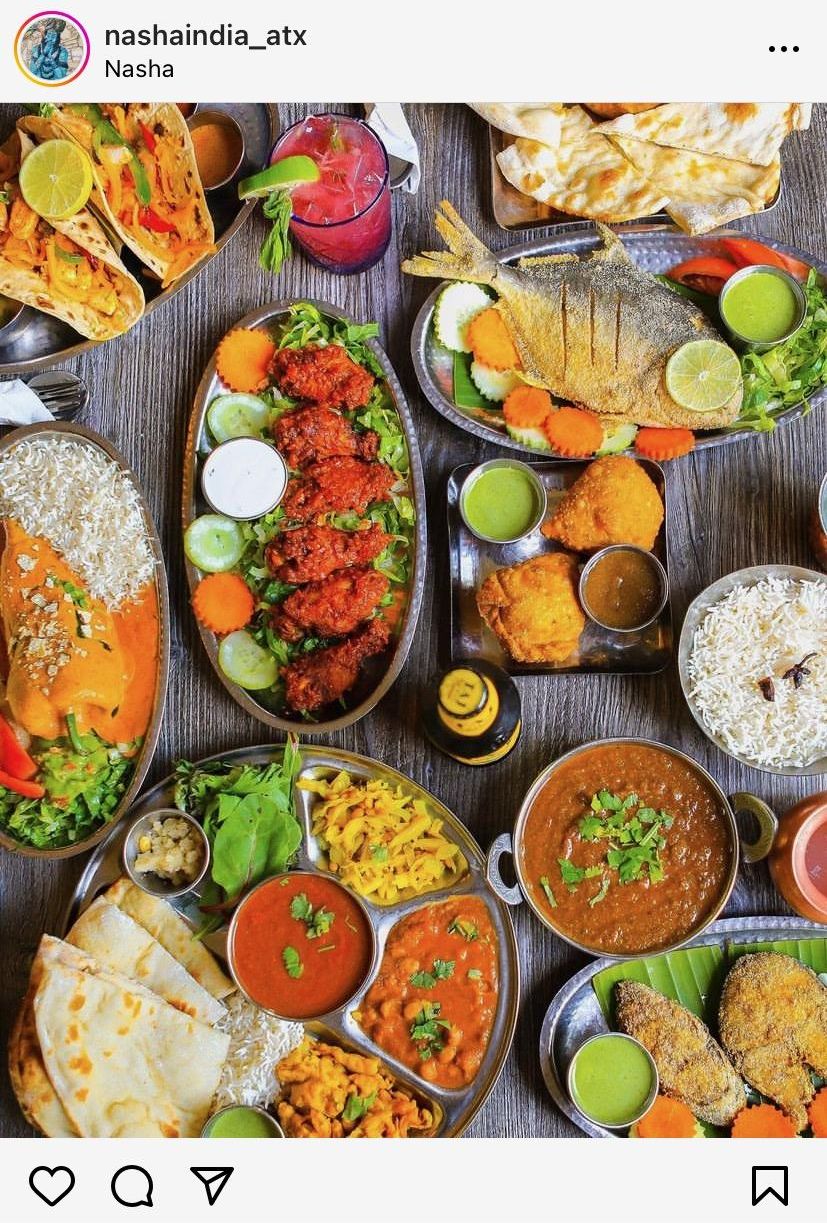 Austin Chai Wala is a personal favorite of mine, with the best masala chai I have ever had in Austin. The quaint truck in Rosedale Market features a unique blend of South Asian cuisine, including Masala Fries, Paratha Wraps, Samosas, and a delicious Mango Lassi.


This Round Rock Restaurant is known for its South Indian food, and its pakoras, a deep-fried North Indian street food filled with vegetables like potatoes or peas. Great stop for comfort food!
The best about this restaurant is its ambiance, and if you're a UT student then it is just a stone's throw away from campus. The Brick wall setting and extensive wine selection make it a great choice for a date night or a treat-yourself dinner.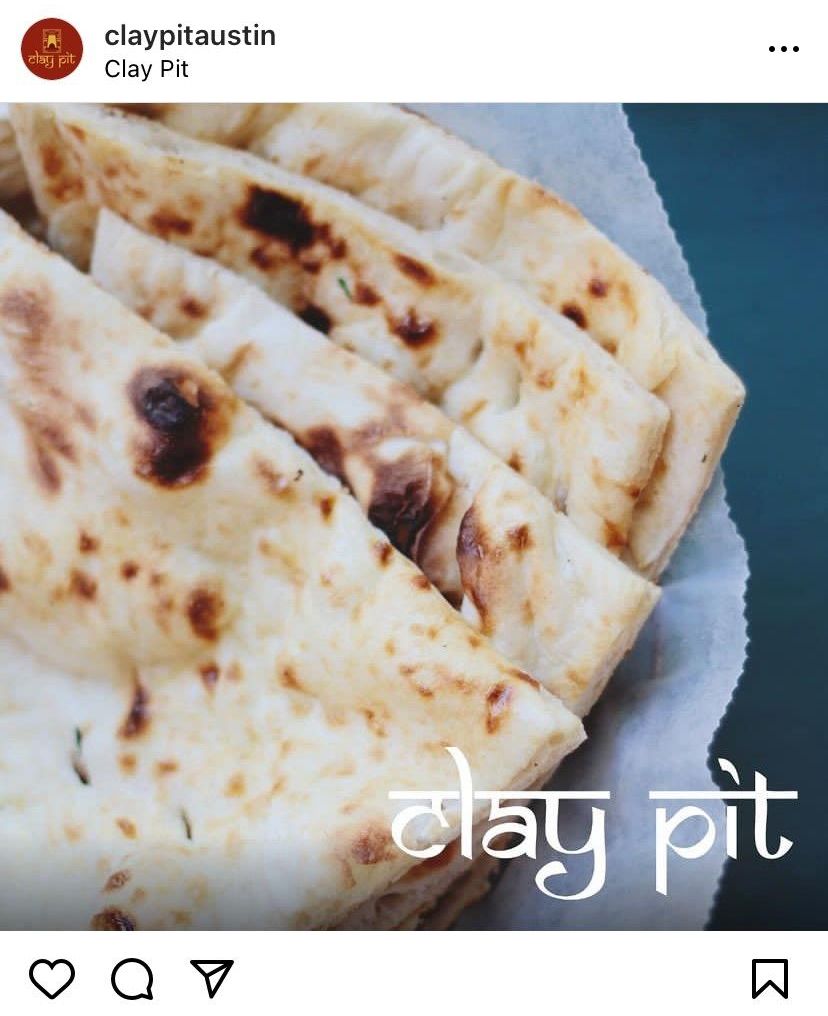 Named after one of the best spices used in Indian cooking, Saffron specializes in a fusion of Himalayan Nepali and Indian cooking. Stop by for some amazing Paneer Tikka, delicious Tandoori meat, or Nepalese fried rice dishes.
This little food truck on Burnet focuses on keeping the authentic South Indian Dosa recipe while embracing modern twists. Check out their menu offering signature dosas, street bites like Samosas, and their original "Doffles", dosa waffle sweet bites.