Get connected with our daily update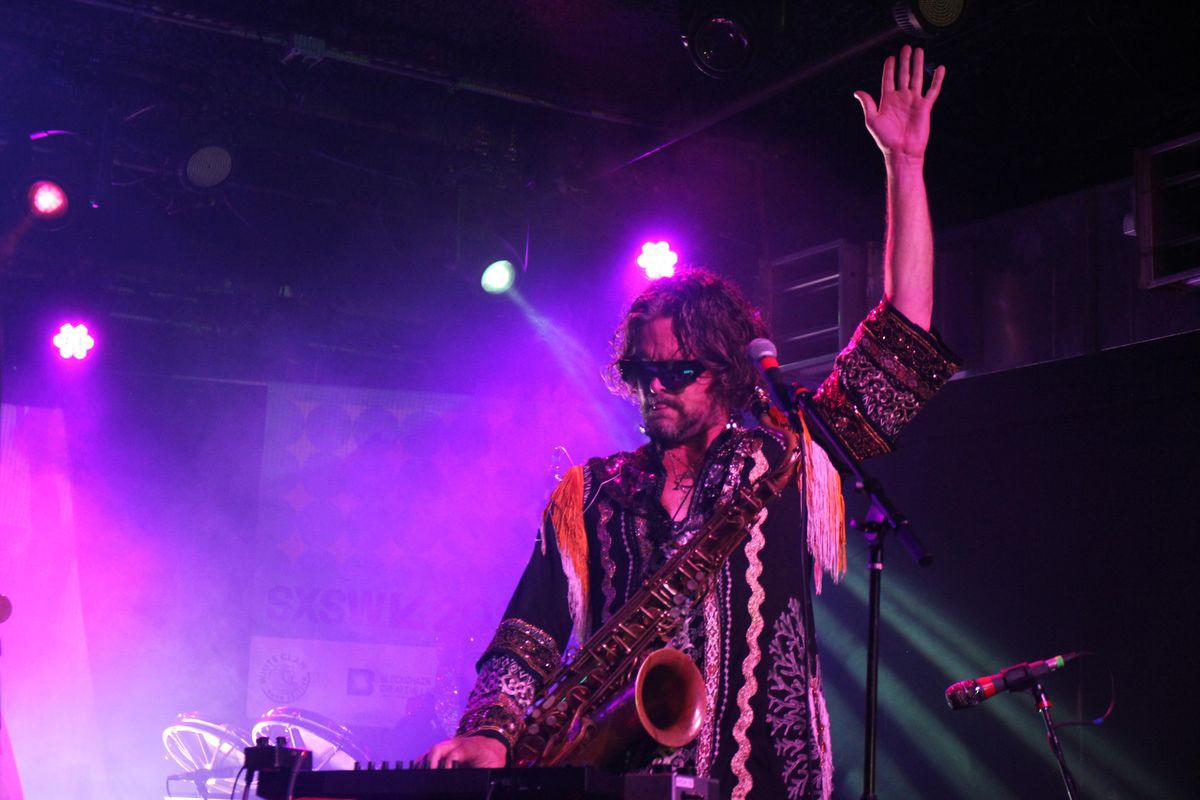 Music is alive and well at SXSW 2022, which has already seen hundreds of artists grace the stages across the city. More than 200 musicians on the lineup this year are from Austin, in addition to the dozens of countries represented on stage this year.
---
These are just a few of the shows we've been able to catch so far, but you can catch live music on stages across the city through Monday.
Golden Dawn Arkestra
Colorful, danceable Golden Dawn Arkestra is one of the most unique bands you'll find in Austin. With sparkling dancers, a huge range of instruments and funky psychedelic sound, the band is inspired by Sun Ra Arkestra's fanciful visuals. Their song, "Phenomenal," will remind you that you are more than worthy—you're incredible. Be yourself, love those around you and explore the galaxy: that's the message of Golden Dawn Arkestra.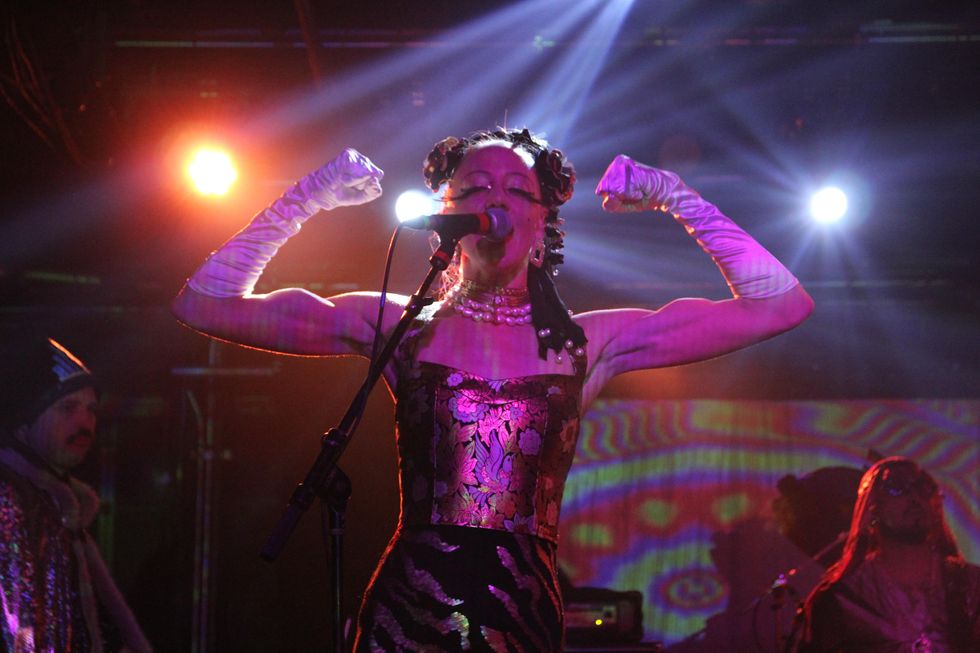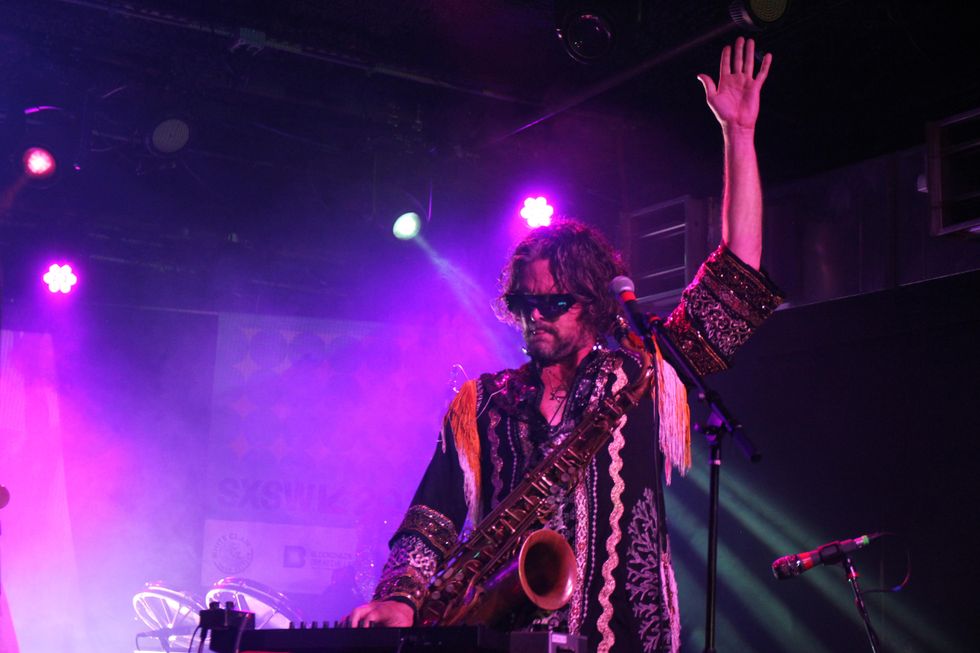 Chief Cleopatra
Chief Cleopatra's dream-pop R&B is quickly bringing her to the forefront of the local music scene. A lifelong Texan and musician who grew up singing in her church choir, Cleopatra's genre-bending music tells relatable stories of choosing your friends wisely and new love. Her new EP, "Luna," is streaming now.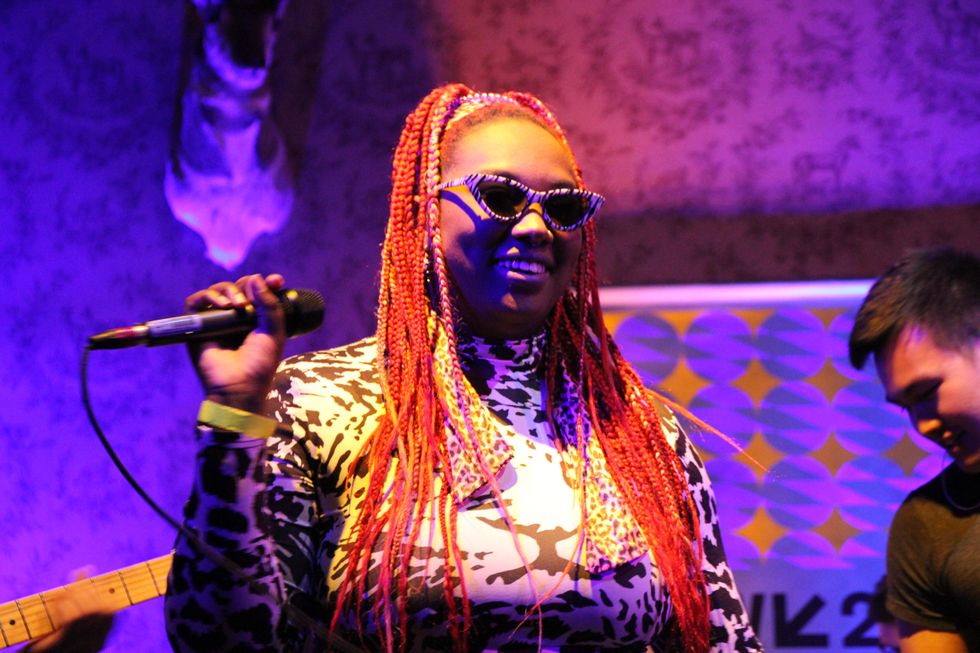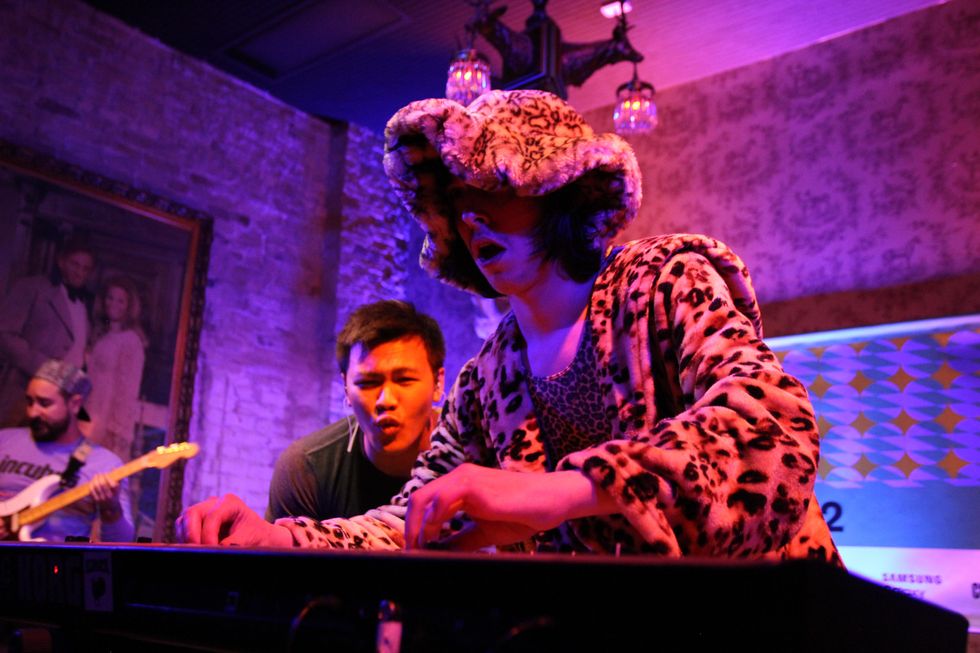 Jake Lloyd
A delightful mixture of Americana, R&B and soul, Jake Lloyd's Continental Club show attracted a diverse crowd of those young and old. Half of Geto Gala, a project done alongside fellow Austin-based artist Deezie Brown, Jake Lloyd put on an energetic set as he danced for the crowd and did a cover of Cameo's "Word Up."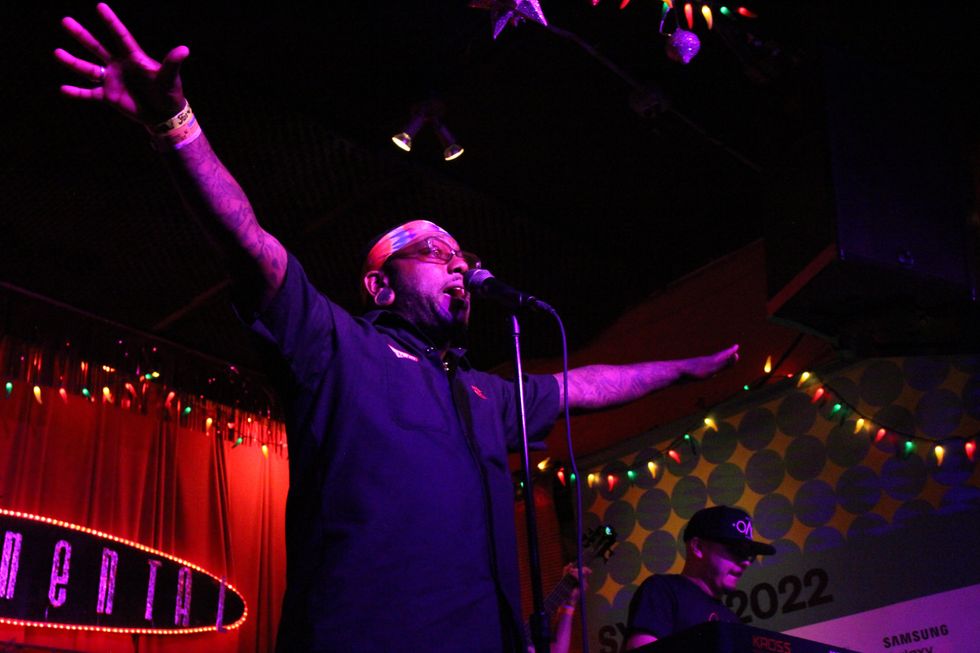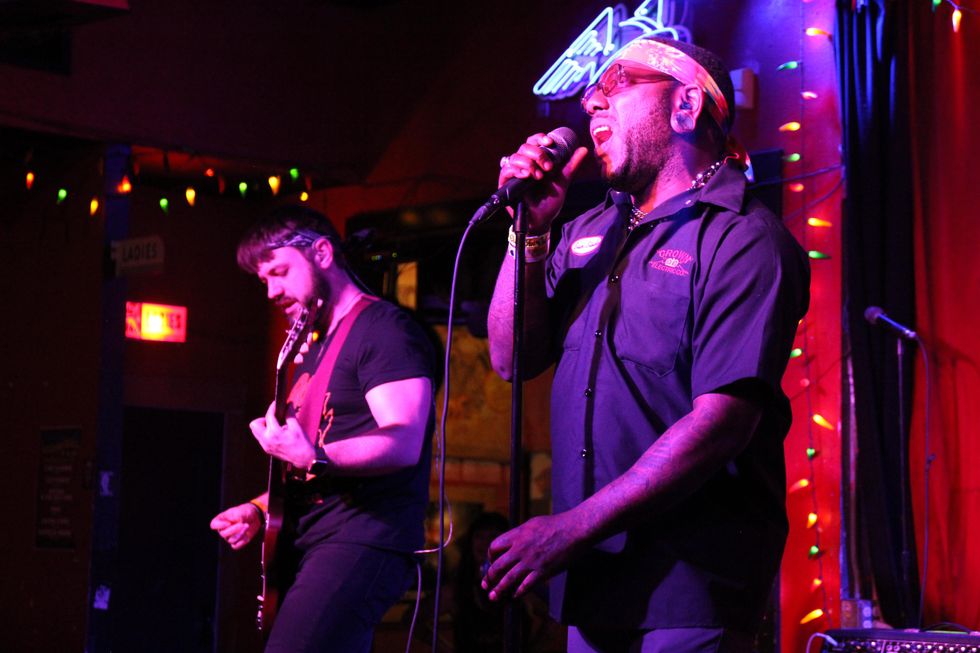 Kimbra
The only non-local artist on our list, New Zealand-born multi-instrumentalist and vocalist Kimbra's spiritual set was fittingly held in a church. Since Kimbra's career exploded when she was featured on Gotye's "Somebody That I Used To Know," she has continued to shape pop as her own genre. Kimbra performed yet-to-be-released music, using a looper to create the song from the ground up, live.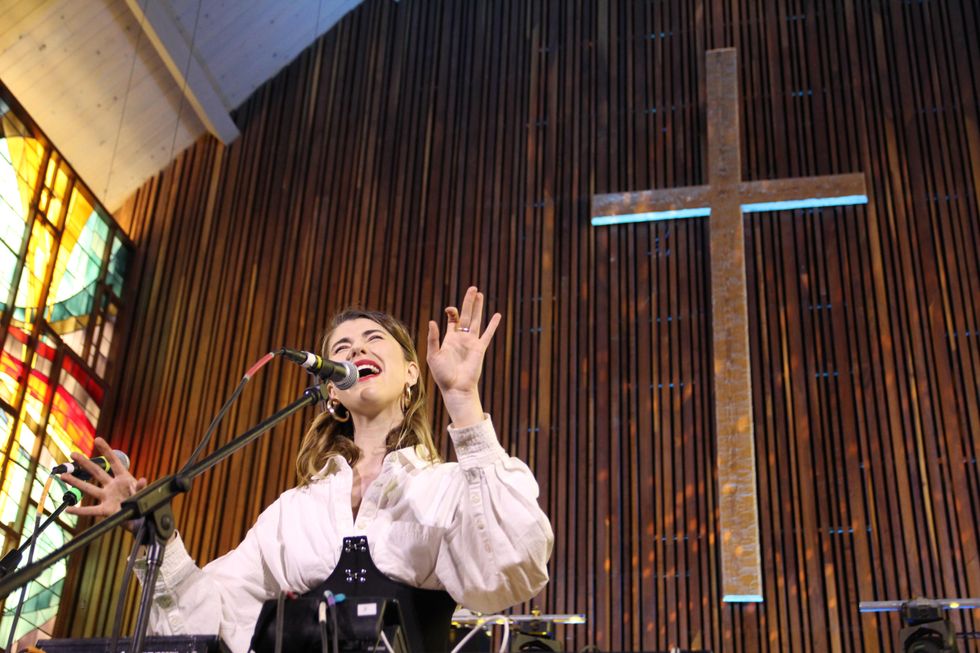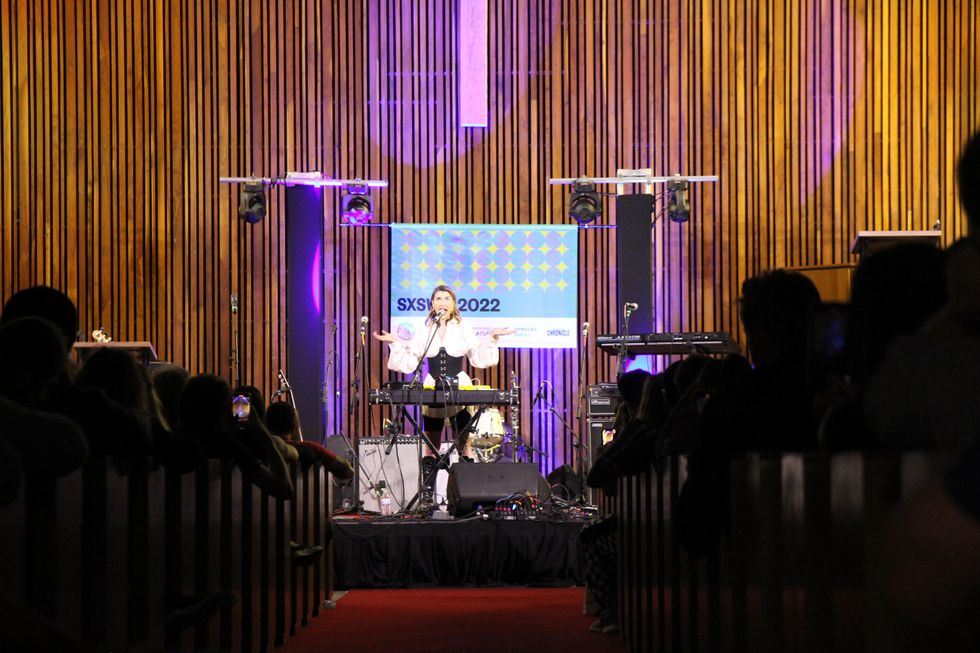 Jade Bird
With an unexpectedly enormous voice, Jade Bird often performs with just herself and an acoustic guitar on stage. The new Austinite shared one stage that SXSW was one of the reasons she fell in love with the city before breaking into a never-before-released song, "Save Your Tears." Her newest album, "Different Kinds of Light," is streaming now.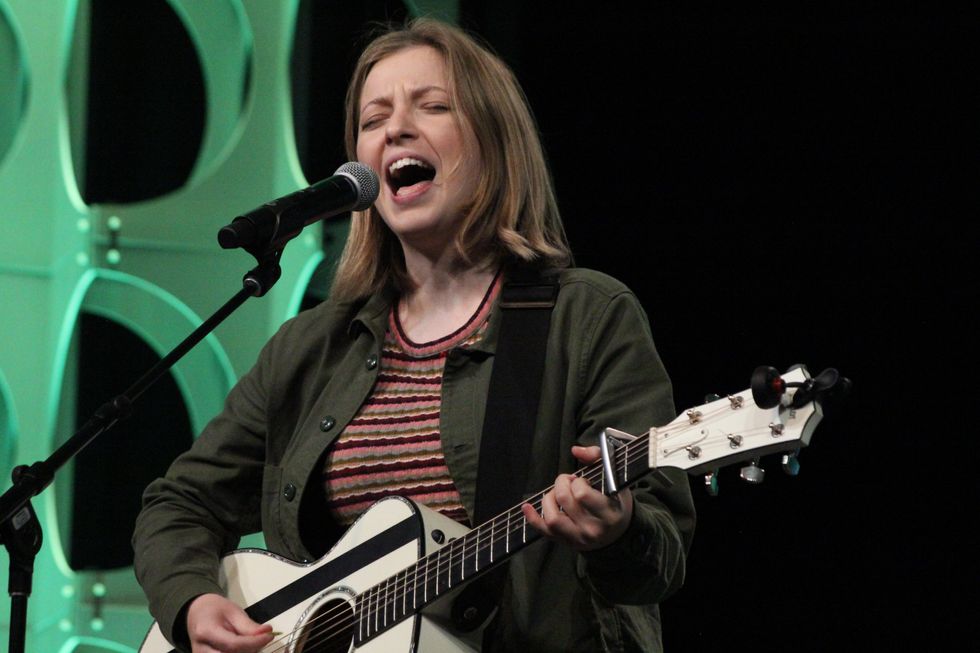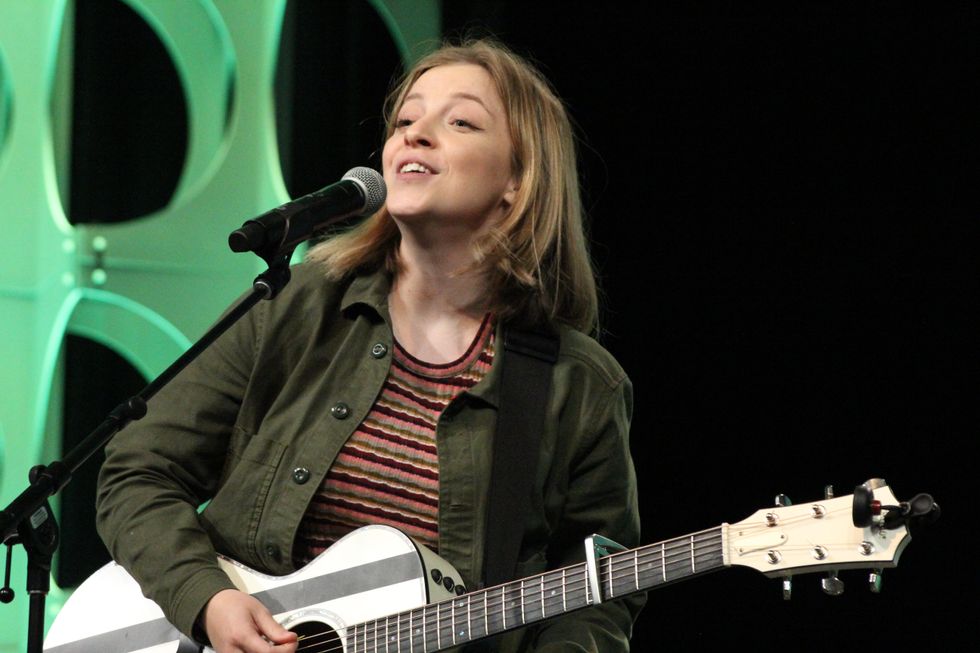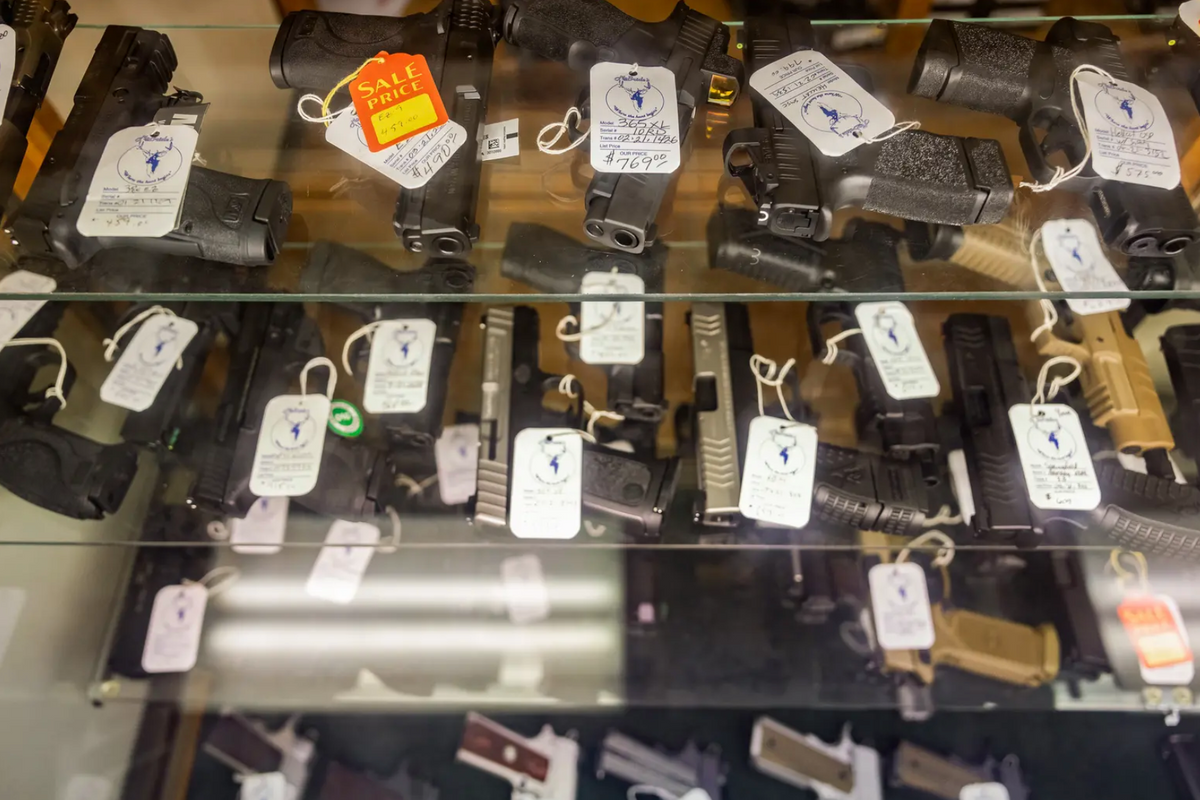 Major Republican donors, including some that have contributed to Gov. Greg Abbott's campaigns, joined other conservative Texans in signing an open letter supporting congressional action to increase gun restrictions in response to the mass shooting in Uvalde that left 19 children and two teachers dead last week.
The letter, which is expected to run as a full-page ad in the Dallas Morning News on Sunday, endorses the creation of red flag laws, expanding background checks and raising the age to purchase a gun to 21. More than 250 self-declared gun enthusiasts signed it.
"Most law enforcement experts believe these measures would make a difference," the letter reads. "And recent polls of fellow conservatives suggest that there is strong support for such gun-safety measures."
The letter voices support for Texas' senior senator, John Cornyn, who has been tapped to lead bipartisan negotiations in Congress over possible gun reform measures.
"We are grateful that our Senator John Cornyn is leading efforts to address the recent tragedies in Uvalde and elsewhere across our great Country," the letter says. "He's the right man to lead this bipartisan effort, as he has demonstrated throughout his career."
In an interview with Politico, Cornyn stressed that he was not interested in "restricting the rights of law-abiding citizens under the Second Amendment," but said it would be "embarrassing" if Uvalde didn't spark Congress to reach some sort of bipartisan legislative response.
The letter was paid for by Todd Maclin, a former senior executive at J.P. Morgan Chase who now runs the Dallas-based finance firm Maclin Management. Maclin said he is a conservative gun owner who has been stirred to action by the shooting in Uvalde.
"These events have really motivated me and really gotten under my skin and encouraged me to support the effort that's underway," Maclin told The Texas Tribune. "I just felt like I needed to do something, and I also believe that there are reasonable things that can be done."
He said he is still hearing from more conservative gun owners who are feeling a "great sense of urgency and a great need to support [Cornyn] as he does his best to address these issues."
Maclin said the group is focusing on federal legislation, which he believes is the best avenue to passing gun safety laws and ensuring they are applied uniformly across the country. He declined to comment on the state response to the shooting or gun legislation, except to say that he hopes any federal plan led by Cornyn and passed with conservative support would be embraced by state governments.
Among the signatories are deep-pocketed Abbott supporters, including billionaires Robert Rowling, whose holding company owns Omni Hotels, and Ray L. Hunt, executive chairman of Hunt Consolidated Inc.
The contents of the letter are in line with policies Abbott and other party leaders, including Lt. Gov. Dan Patrick, have supported in the past — though not the ones they are endorsing now.
After the 2018 school shooting in Santa Fe, outside Houston, Abbott supported "red flag" laws, which would allow local officials to take someone's guns away if a judge declares them to be a danger. He later dropped his support for the measure, citing a "coalescence" against it from his own party.
The next year, after back-to-back mass shootings in El Paso and Midland-Odessa, Patrick said he was "willing to take an arrow" from the National Rifle Association and support expanding background checks.
The next time the Legislature met, however, lawmakers instead passed a law that allows Texans to carry a handgun without a license or training.
This time, neither Patrick nor Abbott have expressed any support for tightening gun laws. They have instead offered suggestions that have ranged from expanding mental health services and minimizing the entrances to school buildings to doing surprise security checks.
On the federal level, both Cornyn and Sen. Ted Cruz have A+ ratings from the NRA and are top Senate recipients of gun industry donations. But they've taken differering tacks in response to the shooting in Uvalde.
Cruz said in the wake of the massacre that passing laws that restrict gun access "doesn't work. It's not effective. It doesn't prevent crime." But Cornyn has shown a willingness, now and in the past, to support some bipartisan gun legislation.
In the wake of the 2017 Sutherland Springs shooting outside San Antonio, Cornyn worked with Democratic colleagues to improve the background check system to prevent felons and domestic abusers from purchasing firearms.
He has also supported banning "bump stocks," which allow semi-automatic guns to fire faster, and shepherded into law a bill that funded the screening and treatment of offenders with mental illness.
After last week's shooting, Cornyn has said he's "not interested in making a political statement," but is focused on making "the terrible events that occurred in Uvalde less likely in the future."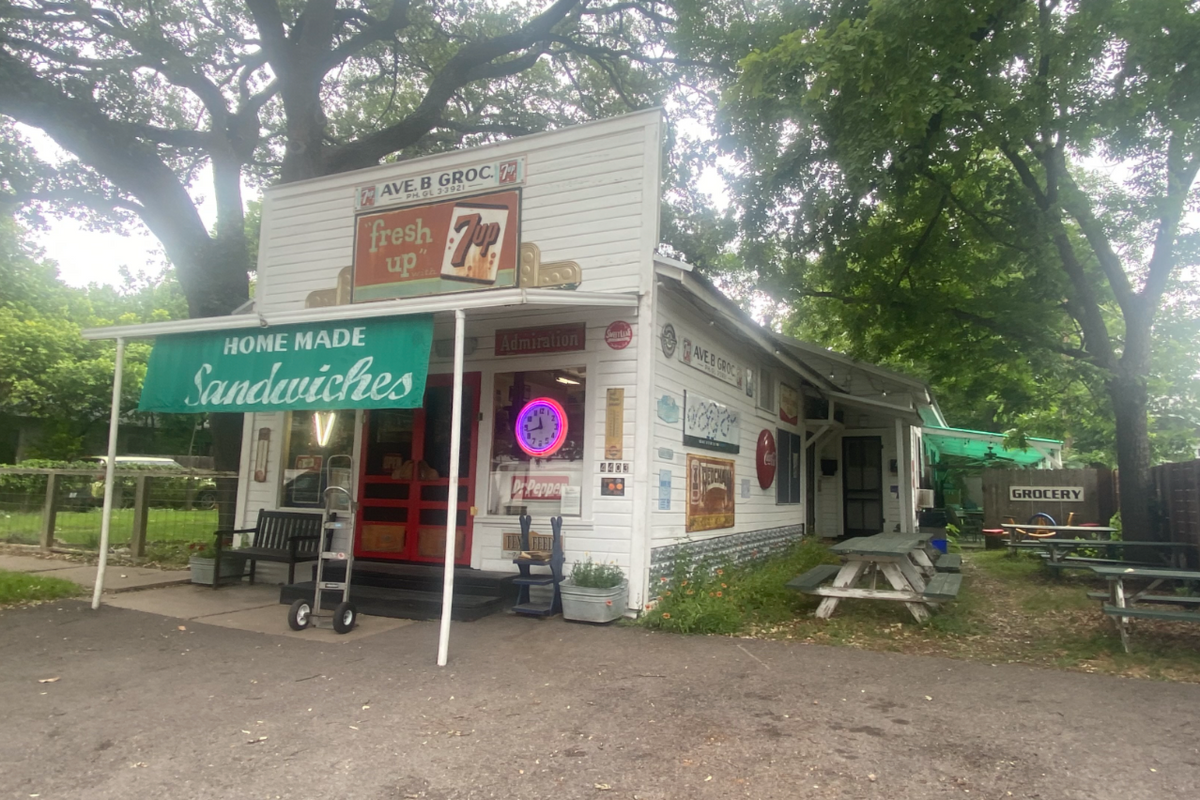 Legacy grocery store and deli Avenue B Grocery & Market, 4403 Avenue B, re-opened its hundred-year-old doors this week, serving up sandwiches after two years of a pandemic-induced closure.
Mason, the 10th owner of the location, has been running the shop largely by himself since his family bought the location to save it from closing in the early '90s. Mason greeted customers with a smile and a homemade sandwich on Friday while telling them a little bit about the history behind the building.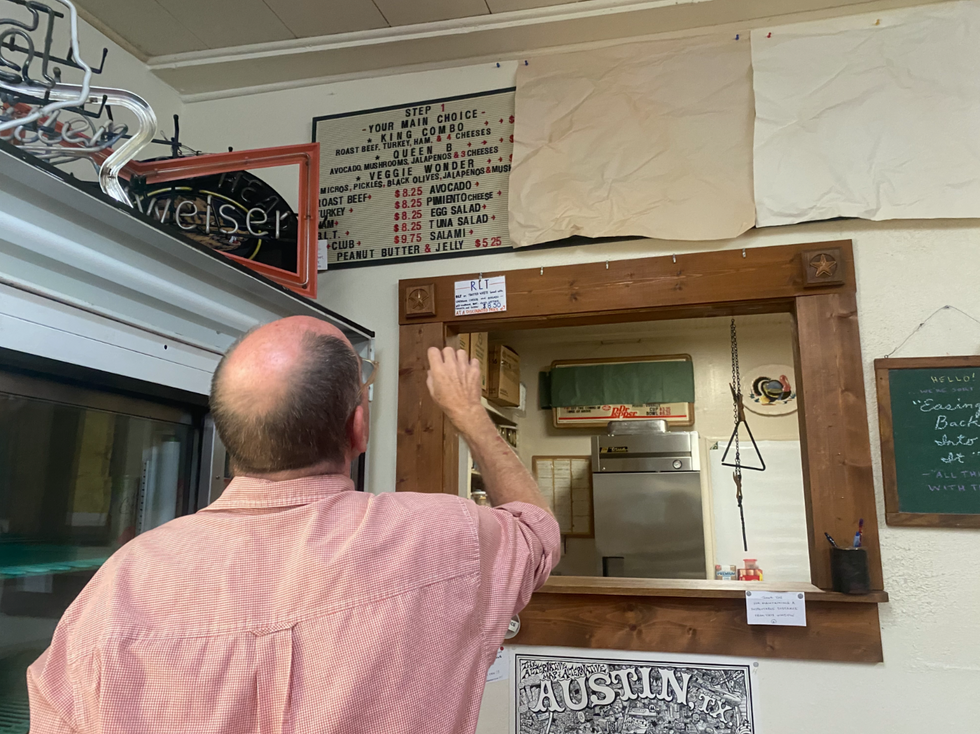 Mason, who would not let us photograph his face, starts removing the paper that has covered the menus for two years. (Laura Figi/Austonia)
"I'm still testing the water, gauging how things are gonna go and slowly bringing things back online," Mason told Austonia. "I haven't personally been telling people I'm open yet because I wasn't ready. Only today, as you saw, did I uncover the menu."

Aside from the groceries and famous sandwiches, the store sells Maine Root sodas, candy, dinnerware, records and miscellaneous knick-knacks. If you ask, Mason will pull down some antiques from the shelves behind the till.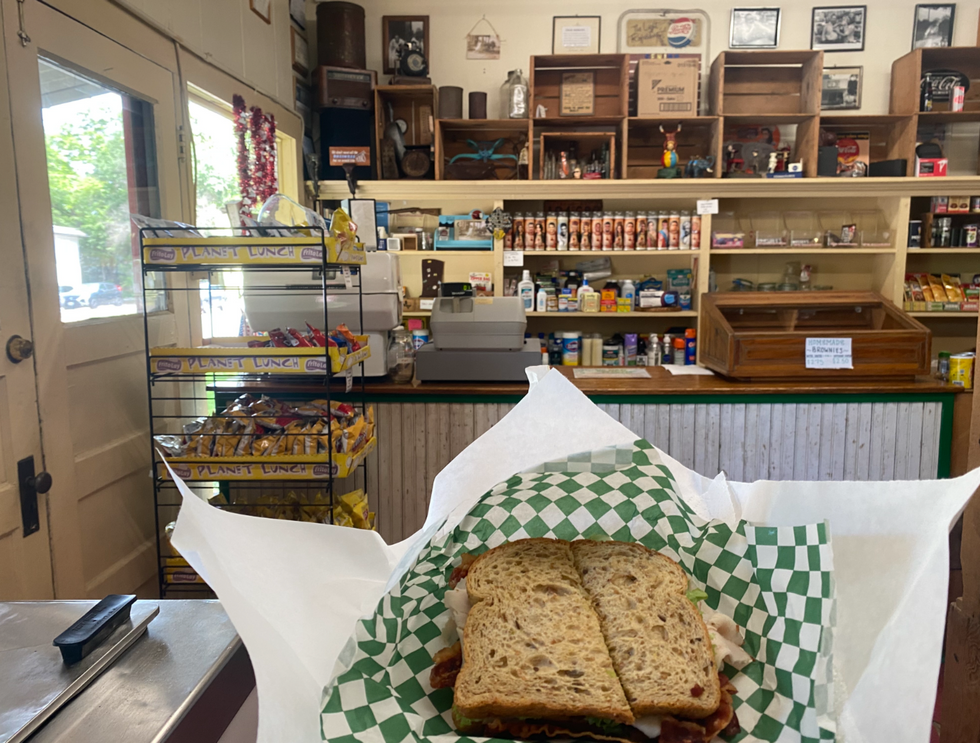 Try Ave. B's R.L.T. (Ross a.k.a avocado, mushrooms, green olives, lettuce and tomato), Mason's take on the classic sandwich. (Laura Figi/Austonia)
The store unofficially opened when passerbys saw lights inside on Wednesday but Mason said he never told anyone he was opening, it just sorta happened. Mason didn't uncover his sandwich menus until Friday.
"It's my social life, you know, that's how I meet people and people come to visit me," Mason said. "People have been very understanding. I wanted to be more relaxed and social–it used to be so busy."
First-time Ave. B visitor Rose Bowditch recently moved to the Hyde Park neighborhood from California and told Austonia she had been waiting for the store to open up so she could see what was inside. Mason offered her roast beef samples while he helped her dig for jars.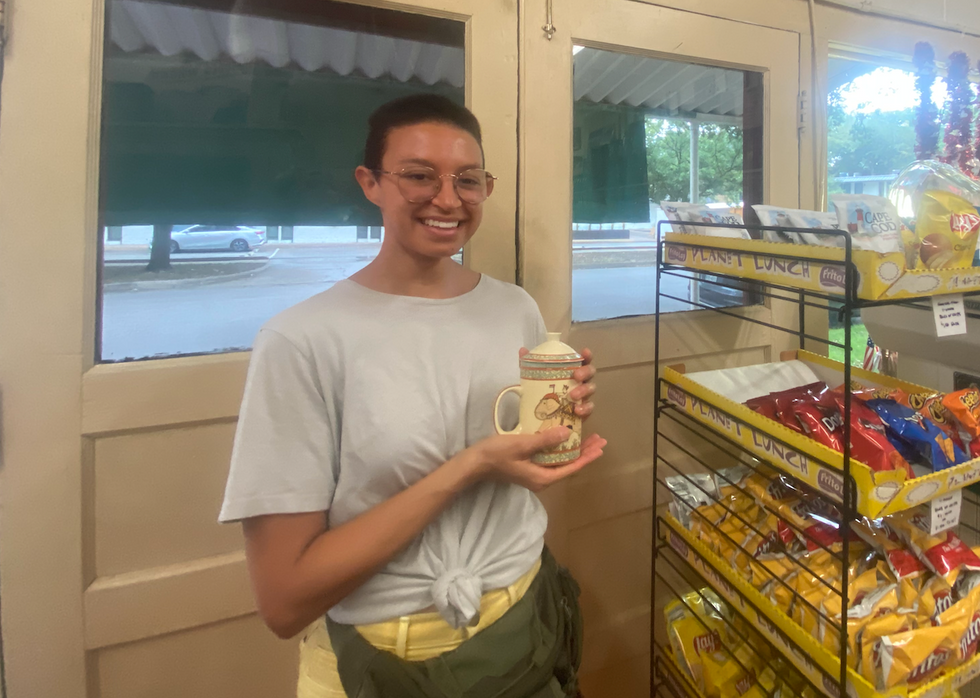 Rose bought some mason jars and a teacup on her first visit. (Laura Figi/Austonia)
Meanwhile, Brianne Bowland and John Lyman began eating Mason's sandwiches when Lyman started working nearby. The two said they've become big fans since and had been waiting for the reopening.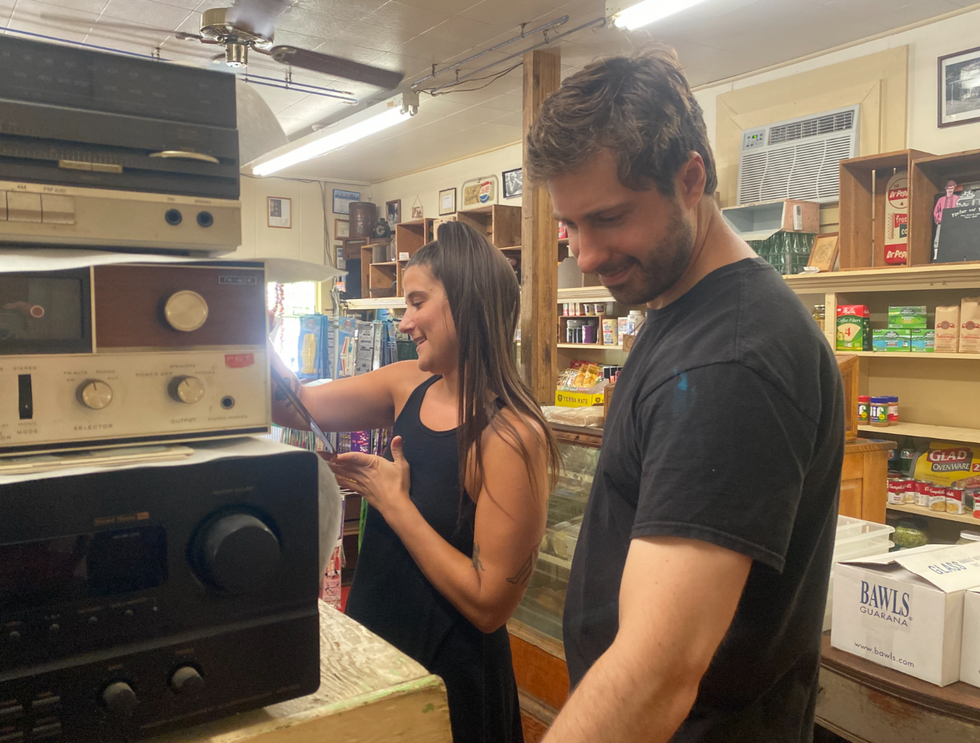 Bowland and Lyman took in all the sights upon their first time back in the building. (Laura Figi/Austonia)
"(Ave. B) is like a go-to for everyone in my company to come for lunch," Lyman said. "I even have a T-shirt. I've always just loved that it's a really eclectic selection of things on the shelf–and then the sandwiches are really pretty special."

Mason accepts call-in orders at all times except the busy rush hour at noon, during which he asks for your patience as he's a one-man band. But patrons are free to stop by from 10 a.m.-7 p.m. Thursday-Monday for a great sandwich, conversation and a beer now that the store is back open.