Get connected with our daily update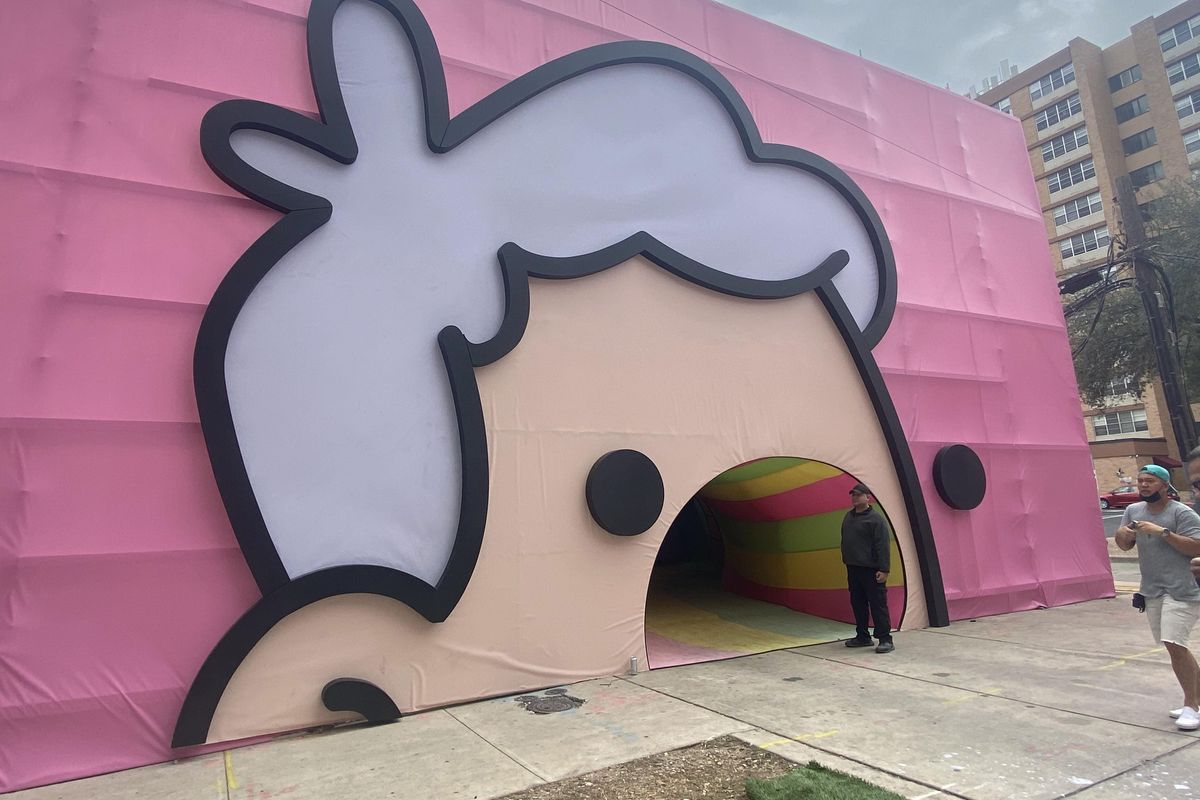 The SXSW Music Festival begins today, so get ready to hear even more air-carried tunes around the city than you normally would. With music kicking off, SXSW 2022 is in full swing—films, XR and experiences are still open to enjoy!
---
A few quick tips before you head out:
Don't forget that films are available online for a certain amount of time, which might make decision-making easier.
Stock up on free goodies! There are tents, pop-ups and stands all over the city offering free samples.
Check time frames and wait times on the app—it might save you a trip!
Here's what we're checking out today...
The Texas Shorts Program must-see films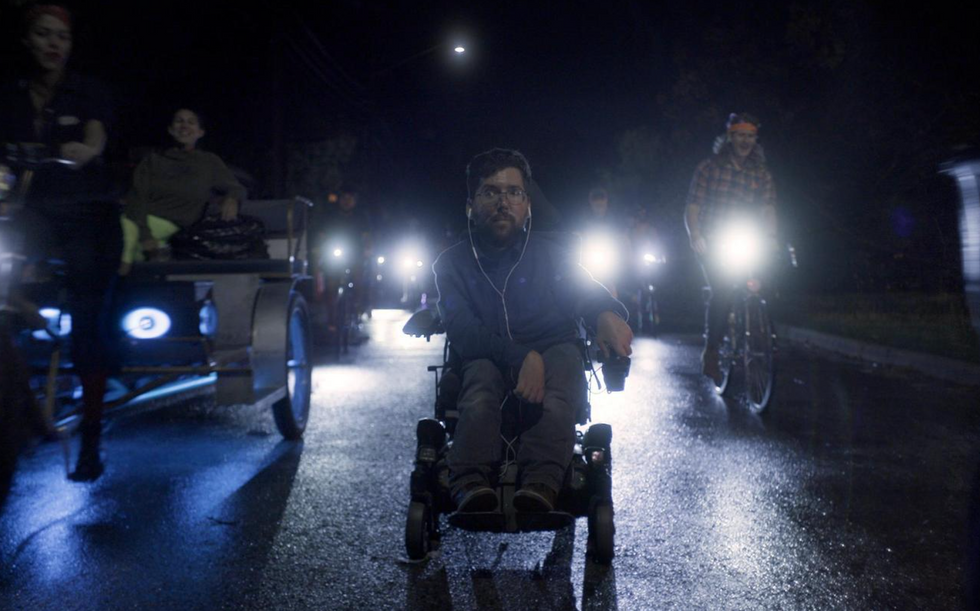 (Act of God)
Stemming from SXSW's regular shorts program, the Texas shorts were filmed by Texans and most showcase local stories. At no more than 20 minutes each, they are all worth a watch, but a few made their mark on me.
"Act of God" follows Stuart, a disabled man, who is struggling to come to peace with his reality after his caretaker, who helps him into his wheelchair, dresses him and even puts him on the toilet, has left him due to his sour demeanor. The film follows a day in his life, having his commute into work interrupted by a $100 bill fluttering in front of his chair, just out of reach. This is a film of reckoning, forgiveness and triumphantly tackling issues in the face of adversity.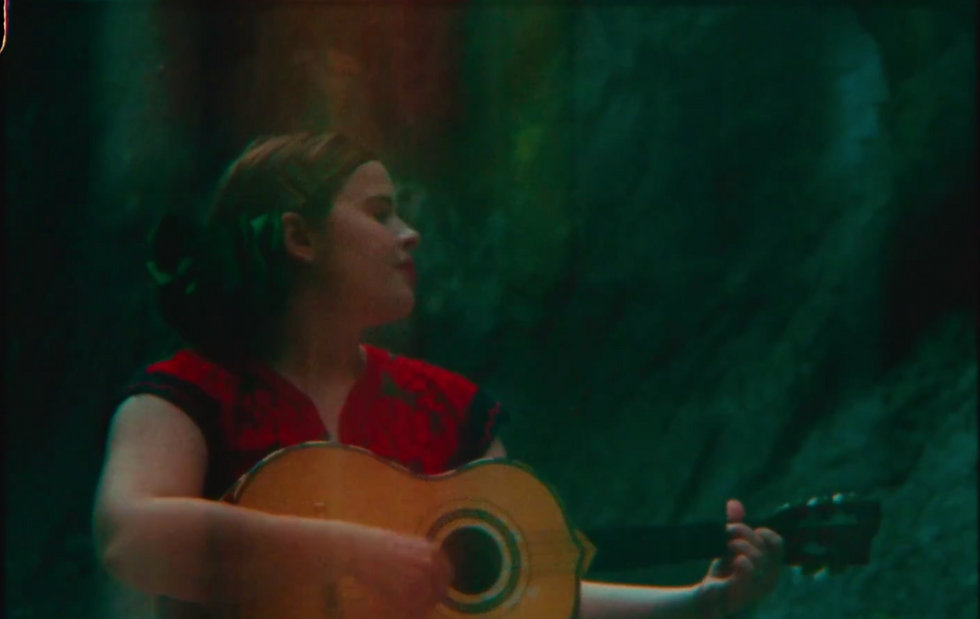 Showing how border towns share people, music and culture between Texas and Mexico, "Folk Frontera" follows the lives of fronterizas Gabriela Carballo, radio personality for "Border Beats and Babes" in Marfa, and Molly Rodriguez, a folklórico dancer who grew up just one of three white kids in her class in Mexico. After spending their entire lives going back and forth between countries, both of their livelihoods are put at stake when they hit visa complications.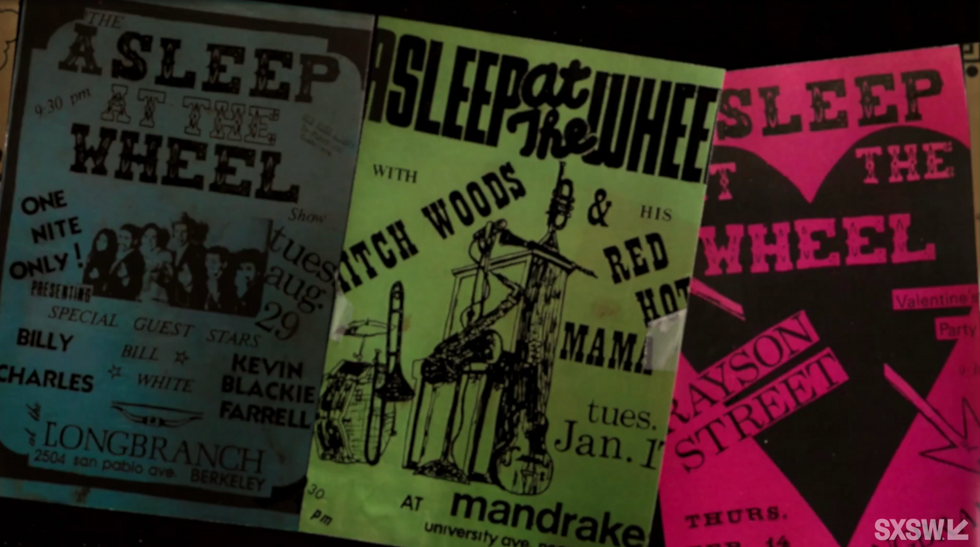 Telling the tale of country music legends Asleep at the Wheel's rise to fame, "How We Found Our Sound," shows how a group of "counter-culture" hippies from Pennsylvania broke down the barriers of western swing music. Though they struggled to make it at first, an invitation to go on tour with Willie Nelson eventually landed the group in Austin and in turn, integral members of the Cosmic Cowboy movement. Lead singer Ray Benson describes the journey into making swing music for everyone, rednecks or hippies alike.
Doodles | 99 Trinity St.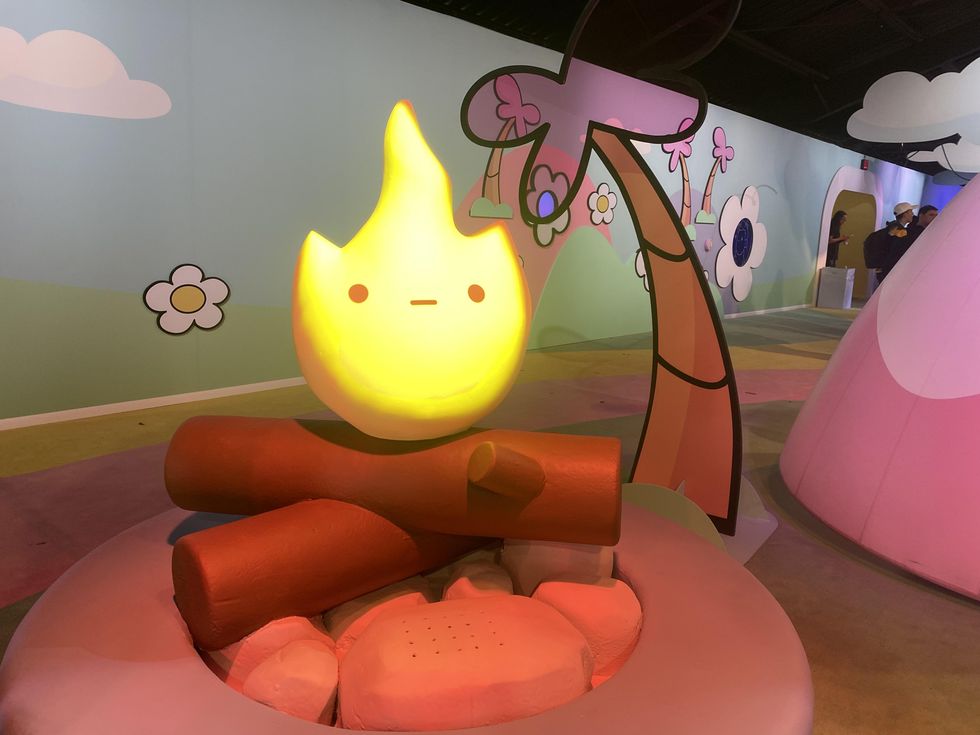 Land, air, space, rainbow puke and doodles come together in one plush space to learn about Web3. With the mission of spreading the joy of NFTs to households all over the U.S., Doodles and its community treasury, Doodlebank, launched on Ethereum in October 2021. Members can gain access to the virtual community by purchasing one of a collection of 10,000 human, cat, skeleton, alien or pickle Doodles, designed by Canada-based Burnt Toast, AKA Scott Martin.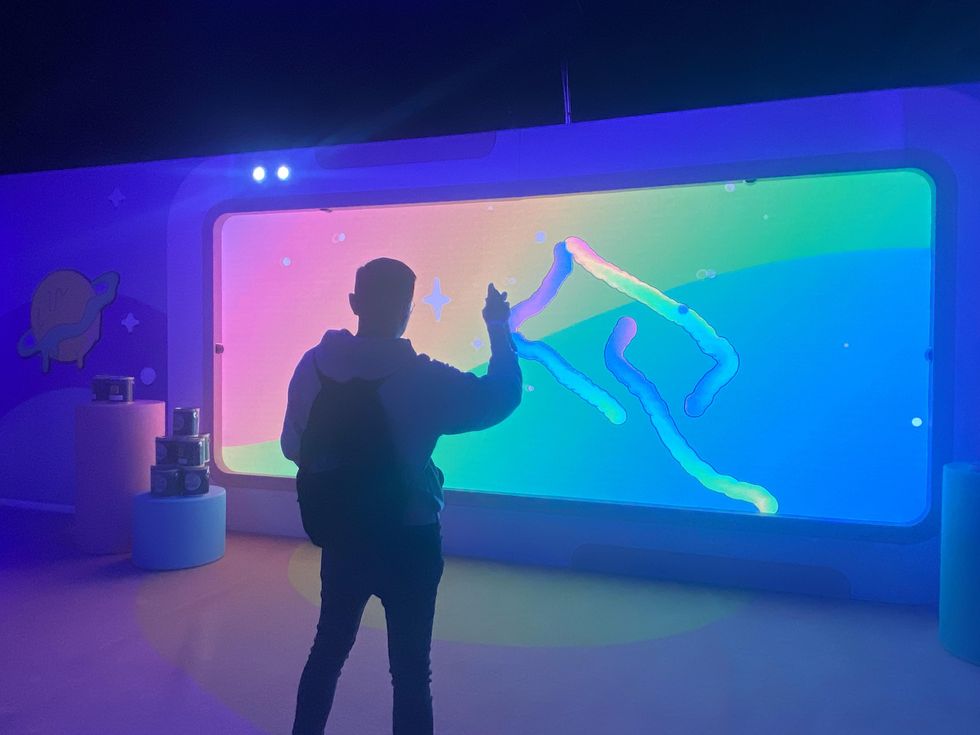 Virtually spray paint on a wall at the back of the warehouse. (Laura Figi/Austonia)
If you can make it over to the warehouse housing the colorful creatures before 5 p.m. today, grab some doodle-inspired snacks, drinks, nail art, merch or simply enjoy the colorful space.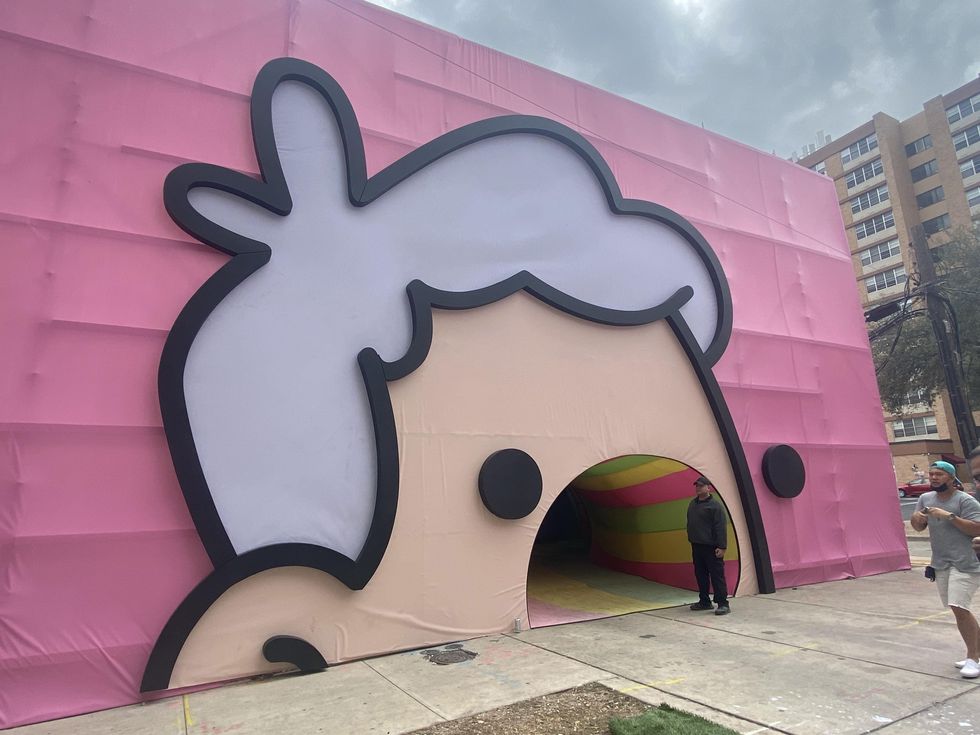 You'll know you've made it when you spot the giant, puking cartoons!
2 p.m., Birds Aren't Real: How a Satirical Community Takes Flight | Austin Convention Center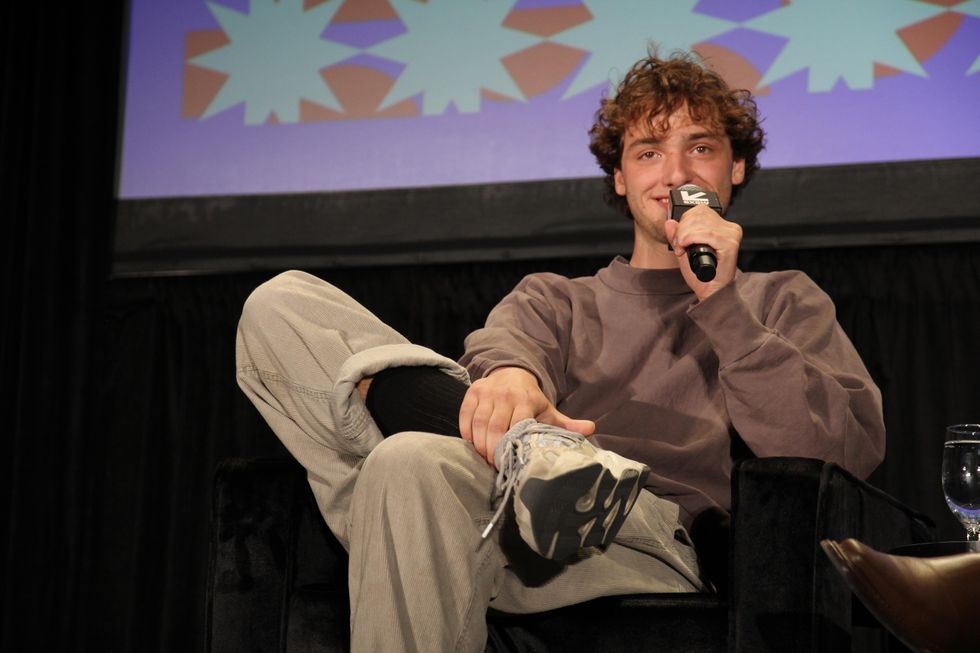 23-year-old Birds Aren't Real Founder Peter McIndoe sat down to talk about how the internet launched his accidental career. (Laura Figi/Austonia)
Have you ever seen a baby pigeon? Birds Aren't Real founder Peter McIndoe hasn't, and he wants you to know about that. In one of few interviews on the internet without McIndoe in character, the unexpected founder broke down what led up to his movement and how it changed the trajectory of his life.
In a sit-down session with MSNBC's Zach Stafford, McIndoe said he came up with the idea on a whim at a Nashville protest in 2017, when he created a quick sign saying the most absurd thing he could think of: "Birds aren't real." He got many questions—namely, 'what do you mean birds aren't real?' McIndoe would reply, "They're government drones!" A protest attendee filmed his first-time foray into the "BirdTruther" scape and when McIndoe woke up the next morning, he had gone viral.
A movement born from the most ridiculous thing he could think of led McIndoe to drop out of college and pursue his mock conspiracy theory full time. The movement now has deep lore—the millions of BirdTruthers know birds charge their batteries on powerlines and that bird watching goes both ways—but McIndoe said he never meant to fan the flames of actual conspiracies like QAnon.
"We have been intentionally spreading misinformation for the last five years," McIndoe said. "The ultimate goal of that was to take this scary monster idea, the conspiracy theorist, these people that do this harm in our society, and kind of laugh at it rather than be overcome by it and roleplay the bad guy. In that, I think that creates a safe space for processing and a safe space for expressing something that you feel."
Read more about the Birds Aren't Real movement here.
10:45 p.m., Golden Dawn Arkestra at Empire Garage, 606 E 7th St.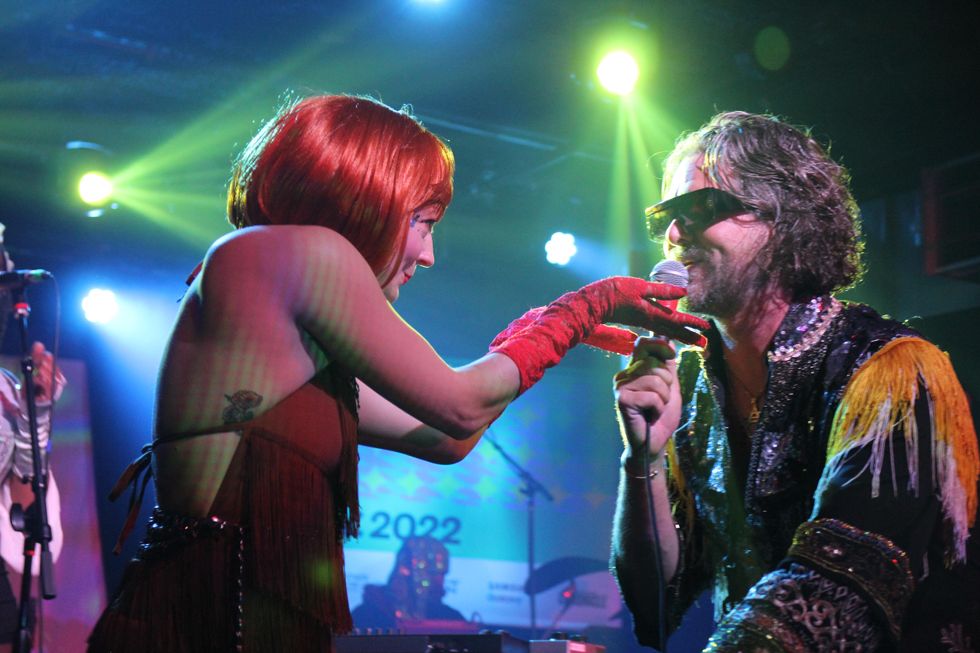 (Laura Figi/Austonia)
Finally returning to Earth after touring around the galaxy, Golden Dawn Arkestra appeared on stage at Empire Garage with a glittering flash of light. As the band broke into the song "Stargazer, dancers at front donned golden butterfly-like costumes to dazzle onlookers.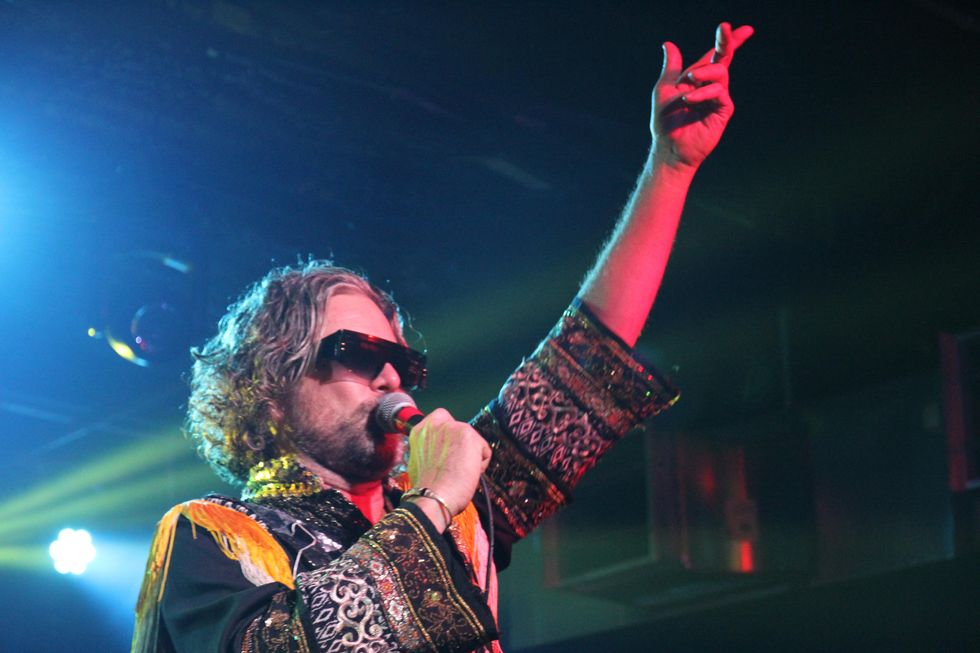 Each number different than the last, the children Ra sang one of its newest songs like "Phenomenal," complete with full choreography. Streaming fans, ribbons and glittering ensembles brought to the stage spellbound the crowd through one of its oldest songs, "Sama Chaka."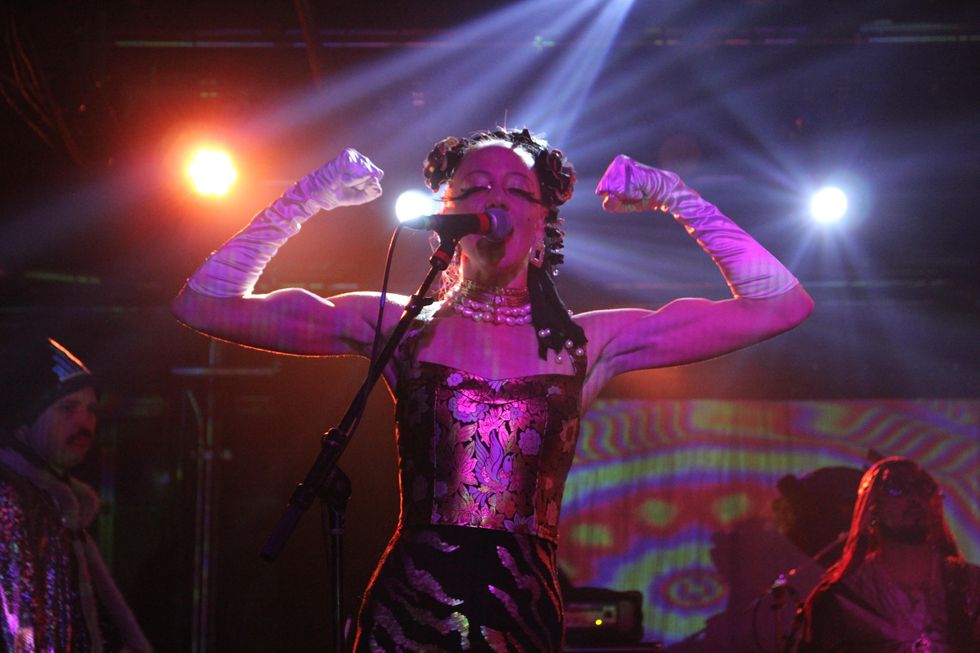 If you missed Golden Dawn Arkestra's Monday set, don't fret! You can catch the colorful, danceable band for free at 8:50 p.m. Thursday at the SXSW Outdoor Stage at Lady Bird Lake.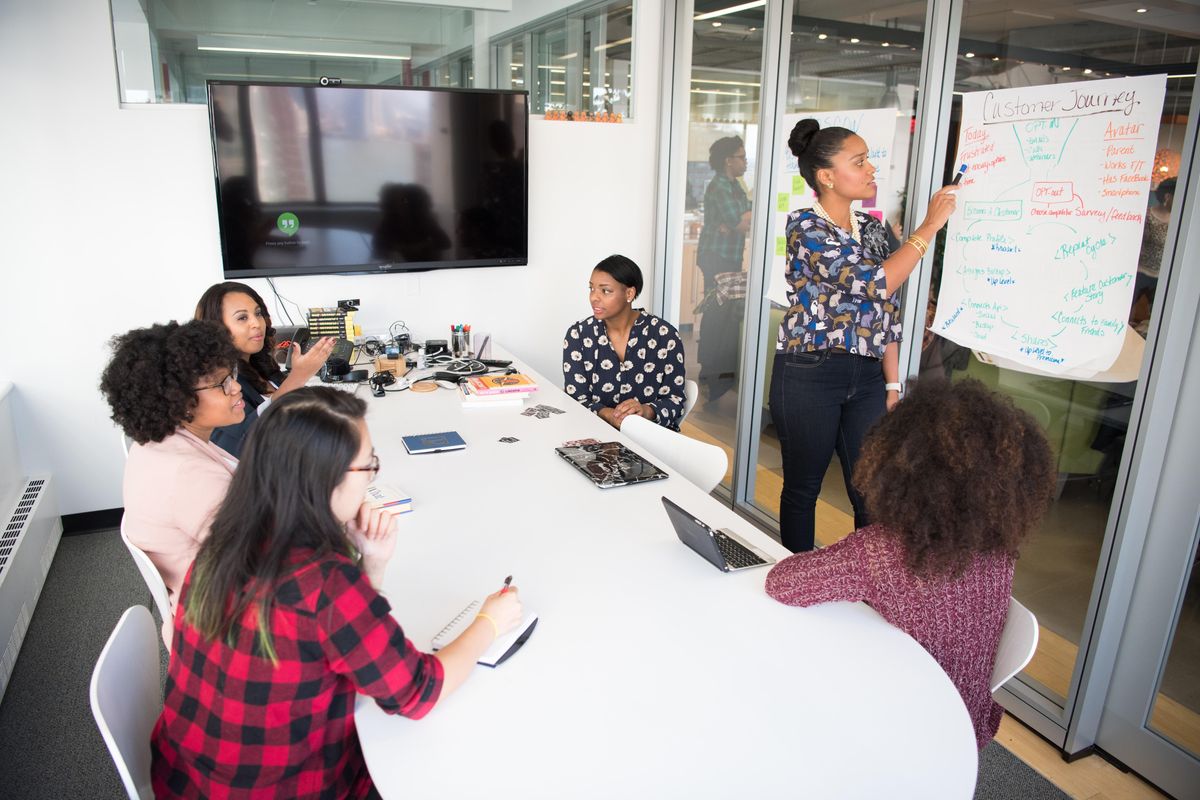 The 40-hour workweek has reigned since around the time of the Great Depression. But a new schedule gaining steam could lead some companies to throw out the practice of having employees clock in five days a week.
Promising results are coming out halfway into a six-month trial of four-day workweeks in the U.K. with 35 out of 41 companies responding to a recent survey saying they were "likely" or "very likely" to continue the reduced week after the pilot ends.
The trial, which began in June, is run by nonprofit 4 Day Week Global, think tank Autonomy, the 4 Day Week UK campaign and researchers at Cambridge University, Boston College and Oxford University. It involves 3,300 workers across 72 companies who are trying out one paid day off per week between Monday and Friday.
During the four-day week, 34% of companies reported that productivity "improved slightly" and 15% say it "improved significantly."
With the survey indicating that a four-day workweek could have some perks for companies and employees alike, will Austin join in on the trend?
On job searching tools like LinkedIn and Indeed, some jobs based in Central Texas are boasting a four-day work week. And Coltech Global, a recruiting firm based in London with a growing presence in Austin, began the four-day work week about a year ago.
Jessica Sutcliffe, a staffing consultant at Coltech, joined the company to help grow the U.S. market. She says due to the time difference between the U.S. team and the UK one, the company implemented a four-day week.
"I've found it very beneficial as it allows time to rest and complete life admin, whilst also enjoying life, travel and be able to come back to work rested/fulfilled outside of work, which ultimately helps focus inside of those core work hours," Sutcliffe said via email.
In an Instagram post, Coltech said that not only are employees feeling the benefits of being more refreshed in the mornings, having reduced illness and a less stressed atmosphere, but it's also improving their carbon footprint since there's less time spent traveling to the office and using energy.
Niki Jorgensen, director of service operations at human resources service provider Insperity, noted similar factors driving companies to make the change to a reduced work week.
"The most significant benefit for a company to adopt the four-day workweek is the improvement of employee morale," Jorgensen told Austonia via email. "Over the past two years, numerous studies have shown employees think a four-day workweek reduces stress and burnout. With reduced stress and burnout comes improved employee engagement."
And while Austin is already drawing in plenty of workers who are in their early careers, a four-day week may help companies stand out to that bracket's top talent even more.
"Companies can leverage this to make their company more appealing, especially to younger generations who strongly consider factors outside of compensation when choosing employment," Jorgensen said.
She went on to offer a few tips for making a smooth transition to a four-day week like setting expectations and staggering coverage so that it's still possible to see clients five days a week. Also, employers should be flexible. She says some employees may not be able to get 40 hours of work done in a shorter week due to responsibilities like childcare, so employers should consider how they can still accomplish their duties.
Before ditching the 40-hour workweek though, it can help to take a temperature check to see if an extra day off is the right fit for the workplace.
"Do not implement a flexible schedule such as the four-day workweek if business owners and managers cannot commit to the level of trust and flexibility needed to ensure the schedule's success," Jorgensen said.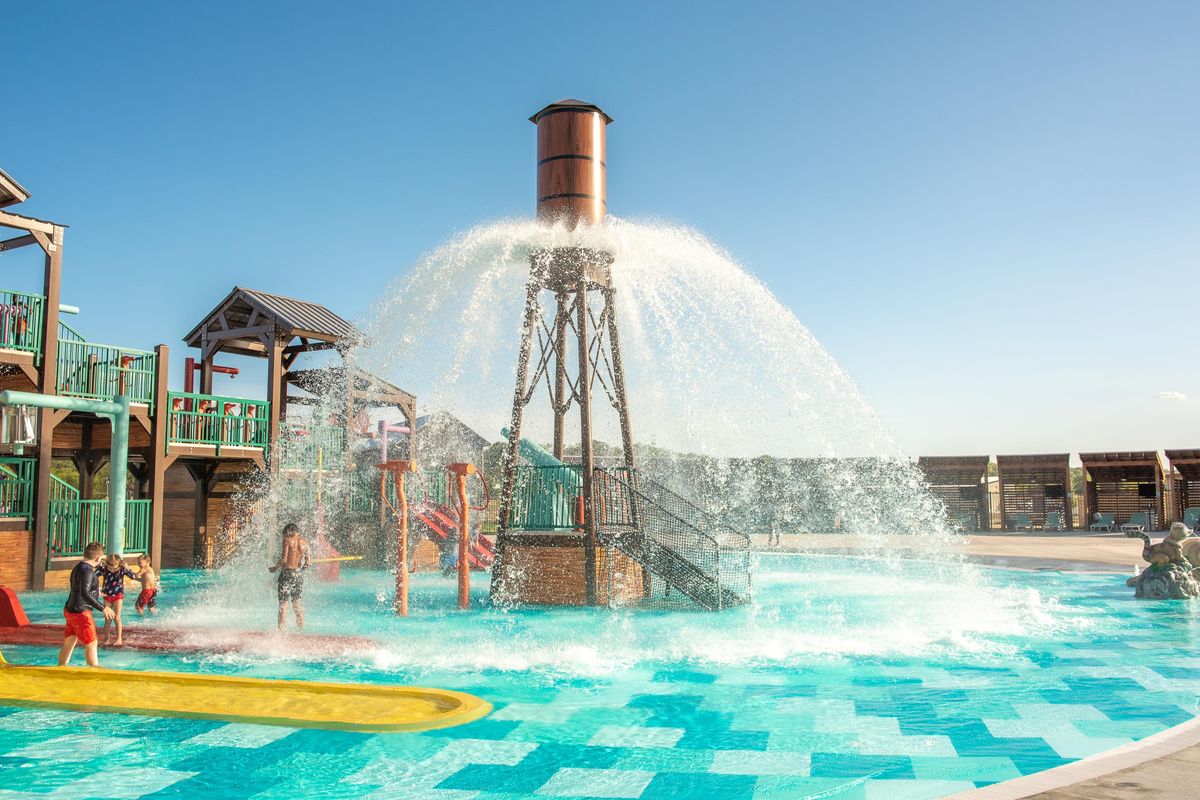 Camp Fimfo Waco
Camp Fimfo Waco, a brand new camping resort, is kicking off football and fall camping season in style! With top-notch amenities, premium accommodations, and 10 weekends of fall fun, there's no better place to have a fall camping getaway, especially if you're a Baylor football fan!
Fall promises to be a one-of-a-kind camping experience. From Sept. 16 to Nov. 24, weekends will be packed with fall-themed activities, including special Halloween weekends in October. Campers can enjoy activities like fall crafts, campground trick-or-treating, costume contests, site decorating, outdoor movie nights, and more!