Get connected with our daily update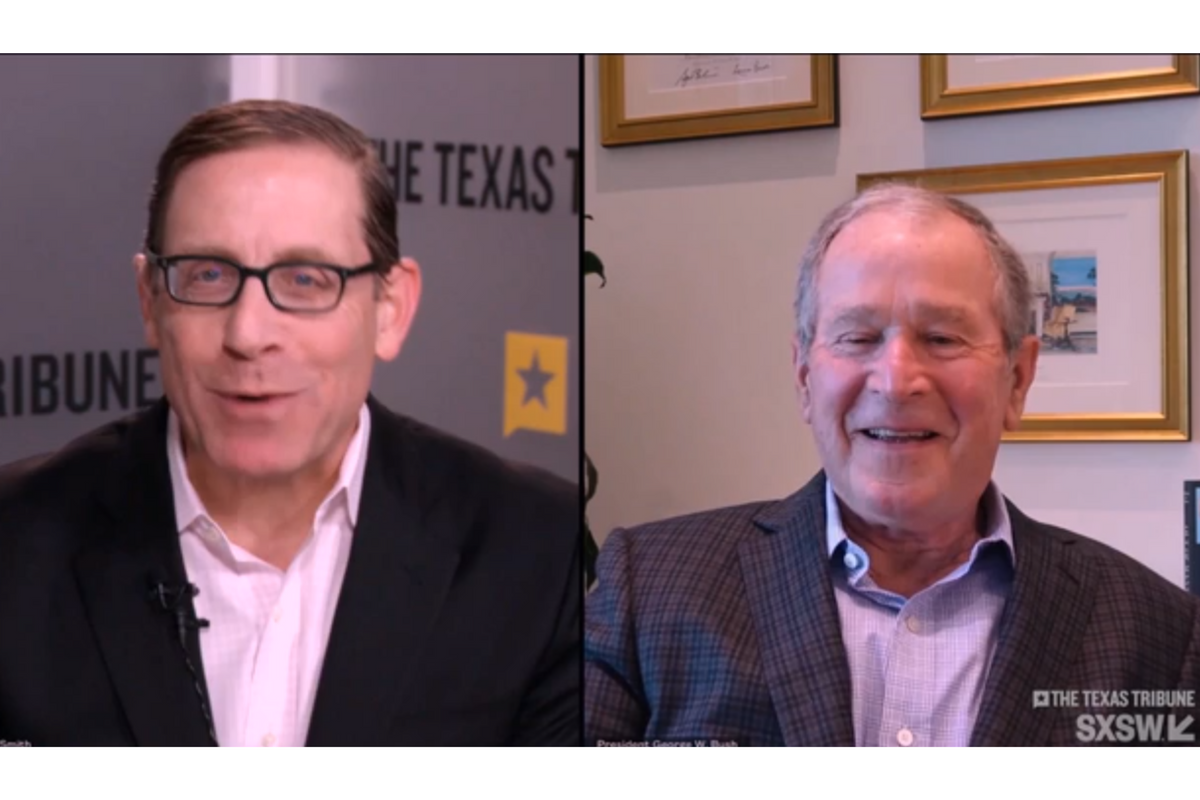 Former President George W. Bush and CEO of the Texas Tribune Evan Smith sat down together at SXSW, talking immigration reform, Bush's love of painting and election integrity, during which Bush confirmed that he does not believe the recent presidential election was "stolen," as some falsely claim.
Bush came to the session promoting his new book, "Out of Many, One: Portraits of America's Immigrants," a compilation of 43 handpainted portraits of immigrants by the former president. He said his subjects because "they're all very compelling," and "they made enormous sacrifices to get here."

"They had to help in getting here and once here, they helped other people," Bush said. "That's a very important thing for people to understand: around our country the contributions people make oftentimes are not heralded but do make a difference in the communities in which they live."
Included in his book was a story about Paola Rendon, who worked for the Bush family as a housekeeper and "second mother" from 1959 until her death a few years ago. Bush said he watched her "work hard, save money" and eventually bring her children to the U.S. from Mexico.
Smith came prepared with tough questions for Bush, asking him why those crossing at the border have been used, by some, to make a case again against immigration.
"I used to say when I was governor, you probably forgot this memorable line, but family values don't stop at the Rio Grande River," Bush said. "People come across to work on jobs that need to be done to provide for their families, and Paola was one such person. Of course she didn't sneak in, she came on a work visa."
While a Democrat-controlled House gears up to vote on two bills that would give around 11 million immigrants legal status, Republicans have yet to challenge with a plan of their own. As the former Governor of Texas from 1995-2000 and being part of a longstanding Republican dynasty, Bush's views don't fit in with his party's current stance.
Rather than opposing immigration, Bush said he thinks there should be a clearer path to citizenship and work visas. While he agrees with his colleagues that the border needs to be enforced, he recognizes that immigration reform is a complicated task that needs a form-fitting answer.
"One of the things that will help enforce our borders is to have worker visas that match the needs of our economy so people don't have to sneak into work," Bush said. " I do believe there needs to be a path to citizenship. I think Congress is going to have to be mindful to make sure that those who are undocumented don't get to jump ahead of the line of those who are documented and have played by the rules, but nevertheless, I think it's in our nation's interest to bring people out of the shadows."
While speaking with Smith, Bush addressed the insurrection at the U.S. Capitol on Jan. 6, saying the event undermined the rule of law. "I was sick to my stomach, and then to see our nation's capitol being stormed by hostile forces," he said. "It really disturbed me."
One more thing that Bush disagrees with his party about: Joe Biden is the rightful president. The former president denied that there was election fraud and, when asked by Smith if the election was stolen, Bush said no.
"I think the results of this election were confirmed when Joe Biden got inaugurated as president," Bush said. "He surrounds himself with a good team, listens to them and makes decisions in a crisp way, and you know, he's an experienced guy."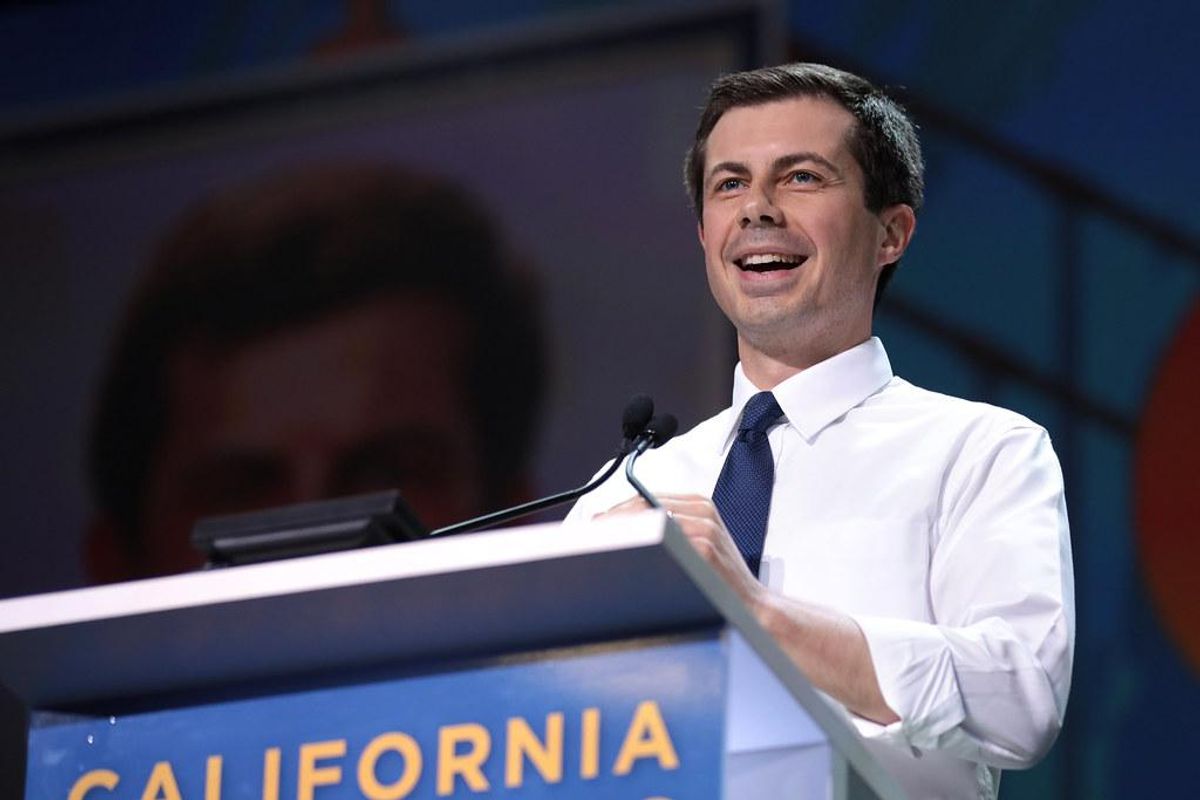 (Gage Skidmore/CC)
In an optimistic conversation with MSNBC's Jonathan Capehart, U.S. Transportation Secretary Pete Buttigieg told the SXSW audience that updated passenger rail transportation should be a "national priority" to make for a more equitable and greener America.
Local transit advocates say Buttigieg's support will be critical to the success of Austin's Project Connect, a $7.1 billion overhaul of the city's transit system. About half of the project's budget will come from a city property tax rate increase, which Austin voters overwhelmingly approved last November. The rest will need to come from federal grants overseen by the U.S. Department of Transportation, which Buttigieg heads.
The former mayor of South Bend, Indiana, and an underdog 2020 presidential candidate, Buttigieg took office as transportation secretary in early February. Shortly after, the American Rescue Plan Act of 2021 passed, sending another round of stimulus checks to households.
Buttigieg said that was a hopeful moment—he watched airline workers "tear up those furlough notices" and emerge from a tough period. He says his plan to improve transportation gives him the same feeling.

"We can't fight COVID unless we have a healthy transportation sector, we can't get people their vaccines," Buttigieg said. "(That is) one of the reasons why supporting transit matters so much, especially for people who are transit dependent and don't have access to a car. All of these things are connected and the design of the American Rescue Plan recognized that and I'm thrilled that it passed."
Thinking back to his teenage years in the 1990s, Buttigieg was struck when an openly gay ambassador nominated by the Clinton Administration got jammed up in the Senate, never getting a vote. Buttigieg, who came out as gay in 2015, remembered feeling that despite his talents people would view him in a bad light.
"Just a generation or two ago, I mean, certainly within the memory of some people watching this program, there were people who, never mind being a soldier or a cabinet officer... you were considered a threat, just by virtue of being different," Buttigieg said. "It's a reminder of how much has changed."
Not a stranger to adversity, Buttigieg said he wants to use his position to uplift communities and shift the focus on greener policies from a Republican-versus-Democrat narrative to something that is more constructive.
After all, people everywhere are affected by climate change. Buttigieg said that people in rural communities—think farmers—are often the most vulnerable to the effects of climate change, like natural disasters, citing the two "once-in-a-millennium floods" that hit South Bend during Buttigieg's second term as mayor.
"I think we can be having conversations that are not red state, blue state conversations for American community, conversations about how we can win by doing the right thing on climate," Buttigieg said. "This is not just a coastal concern."
When we talk about systemic racism, Buttigieg said we don't often talk about how it affected infrastructure, sometimes literally built—or not built—in.
Buttigieg wants to start getting ahead of issues now by tackling areas like transportation deserts, which he likened to food deserts, regions where people have limited access to reliable and safe transportation.
"A transit desert is really an opportunity desert because you can't get to a job," Buttigieg said. "We can't allow people to be on the brink like that and that's part of why we need to have equity on our minds as we're making what could be one of the biggest investments we've ever made as a country in the future of our transportation."
America's infrastructure is built around cars, not human beings, Buttigieg said, which causes a lot more problems that meet the eye. It isn't a one size fits all approach—some areas need bigger roads and room to grow, while others, like Texas, he said, could use some downsizing.
"It turns out that we're better off if our decisions revolve not around the car, but around the human being," Buttigieg said. "The design choices we make: how fast cars move, whether there's bike lanes, and sidewalks sharing the space with travel lanes, green space, even, all of this is part of that picture. It's an example of what it means to have a truly forward approach on infrastructure."
His comment arrives as the Texas Department of Transportation is in the early stages of a $7.5 billion I-35 expansion project, which proposes to expand the highway to up to 20 lanes between Hwy. 290 and Ben White Boulevard.
Project Connect supports Buttigieg's goal of reaching a carbon neutral world by 2050 and includes $300 million in funding for anti-displacement initiatives to avoid the accelerated gentrification caused by pasted transit investments, such as the construction of MoPac in 1971 and I-35 in the 1960s.
Buttigieg said he wants only the best for the future of American transportation, which starts with talking about different solutions to the problem—not debating whether it exists.
"Often we think of (climate change) in terms of doom and I understand why—the scenarios are terrifying for what will happen if we don't get a handle on what's already happened in this country from Texas freezing over, to wildfires out west, floods in my part of the country and more," Buttigieg said. "Ultimately, I want us to be thinking about climate not as a source of doom but as a point of pride. I think, frankly, pride is a little more of a propulsive and less of a paralyzing emotion than guilt."
The Black Pumas brought soul to President Joe Biden's and Vice President Kamala Harris' inauguration special, "Celebrate America," on Wednesday evening.
The breakout duo performed "Colors" off their 2019 debut album, "Black Pumas," in front of the classic Austin City Limits skyline backdrop at ACL Live at the Moody Theater in their hometown.
The band is made up of vocalist Eric Burton and Grammy-winning guitarist and producer Adrian Quesada.
The Black Pumas were nominated for several Grammys in 2021 including Best American Roots Performance ("Colors"), Record of the Year ("Colors") and Album of the Year (Black Pumas (Deluxe Edition)). They were previously nominated for the coveted Best New Artist Grammy award in 2020, alongside Lil Nas X, Lizzo, Maggie Rogers, Rosalia, Tank and The Bangas, and Yola.
During the Jan. 20 performance, people from all over the country chimed in on social media to show the Black Pumas some love.

The duo took to their own social media account later in the evening to acknowledge all their new followers and poke a little fun at their own performance with the iconic Bernie Sanders meme.
jumped from #1,424
to #4 on the U.S. iTunes chart.