Get connected with our daily update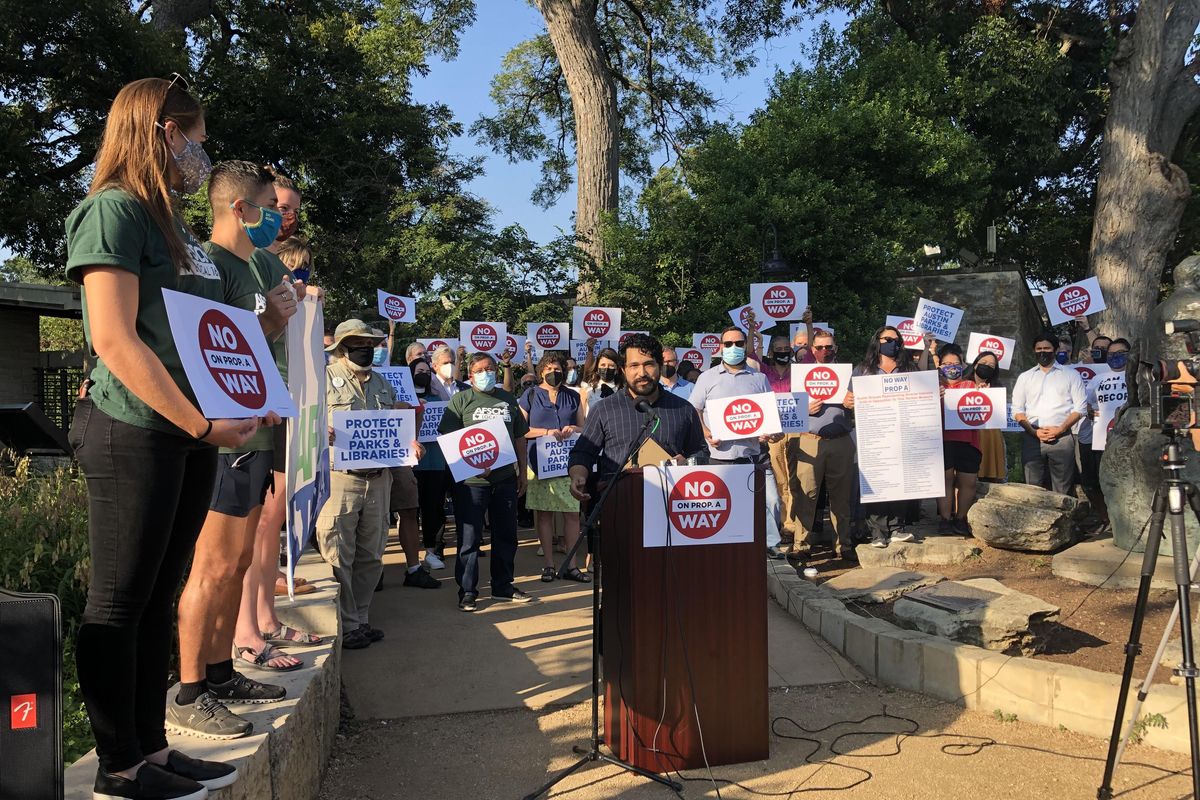 A coalition of more than 80 local organizations launched a campaign Thursday to defeat the Save Austin Now-backed Proposition A, which calls for adding hundreds of city police officers and other measures to the Austin Police Department.
At a gathering at the entrance to Barton Springs, speakers included two members of City Council, Vanessa Fuentes and Alison Alter, and Carol Guthrie, business manager of the American Federation of State, County, Municipal Employees, Local 1624, a union representing the city of Austin and Travis County employees.
Proposition A, put on the ballot after gaining petition signatures, seeks to:
Require minimum staffing of two officers per 1,000 residents
Require a minimum standard of 35% community response time
Add 40 hours of training
Require city council members, Mayor Steve Adler and other city staff to enroll in the Citizens Police Academy
Facilitate minority officer hiring through foreign language proficiency metrics
The proposition comes just more than a year after Austin City Council voted to cut its police budget by a third in the wake of protests against police brutality after the murder of George Floyd by Minneapolis police and killing of Michael Ramos in Austin.
"Prop A is a total reversal of the shift that Austin went through during and after the protests of the summer of 2020," said Chas Moore, founder of the Austin Justice Coalition. "We need every Austinite who posted a black square last summer, every Austinite who marched with us down Congress Avenue, every resident who called into council… to vote no way on Prop A."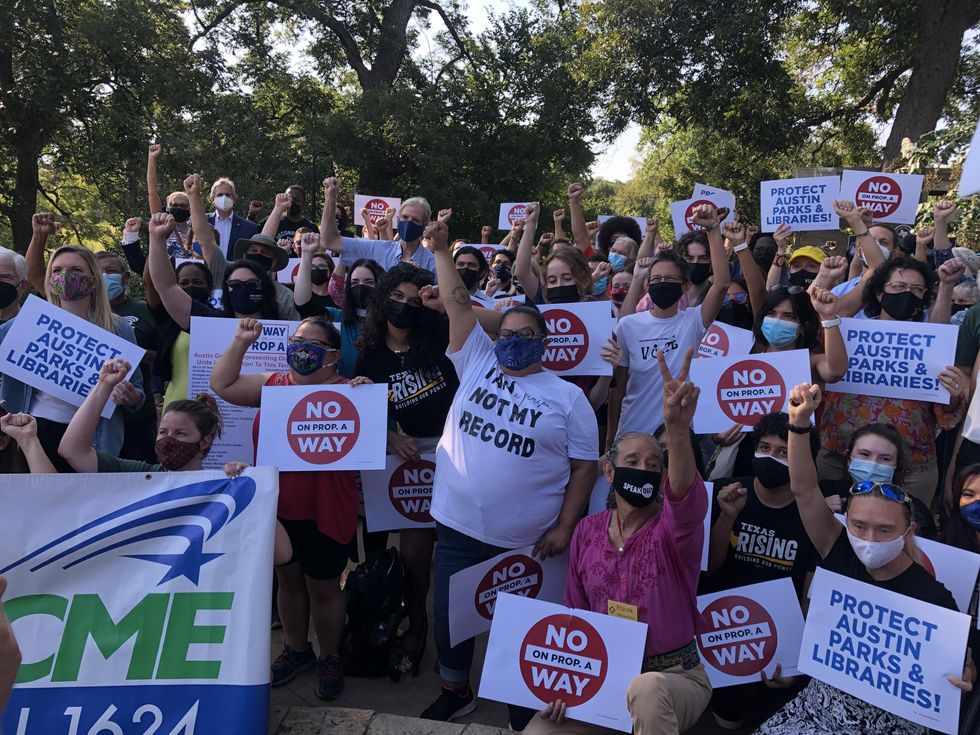 Members of the coalition to defeat Prop A raise their fists. (Abe Asher/Austonia)
They are facing a strong political organization. Save Austin Now launched the proposition following their successful spring campaign to criminalize houseless camping in the city, which overwhelmingly. This proposition would install minimum police staffing levels for APD and add training requirements for officers among other initiatives.
"Our city can afford the same number of police officers that the city authorized just two years ago. City Hall may not support law enforcement, but city residents do," Save Austin Now co-founders Matt Mackowiak and Cleo Petricek said in a statement.
If passed, the city's budget office has estimated that it could cost as much as $120 million each year for the next five years.
Barring a tax increase, that money might come out of other areas of the city's budget, mentioned by attendees. The Barton Springs setting was no coincidence. Some held signs that read "PROTECT AUSTIN PARKS & LIBRARIES!"
"If Prop A passes, all of these services will be on the chopping block," City Council Member Vanessa Fuentes, who represents southeast Austin, said. "We're talking about neighborhood public libraries, neighborhood swimming pools, mental health services, and many other services that would no longer be accessible."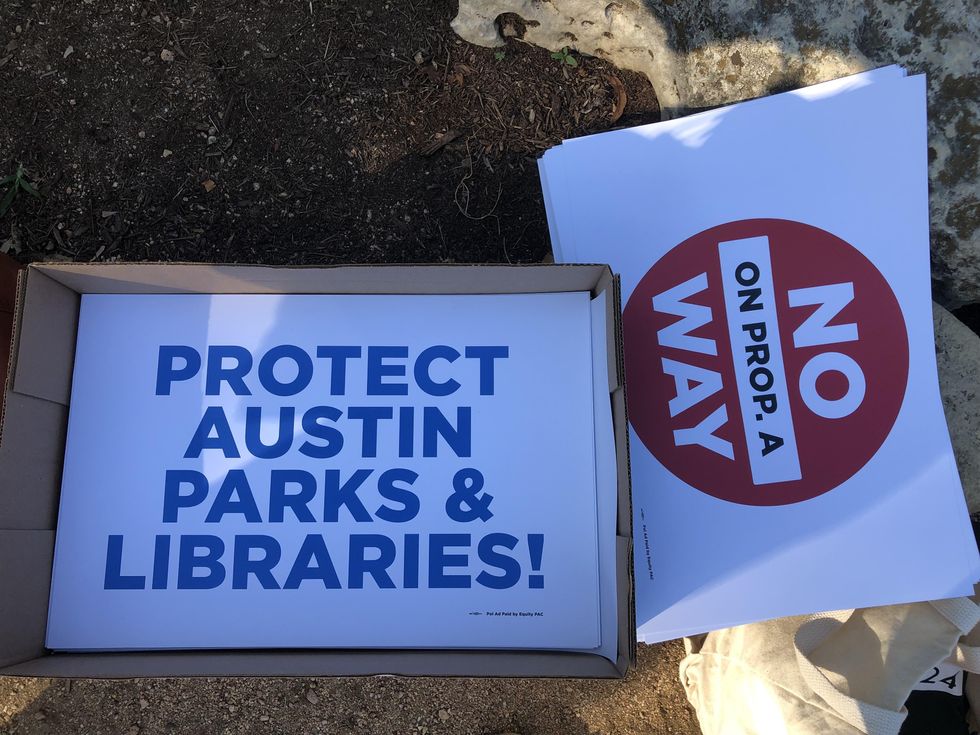 Anti-Prop A signs were distributed at the event. (Abe Asher/Austonia)
Democrats in the area are overwhelmingly opposed to the plan. Katie Naranjo, chair of the Travis County Democratic Party, painted Save Austin Now as deceptive in a message similar to one propagated by Adler last month.

"They call themselves by another name," Naranjo said of Save Austin Now. "They're a wolf in sheep's clothing. If you signed the Republican Party's petition and you're a Democrat, you're not a bad person. You were lied to."
Save Austin Now has bipartisan leadership, though members of its board are affiliated with the Travis County Republican Party and Austin Police Association.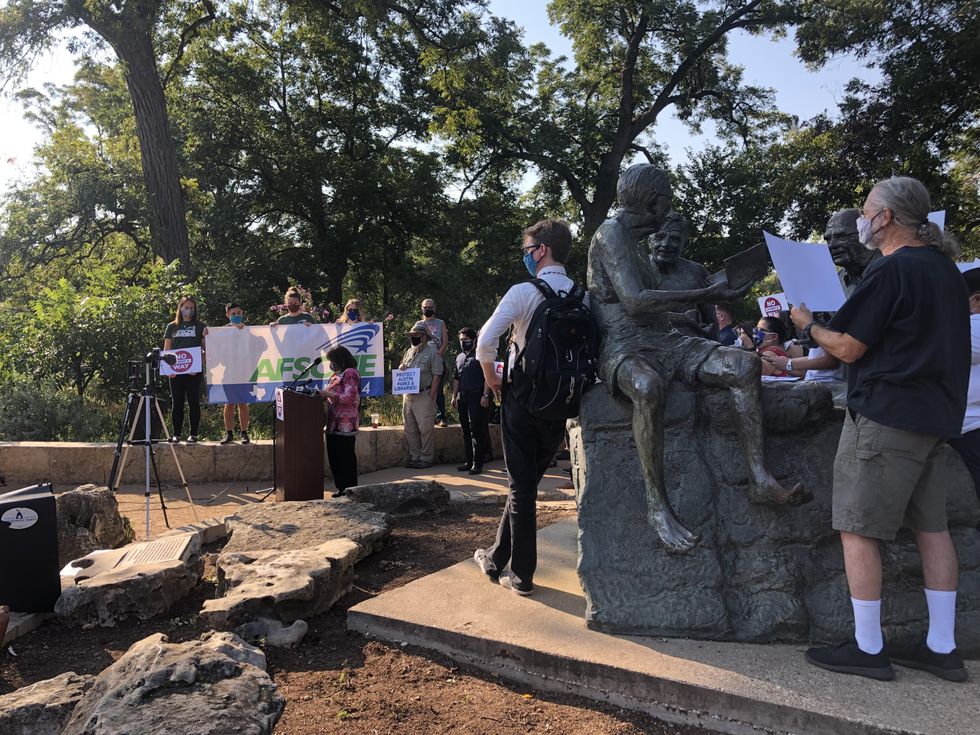 Attendees listen to AFSCME Local 1624's Carol Guthrie address the event. (Abe Asher/Austonia)
Prop A backers argue that increased crime in Austin since the outbreak of the pandemic means that the city needs to employ more police officers. Austin has seen a spike in murders in 2021 in line with a national increase, even as the rate of violent crime nationally has remained steady.
"This is a straight attack on Black, Brown and Indigenous folks that have been saying for years that we need to change the way we do things," Moore said. "The way we do policing now does not make us feel safe. We don't need more cops, we need more resources."
Early voting begins on Oct. 19.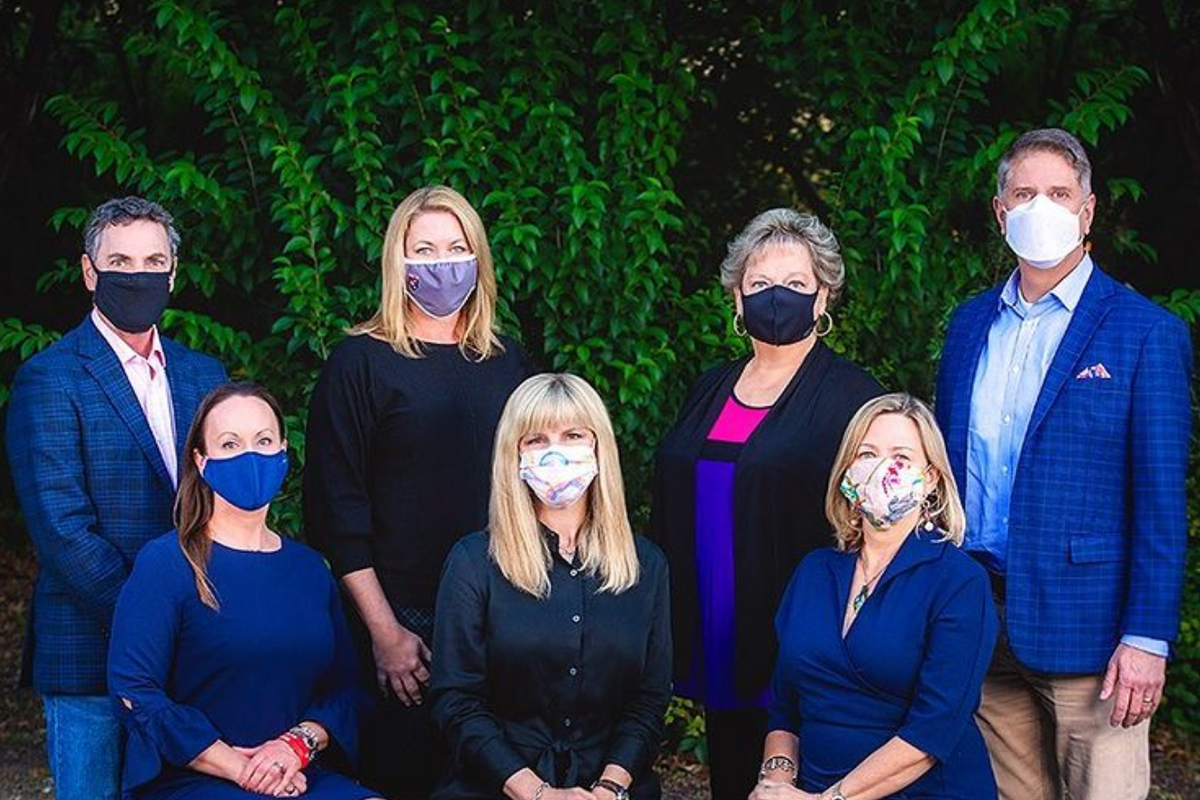 After a contentious and expensive election, which saw candidates face off over a new diversity, equity and inclusion initiative, two Eanes ISD school board members have defended their seats.
Place 4 incumbent James Spradley beat Nigel Stout, with 55.47% of the vote, and Place 5 incumbent Jennifer Champagne beat Jen Stevens, with 54.45% of the vote. Both Spradley and Champagne were board members last summer, when the initiative was created in the wake of George Floyd's murder, and have expressed support for the effort, which included hiring an outside consultant to review the district's practices.
In Travis County, 171,243 ballots were cast, by 22.55% of registered voters. More than 10,000 people voted in each of the Eanes ISD school board races.
In addition to being ideologically fraught, the races were also well funded. Stevens led the pack with $129,409.50 in political contributions, according to her latest campaign finance report, filed on April 23. Despite nearly quadrupling Champagne's funds, which stood at $33,767.85, Stevens lost. Similarly, Stout outraised Spradley, $32,128.05 to $11,224.45.
Stout told the Austin American-Statesman that the diversity, equity and inclusion initiative raised concerns among some parents "that there's politics in the classroom that is getting in the way of core curriculum." He has also said he wishes to increase the board's ideological diversity. "The current 'go along to get along' attitude of the board is not fostering excellence in our district," he told Community Impact Newspaper.
Stevens raised similar concerns—and drew criticism from her opponent and Eanes ISD parents, about her behavior. During an April 18 candidates forum hosted by the Westlake Chinese American Parents Group, Steven was asked about a July Facebook post in which she referred to COVID-19 as "some stupid China-made virus," as reported by the Statesman.
Despite pushback from some corners about the district's ongoing diversity, equity and inclusion efforts, there is support for the initiative. Last June, a group of students, alumni and families formed Chaps for an Anti-Racist Eanes, sending a letter with more than 800 signatures to the school board and district administrators.

The group's organizers cited the @racismatwestlake Instagram account, which formed in the wake of Floyd's death and details anonymous reports of racism at Eanes ISD. (Similar accounts have emerged at school districts, private schools and colleges around the country.)
From Your Site Articles
Related Articles Around the Web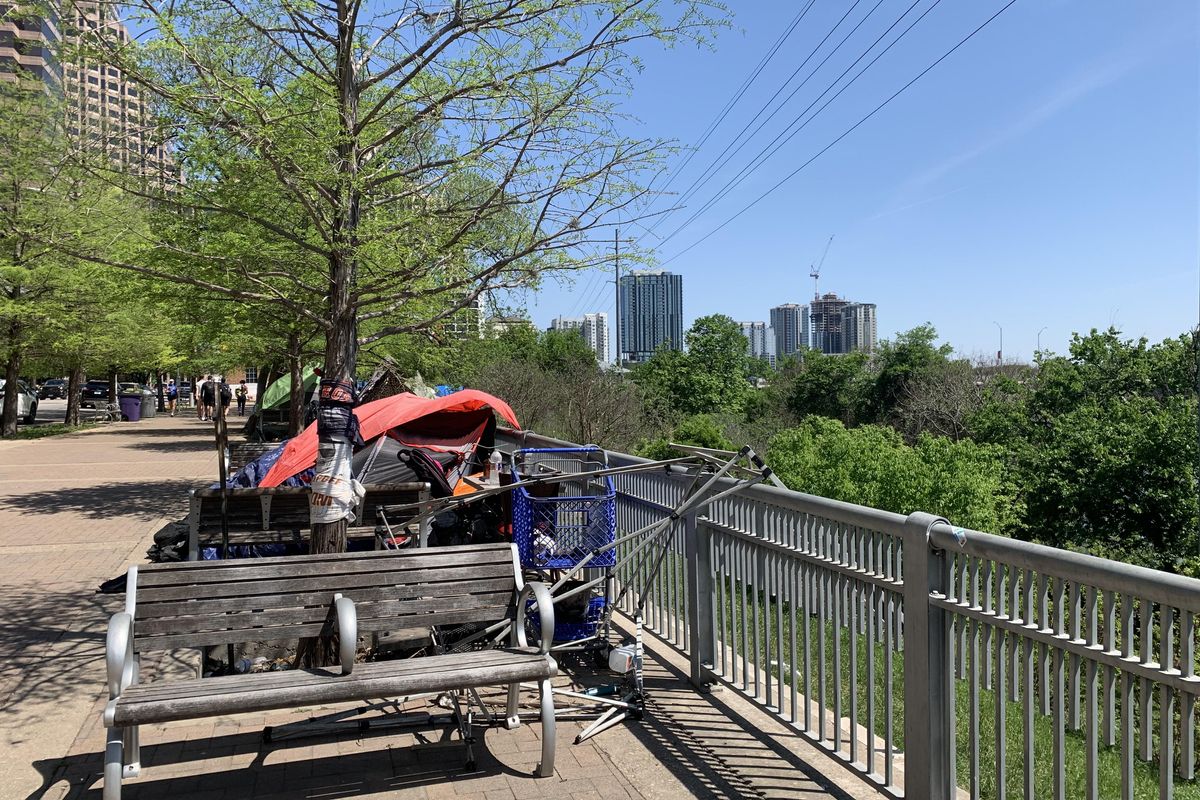 Austin voters have decided: The city will reinstate a ban on sitting, lying, camping and panhandling in certain areas of downtown, near East Austin and West Campus.
Proposition B, which proposed reinstating the ban and criminalizing the activities it prohibits, passed with 57.7% of the vote. Across Travis, Williamson and Hays counties, all of which include portions of the city of Austin, 220,420 ballots were cast, accounting for around 18.1% of registered voters.
Now that Prop B has passed, it will take effect—likely in the next couple of days—once the results have been certified.
The proposition stemmed from a citizen-led petition organized by the local political action committee Save Austin Now, which was co-founded by Travis County GOP Chairperson Matt Mackowiak and local Democratic advocate Cleo Petricek. The group's supporters argued that Austin City Council's 2019 decision to overturn the ban has led to an increasingly visible homeless population, with tent cities along Lady Bird Lake and the Riverside median that pose public health and safety concerns.
Prop B's passage is "a massive win for every Austinite who simply wants to live in a safe and clean city," Mackowiak tweeted Saturday evening after the early voting numbers were released.

Opponents, some of whom successfully advocated council two years ago to overturn the ban, argue that it does nothing to address homelessness or provide housing and instead leads to criminal citations, which can further disadvantage homeless residents in their search for housing, employment and other resources.
District 4 Council Member Greg Casar, who led the charge on council to overturn the ban in 2019, does not believe the city is as divided on homelessness policy as the Prop B results may suggest. "We all want to get people out of tents and into homes," he said in an Election Night statement. "Our community must come together after this election and house 3,000 more people because we can only solve homelessness with homes, not handcuffs."

Between 2019 and 2020, the city's homeless population grew around 11%, according to the point-in-time count, an annual census conducted in January by the Ending Community Homelessness Coalition, a local nonprofit. The 2021 count was canceled due to the pandemic.
Although the rate of homelessness in Austin is greater than in other big Texas cities, this growth is in keeping with slight increases across the state in the last few years, Texas Homeless Network President and CEO Eric Samuels recently told Austonia. "We know that people are living behind our greenbelts, people are living in encampments," he said. "Now those people are just more visible, and I think that has caused a lot of the public in Austin to think that homelessness has exploded, when in reality it hasn't. It's just their recognition of homelessness has exploded."
The election period was contentious one.
Mayor Steve Adler urged residents to vote against Prop B on Monday, noting that the early voting turnout thus far had skewed older and more conservative than the city's overall population. Some Prop B supporters took issue with this, arguing that he was being dismissive of certain voters or politicizing Prop B, which Save Austin Now's cofounders have stressed is a bipartisan effort.
State lawmakers are considering a statewide camping ban in response to Austin's changing policy.

Ongoing city efforts to provide housing, including to homeless people living in four designated camps, will continue, city officials have said.