Get connected with our daily update
Austinite and former University of Texas diver Alison Gibson says she's good at "turning off her brain."
The 21-year-old diver said it's all a mental game as she heads to Tokyo ready to represent herself, her alma mater and her country at the 2021 Olympics.
At a meet-and-greet at Orangetheory Fitness in Austin, the soon-to-be Olympian told Austonia the key to her success, aside from 12 years of hard work and dedication, is clearing her mind before each dive.
"It's really easy for doubts and fears to seep into your mind," Gibson said. "I try to just relax and have fun because the thing is, my body knows what to do, my brain knows what to do, and I just have to kind of allow that to happen."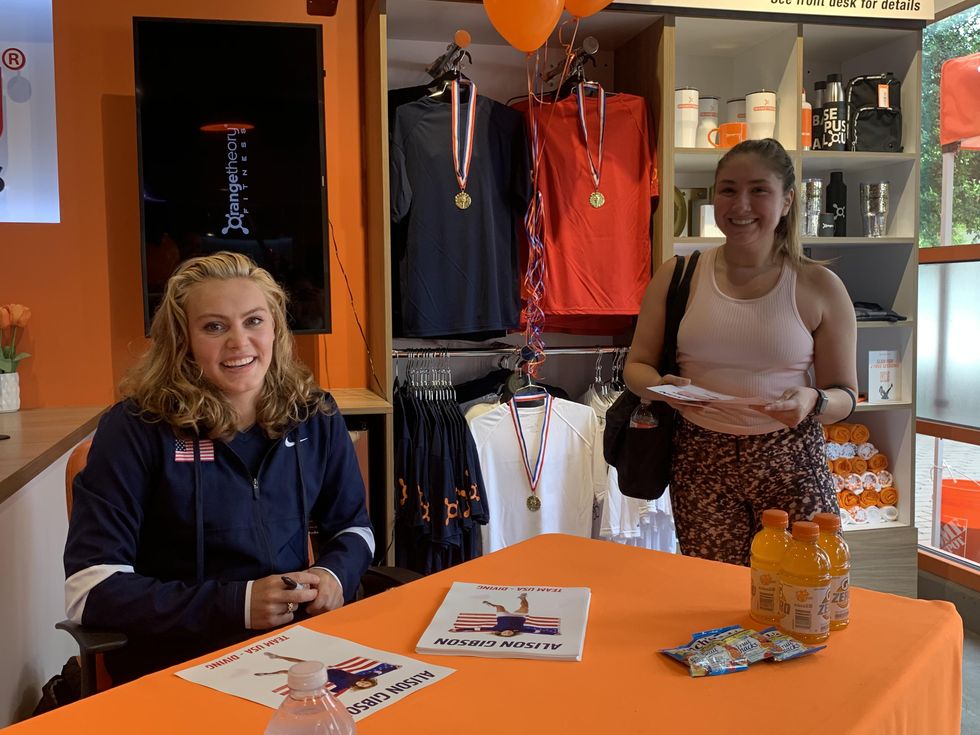 Gibson signed autographs and took pictures with fans at OrangeTheory fitness on Mueller on Monday. (Claire Partain/Austonia)
The hard work has paid off; after starting a diving career path at age nine, Gibson became UT's first NCAA diving champion in 10 years in the one-meter competition as a freshman in 2017. She followed up with three Big 12 Championships and was named to both the 2019 USA Diving Tier Two diving team and Team USA at the 2018 FINA Diving World Cup.
Gibson said she never knew she would be an Olympian, just that she loved the sport itself.
"I just fell in love with it really quickly," Gibson. "I always had the dream of becoming an Olympian, but I was always a small goal person. As I achieved each of those goals, it led me one step closer to making the Olympic team."
Gibson found out she was going to the Olympics alongside partner Krysta Palmer in June at the Olympic Trials. Although it took four days for the competition to end, Gibson said she knew they had punched the golden ticket as she hit the water.
"I actually kind of knew (as) I was under the water," Gibson said. "I knew that was good enough to make the team. And it was so cool, because we just came out and hugged each other. It was just a super surreal experience."
While Gibson has been part of a rigorous physical training schedule—she had just finished weight training prior to the sendoff—sometimes the mental side of the sport takes just as much practice.
To separate her own self-worth from her performance, which Gibson said would be a "roller coaster," Gibson relies on her Christian faith to stay grounded. She prays before each dive and was prayed for by well-wishers at her church on Sunday.
"My identity is in Christ (and) because of that, the things that happen in diving and things that happen in life don't affect my image of myself," Gibson said. "I think that's something a lot of people kind of get caught up in at a high level, so I really wanted to make sure that I stayed humble and grounded and knew where my true identity was."
Gibson wants more than a gold medal at the Tokyo Olympics; her other goal is to meet star gymnast Simone Biles.
"I'm going to be like, 'Look, we're both from Texas, let's be best friends,'" Gibson said.
On a more serious note, Gibson wants to impact young athletes on their own journey. She knows what it's like to get burnt out, and she hopes to inspire them to keep going.
"Always have fun and remember where you came from, and remember why you started doing what you're doing," Gibson said. "I love the feeling of flying, I love the feeling of hitting the water, I just love every part of it. If you can take a step back and remind yourself of the real reason why you're doing it, that really helps you keep pushing through the really hard times."
Gibson heads to Tokyo on Saturday, but there's no need to pack her bags; she'll be stocked up with plenty of Team USA gear once she gets to her first Olympic Village. The long-awaited ceremony begins less than a week later on Friday, July 24.