Get connected with our daily update
By Reese Oxner
A state district judge on Wednesday morning is hearing arguments from abortion rights groups challenging Texas' restrictive abortion law in what could be the first court hearing over the statute's constitutionality.
David Peeples, a retired state magistrate judge, is presiding over the hearing, which started at 9 a.m. and is expected to last all day. Peeples will hear over a dozen cases filed in state court challenging Senate Bill 8, which effectively bans abortions after about six weeks.
These lawsuits — filed by Planned Parenthood, doctors, social workers, abortion fund organizations, practical support networks and lawyers — were consolidated by Texas' multidistrict litigation panel and will be heard together. The plaintiffs have asked that the court declare Texas' new law unconstitutional.
"In short, SB8's enforcement mechanism, created to subvert one constitutional right, violates the Texas and United States Constitutions," wrote attorneys representing the plaintiffs.
The lawsuits are the latest challenge against the controversial law. While other courts have already had hearings on the law, this could be the first one to hold discussions over its overall constitutionality. It's unclear what the outcome of the hearing will be or what weight it could hold overall.
"Today is the first day since SB 8 went into effect that the people of Texas will be heard on this law," Anna Rupani, Fund Texas Choice executive director, said during a Wednesday press conference before the hearing. "All you've seen so far in courts has been on procedure."
Rupani said the law especially affects low-income people and people of color by putting financial and geographical barriers in the way they seek care.
The lawsuits target Texas Right to Life, a prominent anti-abortion organization that helped draft Texas' law and has vowed to sue violators — although the group has not yet filed suits against anyone.
Texas Right to Life, in an October statement on its website, said it believes these lawsuits will not affect the overall way the law is enforced in the state.
"These lawsuits do nothing towards preventing the Texas Heartbeat Act from being enforced against other individuals and groups within the abortion industry, should they violate the law," the organization said.
The U.S. Supreme Court, which heard oral arguments in two other cases challenging the abortion law, is also expected to rule soon on whether to allow the challenges to proceed. During those hearings, the majority of justices expressed concerns with the way the Texas law is enforced. The statute forbids state or law officials from enforcing it, instead relying on private citizens to sue those who violate it.
Wednesday's hearing can be viewed live on this YouTube channel.
From Your Site Articles
Related Articles Around the Web
Broadcasting live from Austin's ubiquitous Long Center, anchor and managing editor of "NBC Nightly News" Lester Holt made his way to host the show live from "one of America's biggest boomtowns" on Monday night.
Austin was featured in the Nightly News' "Across America" series, which highlights the effects that the pandemic has left in different American cities. Holt touched on Austin's bustling tech scene, ongoing migration, polarizing legislation in the Lone Star State and spoke with a beloved local businesses while he was here.
Here's a recap of Austin's edition of "Across America."
"Surge of transplants" and big tech companies incoming
Holt began his broadcast from the lawn of the Long Center with a striking skyline background launching into Texas' controversial abortion law, which is currently being heard by the U.S. Supreme Court, before the "Across America" segment.
The segment began with the oh-so-familiar sights of live music, colorful murals, bustling South Congress foot traffic and of course, construction as far as the eye can see.
"Austin is young, it's hip" and "much cheaper than California," according to new residents, who say the city has given them a new lease on life.
Basking in the status of a "boomtown," Austin was the most popular place to move to during the pandemic. Though natives may have their own opinions about out-of-staters settling in Austin, new transplants said they are happier than ever with the move.
One California-transplant family told Holt they felt like Austin gave them a way out of the West Coast "rat race" and has allowed them to "buy back" time together as a family. Plus, new residents are finding solidarity all around them with the numerous families that made the move in the last year.
Of course, it isn't all families moving to Austin—major corporations like Tesla are moving their headquarters here, Apple plans on building a new campus and a
new Samsung plant
could be popping up nearby.
Big-city growing pains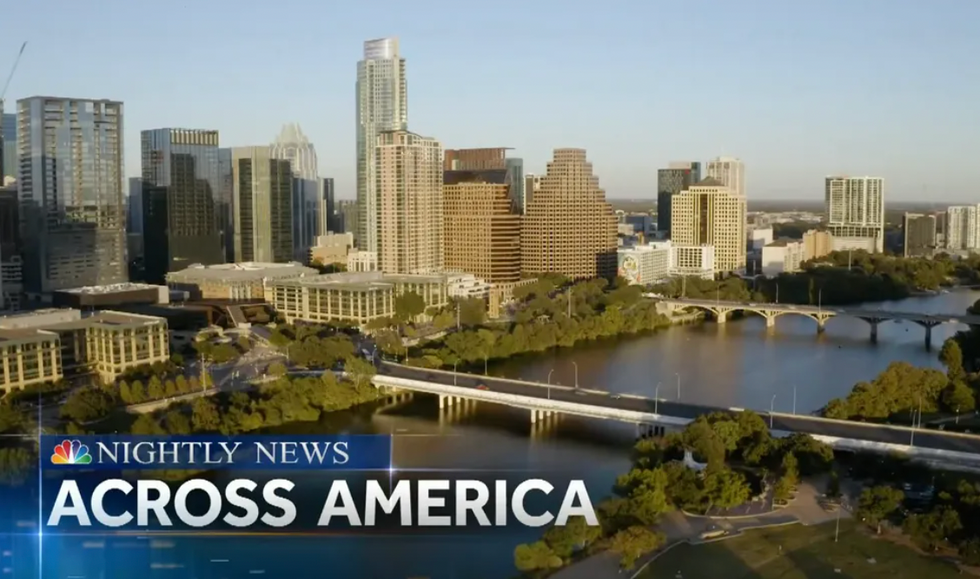 Austin's billowing growth can be attributed to its pleasant climate, low taxes and business-forward attitude, KXAN's Tahera Rahman told Holt. But it isn't all good news and as Police Chief Joseph Chacon put it, the boomtown status comes with its fair share of "big-city problems." Holt drew attention toward Austin's 80% increase in murders, a nationwide phenomenon.
Holt said that some of the biggest issues in Austin come down to scarcity of housing—the city has been dealing with a homelessness crisis for years, which is only being exacerbated by skyrocketing costs of living. He said Austin's abundance of jobs has made the already hot housing market even hotter.
Holt spoke with a couple who felt "priced out" after ending their search for a house over the last eight months. The couple said they were finding people put in offers that were 15% higher than the asking price, yet they still have no plans of leaving. That's the pull Austin has, the couple said.
Though the rapid growth is alarming, Rahman told Holt she believes city officials were planning on making the most of it.
"I think city and county leaders are seeing it as more of an opportunity to manage that growth in an equitable way," Rahman said.
"Best tacos... maybe in the country."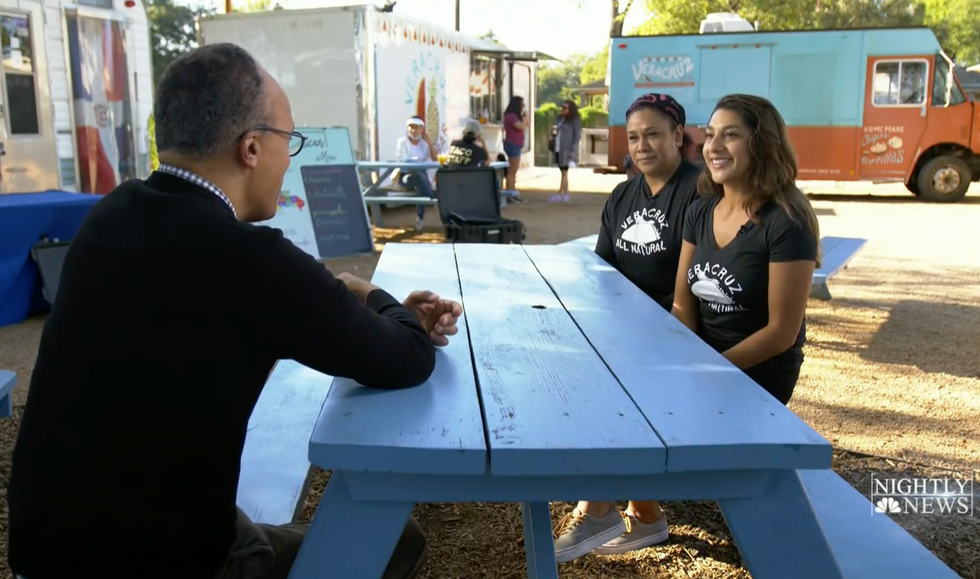 Reyna and Maritza Vazquez brought a taste of their hometown, Veracruz, Mexico, to Austin. (NBC/Youtube)
It wouldn't be an Austin segment without visiting one of the city's most treasured artifacts: the taco truck. Holt spoke with Veracruz All Natural founders Reyna and Maritza Vazquez, who have grown from a single truck to six Austin locations and recently expanded to Los Angeles with a new truck called "Hot Tacos."
Holt was taught by the sisters, who grew up in the kitchen with their mother in Mexico, how to make their signature Migas breakfast taco and heard from locals who said the Vazquez sisters make the "best tacos in the city, maybe in the country."
"Funny, I never leave Texas hungry," Holt said. "So long from Austin."
Holt will visit St. Louis, Missouri, for his next take on "Across America."
Enjoying Austonia? Signup for our newsletter to get daily Austin news, straight to your morning inbox!
By Reese Oxner
The U.S. Supreme Court will take up on Monday the highest-profile legal challenges to Texas' new abortion law. The Supreme Court previously declined to act on the near-total abortion ban, making next week's proceedings the first time the high court is stepping in on lawsuits seeking to stop it.
The court will consider two suits against the law, commonly referred to as Senate Bill 8, which blocks abortions as early as six weeks into a pregnancy. One is waged by the federal government, the other by a group of abortion providers and advocates.
The Supreme Court's review will focus on how SB 8 is enforced, not abortion rights themselves. It's hard to predict what the court could decide, but its ruling will likely determine the future of abortion care in Texas and shape the legal battles to come.
Here's what you need to know before the Supreme Court convenes.
What's the story with Texas' abortion law? And why is it so controversial?
After years of attempts to limit access to abortions, Texas passed a law that successfully bars procedures as early as six weeks, before many people know they're pregnant. It would have blocked an estimated 85% to 90% of the abortions performed in Texas before the law went into effect.
A person's right to an abortion until around 24 weeks of pregnancy — when a fetus can survive independently outside the womb — is a constitutional right established by Supreme Court cases like Roe v. Wade. But Texas was successful in limiting that right through legal loopholes, making it elusive to court review.
The statute also opens providers and those who help someone get an abortion banned by SB 8 to several lawsuits, including multiple ones for the same instance. One of the most controversial aspects of the bill is that it allows anyone in the nation to sue someone who assists a person in getting an abortion, even if the person suing has no connection to those involved. Opponents to say the law has potential to create "bounty hunters."
It also insulates those suing from having to pay for their opponents' legal fees, even if the case is thrown out — but guarantees that theirs will be paid for if they win. This could create a financially ruinous situation for providers or even individuals, who would have to pay for attorneys to defend themselves, even in cases deemed frivolous.
The night after the law went into effect, the Supreme Court chose to neither block it nor rule on its constitutionality. Instead, in a 5-4 vote, justices allowed it to continue, citing procedural issues. The two separate suits filed by the U.S. Department of Justice and abortion providers have brought SB 8 back before the high court again.
Is this hearing about Roe v. Wade or abortion rights?
No. At least, the briefings prepared by the parties involved in the lawsuit are not. The Supreme Court presented two narrow questions about technical details of the lawsuits.
However, the Supreme Court justices can ask any questions and make any ruling they see fit.
What is the Supreme Court ruling on then?
The court laid out two narrow questions that have to do with how SB 8 is enforced.
In the case brought forward by the Department of Justice, the court will review whether the federal government can sue Texas in this attempt to overturn SB 8. DOJ is asking the court if it can sue the state, judges and all private parties to protect from litigation anyone getting an abortion banned by SB 8.
In the abortion providers' suit, known as Whole Woman's Health v. Jackson, the court will consider whether a state "can insulate from federal-court review a law that prohibits the exercise of a constitutional right" by offloading its enforcement to the general public.
The Supreme Court can issue an order as broad or as narrow as it wants, said Elizabeth Sepper, a law professor at the University of Texas at Austin. Technically, the court could rule on abortion rights overall — although that is very unlikely at this stage.
What's so special about how SB 8 is enforced? What makes it so hard to challenge in courts?
The statute has bucked judicial review by making it difficult to sue the law's enforcers.
To block a law, courts usually stop state officials from enforcing it. But in the case of Texas' law, state and law officials are forbidden from enforcing it. Instead, the state empowered private citizens to sue those who "aid or abet" abortions. If those private citizens win, they get at least $10,000 and recover their attorney fees.
Removing state officials from the equation means that opponents of the law don't have anyone specific to sue for enforcing the law. They have struggled to name the right person in their legal efforts.
The law has another provision that works as a kind of failsafe. Even if blocked for a time, the statute allows people to sue those who aided an abortion during that period if the law is restored. Even in the case that a lawsuit succeeds in temporarily blocking the law, the fear of future litigation could continue to discourage abortion clinics in Texas from performing the procedure.
The fear of financial ruin has led to virtually 100% compliance with the law, with one known exception.
Josh Blackman, a constitutional law professor at South Texas College of Law Houston, said that even if Texas' law is blocked now, the fact that it can be retroactively applied could threaten providers afterward.
A person's constitutional right to an abortion is being challenged in another suit before the high court, and many believe it could be in danger of being overturned. If the Supreme Court decides to later erode that constitutional right, Blackman said, the general public might once again be able to sue those who assisted in abortions — even during periods when the law was blocked.
"The only reason why this [enforcement mechanism] works for abortion is a court might overrule Roe," he said. "If California were to enact a law that bans the sale or private ownership of firearms, I think others would just say, 'Come and take it.'"
Blackman said the law has been successful so far because abortion rights are seemingly in jeopardy when compared to other established constitutional rights.
How could this case affect the battle for abortion access in the state?
Since the Supreme Court can issue any kind of order, even outside of the questions presented, it's hard to predict exactly what could happen.
The court could decide that neither party suing Texas has a right to sue in the cases. If that happened, the lawsuits would be dead in the water. Or the justices could rule that just one of the parties does not have standing, allowing the other to continue in lower courts.
If the justices ruled in favor of the U.S. and abortion providers, the fight could still be far from over, said Dale Carpenter, a constitutional law professor at Southern Methodist University. The cases would likely have to return to lower courts, and a temporary block on the law would likely be reinstated, he said.
The court could also put a stop to the law's enforcement mechanism, therefore removing the penalties for abortions outlawed by SB 8, Carpenter said.
But again: If the Supreme Court later strikes down a person's right to an abortion, the law could have retroactive consequences. This could happen in December, when the Supreme Court is set to take up another abortion case, possibly revisiting the constitutionality of abortions.
"I don't know that I can hazard a prediction," Sepper said. "I was pretty confident back in August that even though the court is exceptionally hostile to the right to abortion, that the court would protect its own power and slap down attempts to avoid the federal courts, but it didn't do that."
She said her best bet is that at least one of the lawsuits will be allowed to continue.
"But I think our best bets are far less certain than they used to be," she said.
What does the situation look like on the ground?
All Texas abortion providers have had to shutter the bulk of the procedures they previously offered. Some stopped offering any abortions, even ones allowed under SB 8.
Providers described having to turn away patients, many emotional, as the law went into effect on Sept. 1 at midnight. Since then, people seeking abortions have sought services in other states, forming backlogs of Texas patients desperate for the procedure.
What does the schedule look like for these cases? When will the court issue a decision?
The court is hearing arguments less than two weeks after the U.S. Department of Justice requested that the court weigh in — which is very quick by Supreme Court standards. A decision will almost certainly not come the same day.
But the justices can vote and issue an order on whatever timeline they choose and may do so without prior notice. Carpenter predicts that the justices will issue a ruling soon.
"The fact that they've called for such an expedited briefing strongly suggests that we will get some word from the court within a matter of weeks, if not days," Carpenter said. "I think probably in the month of November would be a good guess.
"But you can't be sure," he added.
Many legal observers pointed out that this case is being considered very rapidly, by Supreme Court standards.
But Sepper said that is relative.
"On the one hand, court watchers say, 'Wow, the Supreme Court's acting so quickly,'" Sepper said. "But on the other hand, for, you know, women and other people who can become pregnant in the state of Texas, the Supreme Court and other federal courts have been essentially twiddling their thumbs for the last two months.
"I think it depends on what your perspective is," she said.
Are there any other lawsuits related to SB 8?
Yes. More than a dozen were filed in lower courts challenging the law. Those lawsuits were consolidated into a single case but have not yet been considered.
Additionally, private citizens in three states, including Texas, have filed lawsuits against a San Antonio doctor who admitted to performing an abortion not allowed under SB 8. That doctor, Alan Braid, countersued and asked the court to strike down the law. That case is still pending.
Are there any other cases related to abortion before the Supreme Court?
Yes. The Supreme Court is set to take up its other high-profile abortion case, Dobbs v. Jackson Women's Health Organization, in December. In fact, Blackman believes Texas' two cases were expedited to be handled before arguments in Dobbs begin.
Many believe that case — which is over the constitutionality of Mississippi's 15-week abortion ban — will put Roe v. Wade and other constitutional affirmations of a person's right to an abortion to the test.
The Texas case "is being decided in the shadow of Dobbs," Blackman said. "If the court overrules Roe, then SB 8 has a very strong footing. If the court affirms, Roe then SB 8 is going to be unconstitutional in many regards. So I think they sort of have to defer ruling on the merits to allow Dobbs to play out, and that's why they're only resolving the procedural issues at this early juncture."
By Allyson Waller
The U.S. Supreme Court has agreed to fast-track two Texas cases involving the state's near-total ban on abortion, but refused to halt the law from being enforced.
The high court has scheduled oral arguments for Nov. 1.
The court will take up the cases brought forward by abortion providers and the U.S. Department of Justice against the ban, according to a court opinion from Justice Sonia Sotomayor on Friday. It will review the procedural merits of both cases, rather than the constitutionality of abortion, while enforcement of Senate Bill 8 remains in effect.
In her opinion, Sotomayor offered a partial dissent of the Supreme Court's decision to keep the law in place while the court deliberates over the two cases.
"By delaying any remedy, the Court enables continued and irreparable harm to women seeking abortion care and providers of such care in Texas—exactly as S. B. 8's architects intended," Sotomayor wrote.
The court's decision to expedite its involvement was a rare move, brought upon by a law that has garnered national attention because of its extensive limits on abortions and its particular mechanisms of enforcement: not by state officials but by private citizens who are empowered to sue those who may help someone receive an abortion after fetal cardiac activity is detected, before many people know they are pregnant.
"The last time [the Supreme Court] moved this quickly was Bush v. Gore," said Josh Blackman, a law professor at South Texas College of Law Houston whose expertise includes constitutional law.
The court opinion comes after Texas urged the Supreme Court on Thursday to allow SB 8 to stay in effect. U.S. attorneys had asked the Supreme Court to leapfrog the 5th U.S. Circuit Court of Appeals, which is currently overseeing the case, and step in. Texas Attorney General Ken Paxton wrote in Thursday's filing that the federal government lacks standing in the case.
The 5th U.S. Circuit Court of Appeals, one of the most conservative appellate courts in the country, froze an order from a federal district judge that temporarily blocked enforcement of SB 8 earlier this month. U.S. attorneys are now asking for the Supreme Court to undo the 5th Circuit's ruling and allow district court proceedings to continue.
Abortion providers had also asked the high court to fast-track a separate lawsuit. The Supreme Court's Friday decision to hear that case is unique because it hadn't been heard by a federal appellate court yet, Blackman said.
Normally, the Supreme Court considers getting involved in a case only after an appeals court has had a chance to make a decision on it. But abortion providers filed a request called a "certiorari before judgment," a rarely used procedure in which the high court immediately reviews a district court's ruling without waiting on an appellate court to take action.
One of the abortion providers included in the challenge is Whole Woman's Health, a provider with four clinics in Texas. Amy Hagstrom Miller, president and CEO of Whole Woman's Health, said Friday's decision will mean Texans will continue to be denied safe and accessible abortion care.
"The legal limbo is excruciating for both patients and our clinic staff," Miller said in a statement. "Lack of access to safe abortion care is harming our families and communities and will have lasting effects on Texas for decades to come."