Never miss a story
Sign up for our free daily morning email...
...and afternoon text update
Get connected with our daily update
After a barrage of cancellations swept through 2020 and bled into 2021, news of an in-person Austin City Limits Festival comeback may seem out of place. However, as the population inches toward herd immunity, it might not be so far off.
With possibly the most difficult year of the pandemic under our belts, here are a few reasons ACL could go on as scheduled in 2021.
1. ACL has been planning for the festival
An ACL spokesperson confirmed the planning of a fall in-person music festival to Austonia last week. Organizers have been promoting its 2021 dates since the same day it canceled the 2020 festival. While its social media accounts have been largely inactive, ACL's website is up-to-date on dates and times for the in-person festival.
2. Live Nation's CEO is confident in festivals returning
ACL is put on by Austin-based event management company C3 Presents, which is owned by Live Nation, a global entertainment company that puts on festivals around the world. During an investor call on Thursday, Live Nation CEO Michael Rapino said he is optimistic about the return of summer festivals this year. Citing 170,000 tickets that had been sold for three different music festivals in the United Kingdom, where the government recently ruled that large live music events can return at full capacity on June 21, Rapino said he thinks the U.S. could be on the same timeline. Festivals could start as early as midsummer if states can up their business capacity to 75%, Rapino said.
With more artists than ever wanting to tour and fans eager to make up for lost time, all signs point to even more concerts ahead. Thank you to all of our @LiveNation employees for their endless resilience and creativity – none of this would be possible without you pic.twitter.com/gdiapVYSyk
— Michael Rapino (@Michael_Rapino) February 25, 2021
After all…

3. "Everyone who wants a COVID vaccine will have had one"
Rapino said that by mid-summer, COVID-19 vaccines are projected to be available to the general public and believes outdoor events will be a preferable interaction since they are open-air. Some have suggested events as large as festivals should only be an option for people who have received and have proof of getting the vaccine.
"For both the U.S. and U.K., projections indicate that everyone who wants a vaccine will be able to get one by May or June, and Europe and most other markets following a few months later," Rapino said. "Given the mass social and economic toll the lockdown has put on the public, we believe there will be strong momentum to reopen society swiftly as soon as vaccines are readily available, and we believe outdoor activity will be the first to happen. So while the timing of returning to live will continue to vary across global markets, every sign points to beginning safely in many countries sometime this summer and scaling further from there."
Gov. Greg Abbott said last week that more widespread distribution will begin by the end of this month. While the vaccine process has been nothing short of a mess, Austin's vaccine allocation is on the up and up, as this week's allocation jumped up 50%.
With the approval of the Johnson & Johnson vaccine, which only requires one shot, The Texas Department of State Health Services will receive an additional 200,000 doses next week. As of Feb. 22, Austin had received 233,515 doses of the vaccine, but this week alone, the city will receive a 46,540 dose shipment. Plus, Moderna and Pfizer are ramping up production with the intention of delivering 300 million doses each by July. The state health department estimates that vaccines will be available to the general public this spring.
4. Cases are on a national decline
Although the U.S. is coming out of a massive spike that started around October, cases have been on a steady decline nationally since mid-January. Travis County has followed the same trend. Even though COVID-19 is still not under control, with a vaccine available and the worst spike behind us...
5. Tours are being planned
Austin-based musician Jackie Venson told Austonia last week that she had been vaccinated through a volunteer program, which meant she was finally ready to get back on the road and retry a tour that had been canceled in 2020. Artists all over the world are rescheduling international tours that were called off in 2020, including The Weeknd, Tame Impala, Harry Styles, Russ and Maroon 5. Some even have shows scheduled in Central Texas, months before ACL is even scheduled to begin.
This summer we were excited to be bringing Love On Tour to North America. However, due to the ongoing threat from Covid-19 we have been forced to reschedule these dates to next summer. pic.twitter.com/EqSlr6HmBb
— Harry Styles. (@Harry_Styles) June 10, 2020
6. Festivals are being planned

ACL is not the only festival that plans to reignite in 2021. While major spring festivals like South by Southwest, California's Coachella and UK's Glastonbury have been canceled for the second year in a row, other festivals later in the year have managed to skirt the issue by waiting. Although Dr. Anthony Fauci does not recommend easing up restrictions until the time is right, he said large gatherings should be safe to resume once the U.S. nears herd immunity—after 70-85% of people are vaccinated or have already recovered from the virus—which he predicted would be this fall last month.
Festivals like The Governor's Ball and Bonnaroo—New York City and Manchester, Tennessee, festivals that usually kick off June—have been postponed until September. On the local front, JMBLYA said it is planning 2021's festival and UTOPiAfest is already selling tickets for an October festival.
7. We really, really need it
After a year when no one thought things could get any worse, Texans have already been through the wringer with statewide political protests and the winter storm of the century that left millions without necessities.
Austin became the Live Music Capital of the World by playing live music and residents have certainly missed its presence. The pandemic has wreaked havoc on our lives from a physical and mental standpoint and while no Austinite wants to see anyone get hurt by a music festival that is supposed to bring joy to the city, going another year ACL-free just doesn't feel right.
Logistically, planning an international festival after a global pandemic is a challenge in and of itself. Some have talked about providing proof of a vaccine to enter, setting tents six feet apart or cutting the attendance lower to make the event a real possibility. For now, seven months away from the two-week fest, ACL is definitely a possibility.
As a long-time Austin City Limits festival goer, Ashley Garcia was ecstatic to move to Austin in early 2020 and finally be in the same city as her favorite music festival. No more hotel rooms, hours of driving and extra fees to pay.
When COVID-19 hit and event cancelations swept through 2020, though some were proud of the organizers for taking the festival to a virtual format, many Austinites held their breath for an ACL that never happened.
"You could tell they were holding on as long as possible," Garcia said. "I guess those last months, that's when they finally gave the final word of 'nope, it's canceled.' It was so heartbreaking."
This year holds a glimmer of hope for festival attendees, artists and organizers alike. According to Fresh and Clean Media Director of Publicity Sandee Fenton, ACL still plans to hold an in-person festival in 2021, as promised. Though Fenton declined to answer further questions, she issued the following statement to Austonia:

"We are currently planning to hold the festival in Zilker Park in October. We remain in communication with local officials and will offer updates through our website and social media when we have more information to share. Of course, the health and safety of our fans, artists, staff and community is our number one priority and planned for accordingly."
Holding the festival this year will be a daunting task—ACL attracts almost 500,000 fans every year, a figure that doesn't include staff or performers, and tightly packs them together in front of stages.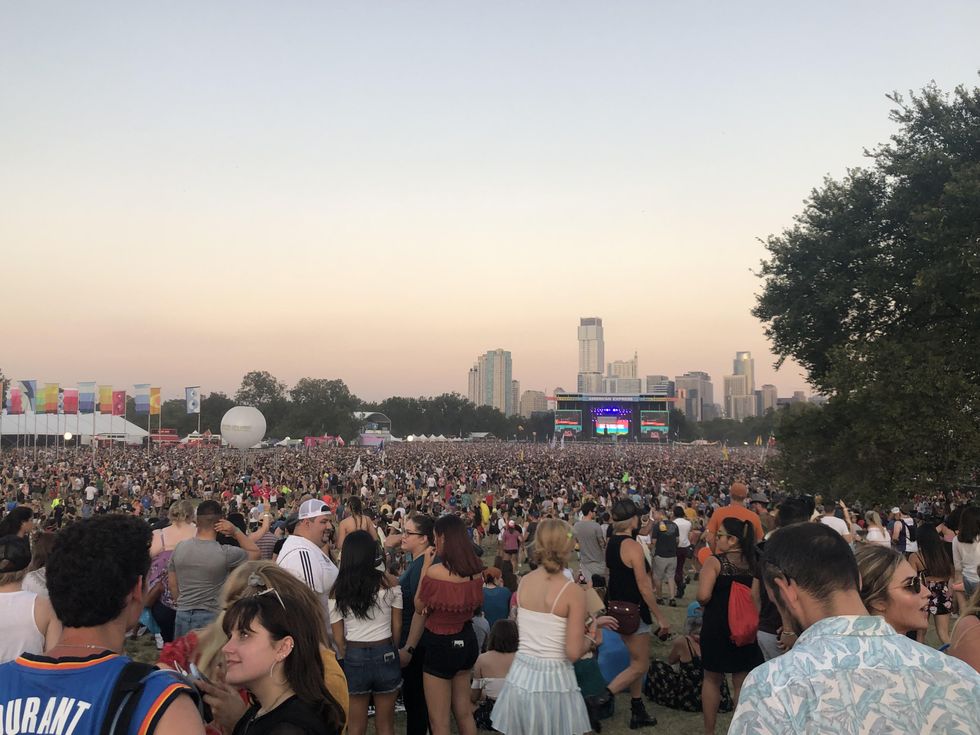 At ACL 2019, fans packed so far behind Childish Gambino's stage that it was nearly impossible to see the band. (Laura Figi/Austonia)
For artists, the restart of gigs, concerts and festivals couldn't come soon enough, especially for Austin-born-and-raised artist Jackie Venson, who told Austonia that sheltering in place has made her feel confined after a jam-packed year of performing in 2019.
"I felt like I was just screaming at the walls I was stuck inside of, it was really crazy," Venson said. "When I lost my tour and when (festivals were) canceled, and I lost all of that income and all of that activity, I realized how dependent I was on certain things."

Venson performed at ACL 2018 and was part of last year's virtual live stream.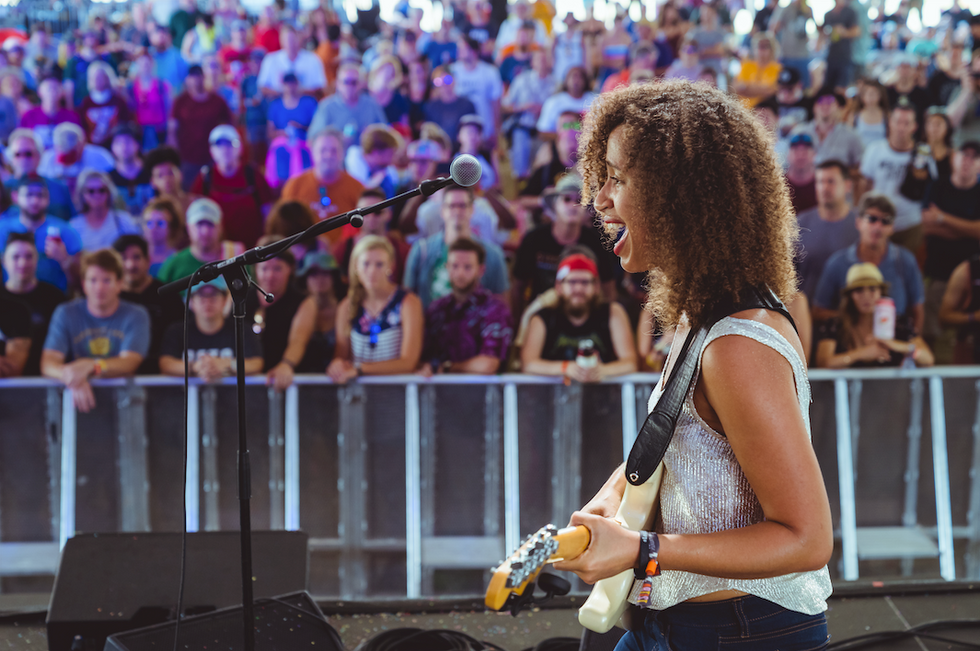 Jackie Venson at ACL 2018.
Although Venson said she found a certain independence in live streaming and being able to directly connect with her audience, after getting a COVID-19 vaccine through a volunteer program, she is ready to book as many shows as possible. Venson said she would even play ACL 2021 if she is asked.
"I don't think that musicians can get any lower than they are right now," Venson said. "I don't think that we'll ever get a harder blow than any of the blows of last year ... because if (musicians) can get through last year, period, they can handle anything. Anything."
Though the popular California music festival Coachella, which is normally held in April, was canceled due to COVID-19 in January, many other festivals are following in the footsteps of ACL. New York City's The Governor's Ball, normally held in June, has been postponed to September this year for optimal chances, Tennessee's Bonnaroo is scheduled to go on in September and while Chicago's Lollapalooza has neither confirmed nor denied the festival yet, it is run by the same companies as ACL and still has the 2021 tickets page up.
And aside from music events, locally, the University of Texas said this week it plans to have 100% capacity for fall football games this year, which would mean the gathering of 100,000 people at the Darrel K. Royal-Texas Memorial Stadium.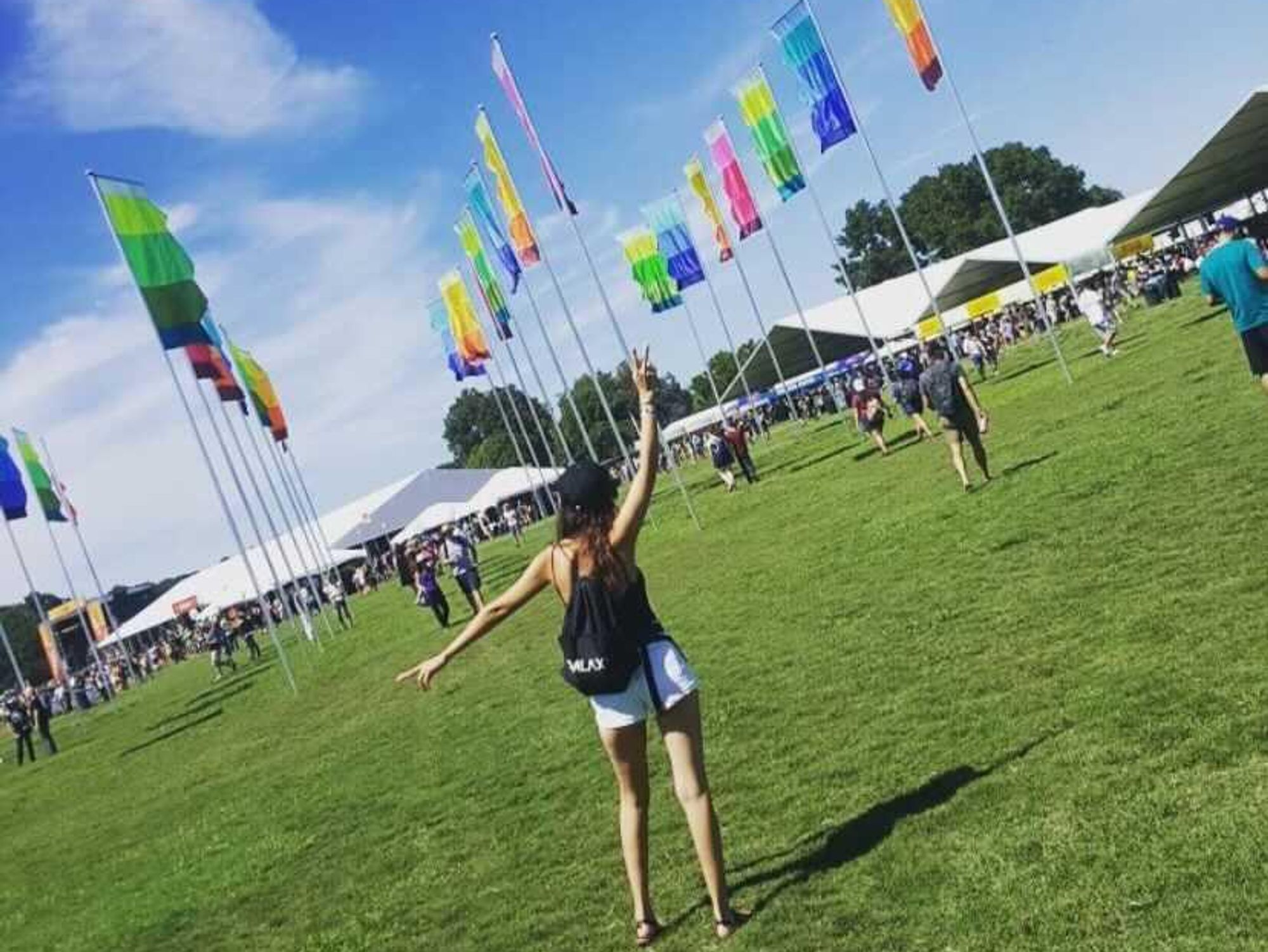 Ashley Garcia in front of the iconic ACL flags in 2016. She has gone to ACL every year for some time, until it was canceled last year. (Ashley Garcia)
For Garcia, anything is better than a virtual concert. If ACL 2021 goes on, she hopes to see Chicano Batman, a band that holds special meaning to her and represents her Hispanic heritage, and Austin's own Black Pumas, who captured her interest the first time she heard them play.
"I'll be the first one to buy a ticket," Garcia said. "I think (ACL) really does give Austin that 'Austin vibe.' You can tell everyone's there for one reason with the connection of the music and just having a good time. I think that all of that together makes it feel much bigger than it is."
(Pexels)
Filled with some of the most momentous and provoking events, 2020 has been a trip of a lifetime. So, with the year almost behind us, some holiday cheer is long overdue.
Whether you're celebrating Christmas, Hanukkah, Kwanzaa or any other holiday, Austonia is here to provide some elf-like support to anyone struggling to feel merry this holiday season with a countdown to Christmas.
Looking ahead to the next 12 days, you can expect holiday-fun inspiration for your home, socially-distanced events, recipes to try and more.
Looking back at the beginning of the year seems almost unreal. Due to the pandemic, many Austinites have had to deal with hard realities and new normals. With stay-at-home orders across the world, an election that gained international attention, homelessness growth in Austin, protests across the city, a peak in unemployment and businesses being forced to shut down, it seems like there are no good outcomes this year.
But the holidays are a time to be in good spirits as everyone spends time with their family and takes part in old and new traditions. This year has changed the way we do most things, so no matter what your holidays look like, it's a time to cherish what you have and look forward to what the new year will bring.
Let's count our blessings this year, and get into the holiday spirit as we inch closer to 2021.
(Laura Figi/Austonia)
The Austin City Limits festival flags have taken their rightful place in Zilker Park heading into what would have been one of the festival's weekends before the coronavirus brought coordinators to cancel the festival for a virtual one.
The flags, put up on Wednesday, will decorate the park until Sunday, when the virtual festival is scheduled to end, according to Fresh and Clean Media director of publicity Sandee Fenton.
Current view. 👀 To celebrate #ACLFest 2020, the flags are now up in Zilker Park through Sunday! Tune in starting Fr… https://t.co/LbtwiTWxGx

— ACL Festival (@ACL Festival)1602172068.0
In an email to Austonia, Fenton said the beloved ACL fest flags were installed with help from the Austin Parks Foundation in Zilker Park as public art and a reminder that ACL is continuing to entertain, as well as advocate for and improve parks around Austin. Fenton said the flags were put up in consultation with the Public Health Department with hand sanitizing stations nearby.

Michael Oliva, who was enjoying the flags with his son, said even though he will miss the festival this year, he knows the cancelation is better for the community.
"It's safer for the community right now, just given our current circumstance with the population that usually comes into town (and the) close contact," Oliva said. "I think it's just the best way to do things right now."
For Joe Perricone and Mirezha Guevara, who attended the festival last year, the flags represent a sense of positivity and normalcy in the community.
"It feels like they're still trying to have that feeling, getting us outside; and trying to get us ready for next year," Perricone said. "(The flags) kind of help put Austin on the map and reinforce the positivity of the community."
Virtual ACL will begin 7 p.m. Friday and continue in the evenings through Sunday via YouTube.
More on virtual ACL: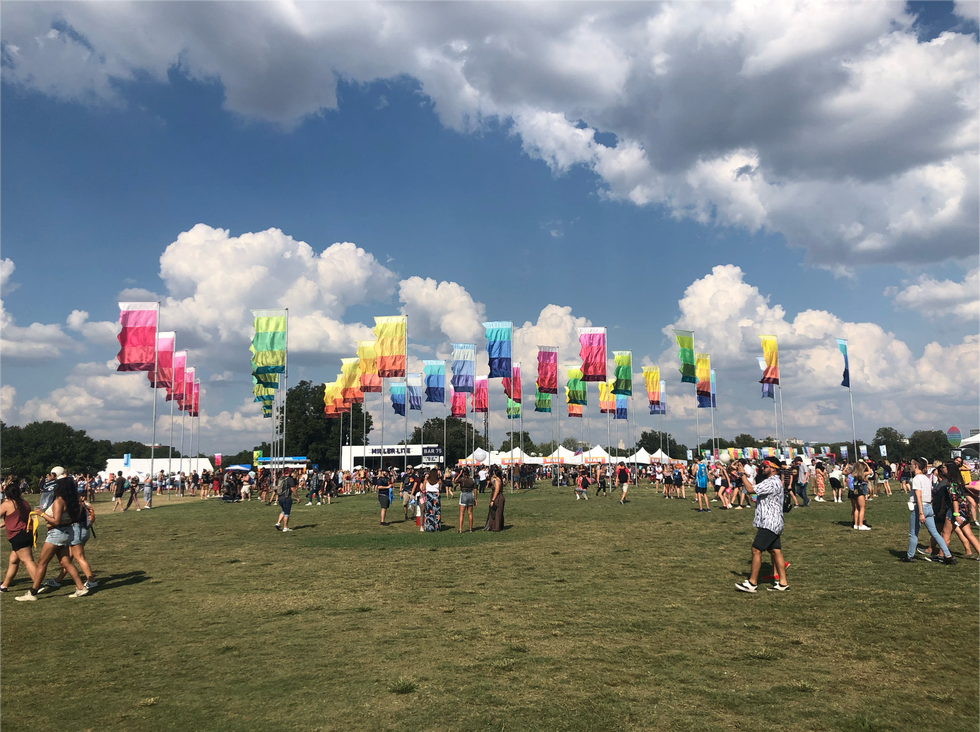 ACL announces virtual lineup