Austonia AM
100% Austin news, info, and entertainment, straight to your inbox at 6 a.m. every morning.
In five minutes, you're fully informed and ready to start another great day in our city.
Get connected with our daily update
Lucky buyers got to "own a piece of Austin history"—for a price tag of up to $80,000—after Austin City Limits sold 20 separate sections of the original backdrop from the historic television series in an online auction.
The piece, which depicts Austin's ever-growing skyline and includes landmarks including the University of Texas and the Texas Capitol, was sold to 20 separate buyers for over $265,000.
While some less visually appealing panels of twinkling Austin lights sold for as low as $1,500, the panel depicting the Capitol sold for over $80,000. Similarly, the glowing University of Texas tower panel sold for $45,050.
Austin PBS sold the pieces as part of a farewell to Studio 6A, where the original set for ACL's television program was shot. Icons including Willie Nelson and Loretta Lynn have played in front of the backdrop for years since it was instituted in 1982. The panel was put out of use in 2010.
Bidding began on Monday and ended Friday morning at 10 a.m. All proceeds went to Austin PBS and will be used to help the production company move locations in 2022.
The panel may be sold, but it will see one last hurrah as famed country artist Garth Brooks takes the stage on July 20-21 for another fundraiser to help with move out expenses.
You might need to rethink your Austin City Limits 2021 schedule—the festival just got a little bit busier with 33 new additions to the lineup.
First announcing 11 new artists, then adding 22 more about two hours later, ACL took to social media on Friday to tell fans to "get excited" for the festival's newest performers.
So who are the new musicians?

Karol G, a Colombian singer-songwriter who makes music in many genres but is known for her reggaeton and Latin trap releases.
girl in red, a Norwegian singer-songwriter whose bedroom pop surrounds mental health and LBGTQ+ themes.
LeAnn Rimes, a Texas native who has been performing country music since she was 13. Weekend two only.
Skip Marley, a Jamaican singer-songwriter. Marley is the grandson of Bob Marley and makes reggae and dance music.
Amber Mark, who won a Grammy for "Best Engineered Album" after her diverse hip hop, R&B, soul, and bossa nova debut in 2017.
Arlie, a Nashville-based indie group that calls itself the "number 1 doctor-recommended band."
Jade Bird, weekend two only, an English musician who specializes in Americana, country and folk-rock while she plays her own guitar. Weekend Two only.
Maggie Rose, an American rock and blues singer. Weekend two only.
Calder Allen, who comes from a talented family: he's the grandson of Terry & Jo Harvey Allen, son of Bale Creek Allen, and nephew of Bukka Allen.
Vincent Neil Emerson, an East Texas native who calls himself the "torchbearer of the Texas songwriter tradition." Weekend two only.
WizTheMc, a 21-year-old rapper who has been working on his persona since middle school. Weekend two only.
But wait, there's more—these 22 artists will all perform on the BMI Stage this fall:
Bexley, weekend one only.
carolesdaughter, weekend one only.
David Ramirez, weekend two only.
Gina Chavez, weekend one only.
Gigi, weekend two only.
Hardy, weekend one only.
Jany Green, weekend one only.
Katie Pruitt, weekend one only.
Leah Blevins, weekend two only.
Leyla Blue, weekend two only.
Mattiel, weekend two only.
OMB Peezy, weekend two only.
Public Library Commute, weekend one only.
Raiche, weekend two only.
Samantha Sanchez, weekend two only.
Sun Room, weekend one only.
Superfónicos, weekend two only.
Tenille Arts, weekend one only.
The Teeta, weekend two only.
Yendry, weekend one only.
Zach Person, weekend two only.
Zella Day, weekend one only.
Only two and a half more months until the festival begins!
After a year-long hiatus, Austin City Limits is returning to Zilker Park—the festival's iconic central Austin location. But after 18 years, some residents are ready to see the festival move to a different part of town, lamenting another year of traffic, losing access to their favorite park and corporate greed.
Longtime Austinite Robert Reeves, a lover of live music who spent years working on the Vans Warped Tour, has been living in the city since 1992. Reeves said he wants ACL out of Zilker Park, not just to save a few minutes driving on the weekend, but also to keep Austin local.

ACL is run by C3 presents, an Austin entertainment company. However, in 2014, 51% of the company was acquired by Live Nation, a Beverly Hills-based company. While C3 puts on the festival, Live Nation has a big say on how the show is run.
"It is no longer the showcase for Austin and Austin talent," Reeves said. "You don't get credit for being homegrown Austin when you're no longer a homegrown Austin company, when you're catering to people outside and you're causing problems for the residents here."
Reeves is not the only resident who feels this way. Austinites took to Twitter and a recent Towers survey to share their displeasure with the festival's location.
Since shit in Austin flows downhill, expect Roy Guerrero Park to soon be publicly talked about as a new location for the ACL Festival. Because of all that diversity, equity and inclusion n' stuff. It should move to COTA.https://t.co/nQ9GwqrpVp

— Fred McGhee (@fred_mcghee) July 4, 2021
I actually do think Zilker is too small for ACL now. So the next logical place for it to move would of course be Muny. https://t.co/E4G3QogIB9

— sarianrogue (@sarianrogue) July 2, 2021
The problem, Reeves says, is that the festival no longer supports the community. C3 has donated more than $35 million to Austin Parks and Recreation over the years. But Reeves thinks Live Nation needs to give back more to the community if it wants to use it.
"It's not how much we think something is worth, it's how much the other person thinks it's worth," Reeves said. "Look, I love ACL, but I've got to tell you, it has lost its way. Regardless of how much value (ACL) adds to Zilker Park, it's a park, whatever. If we told Live Nation to fuck off… they would have to take a charge on their next earnings report to Wall Street, their stock would plummet."
Reeves acknowledges that ACL was a huge economic boom during its inception but says that Austin has more economic freedom now. On top of that, Reeves said residents of Barton Hills, Rollingwood and Bouldin Creek neighborhoods have had enough of the traffic, rental problems and commotion.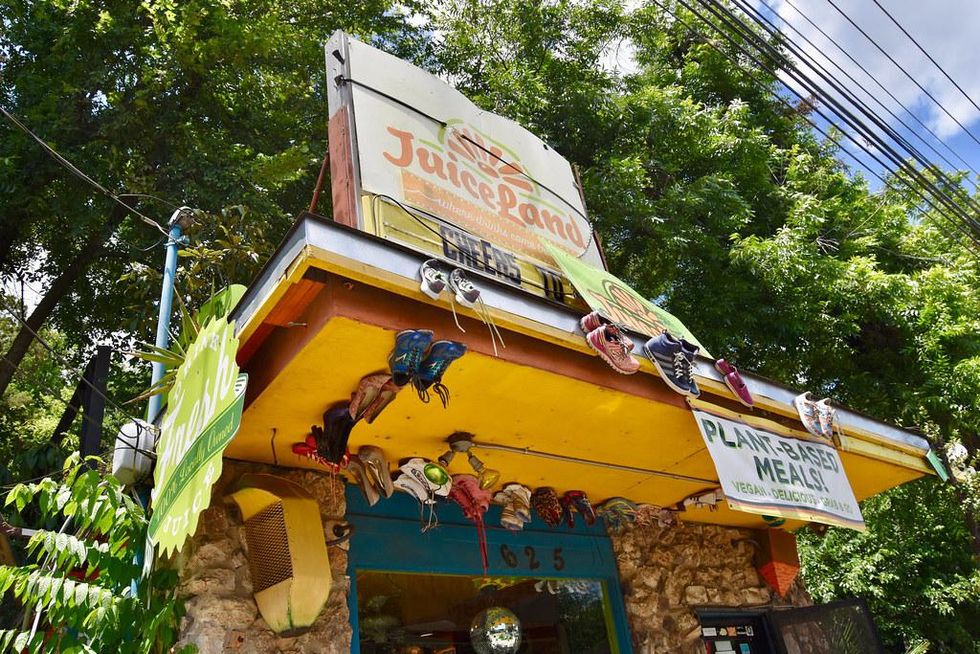 Juiceland is one of the businesses to benefit from business ACL brings in. (Nick Amoscato/CC)
"It takes inventory out of the real estate market, which in turn raises prices," Reeves said. "There's assholes in LA that have mansions in Malibu at Live Nation because of this."
Reeves' argument: Live Nation needs ACL more than Austinites do. So if not Zilker Park, where should the festival be held?
"Not my fucking problem," Reeves said. "If you're not changing, you're dying."
Few businesses in the area share the same opinion—ACL is a huge revenue driver. Barton Springs Juiceland Manager Kaley, who declined to give a last name, said the two weekends are the best shifts of the year.
"Employees will make over $100 in tips a day, it's the best time for us," Kaley said. "We didn't have ACL last year and we're still fine but that being said, it is definitely something that I think everyone around here looks forward to. It really drives up revenue for us and Chuy's and Juliet (Italian Kitchen)."
Beyond that, Kaley, a lifelong Austinite, said ACL just wouldn't be the same festival if it was held elsewhere.
"Quite frankly if it wasn't at Zilker Park anymore, it wouldn't be ACL anymore," Kaley said.
Last month was the happiest Americans had been pretty much ever, according to a new report from Gallup researchers—and all it took was a one-in-a-lifetime pandemic.
Over 59% of Americans were "thriving" in June, according to the report's Life Evaluation Index, up from a previous record high of 57.3% in September 2017. Record lows were recorded during both the COVID-19 pandemic and the Great Recession. The poll has been conducted for the last 13 years.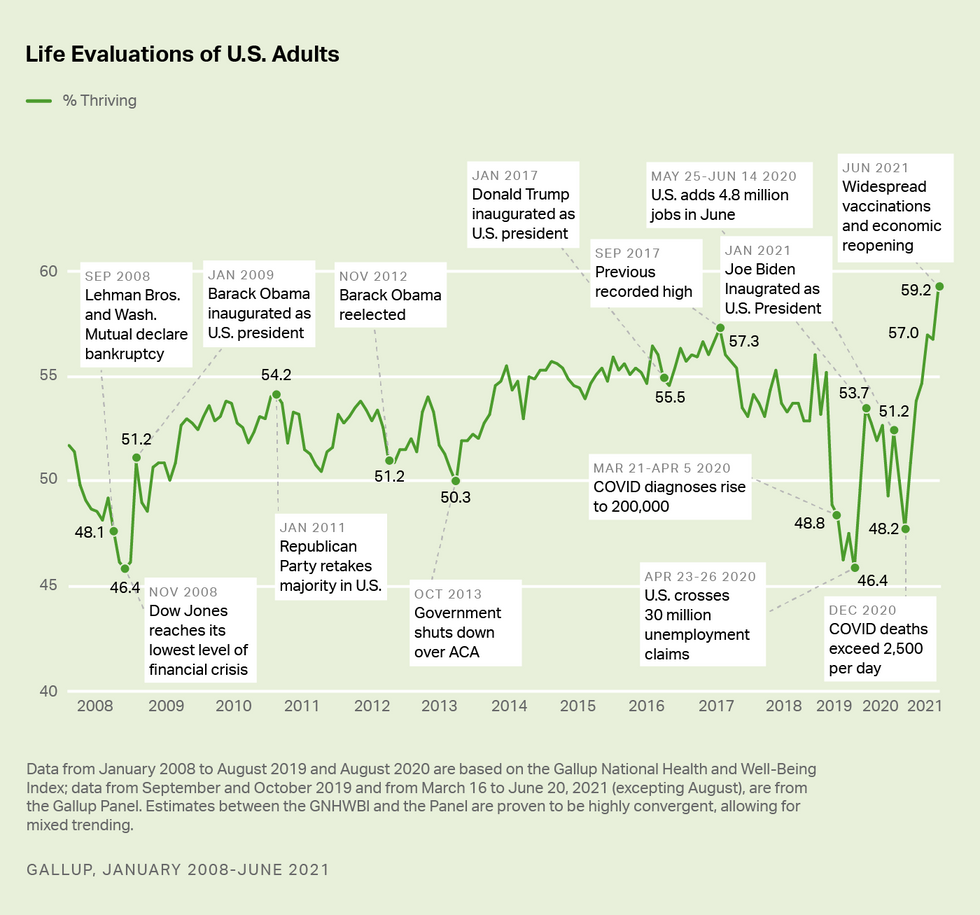 (Gallup)
The peak occurred just as Austin approached the low-end threshold for herd immunity, with 70% of its population 12 and older receiving at least the first dose of the COVID vaccine. President Joe Biden hoped to see America reach that rate by July 4, but the country fell just short with a 67% vaccination rate.
"Shot Girl Summer" (the cultural phenomenon that encourages everyone to just live their best life) has also injected newfound enthusiasm for social events, outdoor fun and travel. Austin-Bergstrom International Airport announced last month that it had reached pre-pandemic summer travel levels. Austin FC, the city's first major league sports team, has played in front of a sold out crowd for each of its three home matches, and beloved Austin events and festivals like Austin City Limits have sold out in minutes.
In April 2020, as many Americans begrudgingly accepted that the pandemic was more than just a long spring break, "thriving" percentage points plummeted ten points to just 46.4%, tying for a record low.
The plunge was the most drastic change on record, trumping both when Dow Jones reached its lowest level during the 2008 financial crisis and the 2013 government shutdown.
The results are from a six-day period from June 14-20 and derive from a survey of just under 5,000 U.S. adults. The poll considers the quality of respondents' current and future lives, with three options: "thriving," "struggling" and "suffering." In order to be thriving, those surveyed must rate their current life at least a 7 and their life in five years at least an 8 on a 10-point scale.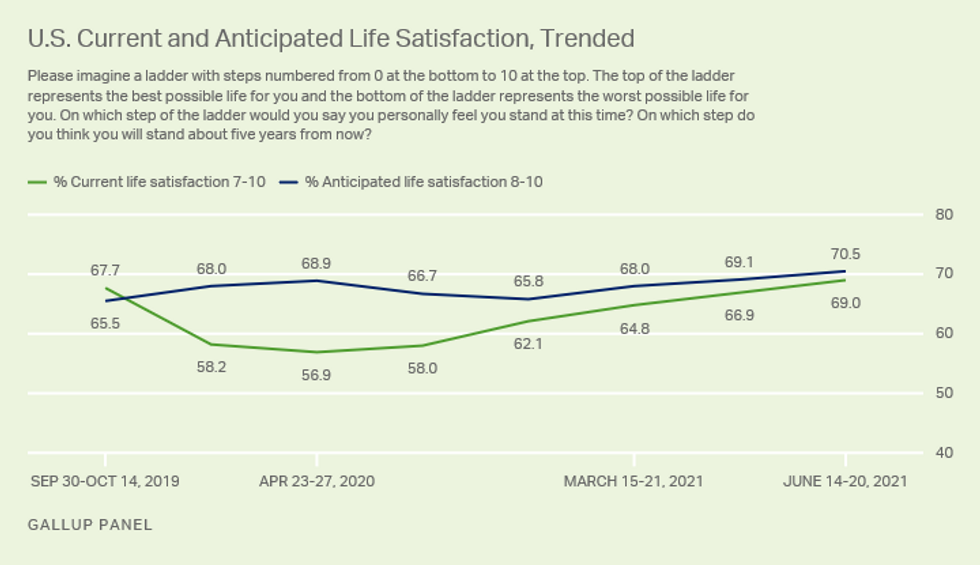 (Gallup)
Even in the heat of the pandemic, those who identified as "suffering" made up a minority, accounting for just 3.4% of respondents.
Boredom, the silent mood killer, was much to blame for the drop in "thriving" rates mid-COVID: while almost half of respondents reported boredom in April 2020, 26% were grappling with that emotion by June 2021.
Unhappiness can be tied to unemployment, as it was in both 2008 and April 2020, when the U.S. faced over 30 million unemployment claims. But even with the Great Resignation, which has seen millions of workers quit, "thriving" levels are at an all-time high.