Get connected with our daily update
What, you think the only thing there is to do at Austin City Limits is to watch your favorite artists? Must be your first time. ACL is more than just a dreamy three-day soundscape in the park—between sets, the festival has so much to offer that it's nearly impossible to get bored.
You're bound to have some downtime while attending ACL 2021, so when you do, make an effort to explore the booths, zones, markets and branded seatbelt forests—you'll be glad you did.
Ice for your Hydroflask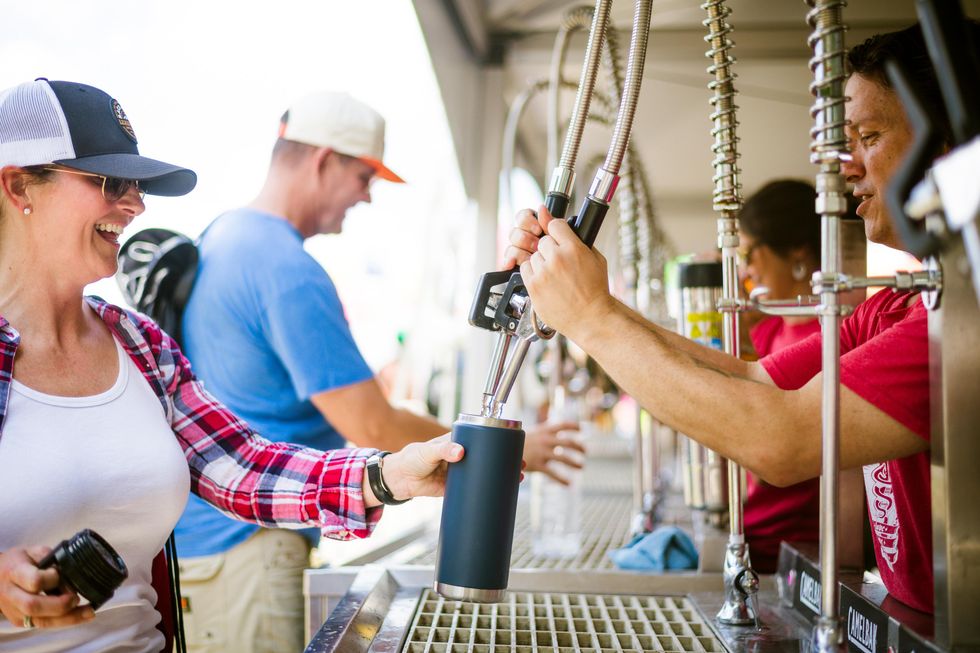 (Katrina Barber for ACL Fest)

Empty plastic or aluminum water bottles are welcomed inside the festival and ACL does a great job of keeping attendees hydrated, so there's no reason to buy water or waste plastic while attending. You have to bring the bottles in empty but there are several filling stations for water bottles located around the park. None of them offer ice, which can be essential during those 100-degree days. Head to any of the bars located in the park and ask for a cup of ice—bartenders are happy to part with it and you'll be cool as a cucumber!
Access to private lounges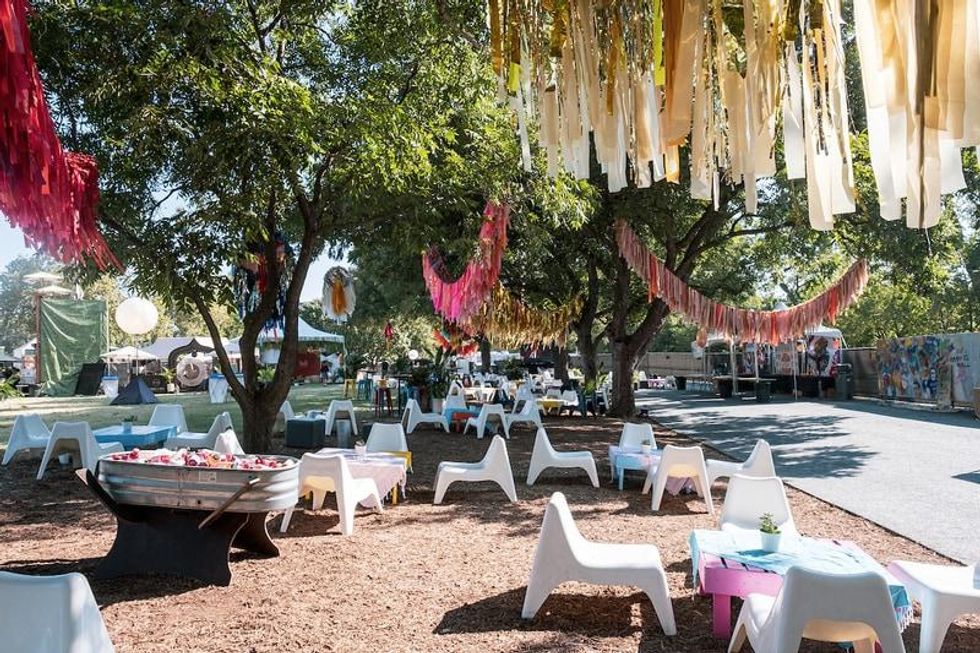 (ACL Fest)
Need a break from the never-ending sun? A snack that doesn't cost $30? There are private, shady lounges all over the park—some for exclusive ticket holders, some waiting to be discovered by even the one-day crowd. Take for instance the T-Mobile Lounge, located adjacent to the stage of the same name, offered patrons a wristband to access the lounge in exchange for a social media post back in 2019. If you're an American Express cardholder, the benefits are numerous: a lounge open only to cardholders and complimentary merch awaits those who don the card.
Free prizes, snacks and drinks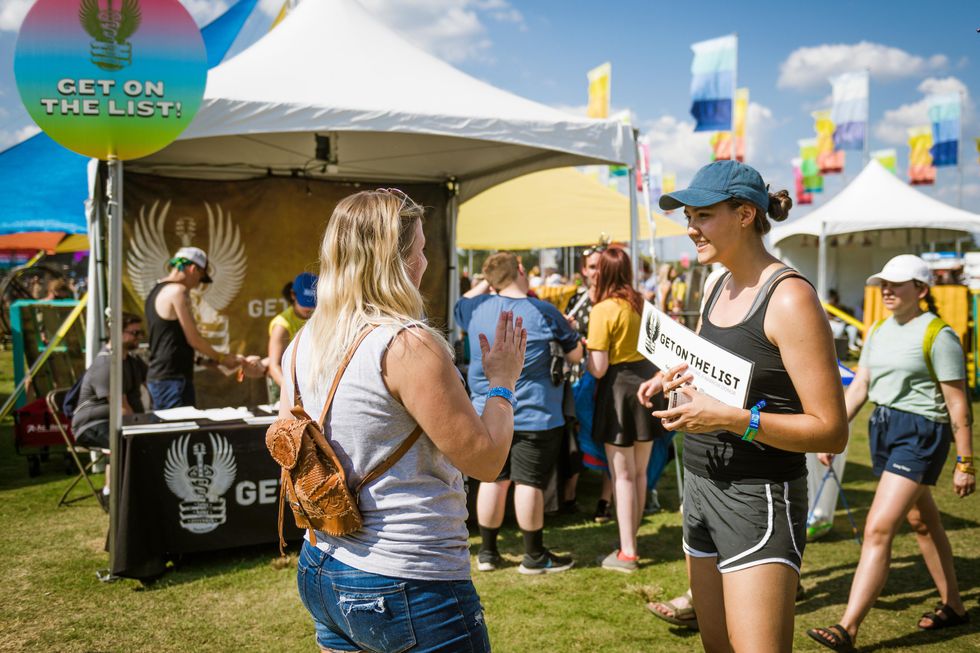 (Katrina Barber for ACL Fest)
With dozens of vendors on the grounds, swag is not hard to find. You might have to play a game, answer some trivia or post on social media to qualify but the free merch often comes in handy. Forgot a fan? A vendor has one. Need a bandana? Visit the Tito's stand. Lose your water bottle, sunscreen or earplugs? A vendor has you covered, so be generous with the Instagram tags.
The ACL Art Market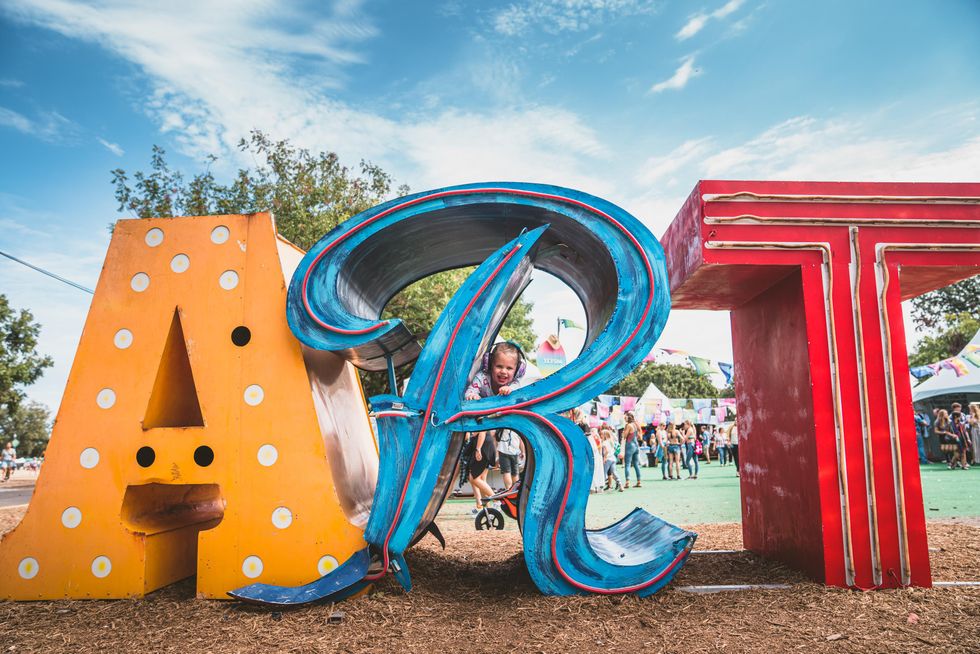 (Roger Ho for ACL)
Support local by visiting the artisans at the festival's art market, located in the center of the park. Artists from all walks of life and levels of success sell their artwork yearly at the festival, so you'll need space to store your new keepsake if you're planning to collect. Blue Lux, Austin Art Garage, Greg Davis and Futurgarb are a few previous attendees. You'll know you've made it when you stumble across the massive, colorful "ART" sign.
Clean up trash for free merch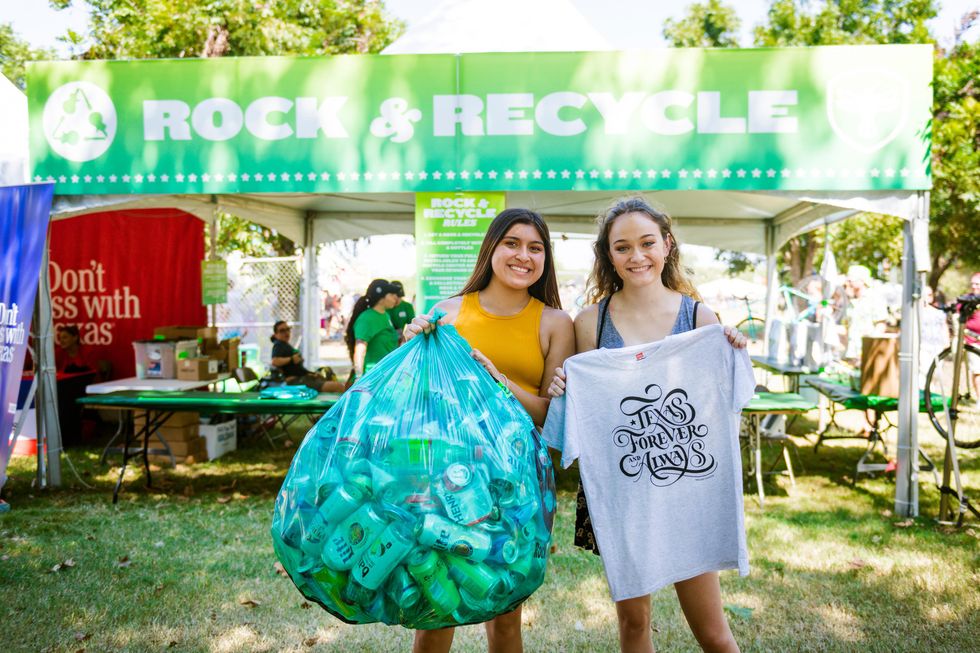 (Katrina Barber for ACL Fest)
Ensuring that Austin's beloved park stays clean throughout the festival, ACL partners with Austin Parks Foundation for its "Rock & Recycle" program that offers a little something for everyone. Stop by the Austin Parks Foundation booth when you have some free time to pick up a bag, fill it up with littered recyclable items and return the full bag for a free T-shirt—that's it. Plus, you can be entered to win other contests every time you help keep the park clean.
See some interactive art installations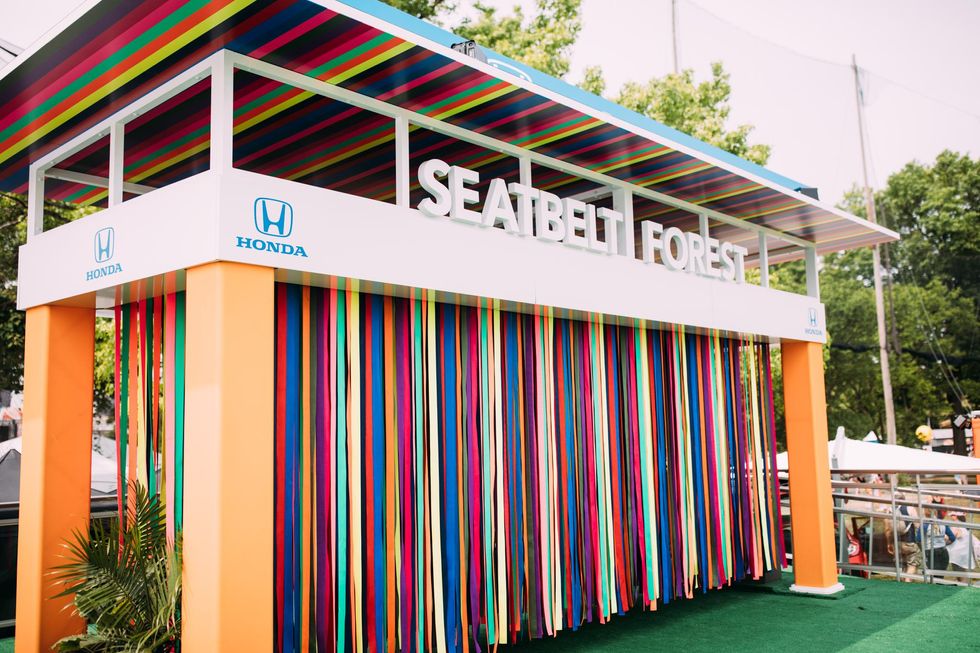 (Honda News)
Each partner at the festival has something up their sleeves, often worth exploring. As ACL partners change, you're likely to see some returns, like the Honda Seatbelt Forest or the Bumble BFF Find Your Bestie Booth. In 2019, Honda gave attendees a colorful backdrop to pose in front of and a break from the chaos, whereas Bumble promised to introduce you to a new friend and gave out merch to those who gave it a go!
Lend your ear (or your wallet) to a good cause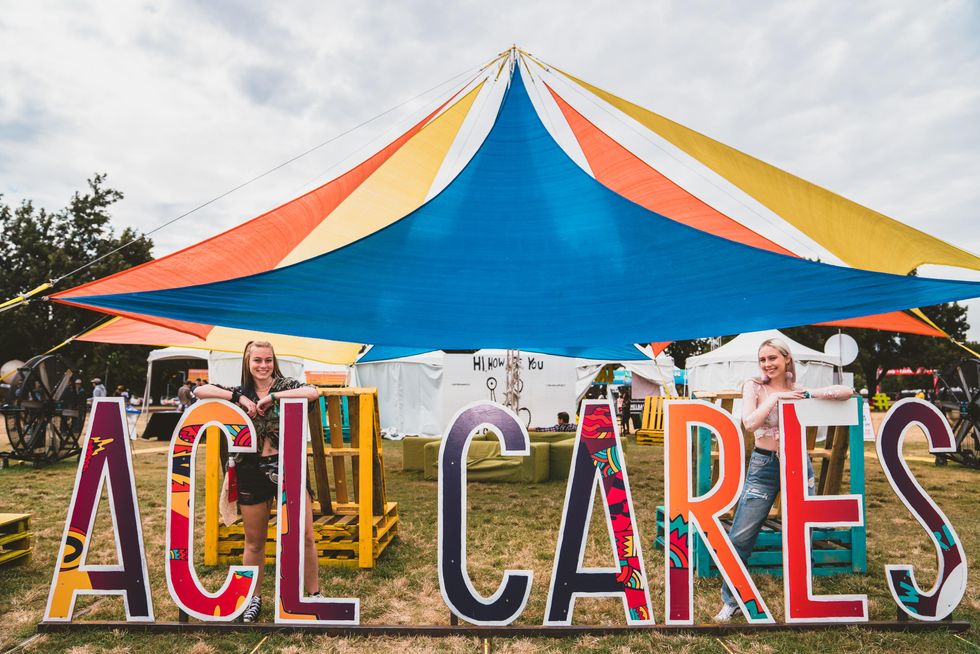 (Roger Ho for ACL Fest)
ACL is more than just a festival—it's a time to raise awareness for local organizations. Stop by the ACL Cares area, where nonprofits and organizations gather to spread the word, and you're likely to find organizations like Health Alliance for Austin Musicians, SIMS Foundation, Austin Music Foundation, Keep Austin Beautiful, The Nature Conservancy and the Love Hope Strength Foundation, where you can register to be a bone marrow donor at the festival.
Austin Public Health announced that Austin City Limits Festival's COVID-19 Health and Safety plan was approved, though final approval of the event is still up in the air.
APH announced the news via press release on Tuesday morning, saying the event's final approval is subject to "the ability to support the healthcare and safety system."
ACL, festival producer C3 Presents and the City of Austin have approved the following criteria for festival safety:
All attendees must show a negative COVID-19 test obtained within 72 hours of entering the festival.
Fully vaccinated attendees may show proof of vaccination instead of a negative test. Such patrons do not need to be tested to enter the festival.
ACL organizers must develop strategies for social distancing and include outdoor "mask zones" where distancing is not possible, including on festival shuttle buses, entrance lines, areas closest to the stages and the on-site merch store. Free masks will be available upon entry.
On ACL's end, organizers are asking patrons compley with "fan health pledge," asking fans don't attend if:
You have tested positive for or been exposed to COVID-19 in the past 14 days
You experience symptoms of the virus (a fever of 100.4F or higher, cough, shortness of breath or difficulty breathing, chills, repeated shaking muscle pain/achiness, headache, sore throat, loss of taste or smell, nasal congestion, runny nose, vomiting, diarrhea, fatigue, or any other symptoms associated with COVID-19 identified by the Centers for Disease Control and Prevention) within 48 hours of the festival.
You traveled internationally or to an area subject to quarantine within two weeks of the festival
Approving the Health and Safety plan is just one step of the special events application process—events became required to submit a plan as of April 2021.
Still pending a special events permit from the city of Austin, Austinites are buzzing with excitement and less than worried that Austin City Limits Festival 2021 won't return.
With only three more weekends until the iconic music festival, headlines have circulated speculating a cancelation for the festival, especially after Pecan Street Festival and Bat Fest were denied their permit. Every year ACL is required to obtain a special events permit since it operates on city grounds.
This year's events application—with more than 2,500 outdoor attendees—requires that event organizers take precautions against COVID-19 and submit a safety plan beforehand. The precautions include acquiring a negative test from all attendees, regardless of vaccination—a rule ACL has yet to update in its own policy. ACL's health policy still reads that those who are fully vaccinated may show proof of full COVID-19 vaccination instead of proof of negative test.
However, ACL began setting up in Zilker park this week and shipping out wristbands.
Rio Grande Valley native and five-year Austin resident Maggie Palacios struggled to get her weekend one ticket but she said seeing crews setting up has made her confident that the show will go on.
Palacios' first concert was Vance Joy at ACL 2017, so she has a soft spot for both the park and the festival.
"I was definitely in that queue, trying to get a ticket for a while. It was really stressful and I was really excited once I got it," Palacios said. "It's definitely comforting to see something normal like ACL go on. It's also just really exciting to be able to experience something again."
According to Austin Center for Events Public Information and Marketing Program Manager Sara Henry, ACL didn't get approved for its permit until Sept. 26 in 2019. The office hasn't made a concrete decision yet so speculation may be fueled by suspense.
"It is not unusual for special events permits to be approved a few days before an event begins," Henry told Austonia. "As always, Austin Center for Events, which includes Austin Public Health, are working closely with event organizers to help them navigate the evolving requirements for COVID-19 health and safety during events."
After a hard year-and-a-half on the food service industry, ACL businesses are betting their chips that they'll be able to serve the crowd this year.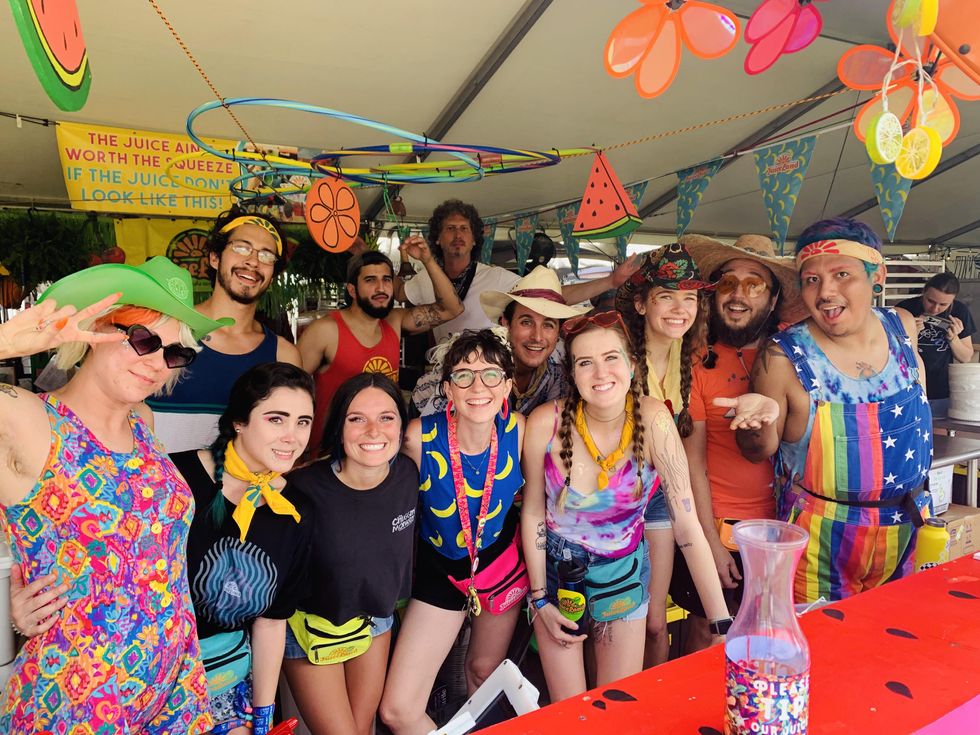 The JuiceLand booth has been an ACL staple for the past consecutive nine years—this year they are upgrading to two separate booths and bringing back the blue raspberry lemonade. (JuiceLand)
With not one but two JuiceLand booths coming to ACL this year, CEO and 20-year ACL attendee Matt Shook said he and his team have been waiting for the festival with bated breath after more than a year of playing it safe.
"There are a lot more JuiceLanders hoping that the festival happens this year than ever before," Shook told Austonia. "We see a lot of old friends and old fans of the brand that come to Austin maybe once a year just for ACL, so it's sort of a homecoming. It's a really good time and everybody looks forward to it."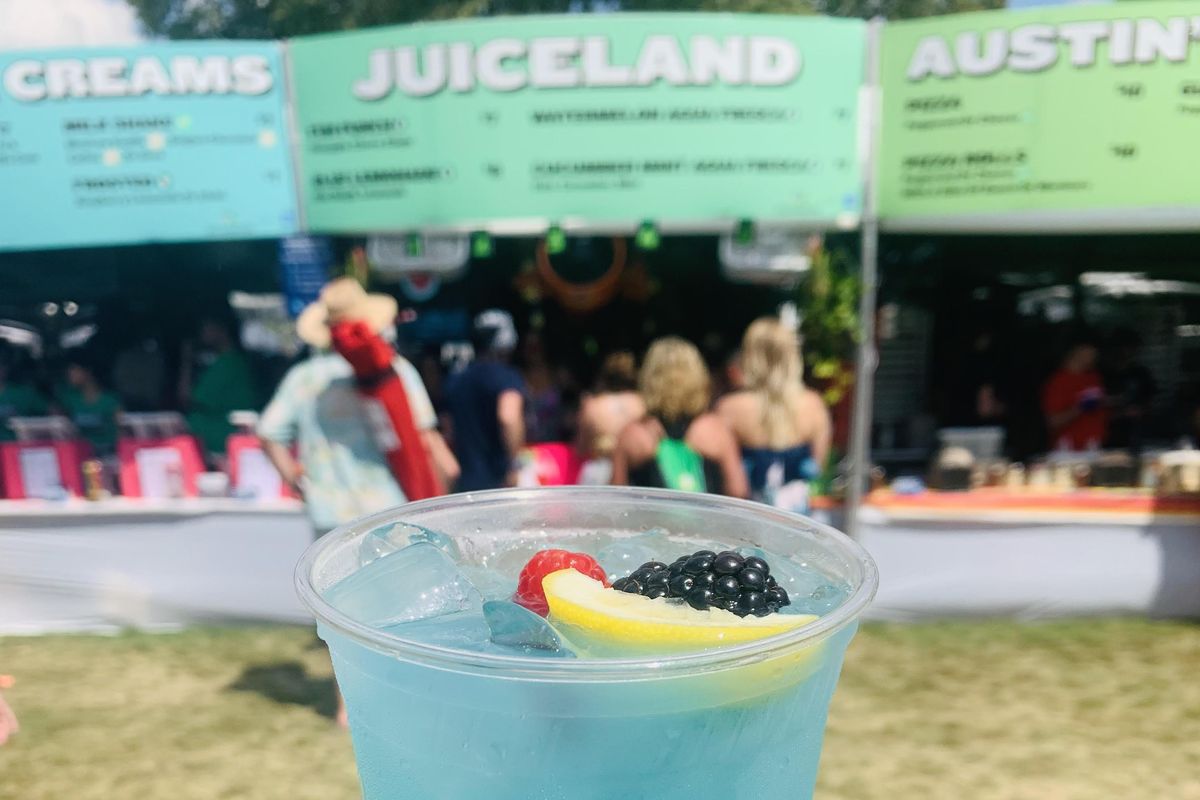 JuiceLand will have double the staff at the festival this year. (JuiceLand)
APH officials said on Friday morning that for the time being, they are working with organizers to make sure the festival can go on safely. However, APH Interim Health Director Adrienne Stirrup said circumstances could change at the drop of a hat.
"You can go to bed on a Friday night thinking that we're on this smooth trajectory to Stage 4 and wake up on a Monday to find out that something happened over the weekend, and those projections say that it's going to take us a little bit longer," Stirrup said.
No matter what happens, Shook said he and his JuiceLand family will try to see the silver lining while looking forward to ACL 2022.
"If Zilker Park is open for people to play in it for a month more than usual, which would be the case, that's a pretty good thing," Shook said. "You got to be more safe than you are sorry. So, if the powers that be decide that the festival is canceled, we'll just roll with the punches and make lemonade out of lemons."
You know what they say, good things come to those who wait.

As Austin City Limits wristbands get ready to ship out, Austin city officials confirmed that they have yet to approve the October festival for its special event permit on Wednesday.
KXAN reports that ACL may need to change its COVID-19 safety guidelines in order for the show to go on—the city updated its requirements in late August for event permits on city property, saying large events must acquire a negative test from all attendees, regardless of vaccination.
The festival's website still states that fully vaccinated attendees "may show proof of full COVID-19 vaccination instead of proof of negative test."
Earlier this week, the city denied the permit for the 40th annual Pecan Street Festival, which was scheduled for Sept. 18-19. This is the fourth time the Pecan Street Festival was canceled.
Amid artist Stevie Nicks dropping out of the festival due to COVID concerns, there have been calls to cancel the festival again with #cancelACL. Though COVID-19 cases and hospitalizations spiked this summer, the seven-day moving average for cases has been on a steady decline since late August.
The city only has authority over events on city-owned land, like ACL at Zilker Park, which is why other large events are unaffected by the permit restrictions.