Austonia AM
100% Austin news, info, and entertainment, straight to your inbox at 6 a.m. every morning.
In five minutes, you're fully informed and ready to start another great day in our city.
Get connected with our daily update
Austin is one of the 25 least affordable U.S. cities for minimum wage workers—even if the minimum wage was bumped up to $15/hour, according to a study by movebuddha.com.
Living in Austin costs more than the $2,400/month income of full-time $15/hour employees and that's without adding to a savings account. Alongside Plano, the 13th least affordable city studied, Austin is also one of the only cities on the most expensive end to not have a local minimum wage higher than $7.25/hour.
The study analyzed 99 cities, all with a population of more than 250,000, and factored in average costs toward rent, utilities, income taxes, transportation and food. The study does not take car expenses, phone bills, loans, insurance or property taxes into account.
With rent skyrocketing to record median price levels month-after-month and a booming housing market, it's no surprise that Austin is around a thousand dollars more expensive a month than the cheapest U.S. city on the list—Albuquerque, New Mexico. In Laredo, Texas' least expensive city studied, residents can pocket as much as $774 after paying for living costs.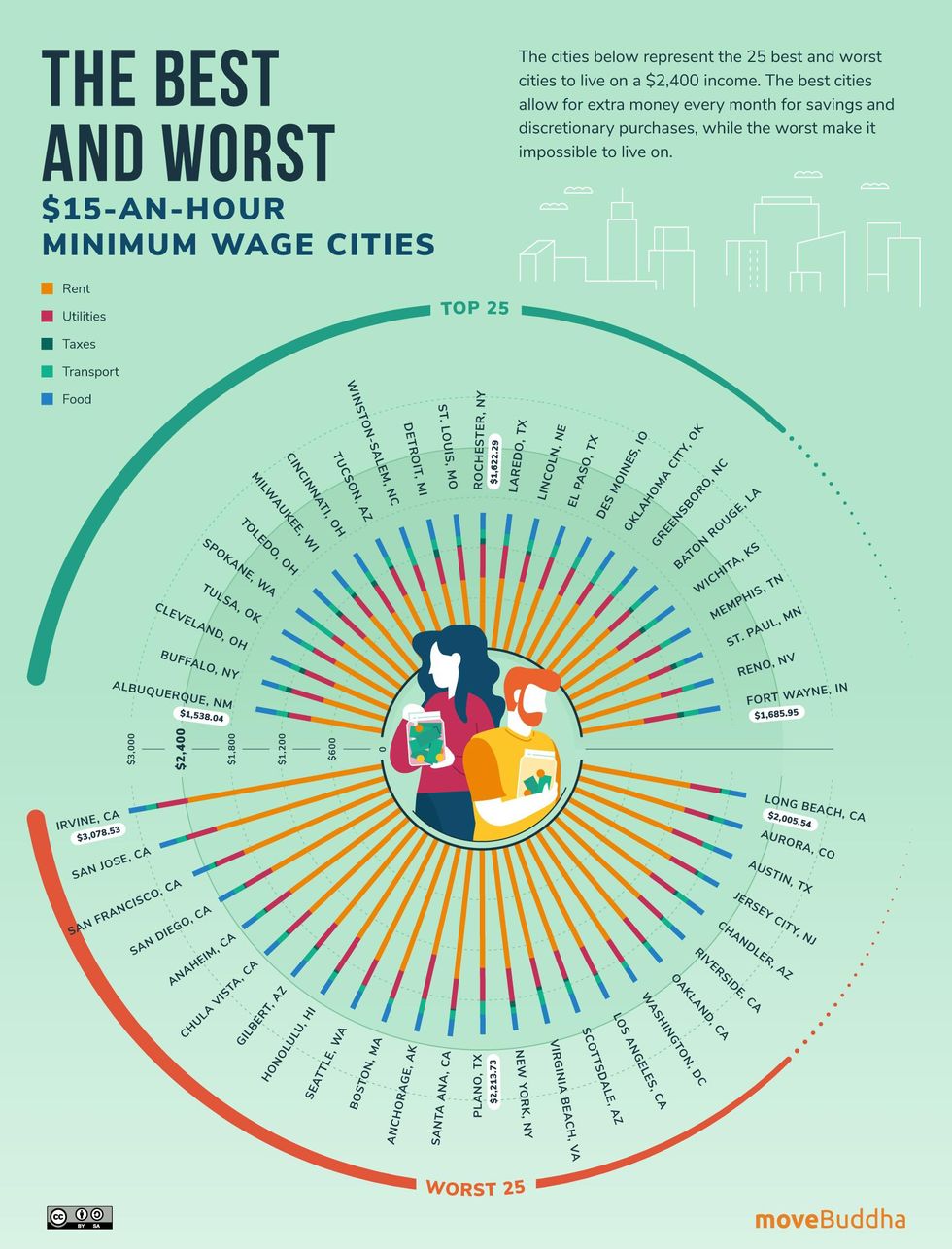 Move Buddha ranked the 25 most and least affordable cities for $15/hour wage workers, with Austin at No. 22 on the list. (moveBuddha.com)
With the average rent in Austin at a record $1,442 a month (60% of a $15/hour workers' income), Austin joins the growing ranks of U.S. cities that can no longer follow the "minimum wage should be a living wage" mantra championed by worker's rights groups.
Austin's rapid-fire growth is still far from the six most expensive cities, all of which are in California. All but $39 of a minimum wage worker's salary in Irvine, which tops the list, would have to go toward rent. Unsurprisingly, San Jose, San Francisco, San Diego, Anaheim and Chula Vista follow suit.

But many cities and states on the list have already instituted wages near what the fight for $15 movement has been working toward for years. In California, which constitutes 11 of the 25 most expensive cities studied, the state minimum wage sits at $14/hour, and San Francisco's minimum wage is elevated to $16.32/hour. Seattle and New York have similar heightened wage rates.
Just as a federal minimum wage of $15/hour slowly edges closer to reality, it becomes more evident that living on that wage alone isn't feasible in many U.S. cities. According to a Harvard University study, a quarter of U.S. renters now spend 50% or more of their salary on rent. That's well above the recommended budget, which puts rent at a third of monthly costs.

The local housing market remains on fire.
The median Austin home sales price increased 42% year-over-year to $575,000 in June, setting a new all-time record for the fifth month in a row, according to the latest market report from the Austin Board of Realtors, which was released Thursday.

This trend extends across the five-county Austin metro, where the median home sales price rose 43% year-over-year to $482,364 in June, also setting a new all-time record for the fifth month in a row.
The skyrocketing prices reflect increasing demand as well as low supply. "Our market has established its own new normal, as median prices club while inventory remains low," ABoR President Susan Horton said in a statement. "With the unprecedented growth our region continues to experience, we can expect these trends to continue."

The nature of housing demand has evolved since the advent of the pandemic, with buyers looking for more space and recent transplants drawn in by Austin's relative affordability compared to coastal markets, according to Dr. Jessica Lautz, vice president of demographics and behavioral insights for the National Association of Realtors.
"Remote work, along with incredibly low-interest rates, has allowed buyers to purchase homes in suburban areas that provide more square feet, outdoor space and increased buying power than in urban core areas," Lautz said in a statement.
Although supply remains low—with just 0.6 months of inventory in June, where experts say a health market would have six months' worth—there was a 24% year-over-year uptick in new listings last month, according to the report.
But affordability remains a concern. The median sales price in the city of Austin has increased $168,000 since June of last year, sharply curtailing the number of residents who can break into the housing market. Aspiring homeowners have turned to the rental market, driving up costs there, too.
"While we're encouraged that housing has led to our region's economic recovery, action must be taken to bring more units online to meet the demand for housing and address affordability," Horton said. "Addressing this challenge head-on and prioritizing housing will go a long way to ensuring that our local economy remains healthy, our market reaches a more balanced position and more people have access to homeownership."
Tired of driving to North Austin to go to the Domain? The first phase of plans for River Park, the controversial up-and-coming mixed-use development nicknamed "The Domain on Riverside," has been released.
Partners Group and Presidium, the corporations behind the development, said in a press release the new plans include:
Two office buildings with a combined total of around 420,000 square feet that will include fitness areas, parking for electric vehicles and bikes and access to the outdoors
A 370 unit mid-rise apartment community with affordable housing implemented at 60% of the area median income; the complex will include a clubhouse and rooftop pool.
12,000 square feet of retail space to begin the shopping center
Nearly 1 acre of open space and parkland area open to the public
The team hopes to secure approvals and permits by early 2022.
River Park has garnered criticism from East Austin residents and those worried about gentrification, but the company says it is working to ensure that affordability and community are implemented into the project.
Green spaces, including walking and biking paths, will connect the spaces to sidewalks and surrounding neighborhoods and be lined with tree canopies. Thirty acres of parks and a new transit stations are also included in the project.
The space will eventually incorporate the entire "live, work, play" dynamic, but it'll be a long time before the project is finalized: River Park's 10 million square foot plans aren't set to be completed for the next decade or two.
The median home price in the city of Austin reached an all-time high of $566,500 in May, jumping nearly 35% year-over-year, according to the Austin Board of Realtors' latest market report.
"Austin's housing market has become one of the most competitive markets in the U.S.," ABoR President Susan Horton said. "As new companies relocate to Austin and the city's popularity draws in new residents, the sheer demand for housing has created a critical inventory shortage, reinforcing that affordability and accessibility to housing across our region is a real concern and should be a top priority for local leaders."
Labor shortages and rising construction costs are also driving up prices—and pricing out prospective buyers.
Strong demand and double-digit price increases are not limited to the city of Austin. The five-county Austin metro also saw its median home price reach an all-time high of $465,000 in May, according to the market report. The median home price in Travis County increased 41% year-over-year to $550,000. In Williamson County, it increased 50% to $435,000. And in Hays County it increased 42.5% to $380,000.
Nora Linares-Moeller, executive director of the nonprofit HousingWorks Austin, said the housing market is already prohibitively expensive for many Austiniites. "The solution here is to be strategic about placing lower-priced homes and rentals in all parts of the city and urge our city's leaders to continue to make affordability a priority," she said.