Get connected with our daily update
Austin's average rent jumped by 26% from January 2021-to 2022, with the highest increase in the state of Texas, according to a Zumper National Rent report.
The city had the 7th highest jump in rent prices among the 101 U.S. cities studied. With a median price of $1,550 for a 1-bedroom rental, Austin jumped up three spots from a year prior coming in 26th on the list—the highest of all Texas cities studied.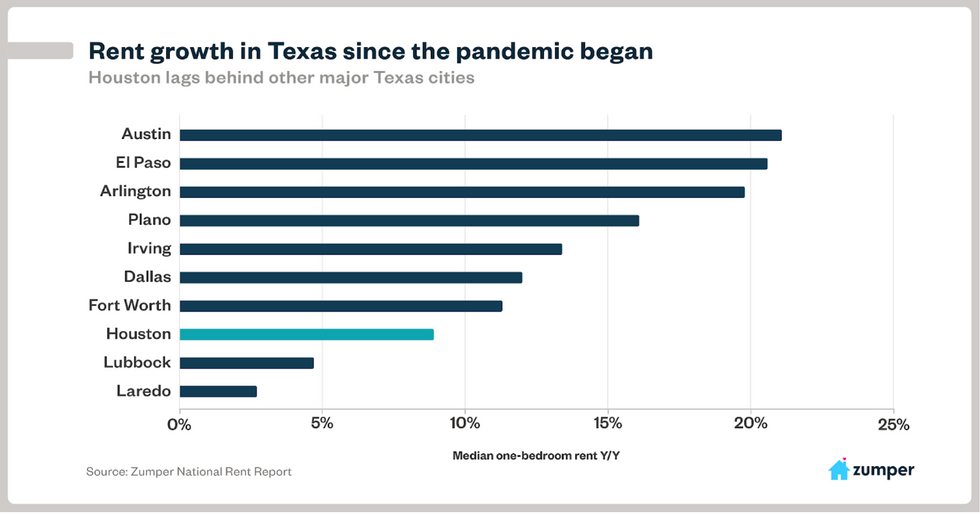 Austin's median one-bedroom rent increased more than any other Texas city from January 2020-21. (Zumper)
Chart-toppers like New York City still have more than double the average Austin rent ($3,260). But for many traditional high-dollar areas, that gap is narrowing: rent in San Francisco, the Silicon Valley giant with the second-highest rental prices on the list, rose by 6.3% year-over-year, while all nine California cities with higher rent that Austin saw a change of 15% or less.
As companies and priced-out migrants reportedly flee to less-expensive markets, new growth hotspots in states like Florida and Arizona skyrocketed, including Miami (25.8%), Orlando (27.6%) Tampa (26.2%), Scottsdale, AZ (27.6%) and Gilbert (20.9%). Cities dubbed as mini Silicon Valleys, including Austin, grew as well: Boston's 1-bedroom rent leaped by 26.5% to third on the list, while Boise, Idaho rose by 24.3% and Las Vegas leaped up nine slots with a 27.5% increase in two-bedroom rent.
No longer a cheap city in the historical cheap state of Texas, Austin rent remains far from New York standards but is still nearly triple cities like Wichita, Kansas, which finished out the list with an average rent of $660. Increases in rent have come hand-in-hand with an influx of newcomers—Austin is one of America's top 20 "boomtowns", according to frequent vistor and billionaire Elon Musk and a December 2021 New York Times report.
And while a pandemic rent surge has been seen nationwide, some have noticed that more traditionally affordable cities like Austin have seen increases much more quickly. University of Texas associate economics professor Peter Bergman found that more than half of low-income Austin residents worry about getting evicted in the next year as rent increases coincide with inflation and income losses for many.
2. While we're incredibly excited about the partnership and we've all pushed incredibly hard to make it happen, what's happening to low-income renters is extremely bleak. First, inflation: in the prior year or so, rental prices have gone up more steeply in more affordable cities. pic.twitter.com/QyZEPotL73
— Peter Bergman (@peterbergman_) December 23, 2021
Fueled by new tech HQs, a nationwide pandemic surge in rent and a booming job market, Austin rent will likely continue to rise, especially as satellite cities like Cedar Park, Kyle and Buda continue to grow alongside the city.
Once a bargain-hunter's paradise, Austin's reputation as a cheaper California seems to be dissipating. But does money have more value in Austin when compared to other U.S. metros?
For Carson Stanch, who moved to Austin from Brooklyn, New York, to be near family, Austin's lower cost of living was just an added bonus. According to the latest data from the U.S. Bureau of Economic Analysis, a $100 bill is worth $98.20 in Austin when compared to the national average in 2020, while it's worth just $84.53 in New York.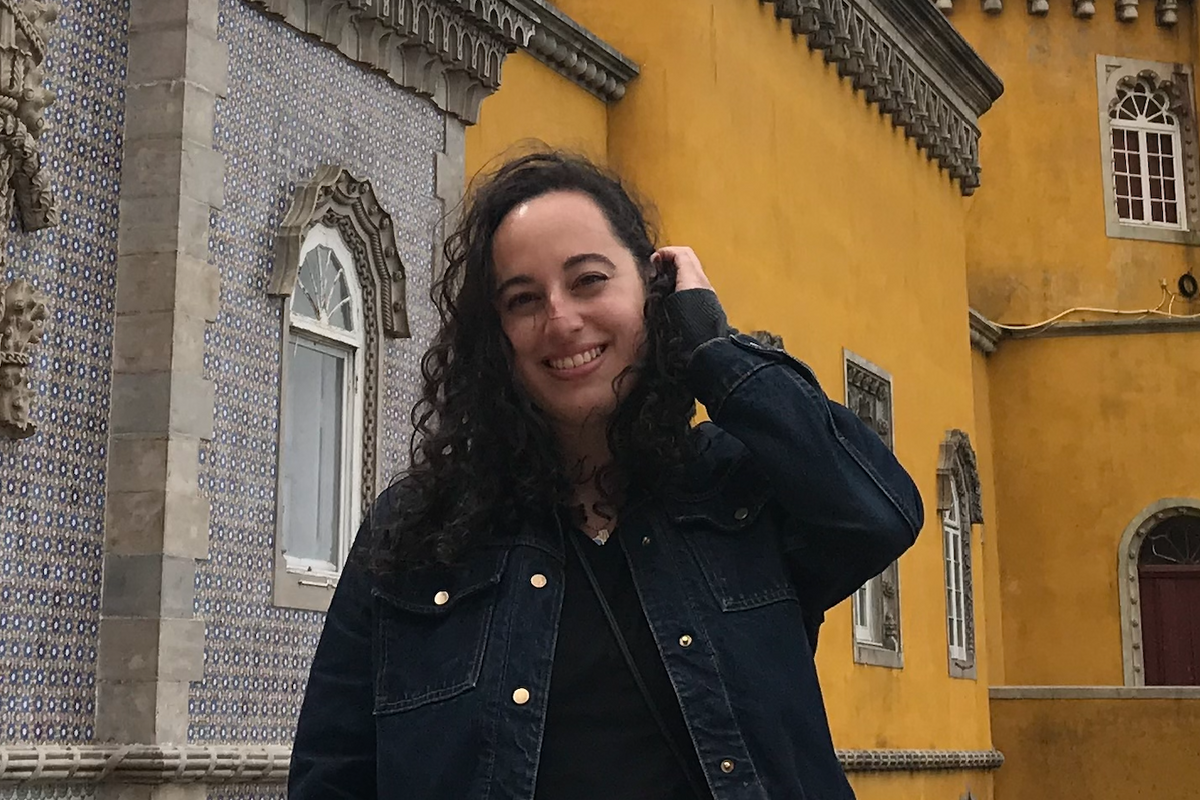 Houston native Carson Stanch moved from Brooklyn, New York to Austin just before the pandemic. (Carson Stanch)
Stanch soon realized she was a trendsetter—or perhaps a fortune teller—as the pandemic hit a few months after her move. No longer willing to spend extra money on their more expensive apartments, Stanch said many of her friends and other New Yorkers left the city amid COVID lockdowns.
"It's so expensive to live there (and) all of the reasons why you live in New York, you couldn't really do anymore," Stanch said.
Garrett Watson, a senior policy analyst with the Tax Foundation who wrote a 2018 report on the value of $100 in U.S. metros, told Austonia the report factors in the costs of goods and services with residents' incomes and compares them to the national average. The result is price parity, a number that varies drastically across the country—for instance, a $100 bill won't get you near as far in Austin as it would in more rural parts of the Hill Country.
While a Ben Franklin note was worth $4 more in New York in 2020 when compared to 2018, a $100 bill decreased by $1.60 in value in Austin. Austin's cost of living also saw the 12th-highest increase among U.S. metros from the 2010 to 2020 census.
And as the pandemic's nationwide housing boom gained extra momentum in Austin, peaking at a median home price of $575,000 in June 2021, Watson said the value of $100 could have dropped even further.
"There's just been a chronic hunger for building houses on the coasts and in certain cities in the heartland," Watson said. "Especially this year, we're seeing more and more discussion about that in Austin, and so that is a big, big factor."
Price parity bleeds into other factors as well—in San Francisco, where the value of $100 sits at $82.63, residents are nearly 18% poorer than their higher incomes suggest. But with higher incomes than the U.S. average, they may find themselves more flush with cash when moving to a cheaper city like Austin.
Many out-of-towners have used that extra change to make housing offers much higher than the asking price, Redfin chief economist Daryl Fairweather told Fox7 Austin.
"All those migrants are bringing with them high-paying jobs who are used to much more expensive housing and they're willing to pull out all the stops to win these homes and move to Austin," Fairweather said.
But Austin is catching up to those traditional hotspots: the area was predicted to be the most expensive metro outside of the Golden State by the end of 2021.
In just two years, Stanch said she's seen some signs.
"I feel like I look around certain areas of Austin (and) they do feel more similar to downtown Brooklyn," Stanch said. "Some businesses I see might tend to cater to folks who have a little more income."
I cannot believe there's a Hermès (an Hermès?) store opening around the corner from where I live. Oy vey. The scrappy, cheap, charmingly dusty locals-only South Congress of yore is receding into the past so very quickly. 😭 pic.twitter.com/sUHxI4pX8F
— Cari Marshall (@CariMarshallTX) August 3, 2021
So why not move to, say, Florence, Alabama, where money is almost 20% more valuable?
Watson said the difference comes down to the value of amenities—something the study can't track.
"Part of the value in New York City is all the amenities that you're near, the value of Broadway, the value of being able to get food delivered to your door," Watson said. "So that may be reflected in people's willingness to pay higher prices... there's a lot of really great reasons why people may want to be in Austin from an identity perspective that you can't get in other parts of Texas."
In Austin, tech salaries rose 5% from 2020-2021 as big-name corporations like Oracle and Tesla—alongside Tesla's billionaire owner Elon Musk—flocked to the nation's new "boomtown." With an ever-increasing job market, eclectic culture and reputation as one of the world's best cities for move-ins, Austin's appeal might still offset its price.
But for Stanch and many others, there may still come a time when price wins over location.
"If I was to the point where homebuying was more important than being near friends and family, then I would move to get the home," Stanch said. "I think that's kind of part of my plan."
Like the original oil boomtowns of Texas past, it looks like Austin's "boomtown" status may be slowing down, according to U-Haul's 2021 data.
The moving truck company found Texas to be the No. 1 growth state of 2021 and Austin—labeled the best city in the world to move to by a 2021 U.K. study—No. 16 for U.S. cities, making it one of the state's top growth areas. The rankings were measured by comparing the net gain of over 2 million one-way U-Hauls that entered and left U.S. cities in 2021.
In the decades-long tradition of young wanderers and professionals packing their bags for the adventure of the Live Music Capital, one-way U-Hauls to Austin were up 22% when compared to 2020. But creeping up behind Austin's gleaming arrival stats are U-Haul departures, which were up 18% in the same time frame. And with arriving U-Hauls making up just 50.4% of one-way rides in Austin in 2021, the nation's newest tech hub may be leveling out.
Is Austin's fire-hot growth slowing down? The city's housing market, which unexpectedly broke records near the beginning of the pandemic before peaking in June 2021, has started to cool down with the seasons.
The metro's median home price dipped to $470,000 in November, down from an all-time high of $482,000 in June, and home sales were down 4.9% when compared to November 2020. Austin's rep as a cheap big city haven also suffered as many found out the hard way that the city's housing market was predicted to become the least affordable major metro region outside of California in 2021.
Maybe Austinite Elon Musk's catchy "boomtown" nickname for his new city will soon fall out of fashion. But with Austin becoming a city of many identities aside from music and tech, including crypto, poker and odd sports, it may be safe to say Austin will see more than 15 minutes of fame.

"The growth in Austin has been exacerbated by the amount of people moving away from California," U-Haul Company of South Austin president Kristina Ramos said. "Austin is an awesome city that provides great opportunities."

That trend was revealed in the stats—California was the No. 1 state for move-outs in the U-Haul study.
Perhaps some balance will strike a rare peace between "Don't California My Texas" natives and, well, Californians as both old and new Austinites look to make the quickly-changing city home.