Get connected with our daily update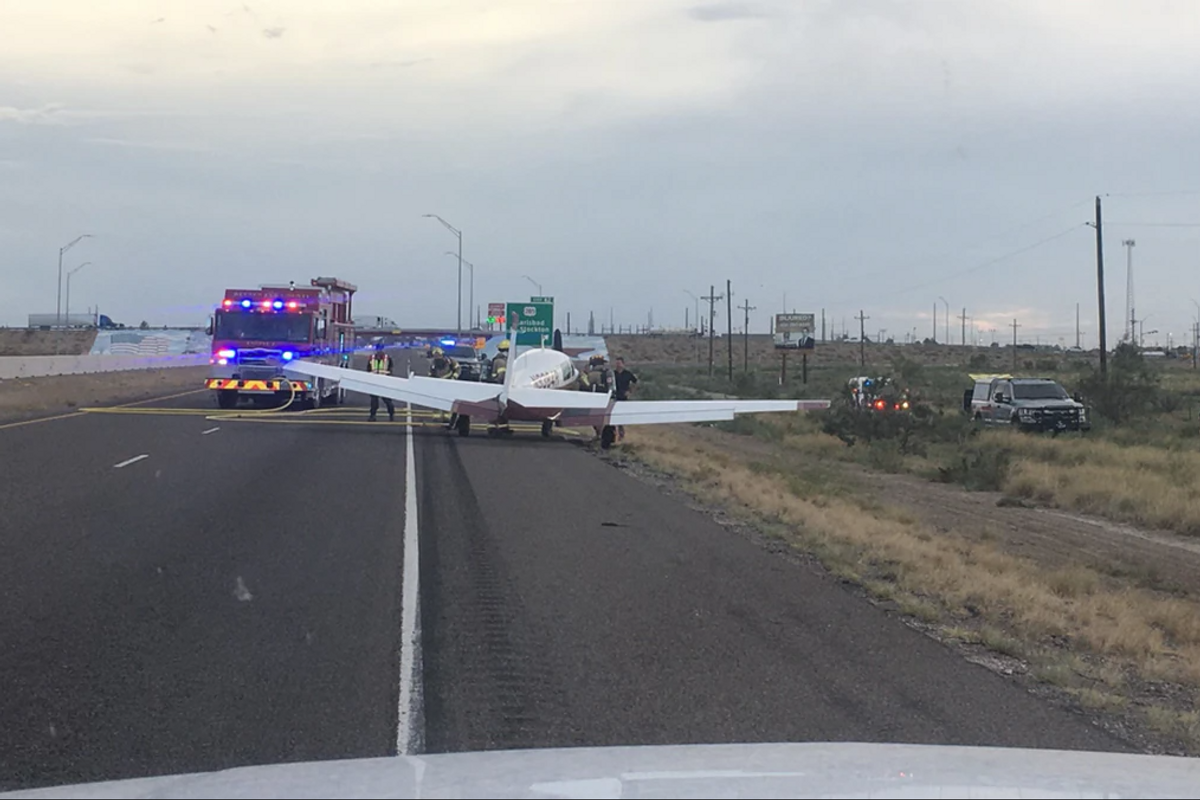 Pilot Adam Skeeter made an emergency landing on Interstate 20 in Pecos, Texas, after departing from Austin.
Skeeter was traveling alone to El Paso for a business meeting on Wednesday afternoon when he said he began experiencing engine failure around 10,300 feet in his Mooney M20K. He was then advised by Pecos Air Traffic Control that Pecos Airport was nearest.
Skeeter said he declared an emergency landing on I-20 when the engine "blew up" and began spitting oil onto the windshield as he used the side windows to see. Air traffic was notified and Skeeter landed between a semi-truck and a pickup.
The Reeves County Sheriff's Office responded to a 911 call of the plane landing shortly after but no injuries or damage to surrounding vehicles was reported.
The FAA will follow up with an investigation.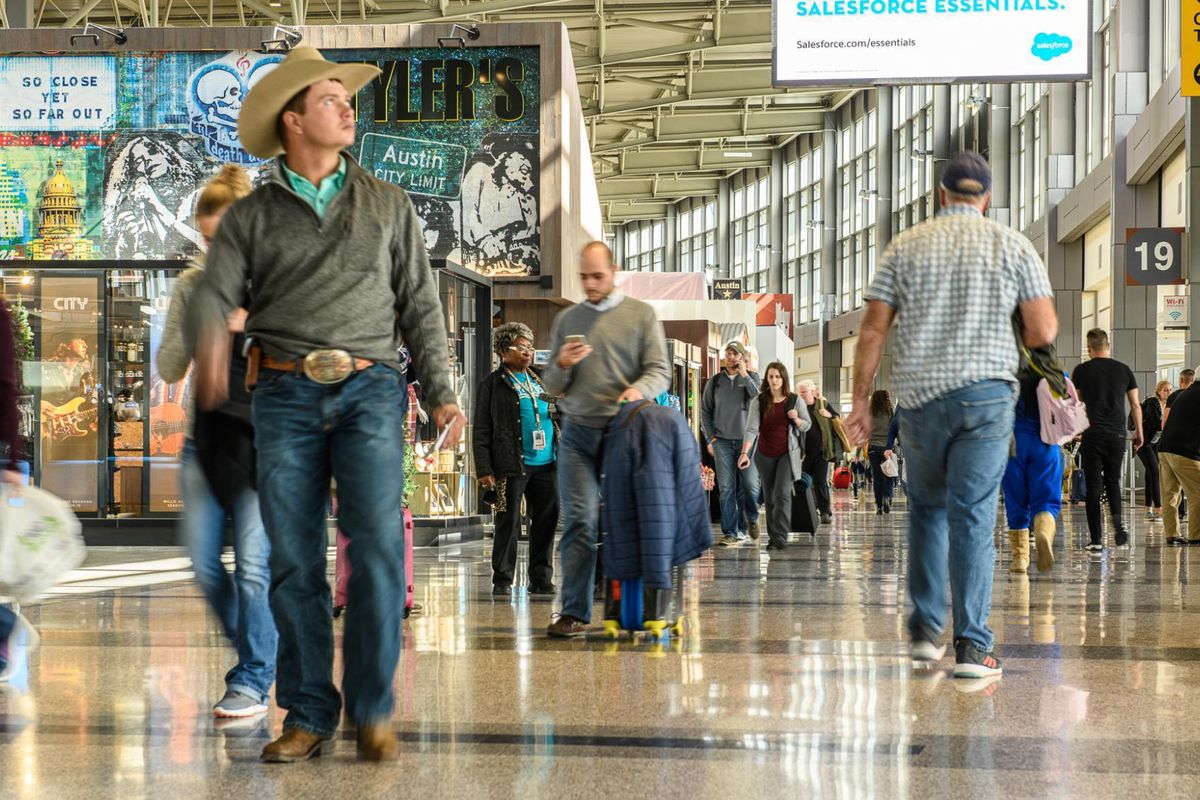 Austin-Bergstrom International Airport is getting $15 million to help advance the much-needed airport expansion.
U.S. Rep. Lloyd Doggett announced Thursday morning that the airport would receive the funds as part of President Joe Biden's new Infrastructure Law, which will direct billions of dollars to transportation upgrades, widespread high-speed internet access and investments in clean energy.
The $15 million, from the Airport Terminal Program, is in addition to the $17.3 million that the Infrastructure Law provided to the airport late last year. The airport anticipates the overall expansion to cost $4 billion.
"In order for Austin to be the international city—the hub of education, culture, and technology—that I know we are, our institutions and our infrastructure must be properly equipped to support world-class endeavors and worldwide visitors," Doggett said in a statement.
The airport has seen substantial growth post-pandemic, reaching all-time traffic high in May. According to ABIA officials, the airport saw more than 2 million passengers come through the terminal, 82% more than in May 2021.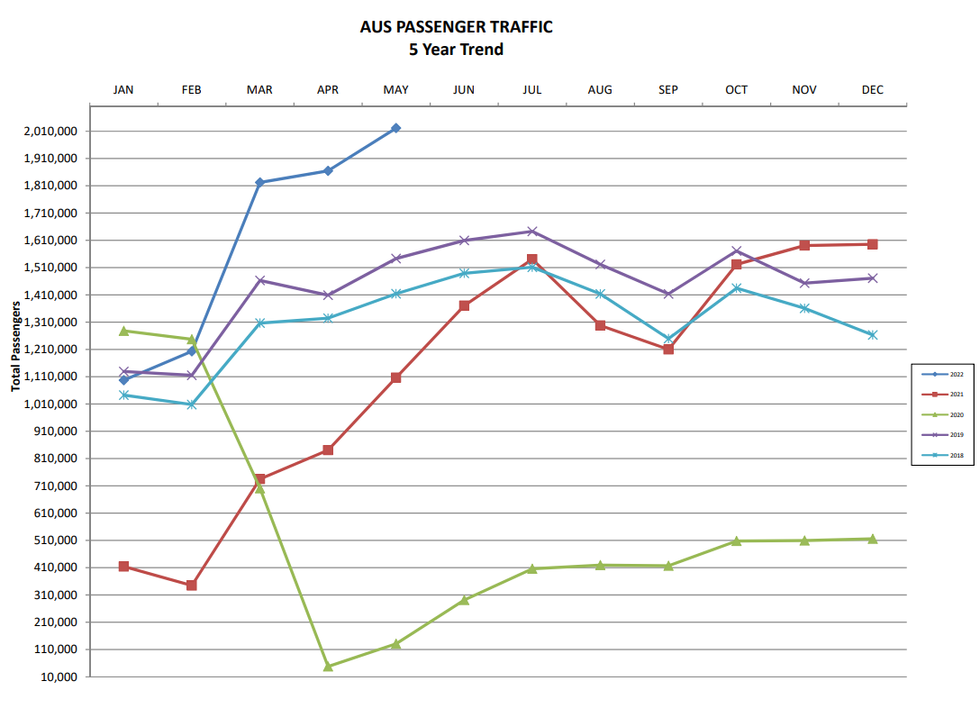 (ABIA)
The funds will go toward increasing the square footage of the Barbara Jordan terminal—which would add new gates, waiting spaces and TSA checkpoints—to meet growing passenger demand.
"While our most immediate need has been for more Transportation Service Administration (TSA) resources to prevent more long lines and baggage issues, these infrastructure funds will help in expanding our airport to meet the demands of both our growing population and our growing role as an international gateway city," Doggett said.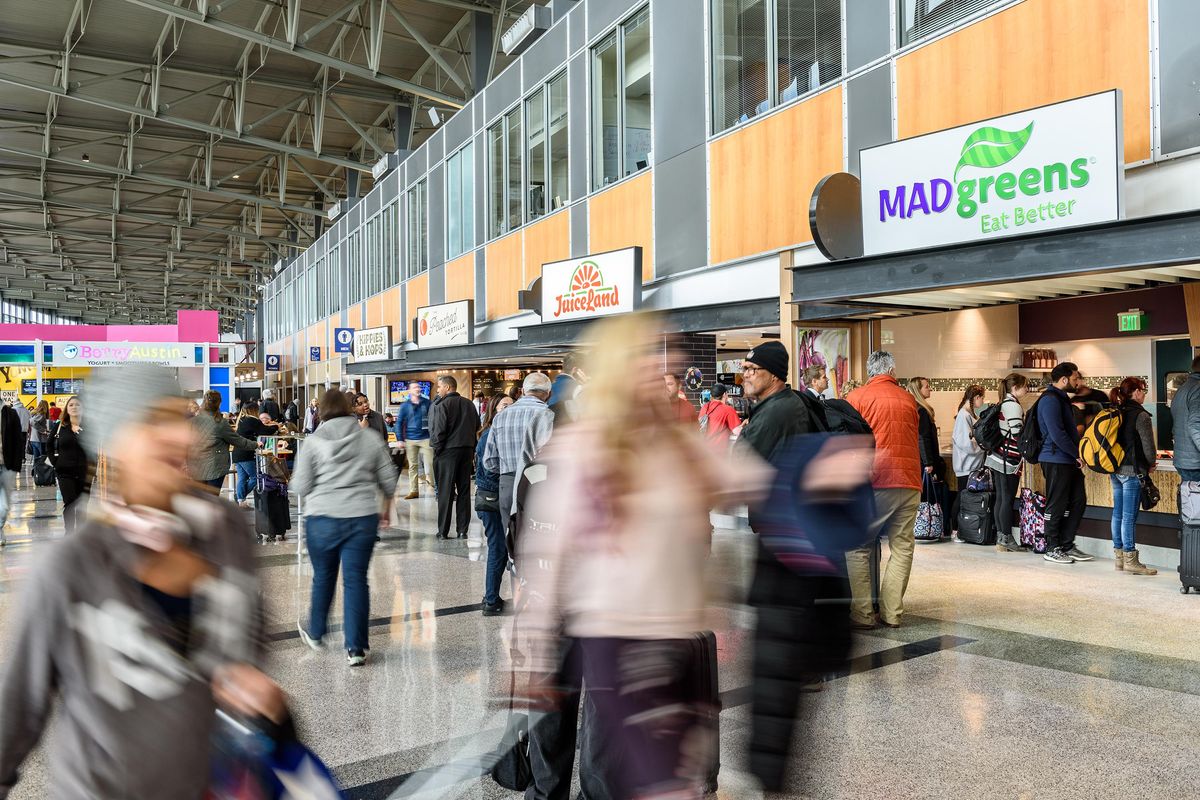 Traffic is soaring to new heights at Austin-Bergstrom International Airport, which announced it had its busiest month ever in April, ahead of an anticipated record-breaking summer travel season.
April passenger traffic brought 1,865,046 passengers through the terminal at ABIA, up 121.74% compared to traffic in April 2021, while total enplanements reached 942,940, an increase of 121.17%.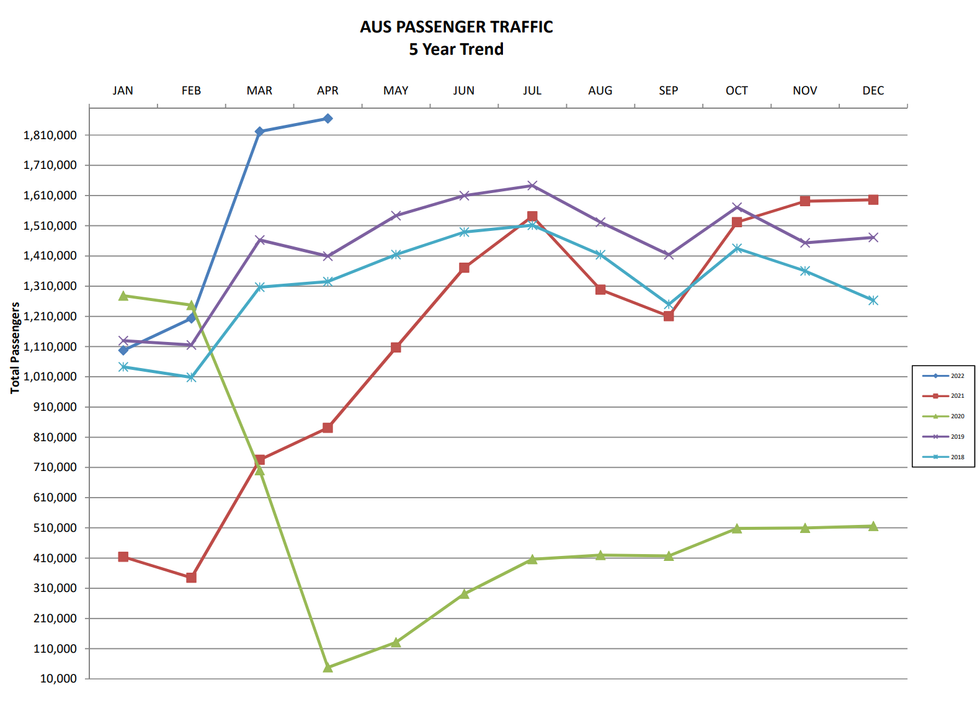 (AUS)
March also saw more than 1.8 million passengers, according to airport officials. Senior public information specialist Bailey Grimmett said the traffic spike kicked off with major events like SXSW and spring break.
"In general, AUS has recovered from the dramatic decline in passenger activity and is experiencing higher demand for air travel than ever before, which can be attributed to why… April passenger numbers surpassed March," Grimmett said.
While you're almost guaranteed to run into lines in the airport terminal, the airline travelers chose had some bearing on the in-flight traffic when compared to April 2021.
Where traffic is up:
Hawaiian Airlines picked up 4,176 passengers in Austin, an increase of 378.9%
Allegiant Air picked up 33,698 passengers, an increase of 157%
Southwest Airlines picked up 722,855 passengers, an increase of 155.1%
American Airlines picked up 500,823 passengers, an increase of 161.7%
Delta Airlines picked up 223,691 passengers, an increase of 101.9%
United Airlines picked up 184,736 passengers, an increase of 95%
Alaska Airlines picked up 83,295 passengers, an increase of 80.9%
Sun Country Airlines picked up 420 passengers, an increase of 68.7%
JetBlue Airways picked up 37,661 passengers, an increase of 0.4%
Where traffic is down:
Frontier Airlines picked up 8,860 passengers, a decrease of 48.1%
Spirit Airlines picked up 35,948 passengers, a decrease of 21.3%
Airport officials aren't expecting the traffic to die down anytime soon but reported that so far, things have been moving smoothly as passengers arrive early, plan ahead and follow travel recommendations.
"We are extremely grateful to our passengers for working with us during these record-breaking days and ahead of a record-breaking summer," Grimmett said.
Know before you go—check out Austonia's complete guide to the airport.