Get connected with our daily update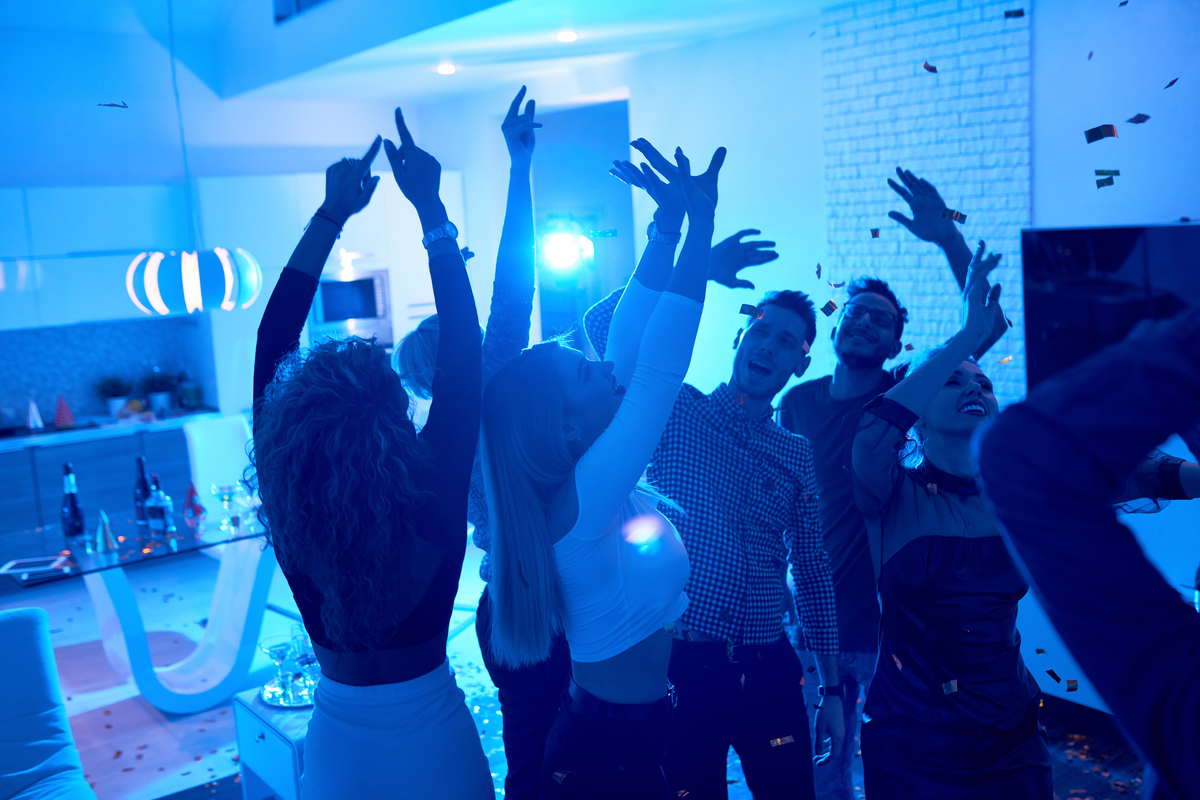 Airbnb has revealed how many gatherings its "Under-25 Anti-Party System" has blocked since its implementation in the summer of 2020.
The system, which prevents guests under the age of 25 from booking entire local home listings if they have fewer than three positive reviews, blocked more than 48,000 "potentially disruptive" parties statewide. More than 4,100 potential parties were blocked in Austin in 2021.
The following celebrations saw the most cancellations in Austin:
Fourth of July: More than 1,700
Halloween: More than 1,000
New Year's Eve: More than 1,400
The anti-party system was implemented first in Canada after a house party ended with three people dead. It was then brought to the States a little over six months later. Airbnb said the initiative has resulted in a "meaningful drop" in destructive bookings.
From summer 2020 to summer 2021, the capital city fell relatively low on the list nationwide with 3,800 blocked. Los Angeles topped the list for most parties blocked at 15,000, with Atlanta and Chicago following closely behind at 12,000 and 10,000 blocked bookings, respectively. Blocked bookings in Dallas nearly doubled Austin's at 7,000.
Additionally, Charlotte and Las Vegas beat out Austin with 5,100 and 4,500 blocked bookings.
For those under the age of 25, never fear, you are able to book on Airbnb outside of your home city. Plus, as long as you have a good Airbnb history or if you're making a single room or long-term rental reservation, those under 25 can still book a listing.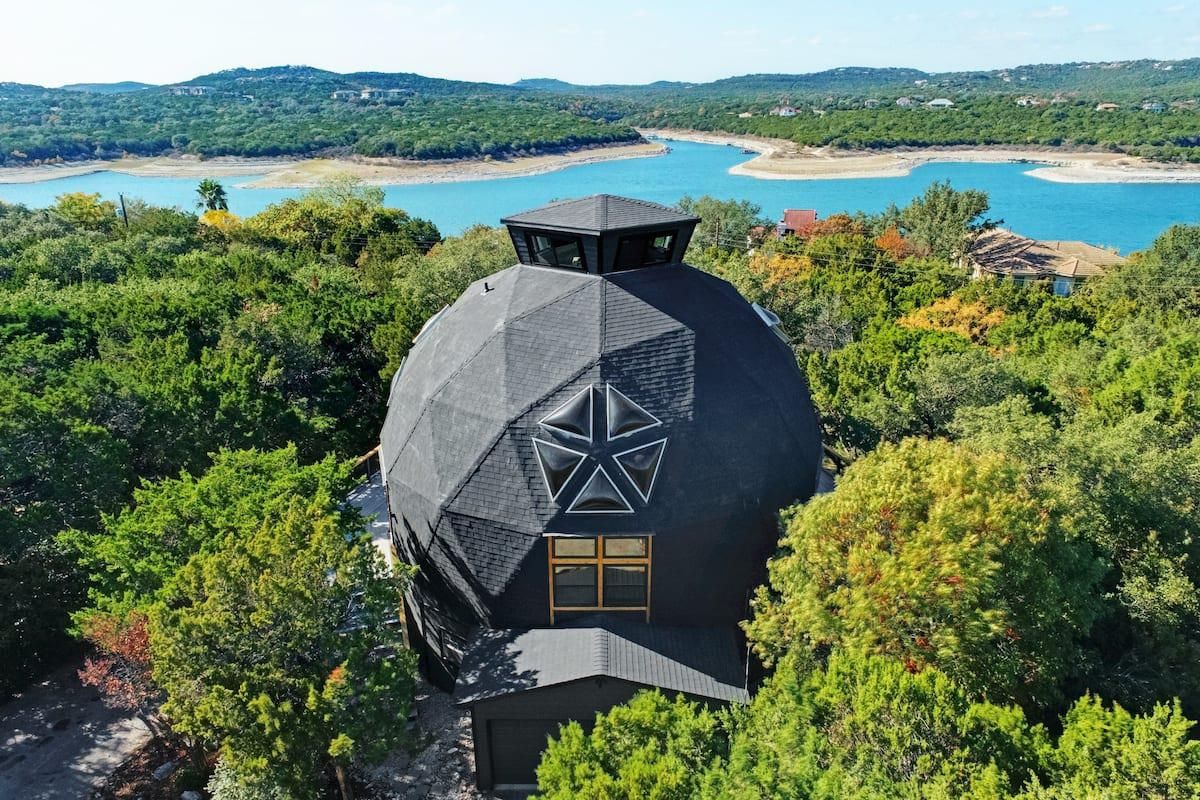 When you step into the Geodome, officially named the "coolest Airbnb" in the state by Condé Nast Traveler, all is symmetrical and organic forms fade into oblivion.
Located in Leander, The "Black Beauty" is situated on a hill for 360-degree picturesque views of the lake and treetops. The media company named the home earlier this month as one of the most inspired rentals in the U.S., along with 51 other picks.
While the exterior was built in the 1970s, the inside of the home was remodeled in 2020 and updated with shiny new amenities. This three-floor rental sleeps up to 14 guests with four full bedrooms, a private sleeping area and three sleeping sofas, three full bathrooms and a full observation deck to survey the kingdom.
The open-plan living room and kitchen will greet you on the main floor, split up by an enormous contrasting fireplace for those colder winter months. The living room is cozy with a 55-inch smart TV and so close to the kitchen, you won't even have to pause Netflix for a drink. With enormous floor-to-ceiling windows, the natural lighting bathes the room during the day.
The sliding doors will lead you to the tree-top deck, nestling you among the greenery with the wraparound patio. Stairs on the far end of the deck lead you down to the garage, for easy access.
Back inside and heading downstairs, the fun gets started with a private speakeasy with a private living area and pop art gallery with something for everyone to peruse. Games and blackout curtains await in the living room, perfect for a stay-in movie or game night.
Upstairs, you'll find the master suite with the Instagram-worthy walk-in shower and soaking tub to complete your relaxing vacay. Starkly contrasting rich black and pearl white fixtures give the bathrooms an elevated look.
One more spiral staircase will take you up to the observation deck and library, with cinematic views of the sprawling Hill Country. With a reading nook at the top, the observation deck is a cozy place to get away for a good book.
Keep an eye out for special Easter eggs hidden throughout the house, the hosts promise they'll bring a smile to your face.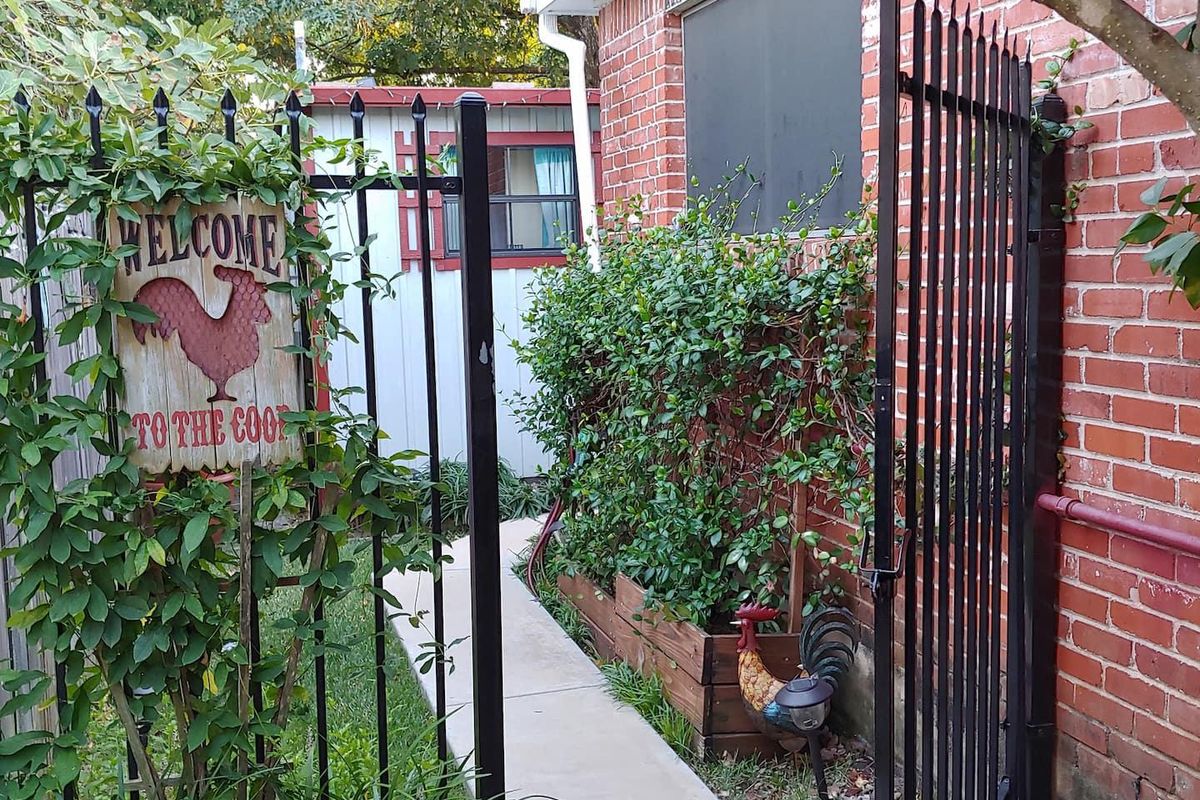 Tucked near Shoal Creek in Austin's cozy Allandale neighborhood, Jay and Jayne Crawford's Chicken Coop Tiny Cottage is more than just a sleepy vacation rental, it's the number one Airbnb in Texas.
According to Airbnb's "number one most hospitable Host" list that came out this month, the Crawfords run the most welcoming stay the Lone Star State has to offer. It was a surprise to the Crawfords, who have been running the Airbnb since October 2014.
"I knew we've been doing well but I just never would have dreamed," Jayne said. "I didn't ever imagine we would be number one, so that was a great surprise."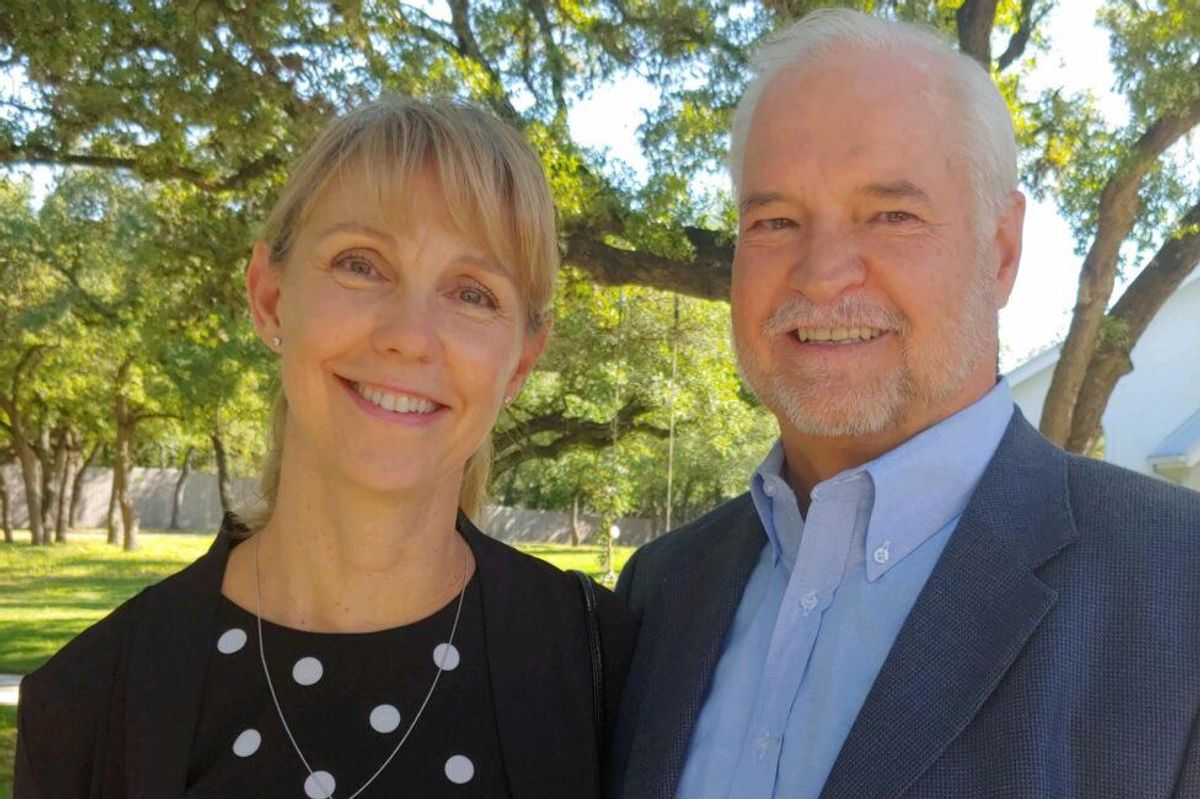 Jayne and Jay Crawford have been renting on Airbnb for the last six years. (Jayne Crawford)
Though there are no chickens to be seen, the rental sits in the couple's backyard. Before they had ever imagined entering the hospitality business Jay, who owned an insurance business, used it as an office before retiring. Jayne, a retired elementary school teacher, came up with the idea to rethink the space while on a beach trip with some friends.
With a love of travel herself, Jayne said she and her husband transformed the space into a rental she would be happy to stay in when far away from home. Growing up in a family of neat freaks, Jayne prides herself on her tidy nature.
"My husband will tell you that I'm very particular, especially out there, because when I travel I don't like surprises," Jayne said. "That's the way I grew up, you clean things and leave it nicer than you found it."
In order to be named "most hospitable" in Texas, the couple had to meet certain criteria: achieve 100 five-star ratings in cleanliness, check-in and communication; gain at least 100 reviews and gain the greatest number of reviews in Texas.
The chicken-themed stay has more than 360 reviews, which is among the most in the nation and maintains a perfect five-star review in five of the six categories, the remaining rating four-point-nine.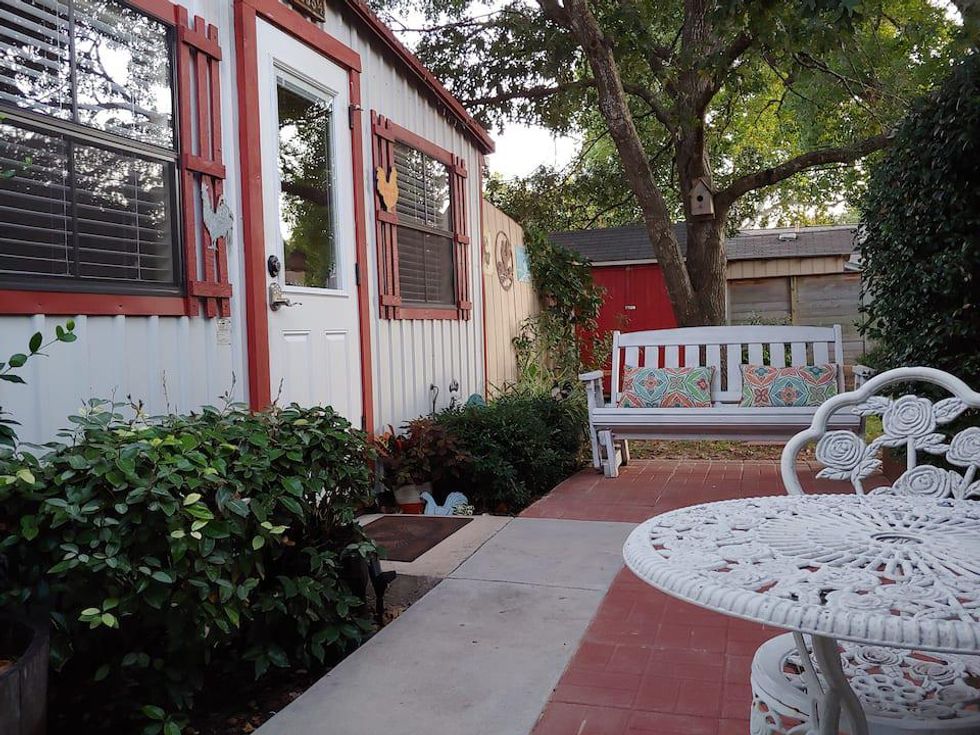 The house is only 160-square feet but the garden gives you plenty of room to roost. (Airbnb)
So what makes this Airbnb so cozy?
Jayne says it's the little things like spare toothbrushes, contact solution, chocolates on pillows, snacks on deck and that famous Southern hospitality that keeps people coming back. Before COVID, Jayne said she used to leave homemade brownies for guests.
"I've kind of found over the years that the more you offer people, the more grateful and the better they treat your place," Jayne said. "We pretty much try and think of anything that you would ever forget or I have forgotten on a trip."
The small, farmhouse-style property will let you live the Austin lifestyle with the neighborhood walkability and proximity to downtown for around $70 per night. Jayne said they have renters come and stay year after year like clockwork, so if you want to stay it would be best to book a few months in advance.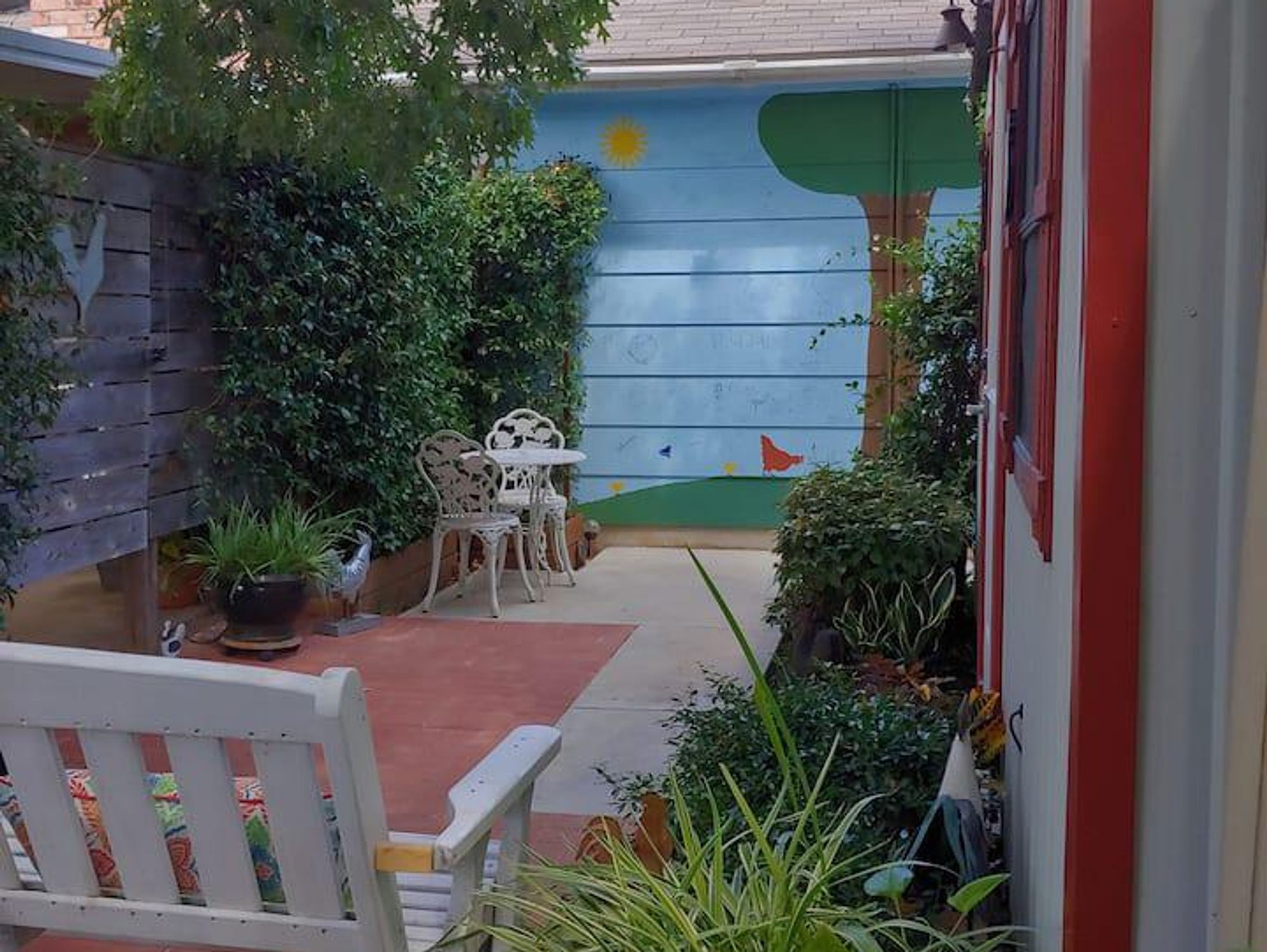 The couple asks everyone who stays to sign their mural before leaving. (Airbnb)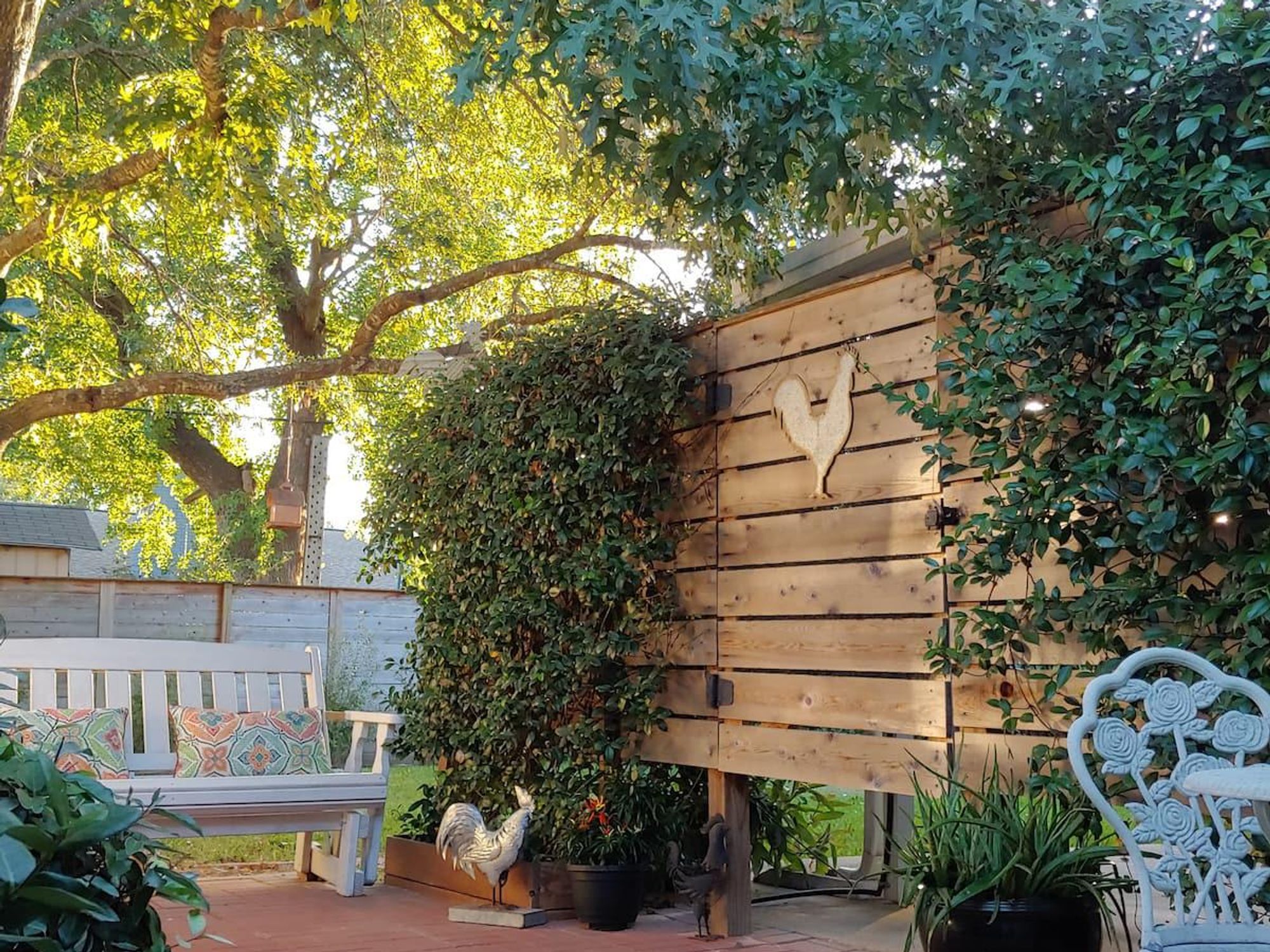 The garden is the pride and joy of Jayne Crawford. (Airbnb)
In addition to the money they get from listing their extended home, which covers the "ridiculous" Austin taxes, Jayne greets every group that stays and said the people who stay with her are a delight.
"I try and pop out and meet everybody when they first come just so that they know who's here and if they need anything, we're always available," Jayne said. "The people that rent from us, they're phenomenal, they're just wonderful."
Make sure when you stay to admire the garden personally attended by Jayne herself and sign the chicken mural so you can permanently commemorate your stay in the capital city.